5 Reasons Every Girl Needs To Add Crystals To Her Style
When it comes to fashion, crystals have grown in popularity. The numerous designs, colors, and shapes that crystals have can fit all aesthetics. In addition, crystals have been known to attract positive energy, which has numerous emotional health benefits.
By keeping crystals nearby, you may experience both emotional and spiritual healing. However, it should be noted that crystals are considered pseudoscience, implying that any claims about them lack supporting evidence.
Regardless, crystals are believed to have qualities that interact with your chakra and relieve stress or boost concentration. But to better understand why every girl needs to add crystals to their style, below are some great reasons.
1. They Offer Versatility
Crystals are available in various colors, designs, cuts, and geometry. This means you can easily get a unique crystal that fits your aesthetic. Quartz, for example, comes in various colors, including white, smokey, pink, sapphire, and aquamarine. Depending on your taste, you can use any of these colors to dress up a simple outfit.
Be it crystal rings, bracelets, or necklaces, your choice of jewelry is guaranteed to enhance your style. Whether you prefer to accessorize with a complete jewelry set or prefer to mix and match, you will be able to achieve the look you're going for with crystals. It might be time to invest in them if you want beautiful and extraordinary accessories.
2. Crystals Fit Different Occasions
Most people consider crystal jewelry to be more fitting for casual clothing. However, this is far from the truth, as the versatility of crystal jewelry allows it to fit different occasions. Whether it's for a formal or casual setting, these crystals are the perfect accessories.
For instance, when attending a black-tie event, onyx gemstones or gold crystals would match perfectly with a black or white dress. As such, you can accessorize your black maxi dress with a necklace made with onyx crystals. Alternatively, a ring made with gold crystals might be the most ideal if you are looking for more brilliance.
3. Crystals Are Meaningful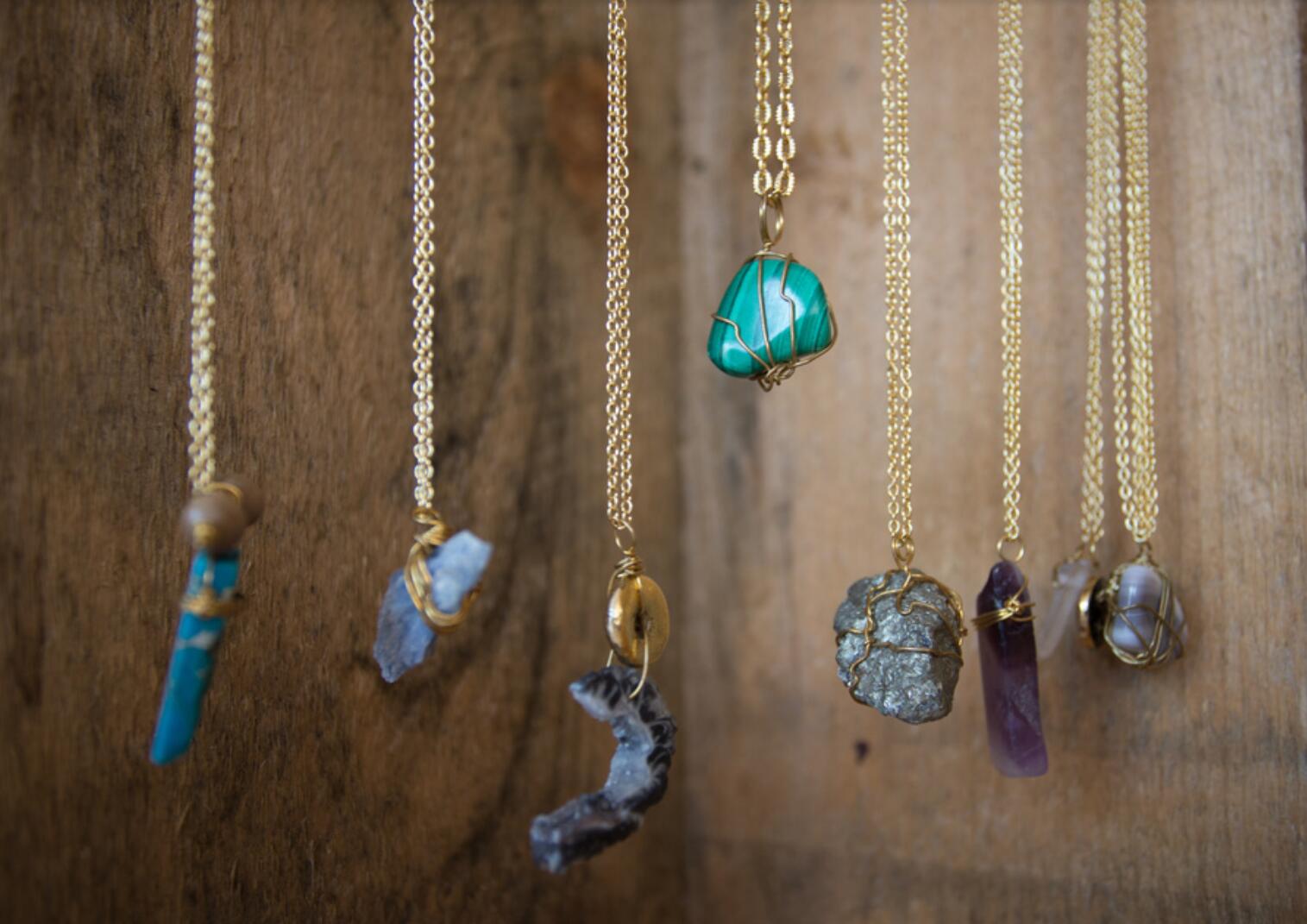 The clothes and jewelry you choose to wear can reveal a lot about who you are. Therefore, wearing the right statement pieces won't only make your outfit stand out but portray your personality.
You can add more meaning to your style by wearing suitable crystals that match your mood and preference. For instance, a necklace with a green crystal might be ideal if you want to radiate calmness. Examples of green crystals are emerald, aventurine, turquoise, peridot, malachite, and zoisite.
And if you are hoping to achieve patience and sensitivity, necklaces or rings made with blue crystals such as sapphire, topaz, kyanite, and aquamarine would be perfect.
4. Crystals Can Fit Different Seasons
The different seasons usher new and exciting styles and accessories to keep up with. However, having to switch accessories with each passing season can get costly. Fortunately, crystals can help you stay stylish during all the different seasons.
The right types of crystals can be used as accessories for winter and summer. Just make sure to choose a crystal color that corresponds to the seasons' colors. For instance, during winter, the common color schemes are red, green, and white. As such, you should consider wearing crystal jewelry such as necklaces, bracelets, and rings of these colors. Some great choice includes the ruby, moonstone, jade, and emerald.
Once summer rolls in, you might notice muted or softer reds, mauves, pinks, yellows, and blue returning in season. Therefore, jewelry with rose quartz, citrine, amber, and turquoise will fit the summer aesthetic better.
5. Crystals Are Available As Various Jewelry Pieces
If you are new to crystals, you might be pleased to know that they can be made into different jewelry pieces. These pieces can be for your feet, head, neck, hair, body, and arms. Whatever your jewelry of choice is, it's vital to get those made with the right crystals.
Listed below are some of the accessories that fit various crystals:
Headpieces: When getting crystal headpieces, clear quartz, labradorite, aura crystals, amethyst, and fluorite crystals will be ideal. These are light and flexible, making them perfect for a headpiece requiring numerous crystals. As such, the headpiece won't collapse from the weight of the crystals.
Engagement Rings: More people are choosing gemstones for their engagement rings due to their wide variety. These crystals are a great alternative to diamonds, and each holds a special meaning. Therefore, some great options for engagement rings include sapphires, rubies, emeralds, aquamarine, moissanite, morganite, moonstone, garnet, tourmaline, spinel, and tanzanite.
Necklaces: Crystal necklaces work well when worn on your body. And a great way of wearing your crystal to ensure it works better with you is as a necklace. Therefore, consider citrine, clear quartz, rose quartz, amethyst, aquamarine, moonstone, black onyx, and carnelian when looking for a crystal necklace.
Bottom Line
Available in different shapes, sizes, and colors, crystals can help create beautiful styling moments. Not only are they visually appealing, but they can also fit different seasons and occasions. They are also meaningful, versatile and are available as different jewelry pieces. As such, you can boost your style with the right crystal jewelry. But before incorporating them to your style, consider the meaning of each type.