22 Cool Hairstyles for African American Women
A perfect hairstyle can play an important part for the whole look. So we should pay much attention to the hair styling as well as the clothes. Sometimes, women can even look much younger with a right cut. When it comes to African American women, a pretty colored hairstyle will be strongly needed to lighten up the whole look. Today, let's take a look at 22 popular hairstyles for African American Women with our pictures below and hope you can find one to copy!
Cute Short Hairstyle for Black Women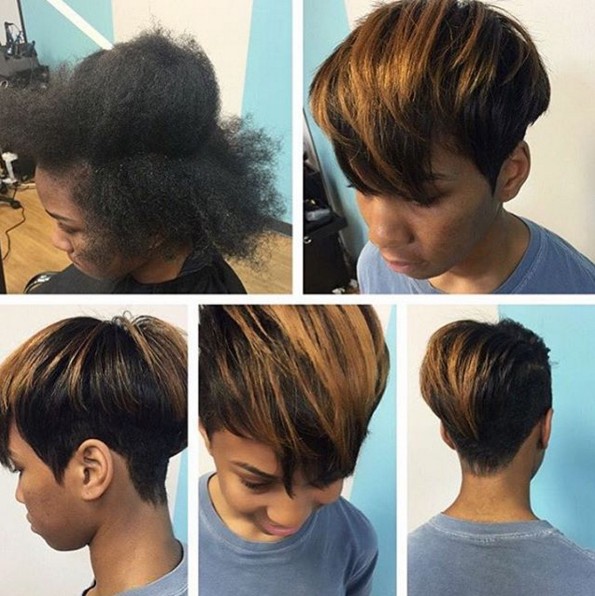 One flattering way to your thick, coarse hair look polished is to straighten it and give it a right cut. Add some blond highlights for an extra dose of style.
Asymmetric Short Hairstyle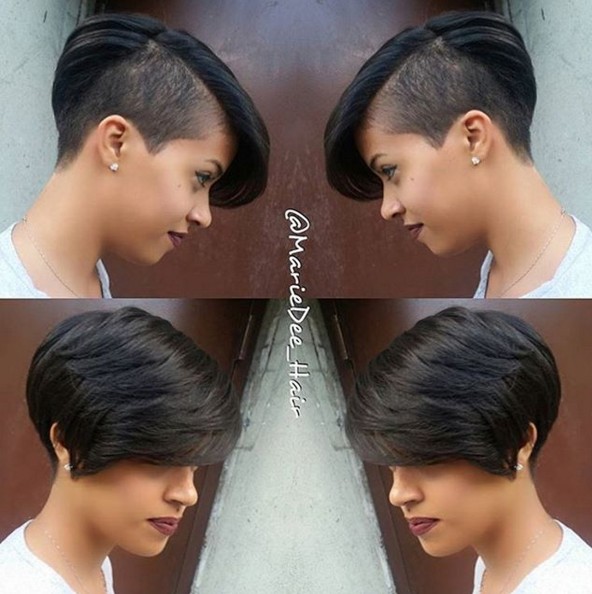 This season is all about asymmetric cut designs. One side is being heavily shaved to the head while the other side is styled into long side bangs framing the face.
A-line Bob Hairstyle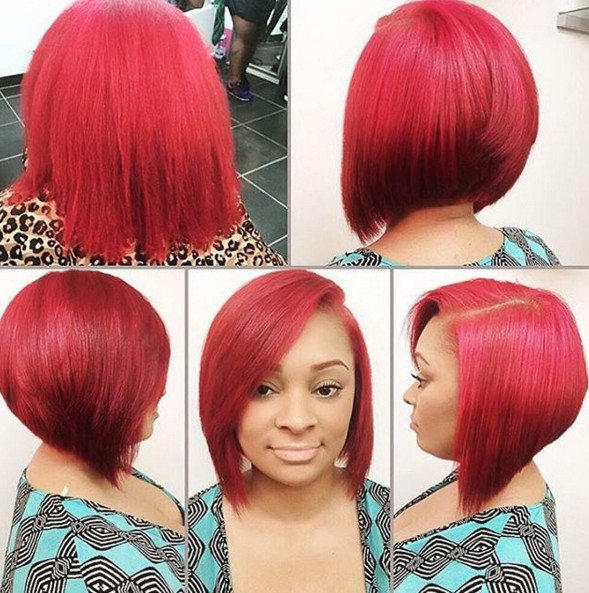 The A-line bob haircut looks even more eye-catching with the smashing red color. Finally, this style has been greatly updated by a stylish deep side parting.
Natural Curls for Undercut Hair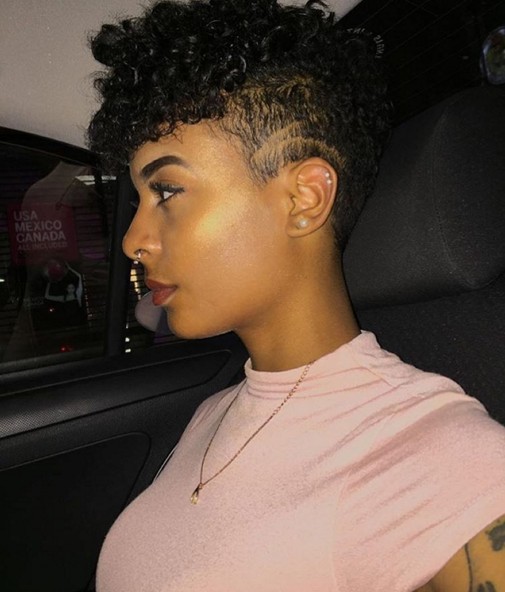 The cool undercut has redefined the short hairdo with a strong edgy-chic sense. You will definitely stand out with the unique pattern shaved on the side.
Messy Short Hairstyle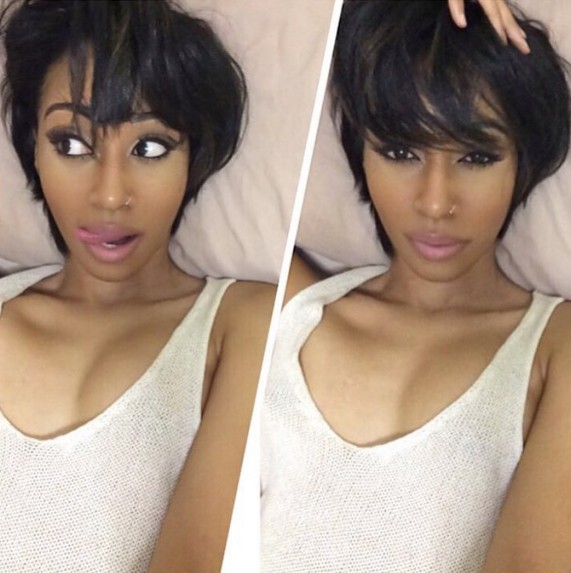 Short hairstyles will look more flattering with choppy bangs. They are being cut right above the eyes and can be tapered to suit any face shape.
Short Straight Hairstyle with Highlights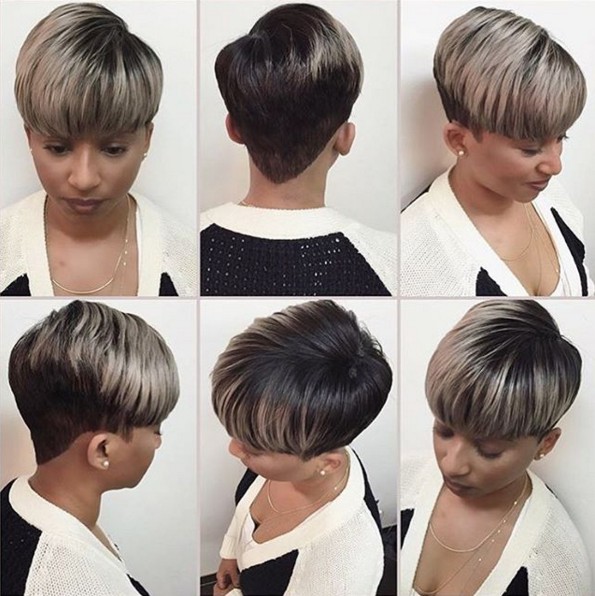 It is high time to try out the latest coloring technique for your short hair this season. You can design your own color pattern depending on your face shape.
Short Curly Hairdo for Orange Hair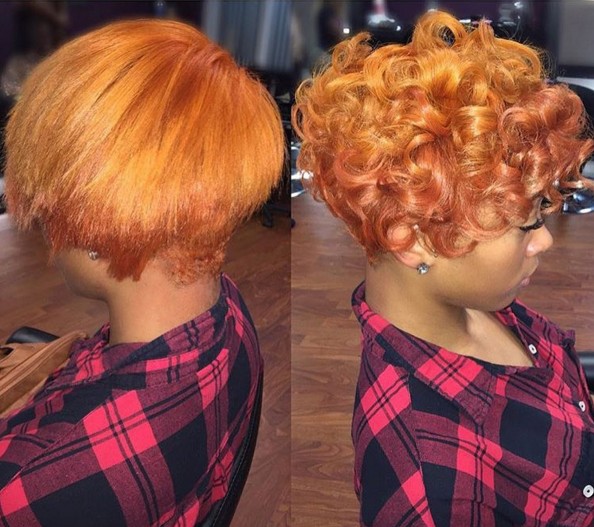 Copper, orange and red are warm colors and they are perfect to create the winter look. And it shows more adorable when applied on a short curly hairdo.
Straight Bob Haircut for Ombre Hair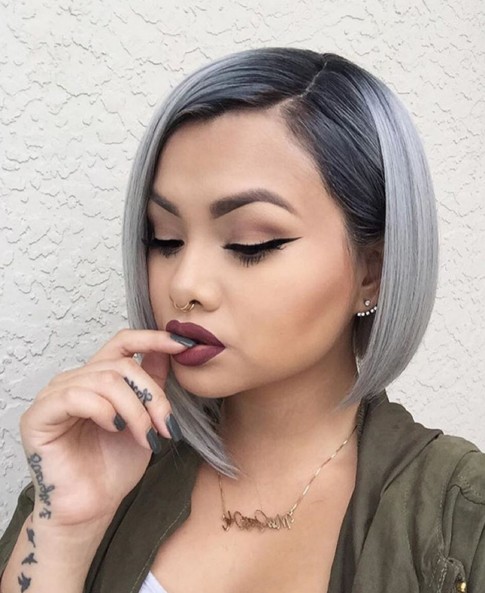 The sleek straight hair will never step out of the trend for women. This short bob haircut looks more fabulous with the magic ombre shade.
Medium Layered Hairstyle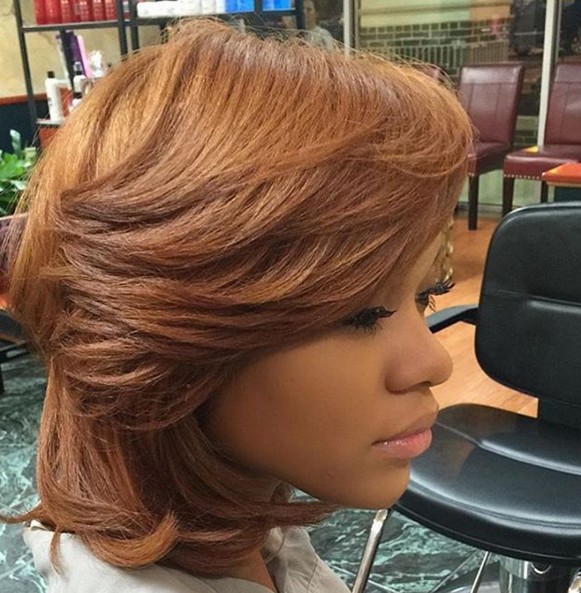 Layers are great to create added depth and dimensions for any look. This medium hairstyle can flatter any face shape with softly tapered strands around the face.
Medium Bob Hairstyle for Silver Grey Hair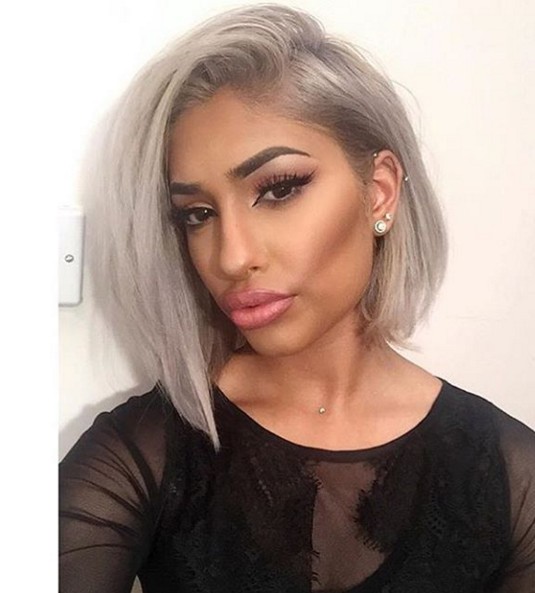 The trendiest way to wear silver grey hair this year is to style it into a long bob haircut. Pull all your hair to one side to shape a deep side part.
Short Hairstyle with Undercut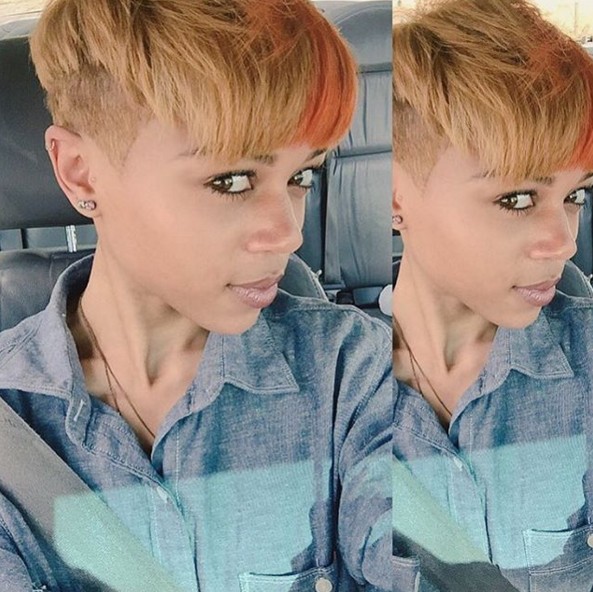 It looks extremely fancy to combine trendy orange highlights with the undercut. You can also try a darker shade if you want a more sophisticated look.
Short Curly Hairdo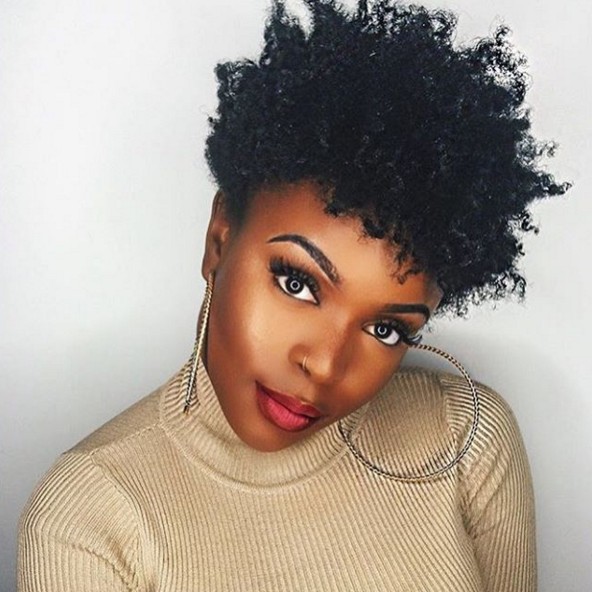 The Afro hairstyle is super cool for those black girls who are born with natural curls. You can define a softer and trendier look with your fingers.
Short Hairstyle with Bangs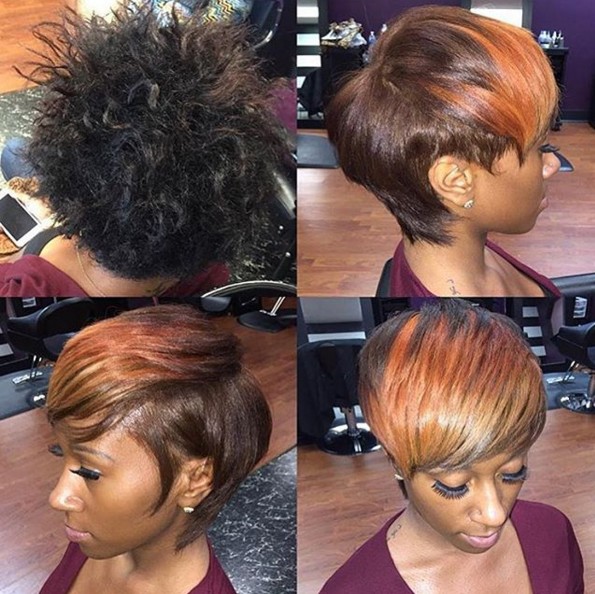 Thick bangs can work out for many hairstyles. It is also being a flattering way to keep you rough, coarse hair in check for your everyday style.
Long Bob Haircut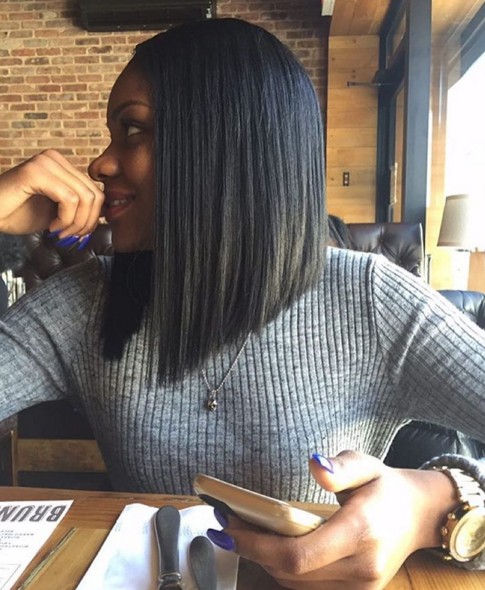 There's nothing more fabulous than a straight bob haircut for women. This rule also works for black women with their glowing darker skin tone.
Short Hairstyle for Thick Hair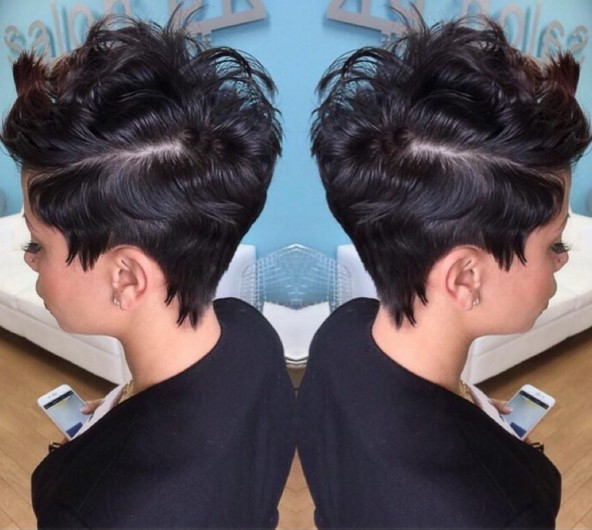 Short hairstyles can give a fresh look to darker colored hair. Add a side part for a totally trendy and up-to-the-minute look.
Short Pixie Hairstyle for Purple Hair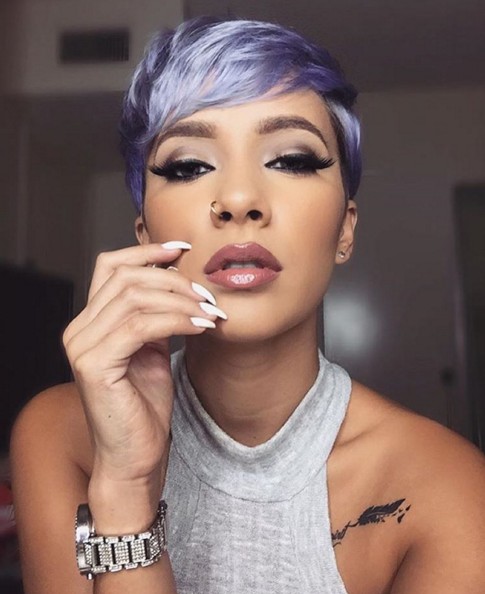 It looks very stylish to keep subtle bangs at the front for girls with a long face, They can help to cover the forehead and accentuate your beautiful eyes.
Curly Pixie Hairstyle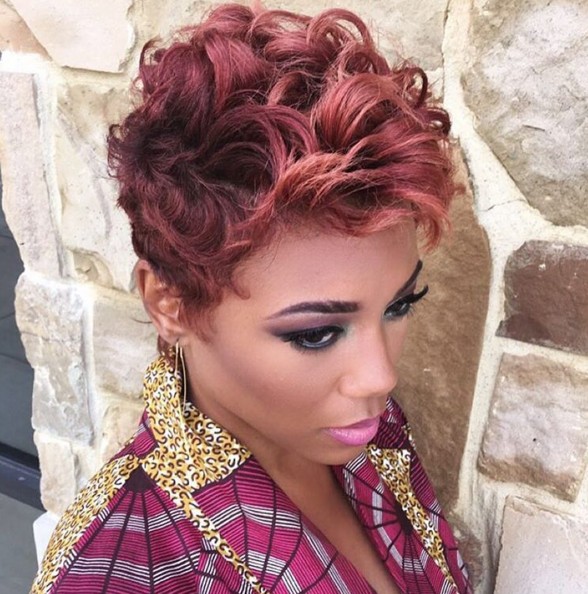 The short pixie hairstyle shows more adorable if styled with soft curls. A hint of red ombre color gives a chic and contemporary sense to this look.
Wavy Pixie Haircut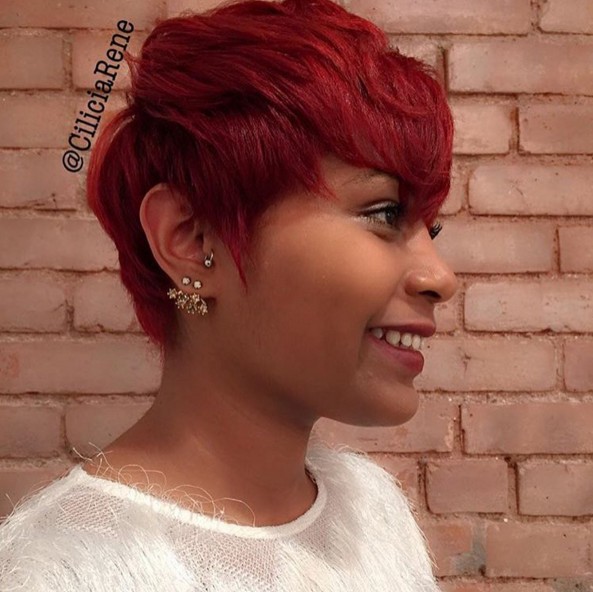 To spice up your hairstyle this season, you can definitely take a try at a bold hair color. The fiery red color would be a good choice to lighten up your complexion.
Short Curly Hairstyle for Copper Hair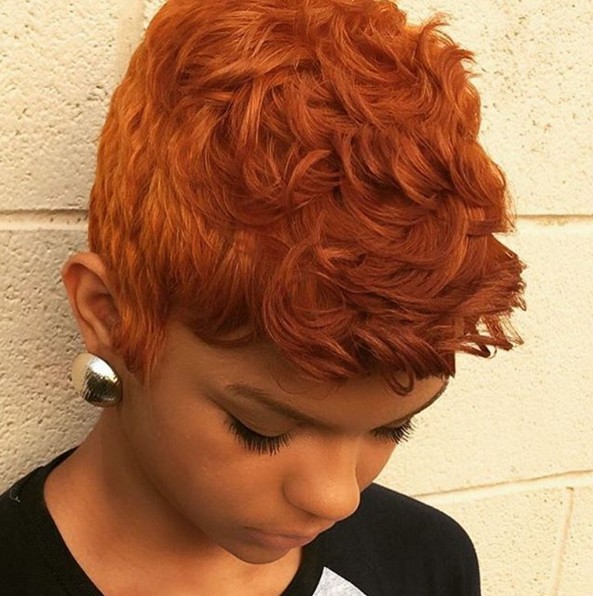 It will never go wrong to wear the rich copper color for your short hair, especially with the lovely curls.
Medium Wavy Hairstyle for Red Ombre Hair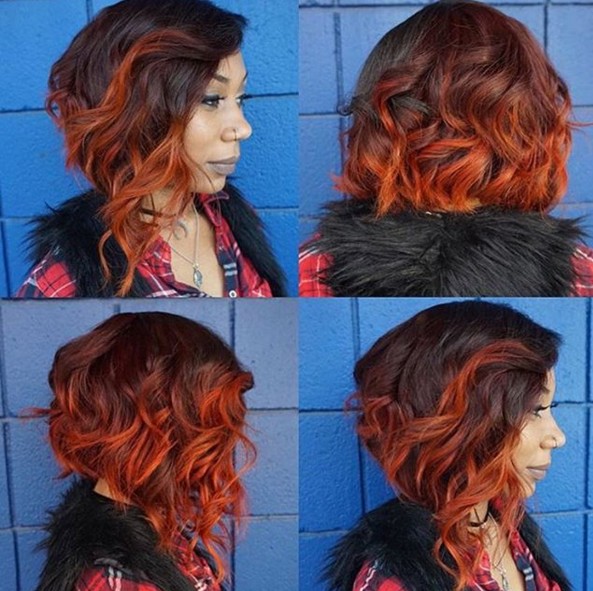 This wavy bob hairstyle looks very special and unique. It has an extra long strand styled at one side falling down the shoulder.
You can find more (hairstyles for African American Women) on prettydesigns.com