10 Easy Ways to Get No-Heat Waves
Wavy hairstyles play an important part for women's hairstyle trends. The natural looks are becoming more and more popular these days. So it will be a good idea to try out some no-heat waves for your new style. Besides, they will do no harm to your long tresses and are very easy to achieve. Today, let's take a look at 12 easy ways to get no-heat waves in this post and enjoy!
Bandanas, hair clips, bobby pins or even socks will do you a great favor when you get no-heat curls or waves. We've also got some over-night tutorials here if you want to wake up with a fantastic look. Twist your hair around the band and sleep on it. Remove the band in the morning and you're ready to go. Adjust the tightness to create a variety of shapes and styles.
Easy Ways to Get No-Heat Waves
Braids:

Procedure: After washing your hair, let it dry until it's slightly damp. Divide your hair into sections and braid each section. The size of the braids will determine the size of the waves. Larger braids create loose waves while smaller braids create tighter waves.
Result: Upon drying, you'll have beautifully wavy hair.

Sock Bun:

Procedure: Cut the toe end off a sock and roll it into a doughnut shape. Pull your slightly damp hair into a ponytail and tuck it around the sock, rolling it down until you reach the base of the ponytail.
Result: Morning comes with naturally curled waves.

Twist & Pin:

Procedure: On damp hair, take a section and twist it. Once twisted, coil it onto your scalp and pin. Continue with the rest of the hair.
Result: After drying, you'll have soft, beachy waves.

Headband Tuck:

Procedure: Place a stretchy headband over your head. Starting from the front, tuck sections of your damp hair over and into the headband, working your way around.
Result: Upon drying, your hair will fall into gentle waves.

Plopping:

Procedure: After washing your hair, take a cotton T-shirt and lay it flat. Bend over and let your hair fall in the center of the T-shirt. Tie the T-shirt around your head, securing your curls on top.
Result: This method helps form natural waves without frizz.

Paper Towel Curls:

Procedure: Tear a paper towel into strips. With damp hair, wrap small sections around a paper towel strip and tie it.
Result: Tight, ringlet curls.

Ponytail Method:

Procedure: Put damp hair into several ponytails. Split each ponytail into two sections and twist them around each other.
Result: When dry and untwisted, you'll have cascading waves.

Mousse & Scrunch:

Procedure: Apply a generous amount of curl-enhancing mousse or gel to damp hair. Scrunch your hair with your hands and allow it to air dry.
Result: Natural-looking waves with added definition.

Bun or Topknot:

Procedure: Twist your damp hair into a bun or topknot. Secure with an elastic band.
Result: Once dried and let down, you'll have loose, elegant waves.

Pin Curls:
Procedure: On damp hair, wrap small sections around your finger to form a curl. Pin these to your scalp.
Result: Upon drying, you get vintage-style waves.
No-Heat Waves

No-Heat Curls Tutorial

Easy No-Heat Curls

Easy Waves for Long Hair

No-Heat Beachy Waves

No-Heat Curls

Easy Pinned-Up Curls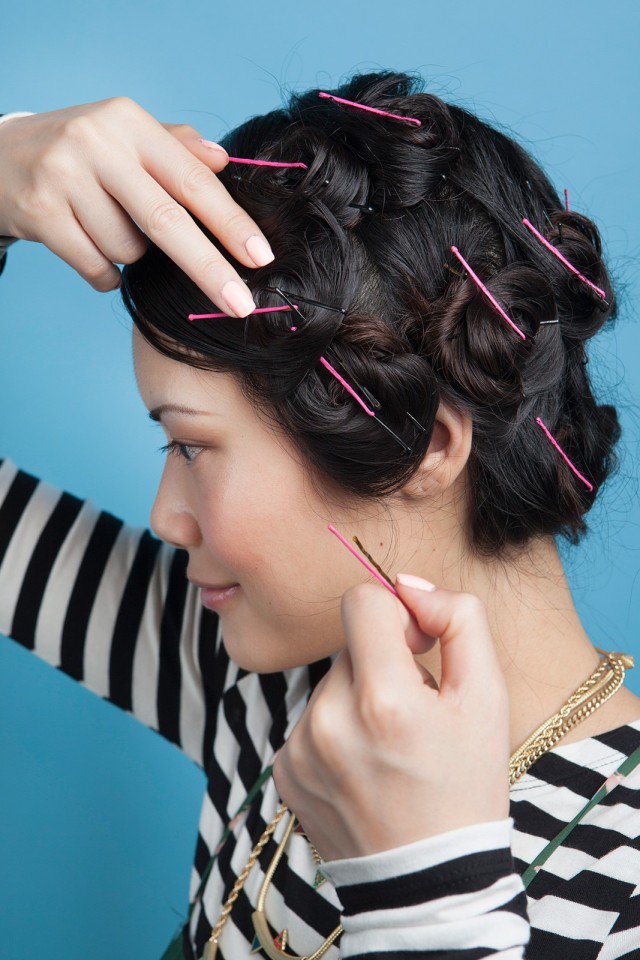 No-Heat Waves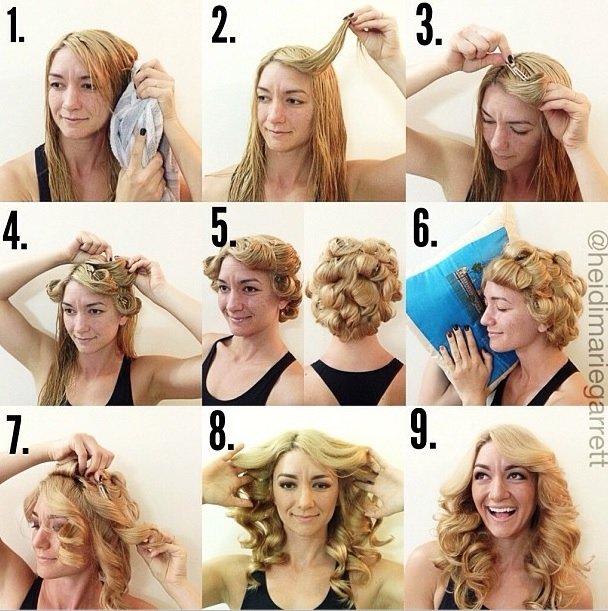 Over-Night Sleep-on Waves

No-Heat Sock Curls

You can find more (no-heat waves) on prettydesigns.com