7 Free Apps To Download Right Now To Help Plan Your Wedding
Technology is amazing, is it not? I am currently in school to be a teacher, and I have gotten to the part in the program where I observe in the classroom. So I observe in a High School U.S History class, and the other day the teacher posed the question: "what new technologies have been created in your lifetime that have completely changed the game?" and I am thinking "um, everything!"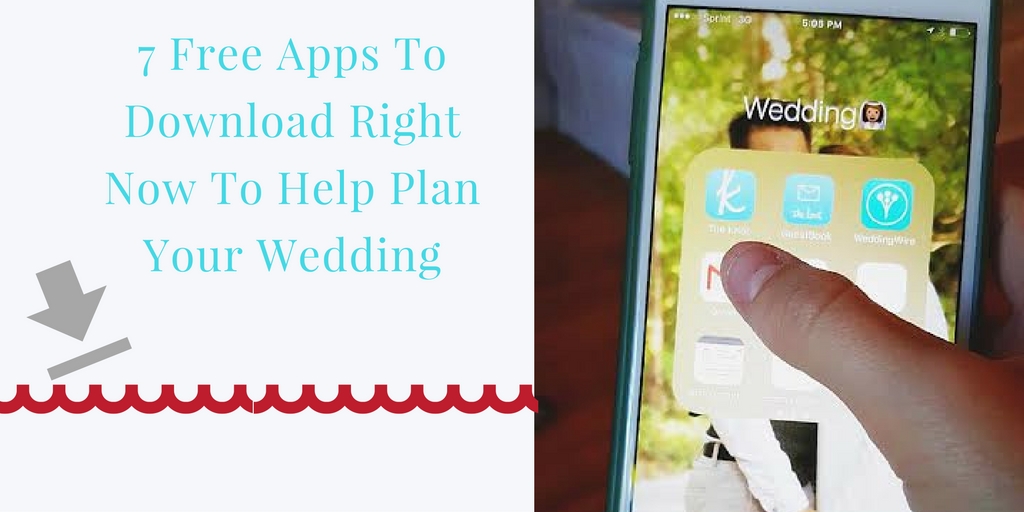 OK, not everything. But there really have been some amazing innovations in technology over the recent years. And luckily for us brides-to-be, there are some amazing technologies that you should be taking advantage of right now that will make planning your wedding SO much easier!
#1: The Knot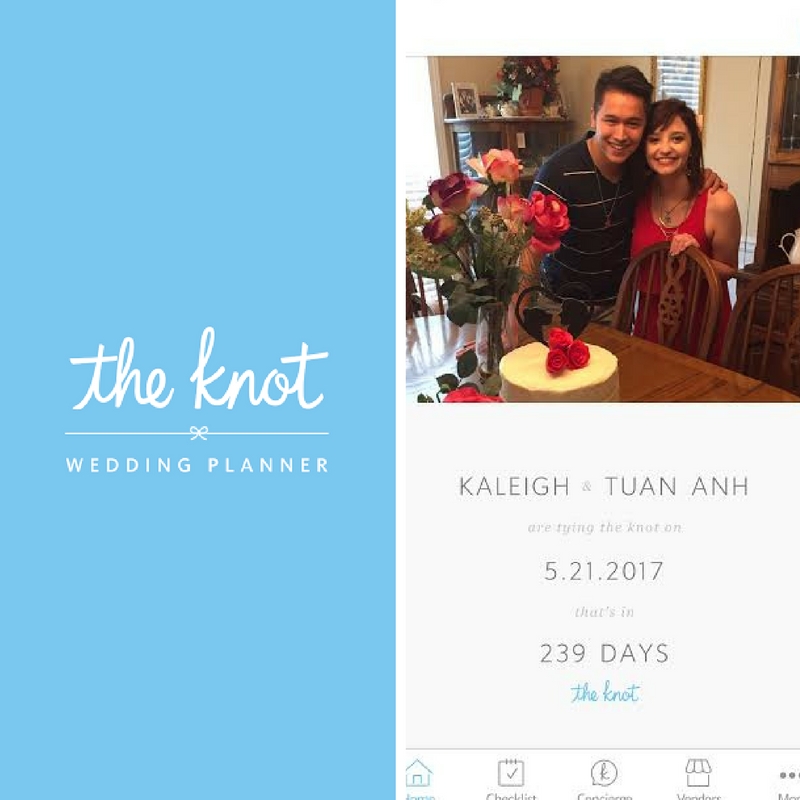 This is one of my favorites of the bunch! It is a great app that keeps you organized with everything you need! When you first open it up, the app lets you know how many days are left until you say "I Do". You can also customize the cover photo to you and a cute picture of your fiance!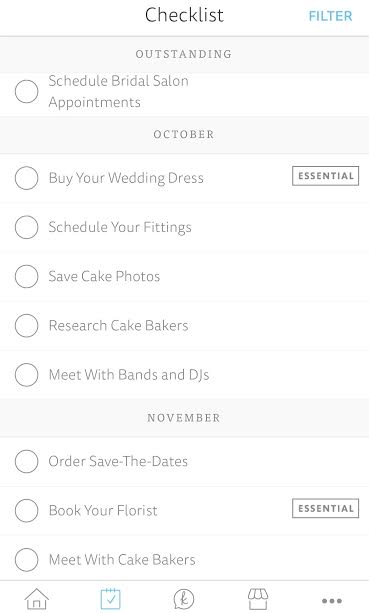 The checklist tab of this app is amazing because it is so detailed! It reminds you of the big to-dos like booking your venue, purchasing your dress or sending your invites. But it also schedules days for you to create a fitness plan, save ideas for different members of your wedding party (like ring bearers, flower girls), and even things like "connect your registry to a charity", which is something I had never even heard or thought of!
The only downside to this part, is that this timeline differs from the timeline in my wedding planning binder. Not dramatically, but it is a noticeable difference. In most situations, I stick to the timeline in my binder but it is still great to have such a convenient list at your fingertips!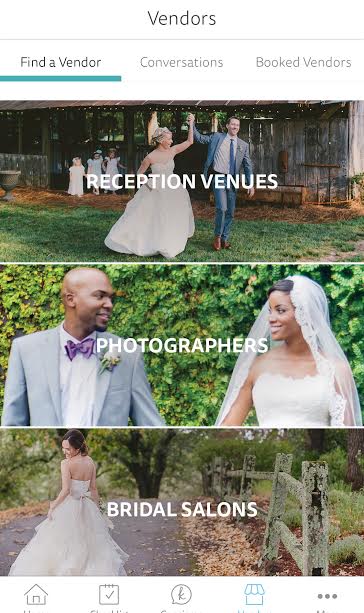 My second favorite part of this app is the Vendor Tab. Listed here are any vendor categories you could think of. You click on the category you need, and enter your location, and then the app pulls up local vendors for you to browse! The best part is there is a filter option. You can filter your search by category, or even price! Which is fantastic, because you can rest assured knowing that the vendors you are looking through will be in your budget.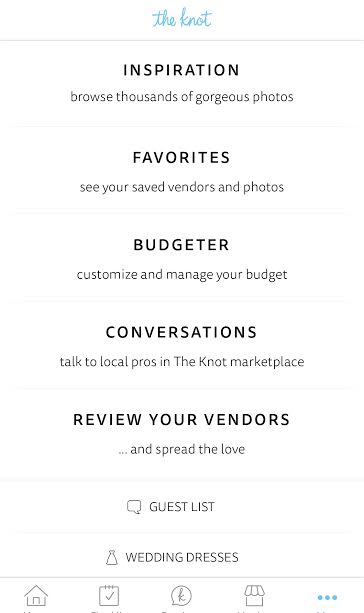 There are also a bunch of different features such as the budgeter, and an inspiration board! These can be used to plan your budget and also to brows photos of real weddings!
#2: The Knot Guestbook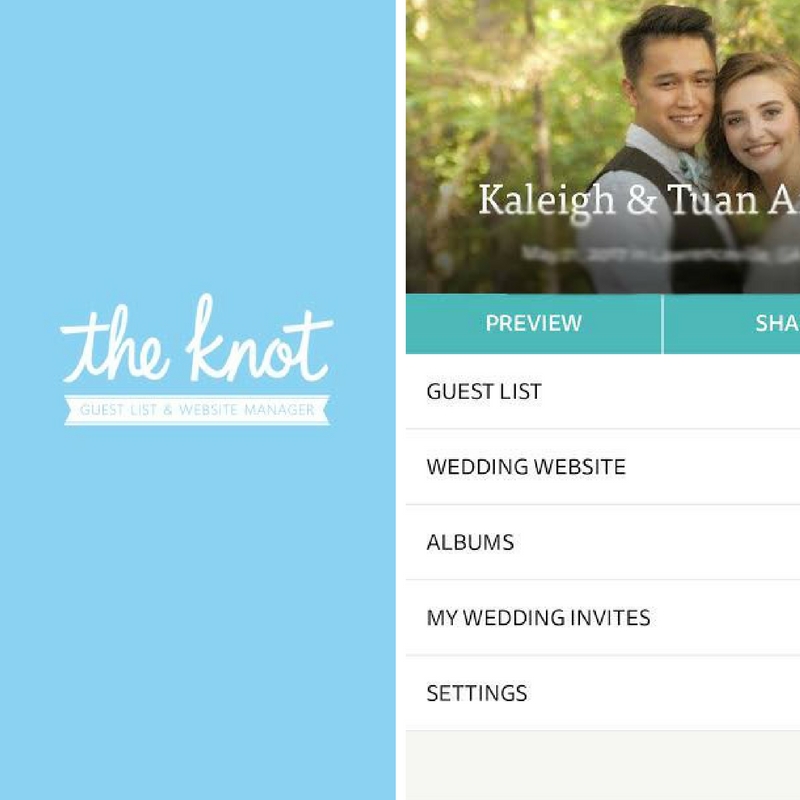 The Knot also has an amazing app called the Guestlist and Website manager! With this app you can organize your wedding's guest list, including adding guest's addresses as you collect them. There are also organization tools to sort through which guests have RSVP'd or not.
Speaking of RSVP's, you can use this app to connect to your knot.com wedding website. As people sign up for your site and RSVP, it will automatically update here on your app!
There really is not much more to say about this app accept for the fact that it is a great management tool for organizing your guest list! And the fact that it is free is even better!
Just don't forget to connect this app to your knot wedding planning app to easily jump back and forth between the two apps as you need to!
#3: Wedding Wire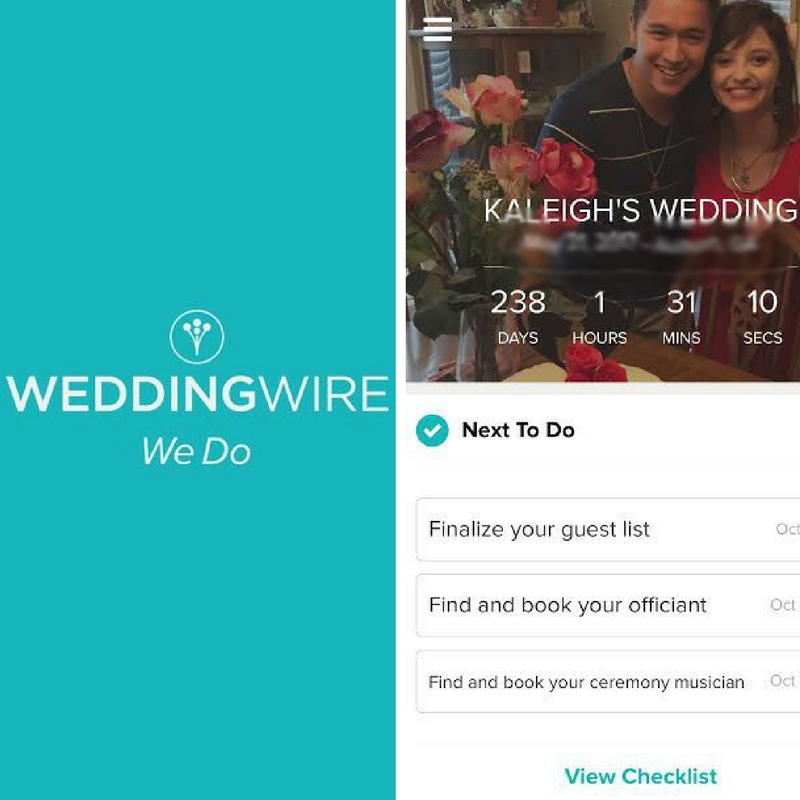 Another great app that organizes everything in one spot is the Wedding Wire app!
This app is mainly for keeping track of your checklist! When you first open up this app, it tells you the countdown of your wedding (down to the seconds!), and then directly under that it give you the top three to do's for that particular month.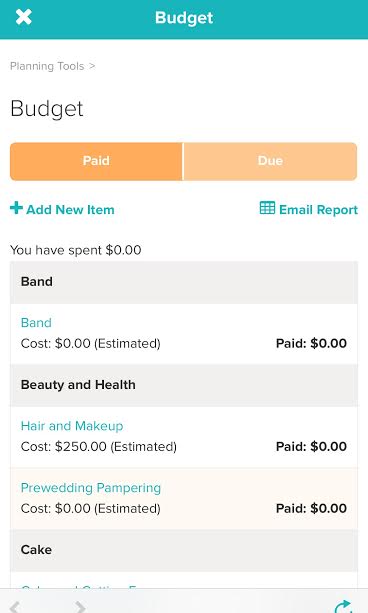 I do personally like the budget planner on the Wedding Wire app a little more than the Knot app only because I found it easier to use, but there really is not that big of a difference between the two!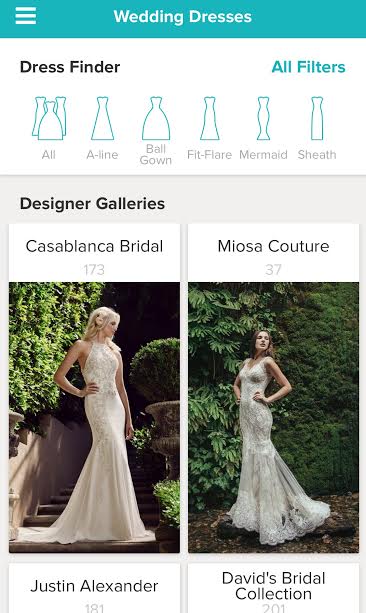 My favorite part about the Wedding Wire app is the dress searching option. You can search for any dress based on the type or style of dress you are looking for. Across the top are little diagrams of the different dress styles you can choose from. The app will then display different dresses, in a variety of price ranges, that match your style selection. You can save these styles directly to the app, and get even more suggestions on the dresses.
There is also a pretty great forum feature here where brides-to-be help each other out by asking questions and giving suggestions on what worked for them! It is a fabulous way to get ideas from all different types of people, so you are more than likely find an answer that fits what you are looking for!
ALSO, if you are planning on using The Knot's wedding website feature to build you website, then I would definitely recommend getting The Knot app over this one! Mainly because with the knot, you can connect everything to the app! And Wedding Wire does not have a website builder. However, if you are going with a different site builder, then the app you choose is up to you, as either of them are a great choice!
#4: Gmail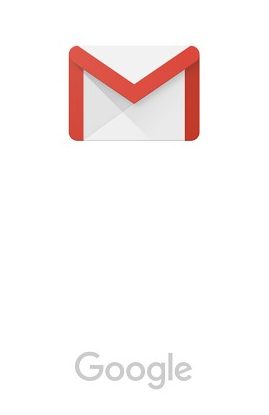 Moving away from the apps that are obviously perfect for wedding planning, the next app on this list is the G-mail app!
One tip I have for you is to create a wedding email account to be able to give out to vendors and use to create all your accounts. This way your personal email account won't be bombarded with wedding related details!
You could make your email something cute, or just simple like jackandjill[@]gmail.com. If it's simple and something easy to use, you could even give it out to guests to use as an rsvp collector, or the best way to ask questions! That way your cellphone also isn't blown up with messages and questions!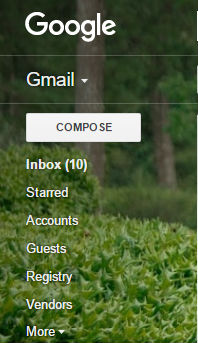 G-mail also has great features you should use, like the ability to use filters and folder to organize your mail as it come in! Create folders for "vendors", "guests", and even "accounts", and then let the filters organize all your emails for quick access!
#5: Google Calendar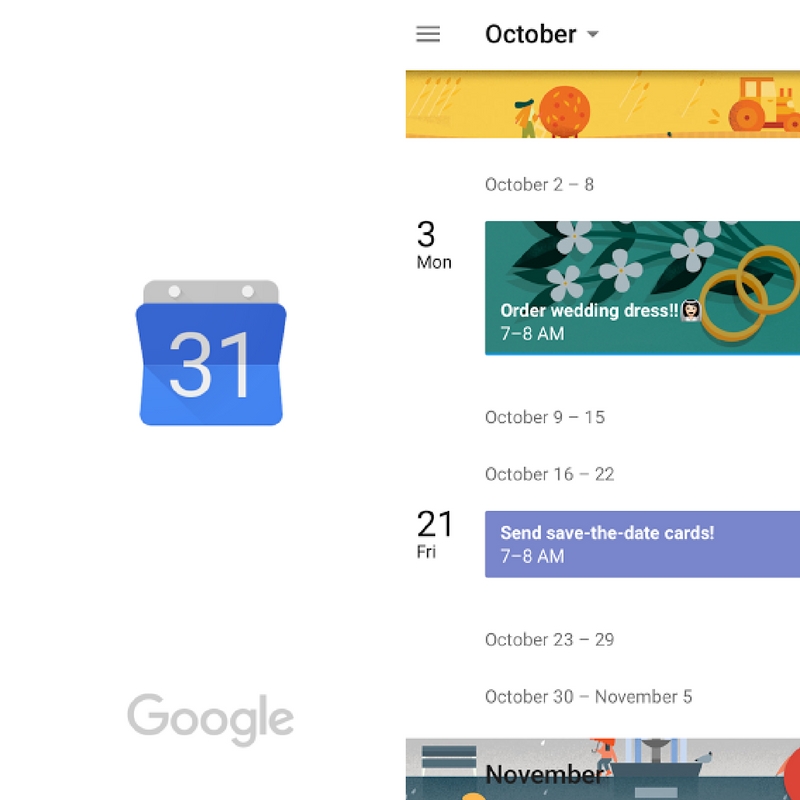 I am just now getting in to google calendar! And I love it so far! What have I don't all my life without google? (I wish I could be like Owen Wilson and Vince Vaughn in that internship movie and work at Google!)
You can use google calendar to have a did digital calendar for all of your wedding to-do dates! Use different colors for different events like "appointments with fiance" could be purple, "things with bridesmaids" could be blue, "DIS project" could be green and "payment dates" could be red (and bold!).
Another great thing about google calendar is the collaboration feature! Create a calendar just for your events with your bridesmaids, and then invite them to join you as collaborators on the calendar! That way you can add things like "dress try on/lunch (?)", if they like that day then have them put a check or even just their name by that date if it works for them! This way its not on a group chat where everyone is typing over each other and no one actually knows what's going on.
You can also set google to remind you of all the dates you have entered! So you will never forget to update your guest list or email your photographer with google calendar!
#6: Perfect Wedding Magazine App
So, this one sort of back tracks to the obviously helpful wedding apps, but maybe it is something you never thought about before!
What I love about magazine apps is that once you download the magazine, you don't have to have Internet access to be able to read it! So once you have it, you have it!
This magazine is great because all of the things they suggest you to use are a lot more affordable than some of the upscale magazines! (For example some of the makeup they suggest you use are Clinique products, which are not drugstore prices, but still!)
My favorite part about reading magazines on an app is that there are always special features attached to it (remember you would need Internet access to view any special features). This could mean a video makeup tutorial linked to their beauty page, or an interview with a wedding planner! All of the special feature are awesome to watch cartoons and packed with so much extra information that you wouldn't get with the printed magazine!
Bonus for the magazine app: this particular magazine app, if you download right now is doing a promotion where they give you TWO free magazines (They usually only give one)! It's also cheaper to pay for the magazine on a month-to-month subscription basis, because it makes it only $2.99 a month (as appears to some magazines which are $7.99 at the store)!
#7: Pinterest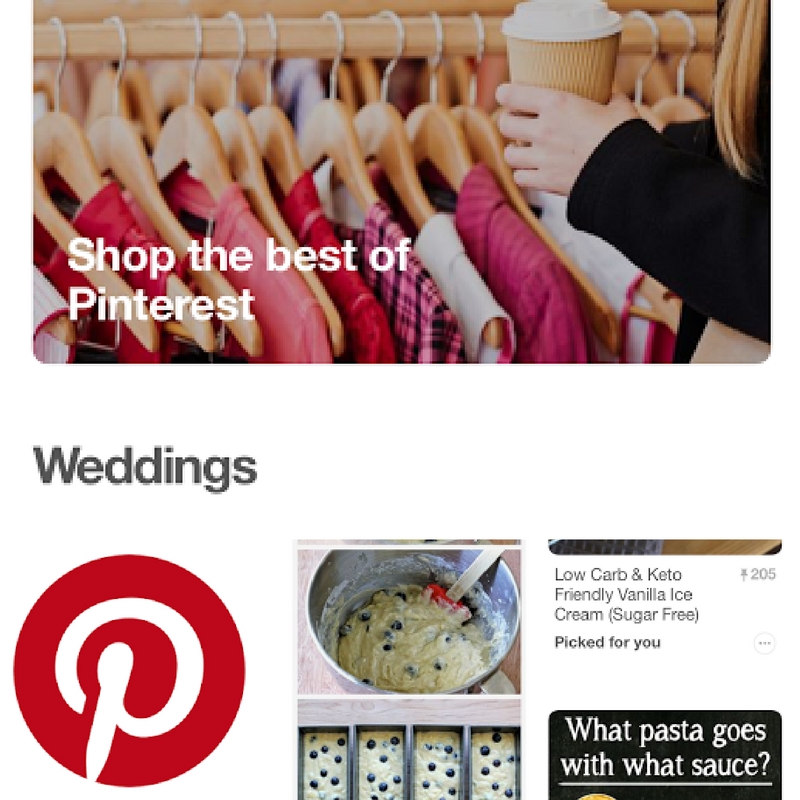 I had to add this one! You know it did! Pinterest truly is the mother of all ideas! Any ideas that you are thinking, and project you want to do, anything you could possibly dream of is on Pinterest, with step by step guides on exactly how to do it! Amazing!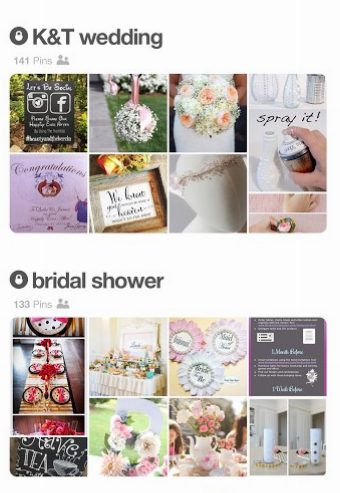 I would create a board for each major part of the wedding. Do a board for the ceremony and reception, then a board for the bridal shower, and even on for the bachelorette party or DIY projects you want to do, just to keep it organized!
A great feature about Pinterest boards, is that you can keep your wedding board secret (that way no one has hints about the day!) but you can also invite people to collaborate with you! So you can invite your maid of honor to your bridal shower board, so she can see the direction you were thinking and then she can take over from their to plan the bridal shower you want! (You can also like any pins she posts to give extra hints on the ones you love!)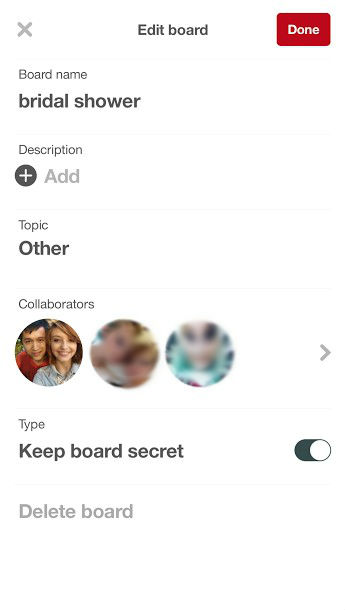 I invited my family members (mom, sister, aunts) to be collaborators on my ceremony board because they are all helping make things, and are all just really creative! So if have an idea of something I want to do, but don't know how to do it, I know that one of them will have suggestions for me! It's great to not have to go at it all alone, and knowing I have back up makes the planning easier! So invite some people you love and trust to collaborate with you and take a load of stress off your shoulders!
If you are in a dry spot, and needing some ideas on themes, bridal showers or any inspiration, or just aren't really good with Pinterest, well I am doing half the work for you! If you come follow my Pinterest board, I am working on boards for all different themes of bridal showers, weddings, DIY projects, all types of stuff you might need for your wedding!  So come on over: Click Here!
A Little Something Extra: I also love wedding books! I am definitely a more traditional pen and paper type of girl (although I do love my technology too), so after we got engaged I hit up my public library's website and put any book related to weddings on ho ld! I checked out "The Knot Ultimate Wedding Guide" and a "Guide to Vintage Weddings". I also checked out "How to be the Perfect Bridesmaid" so I could let my sister read the maid-of-honor part (cause neither of us really knew her role). All of the books gave us some great ideas, and really helped lead me in the direction of where we are now as far as themes and decoration ideas!
I hope these apps help you as much as they have helped me! If you have any other app suggestions, feel free to share with us all in the comment section down below! You can also tweet them (or any other questions) to me @kaleigh_blogs
Dont forget to follow me on Instagram @kaleigh_d_a where I keep you up to date on my next posts and other things going on!
If you missed my last post, it was all about creating the Ultimate Wedding Planning Kit!