Trendy Hair Color Ideas – Blonde & Black Hairstyles
Blonde and black hairstyles started with rock stars who wanted a look that was totally different and unconventional.  And now that unconventionality is the key look for the 21st century, blonde and black hairstyles are becoming main-stream for lots of trendy women.
Blonde highlights soften the face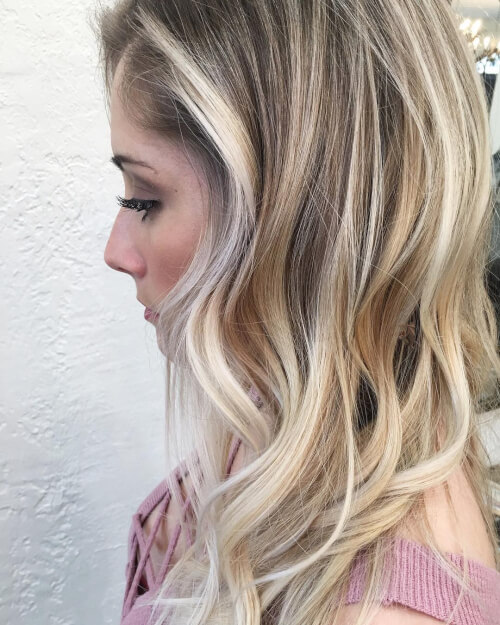 Women with naturally black hair colour are increasingly adding some trendy blonde highlights, to soften the look and join the huge trend for multi-colour hair.  Golden blonde balayage highlights can be seen on lots of famous brunettes this season and they really do add a lot of style and personality to dark hair.
Some dark colours can be pretty harsh, so a few rose-gold blonde highlights may be just what you need to achieve a younger, softer effect!
Edgy blonde and black hairstyles
If urban chic is more your style, then you must see the new highlighting patterns for this season! Instead of vertical colour accents, try adding a blonde border running all around the head on just the tips of your black hairstyle.
Layered haircuts are currently the most fashionable and you can emphasise the layering with some daring touches of blonde on black.
Black border on blonde hair
One of our favourite blonde and black hairstyles is the dramatic look you can get by adding a black border around the edges of a blonde hairstyle.  It's a totally unexpected contrast-look that will make you the centre of attention wherever you go!
A ruffled bob with choppy or shaggy layers is the perfect cut to get an edgy, futuristic blonde and black hairstyle that will always make you stand out in a crowd.
Asymmetric blonde and black hairstyles
Asymmetric cuts also offer lots of scope for blonde and black hair highlighting.  This season's asymmetric bobs are showing lots more contrast in the lengths for a more extreme look.
To complement this on an inverted bob with a super-short back, sweeping down to long smooth sides, try having the back bleached to a pale blonde to contrast with the black top and sides.
Black lowlights
In the past, we've seen short dark hair with blonde highlights – but for something really contemporary and fresh, put some fine, black lowlights into your blonde hair!  They look amazing on wavy or curly hairstyles.
So if you're ready for a radical makeover, check out some of the edgiest blonde and black hairstyles ever seen, in our latest Inspiration Gallery and find your favourite new-season look!