Cassadee Pope's Tattoos & Their Meanings
Cassadee Pope's tattoos are all grouped together in a pretty and well-balanced collection, making a fabulous half-sleeve tattoo on her right forearm.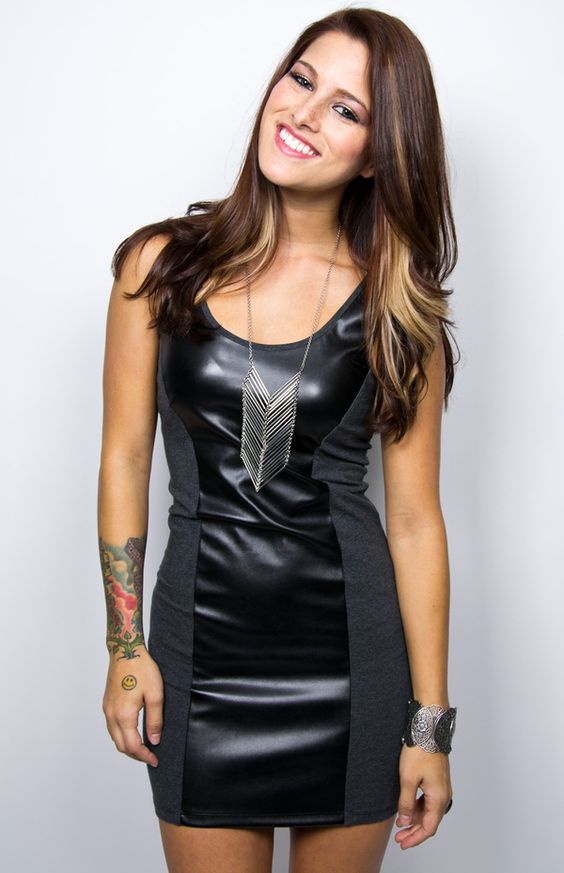 In interviews, Cassadee has said that all her tattoos refer to her love for music and that she knows she'll never regret them – because music is her life!
Cassadee Pope tattoos – blue songbird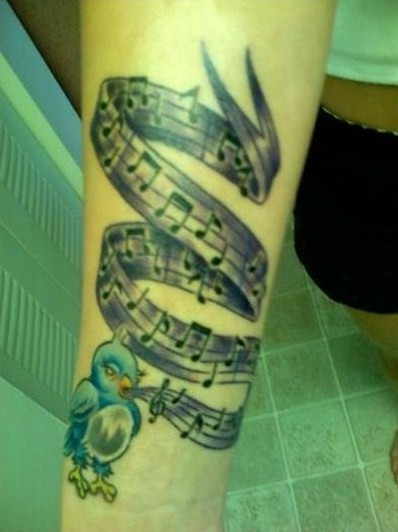 Cassadee Pope's first tattoo, done the day after her 18th birthday, is this beautiful little blue and white bird on a leafy branch, singing out a banner of musical notes moving up her inner arm.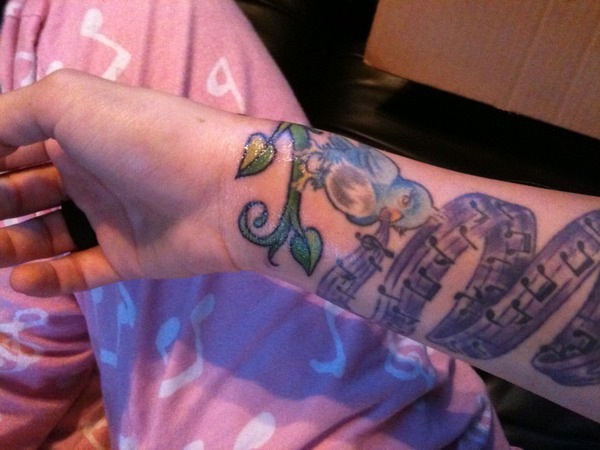 There's an adorable cartoon-style to the image and you can't help but smile when you see its long eyelashes, orange beak and tiny yellow feet!
It's a tattoo that's full of happiness, representing Cassadee's own love of singing!
Cassadee Pope tattoos – Smiley face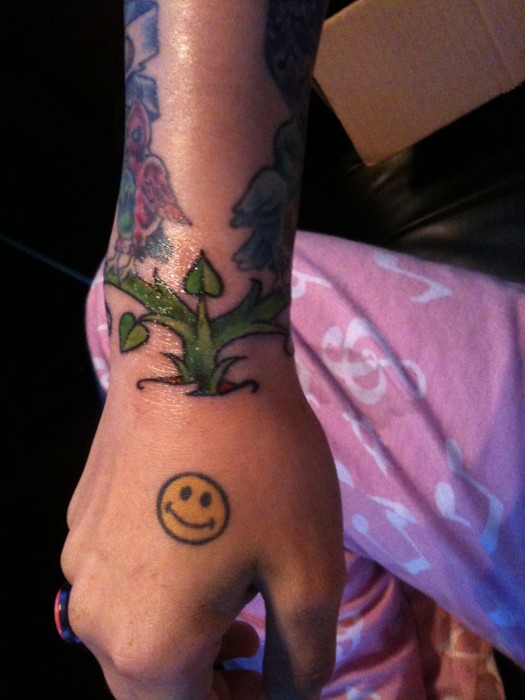 Cassadee's next tattoo was another happy image, showing a yellow smiley-face on the back of her right hand.  Cassadee says she got this tattoo on the day that Hey Monday did their showcase performance for Columbia recording studio.
It was the performance that got them signed up and also happened to be the same date as her grandfather's birthday – which makes her feel that he was looking after her band.  So this tattoo is a reminder of happy times spent with her 'pappy' and an important milestone in her career, too!
Cassadee Pope tattoos – front of right arm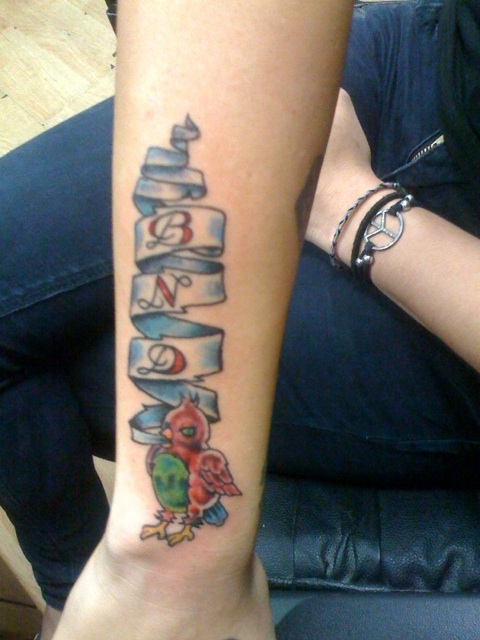 Here's another cute bird from the images that make-up a half-sleeve of Cassadee Pope tattoos.  It commemorates another big step forward in her career, when Hey Monday opened for Fall-Out Boy on the Believers Never Die Tour – Part Deux during April and May, 2009!
It was done in August 2009 and the banner contains the letters BND standing for Believers Never Die!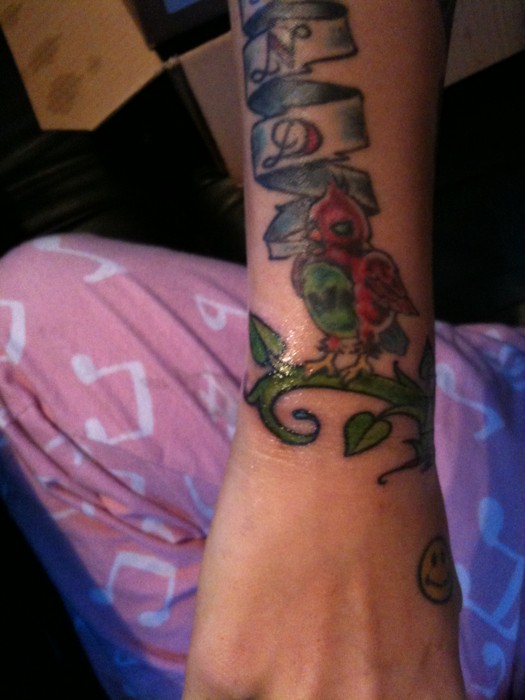 Cassadee Pope tattoos – half-sleeve taking shape
Then in May 2010, Cassadee Pope tattoos grew when she connected the two super-cute birds, with a green stem and leaves.  This created a nice balance between the tattoo on her inner arm and the one on the outer surface!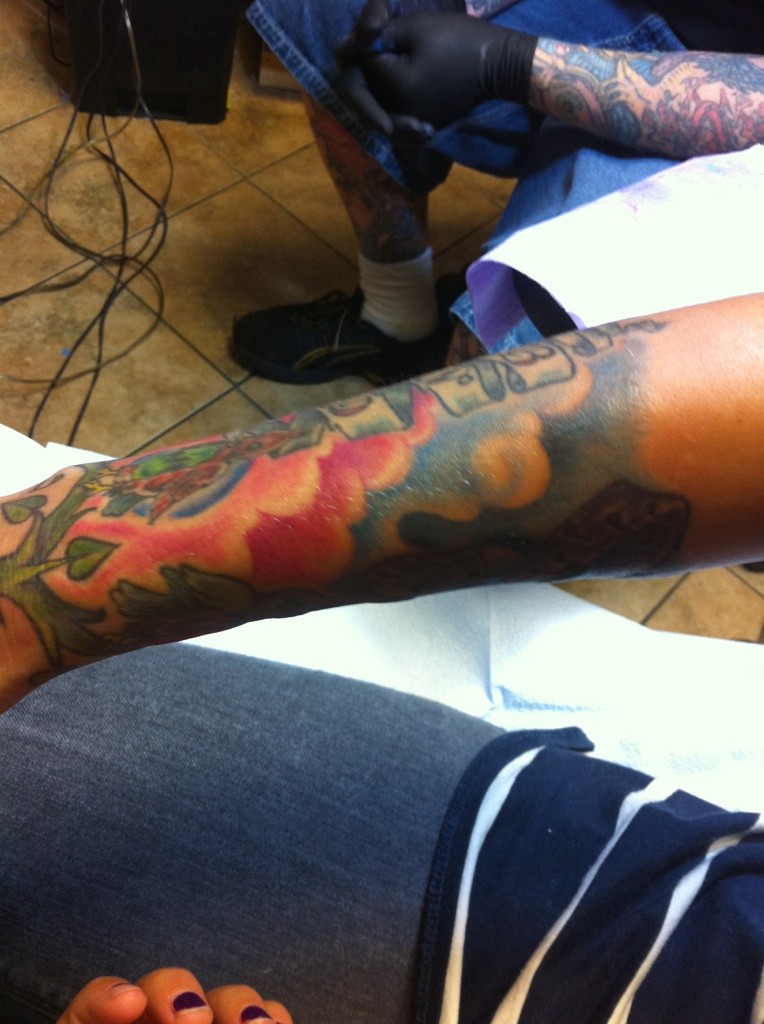 Later on, in October 2010, Cassadee Pope added some bright, pink and blue clouds to provide a suitable background for the songbirds and flowing banners.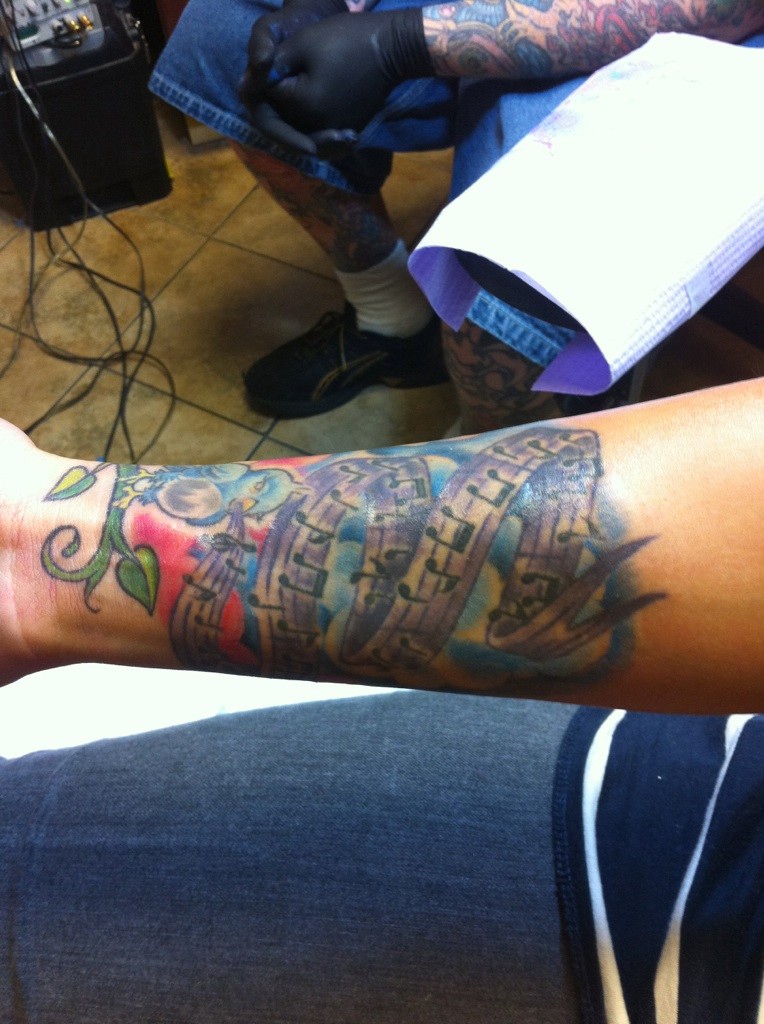 And that completes the amazing, half-sleeve of Cassadee Pope tattoos – for the time being!