17 Cute Denim Shirt Outfit Ideas for Women
Ah, the denim shirt – that trusty wardrobe staple that never seems to go out of style. It's like your favourite pair of jeans, but for your upper half. Whether you're heading to brunch, running errands, or just lounging at home, a well-fitted denim shirt can make you look effortlessly chic and put-together.
As the temperatures start to rise, it's time to kick your style up a notch. Denim shirts, with their versatile charm, are set to become your go-to top this season. They can be paired with virtually anything, making them the perfect canvas for you to express your personal style.
From denim-on-denim power-looks to flirty pairings with summer skirts, there are countless ways to incorporate denim shirts into your wardrobe. They can adapt to any aesthetic – be it casual chic with classic white jeans and ankle boots, or edgy street style with leather pants and high-tops. You can even dress it up with a structured blazer and high heels for that important work meeting.
So ladies, are you ready to unlock the endless potential of your denim shirt? We've scoured the latest trends to bring you a range of denim shirt outfit ideas for every occasion and mood. Whether you're on a shoestring budget or ready to splurge, we've got something for everyone. It's time to roll up your sleeves (literally) and dive into the wonderful world of denim shirt styling. Let the adventure begin!
What is a Denim Shirt?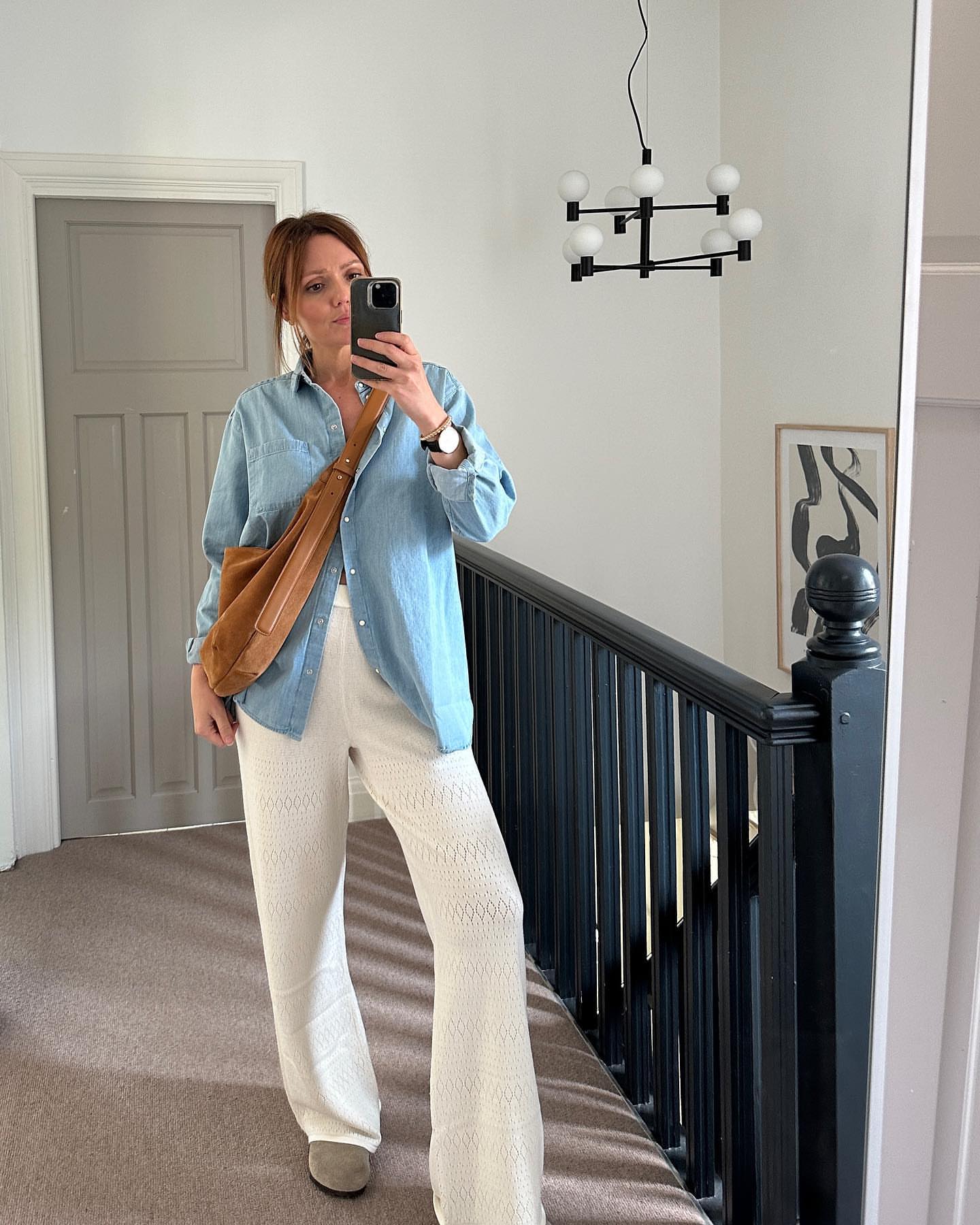 Before we dive into styling tips, let's define what a denim shirt is. A denim shirt, sometimes referred to as a 'jean shirt,' is a shirt made out of denim, the rugged, durable, twill-weave fabric that our beloved jeans are made from. Denim shirts come in a variety of shades from light blue to dark indigo, and even black and white. They can be styled in numerous ways, making them a versatile staple in your wardrobe.
Are Denim Shirts in Style?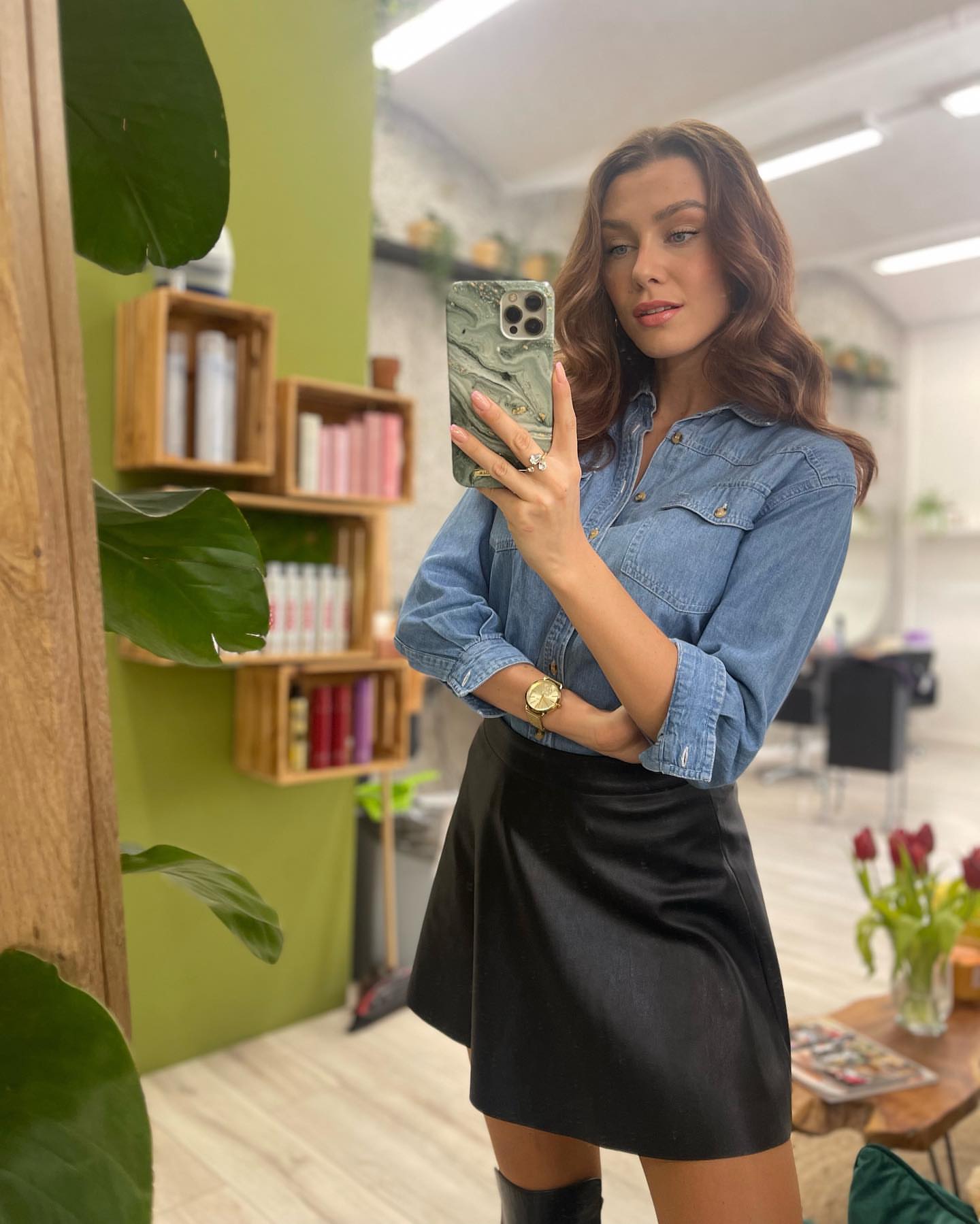 Yes, absolutely! Denim shirts have remained a mainstay in fashion for decades. This fashion item consistently resurfaces on the runway, in street style, and on the racks of our favorite stores. Their ability to be both casual and sophisticated makes them a go-to choice for many fashion enthusiasts. The denim shirt is a classic garment that, with the right styling, can be as trendy today as it was in the past.
What Goes Good with a Denim Shirt?
The beauty of a denim shirt is its ability to pair well with almost anything in your wardrobe. Here are a few ideas to get you started:
1. Denim on Denim: Embrace the double denim trend by pairing your denim shirt with jeans. This creates a chic, coordinated look. Remember to mix and match shades of denim for an appealing contrast.
2. With Skirts: Pair your denim shirt with a skirt for a feminine twist. Whether it's a floral maxi skirt, a sleek leather pencil skirt, or a playful mini, the denim shirt adds an effortless vibe.
3. Over Dresses: Use your denim shirt as a light jacket over summer dresses. This can instantly add a casual, cool element to your feminine outfit.
4. With Trousers: Whether it's tailored office trousers, casual chinos, or trendy culottes, a denim shirt can seamlessly blend in.
How to Look Chic in a Denim Shirt?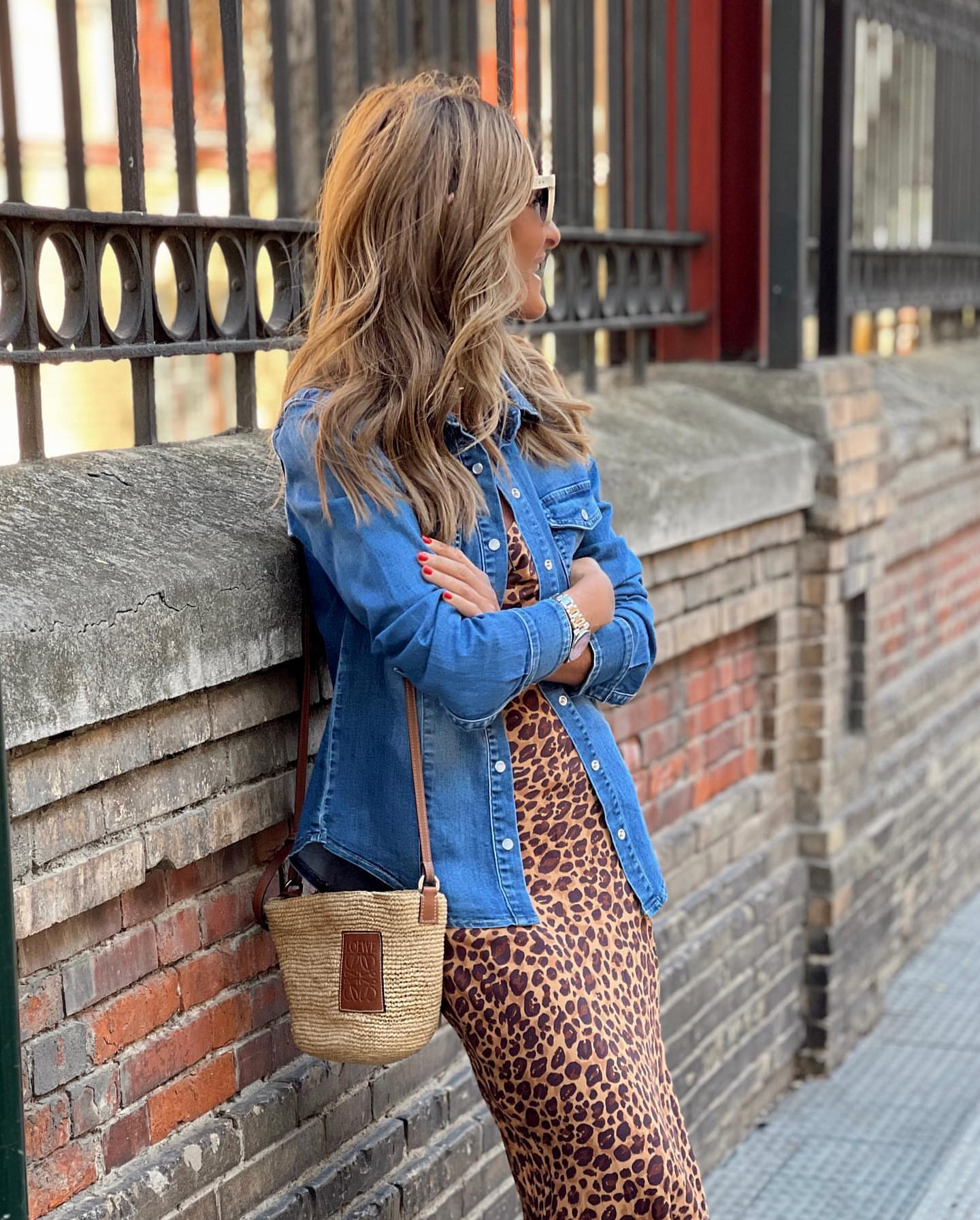 Making a denim shirt look chic is all about the details and how you style it. Here are some pro tips:
1. Layer it Up: Layer your denim shirt over a crisp white tee for a laid-back, yet stylish look. You can also layer it under a chunky knit or a tailored blazer when the temperatures drop.
2. Belt it: Cinch in your waist by adding a belt over your denim shirt. This not only enhances your figure but also adds a fashionable twist.
3. Accessorize: Elevate your denim shirt with the right accessories. Add a statement necklace, a vibrant scarf, or a pair of bold earrings to transform your outfit from simple to chic.
Styling a Denim Shirt for Different Occasions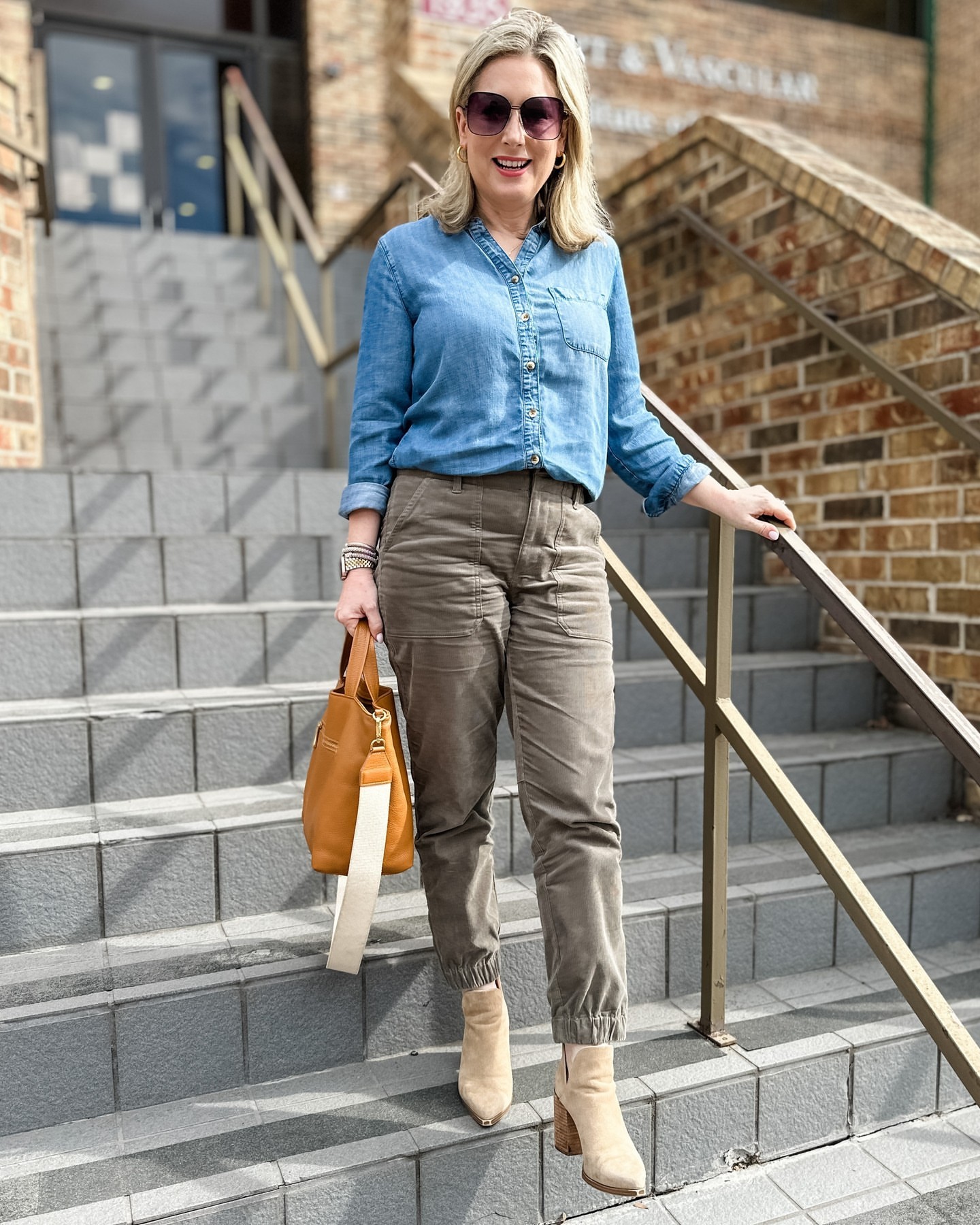 Casual Outings
A denim shirt makes for an excellent casual outfit. Here's how you can ace it:
With Leggings or Skinny Jeans: For a laid-back yet fashionable look, pair your denim shirt with black or colored leggings or skinny jeans. Tuck it in or leave it out and finish the look with your favorite sneakers or ballet flats.
With Shorts: In warmer months, denim shirts and shorts make for a breezy combination. Choose high-waisted shorts for a trendy touch, or go for classic cut-offs for a relaxed vibe.
Work Attire
Believe it or not, denim shirts can look incredibly chic and professional when styled correctly:
With Trousers: Pair your denim shirt with tailored trousers. Consider shades like black, grey, or navy blue. Add a pair of heels or loafers, and you're office-ready!
Under a Blazer: Wearing a denim shirt under a structured blazer creates an exciting contrast of casual and formal. Pair this combo with trousers or a skirt for a unique, work-appropriate ensemble.
Evening Out
Denim shirts are not just for casual daytime looks. You can easily dress them up for a night out:
With a Statement Skirt: Pair your denim shirt with a glitzy sequin skirt or a classy satin midi skirt. This combination balances the relaxed denim with something a bit more upscale.
With Leather: For a bolder look, pair your denim shirt with leather pants or a leather skirt. Finish it off with high heels and statement jewelry.
Accessorizing Your Denim Shirt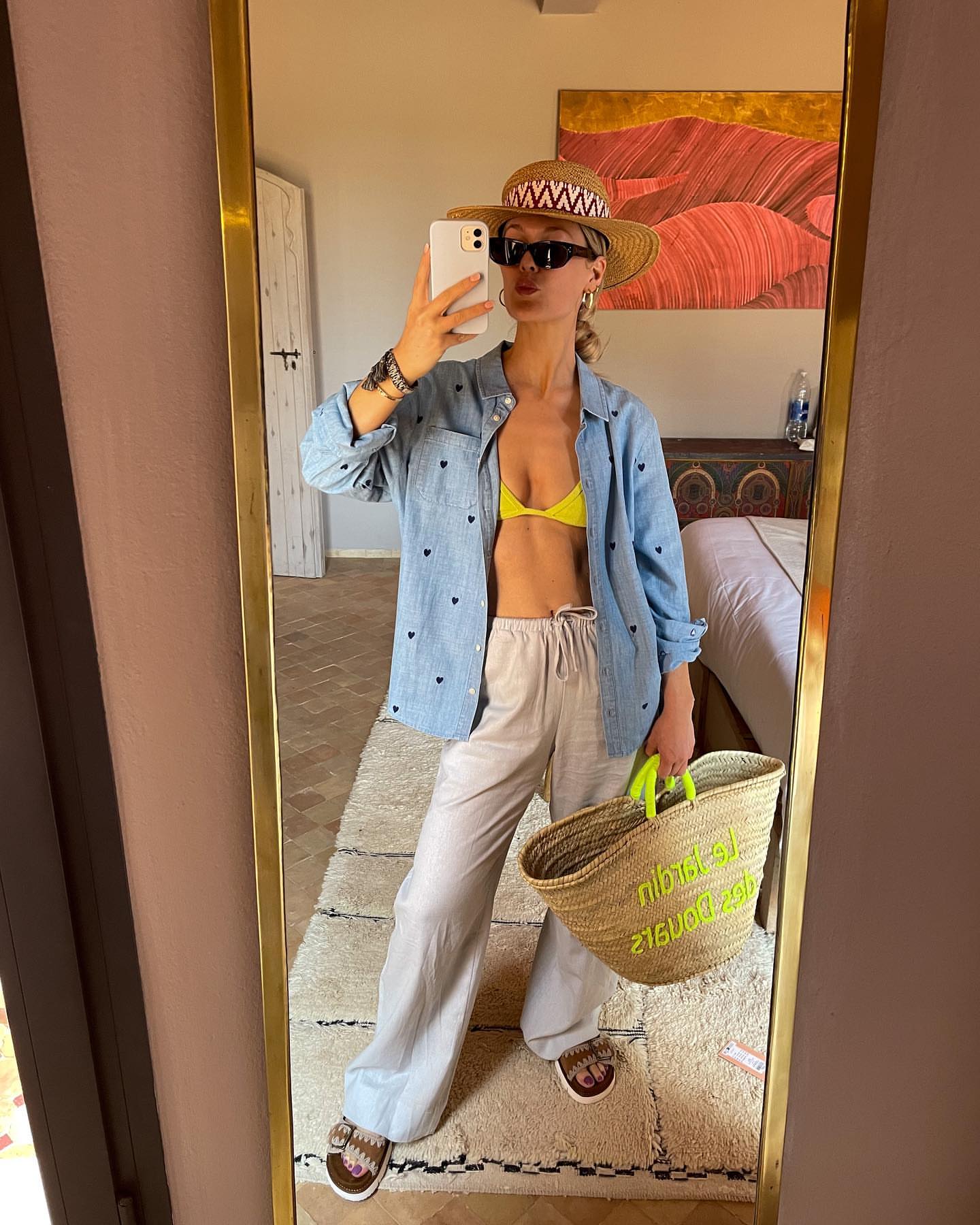 The right accessories can significantly enhance the overall appeal of your denim shirt:
Jewelry: Chunky bracelets, long pendant necklaces, and statement earrings can take a basic denim shirt to a new level. Don't be afraid to experiment!
Scarves: A silk scarf can add a dash of sophistication to your denim shirt. Try bold colors or patterns for an eye-catching contrast.
Bags: Depending on the occasion, pick a bag that complements your outfit. A casual cross-body bag works well for daytime outings, while a sleek clutch would be more suitable for an evening look.
Footwear: Shoes can make or break an outfit. Pair your denim shirt with sneakers or flats for a casual look, boots for a slightly edgy vibe, or heels to elevate your outfit.
Remember, when it comes to fashion, confidence is key. No matter how you choose to style your denim shirt, wear it with confidence and let your personality shine!
Does a Denim Shirt Go with Jeans? Which Colour Jeans Go with a Denim Shirt?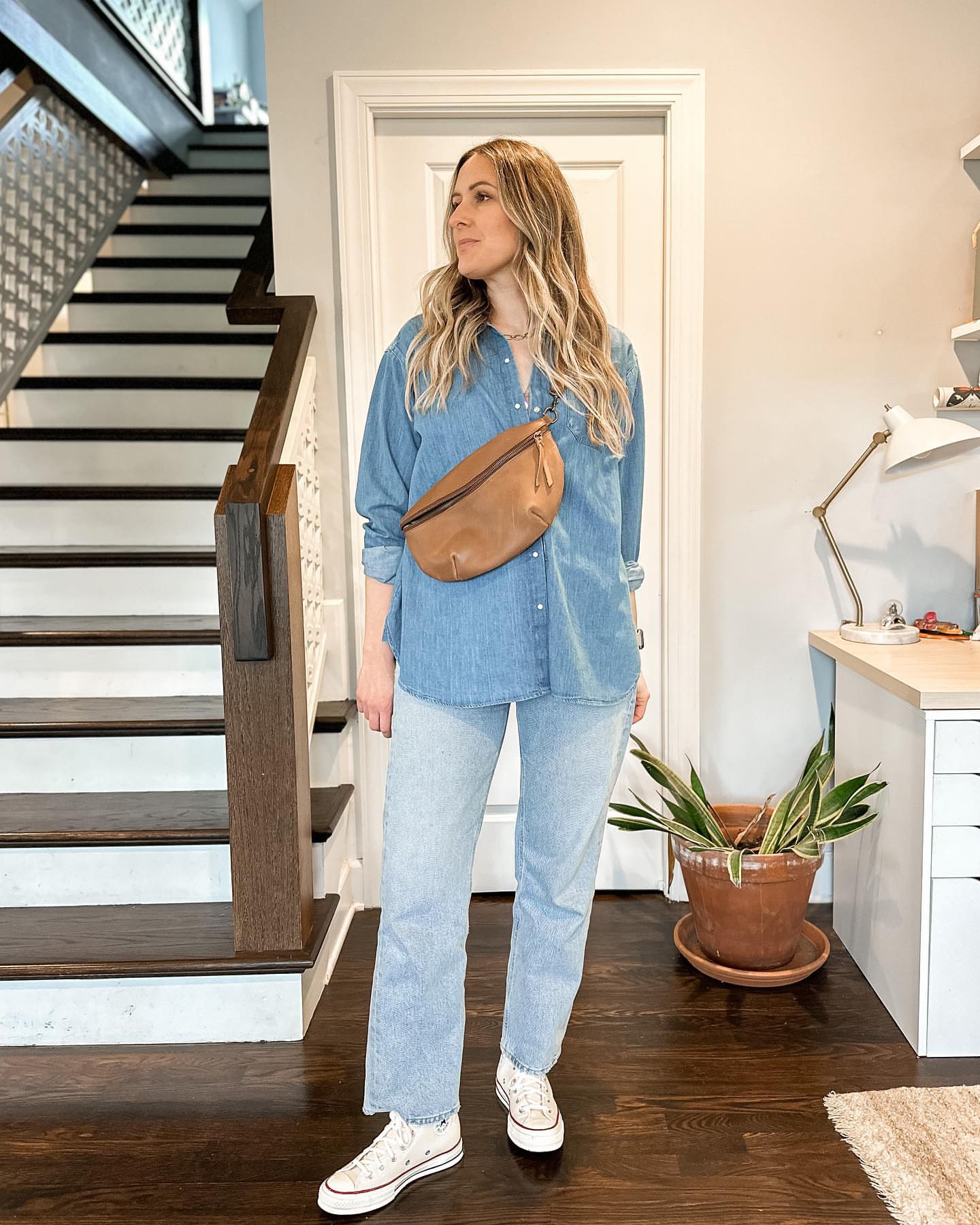 Yes, a denim shirt certainly can go with jeans. This look, often referred to as the "Canadian Tuxedo," can be quite fashionable when done right. The key to pulling off this double denim look is to mix and match different shades of denim. For instance, a light denim shirt pairs well with dark-wash jeans and vice versa.
Experiment with colored jeans as well. Black jeans can offer a more sophisticated look, while white jeans provide a fresh, summery vibe. You could also consider colored denim for a more playful approach.
The world of denim shirts is vast, and there are countless ways to style this classic piece. Keep these tips in mind, and you'll be strutting your denim with style and confidence in no time!