10 Fashion T-Shirts to Wear This Season
One of the best things about T-shirts has to be their versatility. There's a shirt for just about every person and every occasion. Whether you're a fashionista or just looking for a fab new shirt, here are ten types of fashion T-shirts everyone should have in their wardrobe this season.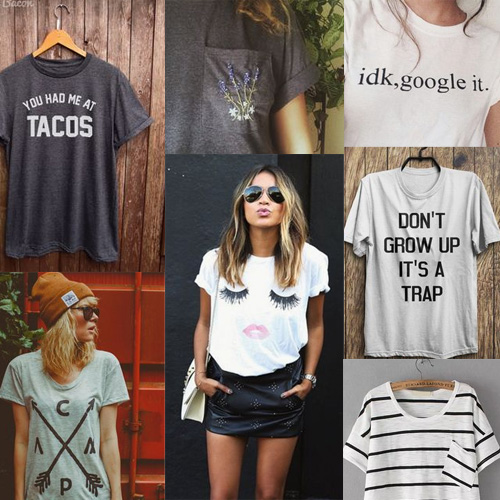 The Geek One (geek chic)
One of the best things about fashion in general, and fashion T-shirts in particular, is the way in which they give you the ability to show off your personality. Geek chic has taken off over the past decade-plus, so let your geek flag fly high and wear something based on your favorite show or film.
The Striped One
Striped tees are another must-have item, with thin white stripes being especially favored at the moment. When wearing striped tees, it's always important to make sure the stripes don't clash with the rest of your wardrobe.
The Silly One
One of the best personality traits anyone can have is a sense of humor, and some of the best tees you can own are graphic funny T-shirts with silly images or slogans. The funny message should be easily understood and can feature a play on words, a dramatization of a media icon, or a sarcastic political message, among others. Humorous T-shirts are often just plain funny, and a person would have to dig pretty deep to get offended on a personal level; but it's still important to always be conscious of your audience and stay within the confines.
The Witty One
Think of these as the T-shirt equivalent of a winking emoticon, or a classic Oscar Wilde or Dorothy Parker quip. In fact, all three of those things working in concert would fit be a perfect fit for a witty T-shirt. Tees are, again, all about showing off your personality, so show some smarts with a witty tee or two.
The V-Neck One
V-neck tees are great for adding a little stylistic touch to your wardrobe. Perfect for those looking to show off their neckline a little, V-necks can pair well with some blazers, making them a good example of a T-shirt that can work in a business casual arena.
The Long-Sleeved One
The fall season is synonymous with long sleeves, so comfort and style combine to make these another autumnal must. They also offer a bit more real estate in terms of areas on which to display printed graphics. With print generally displayed around the chest and stomach, sleeves with graphics can be out of the norm and understated, yet eye-catching in the same breath.
The Gym One
There has never been a better time to be a gym rat. Fitness has always been a fantastic pastime, as everything from Fit Bits to Facebook has popularized it for a whole new generation. Gym selfies have become a medium unto themselves, and while working up a sweat on the elliptical or hitting the weights is great and all, you'll want gym-specific shirts for the best performance and for before/after pics.
The Sporty One
Combine your passion for fashion and fitness while showing off yet another side to your personality with a fun, showy T-shirt. Whether you're looking to support your favorite sports team or just want to look a bit more "sporty," these are a perfect way to introduce a little long-sleeved variety into your T-shirt arsenal.
Give yourself the best look fashion-wise with these ten T-shirt styles today.
The Grey One
There are a few fashion tees that are as essential to any type of wardrobe; grey tees are an absolute must. Cool, classic, and easy to accessorize, grey tees go well with a wide variety of items, and can work for business casual or even display graphics from printed T-shirts as well.
The Black One
Almost every wardrobe needs at least a few white, grey, and black T-shirts. White's not to be worn after Labor Day, and we've already touched on greys, so that leaves the naturally autumnal black. One of the best things about them? Light-colored printed graphics show up quite well against a black background.