21 Gorgeous Short Pixie Cuts with Bangs
Bangs are in this year, and the same goes for short pixie cuts. Why not put both in a haircut and get the best of both worlds? Whether you're looking for something simple, fancy, or edgy, here are some popular short pixie cuts with bangs for you to choose from.
Go Bright or Go Home Colorful Pixie Cut
You have one life, so if your workplace doesn't have any strict rules on your appearance, bite the bullet and dye your hair pink. It's a fun hair colour and you will stand out in the crowd. It would be best to get this done at a professional hair salon instead of using at home box dye.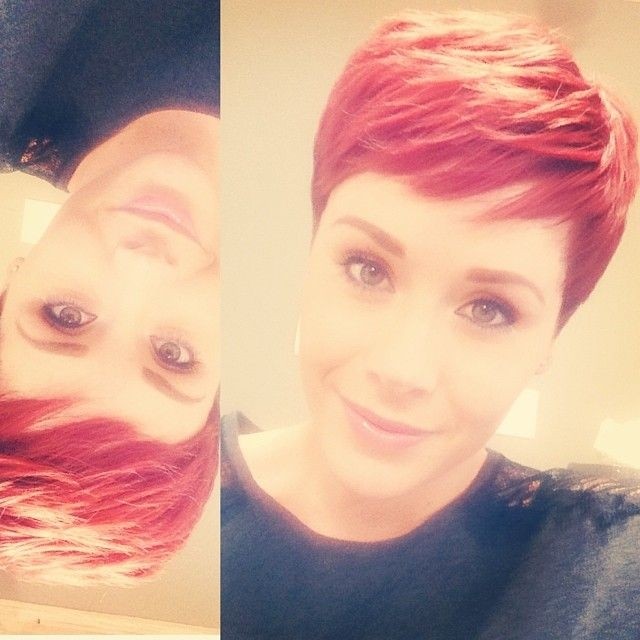 Wispy Pixie Cut
Instead of having a blunt cut, go for  razored edges. Blunt edges give off a very serious feel whereas razored edges give off a more youthful feel. Look younger with this adorable style!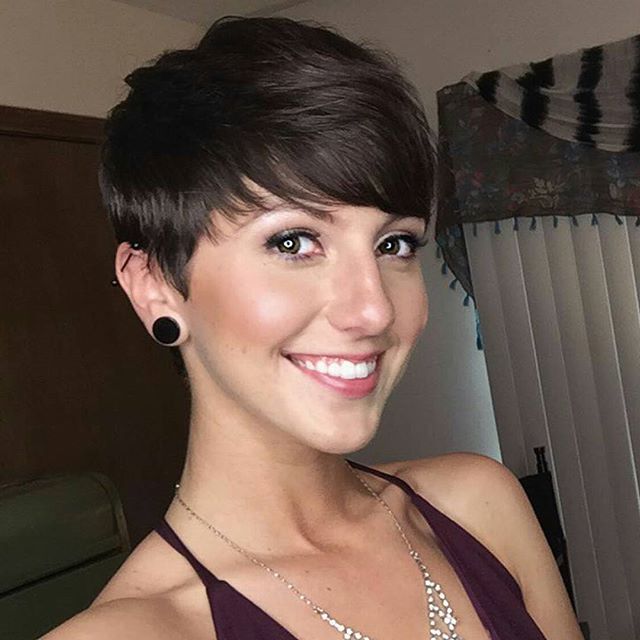 Ramona Flowers' Pixie Cut
Ramona Flowers didn't have this exact haircut, but she did have the same hair colour. If pink hair isn't up your alley, then look into blue instead. Blue is one of the tougher colors to maintain, so be prepared for the maintenance!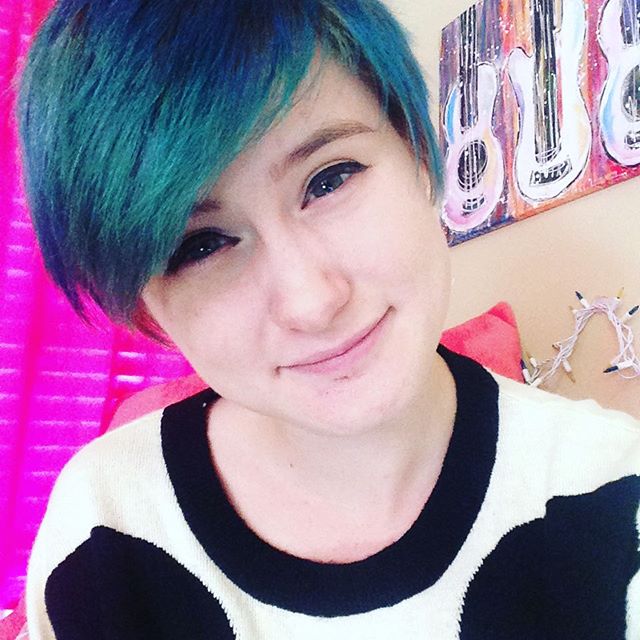 Flippy Pixie Bangs
Instead of tucking your bangs behind your ear if they're too long, flip the ends outward. It's a fun way of trying out a new look to your bangs. Be sure to keep it in place with some hair paste and hairspray.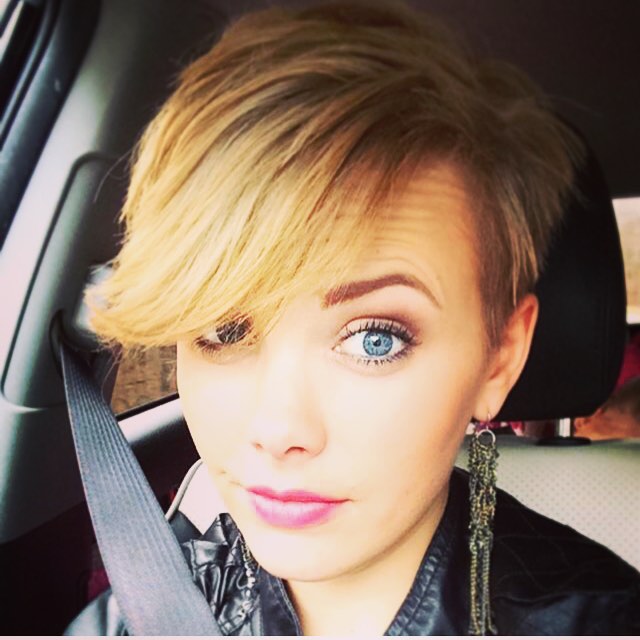 Lots and Lots of Short Layers
Who doesn't love layers, right? Keep your hair fairly short in the back and let the hair on top be the star of the show. Cut your layers in various lengths but keep it long in the front and short in the back. The short layers at the back will give you lots of volume.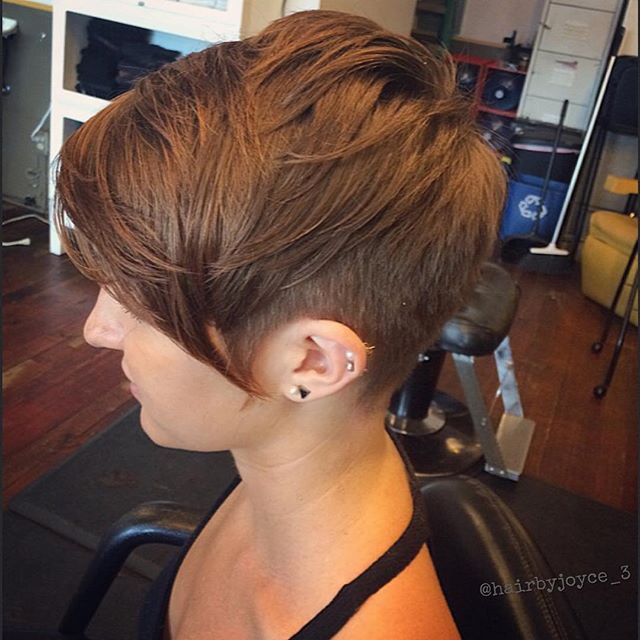 Buzzed Pixie Cut
This is a pixie all about the hair at the top. The sides and the back of the head are shaved to a buzz cut style with the bangs and hair on the top of the head being a full few inches long. If you want a cut that is nothing but edgy, this is the perfect one for you. It would also be great on the runway.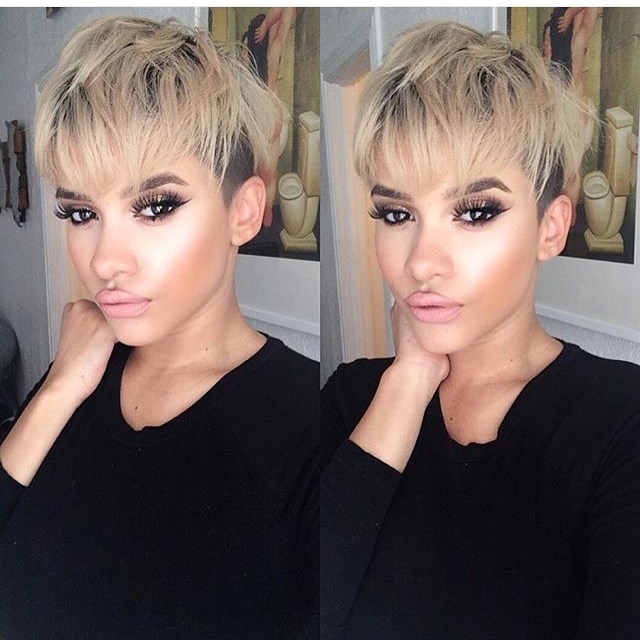 The Cool "Mom" Cut
Moms can have stylish haircuts too. You don't have to settle for a boring mom haircut. Get a slick and neat cut in the back and some forehead length bangs slightly curled over to the side. For something a little different, leave some strands longer on the opposite side to frame your face.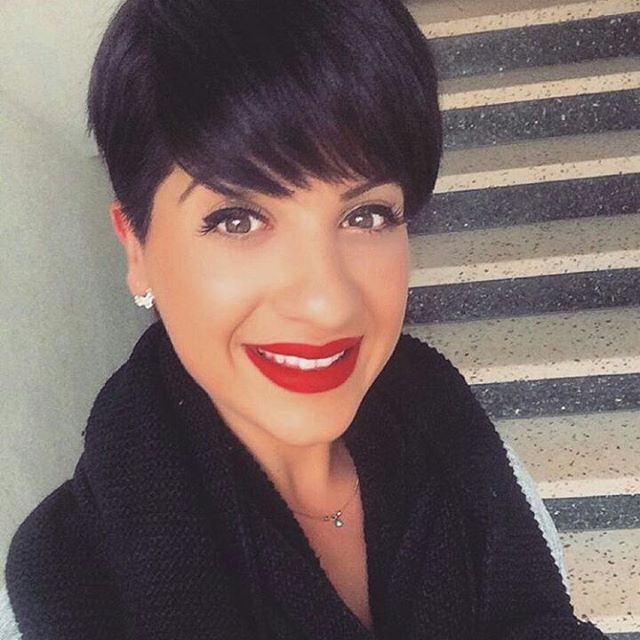 Boyish Bowl Pixie Cut
If you're into a more stylish bowlcut kind of pixie cut but don't want all the volume the other one gave, take a look at this. There are still layers, but instead of poofing them up, leave them slicked down with some hair gel. This will take less time to style than the other cut and still look good.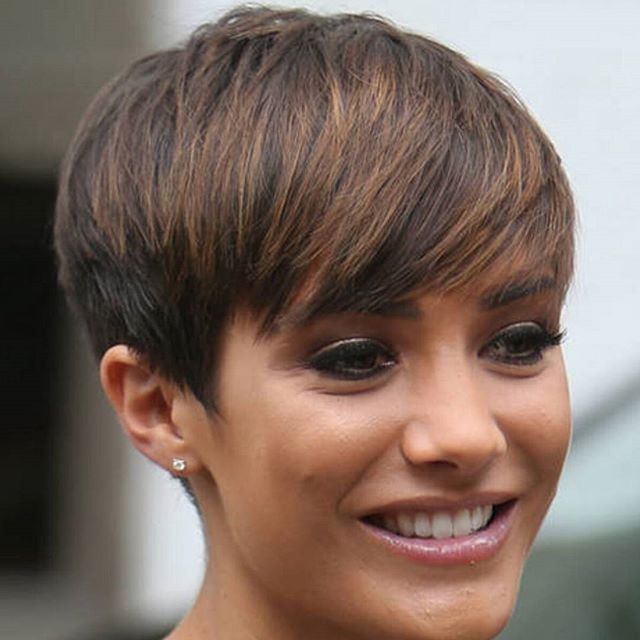 Short Pixie Cut with Longer Bangs
Short bangs aren't for everyone, but the good news is that bangs do come in all lengths and sizes. Bangs that go to your ears are just as good as bangs that only cover your forehead.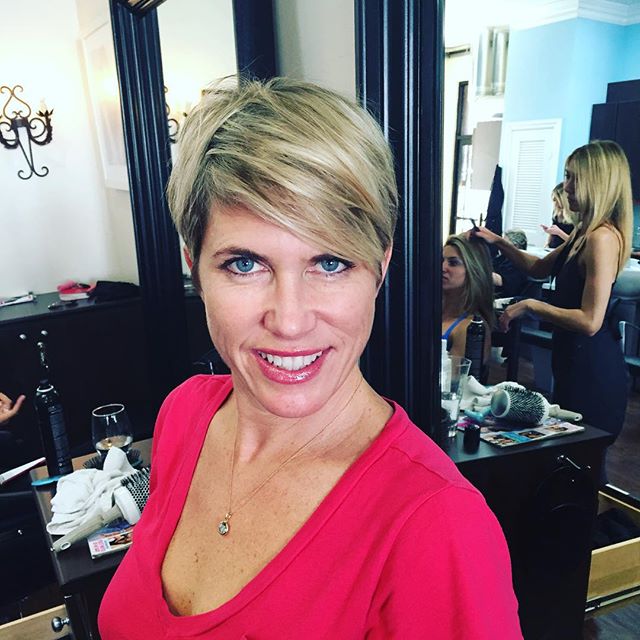 Short Pixie Cut with Bangs Three Ways
Not one to settle? Ask for a cut that allows you to style it in more ways than one. If you want a throwback to the emo look, comb all of your bangs to the front of your face and cover your eyes. For a more typical look, brush or comb it all over for the sideswept look. The most interesting look is a thick piece of hair in the shape of a needle going past the ear.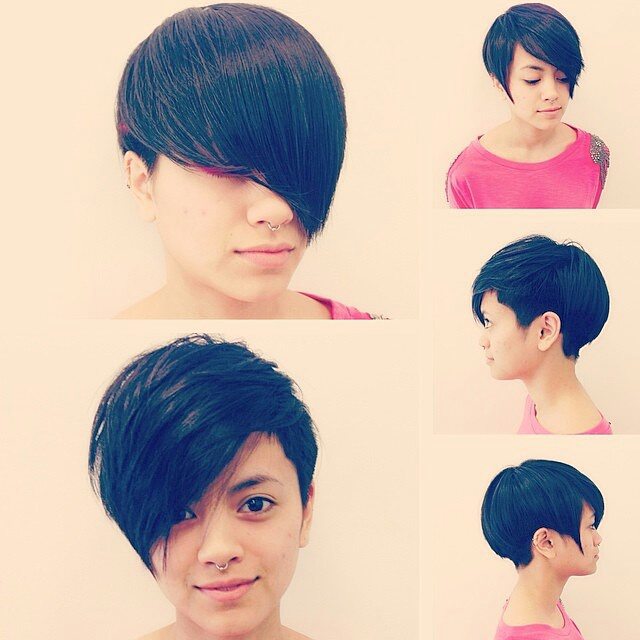 Pixie Cut with Curly Bangs
A lot of cuts you see will have straight bangs. Straight bangs are pretty, but can be a little repetitive. Change it up a bit simply by curling your bangs.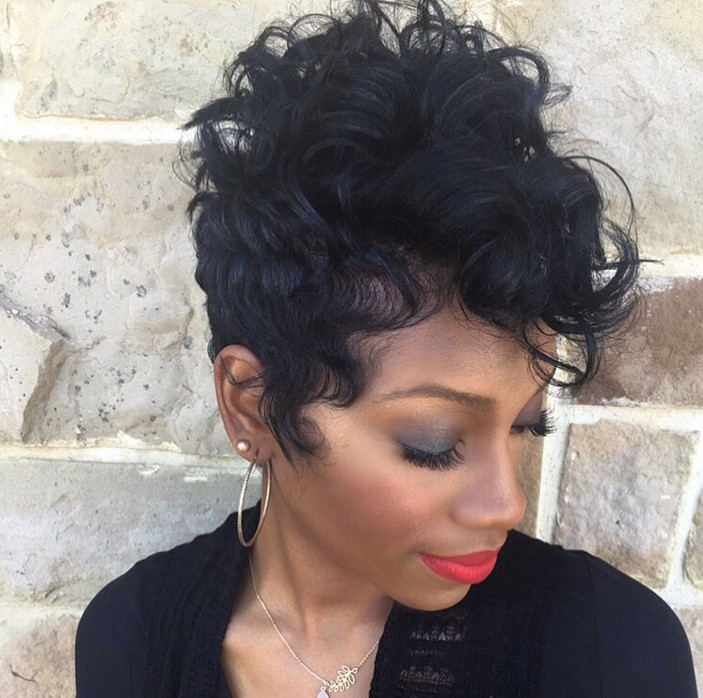 Pixie Cut with Piecey Sideswept Bangs
You don't need blunt straight across bangs or bangs completely swept to the side. Let them hang free a little bit and let some strands go their own way. You can obtain this particular look by running some hair wax on a few pieces and moving them where you want them to go.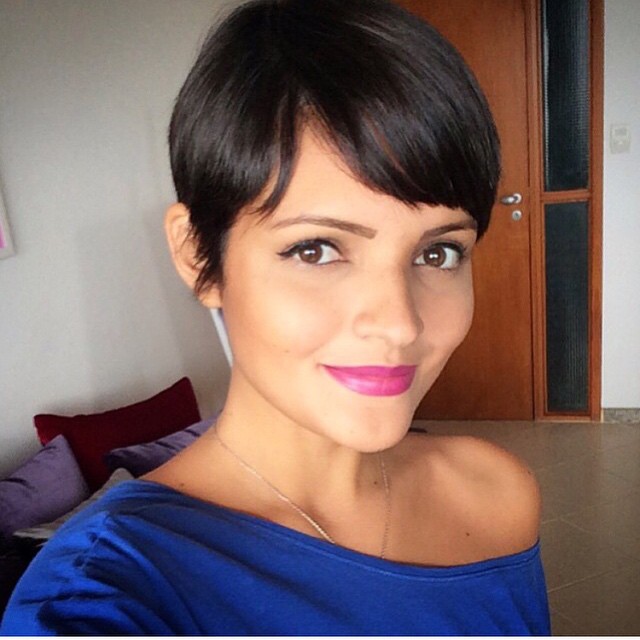 Bowl Cut but Cooler
Short pixie haircut for black women: Remember the bowlcuts you might've received as a child? This is similar, but much more stylish. The layered look to the bangs make this pixie look more edgy. Make sure to use some hairspray or paste to give the layers at the crown definition.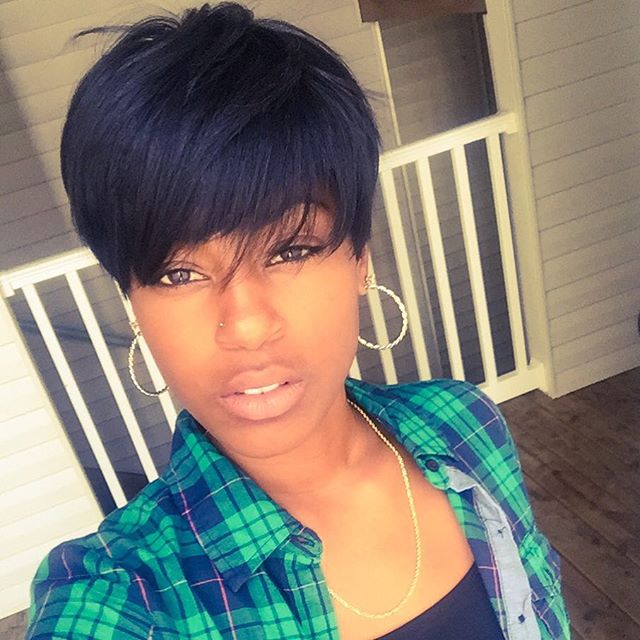 Bettie Page Side Swept Pixie Cut
Think of Bettie Page's bangs, but more wispy, layered, and swept to the side. If you're into a short length like that, but not so sure about blunt bangs, consider this option.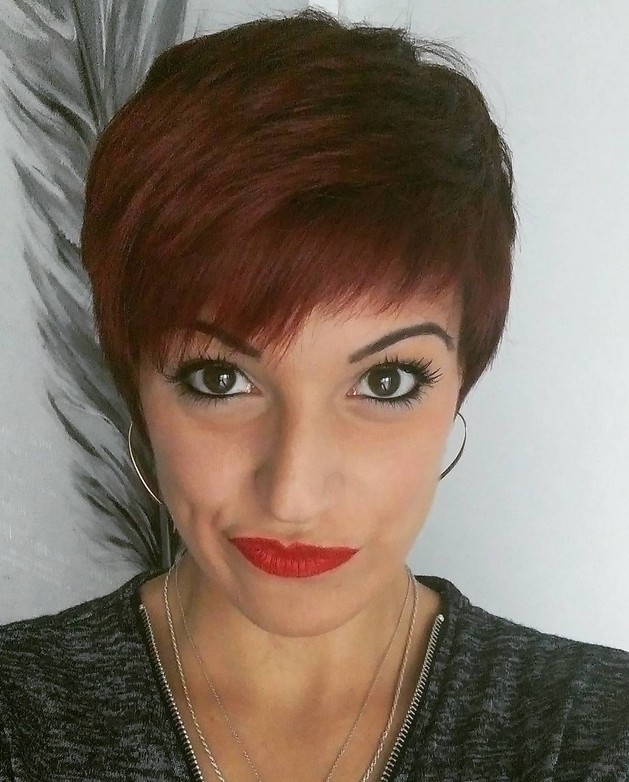 Long, Layered and Side Swept
One of the most popular short pixie cuts with bangs is having it cut very short in the back with long, layered, and wispy side swept bangs. This may take a little more work in the morning since you'll probably have to blow dry, grab some  paste for definition, and maybe add a little hairspray to keep everything in place. If you want to go the extra step and be even more bold, go for a platinum or silver colour.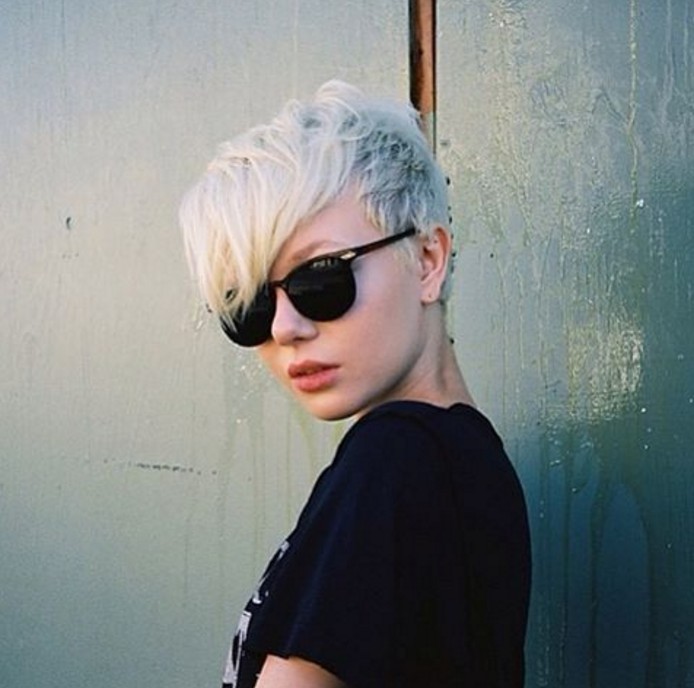 Pixie Cut for the Office
Cute short haircut for 2016: If you want a look that is more suitable for the office, a simple no fuss cut is the way to go. Simply air dry or blow dry, whichever works best for your hair, smooth it down, and add some hair spray to stay in case your hair is notorious for moving around on its own. Very simple!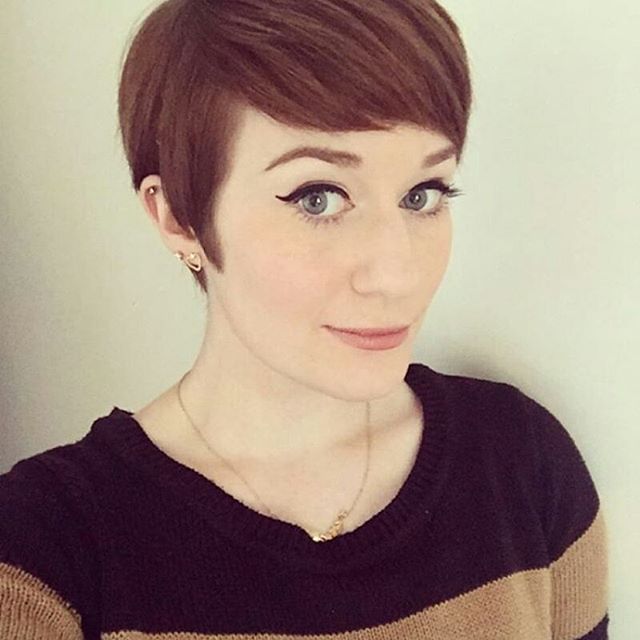 Two Dimensional Hair
Trade in the one dimensional brown hair you've always sported throughout your self and kick it up a notch with some blonde highlights. You have have this done yourself or go to a professional if you don't know how to do it yourself!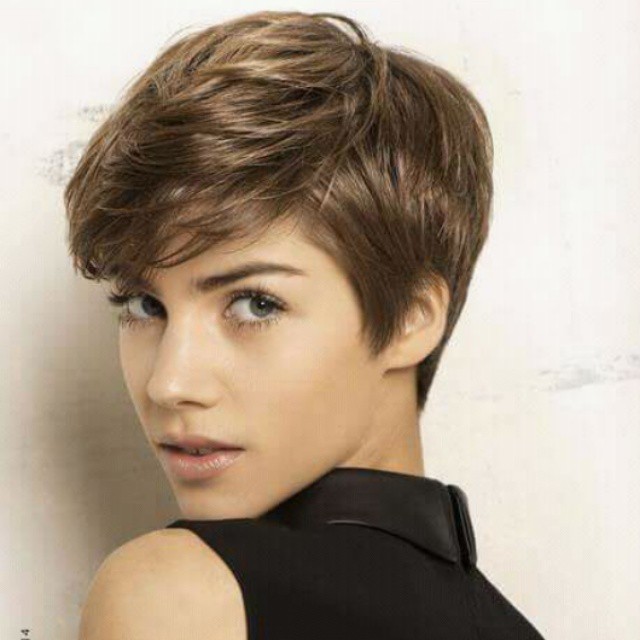 Fiery Pixies are More Fun
If blue and pink were too much for you, maybe it's time to be a redhead instead. Red is a neutral colour, however, it's more fun than blonde and brown, if we do say so ourselves. Plus it's a little more wearable on a day to day basis.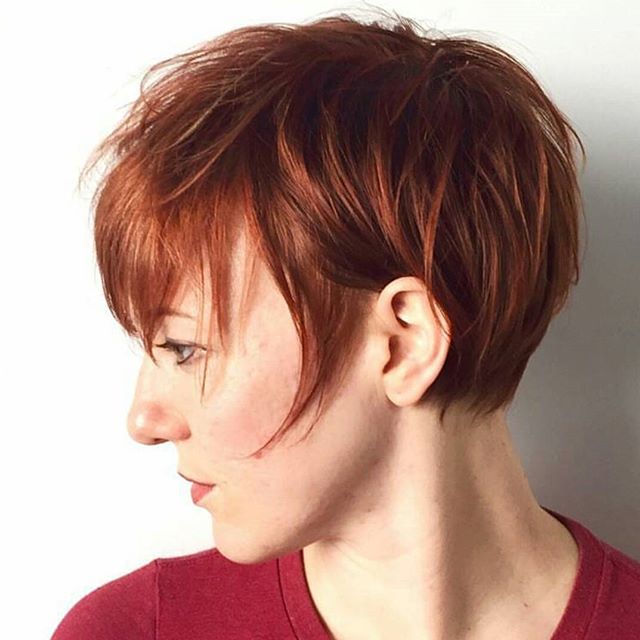 Long at the Front Shaved at the Back
Short haircut with glasses for round faces: Styling the hair on the back of your head can be difficult, so instead of dealing with the fuss of not being able to see the back of your head properly, shave it short and leave the length at the front. Grow it out a few inches long to contrast how short your hair is at the back. Plus it's a great way to stay cool during the summer months!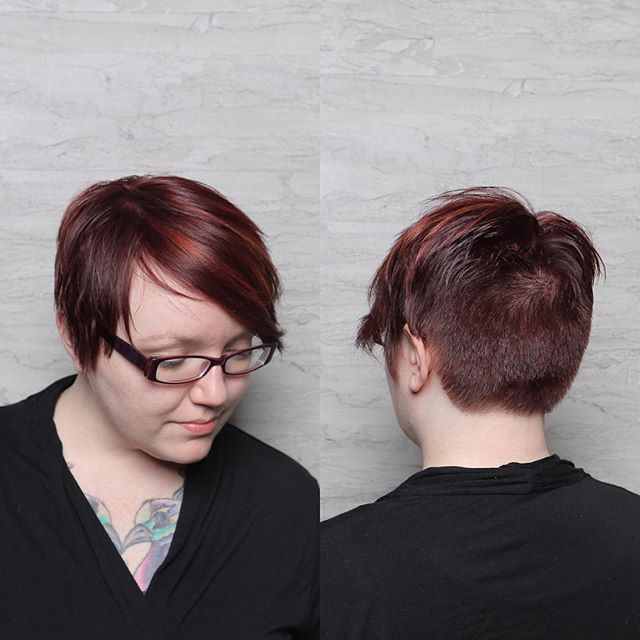 From Short to Long
Take the previous cut to the next step. Leave the back of your head shaved, but instead of the front being all one length, go from short to long from one side to the other. Add some layers for a little definition and add some hair paste to the shorter layers to give them definition.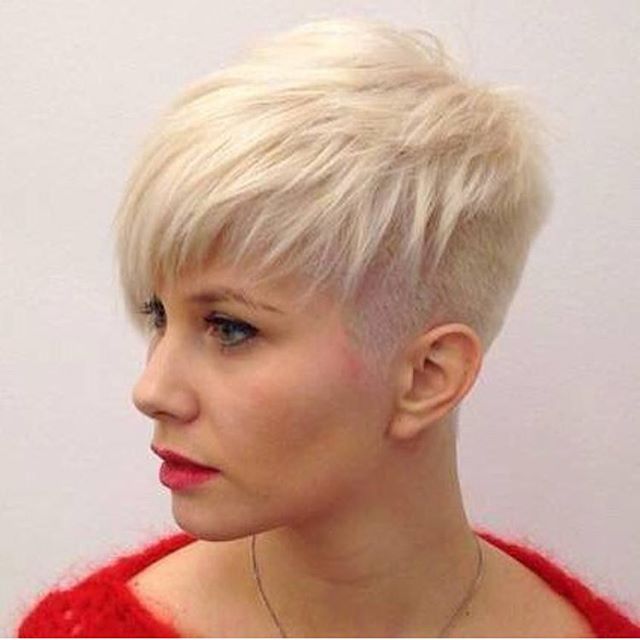 Galaxy Pixie Cut
How cool is the colour of this cut? It's a mixture of purple, silver, and blue. Perfect for people in love with space. Make sure you go to the salon to get this done professionally as it's more complicated than simply dying your hair all one colour.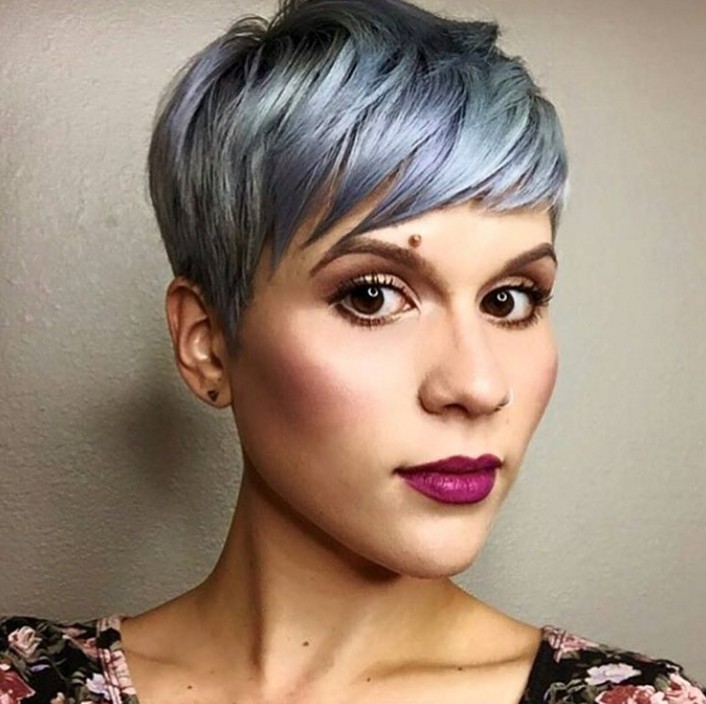 Here are your short pixie cuts with bangs. Whether you're new to bangs or you've been friendly toward them for quite some time, there's always new ways to experiment with them.