Guest Suite Bathroom Design of HGTV Dream Home 2023
In continuation of our talk about the amazing HGTV Dream Home 2013, today we're going to focus on the guest suite bathroom.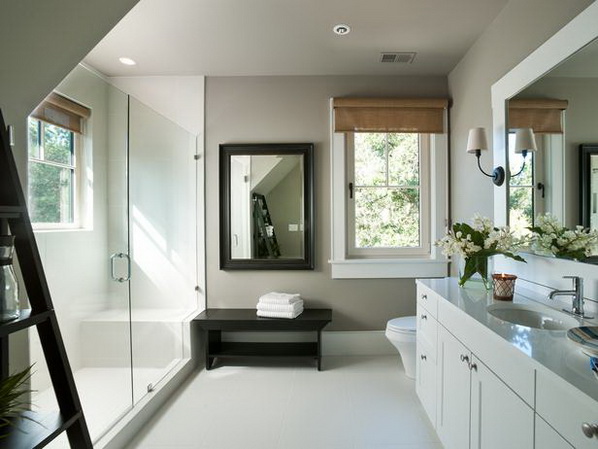 Just hearing the name gives you a feeling of relaxation!! This guest bathroom is totally awesome; it will make your guests feel at home and will relieve all their stresses in all possible ways starting with the all-white minimalist design that's comforting to the eyes along with the glass shower enclosure used that makes the place pure and serene.
There's a beautiful bathroom sink vanity that includes cabinets for lots of storage spaces so that you can gather all your bathroom stuff inside and maintain a neat outer look. Opposite to the vanity you'll find the awesome shower stall that's enclosed using a glass enclosure to keep the look transparent and neat, and it also includes a bench inside.
You will also find a wooden bench just outside the shower stall where you can put the towels. The decorative touch of this bathroom has been well added. You will find flowers and romantic candles at both sides of the sink for an amazing green touch.
In addition, beautiful windows are also present to let sun shine enter the place and make it lively. Dark walnut shelves, a bench and a mirror frame are used to give a color contrast with the white atmosphere. This is really one of the best guest bathrooms that you can ever see!!