How to Wear Sweatpants -15 Trendy Sweatpant Outfits Ideas for Women
Unlike fashions from the past, these days we value comfort as much as style and that's why sweatpants have been a wardrobe staple for so many years. Sweatpants were originally intended as gym wear and then they moved into our homes as lounging gear. And then we started wearing them when we popped to the shops.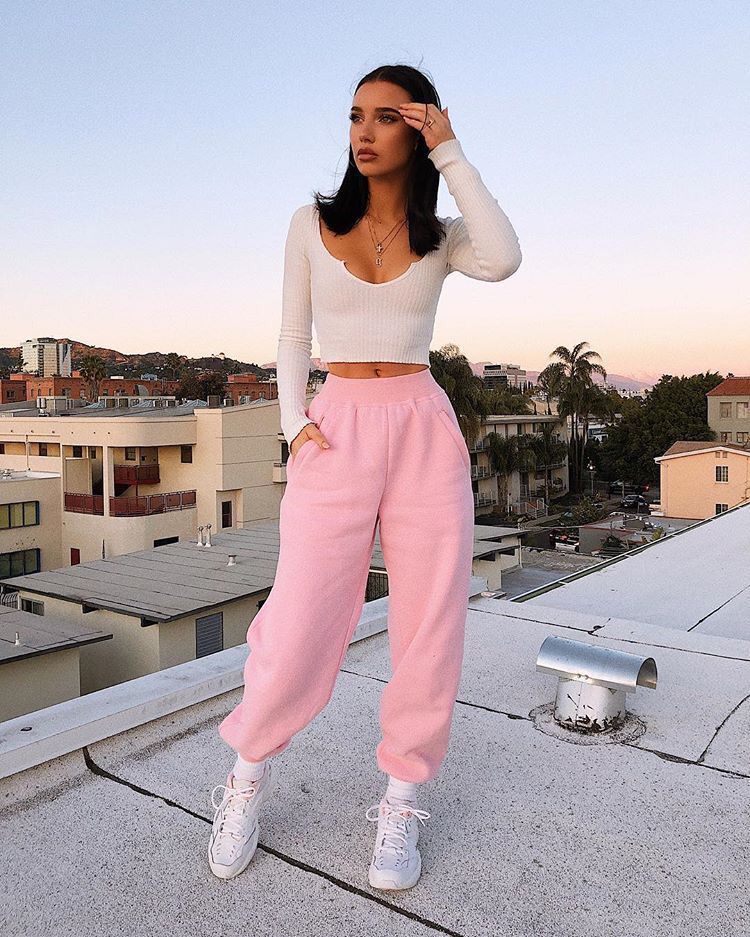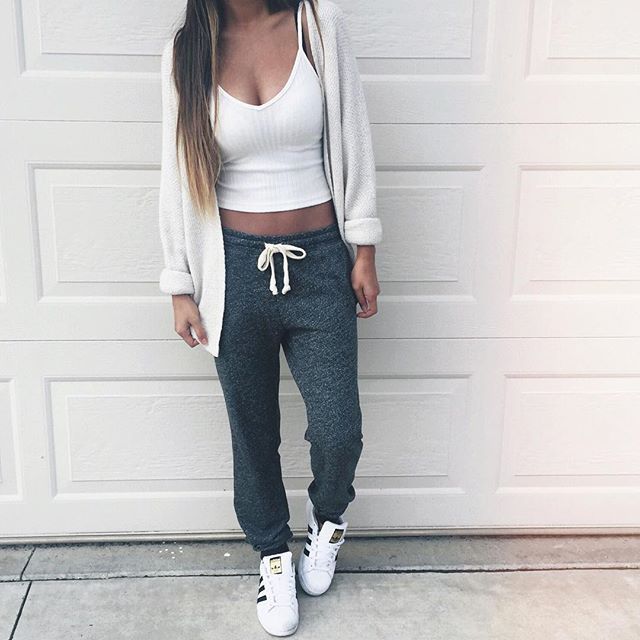 And now you see women wearing sweatpants on Fashion Runways and in all sorts of unexpected places! But unfortunately, not all sweatpants flatter the figures of their fans. So to smarten up your look and show the best ways to wear sweatpants, here's a selection of tips and outfits to inspire your athleisure-to-smart makeover for this year.
Choose slim-leg sweatpants
If you're addicted to comfort, but need to dress-up your image, you can still wear sweats if you switch to better fitting, slimmer leg styles. Baggy sweatpants may be what you're used to wearing, but the design has evolved a lot since it first appeared as gym-wear for men with heavily-muscled thighs!
Slim-leg sweatpants are much sleeker and easier to style for an attractive, modern look. On the other hand, they should still be loose enough to be very comfortable. So don't go for skinny-fit sweatpants – the best fit should be similar to straight-leg jeans.
Sweatpants suits
This is one of the smartest looks you can get if you choose the colors of the suit carefully. One good example is a sweatpant-suit with medium-gray pants, and a white, long-sleeved, zip-up jacket with a gray rib detail and gray panels at the sides. Wear with a black, round necked tee-shirt and white trainers, plus a black handbag to keep the color palette chic. This outfit looks well co-ordinated and highly fashionable, in a classy way proving that sweatpants can be smart-casual wear for daytime activities.
Sweatpants & office-wear
Yes, you can even wear good quality sweatpants in the office, if you know how. The best way to present a pair of sweatpants for work is to wear them with classic tops and accessories. So avoid tee-shirts and match your sweats with a sharp-looking shirt, tucked in at the front. Shoes are also an important part of the vibe, so go for pointed-toe, flat shoes or classic, heeled pumps.
And keep the sweatpants' color dark, like black, navy and charcoal gray, to copy usual professional-wear colors. A smart, striped French sailor top would also be suitable with sweatpants for office-wear. Try to avoid bright pants or graphic tee-shirts, as they are a leisure-time look. Choose short-legged sweatpants, with cuffed ankles that finish just above your ankle-bone. This length is similar to the cropped length pants that are accepted as office-wear.
Sweatpants & long cardigan-coats
This year's long cardigan coats are perfect for wearing in cool, but not cold weather. They have already been nicknamed, coatigans, and are thick-knit, textured knitted long cardigans, with a flattering but loose shape. Most coatigans come down as far as the knees and in the U.K. they have been called the 'new blazer' for wearing to work.
And teamed with a pair of dark, professional-looking sweatpants, they create a superb new look. As a coatigan can be worn buttoned up, or open, you can put together various, fashionable, layered, looks. For example, you can wear a tucked in shirt, covered by a sweater vest and with a coatigan on top.
Sweatpants & trendy blazers
Copy an off-duty model look by wearing a black outfit, and adding a statement jacket or coat. This look comprises a scoop-necked, short- or long-sleeved tee-shirt, black slim-leg sweatpants, with black stocking socks, and matching pointed, narrow heeled shoes. And then you can add your choice of oversized blazer in trendy khaki, or one of the fabulous gray and beige plaid oversized blazers. There's also a wide range of checked blazers to choose from this year for a groomed look.
And if you want a casual look alternate the blazers with a black leather jacket, or a super-casual oversized denim jacket. You can also match a navy blazer with polka-dots, with blush-pink sweatpants and sandals in burgundy and gray leather for a special occasion. And if you're going out in the evening and want to look elegant, add a fashionable neck-scarf that co-ordinates with a sophisticated khaki trench coat.
Sweatpants in luxury fabrics
Another easy way to elevate the look of your sweatpants is to choose a pair that are made from a more luxurious fabric than plain cotton. You can find cozy, winter sweats in velvet that comes in beautiful winter fashion colors like, deep purple, sapphire blue, burgundy, deep pink, gray, turquoise and khaki brown shades. Wear winter sweats with a matching, complementary or contrasting color sweater that has a reasonably fitted shape.
And there are lovely all-year-round sweatpants made from synthetic silk, which hang beautifully and feel as light-as-a-feather on your skin. These are popular for summer wear or evening wear in the winter months. For evening wear, team with a bralette top, a short, black, bolero jacket and dainty sandals. Or go for a Boho look with beige, silk sweatpants and white lace-up boots with thick soles.
Sweatpants & lacy tops
And to match with silky or satin-finish sweatpants, there are some super-cute sleeveless lace tops in the stores. They are available in white or cream and come down to a very wearable length just below the waistline, with a lovely scalloped edge. And they would make the perfect summery top for a special occasion, with khaki satin sweatpants, a yellow cross-body bag and strappy cream sandals with heels.
Sweatpants & footwear
One of the fastest methods of adding class to any outfit is to change the style of shoes up a notch. You may usually associate sweatpants with sneakers or trainers, but when worn with dainty, high-heeled shoes or sandals they will immediately look more formal. As slim-leg sweatpants taper in to the ankles, they don't look correct with chunky platforms or wedge-heel shoes.
And follow through with a cute date look by wearing a slightly oversized white tee, with short-sleeves, gathered in to make a little knot detail at the waist. You can add a splash of color with a fashionable neck-scarf in a color that flatters your hair and skin undertones. Choose a shoulder bag that's black or one that's a color to match your scarf. Or keep the look monochrome and minimalist with a black silk scarf in a choker style around the neck.
Sweatpants & short cardigans
Short cardigans that come down to the waist are another way to add dainty femininity to your sweatpants in summer. In this year's gorgeous, pastel colors of lavender, pale blue, shell-pink, soft yellow, aqua, light-gray and all shades of sand, beige, khaki and cream, they are super-cute. Some short cardigans have pearl or gem buttons and lace collars, which mean you can wear them alone and buttoned up like a sweater or layered over a white tee-shirt.
Sweatpants & fashion jewelry
Some pretty or stand-out jewelry pieces are another great way to add style and personality to your sweatpants' outfits. The latest crawler- and ear-jacket earring styles are fabulous and will help update your sweats to a classier look. Or choose one statement necklace, a few delicate bracelets or a chunky wrist-watch.
Sweatpants, layers & hats
Wearing a set of well-chosen layers can upgrade your sweatpants, too. For instance, in cool weather you can team a button-up shirt, with a woolly sweater over the top, with a moss-green trench-coat, a camel-colored winter scarf and a drab-green brimmed hat. This outfit will take your sweatpants up to a fabulous new level of trendy chic!
Sweatpants & bootees
If you don't feel comfy in heels, you can still dress-up your sweatpants with flat ankle boots, or slightly higher, lace-up boots. And slim-leg sweats will also tuck-in easily to knee-high and over-the-knee boots in autumn, winter and spring weather. And there's no reason why you shouldn't wear a contemporary pair of Mary Janes with smart sweatpants!
Sneakers and trainers are now available in a multitude of summer colors and that gives you the opportunity to match your top with your shoes, in a smart-casual look. This is much more attractive than scruffy, trainers that desperately need a good clean. And another big trend for this year is white trainers with a retro-vibe, which will add a clean look to your outfit.
15 Sweatpants' outfits in detail
Here's a variety of modern, sweatpants' looks you can try out:-
Leather-look, black sweats with a high-necked, sleeveless, white top and black sneakers
Gray sweatpants, a white tee-shirt with a graphic image with a gray blazer and black suede ankle boots
Dark metallic-silver sweatpants with leopard-print open-toe pumps and a large, white T-shirt
Slim, black sweatpants, a gray top, a tailored charcoal coat, a brimmed hat and white pointed pumps
Light-gray sweatpants, white tee-shirt, oversized black cargo jacket and black, open-toed shoes with heels
A black sweater with a white, horizontal stripe, black faux leather sweatpants, shiny black leather loafers and a black shoulder-bag
Biker chic from teaming a leather jacket, a striped tee-shirt and black sweatpants with black, suede ankle boots with buckle detail
A fitted, sleeveless top looks simply sexy tucked-in to black leather-like sweatpants
A pale-blue, chambray shirt tucked into dark-gray, sweatpants and accessorized with red, strappy sandals and trendy gold-rimmed sunglasses
A light-brown long-sleeved waist-length top looks super with slim, blue sweatpants and shiny, black ankle boots, plus a matching blue shoulder-bag.
A duster-coat or robe-jacket in beige looks trendy over a white, wrap-top and navy-blue sweats
A beige-gray robe-coat, cream and orange striped, long-sleeved top and dark blue sweatpants with shiny, nude, pointed-toe pumps
Go for beige-grey robe coat, pale-gray& vivid-orange striped long-sleeve top and dark blue sweatpants completed with glossy nude pointed-toe pumps and a clutch bag
Black sweats and black and white checked shirts, or black and white gingham blouses are super-smart
Monochrome outfits with, say, forest-green sweatpants, with a moss-green checked cheesecloth shirt, give a really fresh and contemporary outfit
So I hope I've inspired you to overhaul your comfy, sweatpants' outfits to look more contemporary and trendy from now on and through the year!
Here are more sweatpants outfit ideas for you, enjoy.