20 Pretty Short Layered Hairstyles for Women
If you want to spice up your short hair look this season, why not try to cut some layers of different lengths? They will be able to create more natural textures and make a lightweight look. There are many different ways to have a layered hairstyle. You can style them with tipped-cut or jagged-cut ends in a face-contouring shape. Scroll down our pictures below and maybe you'll find an inspiration for your next look!
Blunt Bob Haircut with Layers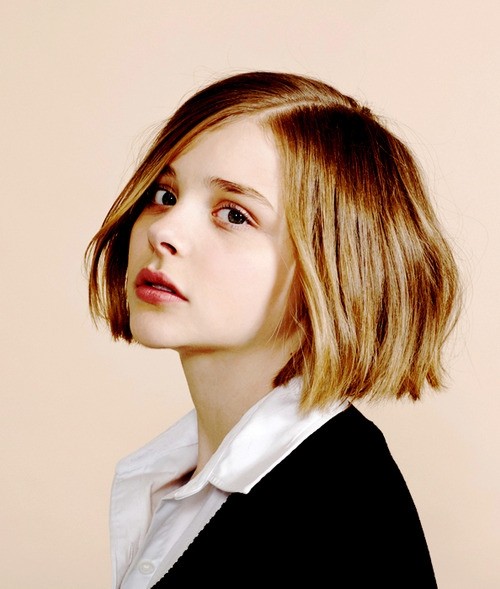 It is a great idea to create a center parting for your short bob haircut this season. Its blunt cut ends give a clean and neat look for this hairstyle.
Classic Stacked Bob Haircut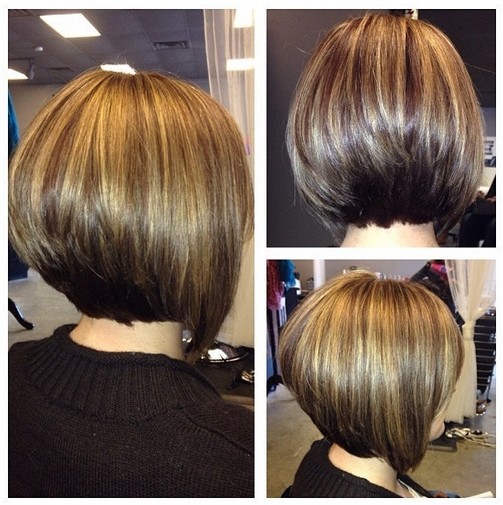 The stacked bob is always being a safe choice for girls with thick hair. Its graduated length will help you to get rid of the annoying weight and thickness.
Cool Short Hairstyle for Round Face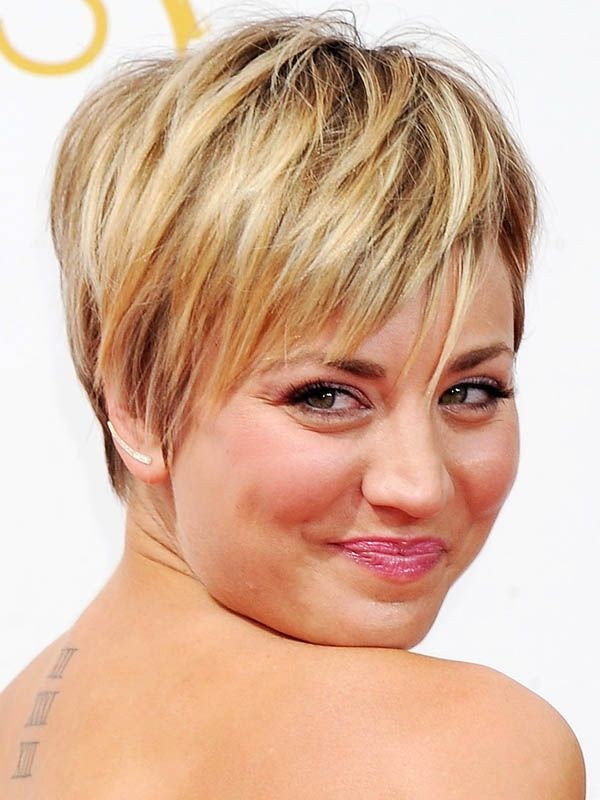 Short layers will be able to create a peek-a-boo look for different shaded blond tresses, which can emphasis natural textures for your hair look.
Easy Layered Pixie Haircut for Women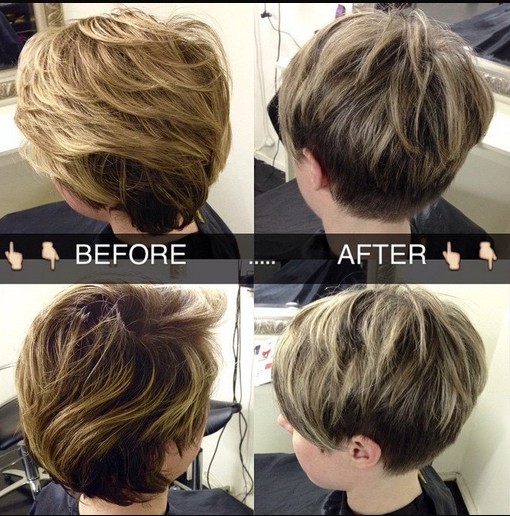 The pixie haircut would look more wonderful with shorter layers throughout. They can also make your short hair very easy to style in the morning.
Layered Bob Haircut with Highlights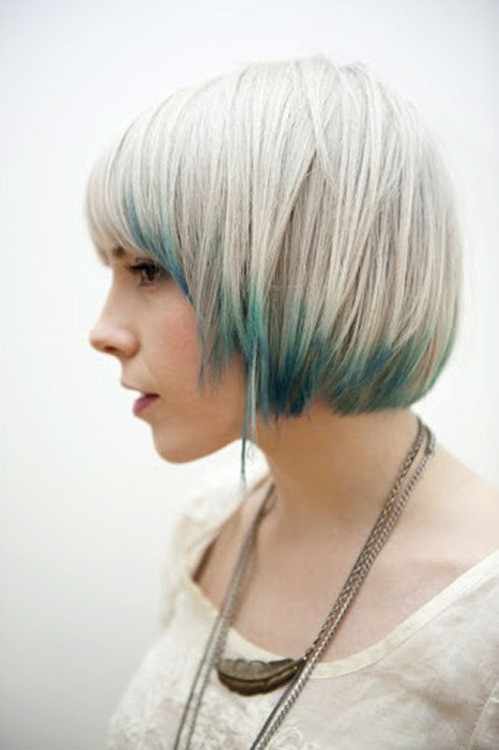 It looks really cute to have a layered bob haircut with highlighted ends with your mid-length hair. This is an ideal hairstyle for a round face.
Layered Pixie Haircut with Side Bangs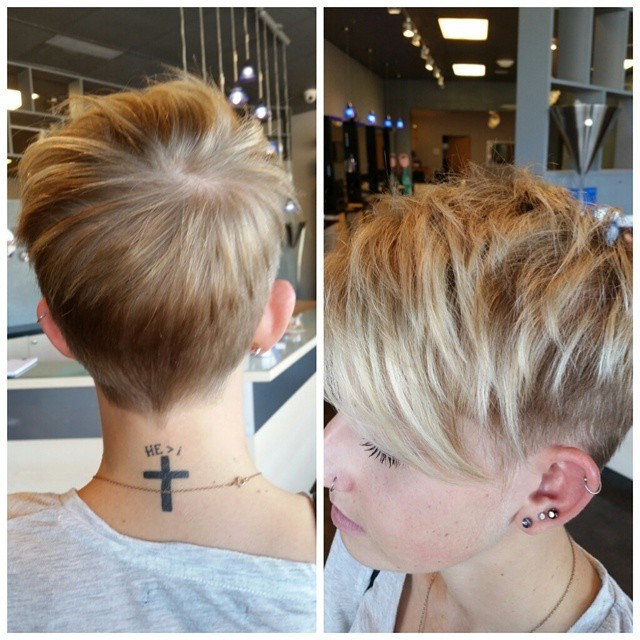 Shorter layers will be able to create more textures and movement for your short hair look. They are being a best way to style a cool hairstyle.
Long Straight Bob Hairstyle for Ombre Hair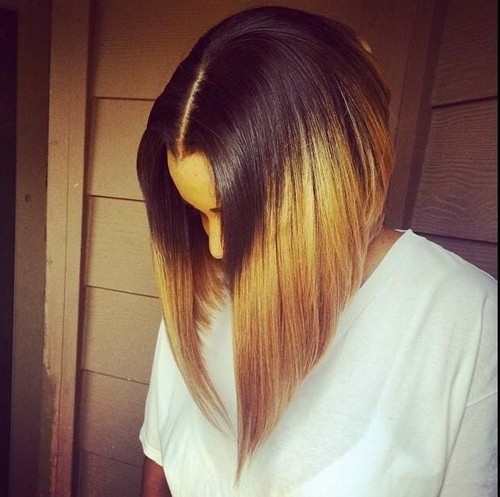 It will never go out of style to have a sleek straight bob haircut for the shoulder-length hair. You can pair it with all kinds of outfits.
Short Hairstyle with Long Bangs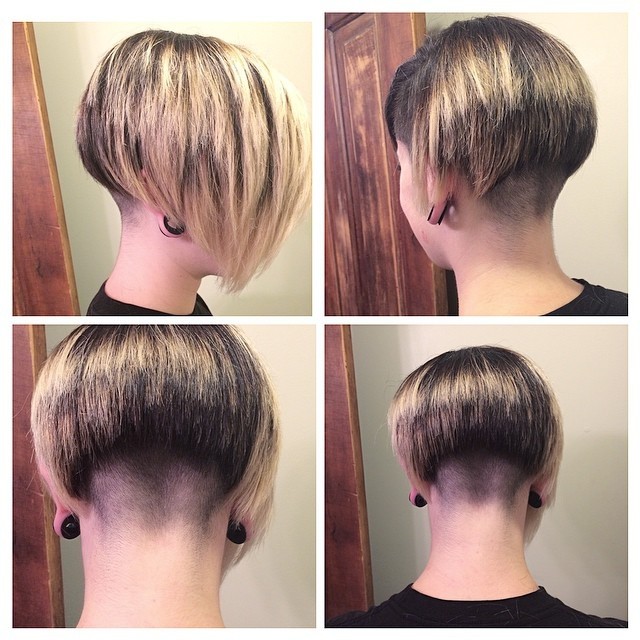 This special short bob hairstyle is made up of long side bangs which reached below the chin and blunt cut bottom that is topped off by blond highlighted layers.
Short Layered Haircut for Fine Hair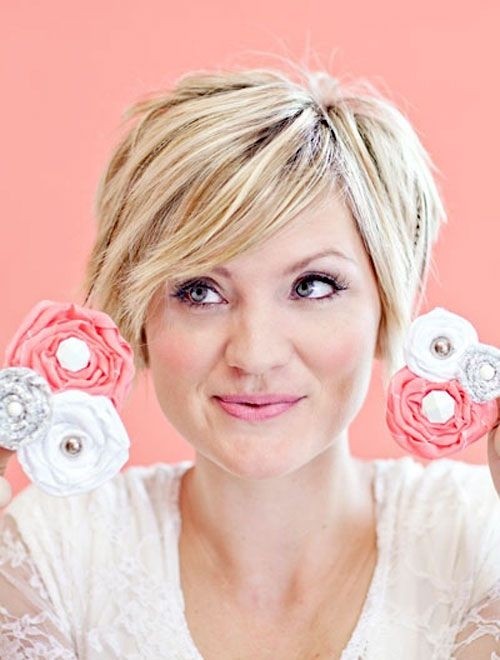 Short hairstyles can also look very cute if cut with choppy layers. Style your side bangs smoothly to one side with your fingers.
Short Layered Haircut with Side Bangs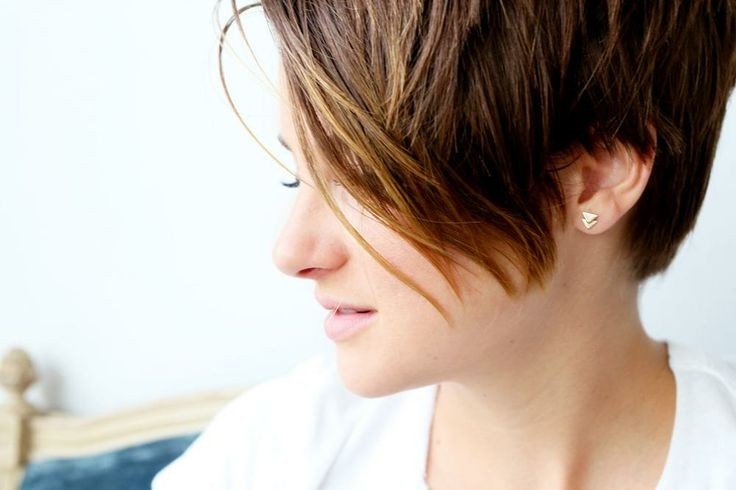 Short layered hairstyles would help to make your delicate facial features be the center of attention, especially for those girls with a small face.
Short Layered Hairstyle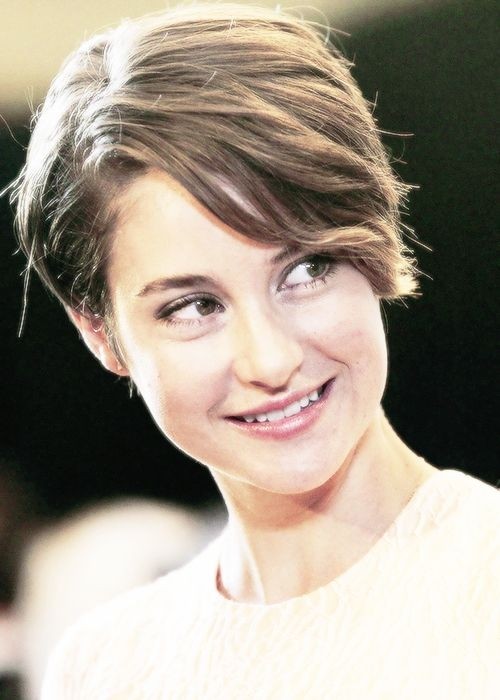 The short hairstyle with side bangs can work perfectly on all face shapes with its versatile shapes and styles.
Short Layered Hairstyle for Curly Hair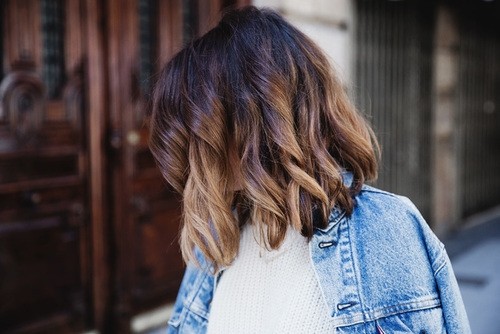 This medium curly hairstyle looks gorgeous with the magic ombre color. It will work perfectly on any hair type for women.
Short Pixie Haircut for Ombre Hair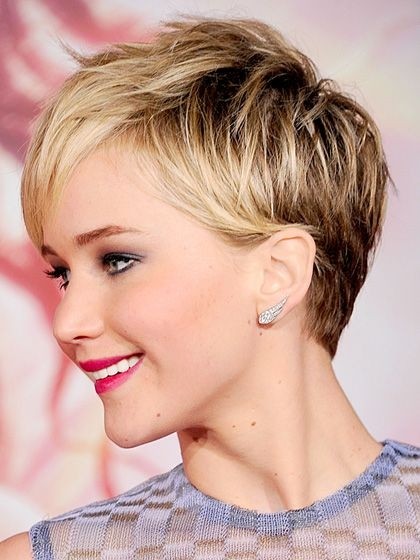 The short pixie haircut looks so stunning with Jennifer Lawrence's fine, soft blond tresses. It flattered her face structure beautifully on the red carpet.
Short Pixie Haircut with Side Bangs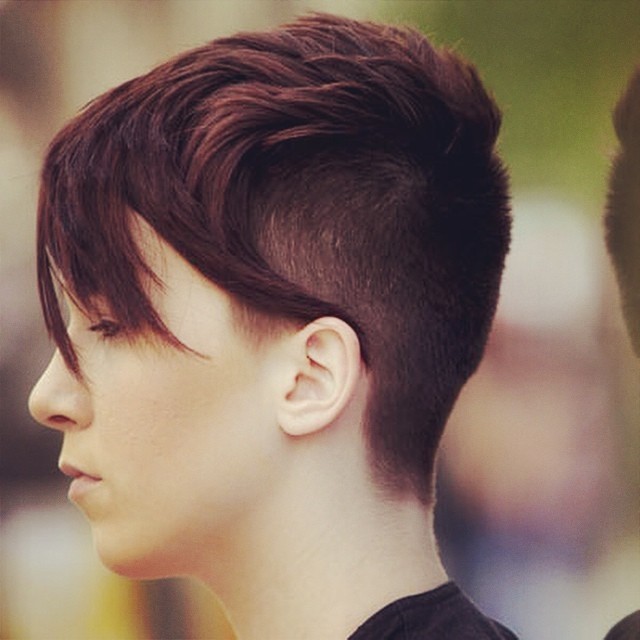 A short hairstyle with long side bangs will look extremely modern and edgy-chic. The jagged cut ends make it be a perfect choice for young teenage girls.
Short Shaved Haircut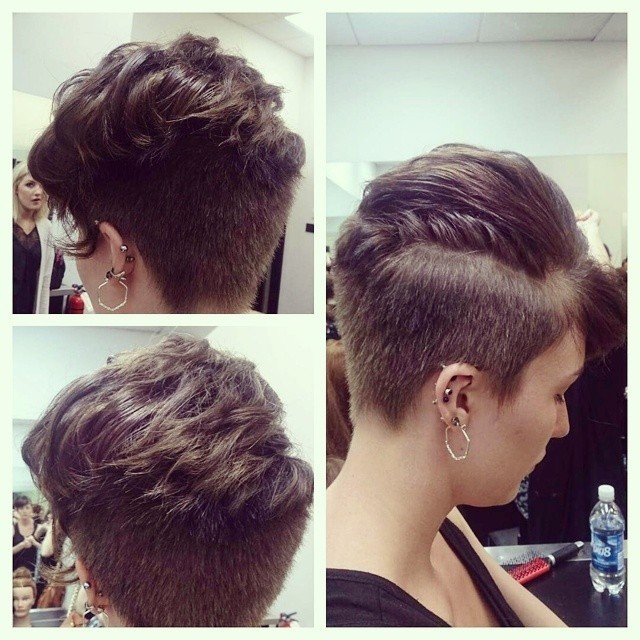 This hairstyle shows us how to make a cool fauxhawk look with your short hair. Keep the top layers much longer than the sides and back and fix the final style with your hands.
Stylish Short Colored Hairstyles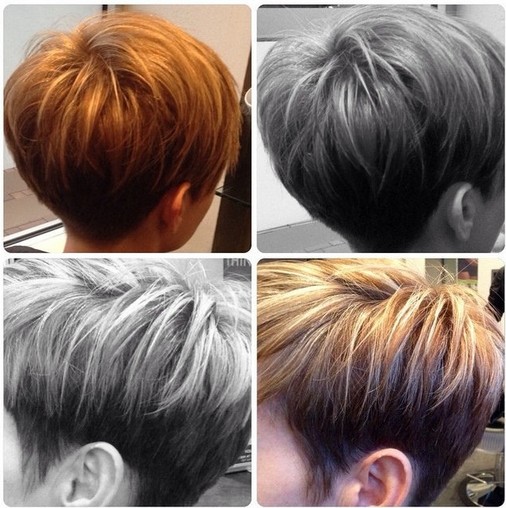 It is an easiest way to spice up your short hairstyle with a totally different color. Before you reach a final decision, you should make sure that the new hair color would go well with your skin tone.
Trendy Straight Bob Haircut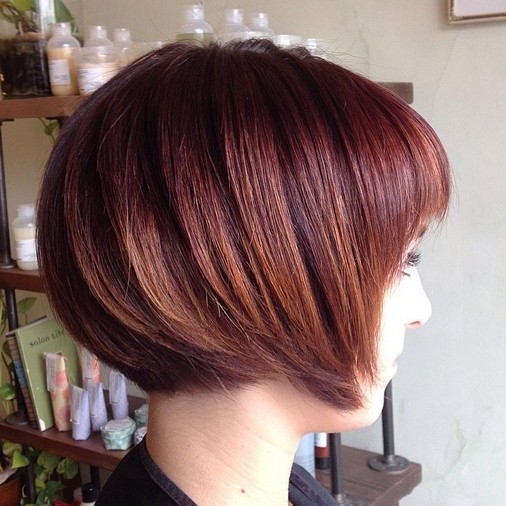 This is a very cute short bob haircut for pretty girls. It is featured with tipped-cut ends and subtle layers which make it being a flattering hairstyle a round face.
Very Short Haircut with Layers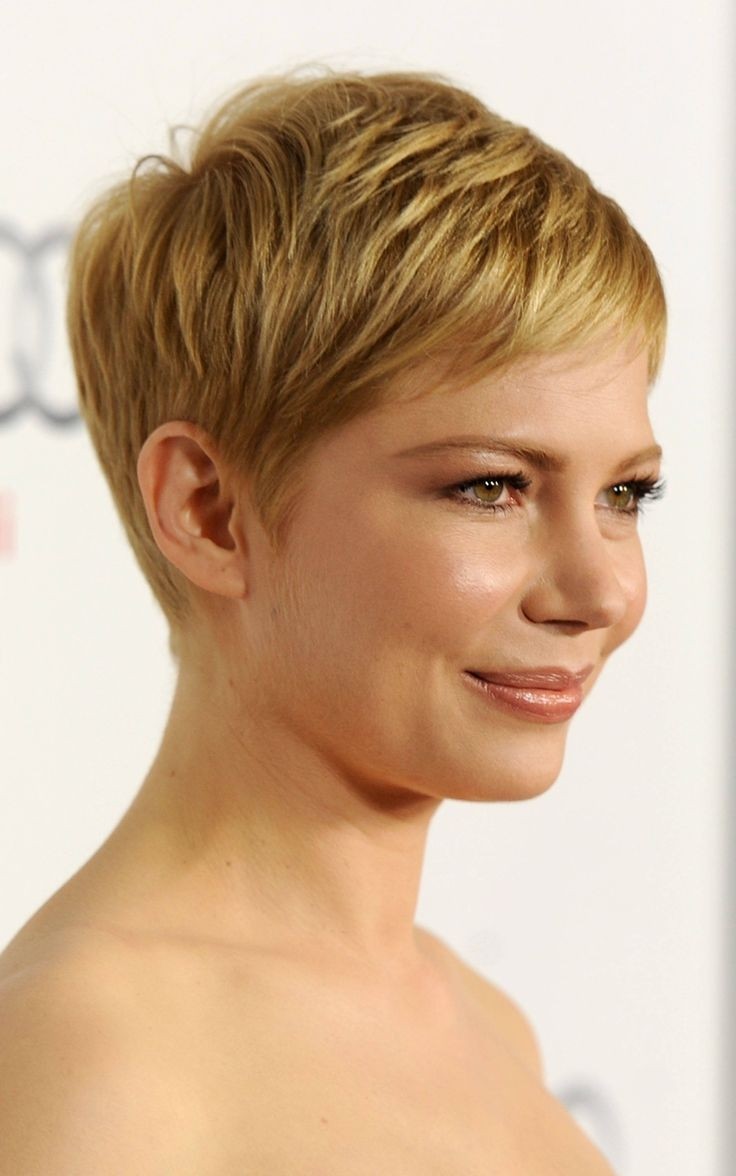 The short pixie cut looks so admiring on blond hair. Its featured subtle fringe is being able to accentuate her beautiful eyes and cheekbones.
You can find more (short layered hairstyles) on prettydesigns.com