How to Get Cat Eye: A Step by Step Cat Eye Tutorial
As a makeup artist, one of the looks I get asked to recreate the most is the cat eye. The cat eye is iconic in the makeup industry. There's just something about wearing jet black liner across the eye that says, "I am confident, strong and sexy." What woman wouldn't want to be all of those things?
I'm a firm believer that makeup can empower a woman. Get ready to be empowered and join the confident, strong, sexy lady club because I am going to break down the steps of how to do the Iconic cat eye.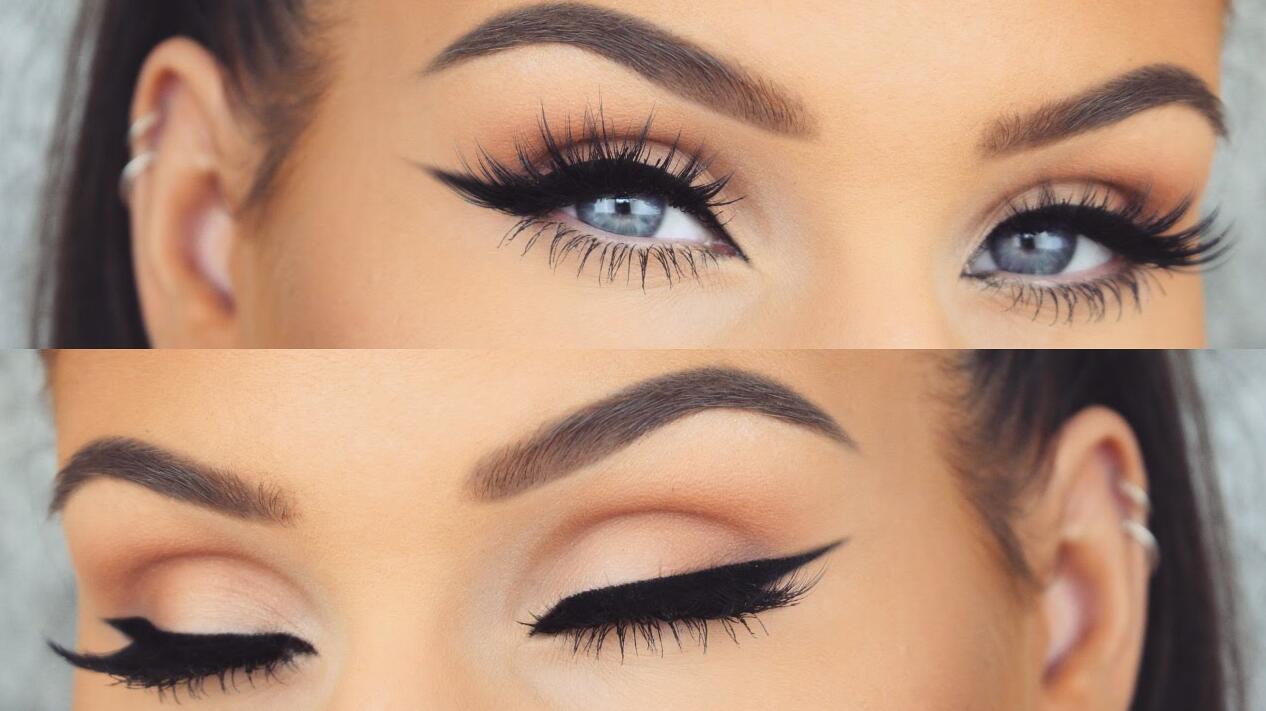 You will need:
Black pencil liner
Liquid black liner of your choice
Wash of a neutral, low-shimmer color of your choice
Semi-matte darker brown for the crease
Highlight color of your choice .
Brushes (I love to use MAC cosmetic brushes #239, 219, 266, and 209 – try similar brushes of your choice)
Step 1: Start with a clean eye lid. (If you like to fill in your eyebrows, you can do it before or after, which ever you prefer.) Add an eye primer of your choice, remember this look is clean and sharp so using an eye primer will lock it in place and keep it from migrating.
Step 2: Apply a wash of neutral eye shadow onto your lid using a fluffy eye shadow brush. Cover your entire lid area up to your brow bone. When this step is finished, it should look slightly lighter than your natural lid color.
Some great colors to use are: MAC Blanc Type, MAC Brule, NYX Matte I Have a Head Ache, and Urban Decay Vanilla
Step 3: Using the 239 brush, apply a semi-matte deeper brown into the outer crease. Pull your brush outwards towards the outermost portion of the crease.
Crease shadow step 3Some great crease colors are: MAC Soft Brown and Urban Decay Naked
This is how it should look at this point. You should have a slight yet visible crease shadow on your outer eye. Remember: if it looks too dark, go back and gently brush out the crease color to blend it a bit.
Step 4: Now with a black waterproof eye pencil, line your eye from your tear duct to the outer corner of your eye. The reasons I like to do this step and not jump right into the liquid liner are 1. Applying a pencil first gives you a guide to follow. 2. I have found that this also gives the liquid liner something to stick to.
Step 5: With your liquid liner, apply a fairly thin line along your upper lash line tracing the line you made with the pencil. If you're new to liquid liner, I always recommend a felt tip because it's less messy and more user-friendly. My favorite is Lancôme Art Liner in Nior.
Pro Tip: if you tilt your head up and look down at the mirror, your lid will close enough to allow you to get close to your upper lash line while still being able to see. Also remember, less is more. You can always build the liner in its thickness and intensity.
Step 6: Taking your liquid liner, use the bottom lash line as a guide, act as if you are extending your lower lash line upwards towards the end of the brow (like you're drawing a line towards it) by making a small wing.
Where you have made the wing, use your liquid liner to "connect" the wing back to the upper lash line. You will notice that you almost create a triangle on the out corner of your eye.
Step 8: Now that you have your top liner on and winged out, take your black water proof pencil and line the inner rime (waterline) of your eye going from your tear duct all the way out to the outer corner connecting it to your wing .To add intensity make a few passes with your black eye liner for a more dramatic look
Step 9: Finish this look off by applying your brow bone highlighter. My favorite highlight colors are MAC Dazzle Light and MAC Rice Paper.
Top off the look with black mascara. My favorite right now is Lancôme Doll Eyes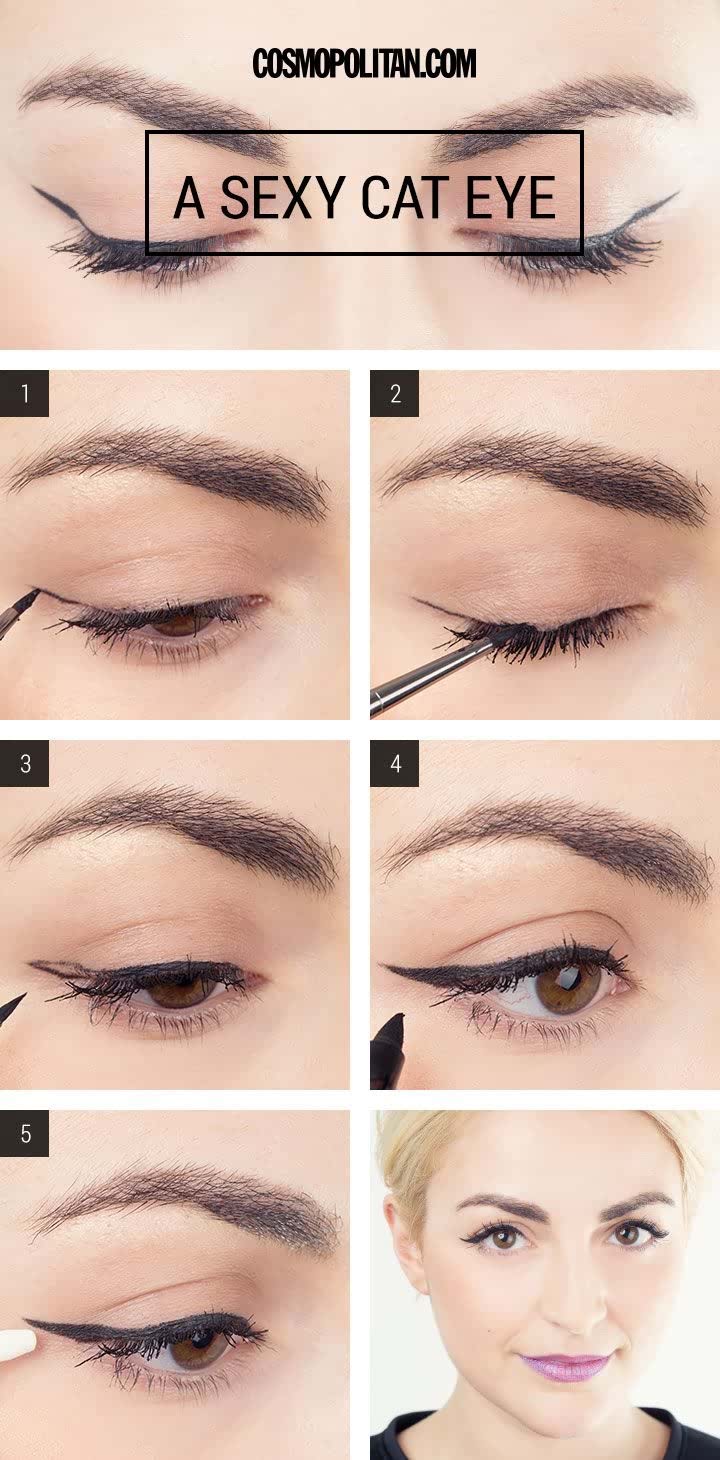 Pro Tip: Use your mascara brush and brush your lashes out to the side to accentuate the cat eye shape.
* You can find more step by step cat eye makeup tutorials here.
Now you have the steps to create this iconic sexy look. Makeup is meant to be fun so play around with how dramatic you like your cat eye and don't be afraid to pair it with a classic bold lip to make a statement.