26 Taylor Swift Hairstyles – Celebrity Taylor's Hairstyles Pictures
I remembered that I've ever read about a comment which said we all wanted Taylor Swift's hairstyles at least once. I take it for granted that it is really what we think. So, just let Taylor be our great model, and let's learn from her fabulous hairstyles.
Taylor Swift Hairstyles: Fascinating Long Curls for Brunette Hair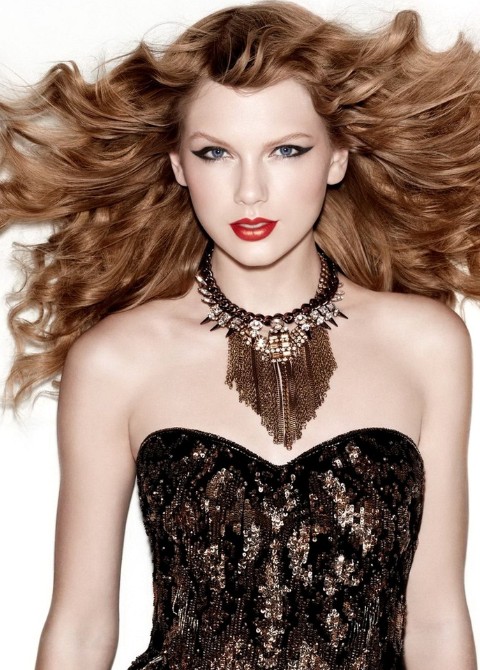 Taylor Swift looks glorious as she sports her beautiful brunette locks into these voluminous curls. I just want to cry out that I love it!
Taylor Swift Hairstyles: Pretty Loose Curls with Bangs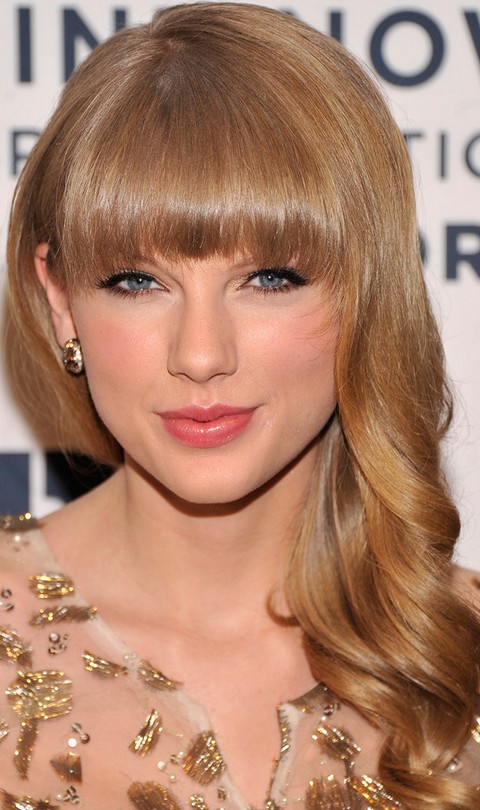 The blond side-swept curls glow with the touching-eyes thick bangs. It is really a pretty hairstyle for any face shape and any occasion.
Taylor Swift Hairstyles: Natural Straight Layered Haircut for Outing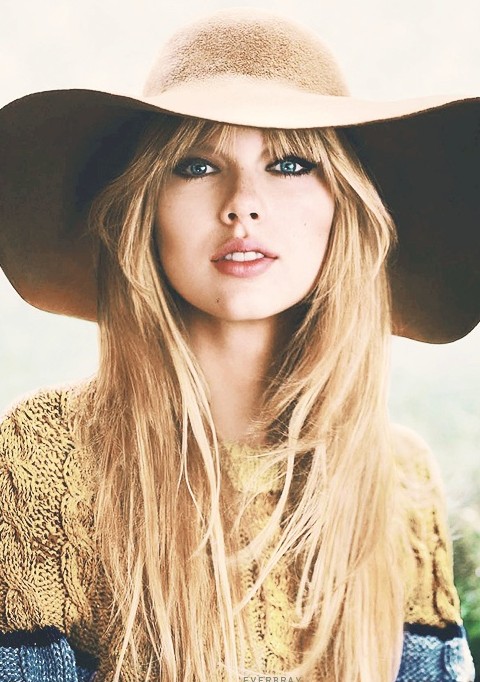 This is such a healthy and sunny hairstyle that no women can resist it. The natural layered haircut adds flexibility and freshness to the hair look. When decorated with a beige hat, the overlook becomes amazing. When you are going out, try this haircut, and you will be a stunner.
Taylor Swift Hairstyles: Side-parted Wavy Haircut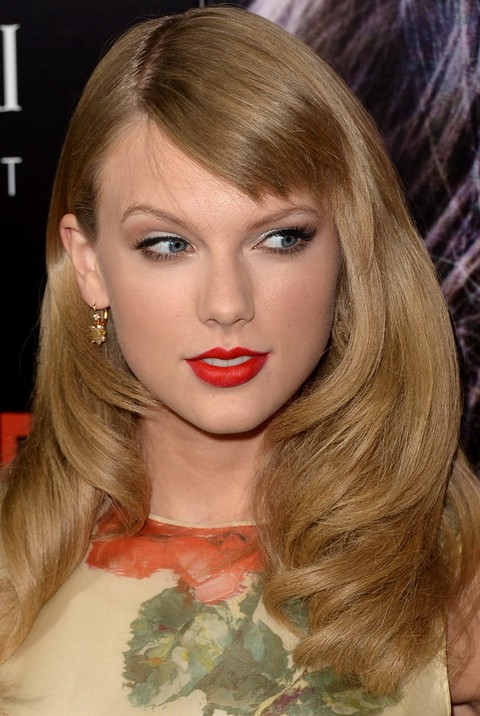 Taylor tries a different hairstyle with a side-parted wavy haircut. She cuts her bangs shorter and sweeps them to the side. Just allow the textured layered curls embrace her face. It's so sassy. Whatever your face shape is, you can always get a pretty look with this haircut.
Taylor Swift Hairstyles: Soft Wavy Haircuts for Round Face Shape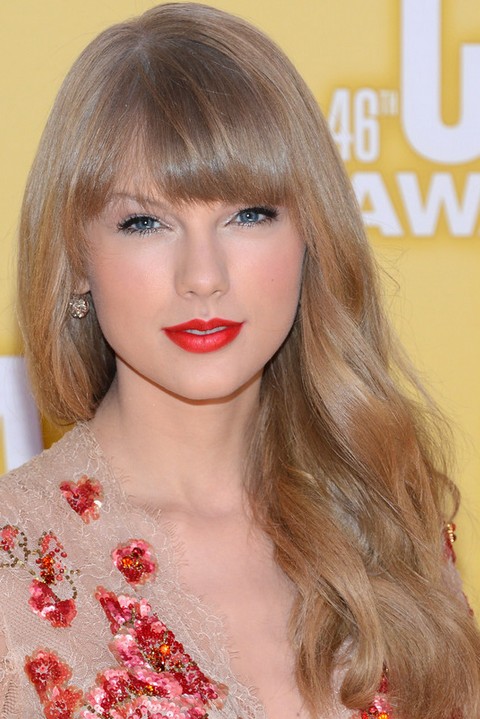 These soft waves look so beautiful that we can't help touching them. The loose curls add volume to the hair, and works well to make your face look thinner.
Taylor Swift Hairstyles: Smooth Straight Haircut with Bangs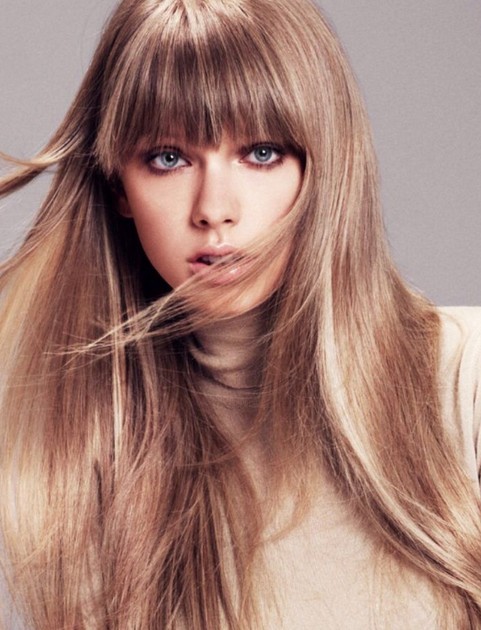 Oh, isn't this a standard poster that we can always see on the books about beautiful hairstyles? Just blow your locks into super straight lines and use some hair product to finalize the look. For our everyday look, this is the most suitable one.
Taylor Swift Hairstyles: Whimsical Curls for Young Women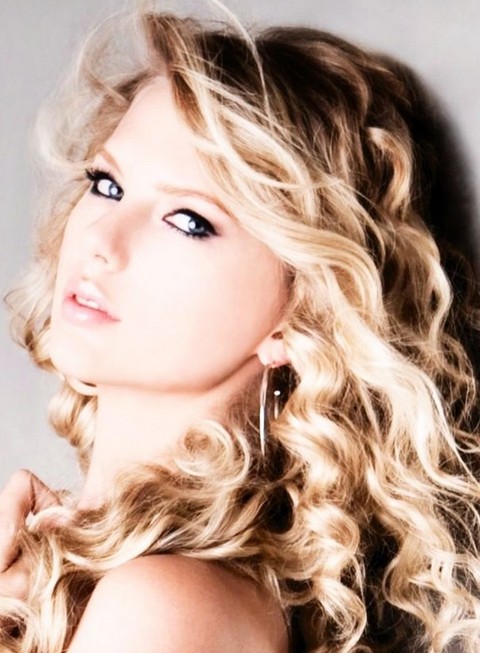 The side-parted voluminous curls endow the overall look with romance and texture. Young women will look as alluring as Taylor with such a great hairstyle.
Taylor Swift Hairstyles: Blonde Ponytail with Blunt Bangs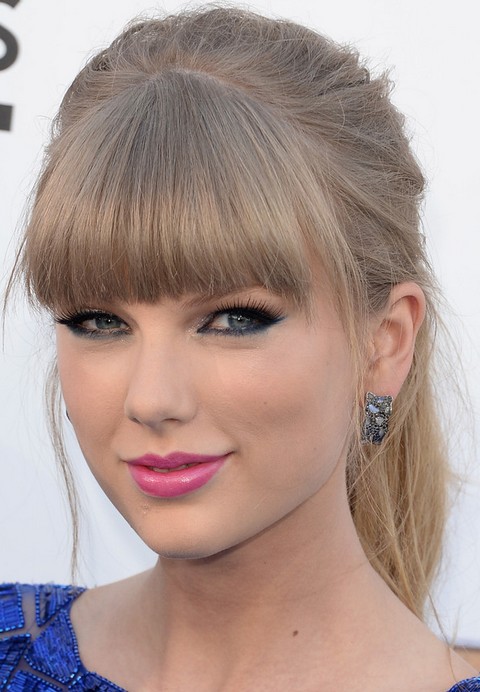 The pony tail is a classic hairstyle for women at any age. Tousle your hair a little bit messily so that you can get a more natural look.
Taylor Swift Hairstyles: Gorgeous Bobby Pinned Updo for Blonde Hair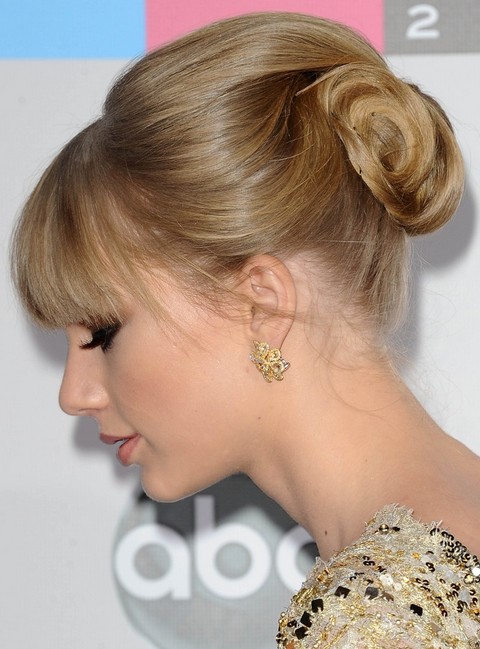 When I first saw this hairstyle, I was so astonished. It looks so simple yet it is so beautiful. If you are interested in this hairstyle, try it by yourself!
Taylor Swift Hairstyles: Sleek Straight Haircut with Bangs for Any Face Shape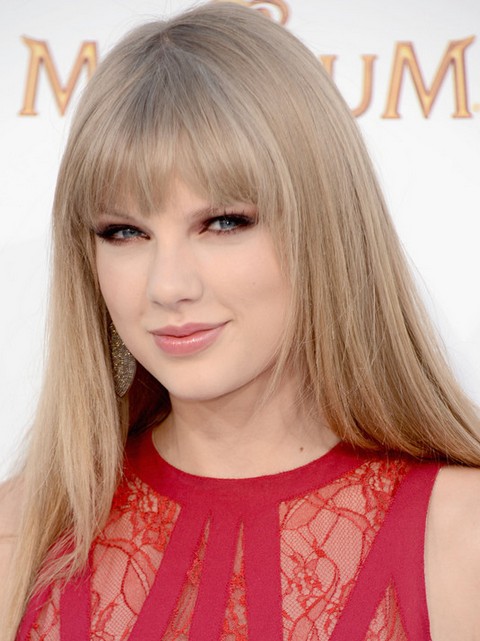 See the braw locks of Taylor Swift? Just a simple straight layered haircut, how could it be so beautiful? That's simple. Make your hair soft and straight to create a healthy look, and you can be the same beautiful!
Taylor Swift Long Straight Hairstyles: Golden Layered Haircut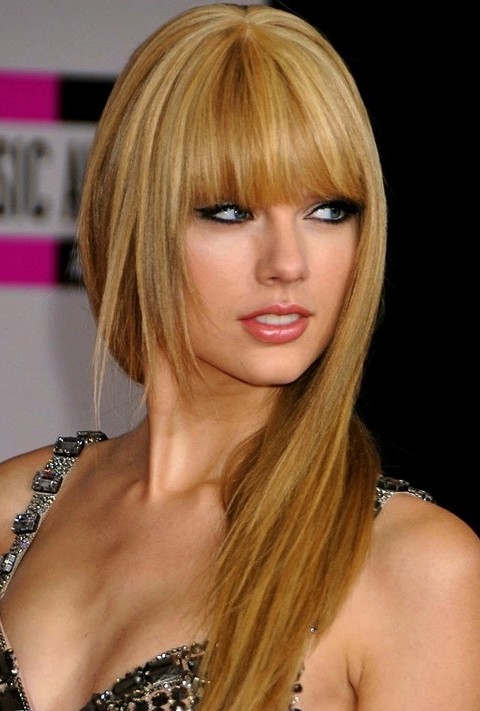 The rich layers give the hair a brisky appearance. The thick bangs just glance off Taylors' eyes and the short layers frames her face shape perfectly. It is suited for any face shape and any occasion.
Taylor Swift Hairstyles: Vintage Medium Curls for Mature Women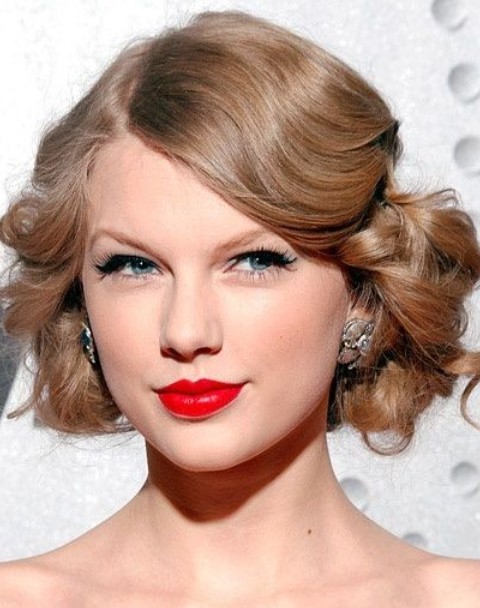 Taylor looks so noble and elegant with these retro-chic medium curls. The side-parted locks open her face up and make her pretty face presented to us. Office ladies and mature women can sport this hairstyle for an edgy-chic look.
Taylor Swift Hairstyles: Adorable Classic Bun for All Face Shapes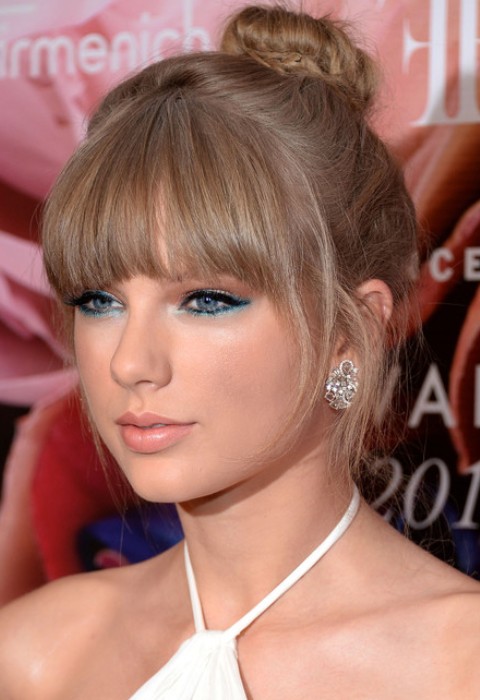 This lovely bun with bangs is super-cool for girls, and it is the best hairstyle to make you a few years old younger. Any face shape is suited for this adorable classic bun.
Taylor Swift Hairstyles: Romantic Half-up Half-down for Any Occasion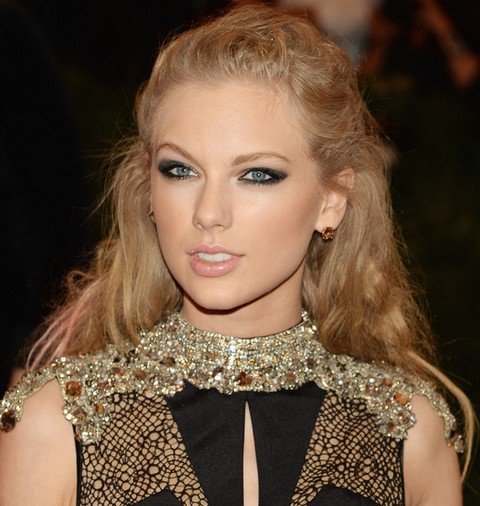 I think Taylor really has an angelic face. This unconventional half-up half-down hairstyle turns Taylor into a goddess. It is teased a little shaggy and volume is added to the down part. At any occasion, you must be the eye-catcher with this gorgeous hairstyle.
Taylor Swift Hairstyles: Fairy Braided Updo for Young Girls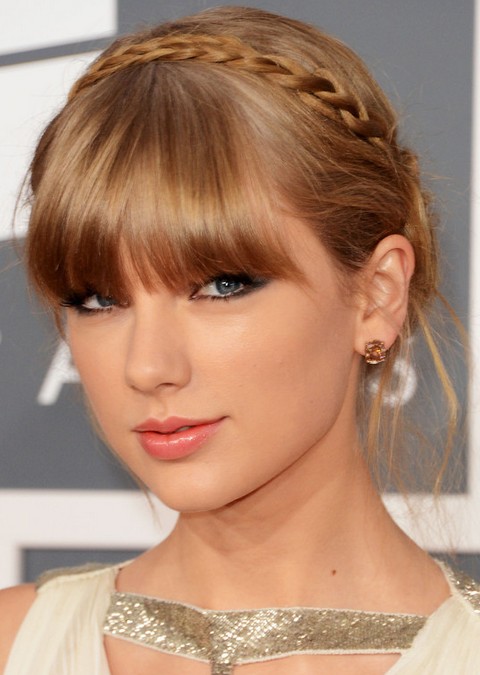 The touching-eyes blunt bang is already a fatal weapon to create a lovely look. When Taylor Swift adds the cute braids to it, I can say nothing but PRETTY.
Taylor Swift Hairstyles: Elegant Loose Bun for Older Women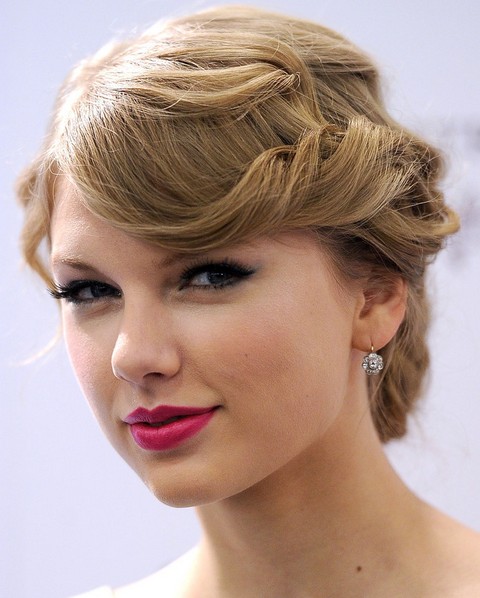 If you think the above updo hairstyle is too sweet for you. Then you may try this elegant loos bun. The flip-out fringes add movement and bouncy to the overall look. It's a wise choice to get this hairstyle for a graceful and stylish look.
Taylor Swift Hairstyles: Alluring Blonde Long Curls for Thin Hair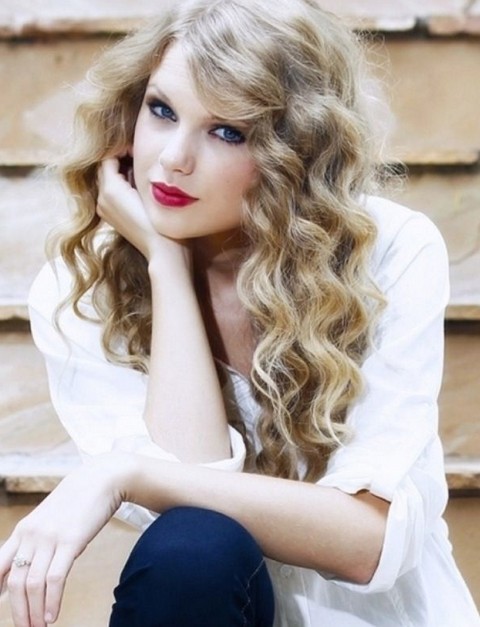 Do you like this hairstyle? It's simple yet stylish, and you can achieve this hairstyle at home with a proper curling iron. The voluminous curls are great for women with thin hair. You can wear it to any occasion, and it won't let you down.
Taylor Swift Hairstyles: Fabulous Braided Hairstyles for Beauties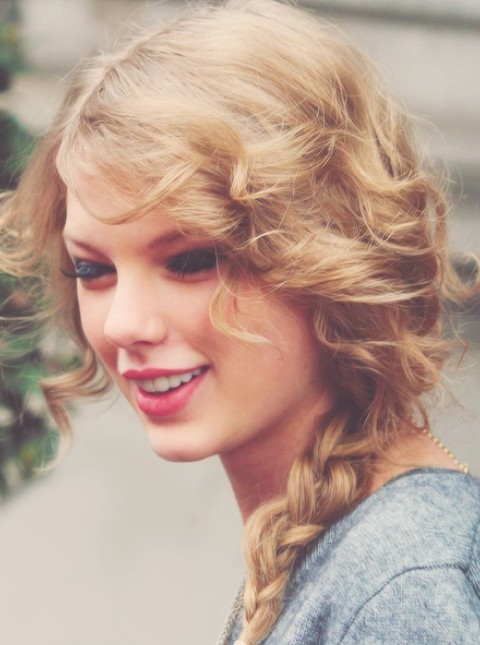 This braided hairstyle is so fabulous. The bouncy curls on the head look so airy and the side-swept braids add some sweet touch to the hairstyle. To get this hairstyle, you should first curl your hair, so you can achieve this curly braided hairdo.
Taylor Swift Hairstyles: Voluminous Loose Curls with Side-parted Bangs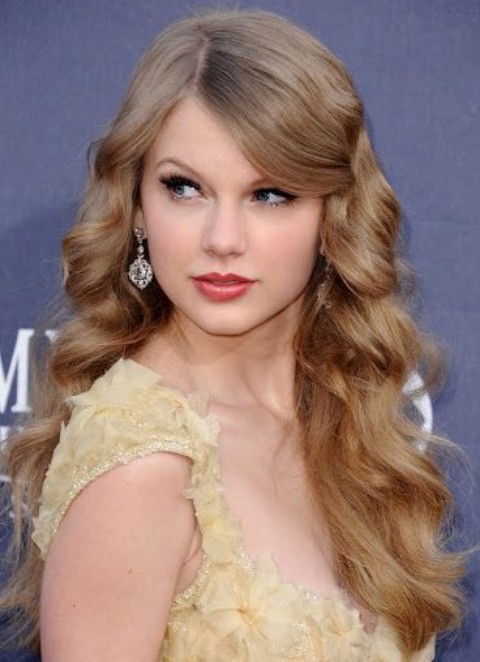 The out-curled loose curls are versatile. Whatever you wear and wherever you go, you are surly the stunner with such a glamorous long curly hairstyle.
Taylor Swift Hairstyles: Sassy Straight Haircut with Bangs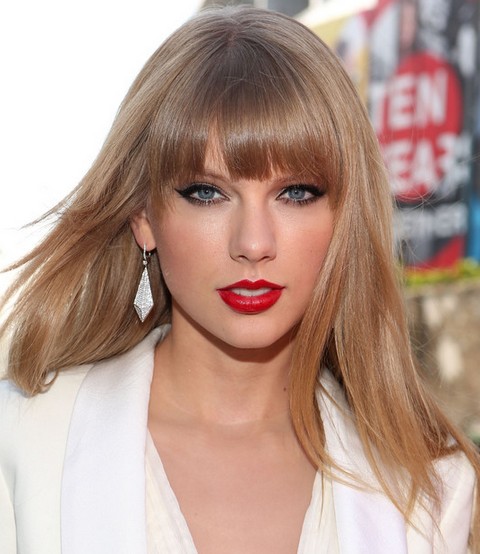 Taylor looks sophisticated with this straight haircut. Just make your hair airy and smooth, leave it at a natural state. Any face shape is suited with this classic haircut.
Taylor Swift Hairstyles: Retro-Chic Pinned Up Ringlets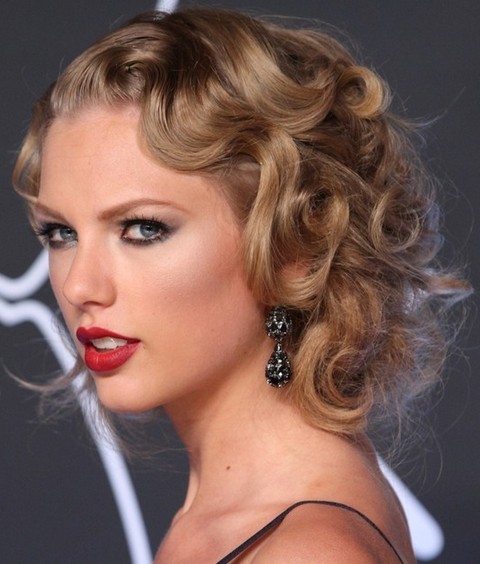 As for this one, I even don't know which word can describe her beauty precisely. With a head of golden ringlets, Taylor shows off her enormous glamor effortlessly.
Taylor Swift Hairstyles: Elegant Bobby Pinned Updo for Ladies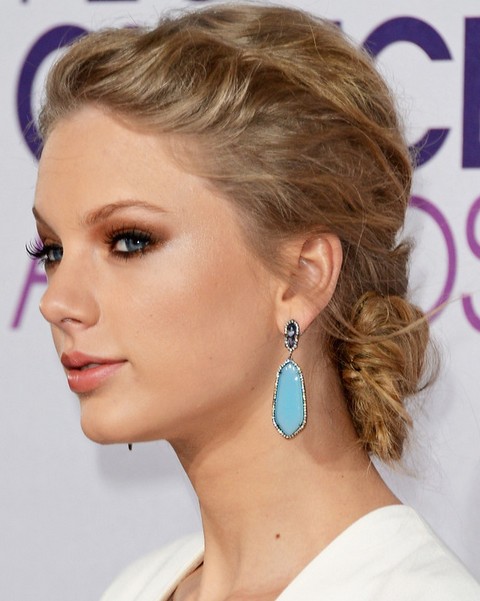 This bobby pinned updo is great in that it is suitable for women at any age while gifts them different kinds of beauty. Young ladies will be adorable and romantic, while older ladies will be dignified and elegant.
Taylor Swift Hairstyles: Radiant Side-parted Hairstyle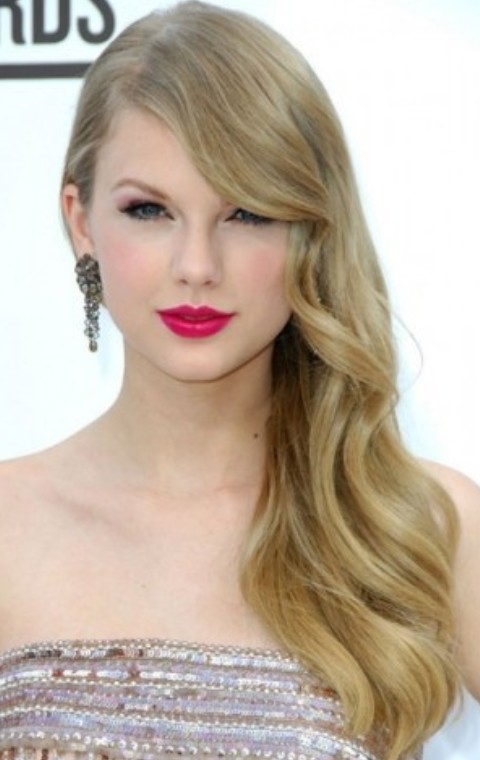 Hello, soft blond hair! Nice to see you again! When you have the beautiful long lock, style them into a side-swept hairdo. The loose waves and side-parted wavy bangs will make you more seductive and feminine than ever before.
Taylor Swift Hairstyles: Glamorous Chignon for Women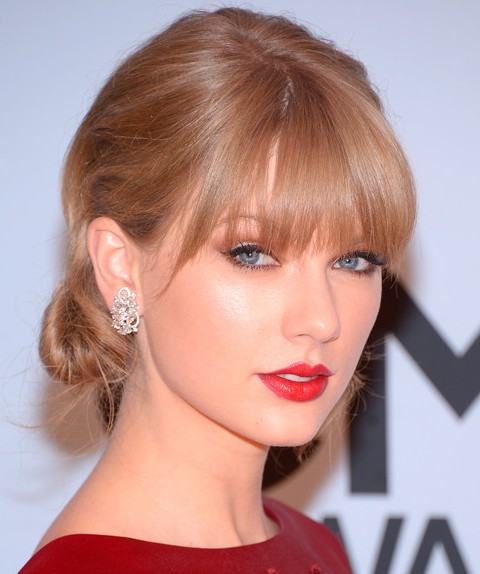 Taylor styles her cute golden hair into a glamorous chignon. I think is faddish, but square face shape had better go away from this one.
Taylor Swift Hairstyles: Romantic Updo for Wedding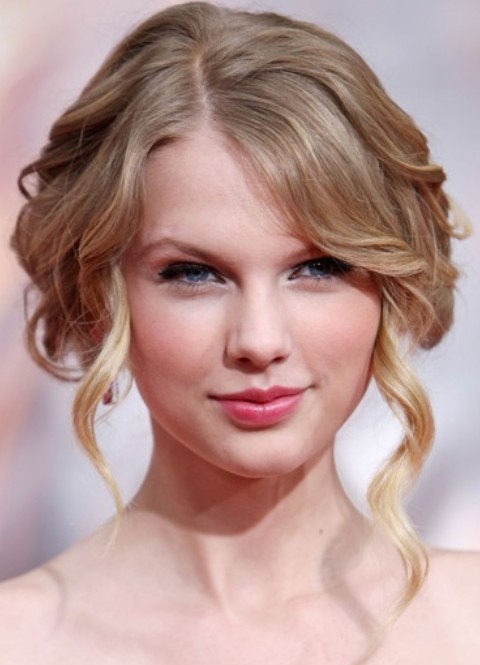 If you're getting married, get inspired from this updo. The waves are really fabulous and the two ringlets hanging along the face make Taylor so sweet! Take this photo to your stylist to make yourself a pretty bride.
Taylor Swift Hairstyles: Blonde Graceful Updo with Bangs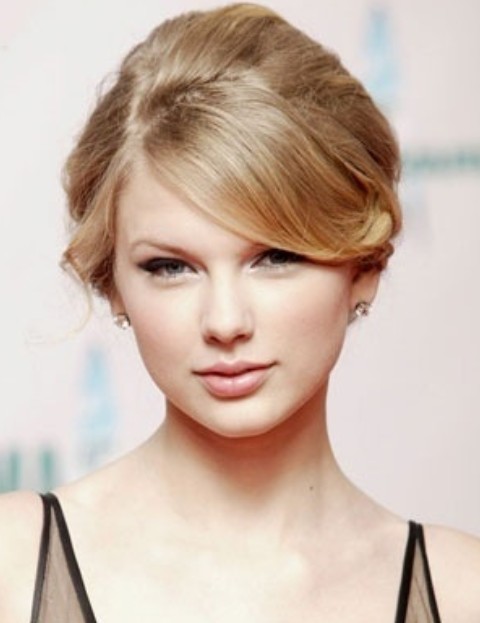 This side-parted updo is simple yet stylish. It's suited for any face shape and any occasion. The slight flip-out bang gives off an implicated beauty. Do you like it?