6 Tips on How to Rock Colored Eyeliner
Colored eyeliner is a timeless beauty trend. It's bright, it's fun, and it adds a pop of color to your face without looking too dramatic or overdone. In fact, colored eyeliner can be used in countless versatile ways to create toned-down everyday looks for work or errands or amped-up looks for date night or a party.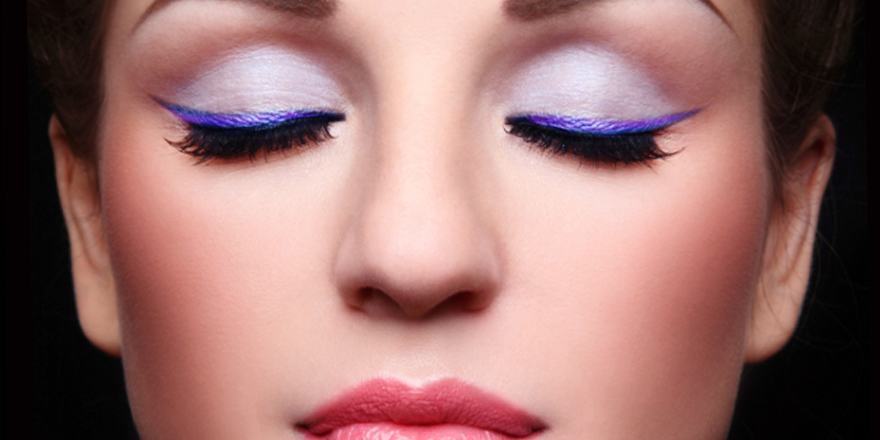 via
However, colored eyeliner is a tool that requires caution. While it can turn out looking bright and beautiful, it can also end up looking like you're trying to turn back the clock to middle school–not in a good way. Fortunately, there's no need to fret; read on to discover the easy tips on how to rock colorful eyeliner the right way.
1. Use a Liquid eyeLiner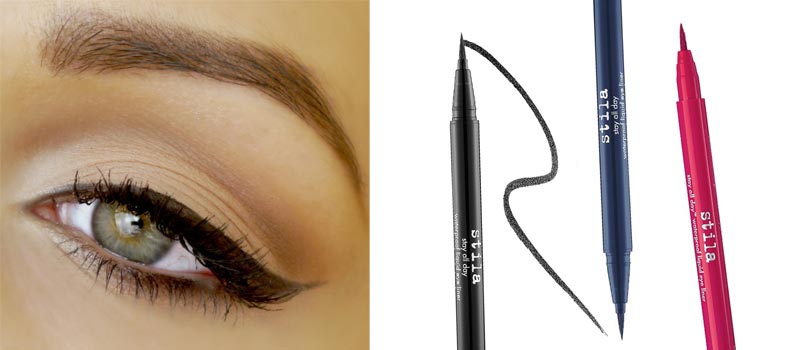 There are many different colored eyeliner formulas available on the makeup market. If you really want to ensure that you pull off the liner beautifully every time, it's best to invest in a liquid liner formula.
Many people opt for a pencil liner because they are generally easier to control. However, pencil eyeliners can often end up looking choppy, uneven, and disconnected, especially when it comes to lighter or brighter colored eyeliners. Liquid liners provide a line that appears much smoother, no matter what color you use.
If you're worried about successfully controlling a liquid eyeliner, opt for a felt pen liner instead. These eyeliners have a similar smooth formula to liquid liners, but they come with a felt pen applicator that is easy to swipe onto your eyelids with maximum control and steadiness.
The Stila All Day Waterproof Liquid Eyeliner is an excellent felt pen liquid eyeliner with a marker-like tip that offers a wide array of bright, fun colors in blue, green, and orange. If you're looking for different colors that the Stila liner is not available in, Kat Von D Lightning Liner  is a high-quality liquid liner that offers several shades of purple and gold. The Lightning Liner does not have a full felt pen tip, but its brush tip is thin enough to allow users to maintain maximum control and steadiness during application. (check out the Top 10 Best Eyeliners – Best Liquid, Gel, Cream Eyeliners )
2. Tone Down The Rest of Your Look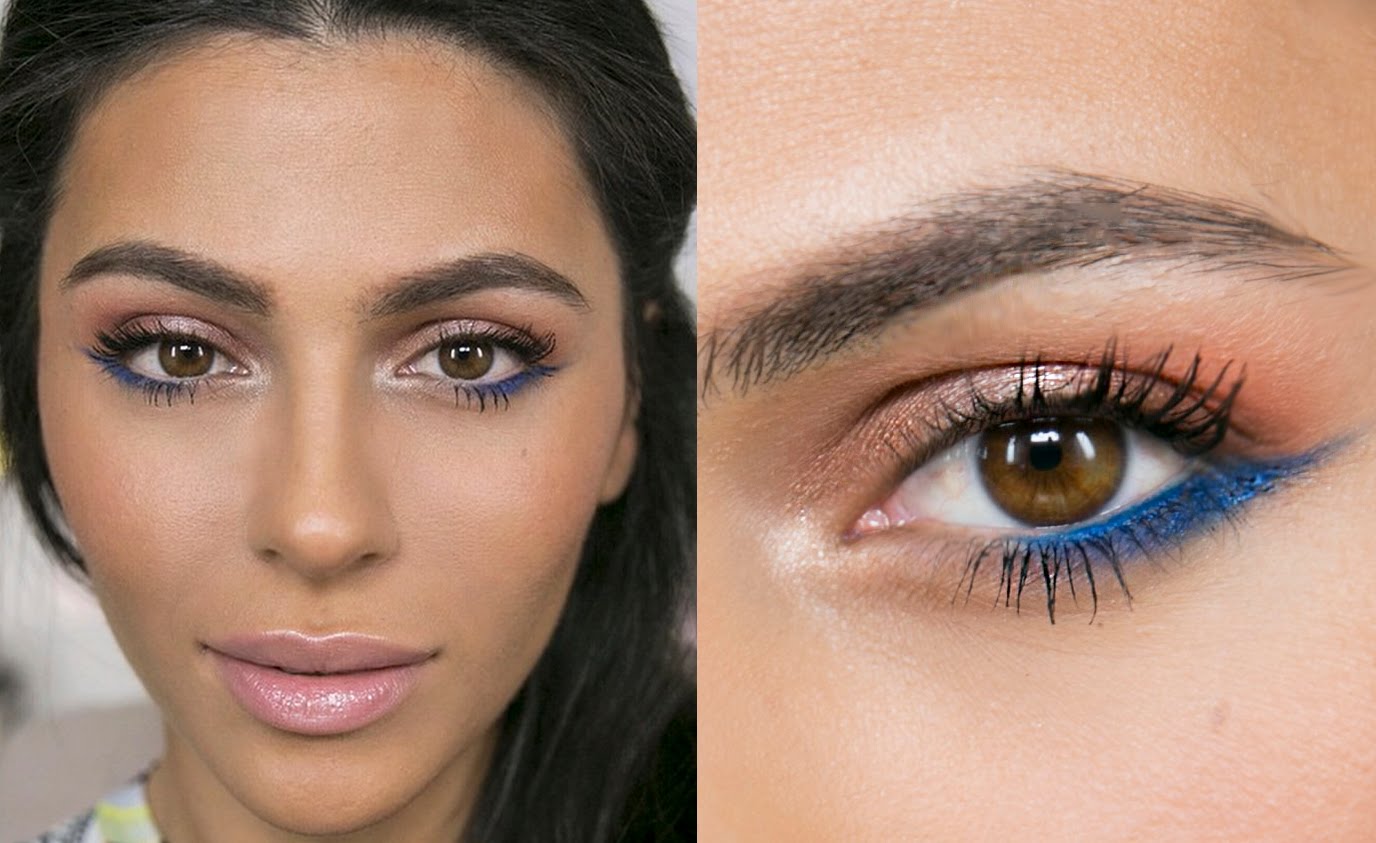 When you wear colored eyeliner, it should be the focal point of your look and should not have to try to share the center stage of your face with dark red lipstick or shimmery strobing. If you choose to apply colored eyeliner, keep the rest of your look simple. Opt for neutral outfit colors that complement your liner, choose a toned-down hairstyle, and apply natural shades of cheek and lip makeup that only accentuate your natural coloring.
Keeping the rest of your look simple when wearing colored eyeliner is the easiest way to prevent your liner from looking childish and ensure that it appears bright and sophisticated instead.
3. Combine the Color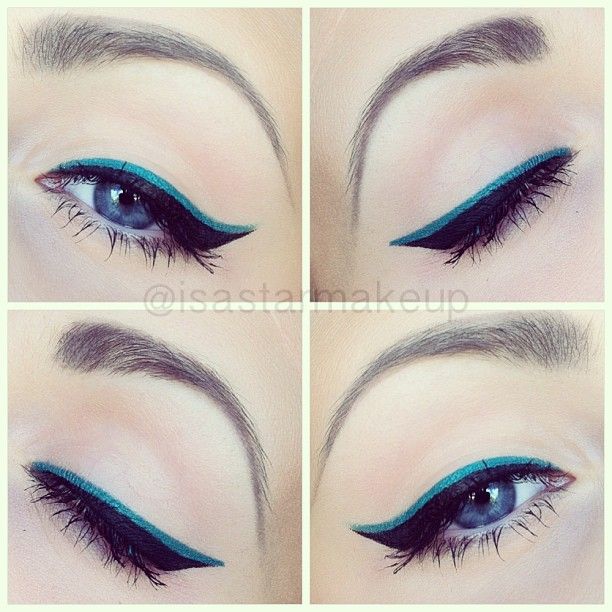 A great way to pull off colored eyeliner is to tone it down by combining it with a darker and more natural liner. To get this look, line your eyes as you normally would with a natural-colored eyeliner in brown, gray, or black. Make sure you use a pencil liner for this step in order to prevent two liquid formulas from muddling together once you apply the colored eyeliner. Next, swipe the colored liquid eyeliner of your choice on top of the black, gray, or brown liner. Blend the colors together using a sharp angled brush to create a smudged mix of colored and darker liner. You'll end up with a beautiful blended look that provides the brightness and whimsy of colored eyeliner with a sophisticated twist of more natural dark liner that ensures a mature look.
If you usually use a liquid formula for your black or brown liner instead, it's time to invest in a pencil liner in order to successfully pull off this combination look. The Urban Decay 24/7 Glide On Eye Pencil is an excellent pencil eyeliner that is available in multiple shades of brown, gray, and black. This Urban Decay liner slides on and blends easily, which makes it the perfect choice for this smudged combination look.
4. Go For Dark
If you want to try out colored eyeliner but don't feel quite ready to swipe on a bright pink or a turquoise liner, meet in the middle and experiment with darker colored eyeliners. Darker colored eyeliners are liners that look almost black but still have a hint of color mixed in. These liners are great if you're hoping to achieve a subtle pop of color to mix up your routine without creating an overly obvious or severe look.
The right darker colored eyeliners can be difficult to find within the abyss of bright colored liners. However, they are available. NARS Eyeliner Stylo is a great felt pen liner that is available in Atlantic, a beautiful shimmery dark blue. Blinc Liquid Eyeliner is a true liquid liner that comes in Dark Purple, a deep plum hue with a hint of silver sparkle.
5. Pick a Complementary Color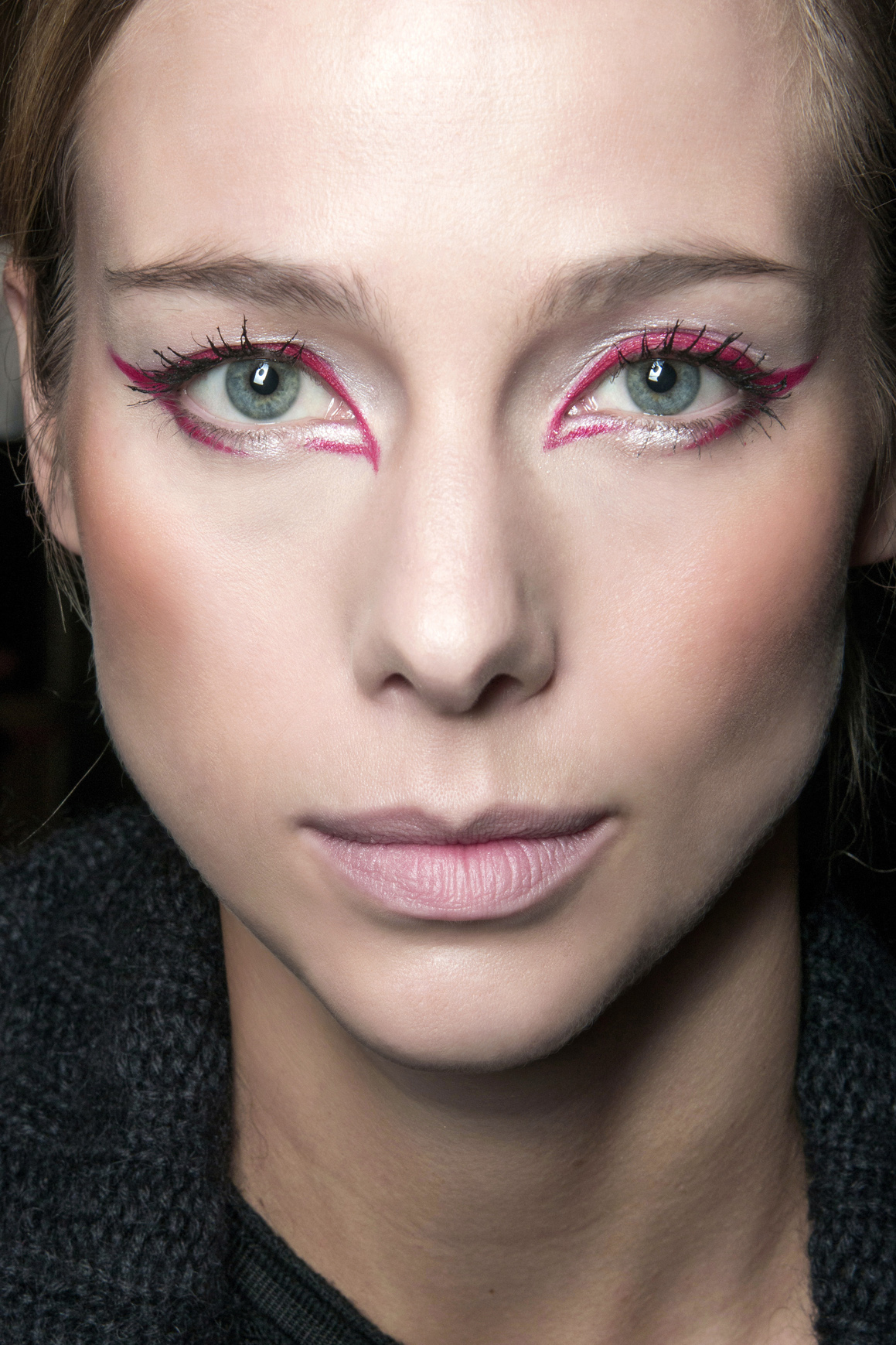 Any time you're dealing with colorful eye makeup, it is important to choose your colors carefully. The same rule remains true for colored eyeliner. When you're trying to choose the perfect shade to debut your colored eyeliner look, don't just pick the color you think looks brightest or prettiest. While this may seem counterintuitive, the fact of the matter is that your favorite color might not be the color that looks best with your natural eye color.
It's important to pick colored eyeliner hues that complement your eyes, not ones that match them or clash with them. For example, if you have blue eyes, don't select a turquoise liner. Instead, opt for plum, gold, or orange liner to bring out the blue in your eyes rather than wash it out and create a faded look. Blue, purple, and pinky eyeliners are especially flattering for those with green eyes. If you have hazel or brown eyes, green and gold liners help frame your eyes and bring out the natural warmth in them.
6. Stay Close to Your Lashes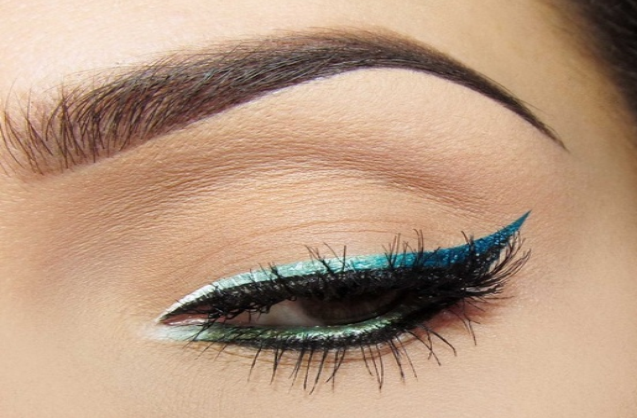 Nothing looks worse than a colored eyeliner application that has a tell-tale gap between the lash line and the liner. While you can sometimes get away with a bit of space between your lash line and your eyeliner when you're wearing a more natural color that matches your lashes, like black or brown, the same reality is not true when you wear colored eyeliner. Because colored eyeliner creates such an extreme contrast against the natural color of your eyelashes, any gap of skin that is visible between your lash line and your colored eyeliner is extremely obvious and creates a messy, immature look.
To ensure that you get your eyeliner as close as possible to your lash line without actually smudging it onto your eyelashes and creating a mess, start from the inner corner of your eye. Work slowly and steadily and press at a downward angle until you reach the outer corner of your lash line. Check if there is any visible skin by closing your eye and raising your eyebrow. This movement will reveal any gap of skin that you might have missed and allow you to fill it in completely.
Also, make sure to wait to curl your eyelashes until you have finished applying your eyeliner. If you curl them first, it can be more difficult to get your liner close enough to your lash line. Plus, curling your eyelashes after applying your eyeliner can help hide any small gaps between your liner and your lash line that you might not have filled in completely.
Applying colored eyeliner should be fun, not frightening. By taking advantage of the tips described above in this post, you can pick the right liner and ensure that you know how to apply it correctly to achieve a bright and beautiful look that makes you feel confident every time you wear it.  
And here are some makeup ideas, enjoy.
colored eyeliner for brown eyes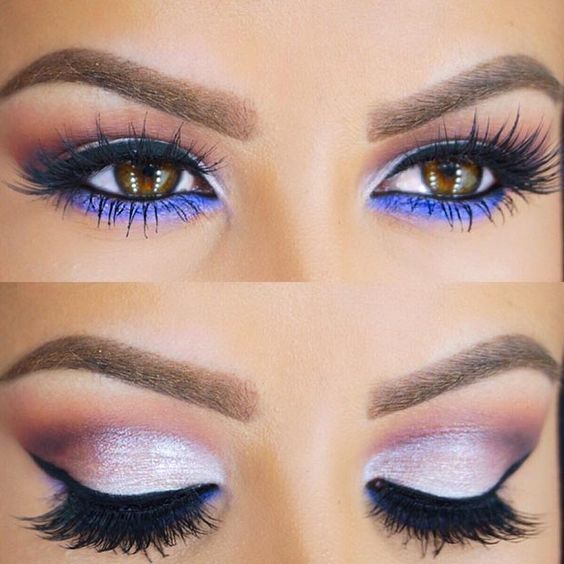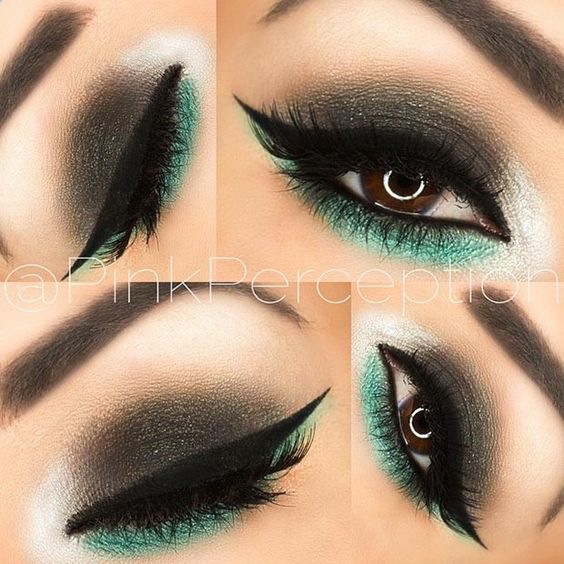 colored eyeliner for dark brown eyes
colored eyeliner for blue eyes (with tutorial)