10 Cute Proposal Ideas – And How To Pull Them Off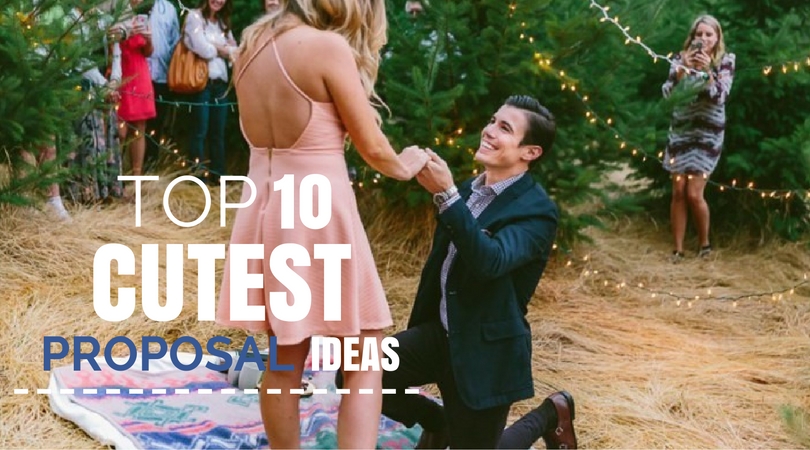 (background image; http://howheasked.com/christmas-proposal-ideas/)
Whenever I hear that a firned of mine is engaged, my favorite question to ask is: "So, how did he propose?'
I also love sharing my engagement story just as much!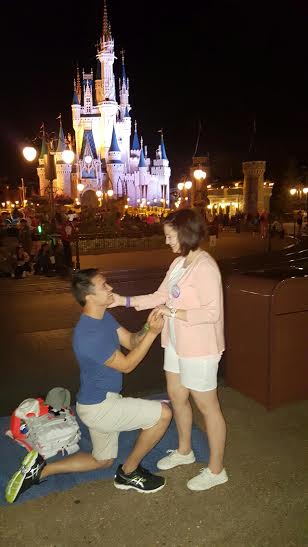 Tuan Anh and I were engaged in Magic Kingdom in Disney World! It was like a scene out of a beautiful movie! We were watvhing the fireworks, when the song "When you wish upon a star" comes over the loud speaker. Tuan Anh says he has a gift for me, and hands me this cute little photo album! The last page of the photo album said: "There is only one more question I have to ask:" and when I looked up, he was down on one knee with a beautiful ring. And he has me my favorite questions I've ever been asked "Will you marry me?"
There are so many ways to propose, all proposals are perfect in my eyes! As long as the proposal reflects the couple, then it will be an unforgetable one for sure!
Here are 10 proposal ideas that are so cute and unique!
1- Throw Back Proposal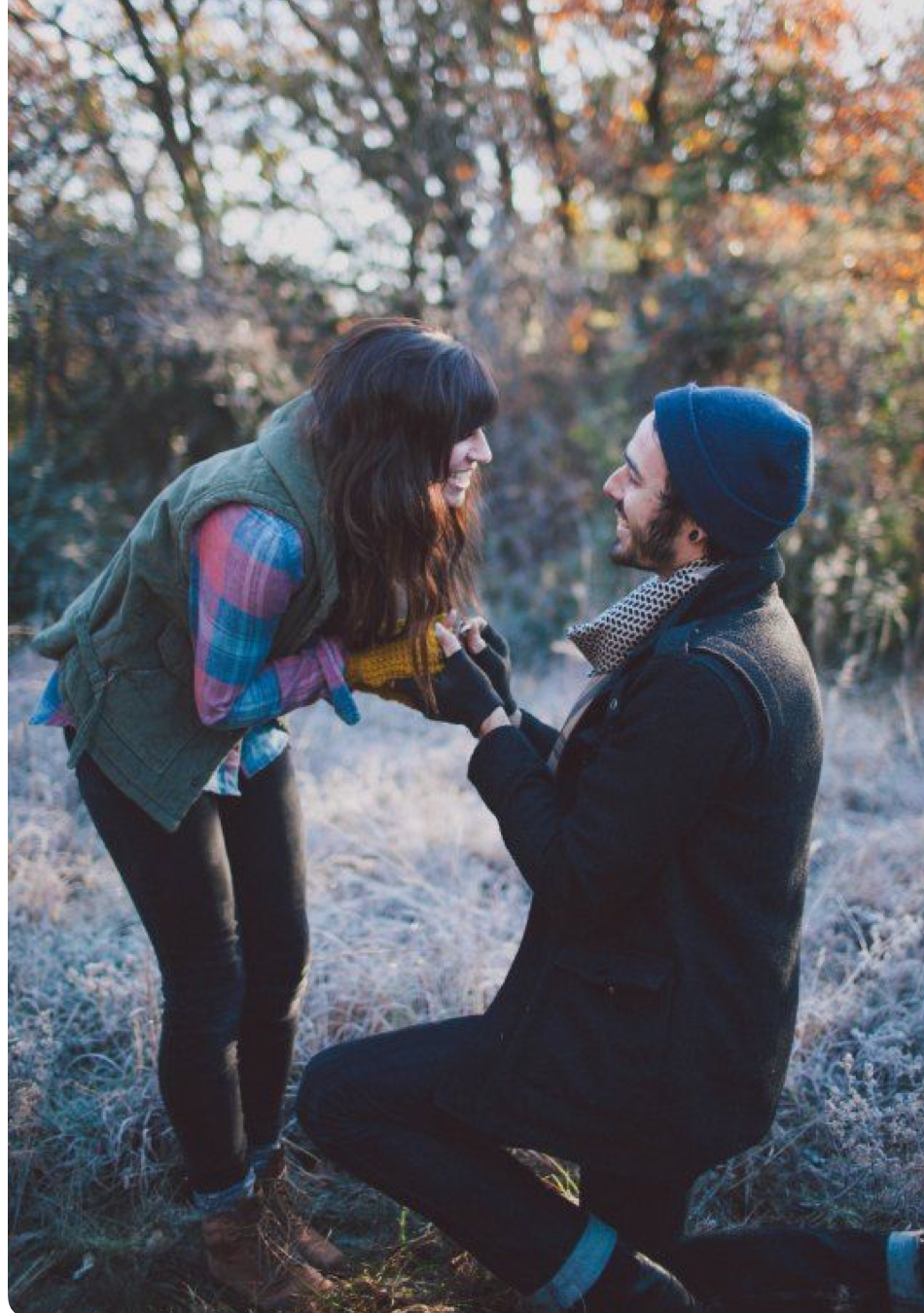 (http://designblossom.tumblr.com/image/37187427546)
This one is so awesome to me! Take her back to where you guys had your first date! Or maybe even the place where you guys share your Don just memories! Maybe re-live that day and remember what all those butterflies you had on that first date! Then when the time is right find the  perfect spot pop the question!
2- Scavenger Hunt Proposal
This is another one that will play off of the memories you guys share! Start with a quick note at the house, within send her all over town to the places you guys love! Have a final meeting place and decorate it as nicely as you want! This can include candles and lights. And don't forget to meet her at the door with flowers!
3- Gift Basket Of Yummy Treats
This one is one of my favorites because it's almost like that little book you used to read when you were a kid, I Spy! Get a basket and fill it with all of her favorite candies and treats! But, secretly, you have hidden the ring box inside. Maybe you even put a random chocolate it's logo on top of it so that it's a little concealed. Half the fun is waiting for her to go for that box! What do you notice her picking it up and looking at it get down on one knee!
4- Photo Album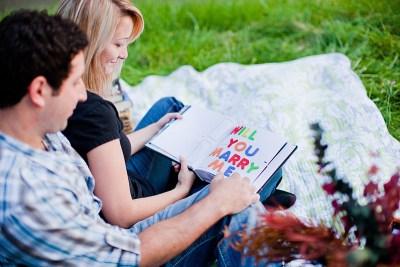 (http://www.yourengagement101.com/proposals/2012/05/a-magical-photo-album-proposal/)
Create a photo album, with the last photo just belong a piece of paper saying something like "our engagement picture" when she looks up confused, you are already on one knee holding the ring box
This one is my favorite because it's sort of what my fiancé did! He put together a photo album with pictures of us over the past four years we have been dating! Beside each album he put a quote that was actually a Disney quote that related to the image and very sweet things about he and I!
She will love that you took the time and effort to go through all of the photos you've taken together and pick out your favorites, maybe here in there and write a couple things about how she makes you feel or how much you love her, and then the last page being the image that either says will you cook?
Or even the one that says insert engagement photo here! It would be even better to have someone there taking pictures of her confuse look when she looks up from the book!
5- Christmas Decorating
As much as I love fall, Christmas is my favorite time of the year! And not vocabulary winter, and Christmas time, I basically interchangeable! I'm not one that every single Friday I post the picture of elf saying how many days they are left till Christmas or what not! I just love it!
So when I saw this as a proposal I thought it was so cute! Get your tree and get all your ornaments and everything ready, Except go to the dollar store even and buy one of those ornaments that are actually a box!
Make sure that she is the one that picks it up to try and put it on the tree except maybe say something like oh I don't remember that one what's that one! Upon further examination she'll probably noticed that it's a box and be ready to get down on one knee after she opens it!
6- One For Coffee Lovers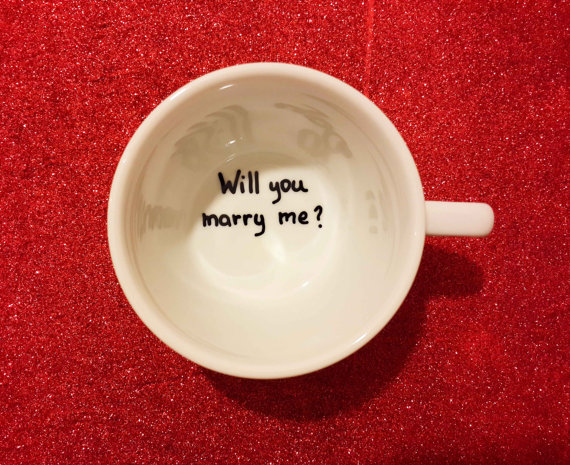 (https://www.etsy.com/listing/115502217/proposal-mug-will-you-marry-me)
If  your most fondest memories have been shared at your house, and you both are more homebodies, then this one is perfect! Either in the morning or noon time whenever she likes her coffee, go ahead and have it ready for her! Except little does she know, that you've replaced her usual favorite coffee mug with this new. Special coffee mug (which will likely be her new favorite coffee mug after today!)
Now we wait! Hopefully she isn't one of those coffee lovers that takes three hours to get to the bottom of her drink! But when she starts getting low and noticing there's a message at the bottom she may drink a lot faster! Once you notice that she's gotten to the bottom and she sees the secret hidden words at the bottom, you're already down on one knee!
7- One For Book Lovers
Pretend to get her a copy of her favorite book! But really you have hollowed out the inside. When she opens it up, there will be a ring inside:)
BONUS if you can find words that can relate to love or marriage like this one
8- A Magically Lit Gazebo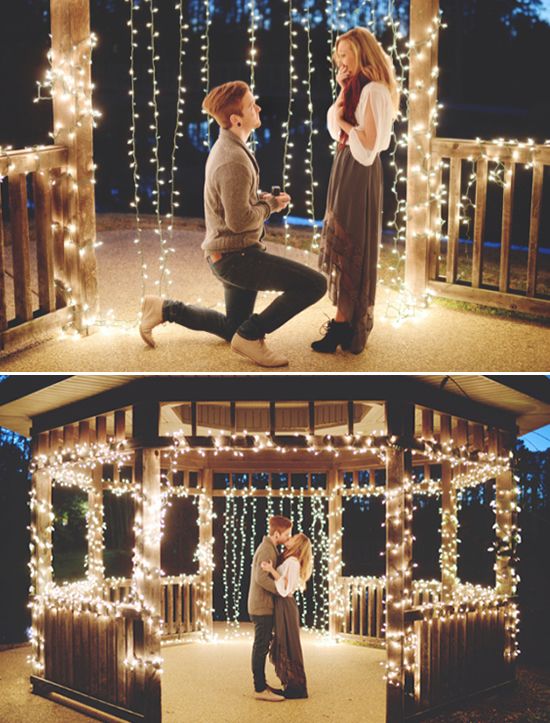 (http://www.weddingchicks.com/before-you-get-engaged/)
This is one of those magical proposals that really doesn't take too much to set up! Yeah you have to find a gazebo, maybe you can even rent your local parks! They usually don't care so much about what you hang as long as you clean it up! Now it's time to collect all those Christmas lights!
Call all your friends, family, and neighbors and see if they've got any can borrow! I'm sure once they know the cause, they'll be more than willing to lend you a hand! (Just the tip maybe use some different washy tape and Mark each strand that you're given from each person so if mom gave you three strands all three of her strands have a blue tape wrapped on that what you know that the right strands get back to the right person!)
Once the decorating has been taken care of, maybe grab a dozen of her favorite flowers, and get ready to take her to this most magical spot you set up!
This could also be mixed with the scavenger hunt proposal! You're waiting for her in this amazing because gazebo, as it would be the finale to your awesome scavenger hunt you set up!
9- If You Have A Pet Together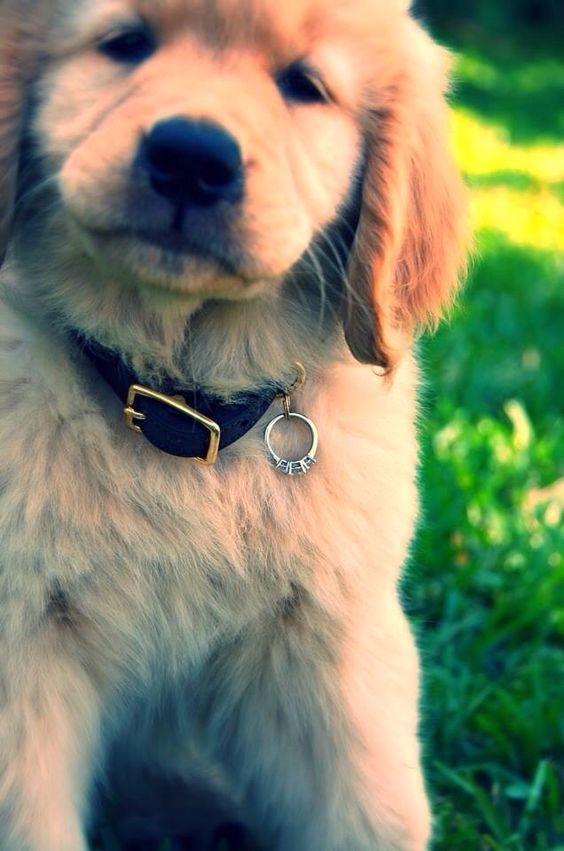 (www.barkpost.com/dog-proposal/)
If you guys are pet fanatics in this one is the most perfect one for you! Especially if you already have a pet together! Go to your local Walmart and use that little tag making machine that makes tax for five dollars! Instead of printing spots name however just write will you marry daddy? Or something like that on the front when the time is right have the puppy go to her and see if she notices!
Maybe change the color and the tag to be different colors then what your pep usually wears! Then should be short a notice! You know what to do once she notices what the tag says!
10- Reception Proposal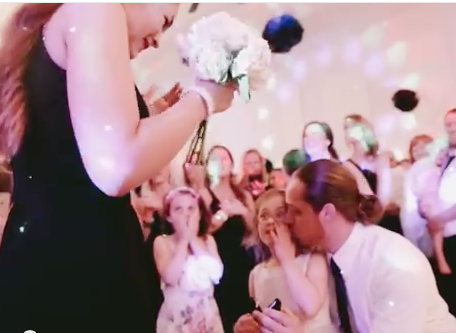 (http://www.yourengagement101.com/blog/2015/07/wedding-reception-proposal/)
This one to me is so sweet! And it also takes one heck of a bride to agreed to share her special day with her maid of honor! I would definitely do this for my sister if she were to be getting engaged! We all know the traditional bouquet toss!
The trick to this proposal however is that instead of texting you back at the bride of course does her a few fake little tosses but then she turns around and handed it right to the maid of honor who is likely in the very front of the pack trying to catch the bouquet!
Once the maid is looking around a little confused as to why she's been handed the OK, that's when her soon to be fiance steps out and does his thing! The best part for them to, is that one their family is already there! And two they have your professional wedding photographer is that you hired that are likely going to be there capturing that moment as well!
I hope you enjoyed this post!
If you have an amazing proposal story to share I would love to hear it! So share down in the comments below, or tweet me your story @kaleigh_blogs!
Also, if you are already engaged, and looking for more steps to take after, read my post on Steps To Take After Getting Engaged.