6 Ways to Use Onion to Grow Your Hair Quickly
There are tons of tips and tricks for faster hair growth available on the Internet. Whether you got a bad haircut that you are desperately trying to grow out or you are simply longing for longer hair, growing your hair quickly is the ultimate goal for many women. However, our hair often disappoints us by growing at a snail's pace, which is why we often turn to home remedies that claim to speed up hair growth. Surprisingly, onions can work wonders for causing your hair to grow more quickly. Onions include proteins and sulfur that strengthen your hair and help promote hair growth. If you're looking for something new to try to increase your hair's growth rate, keep reading to learn about six ways to use onion to grow your hair quickly.
1. Onion Juice Scalp Soak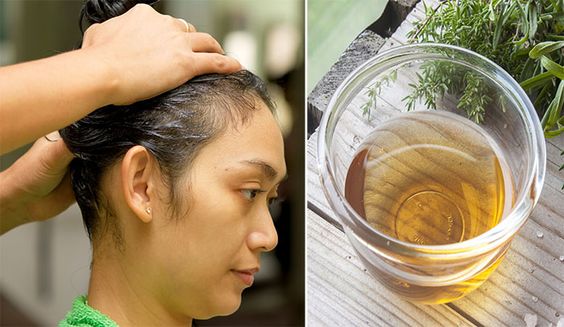 Soaking your scalp in onion juice might seem gross, but it's a great way to help your hair grow faster. Juice one large onion, strain out the pulp, and massage the pure juice into your scalp and the roots of your hair.
Leave the onion juice in your hair for at least thirty to forty-five minutes before washing it out in order to maximize its effects. When you do wash it out, mix a few drops of lemon juice into your shampoo and use warm water to eliminate the strong, unpleasant odor of onions from your hair. You can repeat this treatment one to two times per week.
2. In-Shower Onion Juice Rinse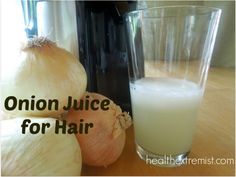 Mix a tablespoon of onion juice with warm water. After you shampoo your hair in the shower, apply the mixture to your hair as you would conditioner. Make sure this onion solution is the last thing you apply to your hair before you get out of the shower. You can apply this onion juice rinse to your hair every other day in the shower.
3. Onion and Rum Solution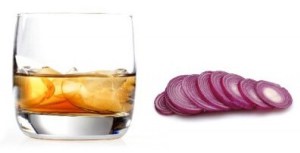 Dice one small onion into small pieces. Add the chopped onion pieces to a mason jar full of rum and seal the jar. Leave the sealed jar to sit for twelve hours, or overnight. Then, strain the chopped onion pieces from the mixture and massage the solution into your scalp. Once you've massaged the mixture into your hair, wash it out as you would normally shampoo your hair. You should only apply this solution to your hair once a week because the rum can have adverse drying effects on your scalp and your hair.
4. Onion and Beer Paste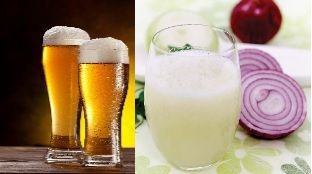 Applying a mixture of onion juice and beer to your hair might seem utterly revolting, but if you want your hair to grow quickly, it's definitely worth a try.
To make this hair paste, mix together one cup of beer and two tablespoons of olive oil. Add in one blended onion and mix until the ingredients form a paste. Smooth the paste into your scalp and hair. Leave it in your hair for at least one hour and no more than two hours before washing it out with shampoo and warm water. You should apply this paste to your hair approximately once a week for best results.
5. Onion Juice and Honey Hair Mask
Onion juice and honey create a nourishing mixture that strengthens your hair and helps promote fast growth. To make this hair mask, mix together two parts onion juice with one part honey.
Massage the juice and honey mixture all throughout your hair, concentrating specifically on your scalp and the roots of your hair. Leave the hair mask on for up to fifteen minutes before washing it out using shampoo and warm water. You might need to shampoo your hair more than once in order to remove all of the honey from your hair.
6. Onion Juice and Coconut Oil Solution
Mix together one part strained onion juice with two parts coconut oil. Drip in a few drops of your favorite essential oil to help mask the odor of the onion juice. Massage the mixture into the roots of your hair and your scalp and let it sit for up to two hours. After the hour or two is up, add some lemon juice to your shampoo and rinse the solution out of your hair using warm water.
Using onion to grow your hair out might seem strange, but it's actually incredibly effective. If you're hoping to speed up your hair growth, use the tips in this post to discover how to use onion to grow your hair quickly and achieve the cascading locks you've always dreamed of in no time.