22 Hottest Inverted Bobs to Get You Inspired
Don't make the mistake of thinking that the word 'bob' covers just one type of hairstyle. This umbrella term covers so many different types of cut that it's impossible to count them all. There's the long bob (or 'lob), choppy bob, pixie bob, blunt bob and then, of course, one of the most enduringly popular styles out there; the inverted bob. Similar, but not the same, as an A-line graduated bob; this chic cut makes the most of stacked layers in the crown and long lines in the front of the hair.
It's no surprise that inverted bobs have never gone out of style; after all, this is an excellent way to add an edge to your haircut while still keeping it low maintenance. Just as there are many different types of bob cut, there are also countless ways to style your beautiful inverted bob. Here are some of our favorites to get you inspired.
Sweeping Bangs –  Inverted Bob for Thick Hair
You'd have to search pretty far to find a more flattering way of framing your face than this. If you really want to make the most of your features, but don't want the fuss of long hair, try this inverted bob with long side bangs and blonde balayage which is slightly lighter in the front.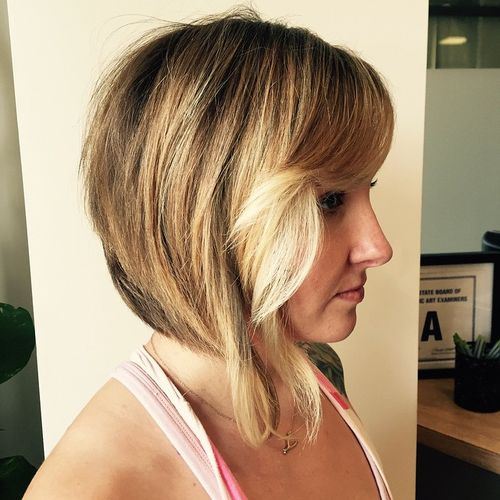 Scruffy Chic – Layered Balayage Inverted Bob Hairstyle
There's something very elfin about this slightly messy chin length bob, especially when teamed with ash blonde balayage. This look will suit any girl who is lucky enough to have naturally thick, bouncy hair.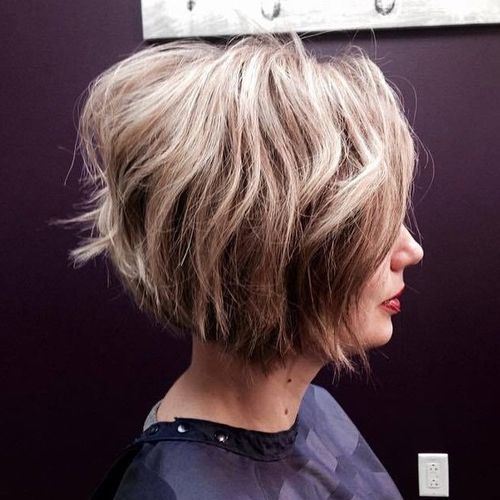 Perfectly Curled –  Inverted Bob with Soft Curls
Of course, not all of us have been blessed with hair that's full of bouncing body. If you worry that your locks are looking a little too limp or that your inverted bob isn't quite formal enough to wear to a glamorous occasion, simply grab your curling iron and get twirling.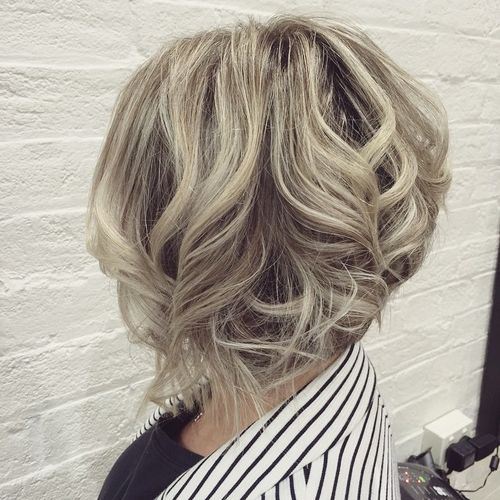 Flowing Waves – Short Ombre  Inverted Bob Hairstyle
Normally we associate bohemian flowing waves with long hair. Who would have ever imagined that such a hippy chic look could go so well with an inverted bob?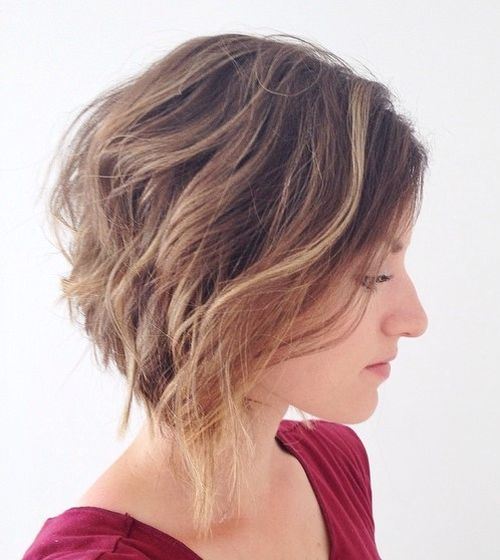 All About the Back – Inverted Bob Hairstyle Back View
As we mentioned earlier, one of the defining characteristics of an inverted bob is the stacked, layered crown. This gives wearers the rare chance to really put focus and effort into the back of their hair, just like in this jagged, dark style.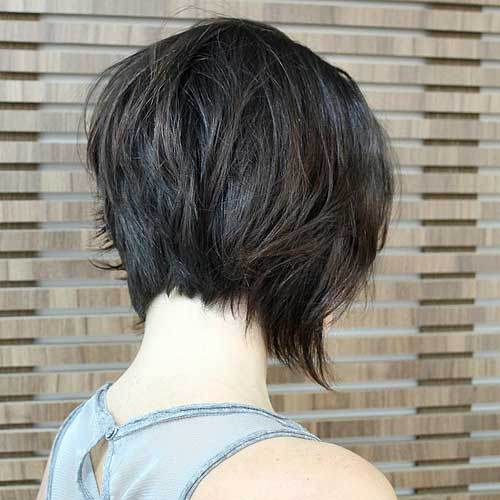 Bold Balayage – African American Inverted Bob Hairstyle
It's no secret that sun-kissed touches of balayage go perfectly with inverted bobs. This look shows that you don't have to keep your coloring subtle. Go all out with gold and black. To really make your look stand out, add some beautifully spiraling curls, a perfect hair style for black women with thick hair.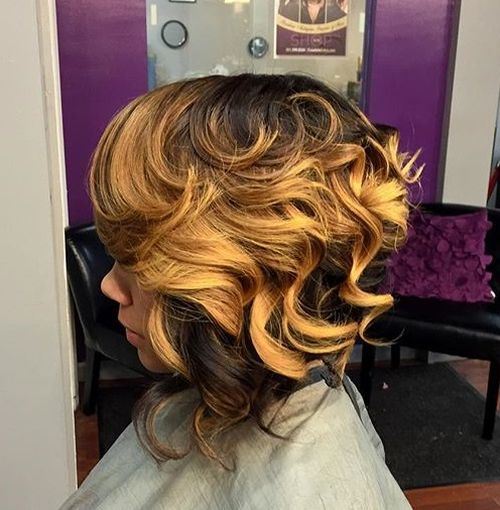 Extra Short Inverted Bob Hairstyle
Falling somewhere between a classic inverted bob and a pixie cut, this cropped cut is enough to make any daring girl look completely cool and quirky. Keep the length on top slightly longer and sleekly style, while the underside of the hair is shaved into an extreme undercut.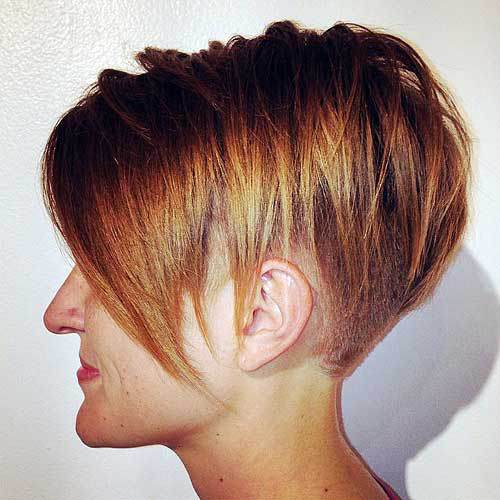 Traditional Inverted Bob Hairstyle with Layers
Looking for the perfect mix between demure and edgy? This traditional bob cut with full bangs is extremely sweet and can add a classy touch to your look. The angled cut and feathered layers, however, create just the right amount of edginess.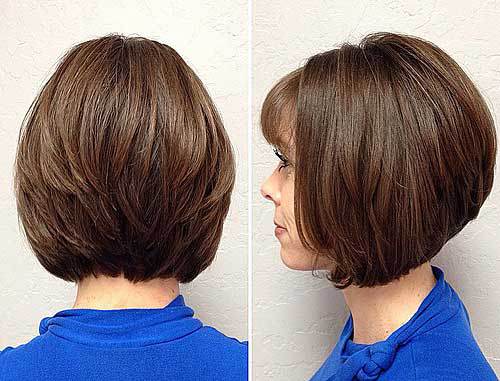 Extreme Layers – Layered Inverted Bob Hairstyle with Bangs
Short, tousled layers up at the crown and extra long face-framing ones around the face are enough to transform any bob from average to amazing.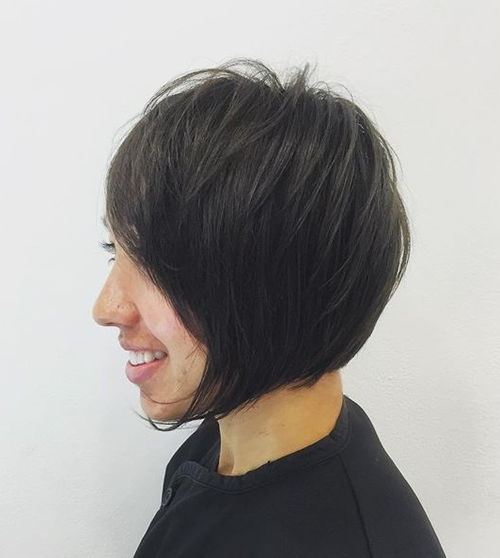 Dramatic Angles – Inverted Bob Hairstyle for Straight Hair
This eye-catching cut is ideal for anyone who wants to experiment with an inverted bob, but isn't ready to say goodbye to long hair just yet. The extreme difference in length between the front and back make this style a real showstopper.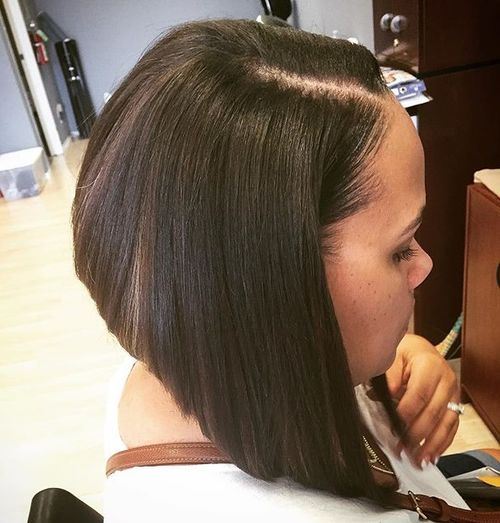 Two Cuts In One
Rather than starting out long and gradually shortening towards the back, this cut goes from one extreme to another very quickly. The front sections are the length of a mid-length bob while the back cuts closely towards the nape of the neck.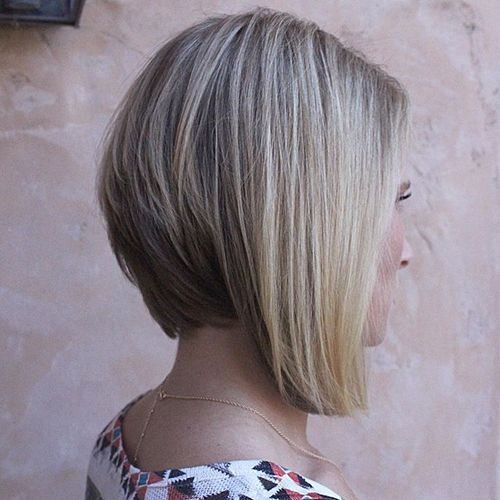 Full Bangs – Inverted Bob Hairstyle with Bangs
Bobs with full bangs have been a style staple for much of the past century. This is possibly of the most chic hairstyles around but, like anything else, could always do with an update, just like this warm-toned inverted cut.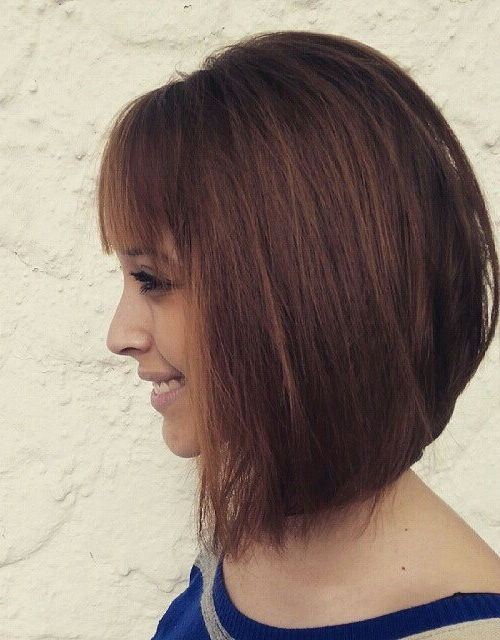 Cool Cut
This jagged update on the classic 'Louise Brooks' bob of the 1920s is fit for any fashionista out there. The vintage short fringe in this look really makes the sultry make-up pop.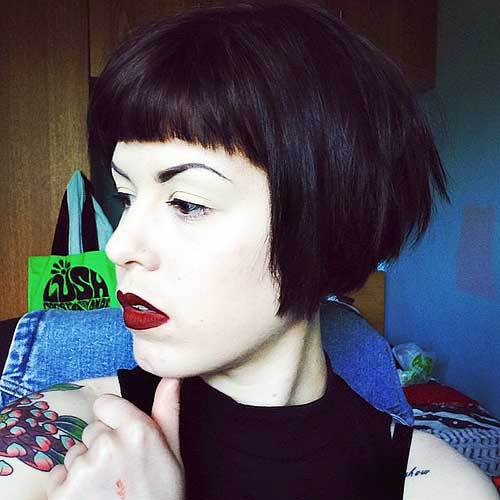 Sweet Treat – Inverted Bob Hairstyle for Thin Hair
There's something very sweet about the combination of colors in this sleek inverted cut. From the chocolate brown base tones to the chunky caramel highlights, the mix of hues here is totally stunning.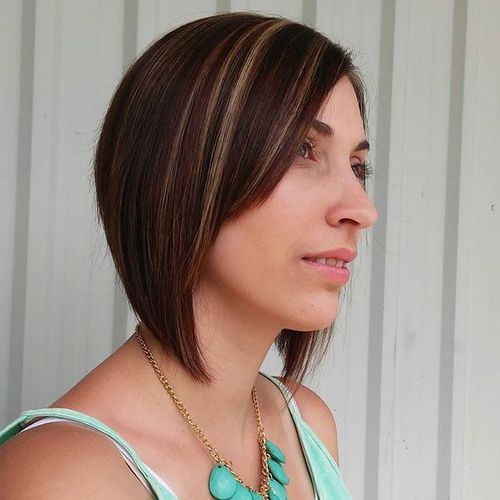 Warm It Up – Cute Inverted Bob Hairstyle for Girls
Summer is nearly here, so isn't it time you added some heat to your hair? The warm tones in this bob will look flattering on all types of skin, from ivory to dark. As well as this, the gold and chestnut brown make hair look healthier than ever.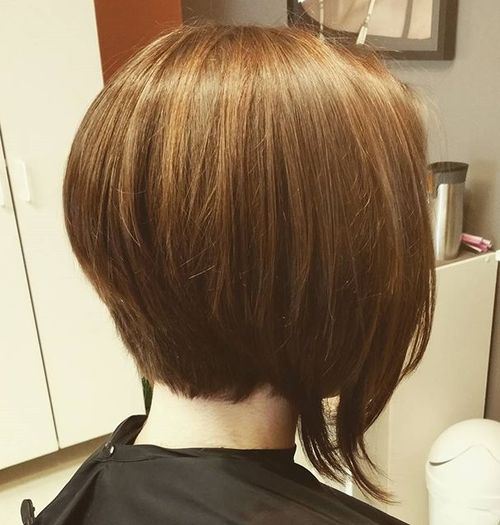 Glistening Ombre – Ombre Inverted Bob Hairstyle for Medium Hair
It doesn't get much trendier than this ombre inverted bob. The light strawberry blonde and glossy black colors look perfect together and fun layers add movement to the hair.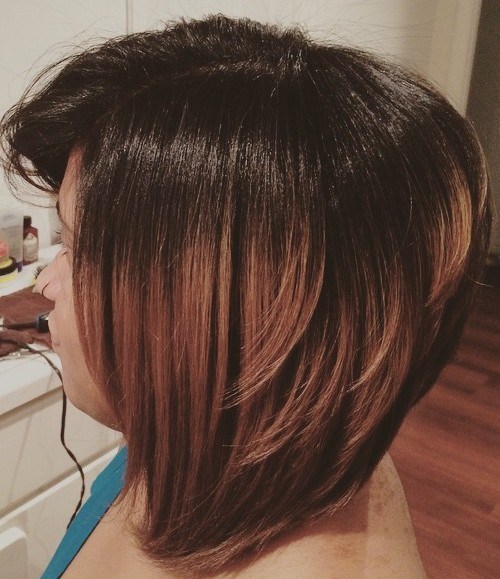 Red and Black Ombre Inverted Bob Hairstyle for Black Women
For a more extreme ombre look, try adding some vivid red hues to the ends of your jet black locks. The fullness and blunt cut here make the red tips stand out even more.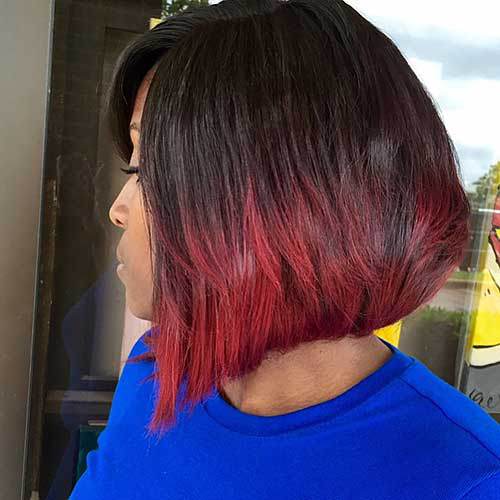 Side Parted Black Bob – Chic Inverted Bob Haircut with Glasses
This is an absolutely adorable haircut. The deep side parting will look particularly gorgeous on girls with round faces. Worn with cute glasses like these, the cut looks quite geeky chic.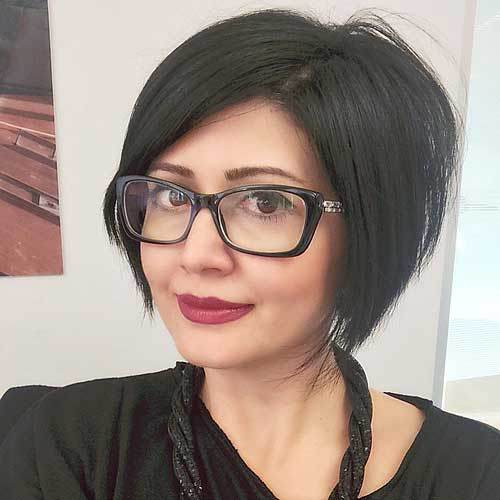 Choppy Curls – Inverted Bob Hairstyle for Wavy Hair
Delicately curled choppy layers will make even the thinnest hair look bouncy and full of body. This is especially the case when the hair has been colored into beautiful red and gold ombre. This cut is perfect for thick hair.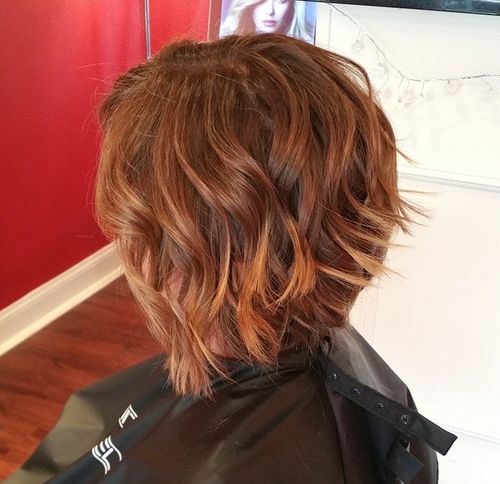 Rose Gold – Side View of Inverted Bob Hairstyle
Inverted Bob Hairstyle 2017 – There's no doubt that rose gold is the hottest color around right now. Some people are rocking it on their phones, some on their jewelry and others on their clothes and footwear. Why not stand out from the crowd by going for an all-over rose gold bob with a high stacked back?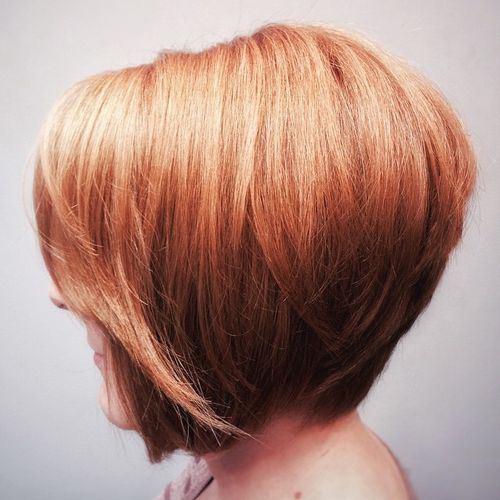 Diagonal Lines – Trendy Red Inverted Bob Hairstyle
Chic Short Haircut for 2017 – As if the warm red tones of this bob weren't pretty enough, the diagonal lines in the cut play around with the concept of the inverted bob and add some serious structure to the hair.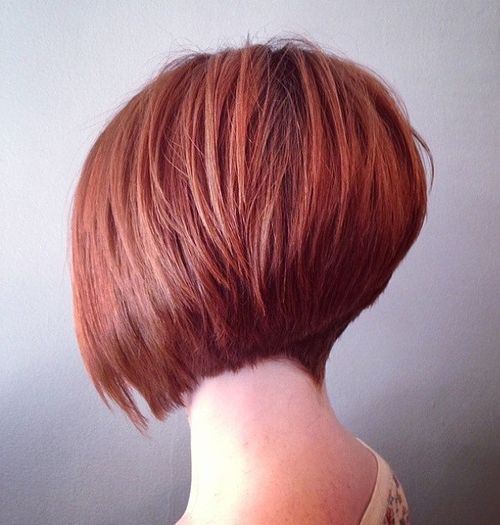 Super Sleek
When the cut of your hair is as eye-catching as this, there's no need to go all-out with the color. Keep the tones of your locks natural with just a few blonde highlights and you're sure to look stunning.