6 Glamorous Party Shoes for Radiant Party Queens
In our daily life, we have been invited to all kinds of parties or gatherings. Most of the time we pay much attention to our hairstyles, clothes and our makeups, yet we may be totally degraded by wearing an inappropriate pair of shoes. In other words, a pair of decent shoes perfects a stunning appearance. If you are bothered with which pair of shoes to wear, just read this article. We have selected the top 6 gorgeous shoes for you. Any of them can make you an eye-catcher effortlessly. You will certainly fall in crazy love with those cute party shoes.
Qupid Ravish-02 Floral Ankle Strap Almond Toe Stiletto Pump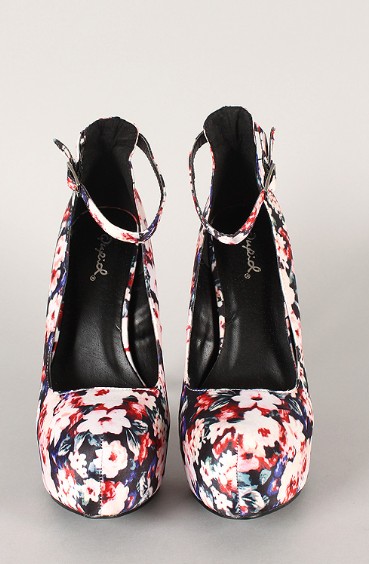 The moment you step out with this stiletto pump, wherever you are, whatever you are wearing, you are blooming there. With floral print, one of the most popular fashionable elements nowadays, and the almond toe, the pump is already quite attractive. The hidden platform keeps your feet from getting wet and makes you taller. Don't worry, you won't feel uncomfortable because there is a slightly padded insole. The ankle strap is adjustable, so you can get the shoes another look by taking off the strap.
Privileged Anouk Two Tone Sequin Almond Toe Stiletto Pump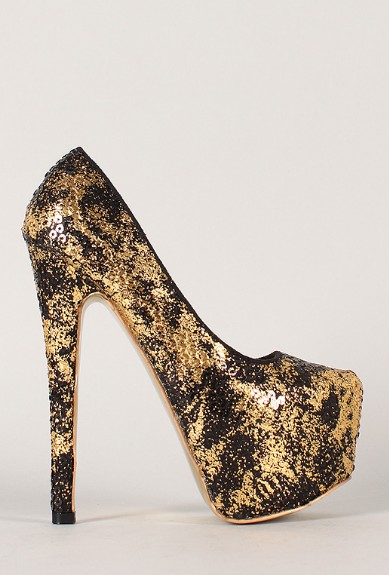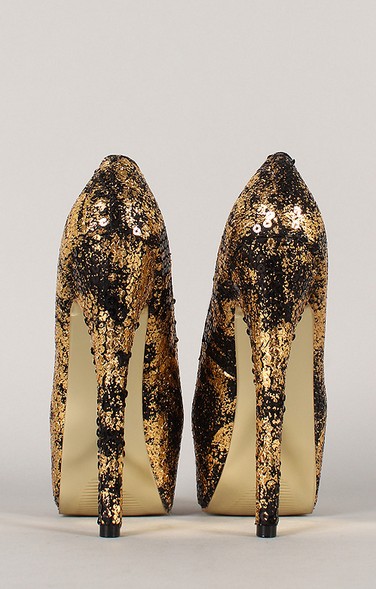 This dazzling stiletto pump with a mixed color of black and gold is absolutely eye-grabbing at any occasions. It is decorated with sequin fabric throughout. The concealed platform and scooped vamp make your beautiful legs look even longer. Thanks to the high platform and lightly padded insole, you won't get tired although the pump is styled in such a high heel. Moreover, if you are a beetle-crusher, the almond toe has a visual effect that your feet are oh-so-small.
Qupid Psyche-47A Hologram Round Toe Platform Pump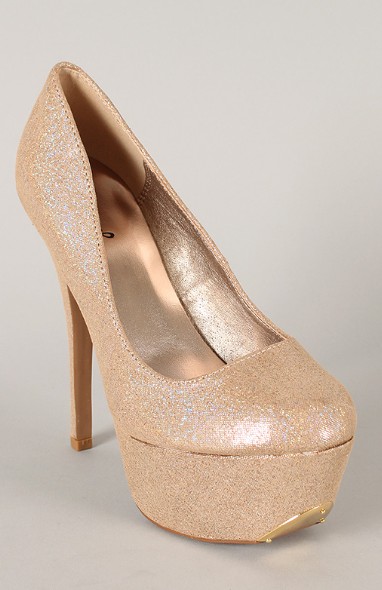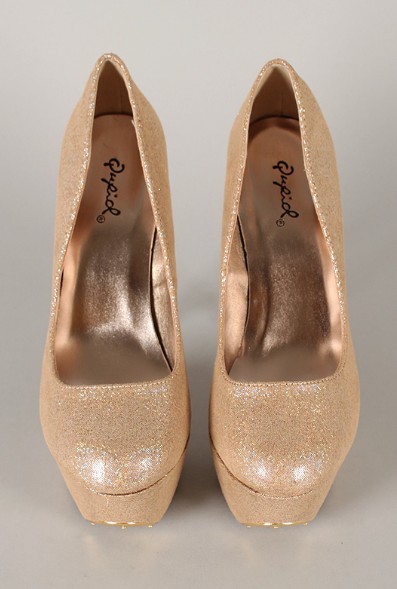 Build an elegant image with this understated yet stunning party pump. The shoes feature an advanced hologram fabric upper and easy-slide style. The color of champagne is classic and fab by itself and the seemingly- conservative round toe pump shows off its statement by the metallic accents on the platform. You will definitely look decent with this well-designed pump. It is a wise choice to pair this stiletto to any clothes that are difficult to go with.
Qupid Monte-08 Floral Lace Ombre Platform Pump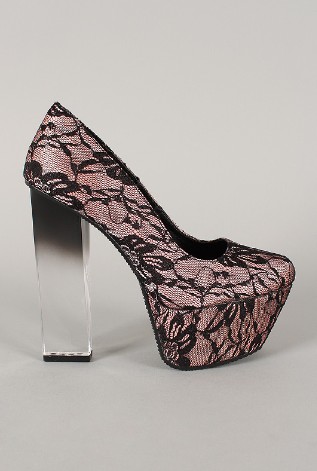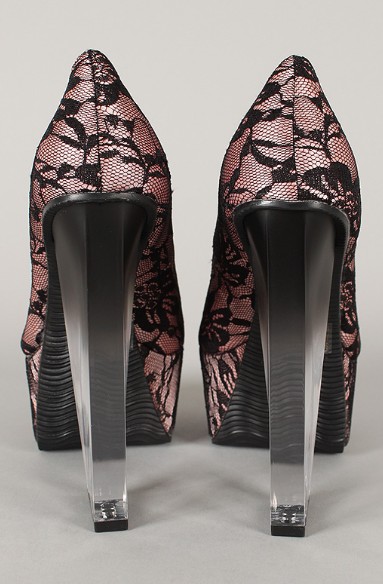 Almost any lovely women in any places are fond of anything decorated with lace. These shoes are just inspired by this adorable thought. The pretty black floral lace covers the whole pump with pink as a basic tone, except for the heel which is ombre and as lucid as the crystal shoes. The lace meets the pink in such a dreamlike way that every sweet heart longs for a pair of fairy shoes like this. Once you own it, you become the most beautiful princess throughout the world.
Wild Diva Lounge Sonny-113 Lace Peep Toe Platform Pump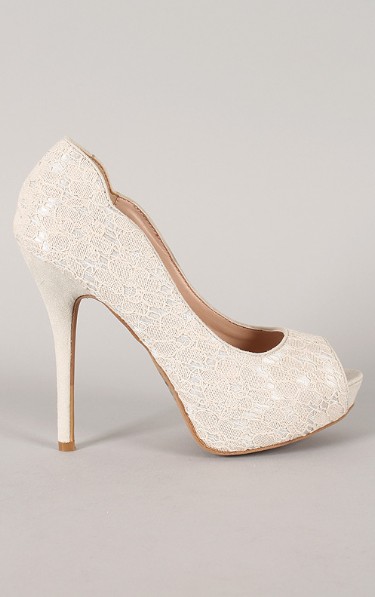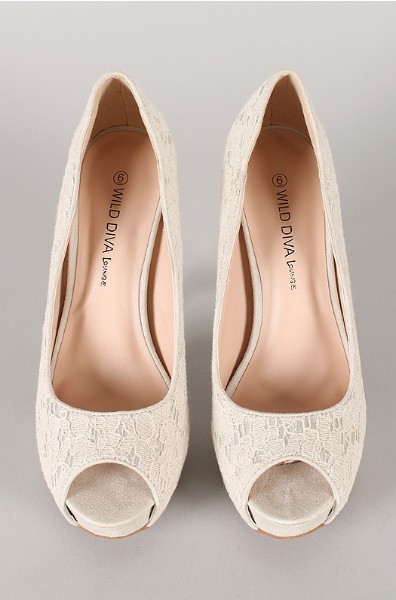 Here is one more enviable pump with lace. This pair of shoes is more stylish that the one mentioned above. The sassy pump possesses a peep toe front, and is off white with floral lace fabric in the same color covering the whole body, including the delicate heel. What attracts me most is the back of the upper, which has intentionally been shaped like petals. With different apparels, this pump shows different fascination. You can be a beautiful princess Snow White with a lovely dress, or you can be an admirable goddess with faddish attire.
Badgley Mischka Women's Violetta Platform Pump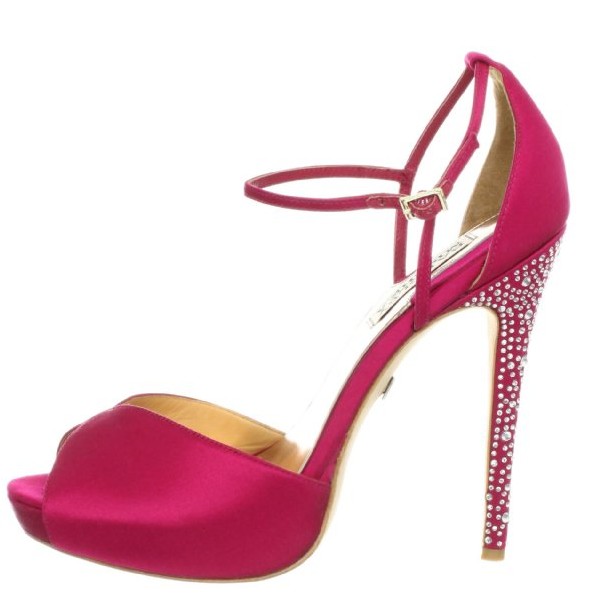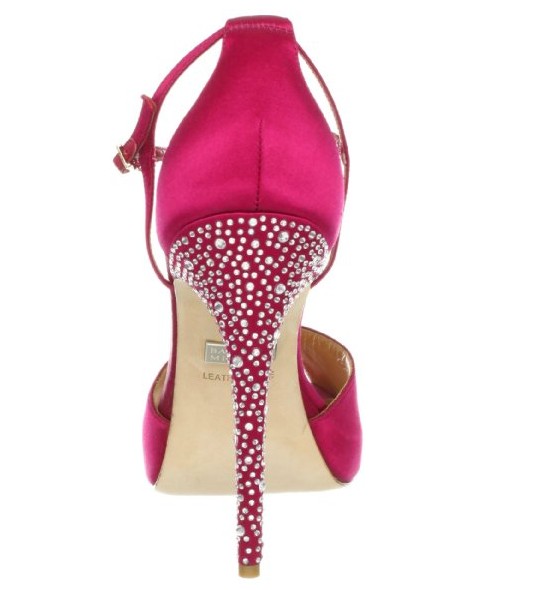 These fabulous stiletto pumps look so edgy and flirty in the raspberry stain. It has been attached a touch of elegance with the peep toe front as well as the scooped and bow-shaped vamp. The gracile ankle strap looks delicate with the metallic buckle closure. The heel is ablaze with sparkly rhinestones covering it all over. Although the platform is not so high, you can still try the shoes if you are used to high-heeled pumps. Just show off your confidence and beauty with these high-key pumps daringly.
With any pair of those gorgeous shoes, you will become a radiant party queen breezily. You deserve the admiration and you can be the focus of the spotlight beyond all doubt.