20 Sweet Braided Hairstyles for Girls
Braids are always gorgeous when worn in hair, no matter what texture, length or color. They have always been a great way to add a little flair and pizzazz to a boring hairstyle–and they're even more convenient for handling a bad hair day.
Braids also look adorable on children, so if you want a few cute braided hairstyle ideas for girls, here are 20 braided hair ideas that you can do!
1. Braided Hairband
This style is a great braided hairstyle idea, and it's relatively easy too! A braided hairband can be worn on its own, or with a little extra styling like the small ponytails in the picture below. To create a braided hairband, simply do a Dutch braid starting from one side of the head to the other.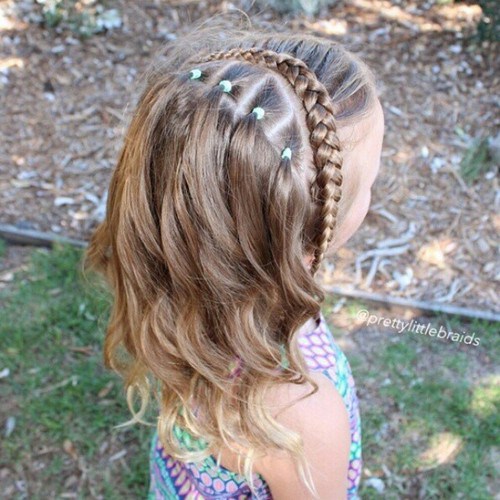 2. French Braid with Regular 3-Strand Braid
This is one of the cute braided hairstyle ideas for girls that looks really complicated, but in truth really isn't all that hard to do. Just section off the top of the hair and do a regular tight 3-strand braid. Set that aside and do a regular french braid, then tie both braids together at the end. Pull on the hair of the french braid slightly to fan it out like in the image below.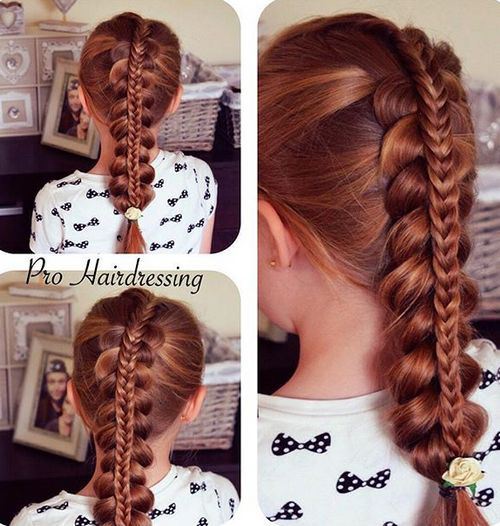 3. Loop Knotted Braid
This style is very easy to do! All it takes is two strands of hair looped as though you are making a knot. Pick up more hair as you go along. Start from one side of the head to the other side, and fasten at the end.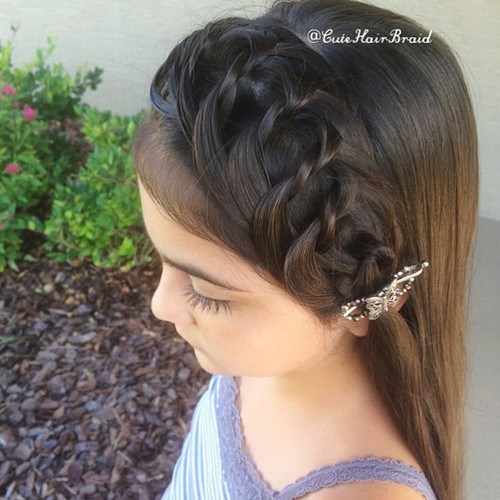 4. The Four Strand French Braid with Ribbons
Out of all the cute braided hairstyle ideas for girls this is my favorite–the four strand french braid with ribbon accents. It's a little bit more complicated than a regular french braid, but it looks amazing for girls. Everyone who sees will ooh and aah!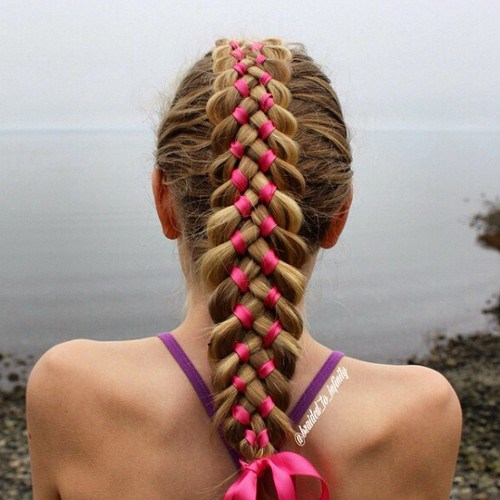 5. Braided Bun
If your girl has longer hair, style it up into a ponytail and then into this fancy braided bun that will not only make her long hair more manageable, but will also look elegant and beautiful. Perfect for Sundays or events. It's not as hard as you might think either–there are many tutorials on the internet to help!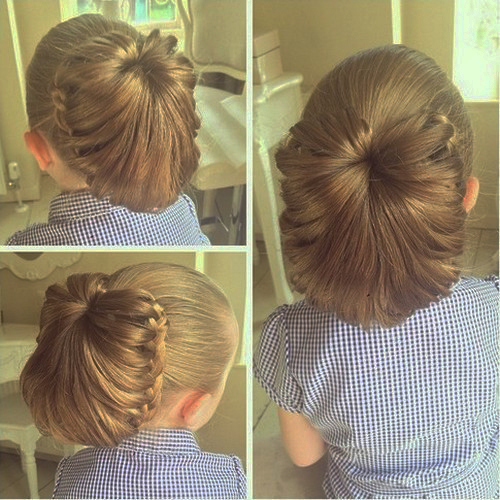 6. Combination Braid with Accessories
Practice enough times and you'll learn a number of kinds of braids that you can combine into a beautiful look like this one. Add some accessories to it like a flower and like a ribbon running through the tail of the braid and you've got a style all the young girl's friends will be jealous of!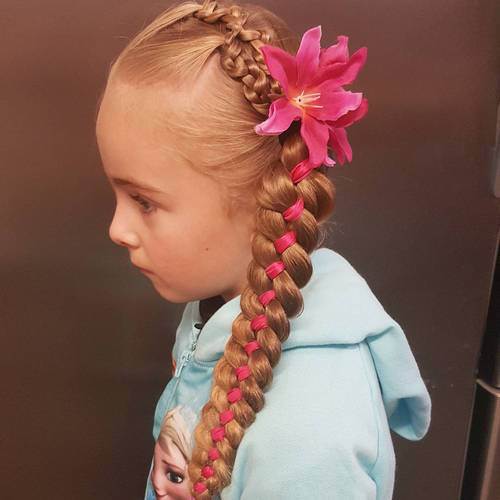 7. Dutch Braid Headband with Rose
This look is beautiful, and quite easy to do.  Part the hair at the crown and make a ponytail with the back portion. Then start with a dutch braid from one side of the head all the way to the other to make a headband, then continue until the braid is finished. Arrange it with hairpins into a rose.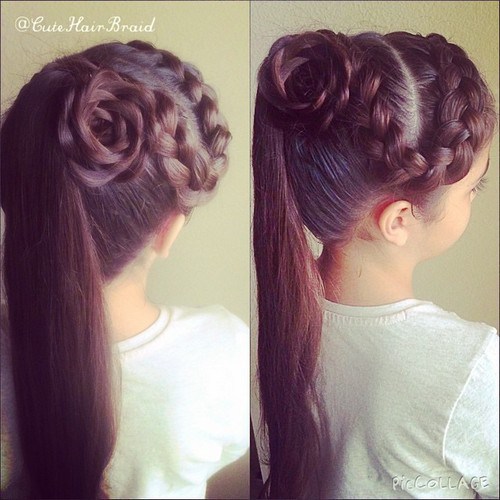 8. The Braid as an Accent
In this look, only one side of the hair is an actual braid–the other side is an inter connecting network of small ponytails. This creates quite an interesting look that effectively manages think hair–especially hair that is prone to frizz.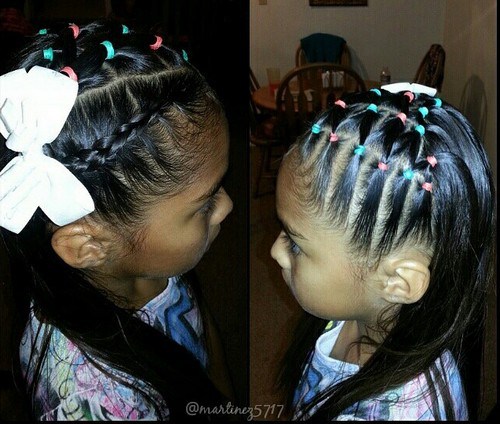 9. Crown Braid into Chignon
This look is perfect for attending events that are a bit more formal. It's relatively easy too–section the hair off and leave two sides for the braids. Then pull the rest of the hair into a low ponytail and proceed to create a chignon. Braid the remaining hair into a crown braid and tuck the tails against each other.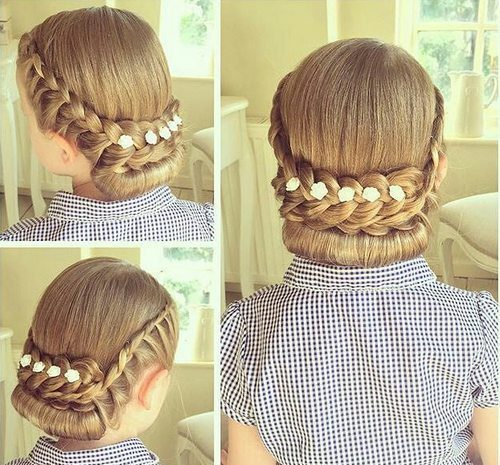 10. Gridded Cornrows
Cornrows are already interesting to begin with, but make it even more interesting by creating a grid pattern like below! The bonus is these styles tend to keep for months, and are perfect for managing natural hair.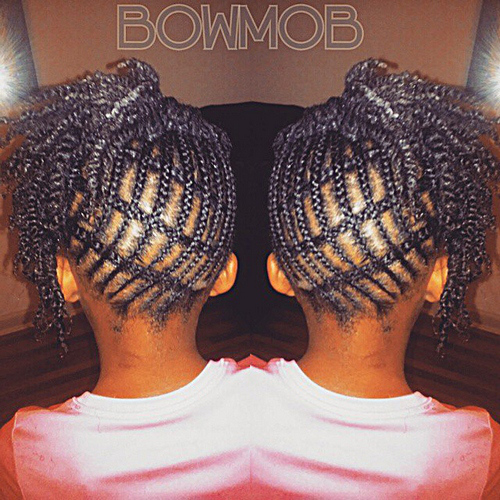 11. Double Dutch Crown Braid with Ponytail
This style may seem complicated but it's not–it's essentially two dutch braids next to each other, with a portion of the hair sectioned off for a nice side ponytail. Accented with a bow, it's perfect for sweet girls.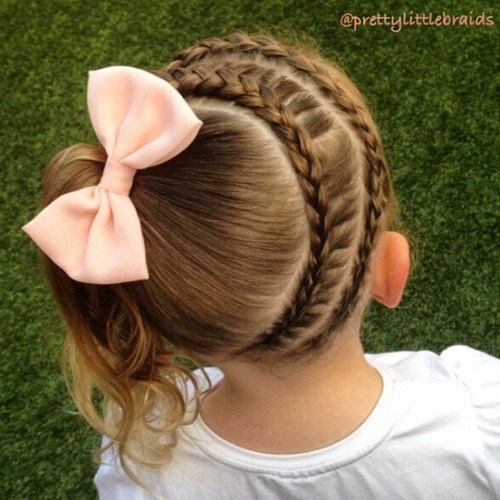 12. Ponytail with Two Sided Woven Braid
A high ponytail complimented with two braids interwoven together makes this unique style interesting. If you want to wow everyone and still keep your ponytail manageable, try this beautiful style. Accent it with a bow or a shiny bejewelled clip at the ponytail!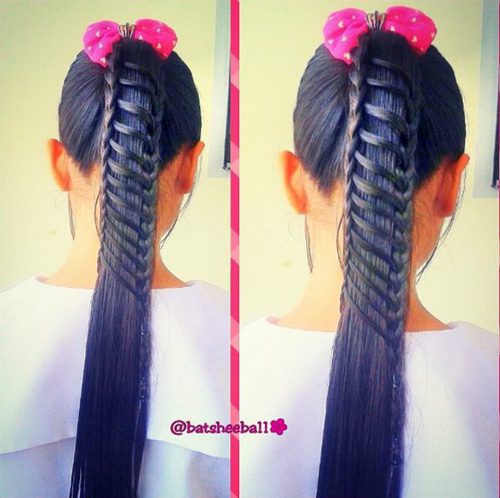 13. Simple Side Braid
Want a quick hairstyle you can put together in minutes? Do a traditional 3-strand braid on one side of your head, then pull everything into a ponytail. Wrap hair around your ponytail and secure with a bobby pin or two. You can make this as neat as you want, or as loose as you want like in the picture below.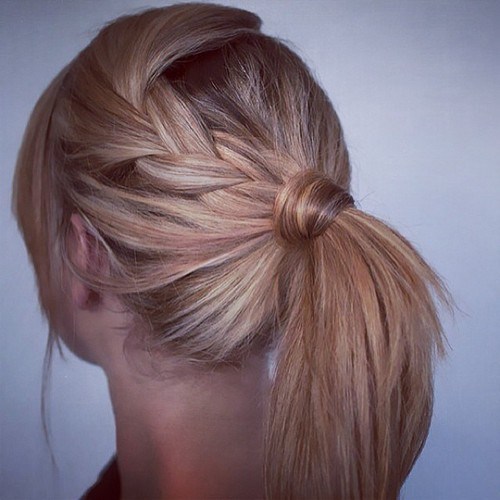 14. French Braid Bun
This style is adorable on a child–and it's incredibly easy to do too. Simply pull the hair into a loose french braid, then braid all the way to the end. Roll the hair under into a bun and secure with bobby pins.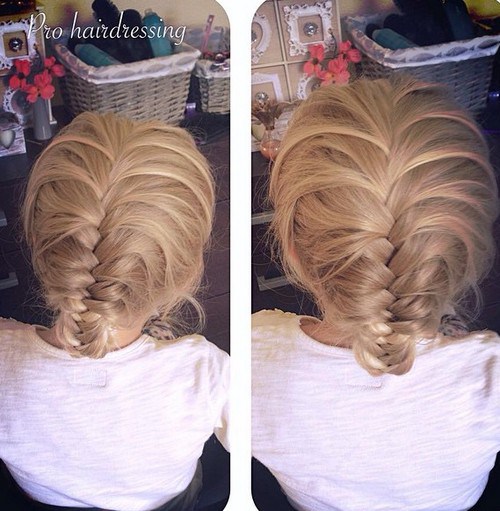 15. Braid with Elastic Accents
Braid for summer: If you think of cute braided hairstyles for girls, this style likely won't come to mind–simply because it's so unique that you won't see many sporting it. But it is most definitely cute–and your little girl will love it. Use different colored elastics as accents if you please–or use ones in her favorite colors!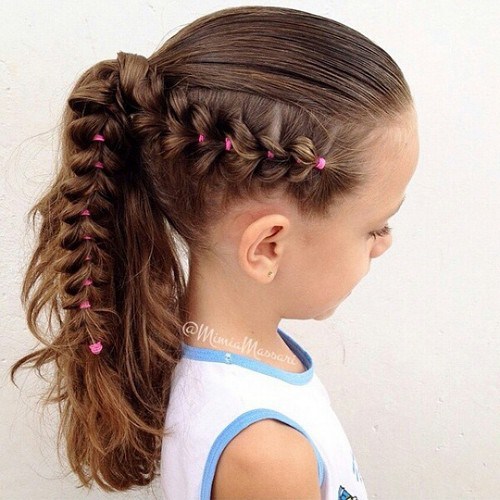 16. Double Dutch 4-strand Braid Headband
A four strand braid is a cute braided hairstyle for girls on its own, but make it Dutch style, then have it as a hairband, and you've got a beautiful style on your hands. It can be dressed up or down, and definitely keeps the girl's hair away from her face!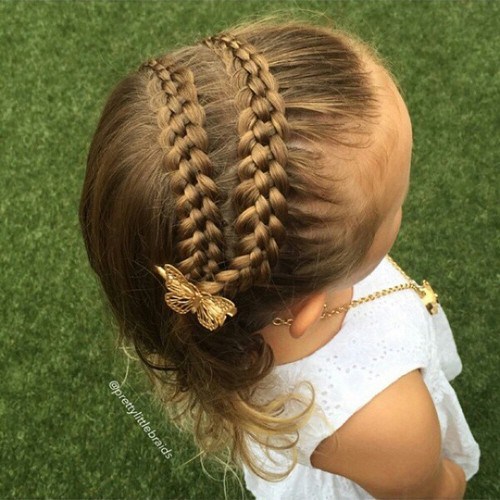 17. French Braid Hairband with Flower Accent
A neat ponytail can be accented with a nice French braid headband. The end of the braid can be fanned out to look like a flower, then accented with a flower clip itself for an adorable and fresh style.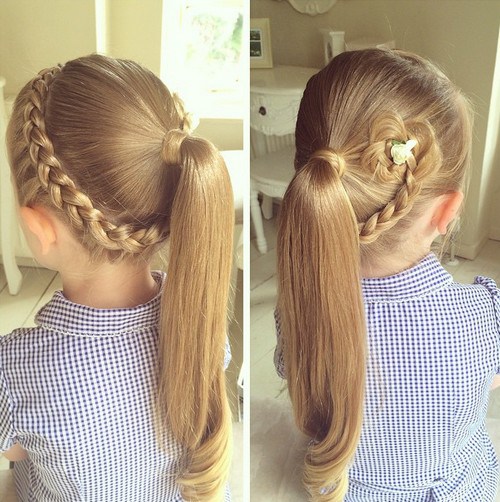 18. Heart Dutch Braid with Bun
This clean, sleek style looks absolutely beautiful with the braided bun and the heart-shaped Dutch braids on both sides. Accented with a bow or any other kind of clip, this style is sure to impress all your little girl's friends (and their moms or sisters!).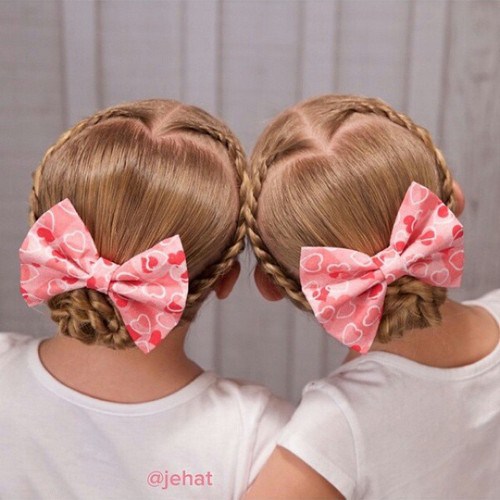 19. Basic Side Dutch Braid
For something really simple but still beautiful, try this basic side Dutch braid. For more accents, try inserting flowers or clips into the braid itself, or do the braid a little more loosely for a Boho effect.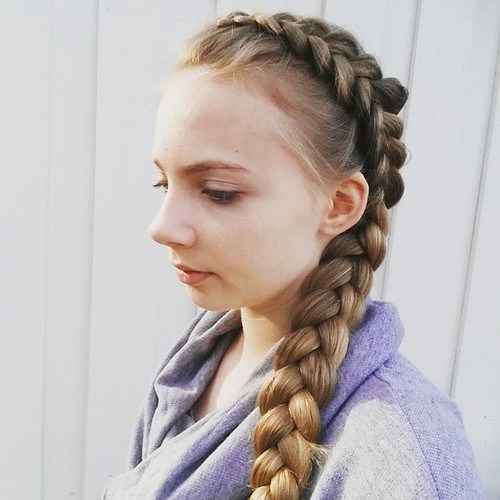 20. Upside Down Braid with Bun
For this adorable braided hairstyle, start the braid from the nape of the neck going upwards, then tie all the hair into a ponytail. After that, simply pull the hair into a bun and secure with a hair tie followed by a ribbon. Definitely one of the best cute braided hairstyles for girls that you can't go wrong with!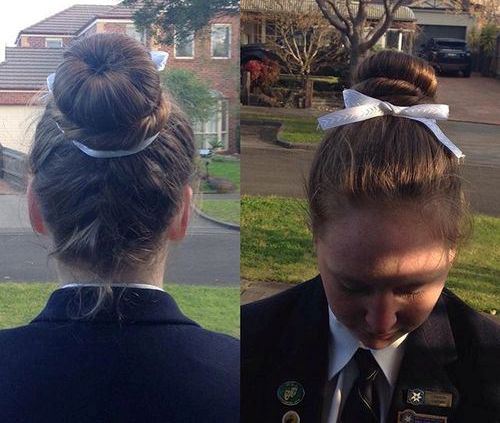 No matter what look you are going for and no matter what length and thickness of hair you have to work with, there is always a cute braided hairstyle that you can do–not just for your little girl, but also for yourself!