20 Spectacular Angled Bob Hairstyles
One of the most popular hairstyles of today is the angled bob, which many have truly come to love and embrace. No longer just for girls with a brave streak, more and more are chopping their locks off to see how they look in this cute and face flattering style.
If you want to try some angled bob haircuts but don't know what look to go for, here are some inspirations.
Purple Angled Mob
Purple angled bob haircuts seem to be in right now – and why not? They are quite lovely to look at, and are awesome in photos. You just have to be able to pull it off with confidence.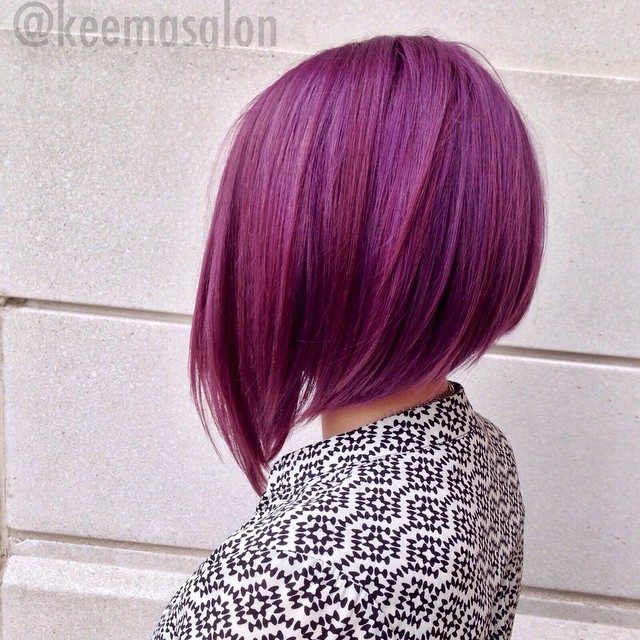 Red Bob with Bangs and Lowlights
Sideswept bangs are making a comeback especially to go along with angled bob haircuts. They're becoming so common that it's gotten difficult to stand out. If you want to stand out and be different go for a style like below – red with black lowlights.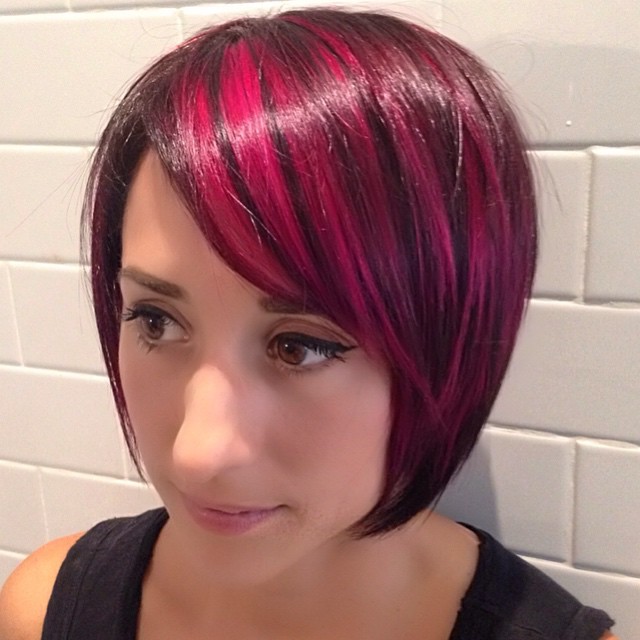 High-Low Angled Bob with Highlights
Highlights can truly make a hairstyle look amazing. Such is the case with the below photo. If you get your hair highlight situation covered but don't know what style to choose for your hair, try the high-low asymmetrical cut below.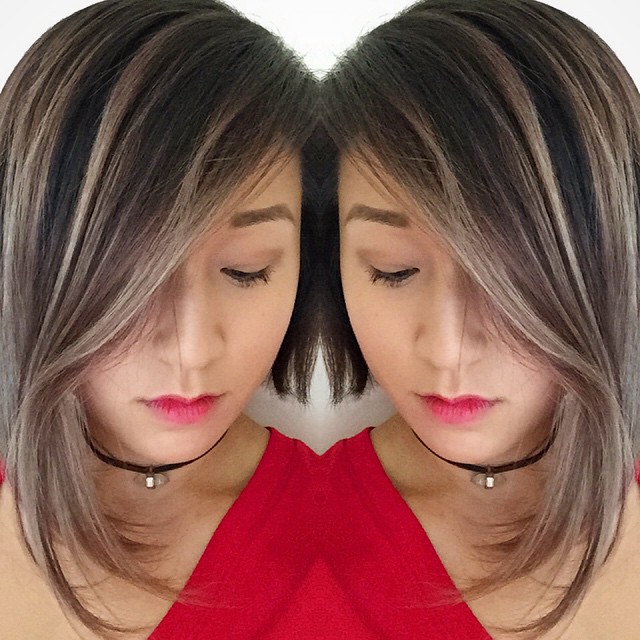 Blue and Silver Galore
Make your angled bob haircut even more intense and beautiful by going for dark blue roots and silver hair – super edgy and super fun all at once. What a head turner!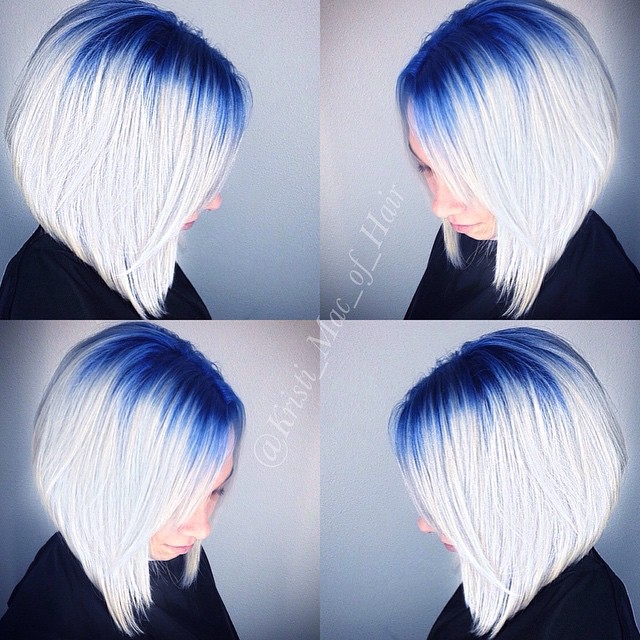 Fiery Red Effortless Angled Bob
Angled bob haircuts are great because they are simply so easy to maintain – if your hair is naturally wavy or has a slight curl, try this wash and wear style. Go up a notch by coloring it fire red.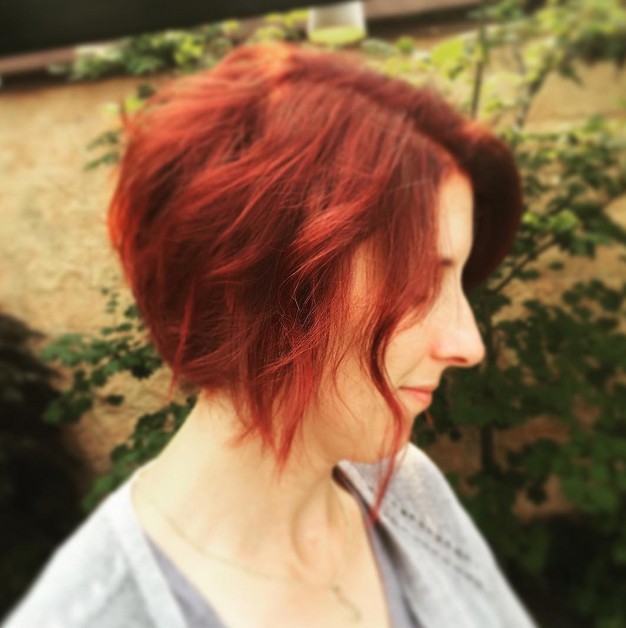 Sleek and Sassy
If you want to emanate style like Victoria Beckham, try this sleek and sassy angled bob. Not fierce enough? Add even more color!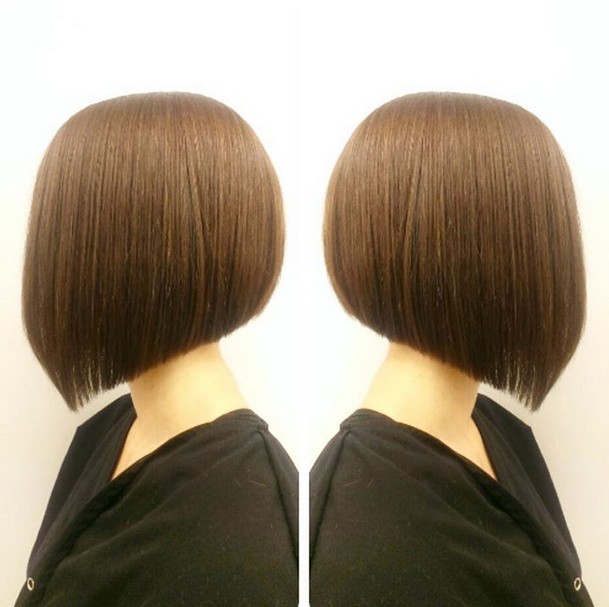 Subtle Purple Angled Bob
Easy daily hair ideas: If you want to try some color but work or study in a place that has stringent rules on hair color, try a really subtle purple color that only shines when your hair is hit by the light.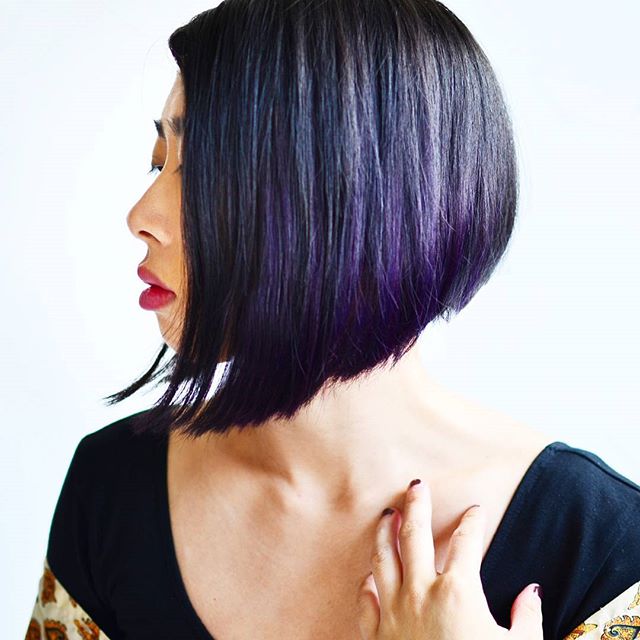 Fun and Flirty Flair
Short hairstyles for 2016: If you want hair with a bit of fun and flirty flair, go for an angled bob but soften it up with some light curls and waves. Perfect for a first date!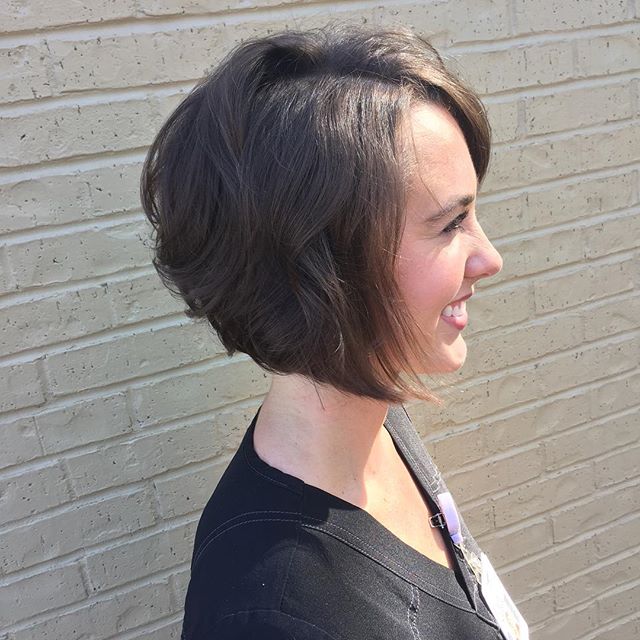 Subtle Face Framing Angled Bob
If you want to try some angled bob haircuts but don't want to commit to something really short just yet, go for this face framing shoulder sweeping look with a very slight angle.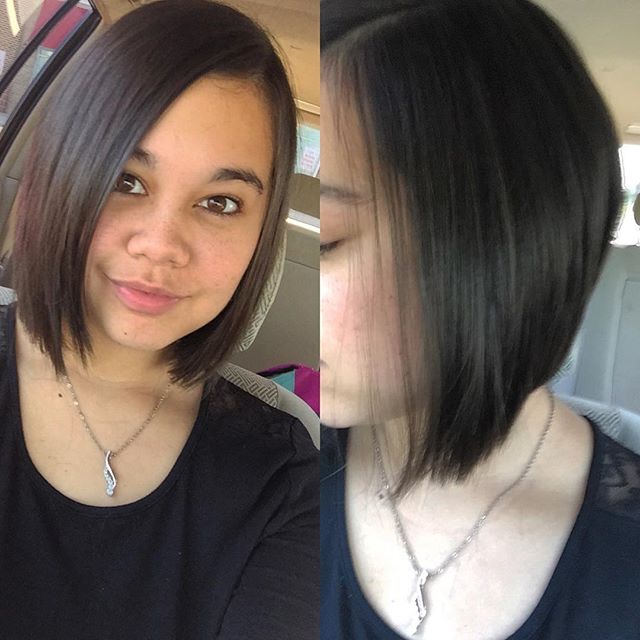 Angled Lob with Curls and Subtle Color
Subtle color is something more and more people go for these days, simply because it adds a bit of drama without going overboard. Pair subtle color with a nicely curled angled lob and you have a winning combo.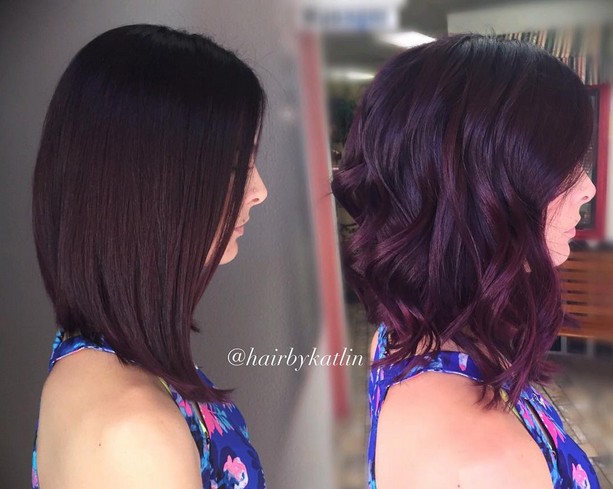 Blonde Lob
If you want angled bob haircuts but you don't want to go too short, go for a medium or long bob (mob/lob). Blonde is a great color too–besides, don't blondes have all the fun?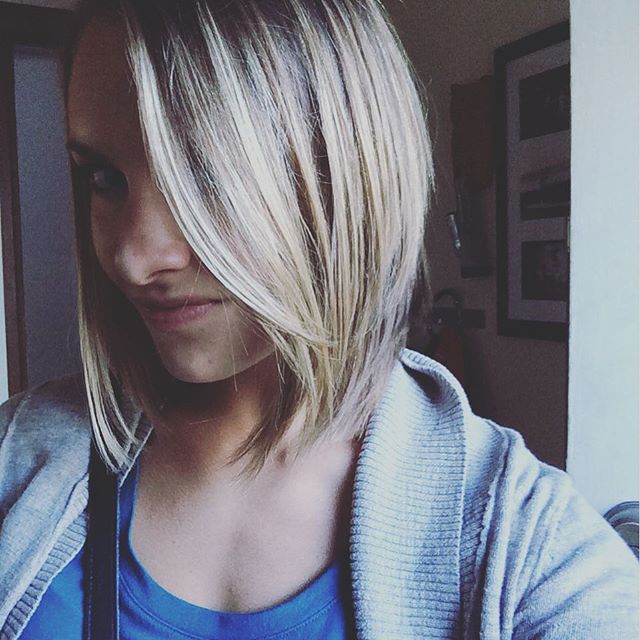 Angled Medium Bob with Subtle Bangs
Hairstyles for 2016: Bangs don't always have to be prominent. They don't always have to cut across your forehead, nor do they need to be full. You can have very slight bangs that frame your face without taking over.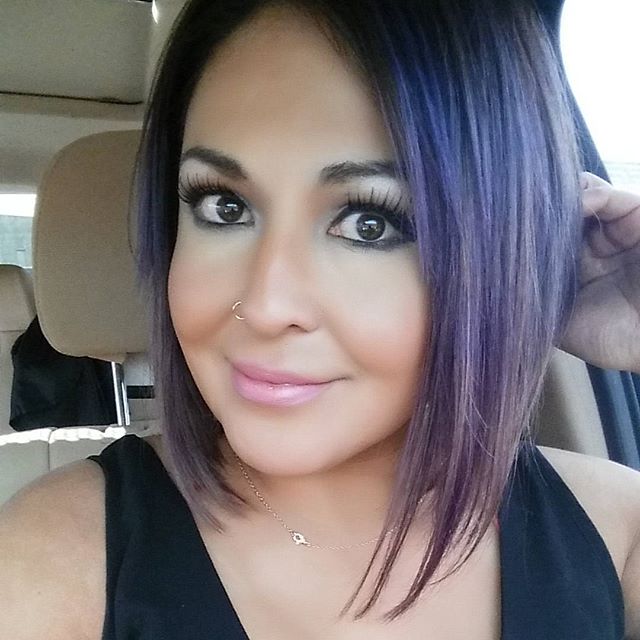 Wavy Highlighted Blonde
Soft wavy bob hairstyle for short hair: For a seriously easy to maintain hairstyle, try angled bob haircuts like these – these are wash and wear if your hair is a little bit wavy or curly. But if your hair is straight you can curl or crimp it and keep  the style for days – just use dry shampoo between washes.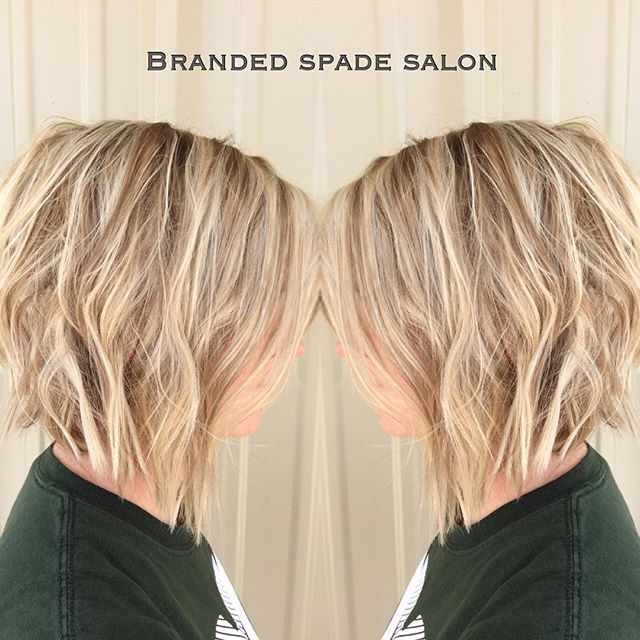 Steep Angled Bob
Want to do something edgy and crazy? Try this steep angled bob – going from really short in the back to long in the front. This style is better straight, but could look cute curly too.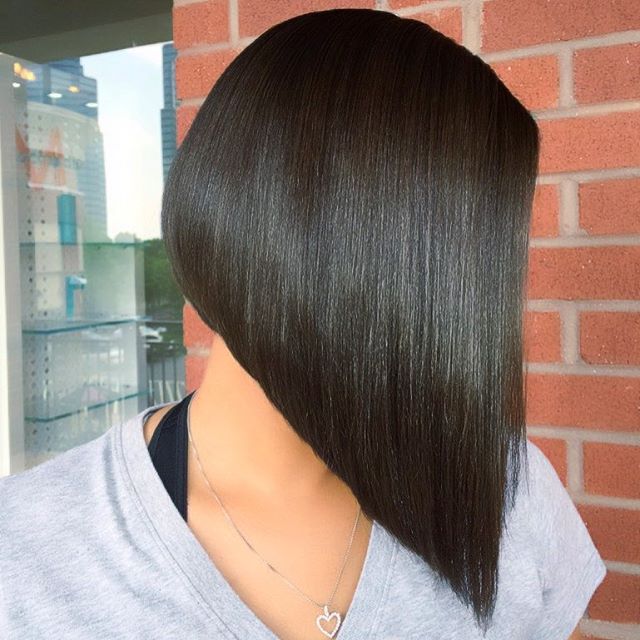 Basic Angled Bob with Side Bangs
A basic angled bob is cute, but if you want to try and make it look a little sweeter than normal, you can always get sideswept bangs that can surely brighten your face.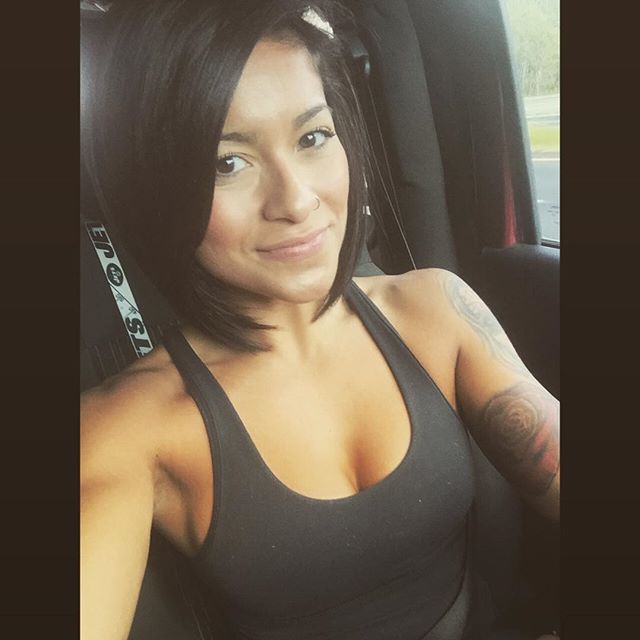 Bright Red Asymmetrical Angled Bob
If dyeing your hair red wasn't edgy enough for you, you can always cut it into an asymmetrical bob too–now that's edgy! Don't forget to use the right shampoo and conditioner to maintain your color.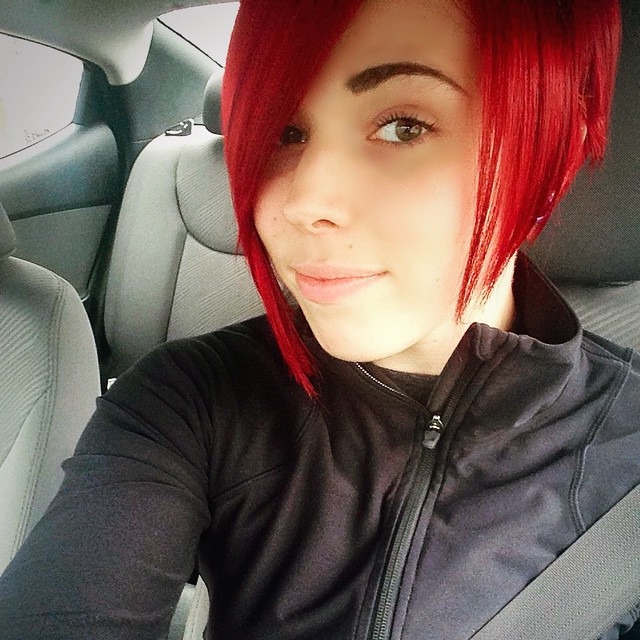 Perfectly Sleek with Feathery Side Bangs
Sleek hairstyles look especially great on women of color, but can also look good on just about anyone.  If you want something universally beautiful try this perfectly sleek angled bob with feathery side bangs.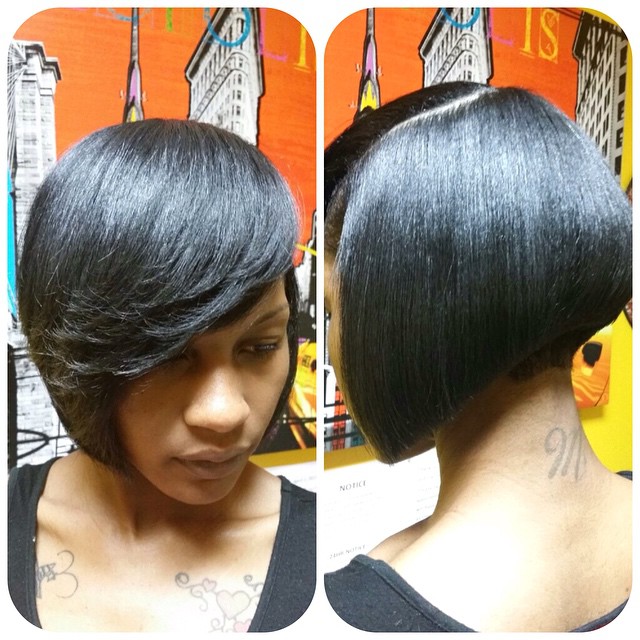 Deep Side Part with One Sided Shave
Another edgy look is this angled bob which is not only asymmetrical, but also has a deep side part and a shaved side. Color it a unique color and you have something fun, cool, and new. Definitely a head turner – everyone's going to stare (in a good way!).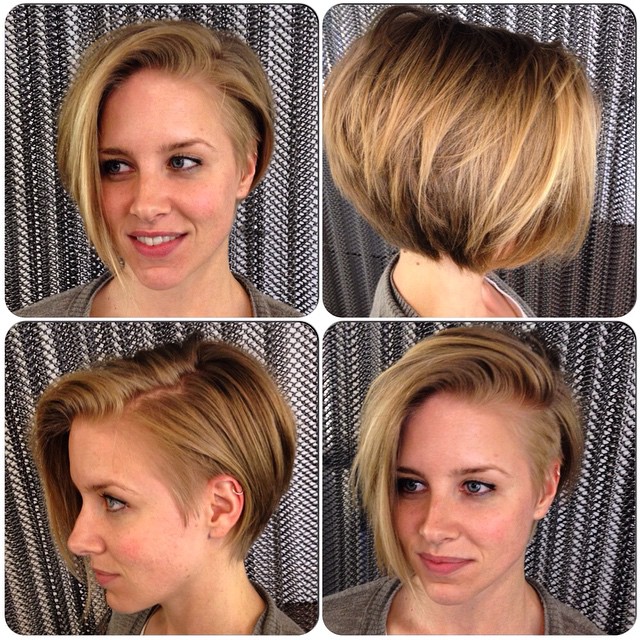 Angled Bob with Purple Ends
If you want an interesting look on top of your regular angled bob haircut, then dye your ends in purple, or in just about any other color you want, really – it'll for sure look unique! Go wild. It's only hair after all!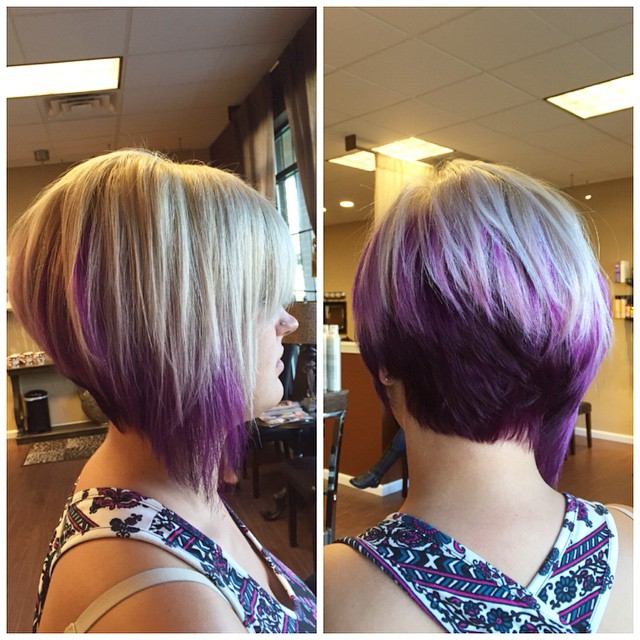 Angled Lob with Slight Angle
Another version of the slight angled lob can be seen below – this time in blonde and in one color. It's a flattering look that can lengthen a face – plus it's great if you don't feel like committing to the steep angle just yet. If you feel like getting it more angled, you can always just get it trimmed again later on!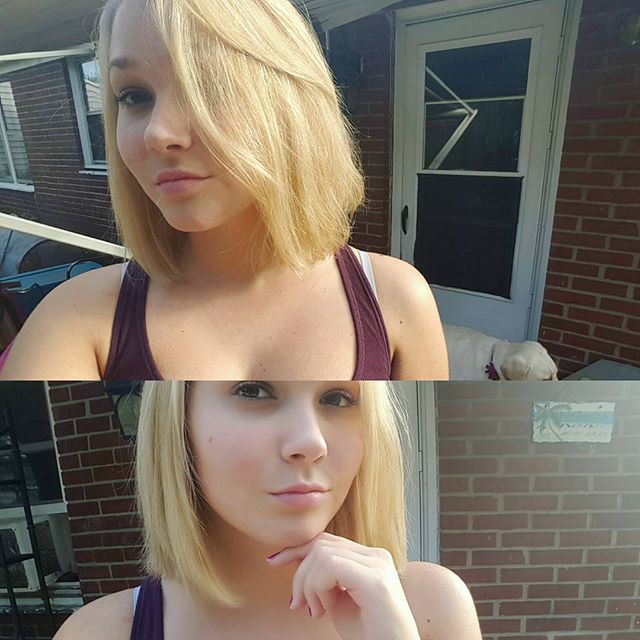 Dark to Light Ombre Angled Bob
To finish this list off, here is another angled bob – this time with a dark to light ombre. This can make you look fresher, and younger to boot – plus it's a nice little change from regular one color styles. Give it a shot!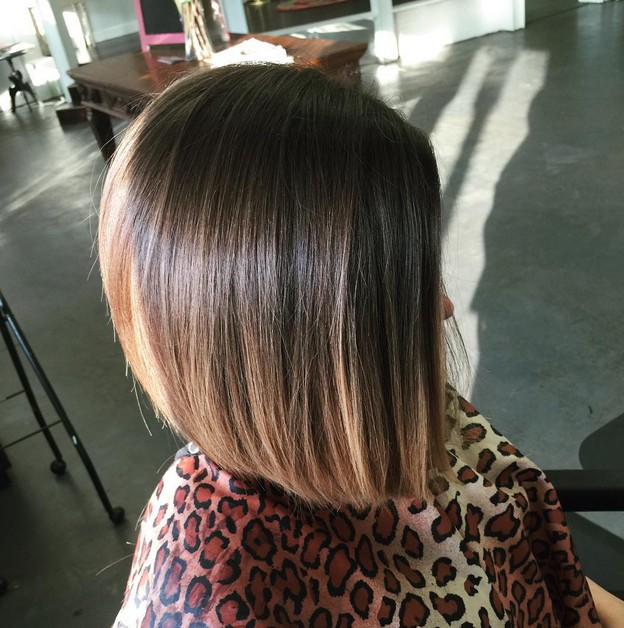 Finding an angled bob haircut to suit you shouldn't be too much of a pain – the fact of the matter is there is something out there that suits your face. Don't be afraid to experiment and you'll find it for sure!