9 DIY Pallet Projects – How to Bring Rustic Charm to Your Home with Pallets
My wife wants a rustic look for our new house. Thankfully, living in the suburbs of a large city means plenty of pallets, which you can get for free or for just a few dollars. And free pallets means pallet projects, mostly for the backyard, now that I've completed installing a sprinkler system. Here's a great guide for how to pick suitable pallets and to tell whether they are heat or chemical treated, which can affect the quality of the wood. Disassembling is a snap, so you'll be ready to start building in no time.
After you have disassembled the pallet, however, there is an additional step. Whether you have reclaimed wood in the form of a pallet, a local wood seller, or from your own tree cut down in your yard, be sure to clean and sanitize the wood. Not doing so runs the risk of carrying germs into your home. An added bonus, cleaning will also help eliminate potential slivers. After the wood is dry, stain or seal to your tastes, and you are ready to start your projects.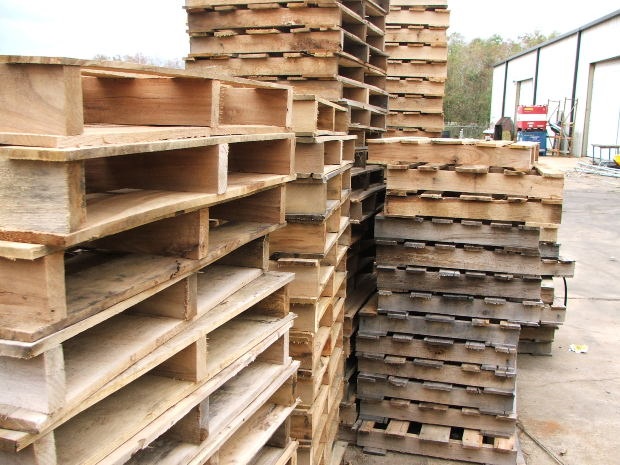 Loveseat

We'll start off fairly simple and work our way up to the more involved, wishlist items. We're first replacing regular wood boards in the instructions for pallet pieces to make a loveseat. Cut a template for the seat portion. You can make sure it will be a comfortable seat by comparing the curves to a couch. What you are paying attention to is the angle of the backrest joining the seat. Next, seal and stain the wood. Nail and/or glue the slats to the two template sides, and you have a nice loveseat to sit on and take a break in your garden.
Patio Couch
If you have more room, say on a patio, for something bigger than a loveseat, then it's time to upgrade to a full L-shaped couch. This won't look as polished as the loveseat until the end. Start by cutting slats to size to hide the fact that the base is a pallet. This forms the seat and backrest. Add armrests and pillows, and get some cocktails – your couch is ready.
Hanging bed
What's better than a day, especially if you have a sturdy tree or a covered porch? A pallet swing bed. The best part is that screwing together two pallets to make the bed and adding pallets for a backrest is half the project – almost as easy as the couch. Strap some rope to the four corners and hang the bed up, making sure it's level. Grab a book and get ready for a nice nap.
Headboard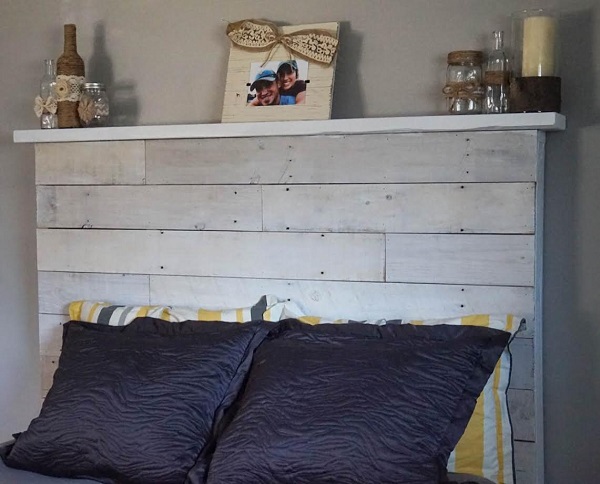 Speaking of beds, a pallet headboard carries the pallet theme inside the house. Another simple project, begin by measuring how big you want the headboard, ripping the pallets apart and sawing to size. Form a box with supports, nail the slats to the box, and hang the headboard on the wall next to the bed.
Garden planter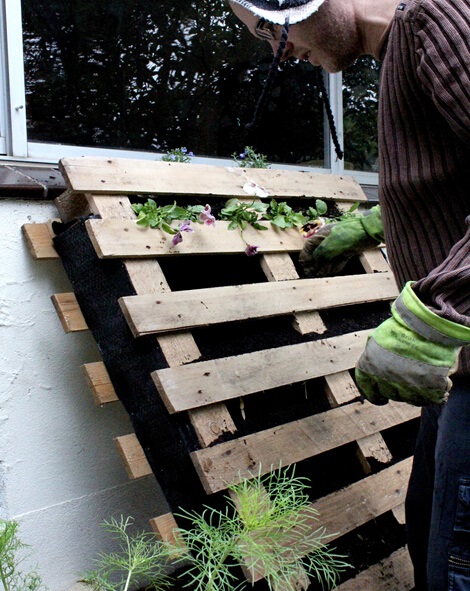 There's something to be said of just putting liner on a pallet and calling it a planter. An actual planter takes a few more steps, but isn't much harder – it's essentially making a box with wood. To give a planter the pallet look, leave gaps in between boards. As with the strawberry planter at the link, you can let bark and the plant fill in the gaps, or use planter lining to stop dirt and soil from spilling out. Bonus points for planting edible flowers for not only practical but aesthetic purposes – which is what I'm going to do to keep my wife happy.
Dog bed frame
While you are napping on the bed swing, your canine companion can have his own bed outside. A dog bed frame, meant to hold a cushion and some blankets, will ensure your pooch can enjoy the great outdoors from behind eyelids at the same time you do.
Shelving
Pallet shelving outside can be used to store anything from gardening tools and toys to barbeque utensils or potted plants. Inside your home, they fit nicely in a pantry, ready to hold canned goods. Or, they make the perfect place to display art – or collectible figurines, for me.
A pool
My wife wants a pool. I don't want to rip up the sprinkler system I just installed. Enter the above-ground pallet pool. Though they use towels to cover any jagged edges, I'm thinking I can get away with diligent sanding before putting the liner in. I probably wouldn't make the pool as wide, though, so as not to block sprinkler heads. Otherwise, this simple-but-time-consuming project adds a water feature to your backyard for a fraction of what it would cost to install an actual pool – or buy an above-ground pool.
Shed
The grand finale, and the most complex project by a wide margin. But, it's extremely practical, and can fit some of the previous projects inside. I present the pallet shed. Buying all the wood for a shed would be expensive. But pallet wood is anything but costly, leaving plenty of money for cinder blocks for a base, nails and screws, mortar, shingles, hardware to mount a door, and glass for windows. I also suggest insulation, which is not included in the instructions at the link. The original builder made a 20'x8' shed for about $500. A shed from Home Depot will cost double that for half the space. The major question you have to ask is whether your time is valuable as opposed to having a smaller shed, but not needing to build it – which will probably take at least a weekend or two. For me, I love the thrill of completing a project, knowing I built it – and that's what will motivate me to build this shed.

Author:  Cole Mayer