26 Popular Ombre Bob Hairstyles – Ombre Hair Color Ideas
Dyeing your hair a completely new color that you've never tried before can be a little nerve wracking. If you're a brunette, but you want to try going blonde, it's possible to be unsure especially if you don't want to risk spending lots of money to get it done. Or, you could be all about being bold and you're just looking for new ways to go wild with your hair color. Either way, here are the latest popular ombre bob hairstyles and popular ombre hair colour ideas for you to choose from.
Blonde with Dark Roots
Ombre bob hairstyle for short hair: Go for a little brown on the top of your head and little the rest blonde. For an extra little something, leave a little spot on the bottom at the back brown like the top of your head. This is known as a peekaboo highlights.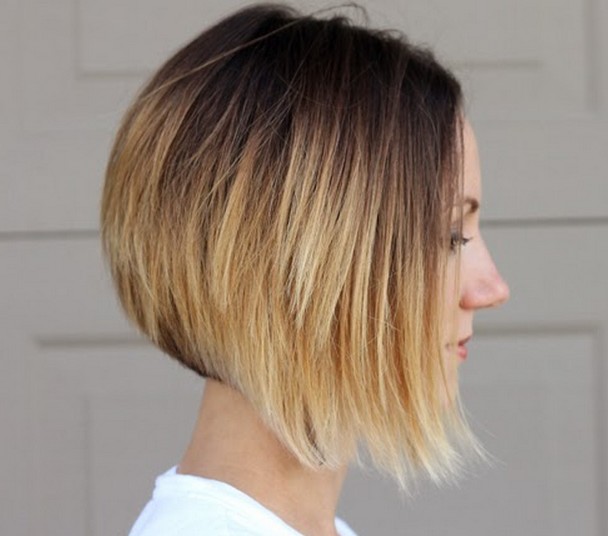 QUADRUPLE OMBRE
Four colours in one: black, brown, silver, and blue. This is the best look if you're an outgoing bold type. You don't even have to go with blue. You can pick your favourite colour to replace the blue with it! It's one of those looks that really give you free reign.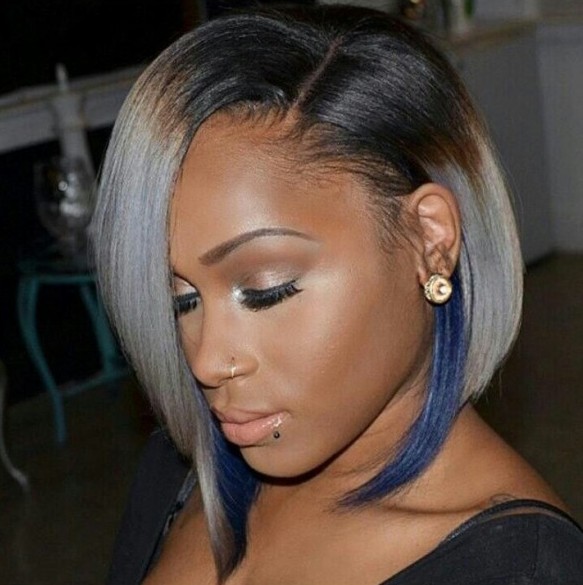 Grey Ombre with Blunt Bangs
Ombred long bob hairstyle with blunt bangs: lob – Grey hair isn't for old people anymore. Grey hair has become one of the most popular hair colors for younger men and women this year. Go for the dark grey on top and go light on the bottom. For extra oomph, get some blunt bangs to go with it. You'll be the most edgy you've ever been.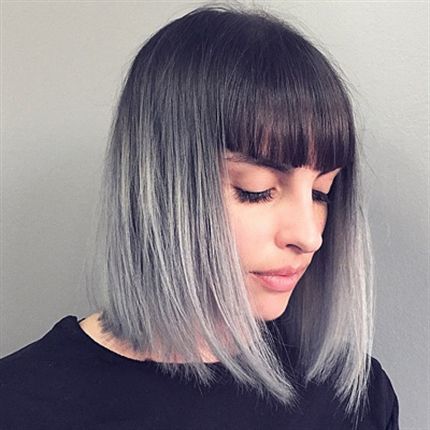 Dark Brown to Blonde Ombre
Short soft curly hairstyle: For those unsure if blonde is right for you, this is a step in the right direction. Start from the bottom to the top. Slowly work your way into seeing if blonde is a right color choice for you.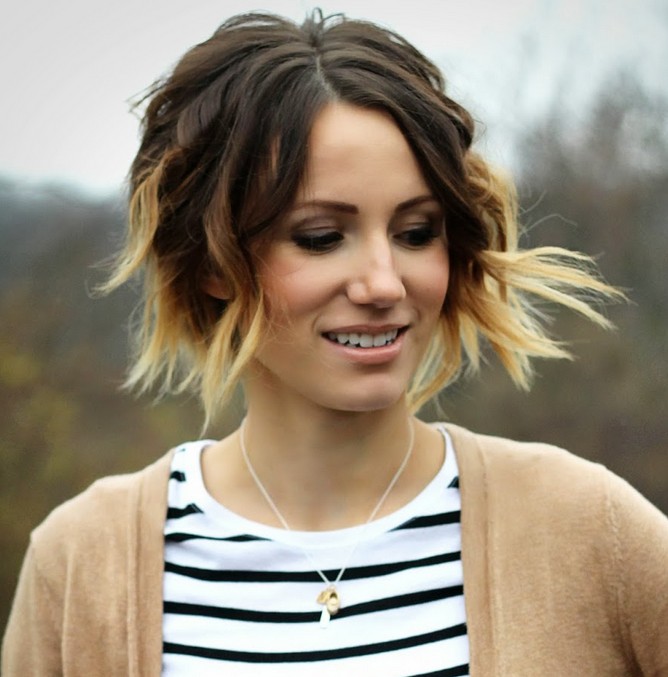 Face Framing Ombre Bob
When wearing a chin length bob, frame your face better by taking a flat iron and gently bringing the ends inward to create a wave. Choose your ombre – brown to blonde or just about any combo you can think of!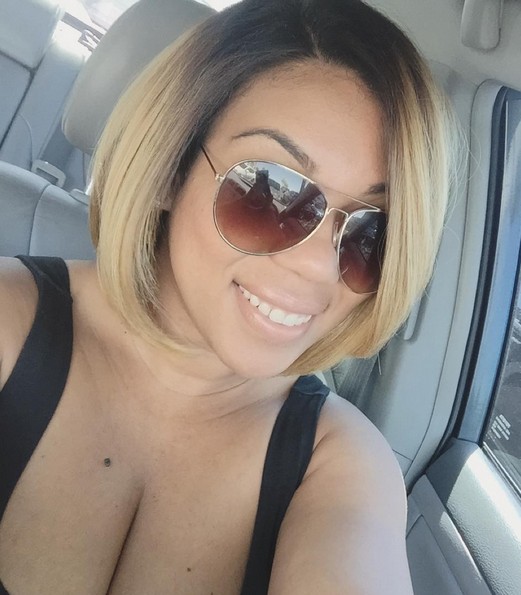 Dark Chocolate Ombre
This ombre look is an interesting one since it doesn't look like your typical style due to the heavy curls. But this is good since sometimes, you want to stand out a little bit more. Having your layers cut in different lengths and curling them at different lengths will help you achieve this look.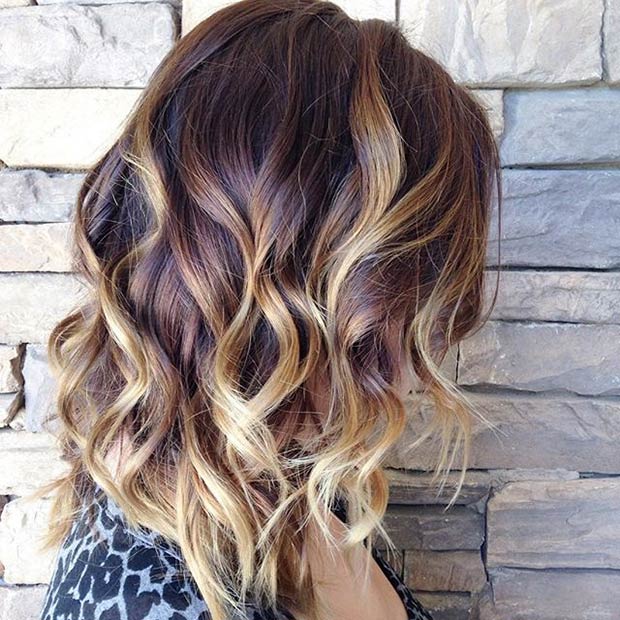 Two-toned Red
The other red ombres went from purple red, to orange, and then to another lighter colour on the fire spectrum, but this one is simply just two colors – A darker red to a more fiery copper red.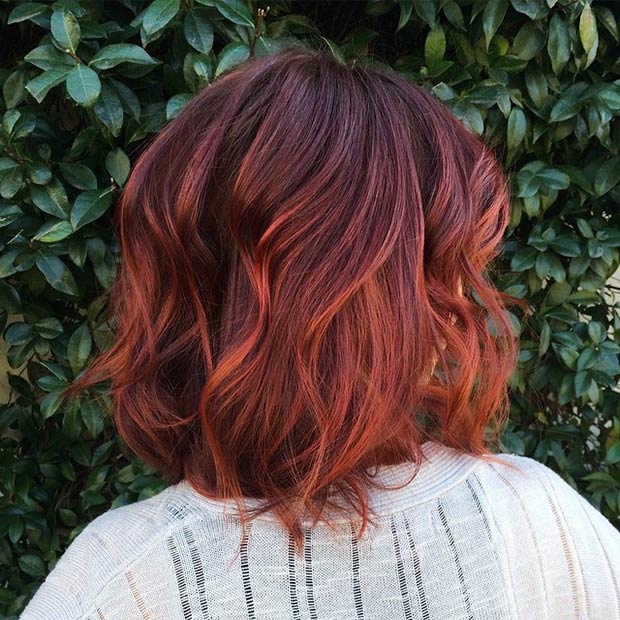 Ombre Bob with Deep Side Part
Give yourself the mysterious sexy look by moving a handful of hair to one side of your head, covering your eye. With straight and sleek hair, this gives off the vibe of the mysterious woman.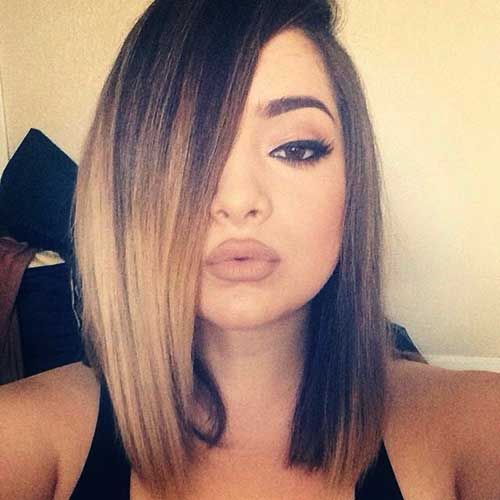 Fiery Curls – Red to Orange to Blonde Ombre
Lots of ombres are just two colours, but this one has three. Fire itself has various shades of red and orange and this style is a great way of replicating that. This particular ombre goes from a purple-red to orange to blonde.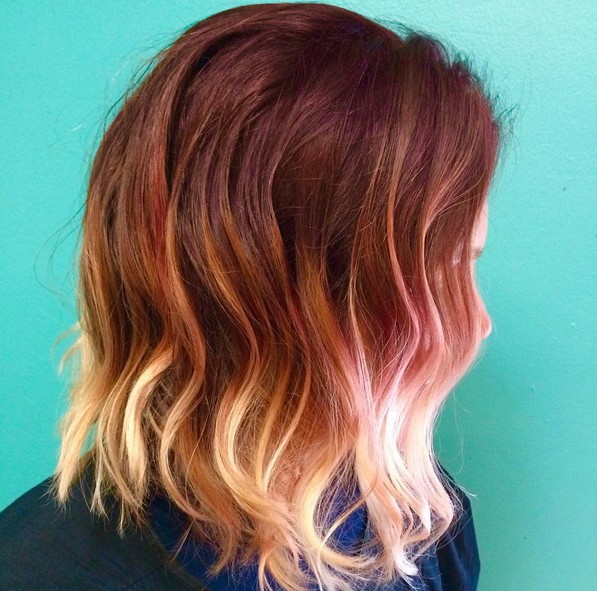 Ombre Bob with a Touch of Pink
If you want to add a little unique color to your typical brown and blonde ombre, add a little pink to the ends of your hair. It's cute, fun, and a great way to add a bit of color without feeling too self conscious about having pink on your head.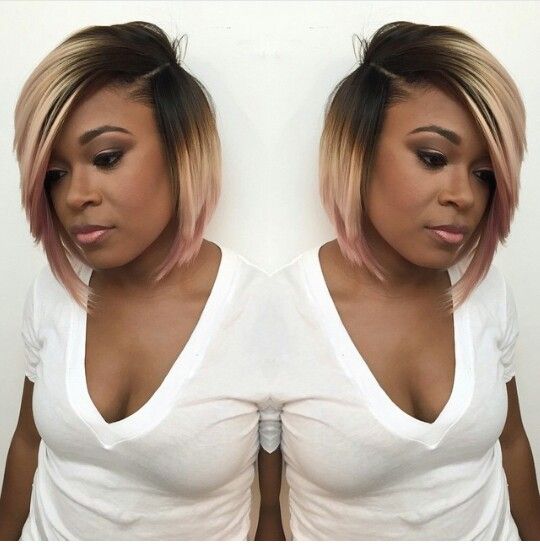 Subtle Ombre
This is an ombre hair color idea that is much more subtle than the other ones. As you can see, there is significantly less brown compared to the others. This is a great way of trying out the ombre style if you're new to it.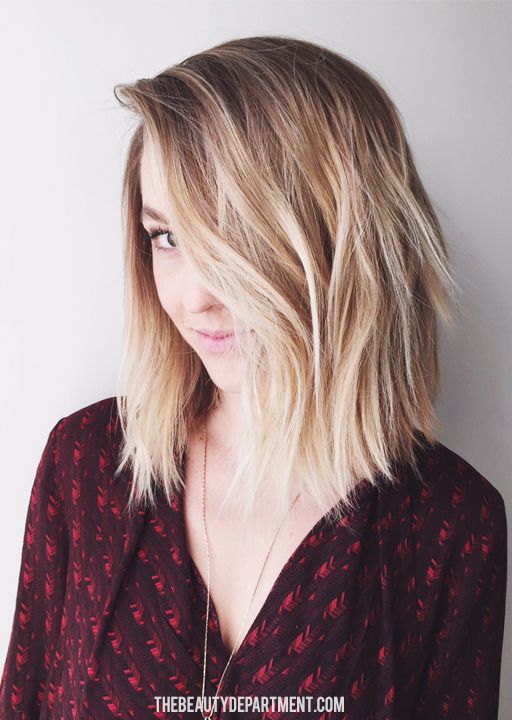 Fiery Ombre Reborn
This is another take on the fire hair colour. The orange is much brighter and more neon than the others which have been more subdued. If you want to be the Mockingjay or The Girl On Fire, try this out.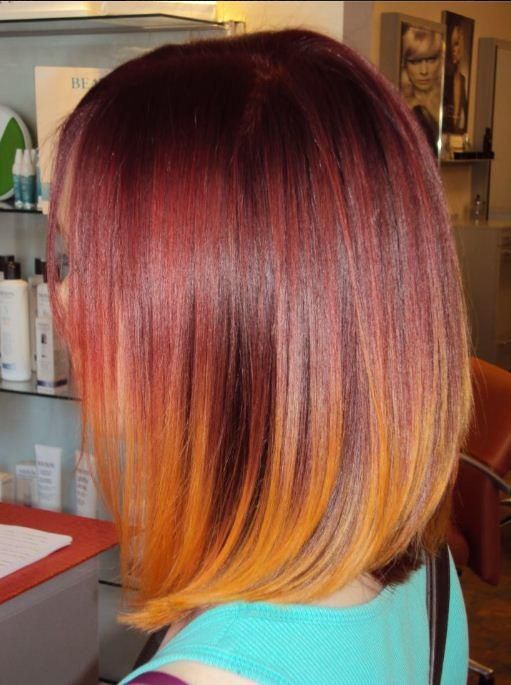 Kylie Jenner Ombre Hair
Kylie Jenner is the hot topic in Hollywood and many people want to copy her entire look from her hair, clothes, and makeup. Her blue on black has been her most popular look. If you're a fan of her, you may want to consider this look. If not, blue on black is still an amazing colour combination anyway.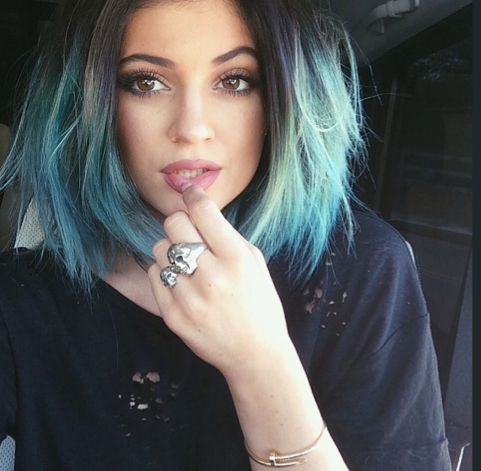 Blunt Bangs, Wispy Layers
Give the bottom half of your hair, or the blonde ombre part of your hair, some small curls and curl them out, not in. Bangs are also in now, so give yourself a blunt one length fringe to go with it. This is a cute hairstyle for going on a coffee date!
Fiery Ombre with Red
Bring a little fire in your life, but not the real kind. Stick to having a color that resembles it on your head. It's safer. A dark to light neon red is a great, fun color to wear.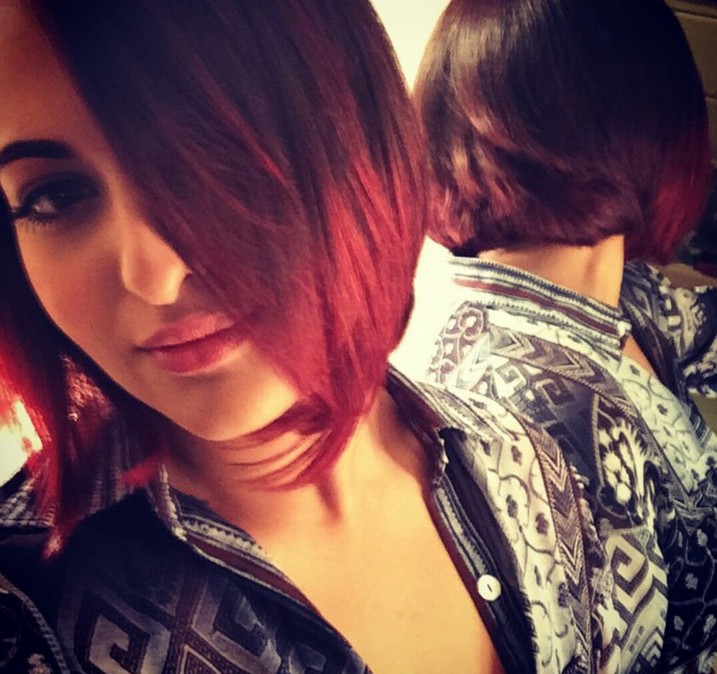 Chocolate Brown Ombre
Short bob hairstyle with glasses: A dark brown and blonde look good together and provide a really nice contrast, but it doesn't always blend together like it should. Opt for a medium brown to go with a darker blonde for a nice transition.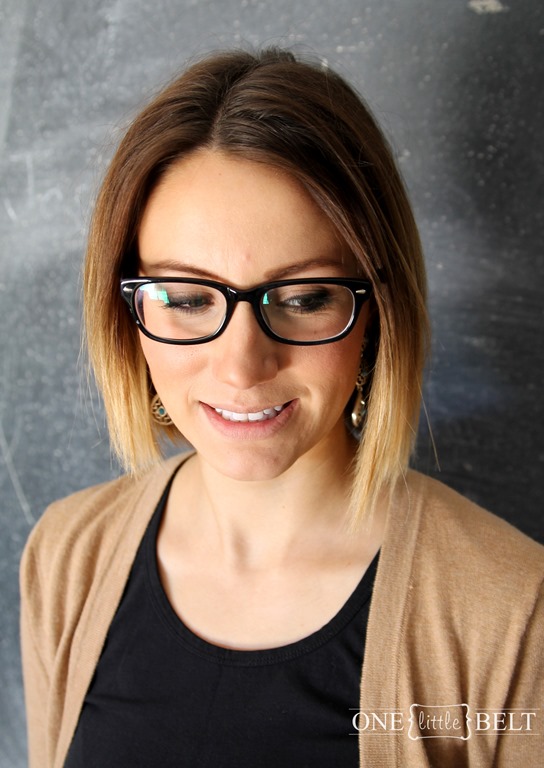 A-Line Ombre Bob
Easy daily haircut for short hair – the ombre bob cut. To add more to your fresh ombre colour, consider a layered a-line cut. Make sure to not forget the back and ask for lots of layers for extra body.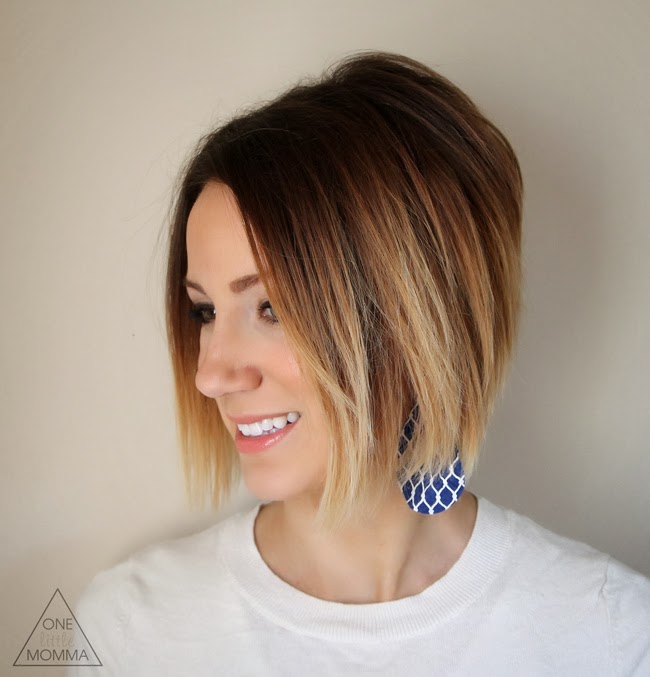 Mostly Brown Ombre bob haircut for short hair
African American short haircut ideas – the trendy straight ombre bob cut. Remember when the pink was on the ends of the hair a few pictures ago? This is the same idea, but with all natural hair colours instead of something bright and bold. These are similar to blonde peekaboo highlights to give a little pep in your step.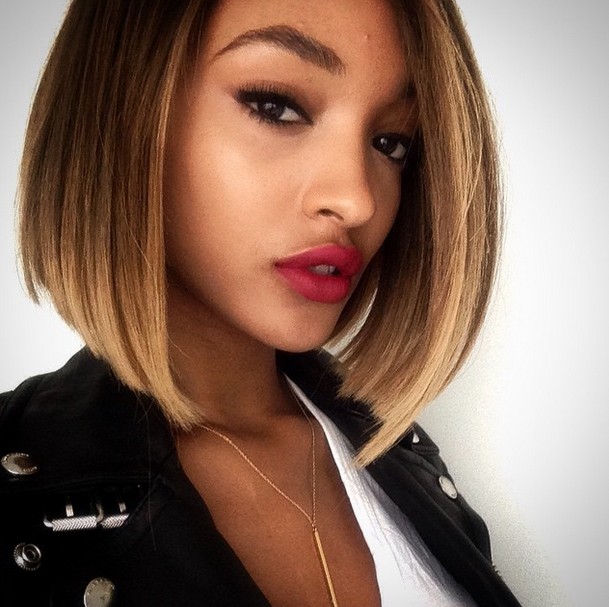 Simple One Length Cut with Ombre
Classic bob cut with trendy hair color: This is a simple one length, shoulder length cut with a middle part that is very low maintenance. For extra boldness, go with another version of a firey ombre. This time, it has more of a dark purple-red with very little orange on the ends.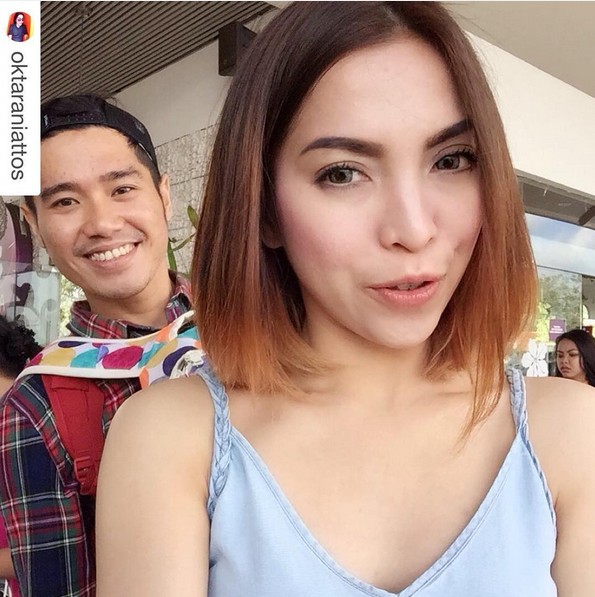 The Best Ombre Transition
The transition of this ombre is so well done that it almost doesn't look like an ombre. The ombre looks more to be on the inside than one the outside. This is a good way to make it subtle in case you're mostly in an environment that would rather you have one hair colour.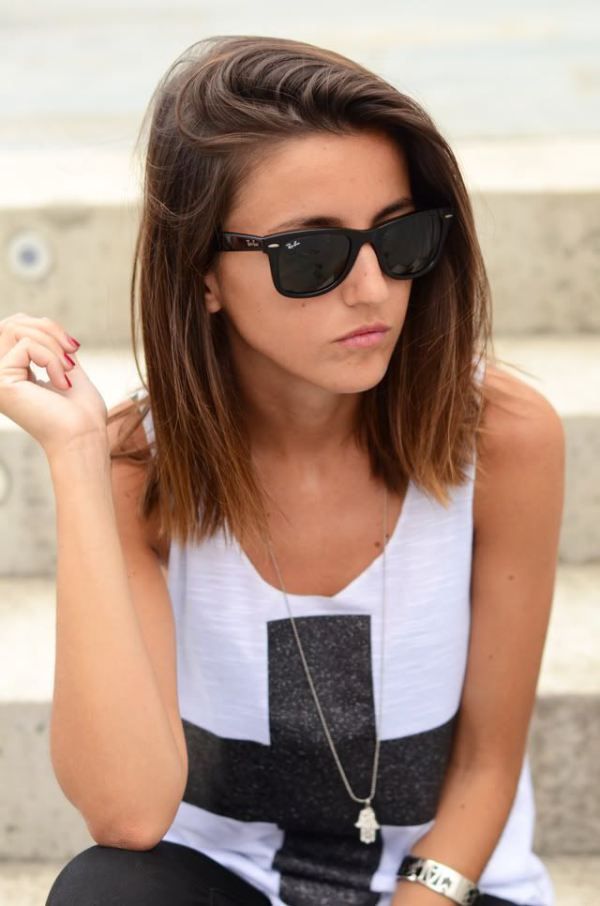 Brown to Blonde
This brown to blonde ombre is done with three different shades: dark brown, middle brown, and then blonde. Add some curls to your look for something cute, flirty, and romantic. To make the curls more interesting, curl some in and curl some out.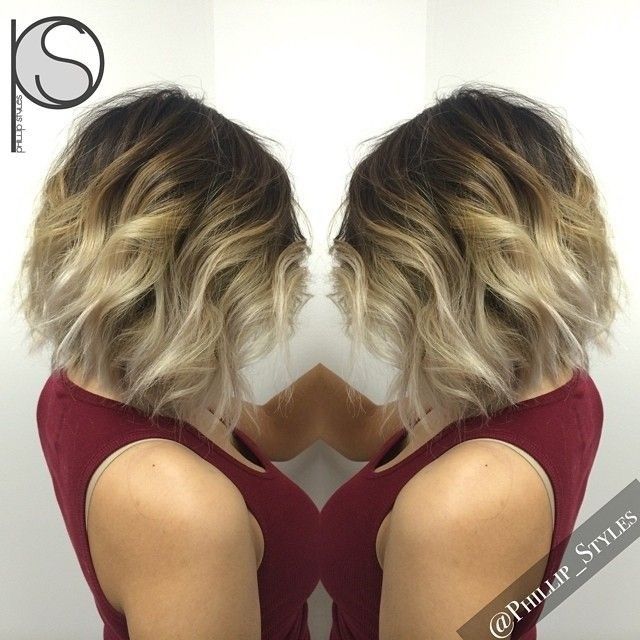 Crimped Curl with Ombre
You might only remember this if you grew up in the 90s, but during that time, lots of girls crimped their hair instead of curled it. Lots of the "curls" look like an indent instead of a typical round and luscious curl. This is similar except it looks much, much better. Obtain this look by using a two inch or bigger curling wand and grab one and a half to two inch sections and wrap it around once in the middle. Keep in place with hairspray.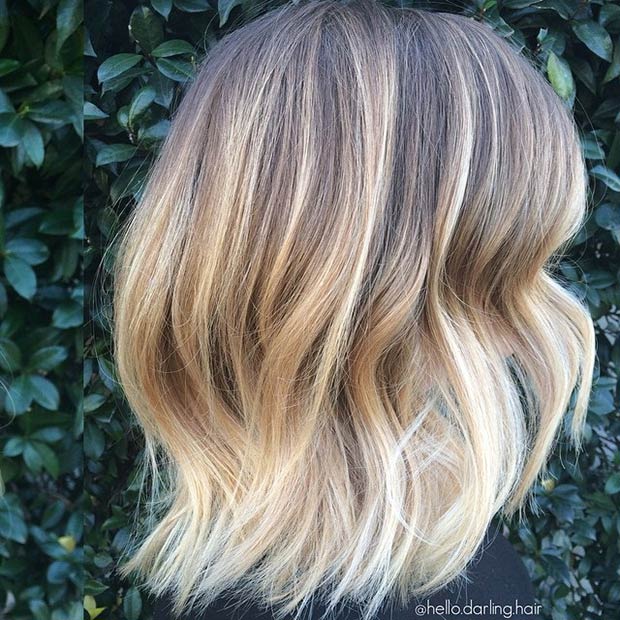 Romantic Waves Brown to Blonde
Get that romantic girl next door look with these beautiful waves. This style is perfect for any feminine woman who loves her curls.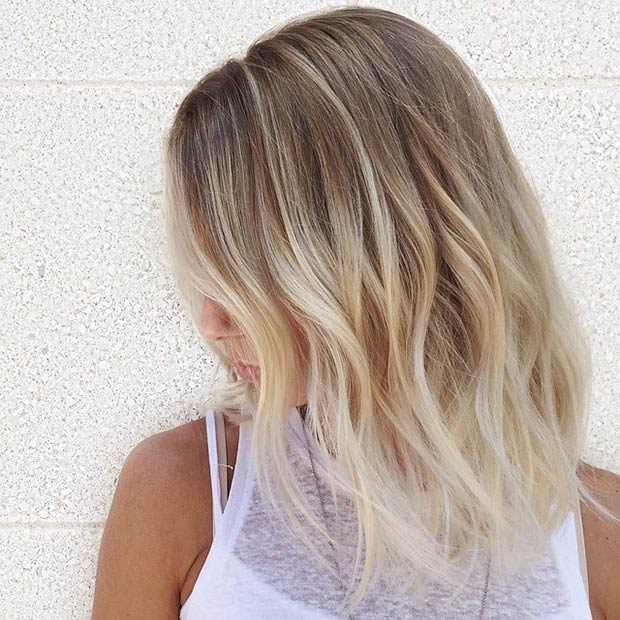 Short Bob Ombre
Style this brown and blonde bob – give it a little poof by running your hands through it and setting it with a little spray. It's cute and can be done in seconds!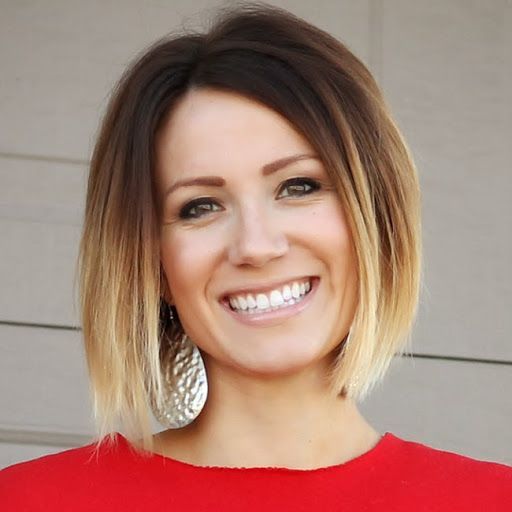 Edgy Ombre
This ombre looks like your typical brown and blonde ombre, but if you look closely, you can see some blue peeking through. This is a great way to add in a little colour that isn't too obvious. Give the style a little extra something by moving a few strands back. Make sure to lock it in with hairspray so it doesn't move back to the front.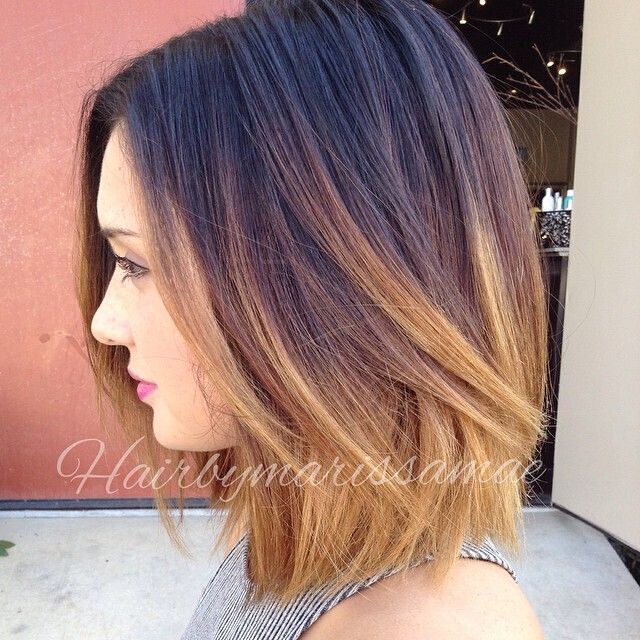 Next time you go the salon, pick your next hairstyle from this list. With many cuts, styles, and colors, there's bound to be one that's right for you.  Get creative and combine the colors yourself – the combinations are endless!