90+ Latest Best Short Hairstyles, Haircuts & Short Hair Color Ideas 2024
Ready for an exciting, new gallery of gorgeous short haircuts? Come in and browse the latest hairstyles and color trends worn by your favorite celebrities – they are all fabulous. With fresh color and styling techniques, edgy cuts and the amazing, new metallic-gold blondes this is the perfect place to find your hot new look!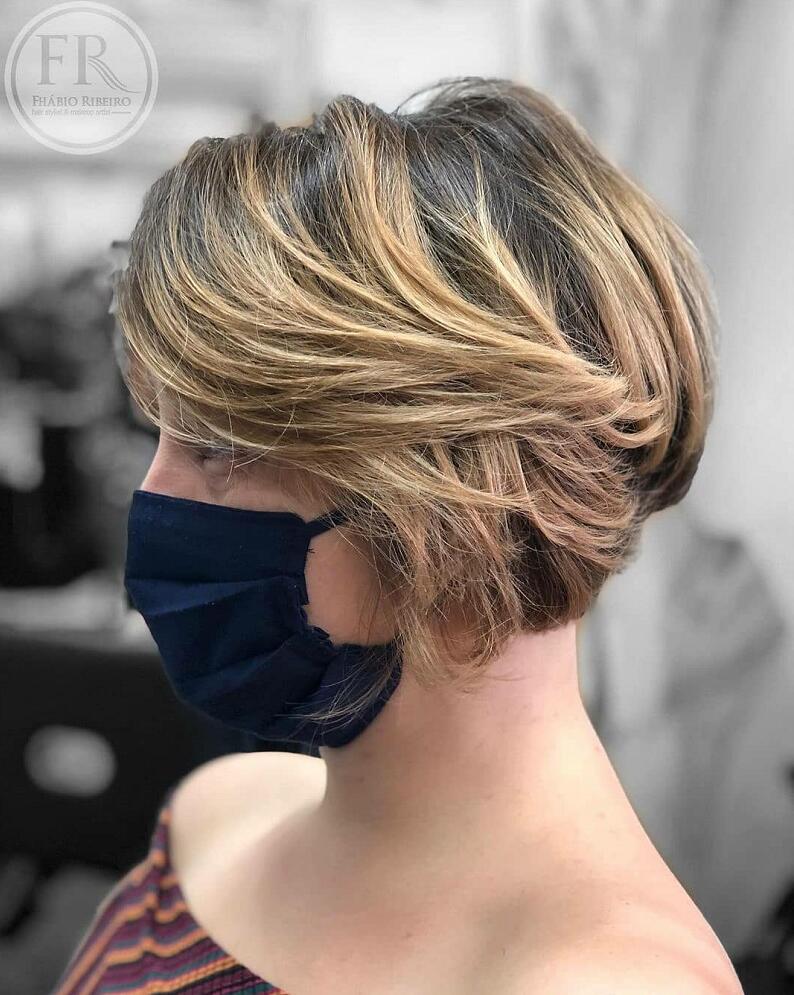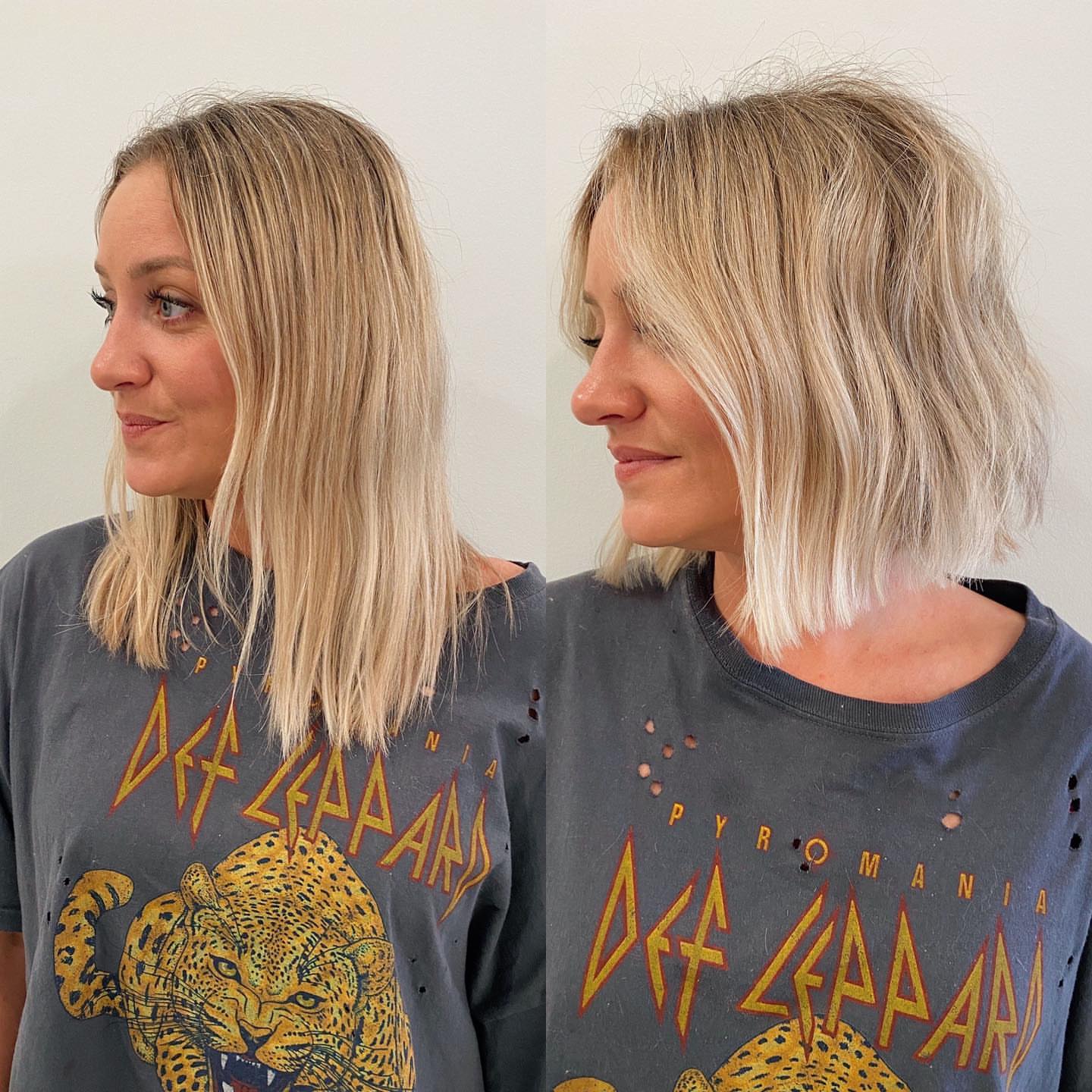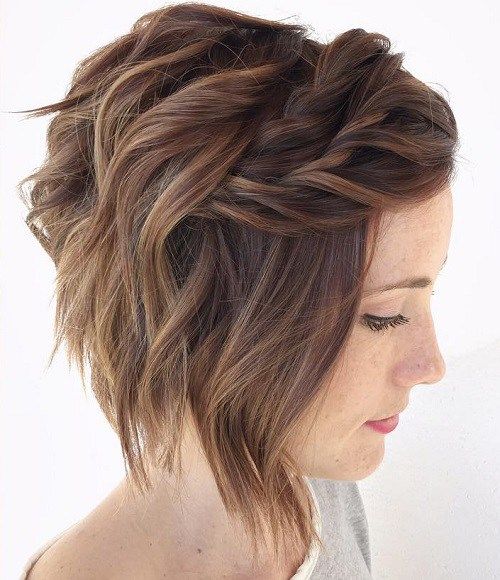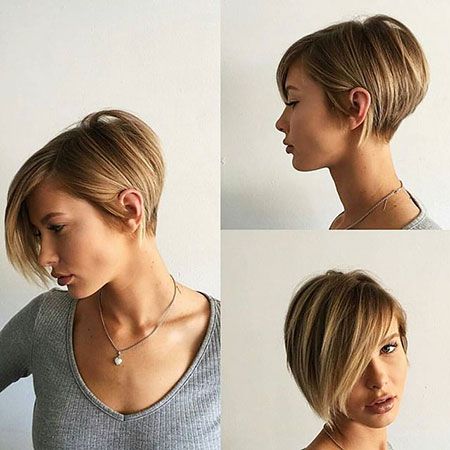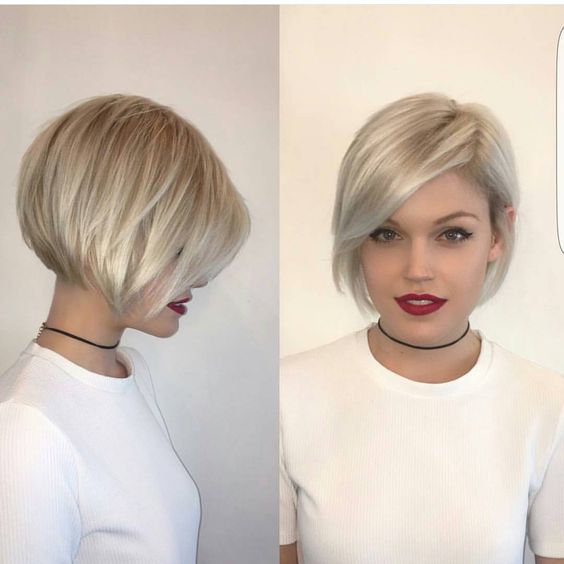 If you'd prefer to go without bangs, no problem
With only 2% of the world's population being naturally blonde, light hair is a really good way to stand out from the crowd. On mousey-brown or dark-blonde hair, it's easy to lighten hair just a few shades to a more flattering golden blonde.
Trendy short hairstyle for women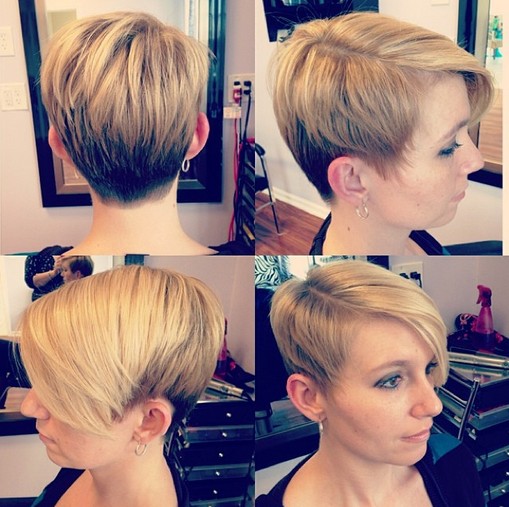 This short asymmetrical cut is perfect for giving yourself a spring makeover with style and easy maintenance. Even though it's bleached blonde, which grows out and used to need re-touching every few weeks – the latest looks start off with darker roots! That means you can space out the colour refresh much longer, because this short haircut is a two-tone design!
The back and sides are left dark, emphasising the precision cutting with the top layers getting the most blonde-density. So on a geometrical cut like this trendy short hairstyle, the strong lines are softened around the face by the light-blonde shade.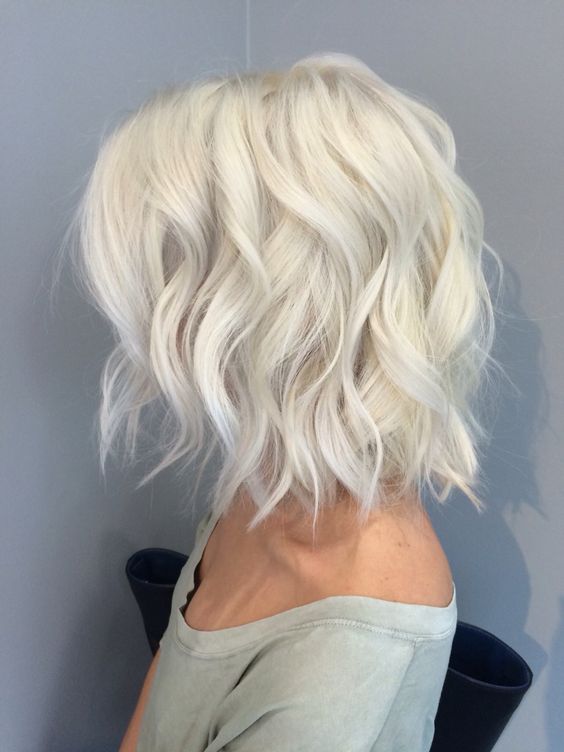 Very light blonde shades, like platinum-blonde, are in fashion hairstyles, as well as the new ash-blonde shades and golden blonde as shown in this short haircut. So everybody will be able to get the best blonde shade to flatter their individual skin-tone!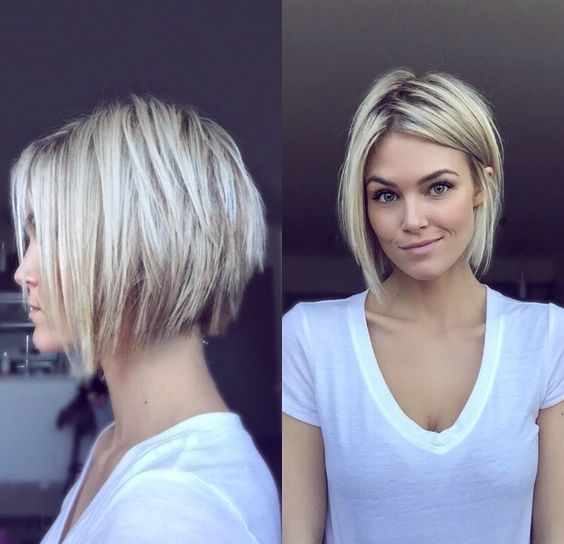 Brown to Blonde Balayage Bob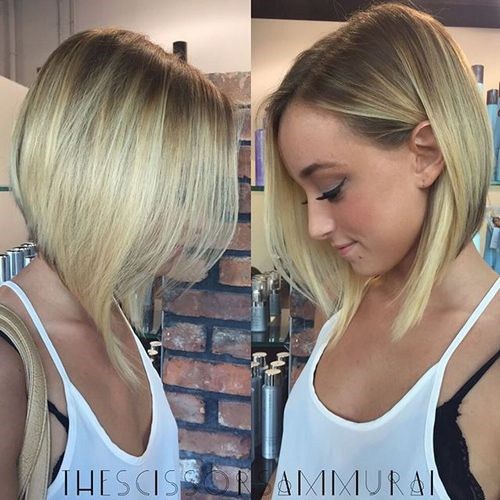 We've shown you plenty of luscious long locks in this post, but the balayage effect works equally perfectly on beautiful bobs, which are hugely fashionable at the moment! This gorgeous crop graduates from just above the ear from the back of the head to jaw length strands that fall around the face, and transitions from brown to a beautiful bright blonde.
Caramel Bob with Lovely Long Strands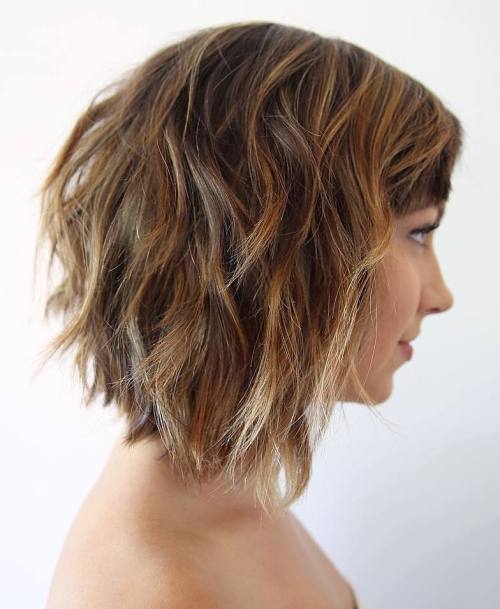 This simply stunning bob is absolutely full of caramel highlights, which compliments the amazing choppy cut this stylish lady has gone for. It's cropped slightly shorter at the back and with lovely long strands that fall towards the front of the hair, finished with an amazing fringe. This lady's gone for a fabulous tousled look but it would look equally great straight.
Ash Blonde to Brown Crop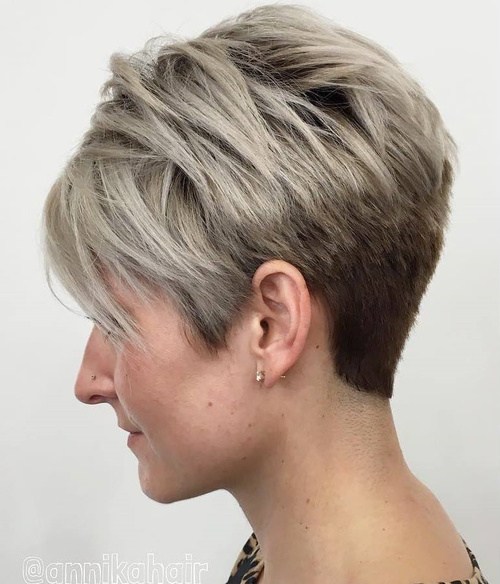 Ombre colouring is traditionally used for long hair, but as this wonderfully stylish lady shows, the ombre transition works equally well on a shorter hair cut too! She's gone for a gorgeous ash blonde to chocolate brown transition, which starts from the wonderful fringe section of the hair and finishes with a close crop at the back of the head.
Blonde Crop with Ringlets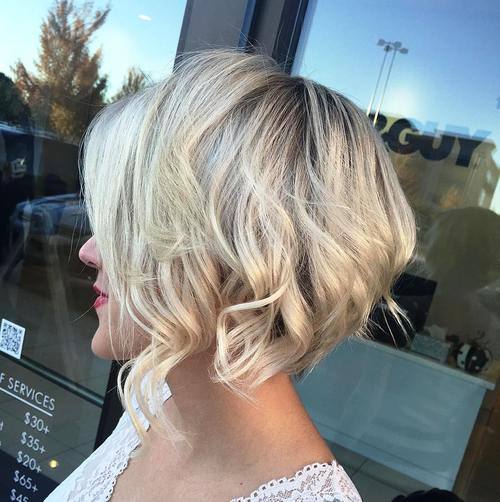 This glorious blonde crop is finished with beautiful feminine ringlets to add a bounce to the beautiful crop. This stunning hair is ideal for weddings or posh events because it is truly striking! This lady's gone for a glorious light blonde right across the head, with lovely shorter layers to frame the face creating a beautiful silhouette.
Strawberry Blonde Bouncy Bob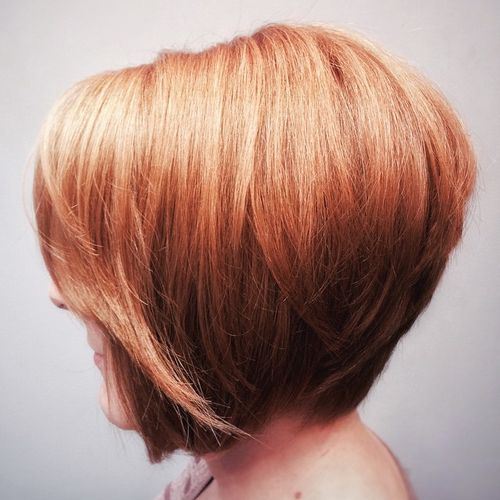 If you're looking for a bob that is easy to maintain but simply full of bounce and body, then this inverted bob is exactly what you're looking for! With a longer layer at the bottom working towards shorter layers at the top of the hair, this creates a gorgeous and curved style which looks fantastic when straight. This is finished with a stunning fringe to frame the face.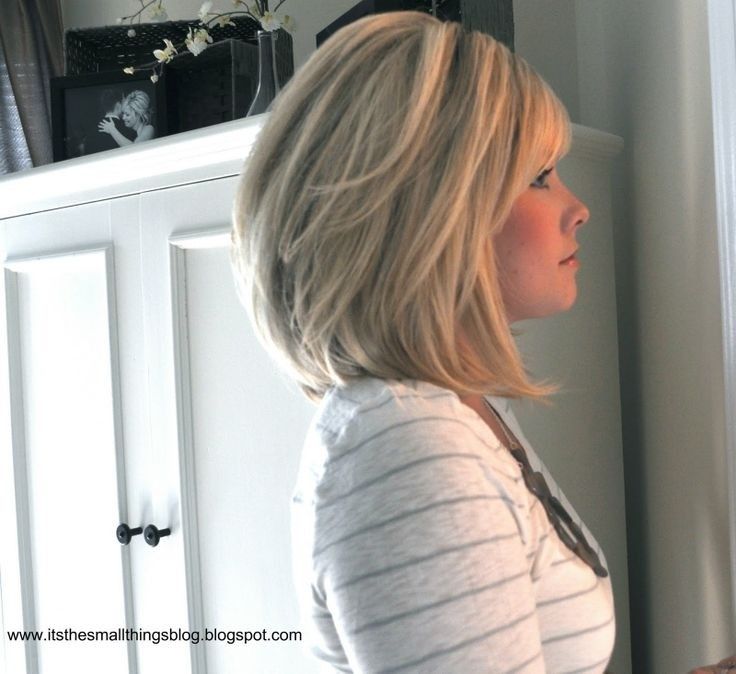 A chic short layered bob hairstyle for women from thesmallthingsblog.com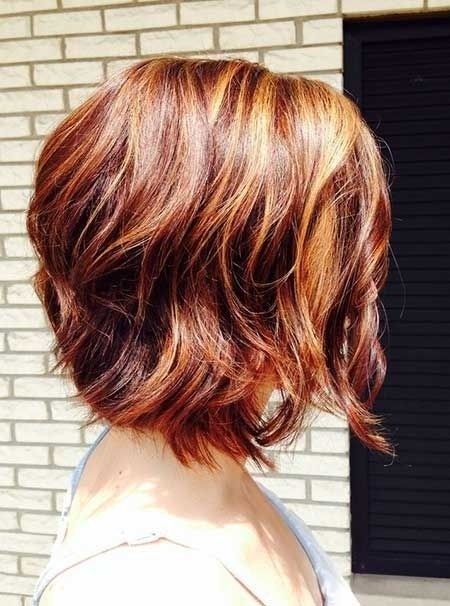 This casual, natural movement wavy red hairstyle is gorgeously emphasised by the beautifully blended colours. This is a lovely style for anyone growing their hair from a short cut or going shorter from a loose, long haircut! It's full of personality and offers something a little different from the ordinary.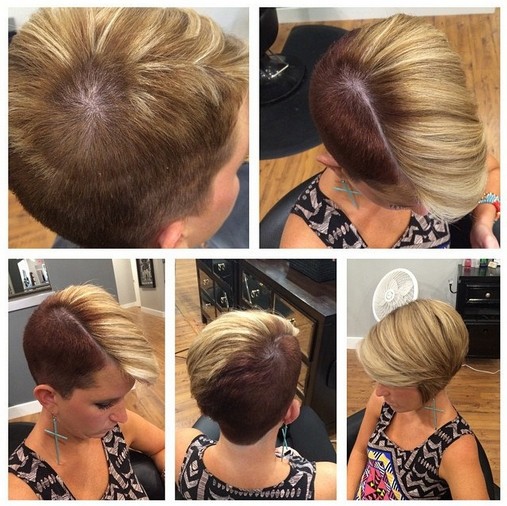 If you're torn between going ultra-short and having a sleek medium-short bob, have both! This super-stylish short haircut combines extreme asymmetry with contrasting colour to produce a look that proclaims your high-fashion credentials. And although it's a short hairstyle with lots of creative contrast – it's all done in very good taste.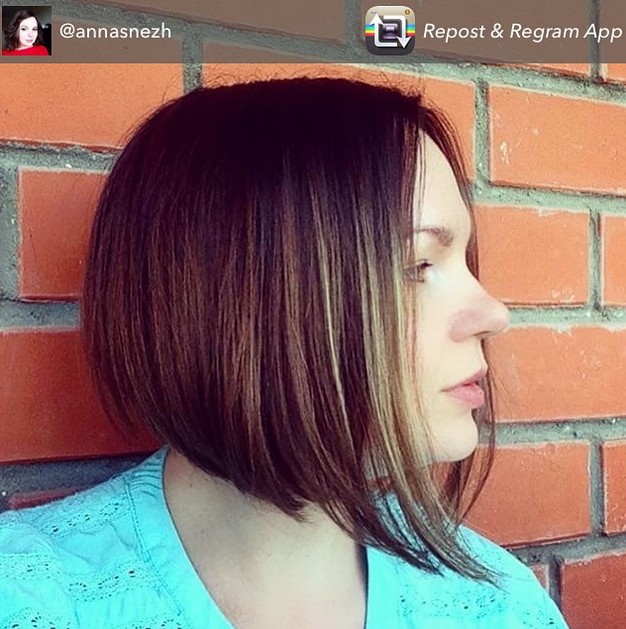 If you'd prefer to go without bangs, no problem. Part your hair down the middle. And if you want to switch up your inverted bob, here's something else to try: some blonde streaks in the front. Oh, one more tip: keep the front of your hair longer than the rest for a bit of an even more dramatic effect.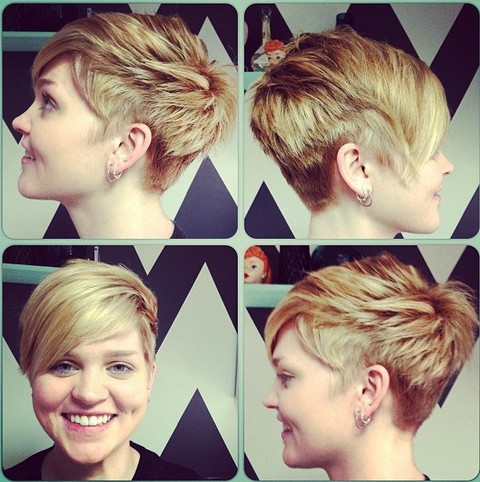 Bring out your playful side with this quirky high-fashion short haircut. This layered pixie cut style is great for anyone who loves attention, but hates spending hours on complicated styling routines! Taking inspiration from the trend towards 'windswept' looks, this lucky girl has a unique short hairstyle with loads of interesting movement and texture.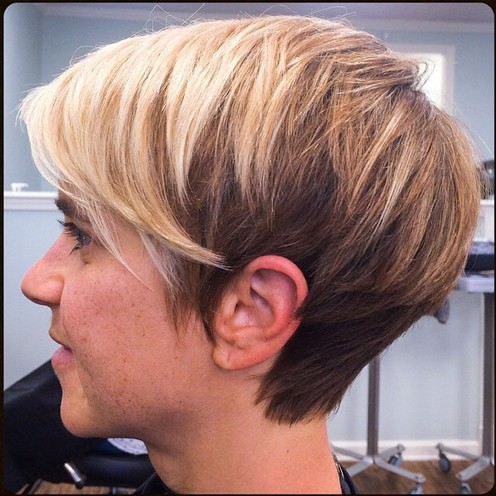 Dual colour in contrasting shades means you don't need to grapple with complicated styling every morning! The short pixie cut is created by clever cutting and the daring contrast of colour, so you can just wash and go with this short, snazzy style.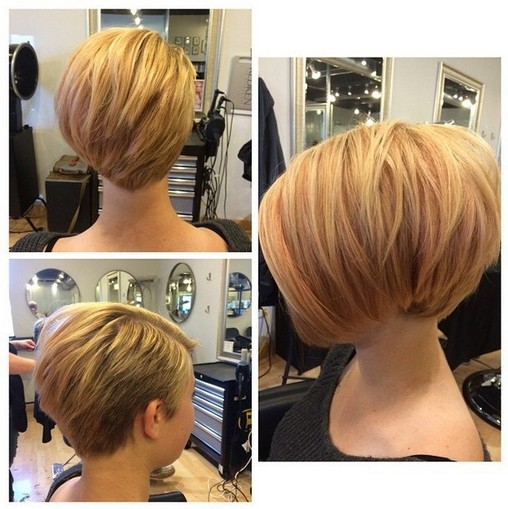 Thick hair look fabulous in today's slightly bouffant cuts and this is a totally glamorous look that is new and different. Taking inspiration from the strong trend for asymmetry in current hair-styles, the hair is cut in a cheeky pixie style on the shorter side. At the back the stylist has effortlessly blended the shorter layers into a graduated side-swept rear view with a pretty point in the nape of the neck. The longer side is full of texture, colour, shape and movement.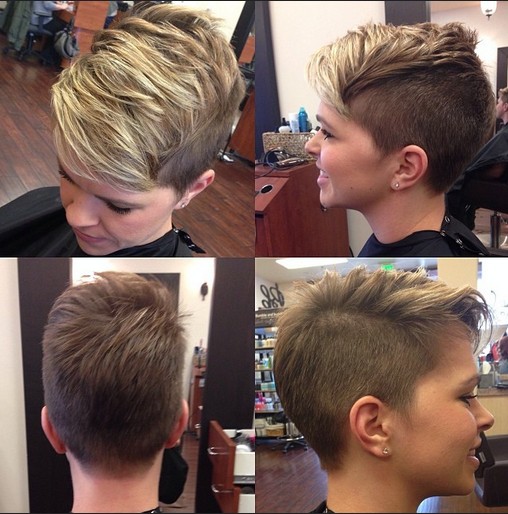 Boy-cuts are great for bold girls who don't like to follow the rules! This close-clippered look is daring and the perfect way to show off a smooth, girlish complexion. If you are not allowed to dress how you want for school, you can express your radical fashion style with a sharp, short haircut.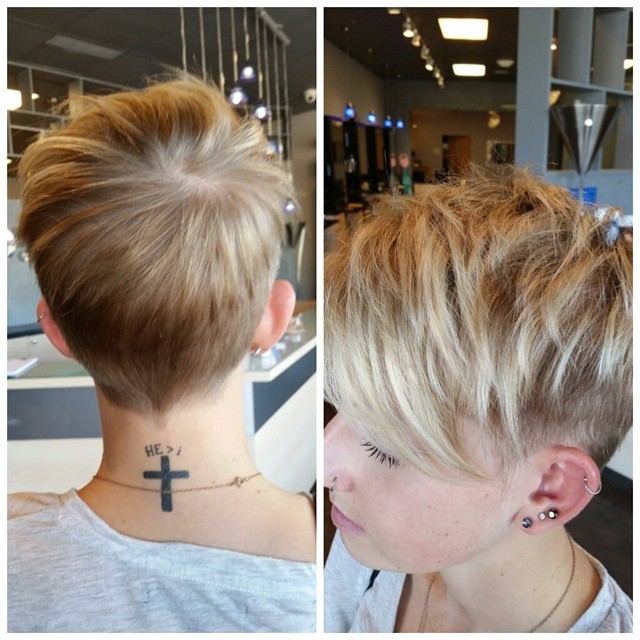 What better way to show off a tattoo on the nape of your neck, than this short pixie with a closely clipped back and a cute point! The crown is also styled in an interesting way with a dab of wax added to make the hair radiate out in a smooth pattern. You can find more cool pixie haircuts here.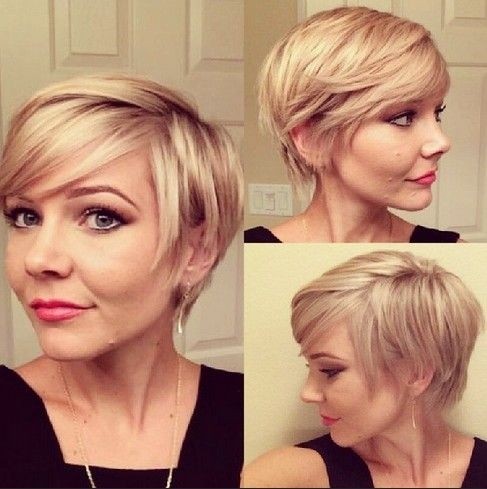 There's nothing like a bit of choppiness to emphasise the attractive curves in a pretty face! This pale-blonde short haircut uses uneven layering and asymmetry to accentuate the high cheekbones and attractive symmetry in the model's face.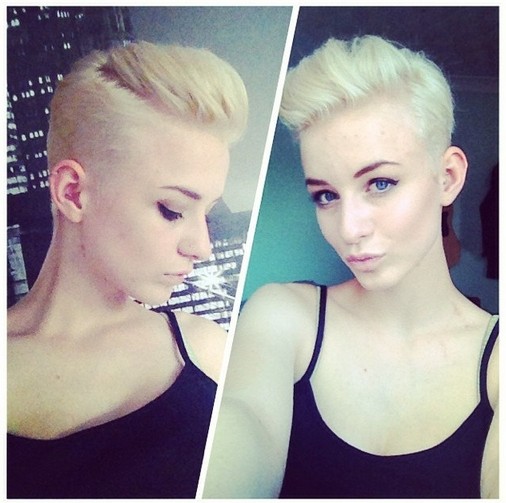 Fine hair can be a nightmare if you wear a straight hairstyle cut in one length all around. On the other hand, fine hair cut into lots of layers like this, can look fabulous and much thicker, too! This short haircut looks great on anyone who wants to add some length to a low forehead or a round face.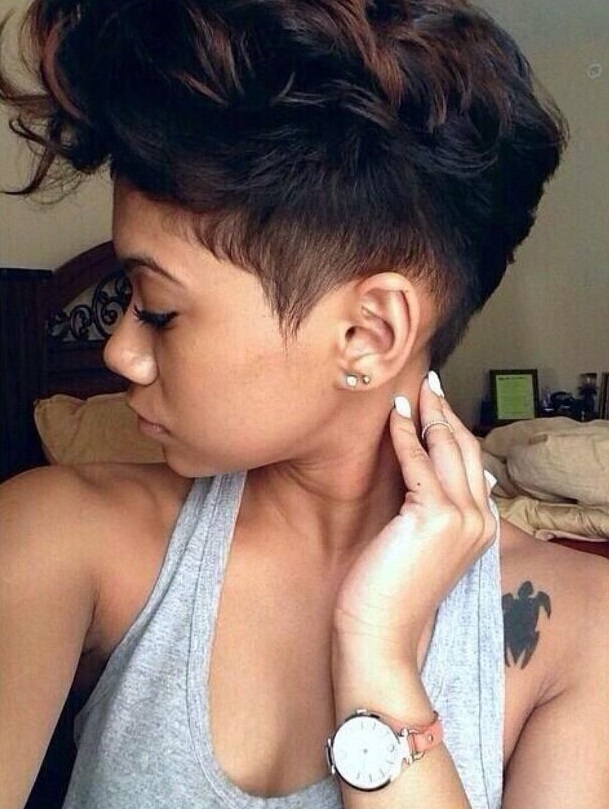 Here's a fabulous, fantasy interpretation of the popular short back and sides, with length left on top, look. It's a young look showing the wearer's high-fashion credentials and love of looking stylishly different. This spectacular look relies on thick hair to help boost the volume of those big, round curls on top. And for a completely different twist, there's a band of deep-blue colour circling the head like a head-scarf!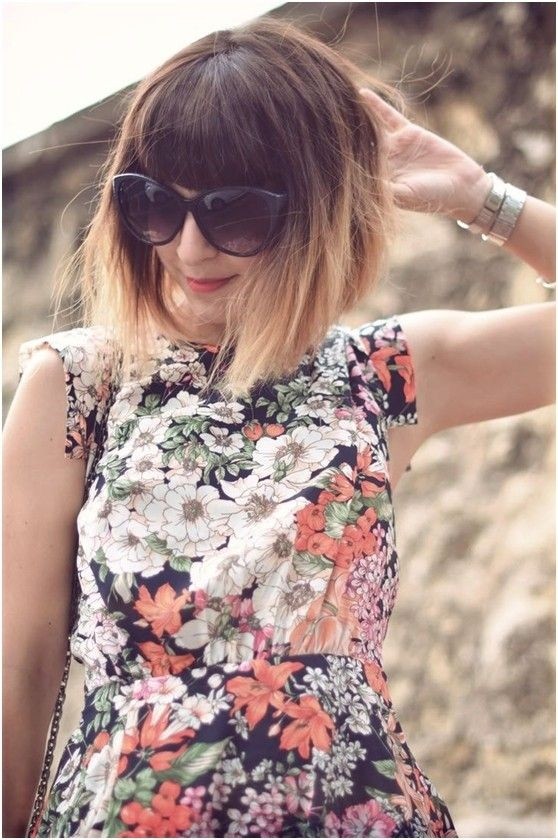 Casual bobs are one of the most popular short haircuts again this year. However, that doesn't mean they're all the same styles as last year! This is a very modern look which looks great with over-sized sun-glasses and a floral multi-coloured dress. So if you like brightly coloured and patterned clothes, this simple style is a great understated look to complement your wardrobe.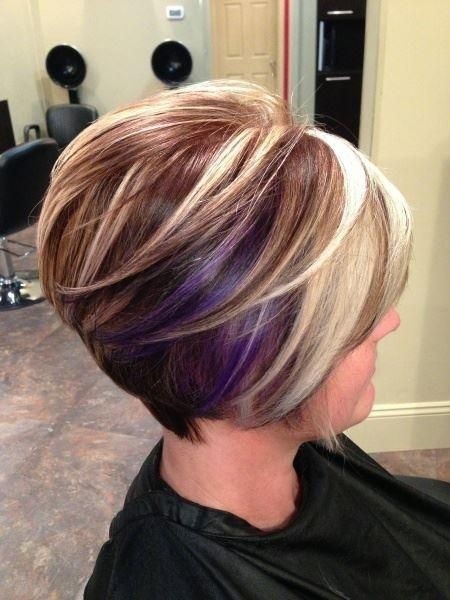 Add a daring touch of purple to a bouffant 60's style bob and bring it bang up-to-date! This short hairstyle is great for medium to thick hair which has some natural body and volume to hold the puffed-out shape. It's a medium-short haircut with sliced layers and a stack-cut back to give lots of additional 'lift' where it's needed. The fabulous highlights are lighter around the face for a soft face-frame and there's a surprise at the sides in the violet-purple strands which add loads of 'jazz' to the graduated bob!
Classic short haircut for women – the Lily Collins Short Bob Haircut with side swept bangs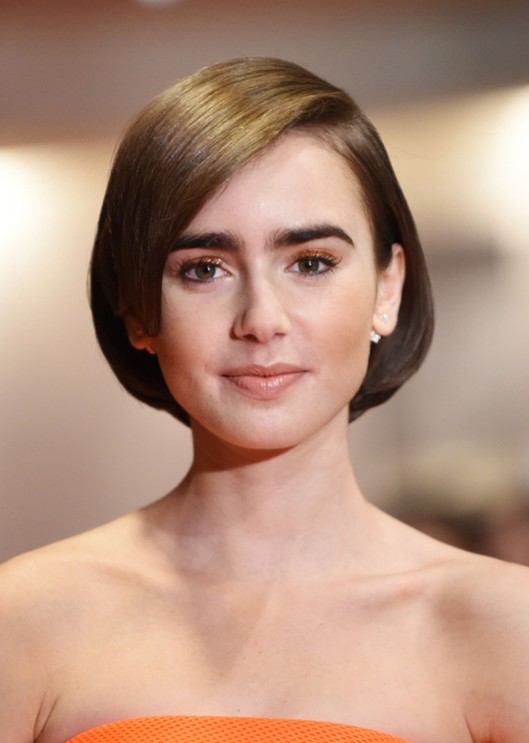 The bob cut is classic and never out of fashion, here Lily Collins showed off her latest new short haircut at the 'Love, Rosie' Tokyo premiere, she sported a very neat and charming bob.
Sienna Miller Latest Short Soft Wavy Hairstyle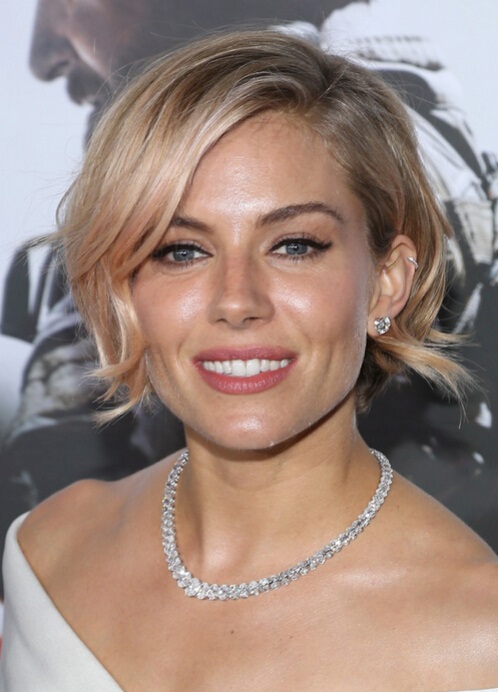 Sienna Miller showed off her latest new hairstyle at the 'American Sniper' premiere, she kept her hair short and chic with this wavy bob, this is a great shrot haircut for women age over 30.
Brooklyn Decker Short Hairstyle – Sexy side parted wavy bob hair style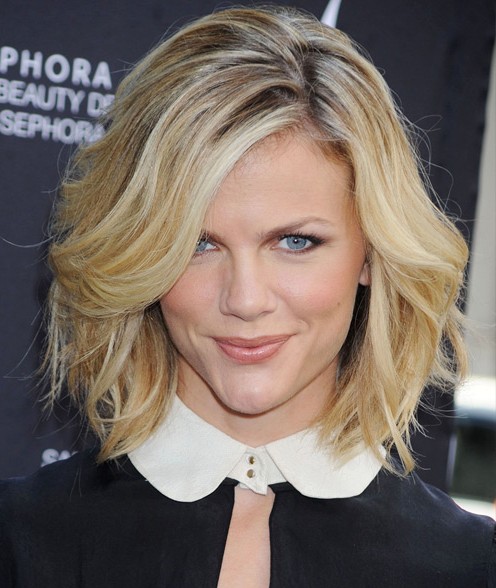 This casual chic short hairstyle really complements her fair skin tone and cornflower blue eyes. The side parting creates an up-to-the-minute, sweeping long fringe that drapes sexily over one eye and flicks up lightly to accentuate her well-defined cheek bones. This long bob has plenty of width and volume at cheek level, making it an excellent choice for balancing out a long face shape! The mix of blond shades is subtle, but adds tremendous depth and texture. And finally, the darker roots add that touch of 'street style', which combined with the tousled finish equals a highly contemporary medium bob and a carefree image.
Trendy short haircut for women – Ali Fedotowsky Short Wavy Hairstyle with Bangs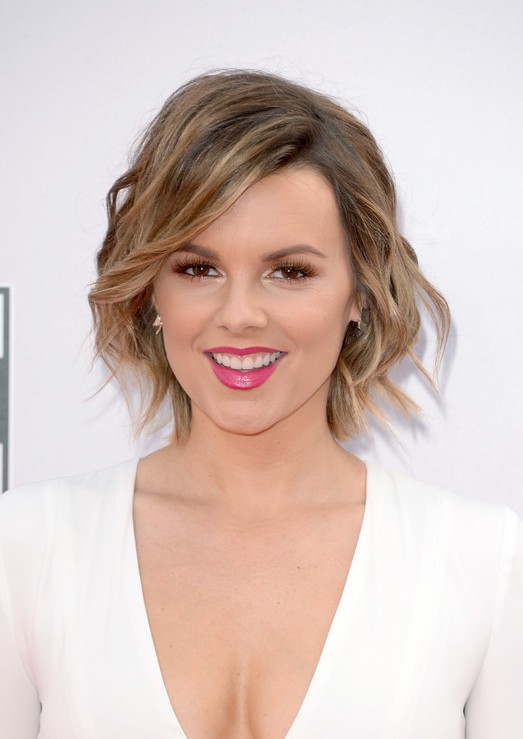 Chic layered messy short wavy hair style for women. Ali Fedotowsky styled her hair with messy-glam waves for the American Music Awards.
Most Popular Short Haircut for Women – Short Ombre Hair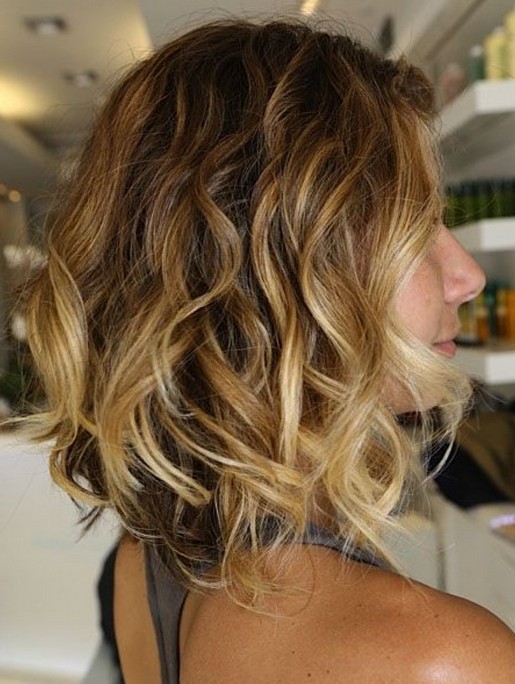 On fine hair, loose defined waves are the perfect way to get added natural volume and create the visual illusion of thicker locks. This long bob with textured ends is really brought to life by the clever ombré highlighting accentuating the movement of the sinuous waves. And having a lighter color at the ends of your hair is another way to give the visual impression that hair is thicker. So with shorter layers at the back also adding density, this cut is perfect for anyone with fine, straight hair who would like a style that adds body! Find more latest bob hairstyles here.
African American Curled Out Bob – Beyonce Knowles' latest hairstyle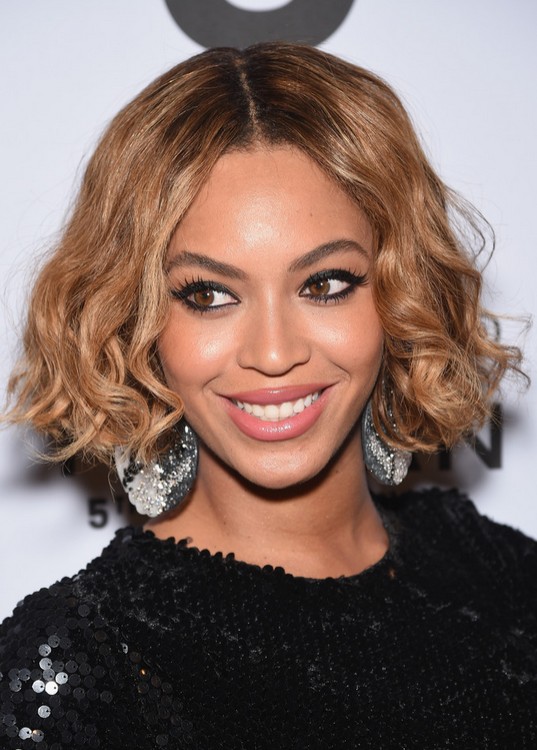 It's time to change your hairstyle now, if you're looking for a new fresh fashionable African American haircut, here it is! Beyonce Knowles showed off her latest new curled-out bob at the Topman New York City flagship opening dinner. She looked beautiful with this center parted curly out bob cut! This layered bob hairstyle is perfect for oval, diamond, and oblong faces.
Short Blonde Pixie Cut for Young Ladies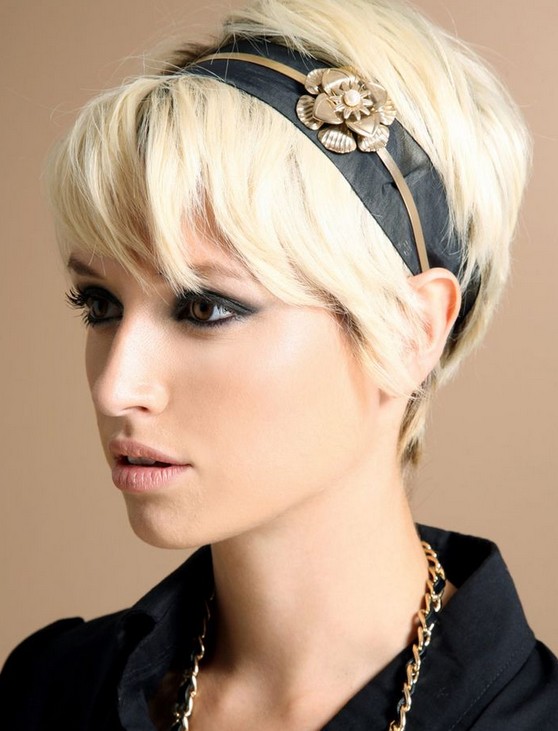 Urban chic is still at the forefront of short hair fashions and this artificial bleached-blonde pixie cut has plenty of 'street' style! The long fringe touching the eyelashes makes the look casual and the layered cut is shaped down beautifully into the nape, where dark roots create added color dimension. However, this urban look has been dressed up for a special occasion with a contemporary black and gold hair accessory. The black gauze hairband decorated with a thin gold strap and a plastic gold flower is the perfect addition to an edgy young look where old-fashioned cuteness is not required!
Samaire Armstrong's Short Haircut – Short Wavy Bob Hairstyle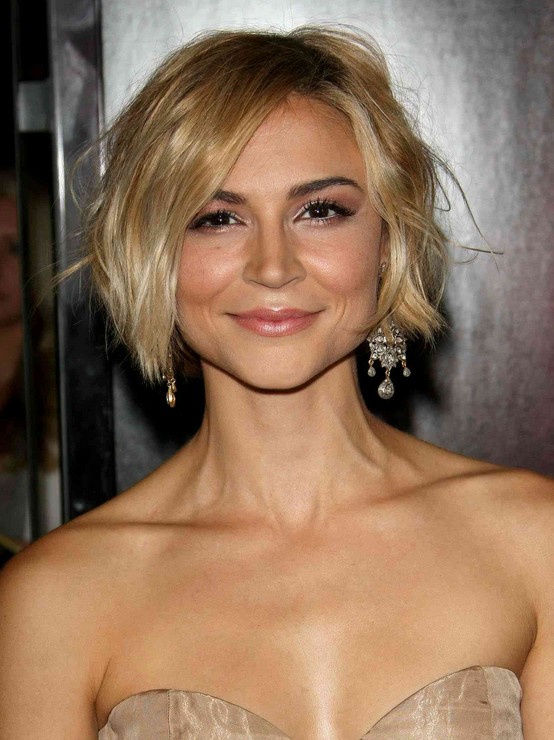 The latest hair colors formulas backed by new technology offer a whole new palette of gorgeous hair colors with delicate new golds and copper shades matching those beautiful polished metals perfectly! Samaire's trendy and flattering chin-length bob also has a subtle sombré technique which makes the graduated shades of medium to pale-gold change almost imperceptibly down the lightly tousled tresses! The end result is gorgeous – and matched with her evening gown and golden toned skin – the height of hair fashion chic!
Pixie Lott short hairstyle – center parted blonde wavy bob hair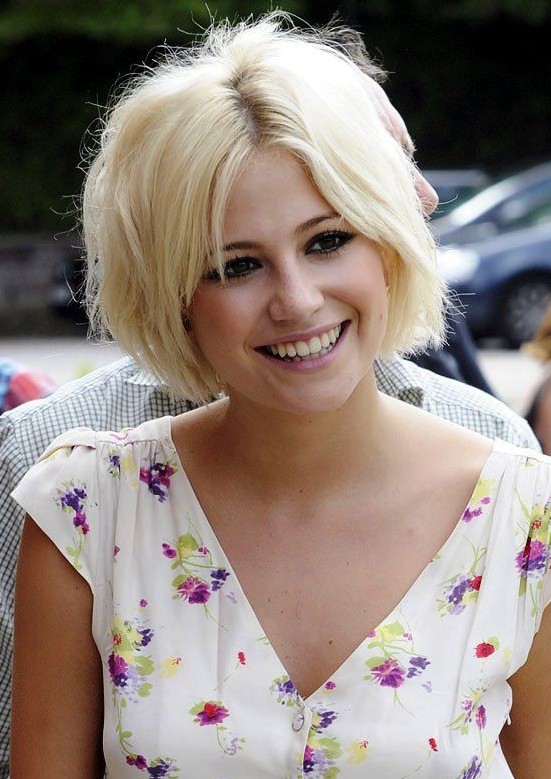 Fresh and simple-looking, this look actually relies on some very clever hair coloring techniques to produce just the right shade of edgy 'urban platinum' blonde! Balancing out the artificiality of the color, Pixie is wearing her hair in a simple, layered chin-length bob. And it looks great! The center-part gives way to a casual fringe separated to leave the forehead clear and cool in hot temperatures. The slight wavy movement creates interest at the sides and the ends of the hair are heavily textured for even more 'urban chic'!
Frankie Sandford short hairstyle – Sexy layered short haircut with side swept bangs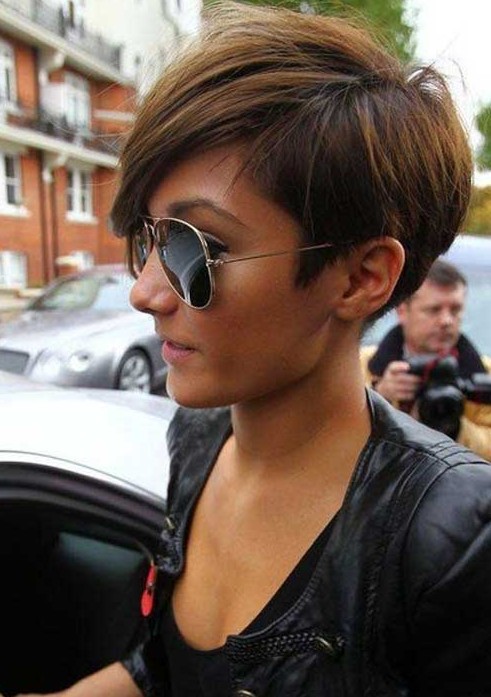 This young, casual cut also keeps the focus on Frankie's beautiful brown eyes and trendy red lipstick. The asymmetrical bob is a timeless look which always creates a 'modern' vibe and shows an independent but feminine image.
The short-side profile is expertly layered down into cute, sharp points that frame the eye and draw attention to the cheekbone. And the rest of the hair is trimmed into long, sleek layers producing a super, side-swept fringe that blends in seamlessly at the profile.
Frankie Sandford Short Haircut with Bangs – Cute Hairstyle for Summer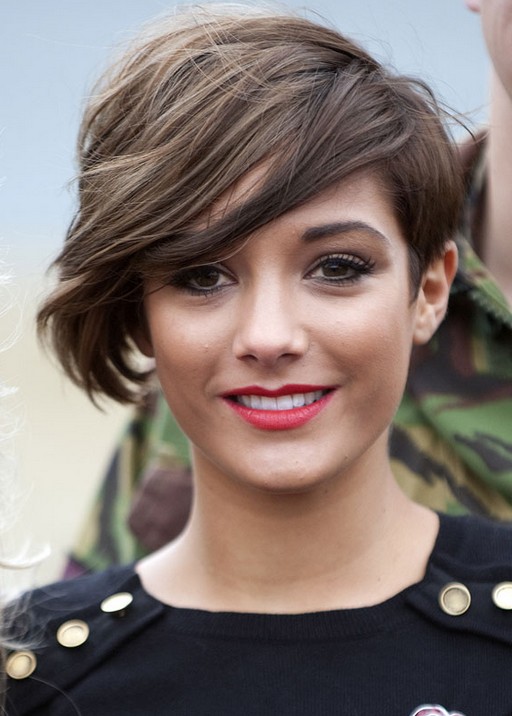 This is a wonderful example of the way that just a few balayage highlights can make dark hair really come alive! The super-chic asymmetric cut features a deep side part, with the long layers styled up and across the head in a smooth line that includes bangs that skim the eyes. This gives natural volume and creates the attractive rounded shape.
The balayage shade is carefully chosen from the natural tone range in Frankie's dark brown hair, so it creates color-harmony whilst emphasizing the fabulous sweeping movement!
Frankie Sandford Short Hairstyle – Cute short haircut with highlights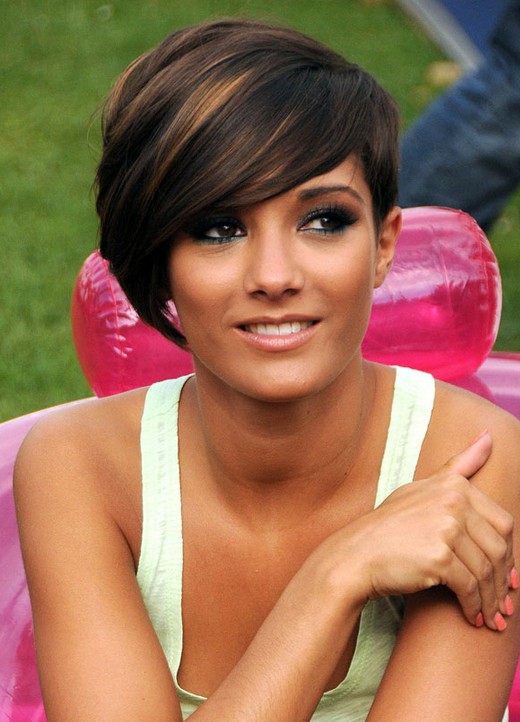 This is a sharp asymmetric cut that creates attractive geometric shapes around Frankie's face. The side parting on the shorter side is trimmed at the side to create an angle in the profile with precise side points before the ear cut to accentuate the eyes and cheekbones perfectly.
Contrasting with the sharp angles, the overall silhouette is a fabulous smooth round shape that is styled forwards from the crown. The longer side sweeps down over the forehead and one eye, for a super-trendy look. This easy-care style is a great haircut for anyone with thick straight hair and natural volume!
Cute updo for short hair – braided short hair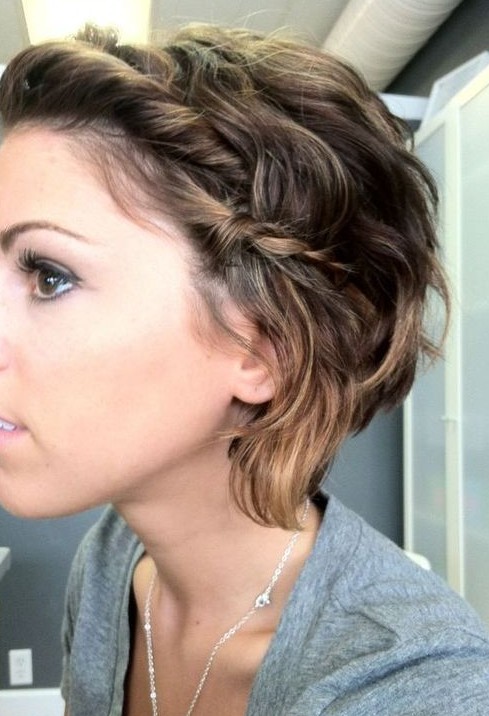 This is a great new look that we haven't seen before! The hair is trimmed into a pretty layered chin-length bob with just a hint of wave visible in the lovely rounded silhouette shown in profile.
In line with current trends, there is just a little natural volume on top and the forehead is accentuated by an attractive twisted strand.
Then adding to the amazing profile, another tress is lightly braided at the side and pinned under the back sections of hair.
The loose side tress over the ear softens the line and the fabulous sombré technique adds gentle highlights that harmonize beautifully with the dark blonde base color.
Cool short haircut for women – spiked pixie cut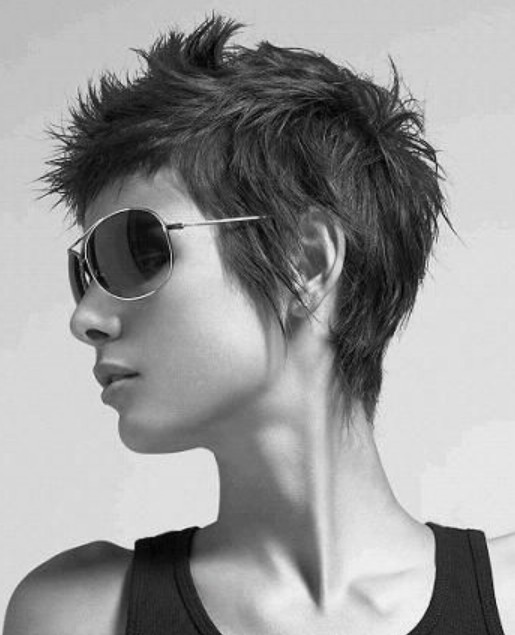 Shot in black and white to emphasize the edgy razor cut ends and jagged silhouette, this short pixie cut gives a fabulously 'hip' image.
The ends are heavily textured to create punky spiky tips and styled into trendy cockscomb quaff along the top of the head. This creates attractive height on top, above the short fringe with a feathered edge softening the line along the forehead.
The sides and back are expertly trimmed into long, tapered tips down to accentuate the jawline and finish with a lightly feathered edge at the nape of the neck. Great look for a cool, independent image that also flatters the face perfectly!
Karlie Kloss Short Hairstyle – Cute short wavy bob hairstyle with side swept bangs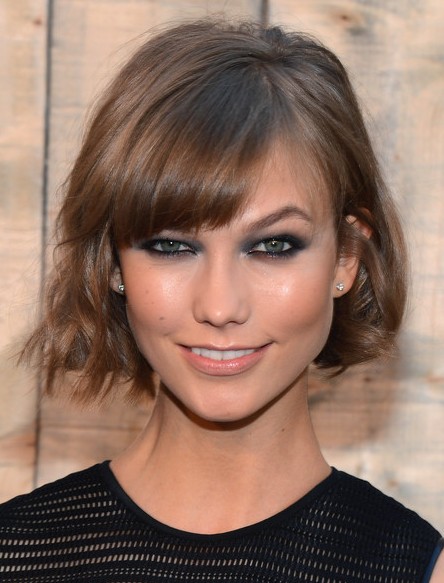 Perfect for a contemporary 'undone' look, this youthful style also suits women of all ages. The image is natural with some 'cut-off' defined waves adding volume at the sides and one side tucked carelessly behind one ear for a relaxed touch of asymmetry. The parting is slightly off-centre and lightly parted to show the forehead. Karlie's shiny healthy hair frames her face and accentuates her eyes in an easy-care style that's an excellent choice for fine hair!
Jane Fonda Short Hairstyle – layered short hair style for mature women age over 60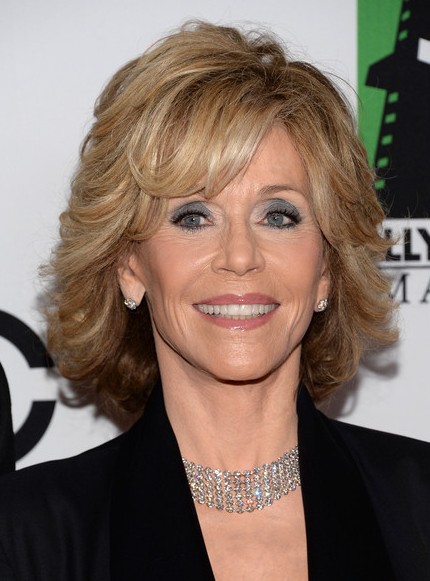 Jane has never lost the excellent sense of style that she had throughout her successful acting career. And this style suits her very well, with a softly side-swept fringe that covers any inconvenient forehead lines and is gently graduated down at the temples. This creates the perfect frame for her lovely eyes. The colour technique keeps her look totally contemporary with a subtle harmony of neutral blonde tones and warm light brown! This shaggy hairstyle is great for thick hair. You can find more hairstyles for thick hair here.
Cindi Leive Short Hairstyle – chic side parted pixie cut with bangs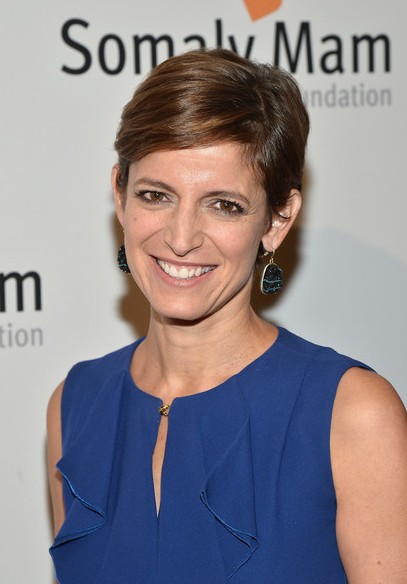 Here's another attractive version of the short haircut with a side parting and side-swept, asymmetrical fringe. This version has a shorter fringe that shows off Cindy's forehead and suits women who want to add a little more length to their face shape. The mid-brown colour has very subtle coppery highlights that add depth and match with Cindy's brown eyes beautifully. Subtle highlights look very natural and are great for making fine hair look thicker!
Anne Hathaway Short Hairstyle – classic short pixie cut for summer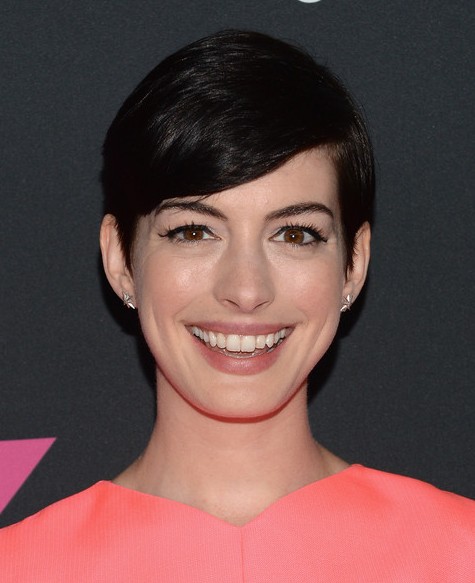 Anne's great cut, with its asymmetrical, side-swept fringe and short side-points, really puts the focus on her deep brown eyes. Everyone agrees she looks much younger and more lively with this flattering short haircut. She rings the changes by swapping between blonde, a huge trend , and her natural deep brown hair. And with short hair it's easy to swap colours to keep up with every new trend!
Amanda Forrest Short Hairstyle – Cool spiked short haircut for women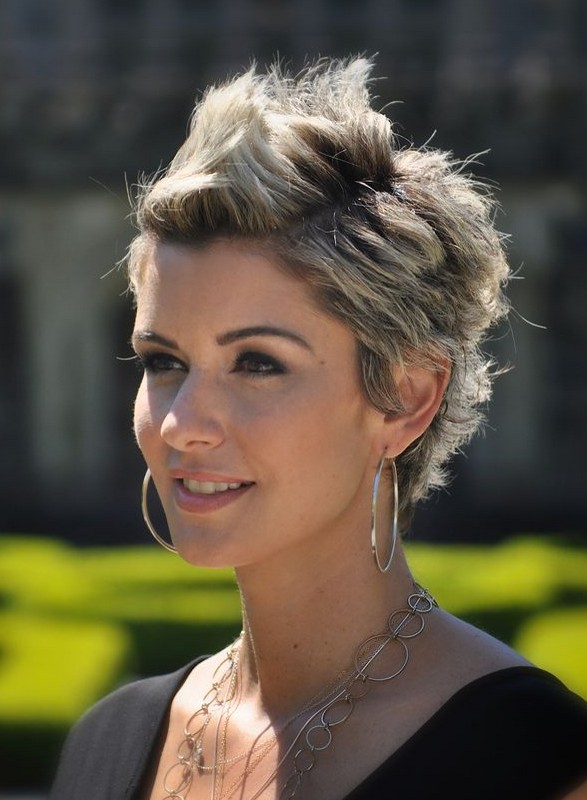 Always setting the trends, Amanda's short cut with a rough texture shows her independent personality and love of individual style. Her dark base colour is highlighted all through with a cool, pale blonde and the front section is styled into a definite quiff producing flattering height on top. This easy-care short hairstyle is great for keeping cool and for looking ultra-trendy!
Short Haircut for Summer – Cute Layered Short Hairstyle with Bangs for Summer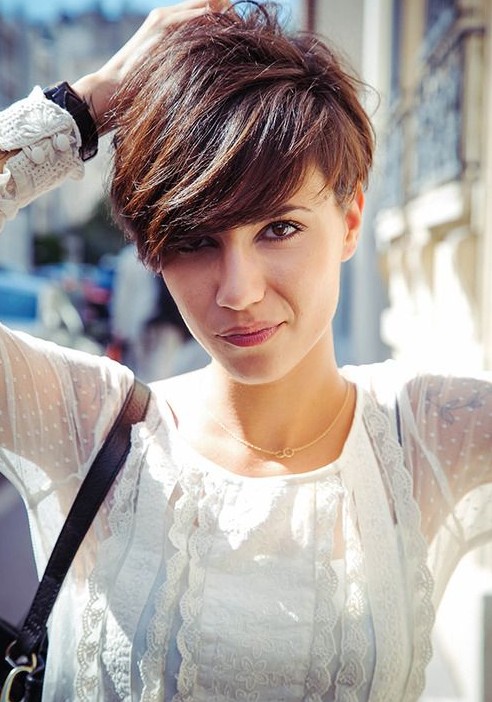 This short haircut uses the body in thick hair to create natural volume and a nicely rounded crown. The hair is styled forward and side-swept from the crown to form a long fringe covering the eyebrows and just touching the eyelashes. This adds a touch of peek-a-boo 'cool' and produces a modern, trendy style. Accentuating the fabulous movement, the hair is subtly highlighted with lively copper shades giving an easy-care, youthful look with a tousled finish. This casual haircut is ultra-chic and perfect for looking fresh in summer!
Short pink haircut – latest popular hair color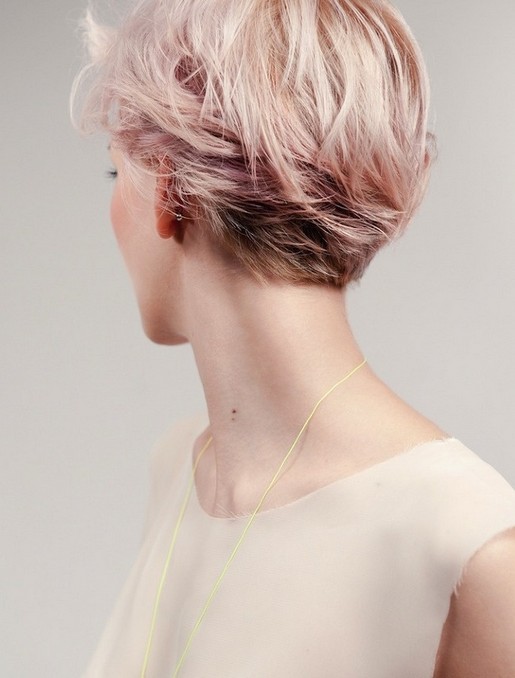 Short and sassy, this avant-garde haircut shows how a rainbow colour can be very successfully used to create a very chic look. Many celebrities flirted with rainbow colour last season, but only actress, Helen Mirren caught the delicate look that became increasingly popular . This short hairstyle uses colour to show off the different layers of an expert cut beautifully, with pale blonde-pink champagne on top and deeper pink accentuating the tips. Underneath the shorter hair at the nape is tinted a more intense rose-gold shade in a fabulous example of contemporary sophistication.
Miroslava Duma Short Hairstyle – elegant wavy bob hair style for any casual occasions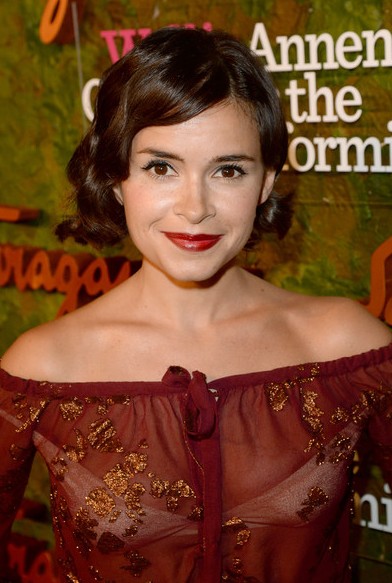 These sleek head waves frame and flatter giving a hint of retro 1930's glamour to Miroslava. This style will work well on fine, straight hair as well as other hair types as the shape is fairly close to the head and more sculpted than voluminous. The off-centre parting keeps the asymmetrical fringe that's incredibly popular – as the centre-part doesn't suit all face shapes and can be a bit boring. And these smooth glossy waves are kept casual with one side tucked behind the ear to show off Miroslava's pretty profile!
Find more bob hairstyles here.
Michelle Williams Short Hairstyle – sexy deep side parted blonde bob haircut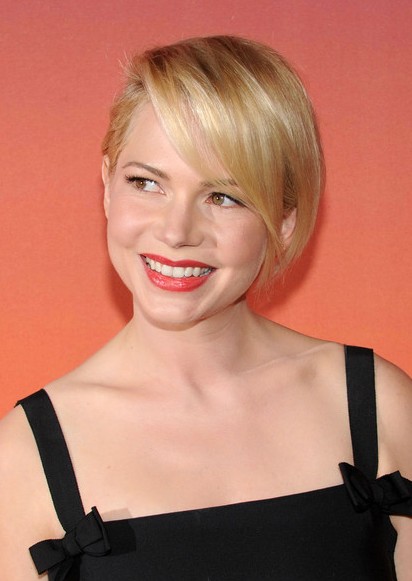 Thinking of going blonde, then you need to see this fantastic cut and colour! It's another style that looks just as good on fine hair as on thick tresses, and the strong asymmetry makes it ultra-chic. The low side-parting has the hair styled back on one profile, before sweeping over the top of the head to create an attractive curved silhouette around the head. And the mix of pale gold shades keeps the whole look delicate and pretty.
Maria Bello Short Hairstyle – center parted tousled curly hair style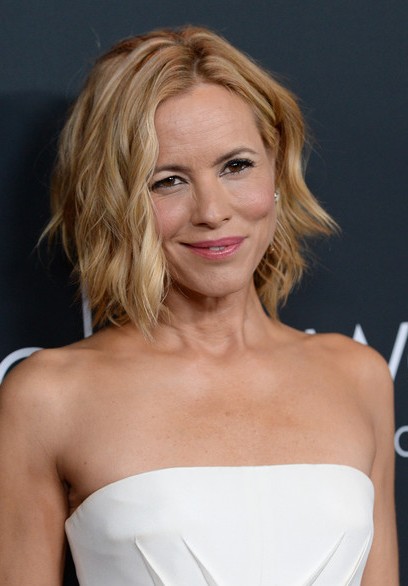 Don't you just love these contemporary, loose defined twists! The edgy 'cut-off' waves are one of Maria's signature looks and keep her in the forefront of hair fashion trends. And accentuating the fabulous movement in this style, the blend of medium golden blonde with lighter blonde shades is perfect! They add the impression of more depth and volume and to the hair, so this casual up-to-the-minute short haircut is also great for giving fine hair some extra oomph!
Evangeline Lilly Short Haircut – trendy short ombre hair -bob cut with bangs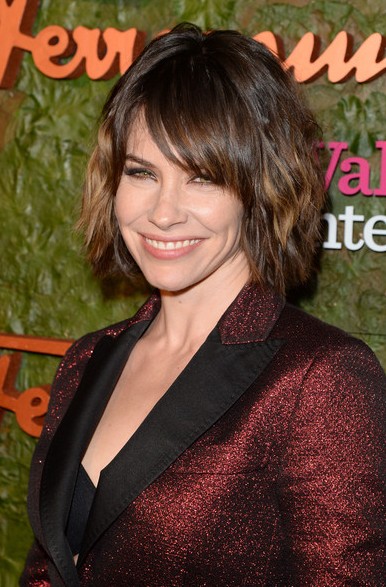 This short bob looks thick and glossy, owing to expert cutting, highlighting and styling and it works well on medium- to fine-textured hair. The cut has long layers, with some shorter tresses cut around the face to soften the line. The smooth side-swept fringe is sleek creating an attractive contrast with the lightly defined waves that add interest and volume at the sides. The light brown shade matches well with Evangeline's pale skin tones, and the lovely highlights at the sides pick out the colour flecks in her hazel eyes and add depth in this beautifully balanced cut. This short ombre hairstyle is great for oval, square, heart face shapes.
Christina Hendricks Short Haircut – Elegant brown wavy hair style for spring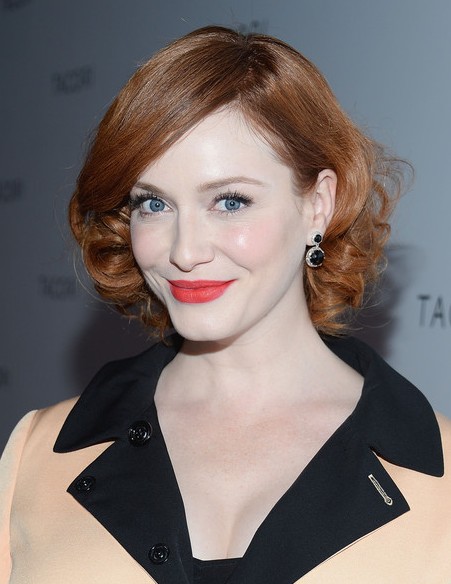 Christina has a fabulous porcelain complexion with blue eyes and that marvellous auburn hair, so she always looks lovely! Here she's showing a nice new take on the asymmetrical look, with a long bob cut which is curled at the ends in a timeless retro style from the '60's. This style can be equally successful on thick, curly, fine and straight hair and for all ages, too. The side parting can be varied to suit different face shapes and there's an attractive creative contrast between the smooth top and fringe and the lively bubbling curls lower down!
Devin Star Tailes Short Hair Style – Modern Haircut – short black hair style for women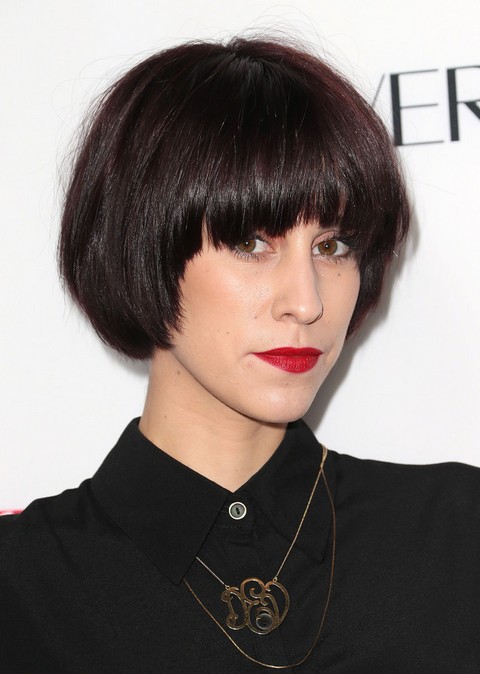 This modern take on the classic basin-cut bob suits Devin really well. Her hair is naturally thick and glossy, which makes it perfect for a precision cut with razored tips to sculpt it into a smooth round silhouette. A thick, full fringe can overwhelm smaller faces but Devin's large eyes and defined jaw are accentuated by this strong shape. And the expertly graduated line around the face has cute razored tips to finish off a sleek look with just the right touch of softness!
Chelsea Kane Short Hairstyle – celebrity short hair trends: chic layered bob cut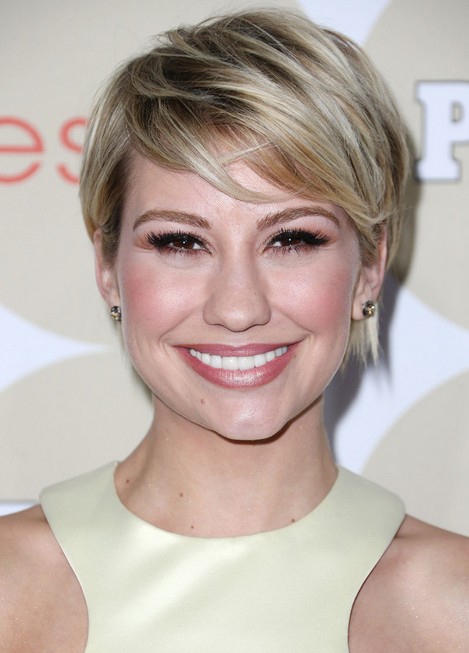 This asymmetric cut with a side-swept fringe is great for balancing a well-defined jawline and chin. The deep parting allows the longer layers to be swept casually over the top to form a softly rounded shape around the head, balancing Chelsea's slightly pointed chin. And the mixture of warm and cool blonde shades goes well with her pale skin tone and those lovely brown eyes! Find more short haircuts here.
Bria Murphy Short Hairstyle – short black cut for black women – curly pixie cut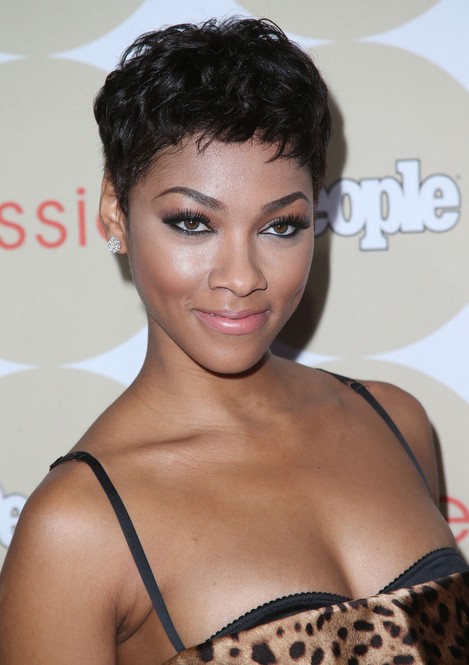 This lightly curled pixie cut accentuates Bria's lovely face and beautiful brown eyes in a flattering, contemporary style. The side points are expertly cut to show the ears and emphasise the cheekbones. And the tousled top and short wispy fringe keep this short style soft and pretty.
Abbe Raven short hairstyle – latest popular bob haircut for mature women – layered bob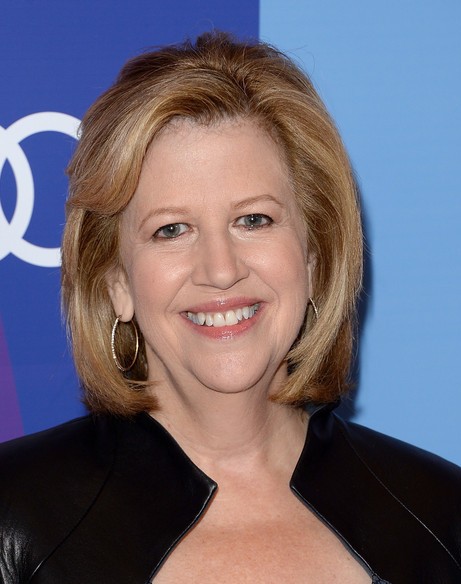 This is an excellent example of how much a haircut can flatter the face and the right colour for your individual skin tone can instantly lift and brighten. This medium bob creates a lovely curved frame around Abbe's face with the sides gaining volume and adding width at eye level. This makes it a good style to balance out the length of your face shape if required. The ends curve in just below the chin, echoing the line of the jaw for a nice harmony of shape, too. The crown is lightly teased for attractive height and the off-the-forehead fringe has a smooth wave to soften the line beautifully!
Stana Katic short hairstyle – stylish short wavy bob hair style for women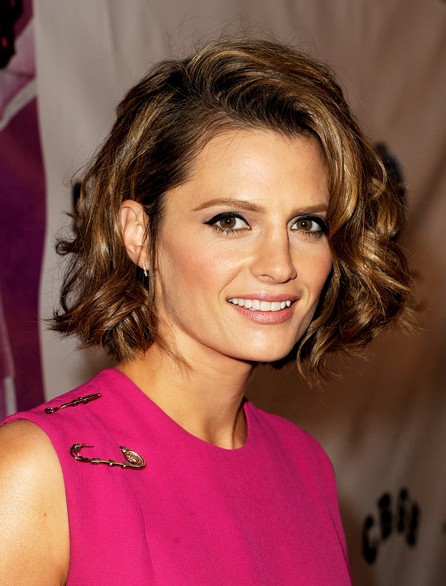 This is a super-cute way of styling a medium bob in lovely large waves finishing at the magic chin-length, that's always so flattering. This is an easy-care style for anyone with thick, curly hair and has the asymmetrical profiles we all love! So from the parting, the hair is just swept over the head by hand and allowed to fall casually in gorgeous, golden- brown waves around the face and sides. Golden or copper highlights running through all hair colours look fabulous and a big trend -2016!
Maria Bello Short Hairstyle – Tousled curly bob hair style – chin length haircut for women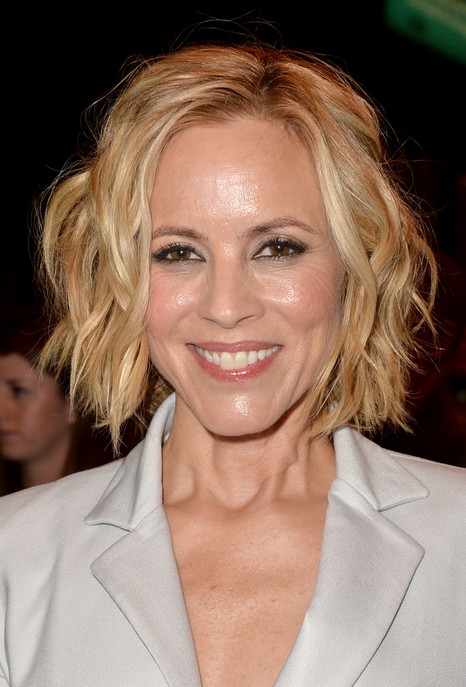 Here's another version of Maria's edgy, twisty chin-length bob. The long layers have spiky textured ends to contrast with the soft and pretty golden blonde shades that really bring out the brown of her eyes. And those angular, bendy side twists add lots of volume and width at the sides in a look that's really quite futuristic. It's great for naturally curly hair and anyone who wants an easy way to add volume to fine hair, too! Find more fantastic bob hairstyles here.
Sofia Coppola Short Hairstyle – latest most popular short ombre hair style for spring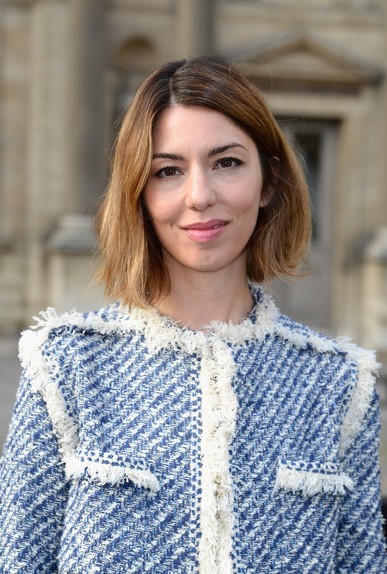 This timeless chin-length bob is a classic style that suits most face shapes, because the position of the parting can be adjusted to create different face-balancing effect. Sofia has brought the style right up-to-date with a sombré colour technique, in pretty golden shades that highlight her dark eyes perfectly. Sombré is the 2nd generation ombré and more subtle. It very gently moves the colour intensity from darker at the top down to an almost imperceptibly lighter tone at the ends. Hair looks more natural and very trendy as you can see! Find more ombre hair styles here.
Julianne Hough Short Hairstyle – sexy short shaggy hair style with lowligths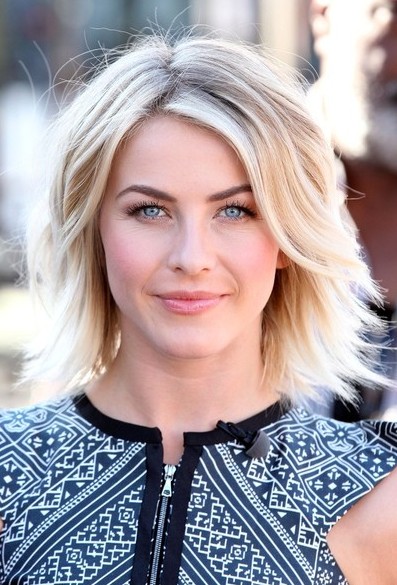 Sometimes simple is the best way to highlight a nicely proportioned face and brightly coloured eyes. And this style is a great example of less is more. It's a short bob, cut in long layers, with shaggily textured ends and dark lowlights to give it lots of contemporary bite. The styling is about as easy-care as you could possibly get and this lightly tousled casual look in gorgeous pale wheaty-blonde is a very face-flattering and trendy haircut! This short hair style is perfect for oval, heart, square face shapes. This short haircut is perfect for thick hair! And here are more short hairstyles for thick hair.
Milla Jovovich Short Hairstyle – Fashionable Short cut for women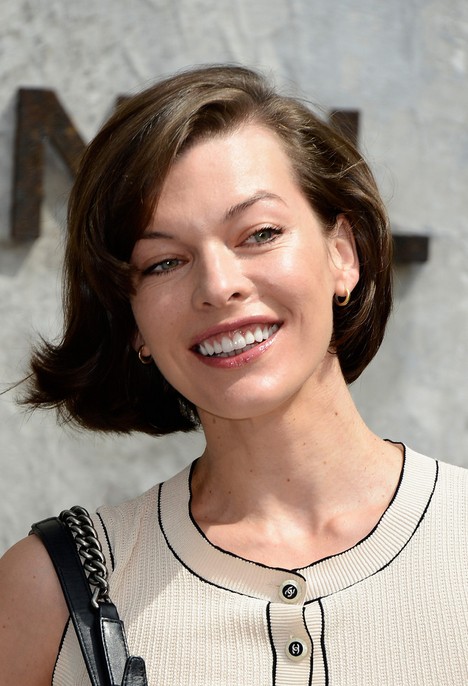 Here's a new look – it's the same colour all over! We haven't seen that for a long time, but Milla loves the short bob and knows that it's one of the most versatile styles you can get. Milla's thick hair is perfect for this easy-style haircut with an asymmetric touch and a casual contemporary vibe!
Miley Cyrus Short Hairstyle – Deep side parted short straight pixie cut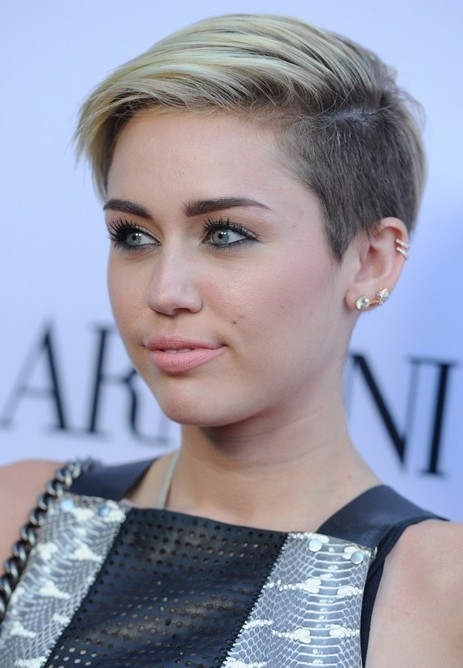 Miley has worked hard to shrug off her Hannah Montana child actor image and launch herself as an international pop singer. And a big part of that transition was choosing a hip new look that marked her out as a contemporary style icon. This is just one of the many styles her versatile short cut lends itself to, with an edgy undercut on one side tinted the same brown as her eyebrows. From the deep side-parting, Miley hair is simply brushed over the top to create a touch of flattering height on top. And for maximum impact, the cool bleached-blonde on her longer layers marks her out as an edgy, urban fashionista! This short hair style is perfect for oval, square, heart face shapes.
Katherine Kelly short straight hairstyle – classic bob cut – best short hairstyle for thin hair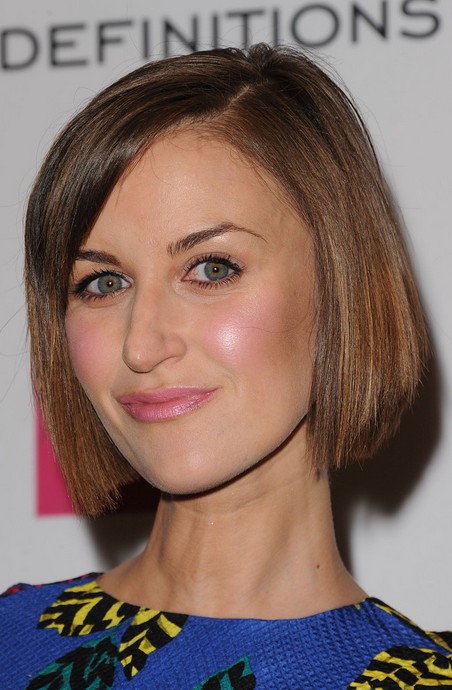 You can't beat a beautifully executed precision cut to create a futuristic 'cool, calm and collected' image. The bob has been expertly cut into a geometric look but softened by the pretty colour and the 'wedged' layers at the sides. These create a curving-in shape about an inch from the ends to flatter the lips and chin. The subtly mixed shades of copper-brown flatter Katherine's attractive grey eyes with amber flecks. And the delicate colour blossoms into lighter rose-gold and pale copper highlights further down showing why sombré looks so fresh and exquisite!
Katharine McPhee latest short hair style – tousled curly ombre bob hair style with wispy bangs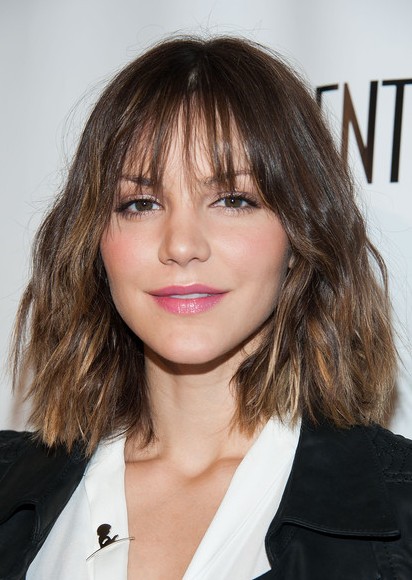 Here's another great new look for fine or medium textured hair that creates a totally fresh triangular shape around the head and neck. The lovely wispy fringe is very soft and the long length keeps it trendy, as it focusses attention on Katharine's clear brown eyes. The sides have a few long layers with a fabulous choppy texture at the ends added by heavily textured tips. The sombré colour is beautifully applied with pale copper and pale golden blonde highlights added for a subtle light-reflecting effect that adds depth and texture to the broken wave movement. This short hair style is great for fine hair.
Jess Weixler's short hair style – classic short straight bob haircut – best short hairstyle for thick hair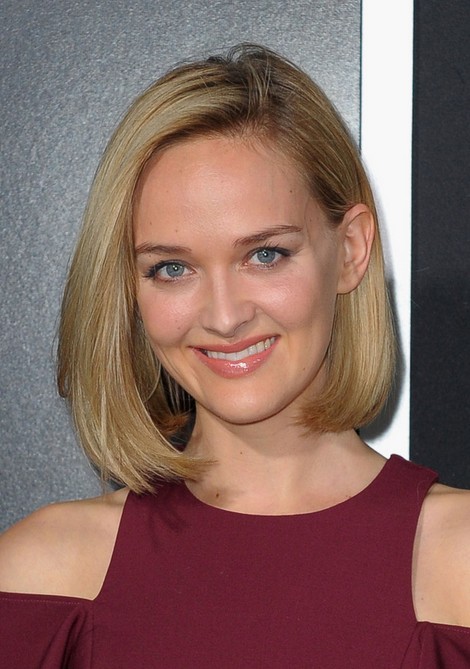 This is a great style for a long to short cut and colour makeover if you have thick hair! This sleek bob is a classic that is always in fashion and popular for its ease of styling, too. This cut has one of the latest neutral blonde shades, shot through with very fine lighter highlights and a touch of medium blonde around the roots. It's a very chic and face-flattering choice!
Helen Mirren short hairstyle – short haircut for women age over 60 – short hairstyles for fine hair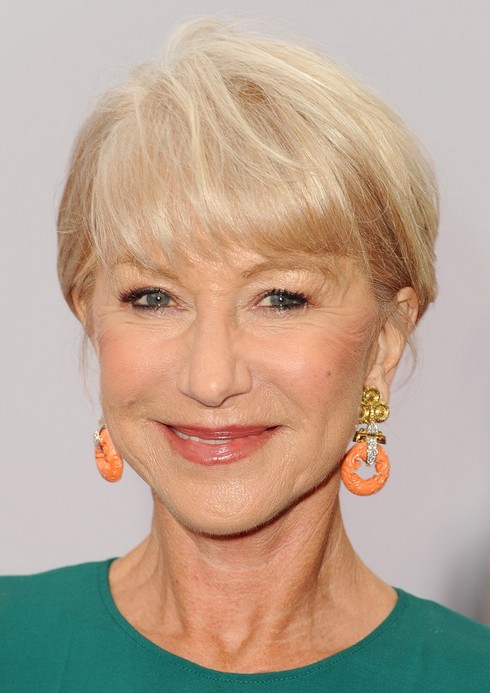 Helen has been at the peak of her acting career for many years and shows no signs of slowing down. And many women follow her hairstyle choices each season, because she has a great eye for a flattering cut and colour. This short cut looks beautifully soft owing to the long, wispy fringe with tapered tips and the subtle shade of pale blonde. Always at the forefront of new trends, Helen's style shows a perfect sombré technique moving the colour down from palest blonde to a warm medium-blonde shade at the ends. This is a great style for fine hair and the perfect way to add subtle colour to white or grey hair for a very soft and contemporary look!
Giuliana Rancic short hairstyle – Trendy Side Parted Sleek Asymmetric Bob Haircut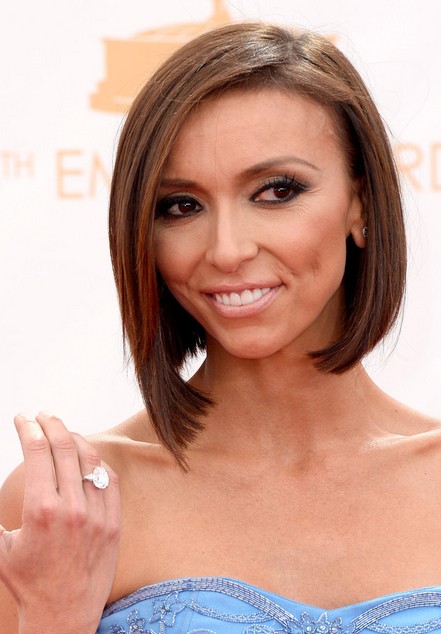 This asymmetric bob haircut is a super sleek and sophisticated look. It's a breeze to style and will keep its beautifully cut shape all day long. The uneven lengths on each side add a nice touch of individuality and create a confident image. The warm, dark blonde colour has a pretty copper red highlight in a shorter layer around the face drawing attention to Giuliana's enormous brown eyes. This is a great haircut to minimize width and make the face appear longer.
Charlene Wittstock short hairstyle – elegant short sleek hair style for formal occasion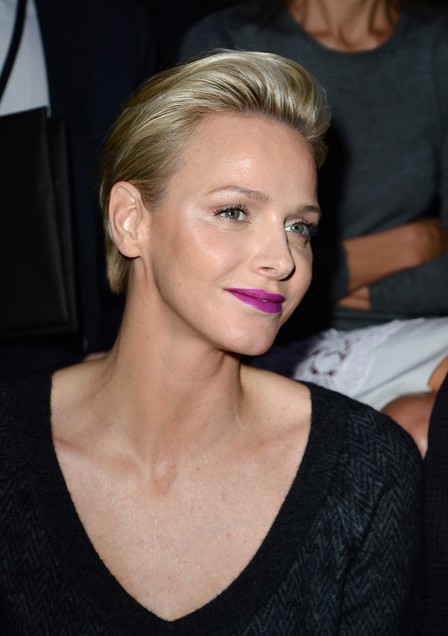 This lovely off-the-face style is perfect for showing your confidence and contemporary style. The hair is lightly layered to achieve lots of volume on top and allow the smooth sides to be tucked behind the ears to accentuate the profile. The trendy colour technique mixes light and dark, cool-blonde shades, which add movement and dimension to a style that really makes a stunning fashion statement.
Alyssa Miller Short hairstyle – cute celebrity short haircut – tousled curly bob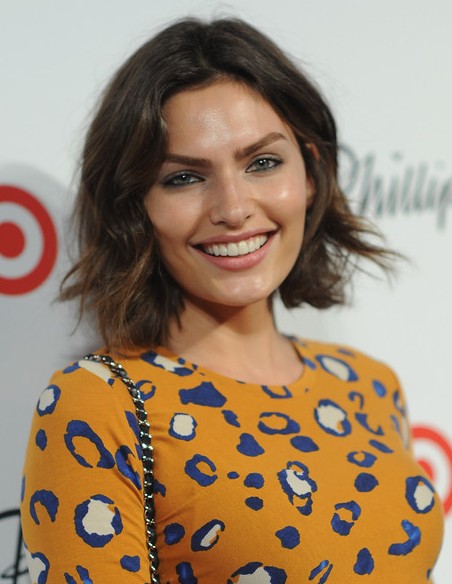 If you are tired of spending hours drying and styling your long hair, but not really keen on short hair take a look at this new cut! This bob could be the perfect new look for you. You keep the same styling around your head but add lots of natural volume and width by cutting off the longer length. The result is this style worn by Alyssa who looks confident, casual and in control. The style has a trendy centre-parting with an attractive wave accentuating the beautiful contours of Alyssa's face. And with this lightly tousled finish you won't need to be constantly checking the mirror! Find more soft wavy hairstyles here.
Nathalie Emmanuel Short Hairstyle – stylish short curly hair style for oval, heart, long face shapes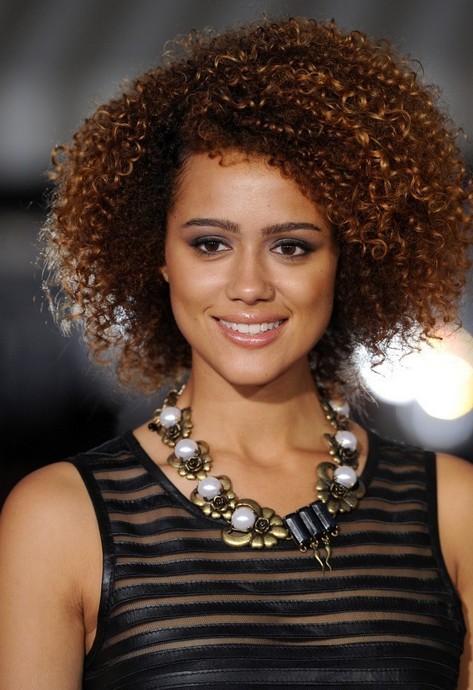 Doesn't her hair look gorgeous in these fabulous twist-out curls! This haircut shows an expert cutting technique that has created an almost sculpted look and a totally asymmetrical shape. It's fresh and flattering – adding amazing height and volume at the sides, but styled to place Nathalie's pretty face right in the centre. The coppery-gold highlights add warmth and really accentuate the beautiful spiralling curls that have such fabulous depth and texture!
Megan Boone Short Haircut – Cute short straight hair style – pixie cut with side swept bangs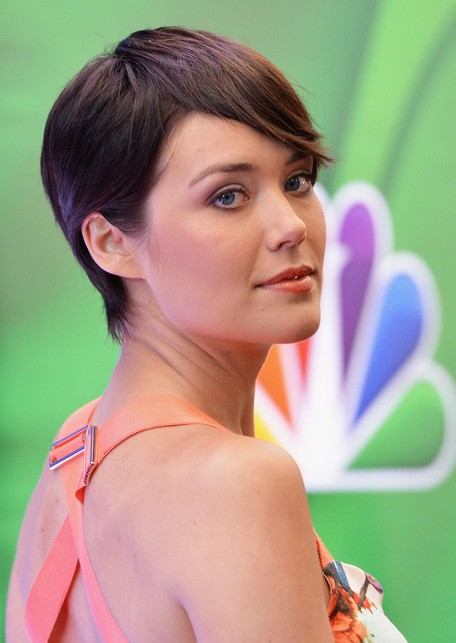 This simple short cut is given extra appeal by the forward movement from the crown which continues into the trendy long fringe. The style is asymmetrical with length of the layers graduated out from the shortest section around the crown. Beneath the blurred side-parting one side is tucked neatly behind the ear. This leaves a completely bare profile which shows off Megan's pretty facial features and her nicely defined jawline. As this style isn't cut short around the ears, it's a versatile haircut that can be curled, waved and styled into several contemporary looks for busy – but stylish – women! Find more short pixie cuts here.
Katharine McPhee short hairstyles – cute short ombre hair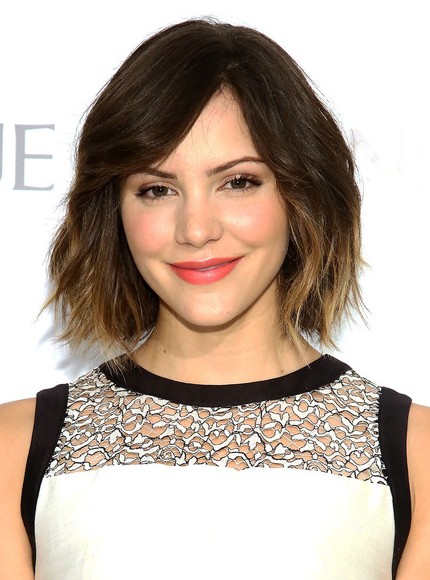 This is one of our favourite new colour techniques shown here on a simple, but so flattering, bob cut! It's so youthful and contemporary, without being difficult to achieve or too extreme for everyday wear! The parting is slightly off centre, which suits Katharine's oval face shape well and the slightly asymmetric fringe is divided to show a little of her forehead to avoid a too-heavy full fringe. The layers are long with those lovely wispy, spiky tips that add an ultra-modern vibe and then sombré highlighted in harmonizing shades of dark blonde. The scrunched ends create extra volume in fine hair and the lighter ends give the visual illusion of thicker hair, too!
Kate Micucci short hairstyle – cute hairstyle for girls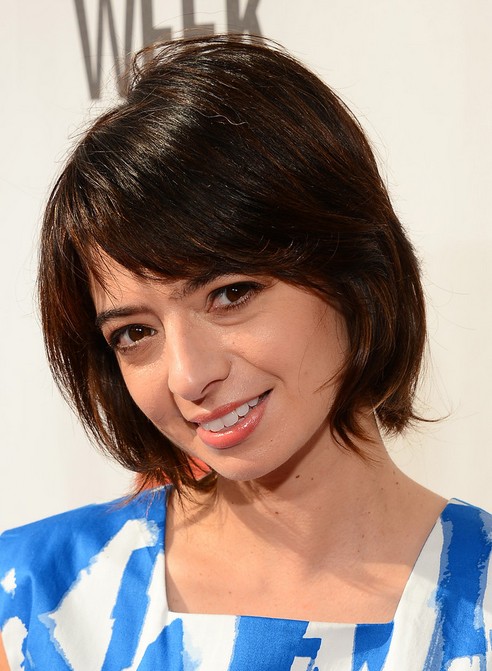 Here's how to get control of your coarse thick hair and look sleek and smoothly styled whatever the occasion! Kate's thick hair has been razored into a chin length bob with lots of the weight taken away from the sides, to create a lovely round shape that's sculpted in for flat sides. The shorter top layers give lots of attractive natural volume at the crown and show off Kate's healthy, shiny hair. This is a good way to balance out a face shape that has too much width at cheek level and draws attention down to the pretty wispy tips that accentuate the mouth and chin.
Julianne Hough short hairstyle – cool & stylish messy haircut with long bangs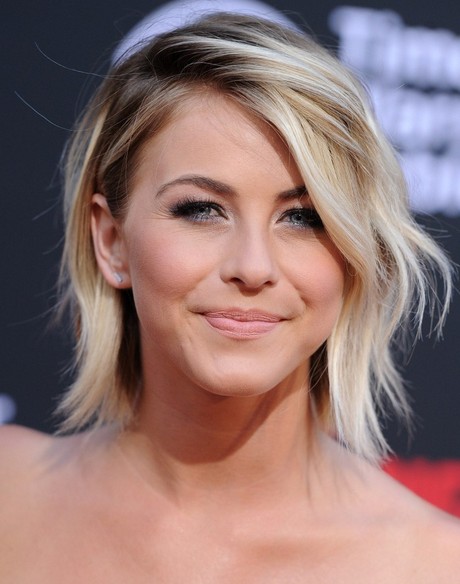 Julianne Hough always shows the way with her highly contemporary haircuts that can be styled in a variety of different face flattering ways. This choppy bob has heavily textured tips and a very modern look emphasised by the urban chic dark brown roots. In addition, the platinum-blonde shade gains lots of depth and dimension from the perfectly placed dark-blonde lowlights. The choppy bob is another great style for fine to medium-textured hair that is a dream to style and always looks new and trendy!
Jessica Szohr short hairstyle – deep side parting short hair style with waves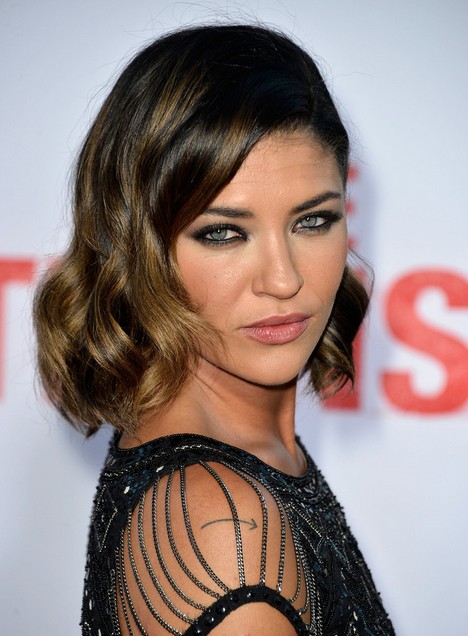 We love the way dark hair can be given fresh life with some subtle golden highlights avoiding the harsh look of blonde highlights in brown hair. This medium-length bob has just a few long layers to create extra volume at the ends of the hair. The off-centre parting divides the asymmetric sides, with the longer side just covering one corner of the forehead. Most of the forehead is visible, making this a great choice for anyone with a low forehead who wants to add length to their face shape. And those loose, defined waves are great for adding volume in fine hair!
Halle Berry short hairstyle – Chic razor cut with piecey fringe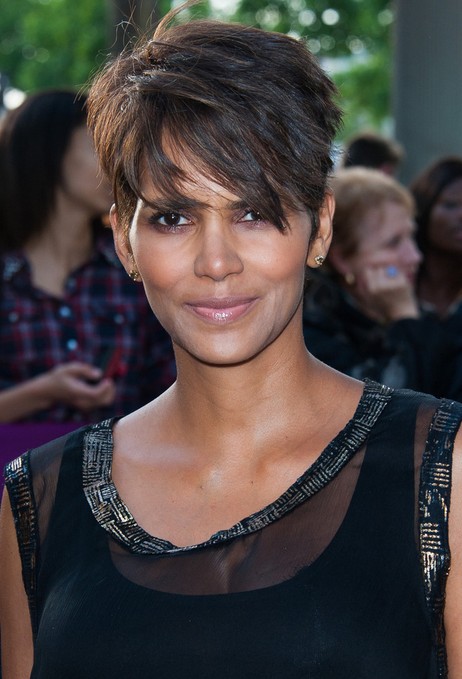 Halle is another excellent hair role model, who never puts a foot wrong. Her hair is razor cut in a geometric shape with heavily textured ends. Then it's styled from a blurred side parting to give a flattering piecey fringe that allows glimpses of the forehead to soften the line. The crisp side points keep all eyes on Halle's amazing cheekbones. This style is great for thick or coarse textured hair that needs firm control. And it's one of those great makeover styles that always leaves the wearer looking younger!
Elsa Pataky short haircut – simple easy short hairstyle with long side swept bangs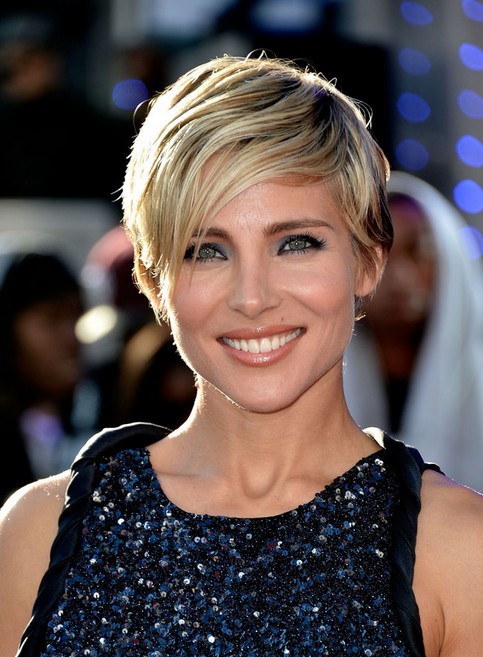 Here's another fabulous style for fine hair, that's simple to 'wash and go' and no bad hair days! The deep side parting creates an attractive asymmetry, which we can't get enough of because it can be adjusted to fit and flatter every face shape, and some clever colour patterns. The dark roots are lightened to an edgy pale blonde and then trendy copper highlights are added. This accentuates the defined strands of hair over the head and sides in a completely new way!
Ciara Short Hairstyle – Sexy thick, naturally curly hairstyle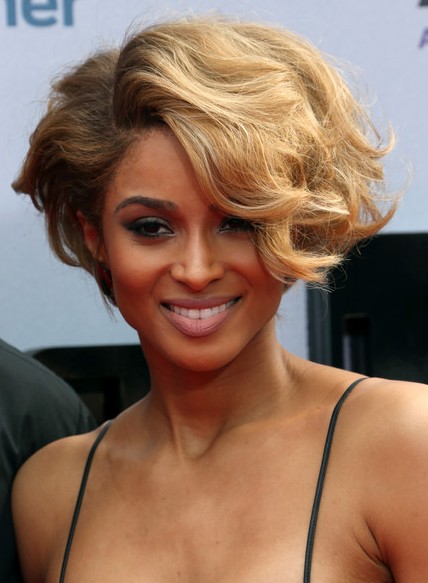 This full-bodied look is the answer to how to control thick, naturally curly hair and look amazing every day! The bob has long layers at the front and sides gradually moving shorter to be shaped into the nape of the neck. The asymmetric side parting allows thick hair to create attractive natural volume on the top and sides. And the long waved fringe curves in at just the right places to frame Ciara's eyes and draw attention to her lovely face. The gorgeous colour is one of the latest golden shades and suits her warm skin tone beautifully! Do you like these curls? Here are some tutorials for curls without heat!
Chelsea Kane Short Haircut – Flattering short bob hairstyle with side swept bangs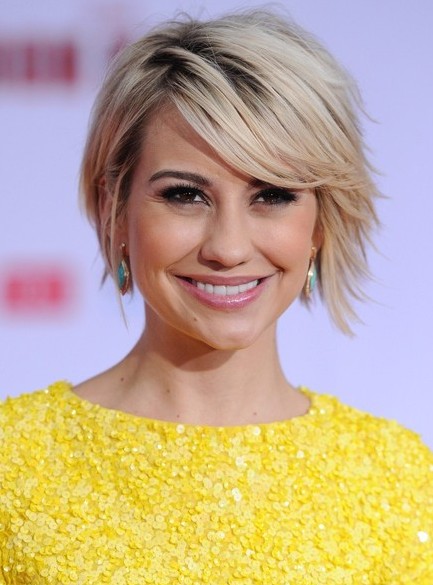 Perfect for looking up-to-date on any occasion, this flattering short bob is also very simple to wash and style. The hair is razor cut in layers ending at the chin and has edgy dark roots under a pale, neutral blonde. The layers create a fabulous asymmetric silhouette on the longer side and tucked carelessly behind one ear, this look is casual contemporary chic at its best!
Leigh Lezark Short Haircut – Cute simple sleek short bob hairstyle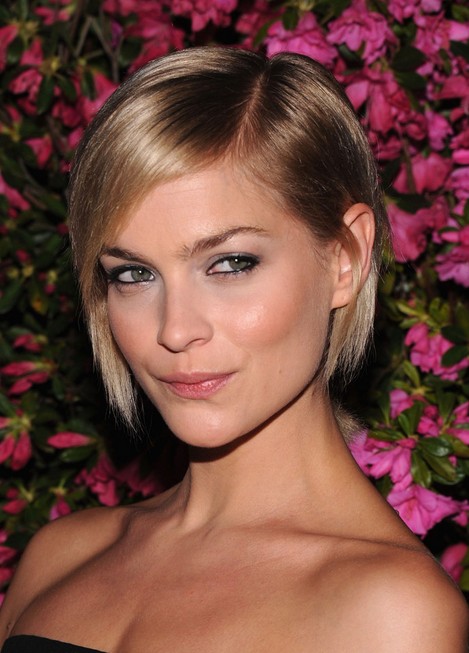 Following the trend for short, simple cuts this is the way to flatter your face and display your fine, silky hair to full advantage! The short bob has expertly-cut layers shaping it into a lovely graduated curve which ends at chin level in delicately textured tips. This fabulous beige blonde shade is the perfect complement for grey eyes. It's one of the latest hair colours which add an almost metallic shimmer to fine hair and make the look very soft and appealing. And the good news is that this short hairstyle looks great on women of all ages, too!
Helen Mirren short haircut – pink short pixie hairstyle for women over 60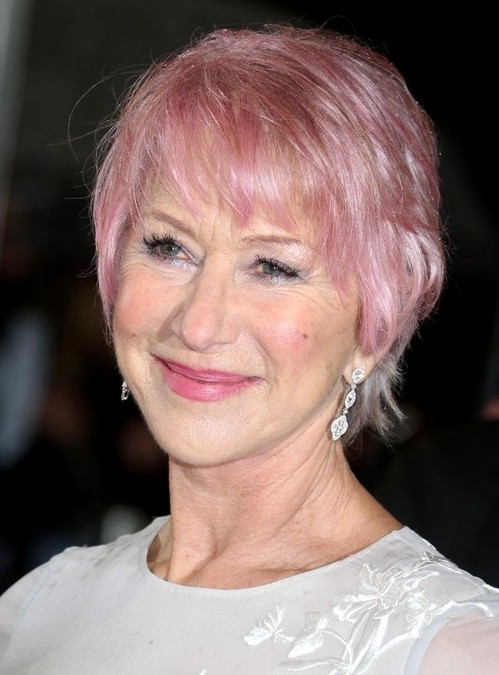 This, now iconic, photo of British actress, Dame Helen Mirren, is an excellent example of how mature ladies can still be trendy and playful with their hairstyles. The shape and layered cut suits fine hair as it makes it easier to fluff it up when you want to add volume and vary your look. The lightly side-swept fringe has textured tips and is styled to show the forehead underneath in a piecey finish. And the cute pink 'colour-wash' doesn't look like a silly novelty colour, but harmonises beautifully with Helen's silver-white hair and adds warmth to her pale skin tone. Complemented by pink blusher and lipstick, this is a very pretty and feminine look for women of all ages!
Brittany Snow short hairstyles – chin length straight bob hairstyle with lowlights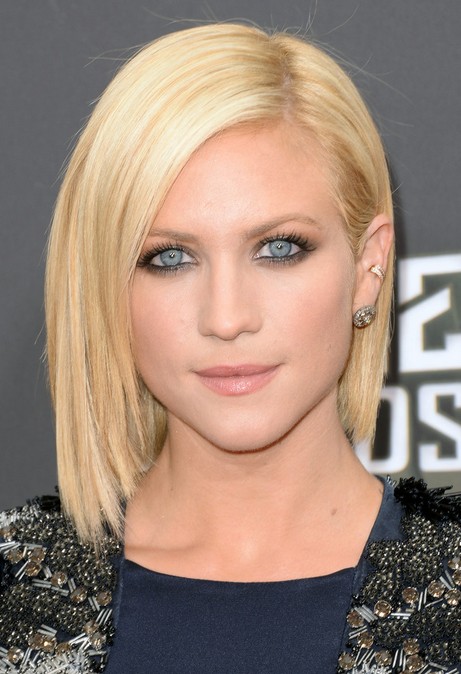 With bright blue eyes like Brittany's it's a good policy to choose a simple style that keeps the focus on the face. This style combines the pale blonde that's softer than the harsh, platinum-blonde and dark roots look, with some very subtle golden blonde lowlights. The effect adds more colour dimension to the hair and we love the unexpectedly golden roots along the side parting and at the sides! The cut is a medium bob with heavily textured ends to add an urban vibe and graduated up towards the face to emphasise the lips and Brittany's pretty chin!
Sami Gayle short hairstyle – chic pixie with side side swept bangs for thin hair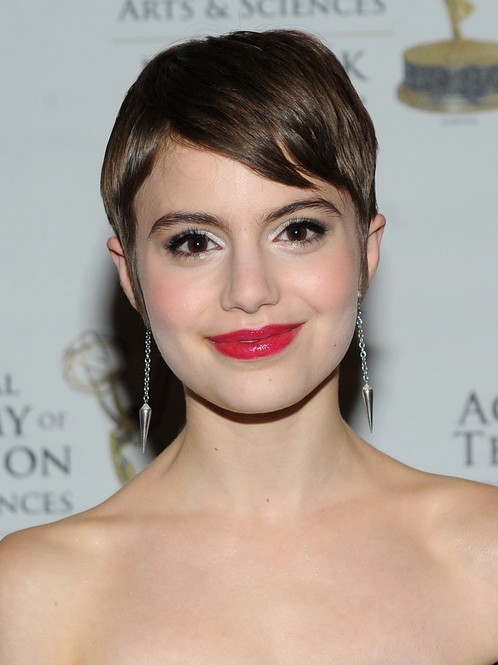 Here's another of Sami's lovely short cuts showing how to keep all the focus on the face to emphasise the eyes and create a youthful look. In this version, you can see how the short layers and side parting create more volume around the top of the head and show the attractive silky texture. The pretty side-swept fringe is broken to soften the line and add a little imperfection to contrast with her otherwise perfect face!
Sami Gayle Short Hair Style – simple easy daily short hairstyles for women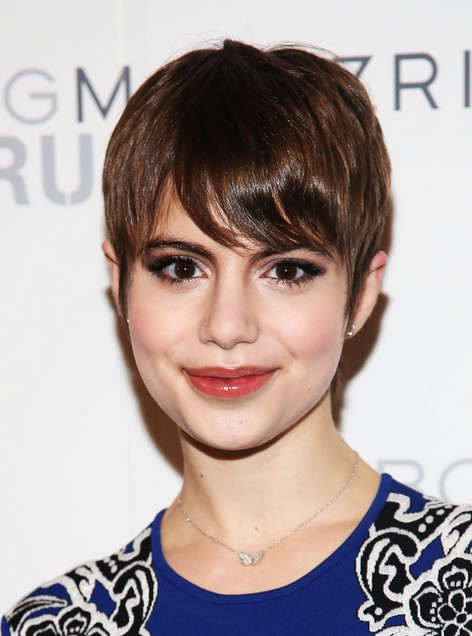 With those beautiful Bambi-eyes, Sami's simple short cut is the perfect way to show them off. Her fine hair is trimmed into a layered short cut with long points in front of the ears to balance with the long fringe. The trendy fringe is combed down and slightly curved to the side in a piecey style that just hovers over the eyebrows. The end result is sophisticated simplicity which displays Sami's silky soft hair and beautiful porcelain skin very naturally. Find out the latest most popular 55 pixie cuts for short hair.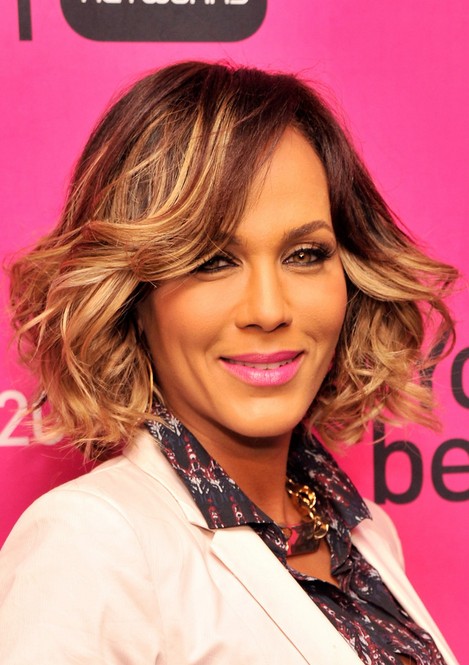 This interesting style has a lot of good points, but breaks one of the important rules of hair styling – don't create a diamond shape around a long face. However, the colour technique is fabulous, mixing beautiful gold highlights and ombré, below warm brown grown-out roots on top. The lighter shades and trendy tousled twists add the illusion of width at cheekbone level, which is great to balance out a long face! Where this style goes wrong is to place the parting too high up the head, so Nicole's already high forehead looks even higher and totally out of proportion. With more fringe covering the forehead or a lower side-parting and fringe swept across the forehead, this beautiful style would suit Nicole's long face-shape perfectly!
Morena Baccarin short hairstyle – cute short curly bob hair style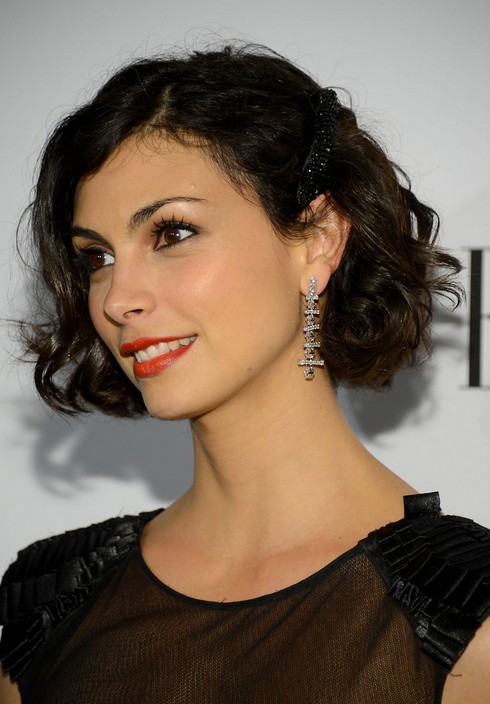 Morena's always has lots of lessons in French chic to share with her fans. This blunt-cut bob makes the most of her thick naturally wavy hair, to create a beautiful dark frame around her face which accentuates the brown of her pretty eyes. This is a great way to get control of thick, curly hair so you can style it quite easily or not at all and just add a pretty barrette hair-slide to dress it up for special occasions!
Maggie Gyllenhaal short hairstyle – layered chin-length bob for busy moms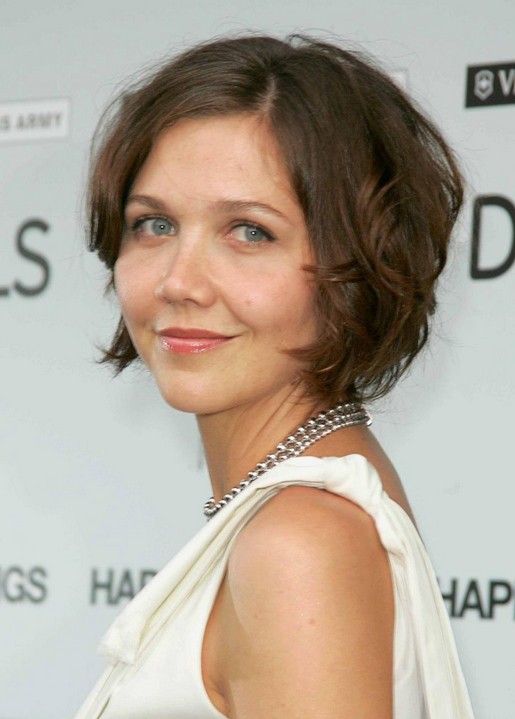 Short cuts can also be very soft and feminine and here's a great example of that. Maggie's hair is cut into a layered chin-length bob, which is about an inch shorter at the back to add volume and emphasise the attractive forward movement. The off-centre parting is a little crooked and along with a couple of defined waves at the sides, keeps the lightly tousled finish flattering and casual.
Vanessa Hudgens Short Hairstyle – cute chin length black bob haircut with waves for girls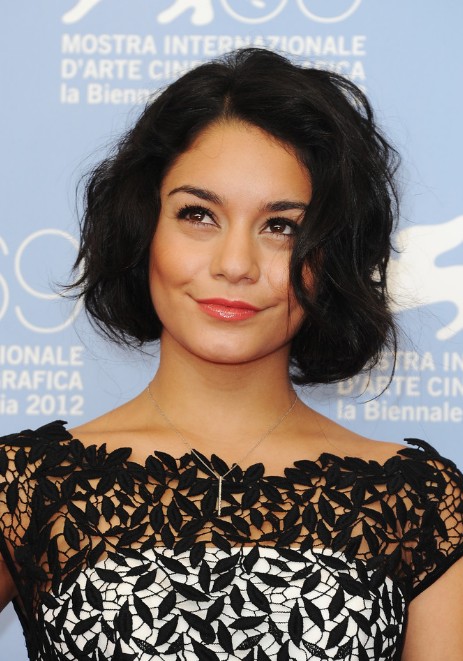 Thick or coarse hair types are easy to tame when you have the right haircut to bring out the beauty of your locks. This chin-length bob, with a side parting and a touch of relaxed waviness, creates the perfect frame for Vanessa's glowing, skin tone and accentuates her beautifully dark eyes!
Michelle Williams short haircut – chic boyish hairstyle for women – pixie cut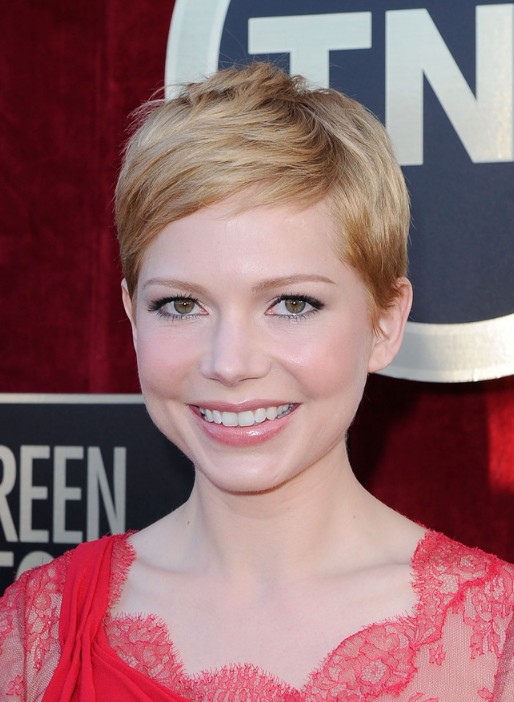 When you have a skin as perfect as Michelle and those lovely hazel eyes, a pixie cut is the best way to keep all focus on the face. Michelle's pixie is styled to create lots of texture and movement on top and that sweet side-swept fringe adds interesting asymmetry. With a subtle golden blonde colour technique to match her porcelain skin, Michelle looks totally trendy at this elegant red carpet event. This is a great short hair style for round, oval, heart faces.
Megan Mullally short hairstyle – short red razor cut with layers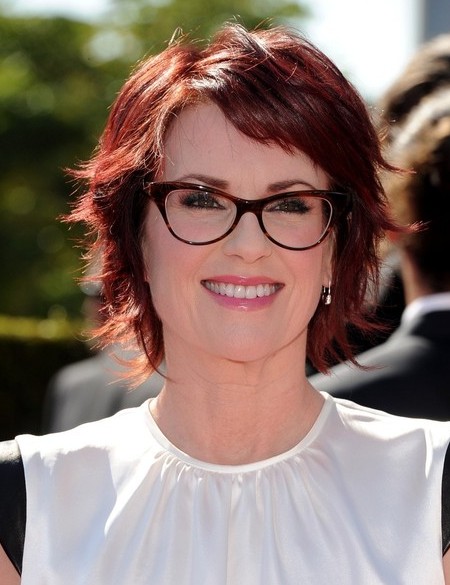 Megan shows her flair for contemporary style in those strongly-shaped glasses, which are the perfect shape and shade to flatter her face. But they call for a strong hair colour to get the perfect balance that we see in this picture. Megan's rich, deep auburn hair colour is an excellent choice for her pale skin tone and matches her glasses exactly. Overall, the slightly shaggy cut with trendy textured tips creates a fabulous spiky silhouette and the short, side-swept fringe ensures that Megan's lovely face is absolutely on show!
Marion Cotillard short haircut – chic brown bob hair style with waves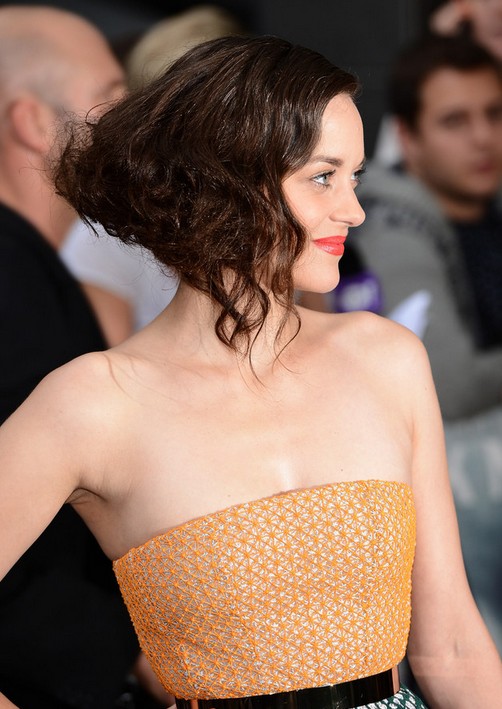 Ultra-cool is the theme for this unusual, futuristic haircut which makes the most of Marion's thick dark hair. The bob is strongly asymmetrical with a sharply angled line running down from the exaggerated volume at the back down to the trendy, defined tresses that create a fabulous profile in a truly original look.
Karlie Kloss short hairstyle – cute brunette bob hairstyle with long side swept bangs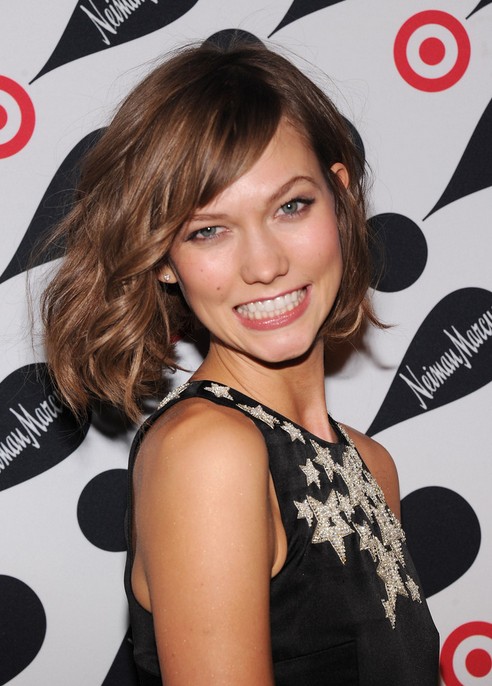 Karlie is undoubtedly a major style icon for anyone who loves high-energy individuality! This bob is cut to just past the chin, without layers, except in that cute asymmetric fringe ending just above one eye. This creates a clever beauty accent for her beautiful blue eyes. The asymmetry continues in the twisted strand on one side making a loose ringlet and the careless way the other side is just popped behind the ear in a relaxed young look! Great for a long to short makeover, with the colour pepped up with some subtle, warm dark-blonde highlights.
India de Beaufort short hairstyles for curly hair – chic messy short curly hair style for women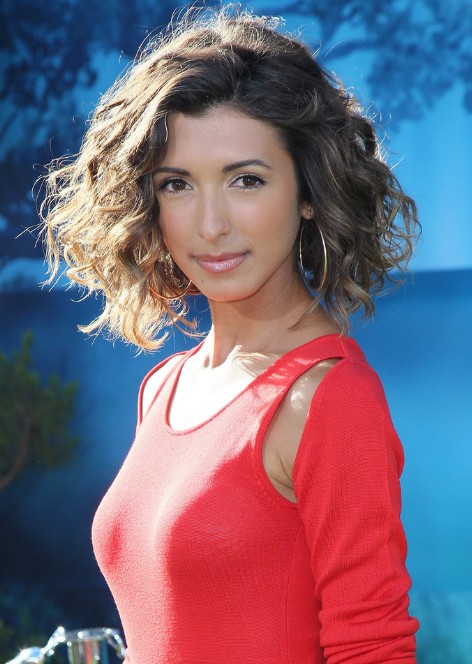 Wonderful waves like this are suitable for taming naturally curly hair into a contemporary look and for giving fine-medium hair more volume. The bob is cut to finish just above the shoulders and then the twisty waves take up the length, so the hair falls prettily around the chin and neck. And just look how those flattering waves falling in the perfect position to draw attention to India's brown eyes and flawless complexion!
Halle Berry short haircut – spiked messy short black pixie cut for women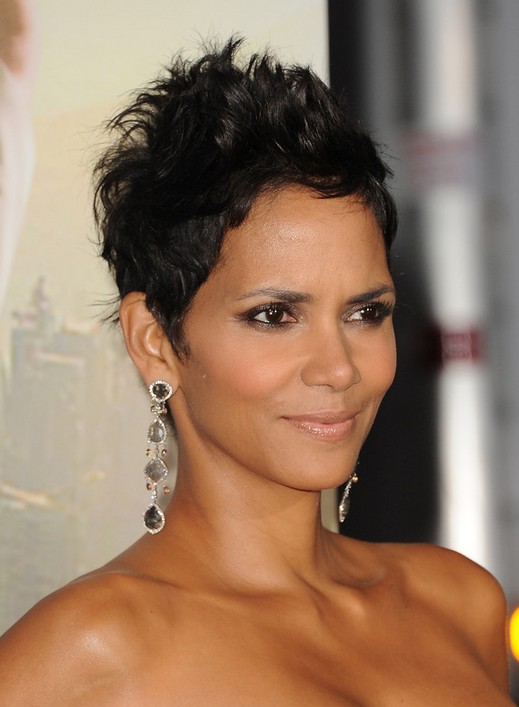 Halle knows exactly what suits her sophisticated style and dainty facial features, and this evening version of her favourite pixie cut has just the right touch of contemporary chic. The extra height on top is very attractive and the tiny touch of fringe softens the forehead line. Notice how the soft, side-points are cut to accentuate Halle's high cheekbones, making this apparently simple haircut into a really face-flattering choice!
Emma Watson short haircut – popular straight short cut with side swept bangs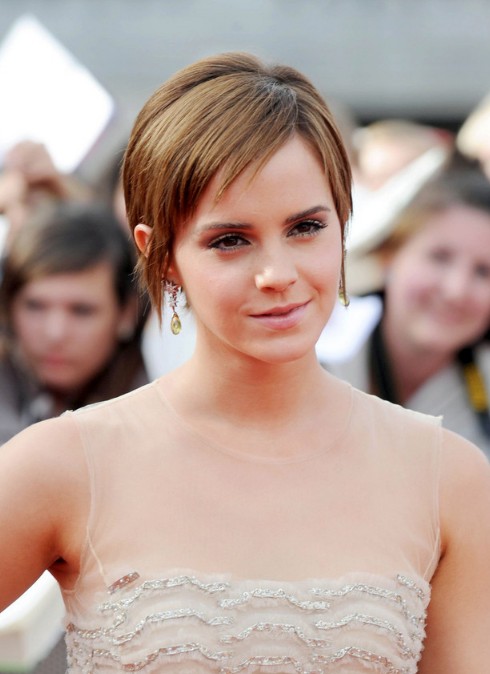 One of the best ways of highlighting a glowing complexion and a young face is to frame it with a sharply razored haircut. The clever creative contrast between the geometric lines in Emma's trendy hairstyle, and her soft and pretty face, complements her beauty look perfectly! Find the latest most popular pixie cut for women here.
Chelsea Kane short hairstyle – chic blonde bob cut for women – daily hairstyles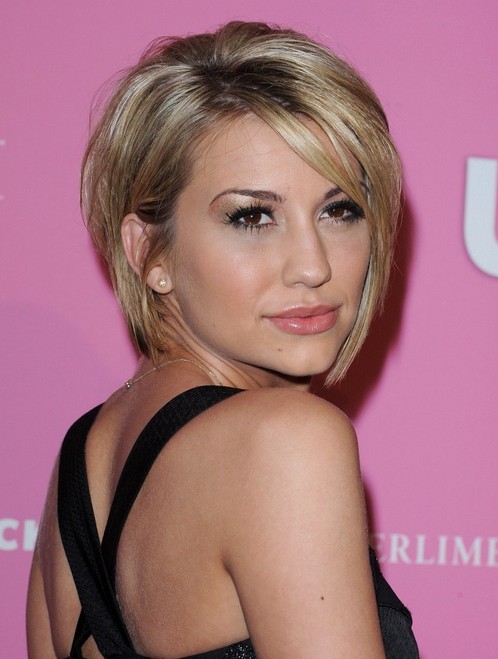 This beautiful bob cut looks almost sculpted from pale gold metal. The graduated bob is a timeless style which always looks highly contemporary, because of the sharp angles from back to the longest lengths at the front. With one side pushed behind the ear and the piecey fringe creating a golden strip ending at one beautiful brown eye, this metallic-blonde cut and colour is flattering, young and totally now!
Cameron Diaz short hairstyle – popular short hair style for women age over 40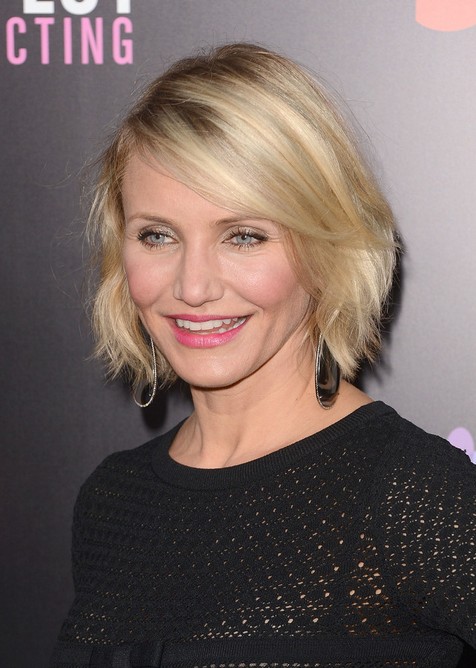 Cameron has lovely shaped eyes, which are also an unusually light blue, so she knows that this chin-length, asymmetrical bob is a great way to keep them in full focus. The deep side parting and swept across styling add springy volume from root lift and the totally trendy mix of pale, neutral blonde shades adds lots of depth and movement in her silky, fine hair.
Anne Hathaway short haircut – cool boyish hairstyle for women – spiked haircut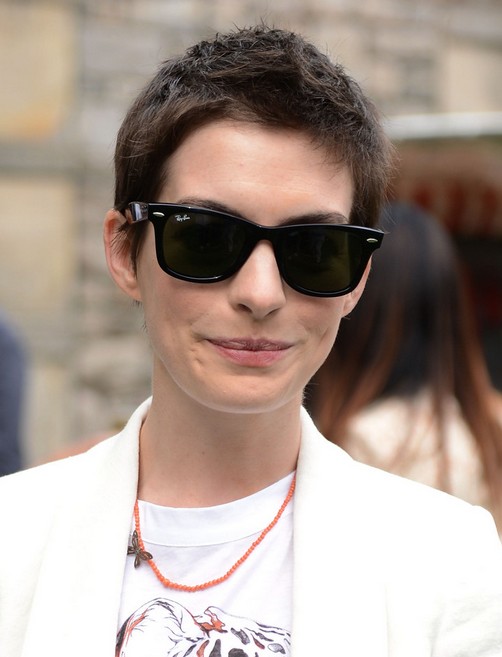 This boy cut is perfectly balanced to frame Anne's face with the two side-points giving a nice feature which links the top and bottom of the face and shows this pixie is a trendy style-setter. The hair is closely-cropped at the sides and on top creating a nice touch of natural body. And the forward styled top has great texture, which ends in a micro-fringe one side to soften the line and add a hint of contemporary asymmetry. Do you like this boyish haircut for women? And here is a gallery of Asian hairstyles for men, check it out here.
Alice Eve short hairstyle – short blonde straight bob hairstyle with bangs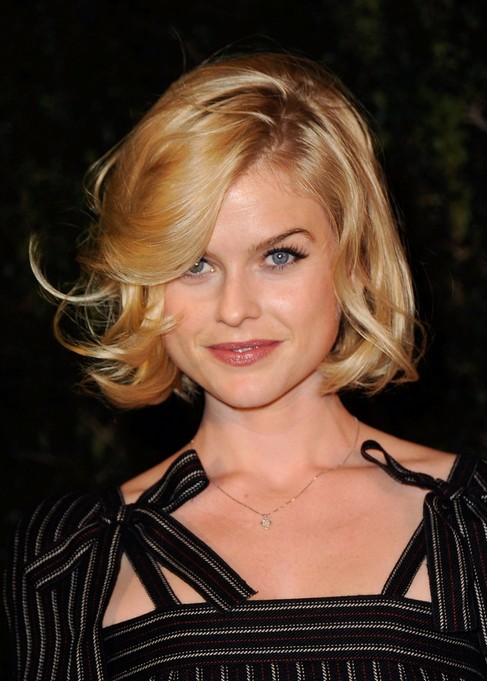 For an eye-catching hairstyle that will ensure you are always centre-stage, brighten up your bob with an all-over blonde shade like Alice. The hair is gently curved under on one side and flipped out on the other, creating a fabulously casual look that's pretty, but not too girly. This style is suitable from most hair types and can really show off fine, silky hair, too. And one thing never changes; men find women with a peek-a-boo fringe fascinating, because part of your gaze is hidden from view. This challenges some men, who will be irresistibly drawn to you by a need to look into your partially veiled eyes!
Ali Larter short hairstyle – short messy bob hairstyle – casual simple daily hairstyle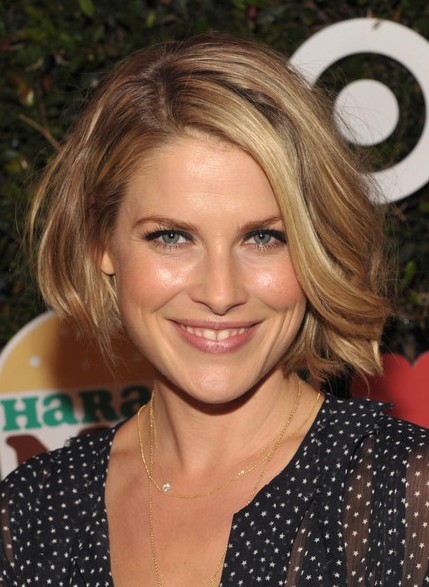 A side-part asymmetric bob like Ali's wearing here is always going to be one of our favourite trendy styles. It's so flattering for all women and the parting can be adjusted to suit anyone's face shape. This bob has a contemporary casually tousled finish and has been promoted to glamorous by the beautifully subtle golden blonde shades that reflect the light and add lots of depth, texture and movement.
Milla Jovovich short hairstyle – casual messy short hair style for summer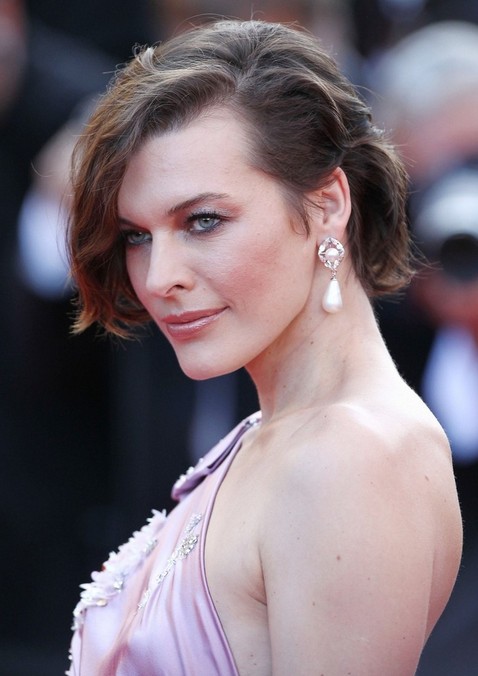 Looking sultry and predatory in this photo-shoot, Milla shows that the chin-length bob is definitely not the safe option for the fashionable 21st century woman! The trendy asymmetrical shape is accentuated by styling the hair beneath the side parting back, flat from the face, revealing a statement earring. And the longer side falls casually down over the face in a cut that could be saying, 'I am woman – watch me roar!'
Lily Cole short hairstyle – romantic short curly hairstyle for wedding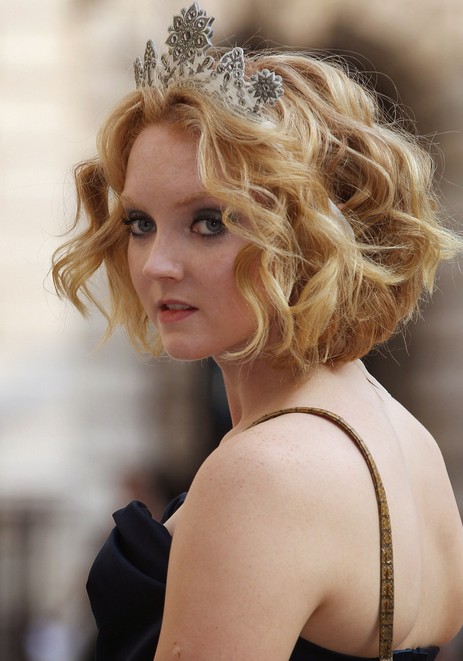 This is another great look for anyone with thick naturally wavy hair who wants a trendy look, that doesn't need lots of expensive styling products or complicated care. The hair is cut in more or less the same length, with the line moving down from the latest short at the back cut which produces lots of attractive volume and a nice, full silhouette. Parted in the middle, with loose, defined waves framing Lily's face looks super and you can easily add some extra glamour with a spiffy hair accessory or perhaps a diamond tiara!
Kara Tointon short hairstyle – elegant Finger Wave hairstyle for wedding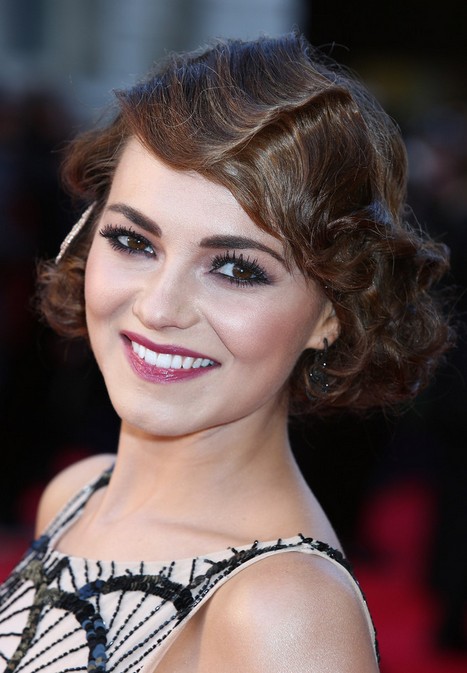 Whether you are a fan of British TV's Downton Abbey, or just love this retro-look seen in The Great Gatsby film this year, here's how good it looks in thick hair with a natural wave. Cara has a deep side-parting with a beautifully defined finger wave running back to the crown. And instead of one of the head-hugging finger-wave styles, Cara's style is very curly at the ends to create an attractive contrast and add lots of side-volume for a perfectly balance silhouette.
January Jones short hairstyle – side view of short blonde bob hairstyle with red highlights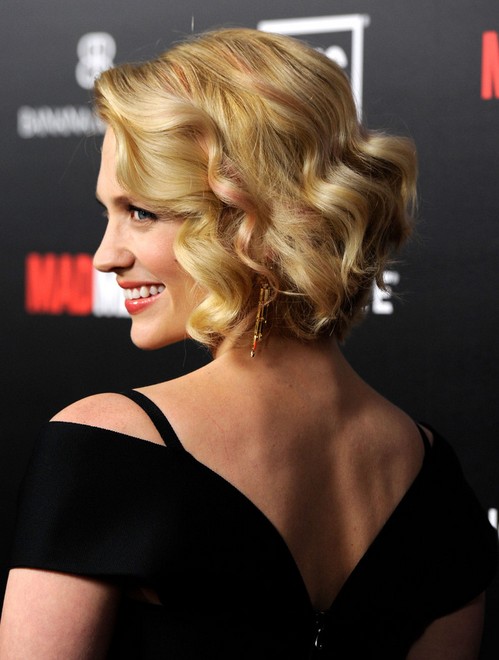 January loves the sexy but chic styles that are so easy to achieve in a bob with long layers. As usual, January's cut is the latest style and the layered, stacked cutting at the back is graduated down to the longer layers around the face. This creates an unusual and attractive amount of exaggerated volume at the back producing a very modern silhouette. With the glamorous medium blonde waves highlighted by pale copper-pink balayage, January gets absolutely top marks for her very appealing red carpet hairstyle. If you don't like this cut, you may like these stacked A line bob haircuts here.
Katy Perry short hairstyle – side parted short straight bob hairstyle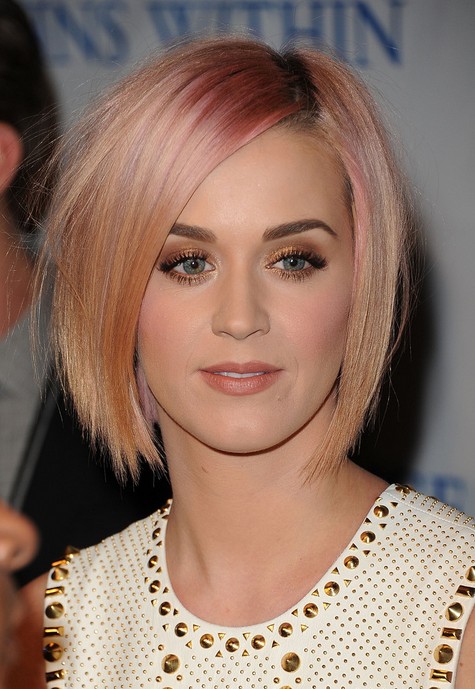 Here's another of our favourite cut and colours from Katy, who's never afraid to set the rainbow colour trends that others follow! The chin-length bob has been sliced and sculpted to create a lovely, face-framing curve, which keeps Katy's amazing eyes right in the centre. The copper metallic eye-shadow is an echo of the fabulous ombré technique, which starts with salmon pink roots and gradually changes into beautiful, copper-gold.
Jenna Elfman short hairstyle – textured short hair style with bangs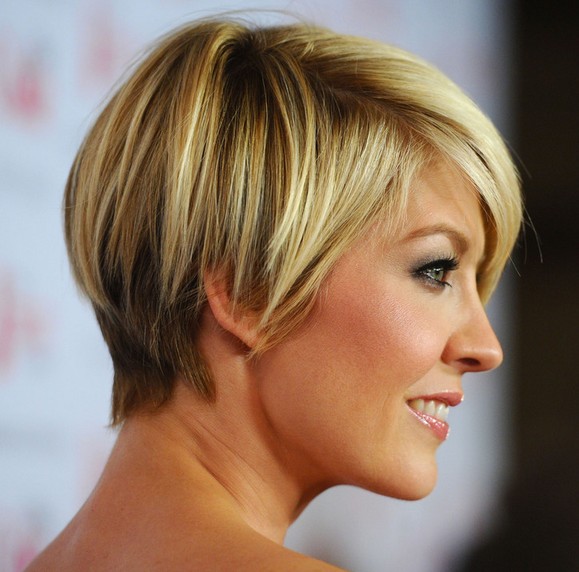 This simple cut is given texture, movement and dimension from the expertly blended blonde and light-brown shades. The layers are long reaching down to the ears, where they are graduated to create a softer line. The smoothness of the top contrasts with the edgy, textured tips and the darker hair at the nape accentuates the Jenna's neck and her fabulous profile. Love this cut? Find more latest celebrities hairstyles here.
Evan Rachel short hairstyle – elegant retro updo for short hair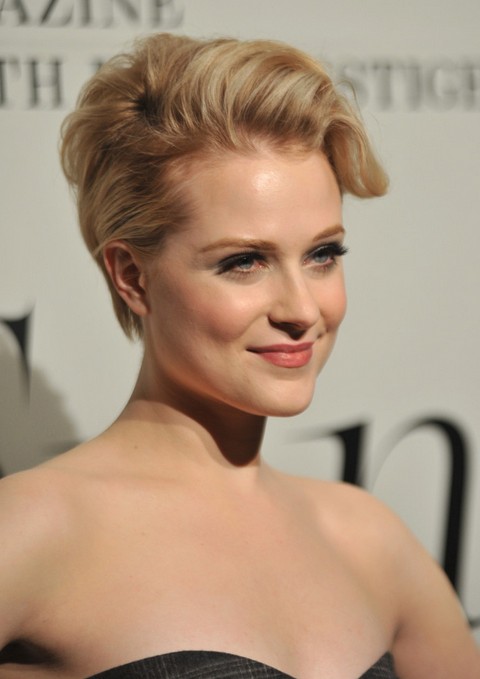 This elegant style takes the side-swept wave from retro-up do's – for glamour – and cleverly contrasts it with a slick, smoothed back short cut. The colour is a very classy neutral blonde, shot through with warm light lowlights and roots. And the result is a stunning evening look, with just the right touch of flattering height that shows off Eva's lovely rounded forehead!
Victoria Beckham Short Haircut – trendy layered pixie cut with bangs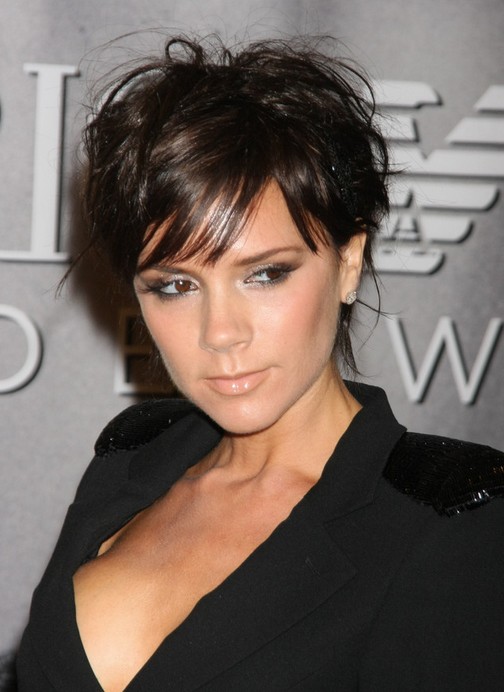 Here's Victoria in an edgy, modernistic look which mixes several different textures in a creative and youthful hair design! This is a pixie cut with layering that can be lightly back-combed to produce added volume and a casual, tousled effect around the crown. The ends are heavily textured to create spiky tips and the fringe is defined and piecey to keep it from looking too heavy. The nape hair is left long and wispy to add a touch of softness to a very exciting look! Find more on prettydesigns.com
Victoria Beckham Short Hairstyle – Inverted Bob – Side View of Inverted Bob Hairstyle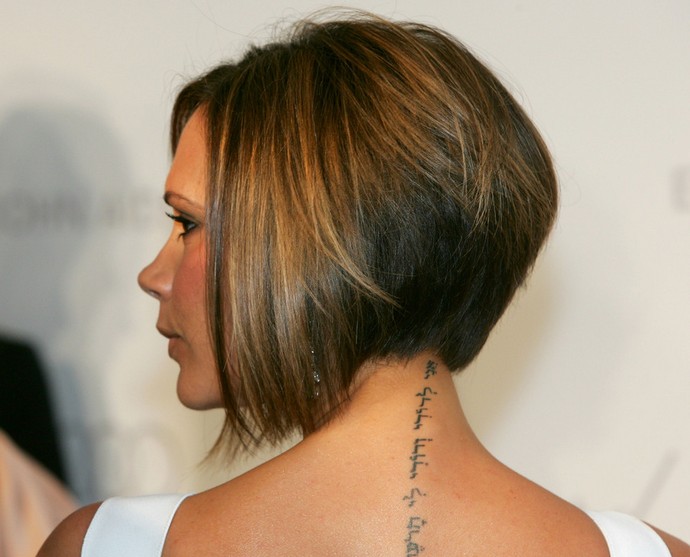 The inverted bob just never goes out of fashion and always looks trendy and modern! This is owed to the steeply cut angles and the clever layering of the back section, which magically produces the exaggerated volume at the back of the head. Keeping the look totally contemporary and showing off the beautiful cut, the under layers are dark brown. The top layers are shot through with pretty golden highlights that soften the angles and create a lovely texture at the sides.
Rihanna short hairstyle – short black curly pixie cut for women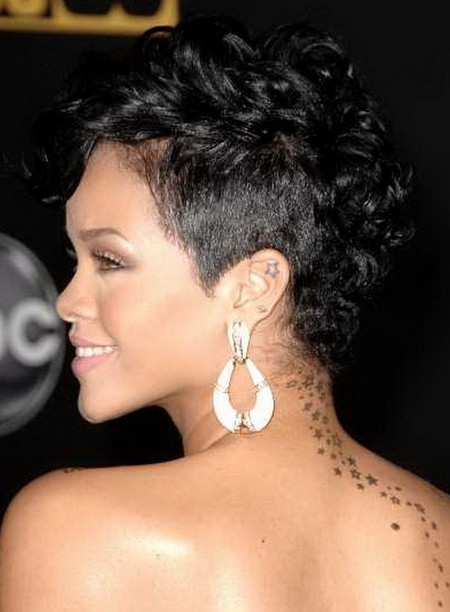 Here a fabulous version of the face-flattering pixie cut, which uses Rihanna's gorgeous natural curls to full advantage! This cut is buzzed at the side and around the ear in a clean curved line. The middle sections are left longer and shaped into a closely-curled 'mohawk' running from the nape to the forehead. As you can see this is a great way to show off a pretty profile and defined jawline and with the shower of stars decorating Rihanna's neck and back, shows her in a happy and relaxed mood!
Lauren Conrad short hairstyle – sexy medium length ombre bob hair style with long bangs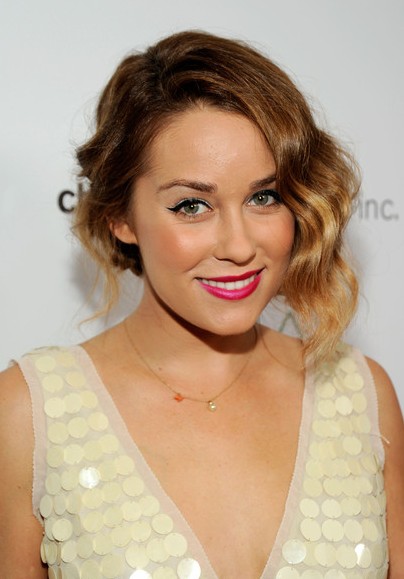 Lauren keeps us guessing in this photo of a very asymmetric medium-length bob. Has she had her hair cut on one side, or is this another attractive twist on the 'false bob'? We think it's a false bob – which shows how amazingly versatile bob cuts can be! The lovely ombré moves down from light golden brown to finish in one of the latest golden shades that really do make hair look like, 'spun-gold' thread! With long tresses decorating the shorter profile and those contemporary, sexy waves Lauren looks wonderful in this red carpet shot!
Keira Knightley Short Haircut – Wavy bob hairstyle for round, square, oval, heart face shapes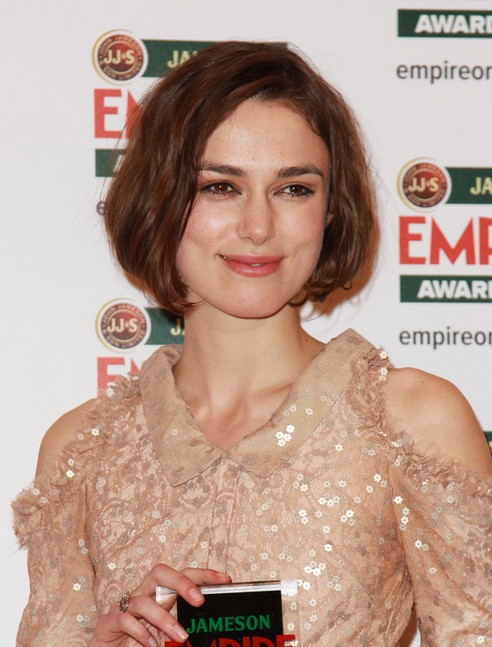 Keira has got the balance of hair, makeup and gown just right in this red carpet picture, showing a very happy face! The bob is all one-length with an untidy, blurred parting in an off-centre position for a casual look. The subtle medium copper-brown shade is complemented by copper eyeshadow and suits Keira's brown eyes and skin tone perfectly. And against this simple natural style, Keira's peachy-beige gown with 'glass' sequins and ruffled edges completes this young and pretty image.
Jessica Alba Short hairstyle – cute messy short hairstyle for women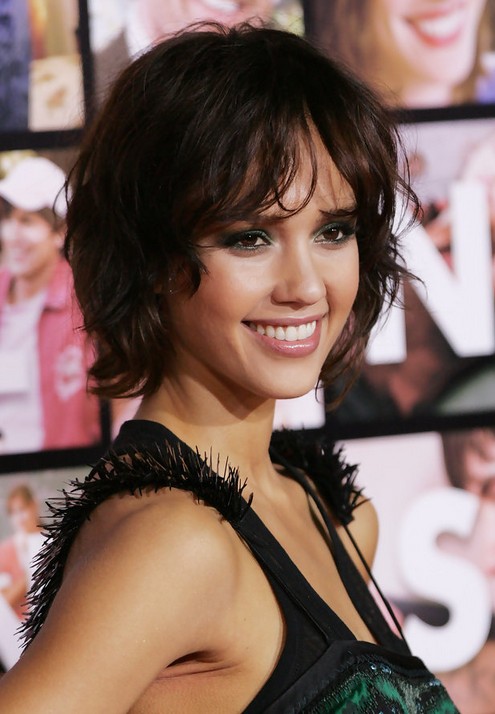 This spiky-fluffy cut is the perfect frame for Jessica's pretty, young face. The bob is cut with a few layers to emphasise the tousled finish and create a curved silhouette that draws attention to the neck and jawline. The contemporary centre parting is just right for an oval face, but can be adjusted easily to fit a range of other face-shapes. Do you like this bob cut? Find more latest bob hairstyles here.
Jaime King short hairstyle – cute blonde wavy hair style with side swept long bangs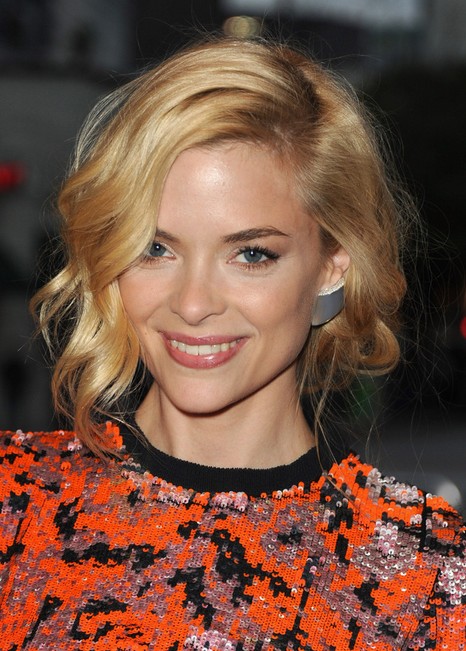 This is a great example of the incredible variety of styles you can achieve with a medium-bob, even if you have fine hair. To create this original look one side is loosely plaited and then fixed at the back of the head. Above the side parting, the sweep of hair across the top creates natural volume and an attractive wave to highlight a nicely-shaped forehead. The loose waves in brilliant golden-blonde absolutely bring out Jaime's pretty blue eyes and with the tousled finish, this is a very special, contemporary-casual look!
Selita Ebanks short hairstyle – trendy deep side parted straight haircut for women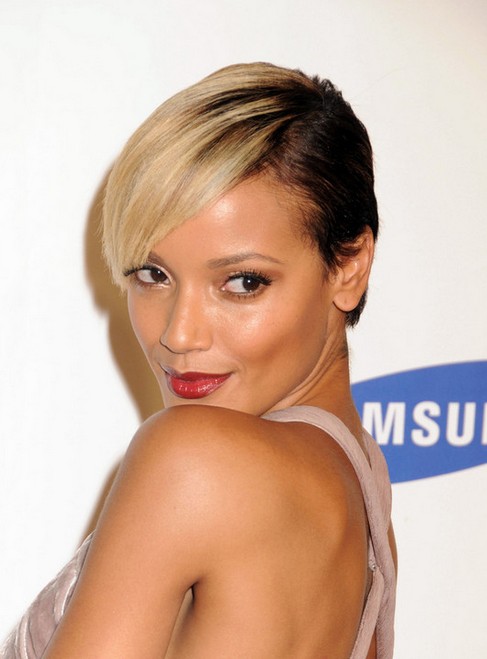 With the hair styled closely to the head and the cute over-the-shoulder pose, this style is reminiscent of the 1930's retro-look. However, the fabulous colour contrast and cutting technique make it ultra-trendy and modern! This is a 'pixie-cut' but not as we know it! And if you want a really eye-catching contemporary look – copy this!
Michelle Obama short hairstyle – dark thick bob hair style with bangs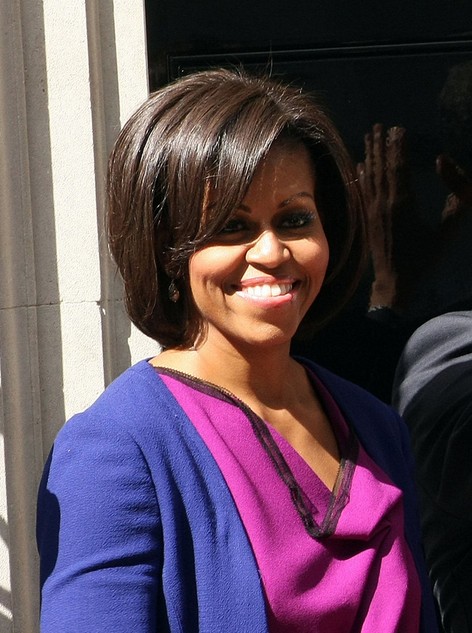 Here's another attractive version of the bob cut, with gets strong, coarse hair textures under control and produces a very attractive voluminous silhouette. As the shape is fairly solid looking, the off-centre parting and extra-long fringe section – which doesn't cover the forehead – shows off the face and balances this well-groomed look!
Lana Parrilla short hairstyle – classic short black bob hairstyle with side swept bangs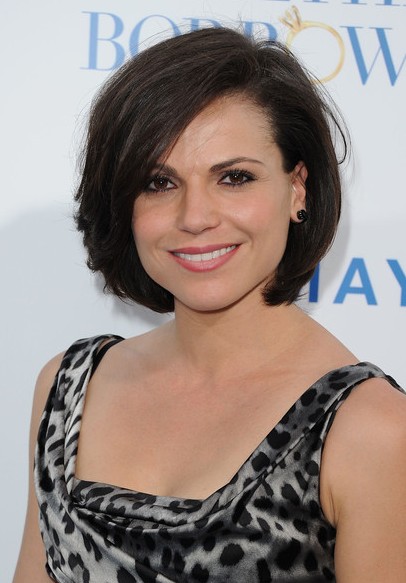 This is a great look for thick or coarse hair, which gives it a strong curved shape and plenty of natural volume. This asymmetric look with one side styled behind the ear is very versatile and is just as at home in the board room as on the red carpet. If you're looking for a well-groomed and sophisticated style, without a fussy fringe, but with a sexy sweep of hair just covering one profile go for this!
Kiernan Shipka short hairstyle – cute girls short hairstyle for curly hair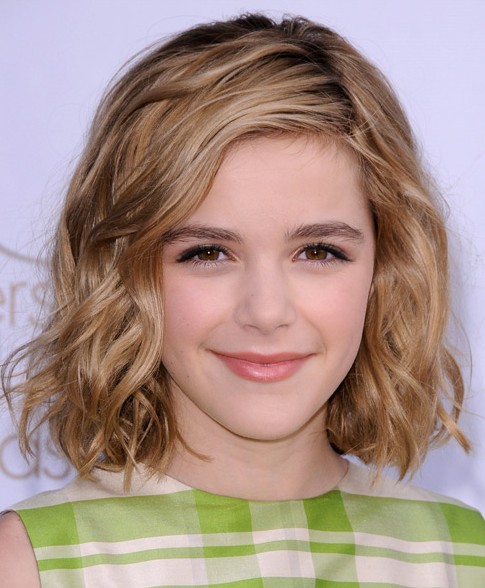 Here's how to wear your hair for a trendy look that suits everyone from teens to the over-50's! It's a great low-maintenance style, which looks complex and lively! The bob is cut to just past chin-length, with lightly textured tips. And then the hair is parted to the side and styled to frame the forehead and accentuate the facial contours in a casual wave. The sides are full of extra volume and tousled movement created by the defined twists. Add in the fabulous honey-blonde colour tones and you have an excellent style to add body and texture to fine – medium hair!