10 Super Easy Step by Step Eyeshadow Tutorials for Beginners
Eye makeup, especially eyeshadow, is by far one of the most important parts of a gorgeous full-face makeup look. Eyeshadow adds a professional finish to your makeup. It automatically helps you appear more put together as a whole. Also, eyeshadow enhances your eyes and helps them appear brighter, larger, and more vibrant. It helps significantly improve your makeup look and even your whole appearance. However, you can only reap the abundant benefits of wearing eyeshadow if you learn how to apply it correctly.
Many women, even those who love makeup and wear it every day, have given up on trying to create eyeshadow looks. Putting on eyeshadow can be frustrating, but it really doesn't have to be as much of a challenge as it seems to be. In fact, eyeshadow application is actually fairly easy to perfect once you learn the basics. There are countless ways to create gorgeous, simple eyeshadow looks that don't take too much time or effort.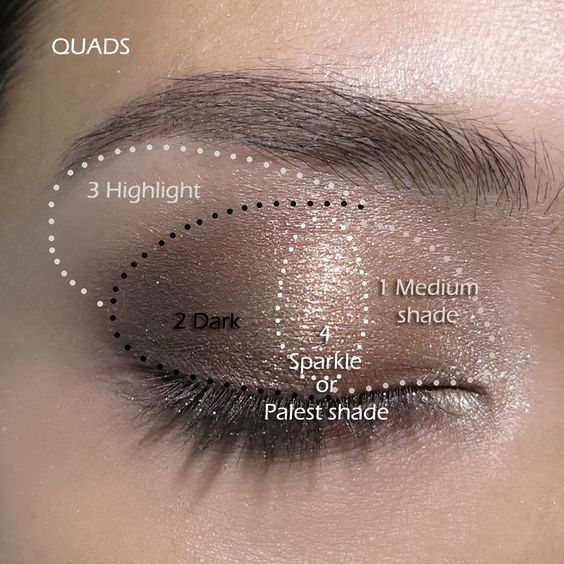 This simple diagram is very helpful when it comes to choosing where to put eyeshadows of different colors and finishes. Determining where to put each shade when you try to create a look that includes multiple different eyeshadows can be difficult. Use this diagram to teach or remind yourself where you should place each shade and finish of eyeshadow to get the best results for your look.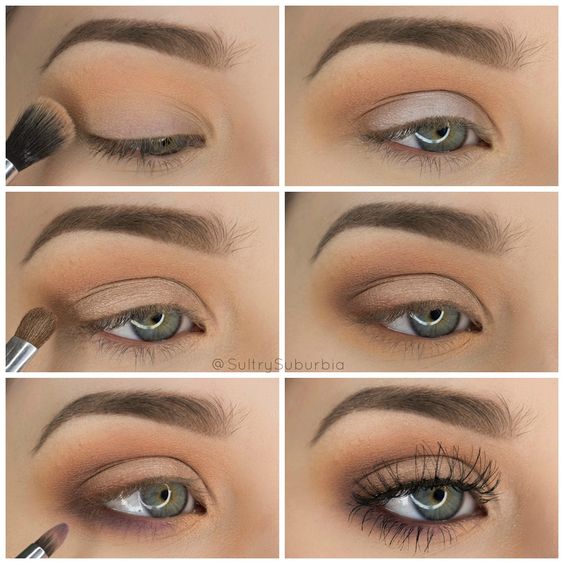 Don't knock the neutrals. Learning how to create a simple yet gorgeous neutral eyeshadow look is key for your success at applying appropriate everyday eye makeup. This beautiful look includes multiple warm-toned neutrals. It incorporates eyeshadows with both matte and shimmery finishes to help you create a varied look that appears professional but is still simple to apply.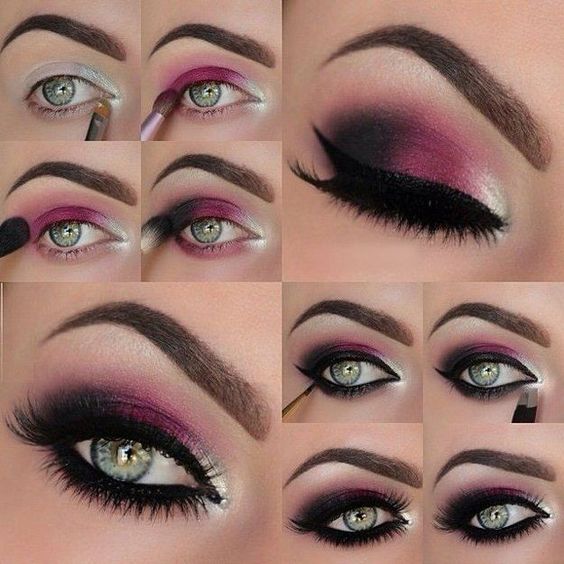 This gorgeous colored smoky eye is an ideal look for more formal occasions when you want to add a bit of extra color and pizazz to your standard eye makeup. While the look appears professional, it is still simple to apply. The light silver in the inner corner adds brightness to the look while the smoky finish in the outer corner creates drama.

Cut crease eyeshadow is one of the most trendy current eye makeup techniques. If you want to try out a cut crease look without too much risk, test out this neutral look. It includes light to dark neutral colors that are very easy to blend. Use the pictures above to determine where to place different colors in order to create the perfect neutral cut crease look.

Halo eye shadow looks are some of the easiest looks to create. Because the halo shape is easy to perfect, looks that include this technique are usually fairly simple. Also, they look gorgeous. For example, this halo smoky eye look combines the simple halo shape with a blend of dramatic colors to create a beautiful dramatic finish in no time.

You can't go wrong with shimmery eyeshadow. Every girl should have at least a few gorgeous shimmery eye makeup looks up her sleeve. For example, the beautiful, simple look above is easy and quick to apply. It is perfect for warming up your makeup when you don't have much time on your hands.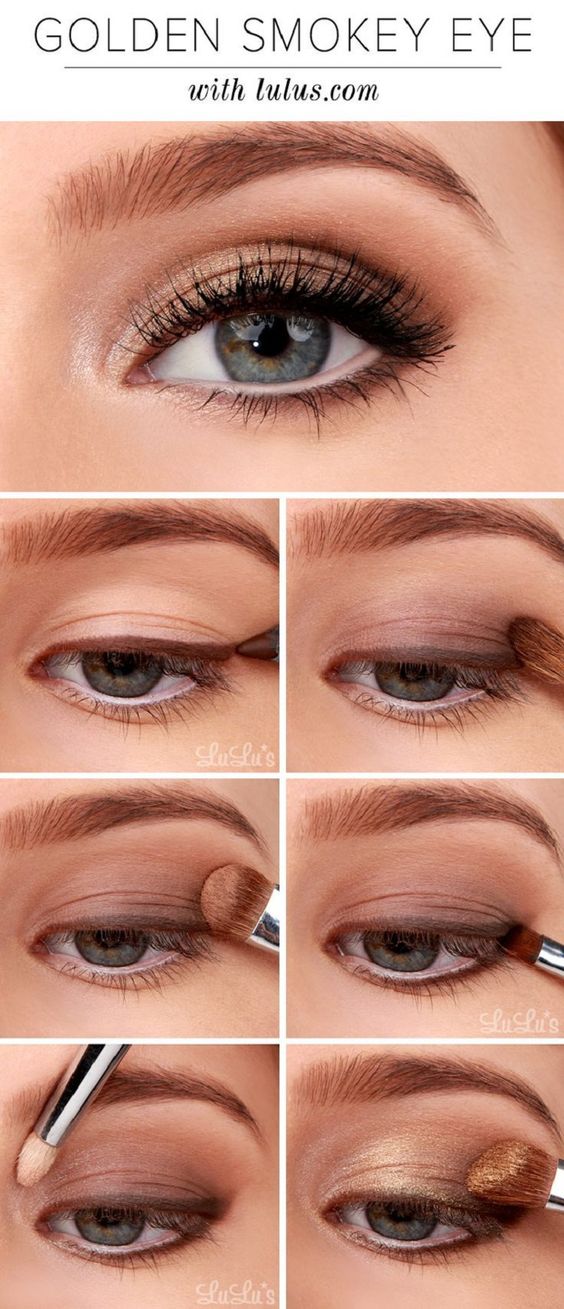 via lulus
Smoky eyes don't have to be full of black and gray. In fact, this smoky eye includes warm-toned neutrals like gold instead. This twist on the classic smoky eye creates a gorgeous finish that warms up your makeup quickly and effortlessly.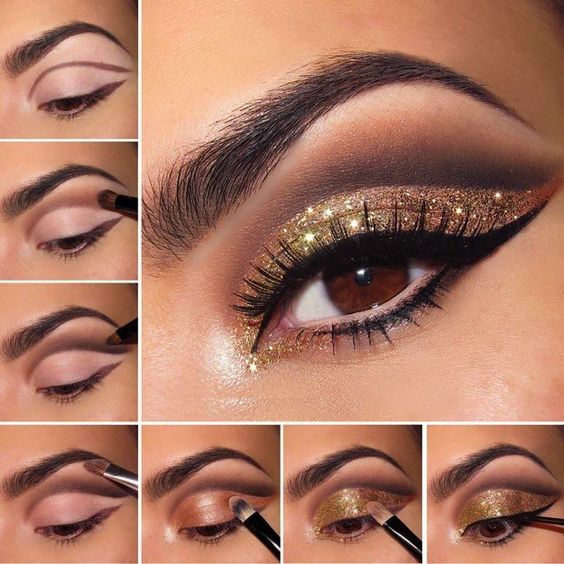 Applying glitter eye makeup can be scary, but it pays off if you learn how to apply it correctly. This look incorporates eyeshadows with both matte and shimmer finishes. This blend creates a beautiful, sparkly look that's flashy without appearing too overdone.

via lulus
Teal is a shade that flatters most eye colors. It also brightens up your eyes and adds color to your makeup without appearing overdone. The above look is simple and includes a blend of teal and neutrals to create balance.

via lulus
This cool-toned eye makeup look includes beautiful shades of dark blue and purple. It is a semi-dramatic look but is still simple to apply and casual enough for everyday wear.
Black eyeshadow can definitely be intimidating. However, there's really no need to fear darker shades of eyeshadow. Just remember to blend sufficiently and your makeup will look professional in no time.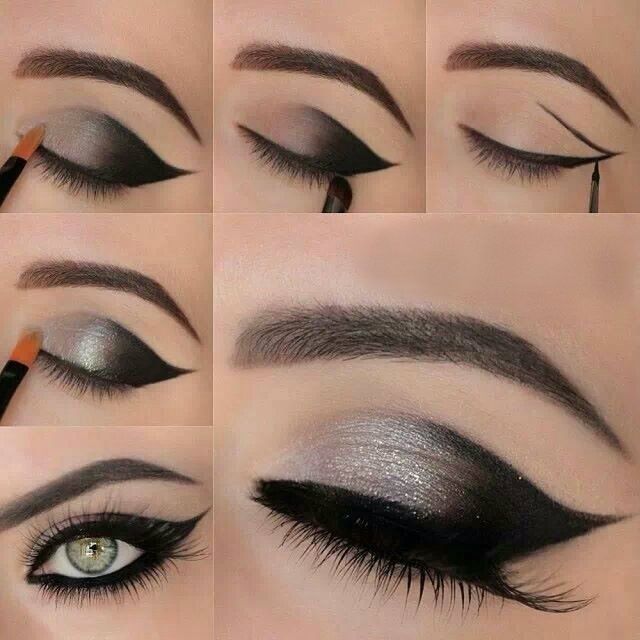 This look puts a twist on the classic cat eye by using dark eyeshadow instead of liner to create it. It combines a dramatic matte black cat eye with shimmery silver eyeshadow across the lid to produce a beautiful, blended look perfect for a formal night out.