Top 10 Best Makeup Brushes You won't Miss
When you begin to learn how to put on makeup, you may have trouble choosing the makeup tools, like makeup brushes. From the beginning, buying a set of makeup brushes is very important for learning how to apply the cosmetic to your face. Beginners can choose some simple makeup brushes for easy learning. The list will show 10 choices for women to pick up the right brushes for their makeup. The products will satisfy both beginners and skillful hands. Here is the list.
10.
Gift For Her New Professional 10 Pcs Soft Oval Toothbrush Makeup Brush Sets Foundation Brushes Cream Contour Powder Blush Concealer Brush Makeup Cosmetics Tool Set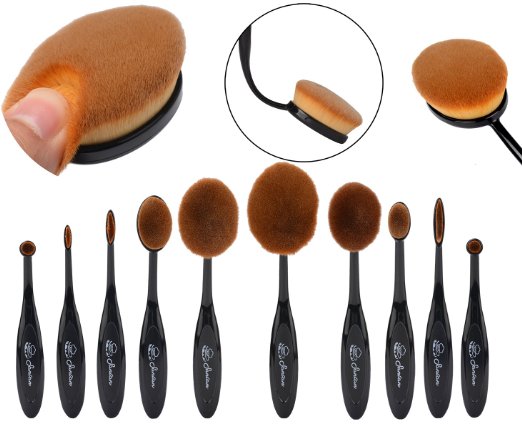 The new set of makeup tool will be the best gift for her birthday. This set includes brushes for foundation, cream contour powder, concealer, eyeshadow, eyebrows and lips. They meet the basic need of customer and they satisfy the skin with soft synthetic hair. It's easy to use the brushes due to the toothbrush-inspired handles.
The designs may be different from the traditional ones, but they are used to help apply the foundation, blush, eyesshadow… The oval surface and dense hair can create effortless coverage for the makeup products. Also they blend with the cosmetic products and your skin perfectly. How can makeup lovers miss the new set of makeup tools?
9.
KINGMAS? Oval Makeup Brush Cosmetic Foundation Cream Powder Blush Makeup Tool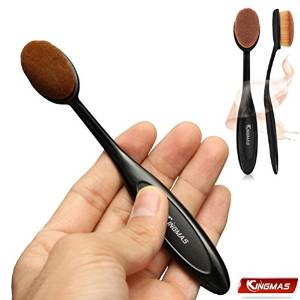 A useful foundation cream powder brush is picked up for the top 10 list. It has dense fiber hair in order to give a comfortable, streak-free experience. This brush can go well with powder, cream or fluid foundation products. It helps blend the basic foundation easily. The handle is made of plastic and it is easy to hold.
There is a simple way to use the blush. Start with applying the foundation from the check and pull the brush until the foundation covers the face. During pulling, you can push the brush lightly in order to make perfect blending. When finishing, don't forget to clean the brush for the next makeup.
8.
Ardell – Duo Brow Brush, Professional Tool, Can Be Used to Apply Powders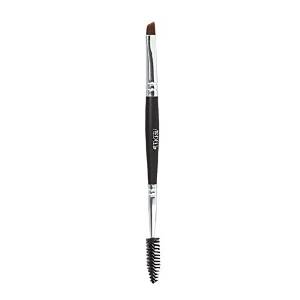 After introducing a foundation brush, an eyebrow brush is put in the list as well. The eyebrow plays an important role in a successful makeup. Having a useful brow brush is the first step to beautify the eyebrows. Then you will apply the powders with the brush against your eyebrows.
It is easy to use the double ended brush. The slanted brush is used to pick up the powders while the other brush can shape and define the eyebrows. It is more convenient for you to take it when you travel.
7. BS-MALL New 14 Pcs Premium Synthetic Kabuki Makeup Brush Set Cosmetics Foundation Blending Blush Eyeliner Face Powder Brush Makeup Brush Kit(golden Pink)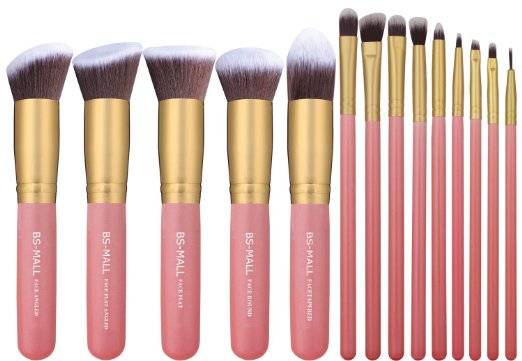 Do you love color pink? You will not miss the set and make everything in pink. The golden pink brushes are ranked 7 in the list. You will find big 5 brushes for face as well as 9 small brushes for eyes. Each brush is made of synthetic hair so that it can create seamless skin with makeup products.
The big brushes includes angled brush, flat angled brush, face flat brush, round brush and tapered brush which will be compatible with the foundation powder or bb cream foundation and will create perfect blending. The other 9 brushes are made for eye makeup. You can use them to shape your eyebrows or draw your eyeliners.
6. Susenstone?20 pcs/set Makeup Brush Set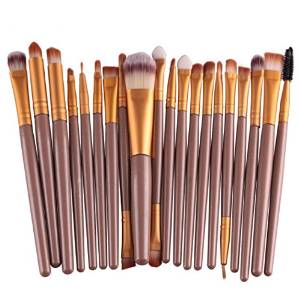 The full set of brushes can be used by professional people or makeup lovers at home. There are 20 pieces in the set and the price is reasonable. They are suitable for both beginners and professionals. Though it is not easy to take with you, they are versatile for daily makeup. You will find brushes for the face, the eyes, the eyebrows, the eyeliners and the lips.
The makeup brushes are made of synthetic hair. They are soft and dense to satisfy your skin. If you don't want to go with these 20 pieces, you can pick up what you need for a simple makeup; if you are lazy to clean the brushes last time, don't worry you will find clean ones among these 20 brushes.
5. real Techniques Starter Set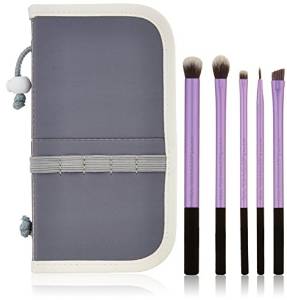 If you don't like many brushes for one set, you can choose this set from Real Techniques. There are 5 brushes for eyes and face. It is easy to pack them and to take them. The heads are made of synthetic and they are not easy to get curled. The dense hair can create perfect and effortless blending. The handle is purple and black.
The brushes can pick up powders, creams and liquids. The set is perfect for detailing the face. The base shadow brush will create delightful vibe to the eyes and the liner brush will make fine eyeliners easily. Also, the accent brush adds highlight to the check.
4. real Techniques Core Collection Set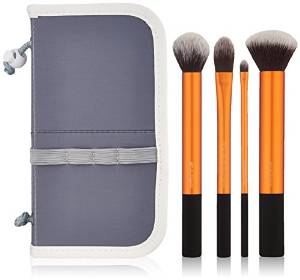 The products are still from Real Techniques. They can be taken with you when travelling. There is an easy case and four essential brushes. If you already have a starter set from Real Techniques, you are suggested to have the core collection set as well. The core collection set pays attention to the face detailing. There are contour brush, foundation brush, buffing brush and detailer brush.
This set has reasonable price and it is in high quality. It can last long if you take care of it. Don't forget to clean the brushes with the cleaner after using. When you put the brushes into the case, make sure that you make them pointing downward to prevent them from being curled.
3.
BESTOPE Makeup Brushes Premium Cosmetics Brush Set Synthetic Kabuki Makeup Brush, Foundation, Blending Blush, Eyeliner, Face Powder Brush Kit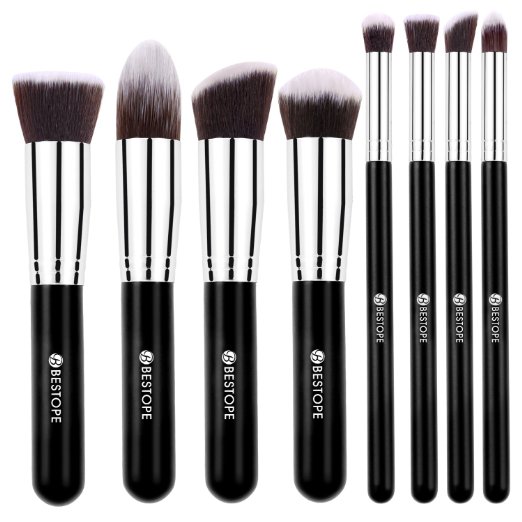 The brush kit is from BESTOPE. There are 8 pieces for both face and eyes. They are designed for the best makeup and they help create effortless beauty for women. The brushes are made of synthetic hair and they will provide you with soft. They won't shed hair. When you push and pull the brush for makeup, you can get perfect finish.
The professional kit can be your solution after searching for many brushes. They are high quality and have meet different situations. You can use them for your daily makeup. Besides, this set has fair price. It will be your best bet on makeup tools.
2.
EmaxDesign 12 Pieces Makeup Brush Set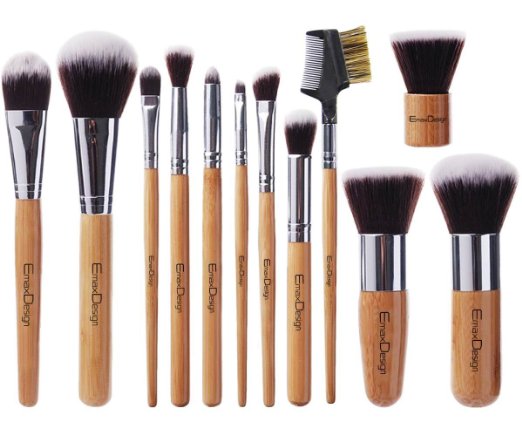 EmaxDesign designs 12 pieces makeup brush for pretty woman. The brushes are made of synthetic fiber and the handles are made of bamboo. You will create pretty finish with these useful makeup tools. They are good for making perfect eye makeup as well as face contouring. The tools go well with creams, liquids and powders. They are high quality so that they will not shed.
In the set, mini Kabuki brush can't be missed by every makeup lover. It can help apply blush product perfectly and make a pretty good cheeks. The double headed brush will be one of must-have stuff as well.
1.BS-MALL(TM) Premium Synthetic Kabuki Makeup Brush Set Cosmetics Foundation Blending Blush Eyeliner Face Powder Brush Makeup Brush Kit (10pcs, Golden Black)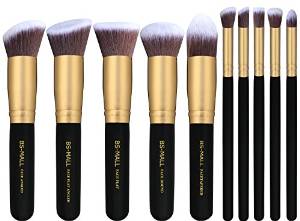 This set with 10 makeup brushes is famous. It is from BS-MALL. The golden black collection becomes must-have tool for both starters and professionals. It includes face foundation brushes and eyeliner brushes. The brushes are good with high quality fiber and bold handles. It is easy for women to use and take.
The brushes for face can be used to contour, buff and glide. The small brushes will be perfect for shaping amazing eyes. They are useful as well as comfortable and they will satisfy your skin. A beautiful finish can be created by these tools.
Various makeup brushes are created to help women have amazing daily makeup. They can make different effect on even the same face. Find out the necessary makeup tools among the list and Use the right brush to draw your own makeup.