Top 10 Best Sunscreen Products to Protect Your Skin
It is getting hotter and hotter. Girls may consider the sunburn when they go out for sports. However, the sunscreen products should be applied all the year round because the skin will meet the ultraviolet rays everyday. Sunscreen products can be kept in girls' bag all the time. What kind of sunscreen do you want to have? Here is the list for you to choose.
10.
Sun Bum Continuous Spray Sunscreen


It is a brown bottle with a yellow top. The sunscreen is 177ML and it is easy to use and carry wherever you go. This sunscreen from Sun Bum is water-resistant and oil free so it will not block your pores and make your skin comfortable.
You can choose from SPF 15 to SPF 70. If you are going to stay outside in a nice day, you are suggested to take the SPF 30 plus sunscreen with you. It is important for every girl to take sunscreen with her and the product can prevent UVA/UVB rays from the skin. What's more, this spray can provide the skin with Vitamin E. It can keep your skin from the sun.
9.Neutrogena CoolDry Sport Sunscreen Spray


This blue bottle is from Neutrogena. It is good to apply when you do sports outside. It is 5.5 ounce and it is an easy sunscreen spray. Several pumps can protect your skin from the harm of UV rays. The longest performance can be 80 minutes. The product is also water resistant so don't worry about sweating. It is oil-free and PAPA free so that it will not do harm to your skin.
This Neutrogena sunscreen can be used and carried easily because it is a lightweight bottle and the spray can be absorbed very quickly. It is the best choice for such hot days and the best product for sport lovers.
8.

Banana Boat

Broad Spectrum Sun Care Sunscreen Spray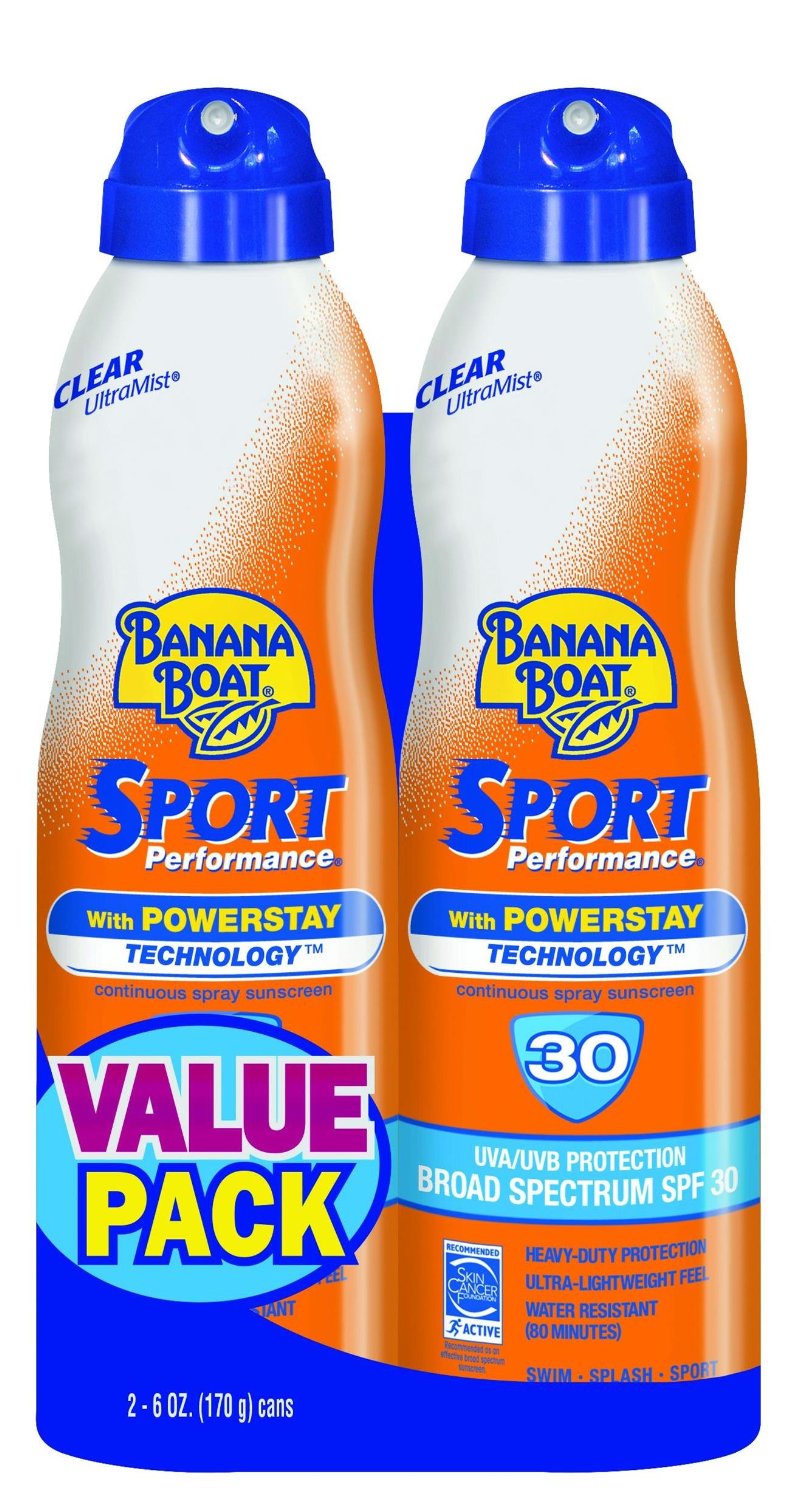 You are lucky to find twin pack for the Banana Boat ultra mist sport performance broad spectrum sun care sunscreen spray. It is water resistant and it can last 80 minutes. It is good for you to apply it either you hang out or just go out for sports.
It is an easy grip can. Though it doesn't have cap, it can be locked by twisting. It is light and easy to carry. The sunscreen spray contains useful ingredients to keep your skin from the sun. It has light scent and it is invisible. The product will not make your greasy with its easy-absorbing formula.
7. Blue Lizard Sunscreen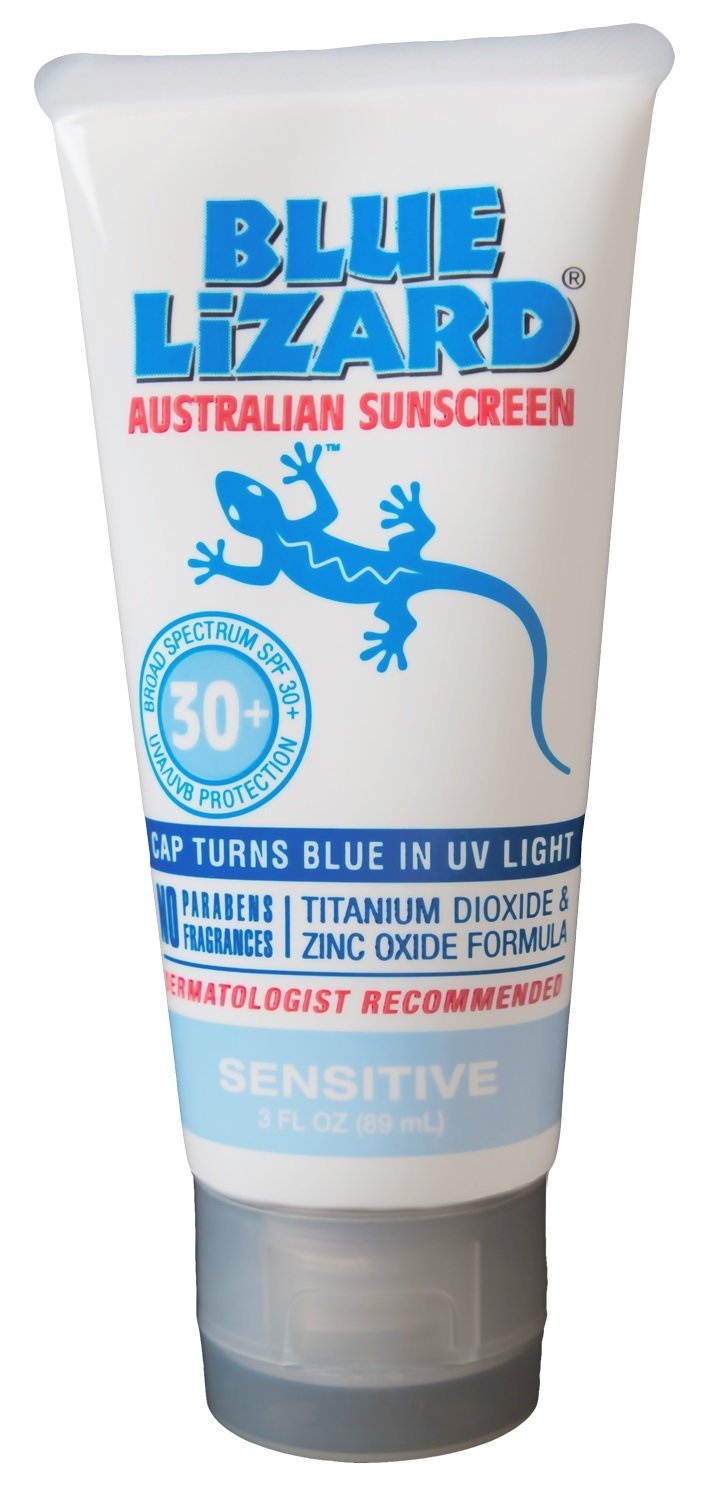 The sunscreen is from Blue Lizard. The cover is funny with the brand logo. The funniest part for the Blue Lizard sunscreen is the cap. Its cap can turn into blue when meeting the UV light. Besides the design of the bottle, the product offers you a great water-resistant and mild sunscreen in order to protect your skin.
The formula is good for people whose skin is sensitive. This sunscreen is chemical-free as well as fragrance-free product to soothe your skin, but it can be worn for the long time. You can find different sizes for the product, 1 gallon, 1.25oz and 3fl oz.
6.
Vanicream Sunscreen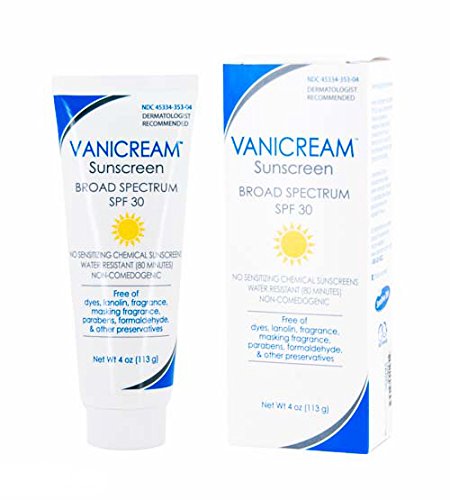 Vanicrem Sunscreen is a non-sensitizing chemical product. It is a useful sunscreen with broad spectrum SPF 30. The product can be applied when you go out for a sunny day. It won't do harm to your skin and it has non-comedogenic ingredients. Even sensitive skin can use the product.
Please apply the product to your skin 20 minutes before you go out. The sun is going to shine this summer, so don't forget to rub the sunscreen very time before going out. The Vanicrem Sunscreen will not make your skin greasy. When you apply it to the skin carefully, you will find a little shine on your skin but you will get away from the reactions in summer.
5.
BullFrog Quik Gel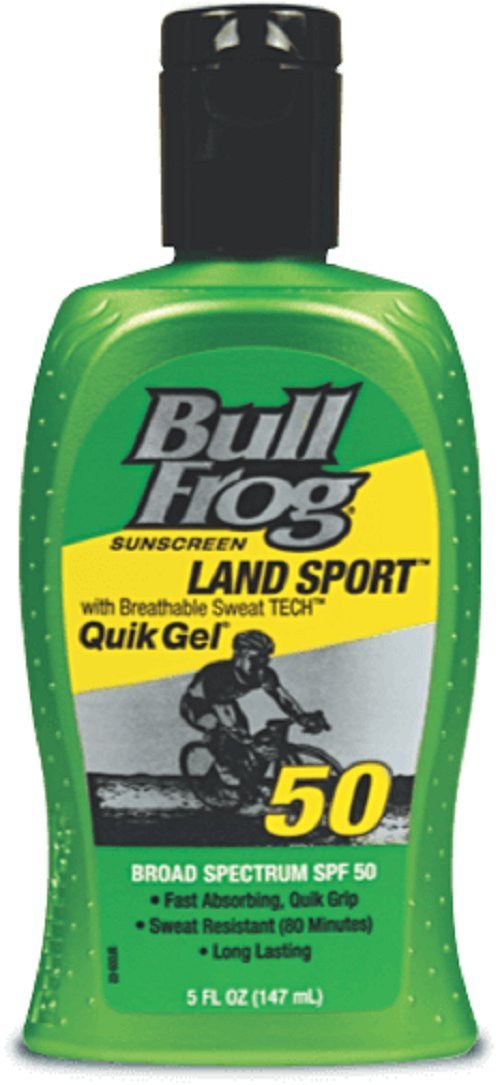 This green bottle is from Bull Frog. It is a sweat-proof sunscreen SPF 50. The product is quick-absorbing gel and it is good for you when you do sports. It guarantees that your skin is protected from the UVA/UVB rays.
The sunscreen is made from active ingredient which will give more protection from sunburn. Apply the product 15 minutes before you go out. After swimming or sweating, don't forget to re-apply the product immediate. You are suggested to apply it every 2 hours actually.
4.
Babo Botanicals SPF 30 Fragrance Free Clear Zinc Sport Stick

This tube is a useful stick for SPF 30 sunburn protection. It is a non-zinc sport sunscreen. It is lightweight and small enough to be hidden in your pocket. You can carry and use it easily. The product can be applied to kids as well as adults. It can benefit the whole family with its organic oil and other sunburn protection ingredients.
The stick can be applied to extra sensitive skin as well. You can use it to protect your face, lips, ears and nose. Apply it before you go out or do sports. The product will not fail you with the high performance.
3.
Banana Boat Sunscreen


Small bottles of sunscreen can't meet the need of the whole family. The list will introduce one of broad spectrum sun care product. This 12 ounce sunscreen is from Banana Boat. It offers sunburn protection for the whole family.
The product is fragrance-free and it won't make your skin greasy. It is an easy-absorbed lotion with SPF 50 protection. It contains hypoallergenic formula for avoiding sunburn and skin damages. The last-long sunscreen can be applied when swimming and sweating due to the water-proof formula.
2.
W.S. BADGER SPF 35 Sport Sunscreen Unscented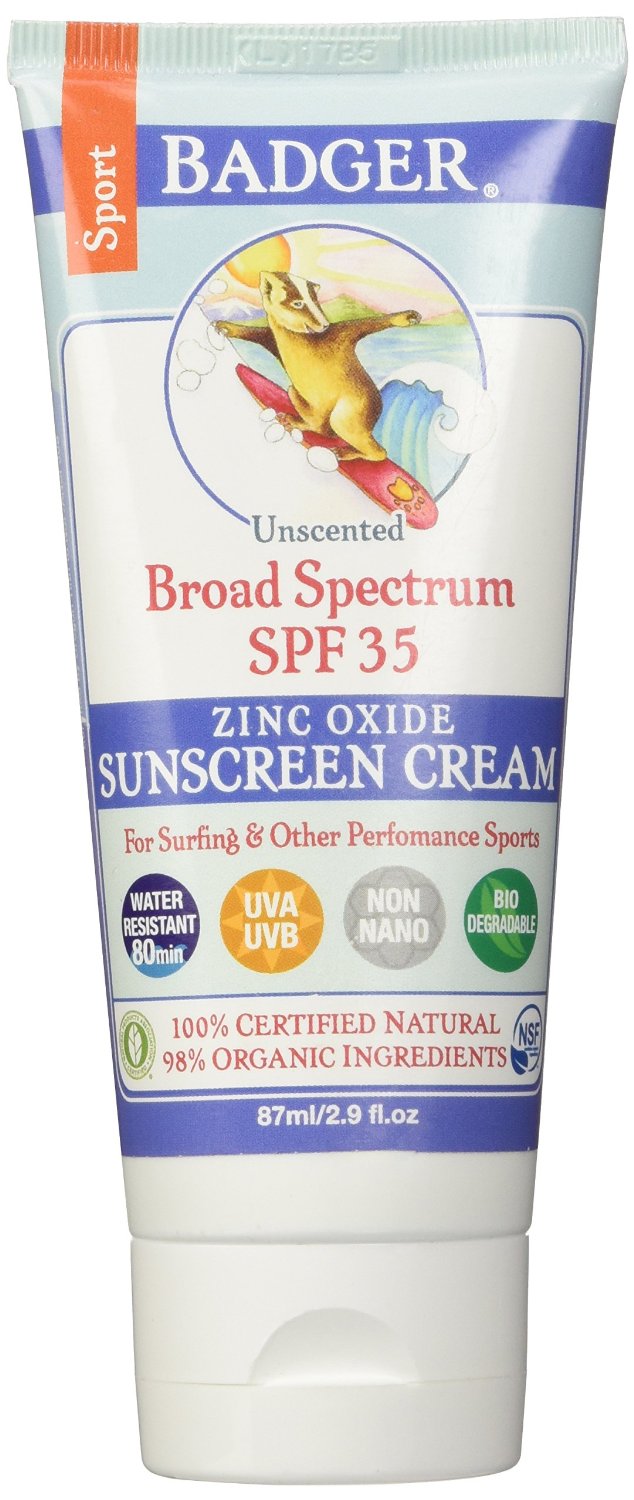 Another zinc oxide sunscreen cream is introduced in the list. The W.S.Badger SPF 35 sport sunscreen is ranked no. 2. It is a simple product but useful sunscreen with 5 ingredients only and it contains sunflower oil base. This easy product can keep at least 80 minutes protection for the skin though you are swimming or sweating.
1.
Mineral Sunscreen SPF 25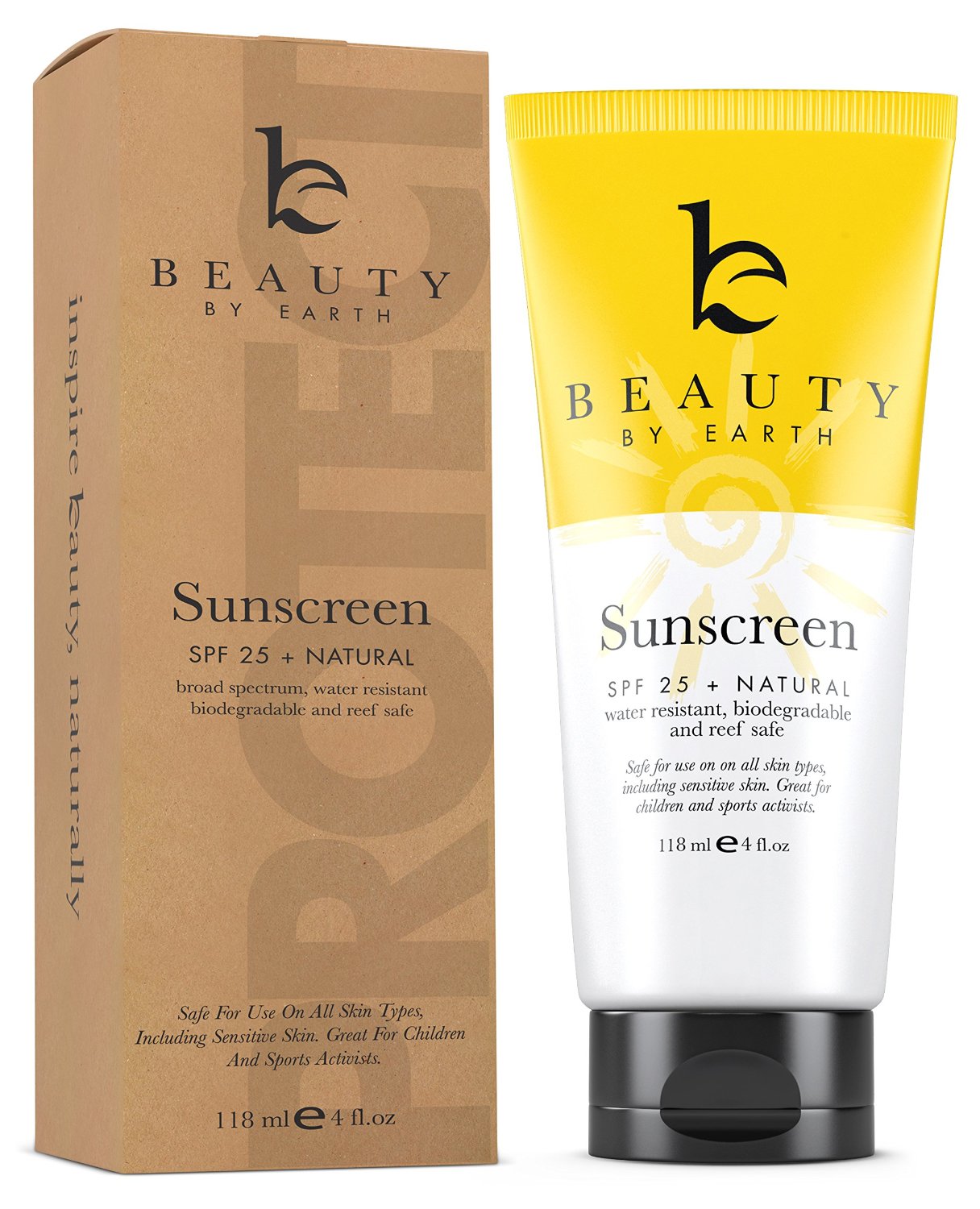 The cover of the mineral sunscreen is elegant. The tube is weight light and it is easy to carry it out. Beauty by Earth produces the product with natural and organic ingredients. This sunscreen can be used for any skin type. It is great for kids and grown-ups. It is also good for sports.
The skin will not feel greasy after being rubbed the lotion. The sunscreen can dry easily and it can work immediately once it is applied to the skin due to its mineral base. Also, the lotion can be used before swimming because it is water-proof. The eco-friendly and reef safe sunscreen will be your best choice.
Before you apply the sunscreen product, clean up your skin and apply the toner and the lotion. If you are going to stay long outside, you'd better choose a sunscreen with higher SPF; if you stay indoor, you can choose low SPF ones. The product should be applied 20 minutes before you go out. Don't forget to re-apply the product every several hours, so choose an easy to carry. Also, use makeup remover to clean your skin.