19 Pretty Ways to Try French Braid Ponytails 
The ponytail is a classic style that every girl has rocked at least once in her life. This carefree 'do is easy and flattering- the ideal choice for girls of all hair lengths, textures and personal tastes. The only downside, however, is that the popularity of the ponytail means that girls can be at risk of feeling bored of this look.
Wondering how you can add a whole new lease of life to a good old fashioned ponytail? It's simple. Add a French braid! Elaborate or even loose braids can add some beautifully intricate detail to this age-old hairstyle. There is so much variation and so many different French braid ponytails ideas, that you're sure to find the ideal style for you. Here are 19 of the prettiest ways to wear this gorgeous look.
Braided Ponytail
French braids don't have to be styled around the crown, or the top of your hair, to look amazing. Keep the plait going all the way down into the ponytail to take a standard hairstyle and turn it into something seriously visually exciting.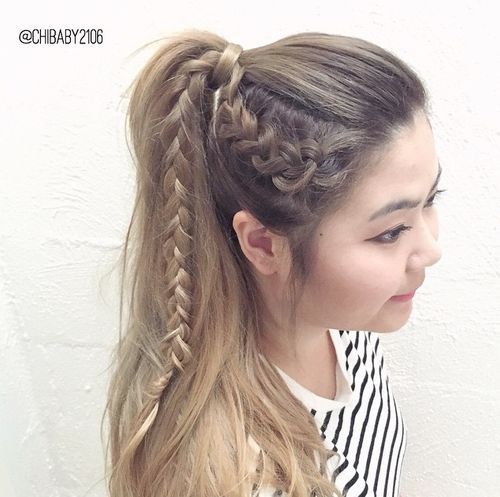 Flyaway Braids for Girls
This super detailed ponytail might look quite impossible for the average person to style, but it is, in fact, surprisingly simple to achieve. It works by weaving one thin braid into a larger, slightly scruffy one with loose flyaways. The final result is a hairstyle that resembles adorable love hearts.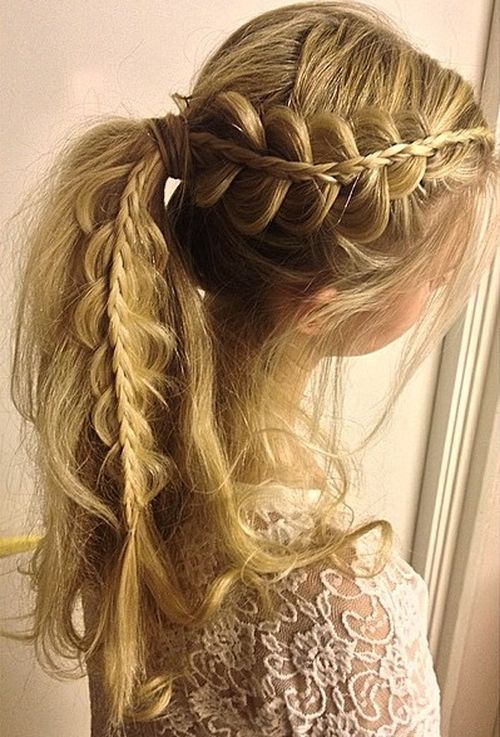 Reverse Braid Ponytail for Girls
As if a French braided ponytail wasn't interesting enough, try flipping the look (literally) by braiding the hair on the underside of your head as opposed to the top. This reverse braid is a unique take on the trendy style that will look cool on any girl.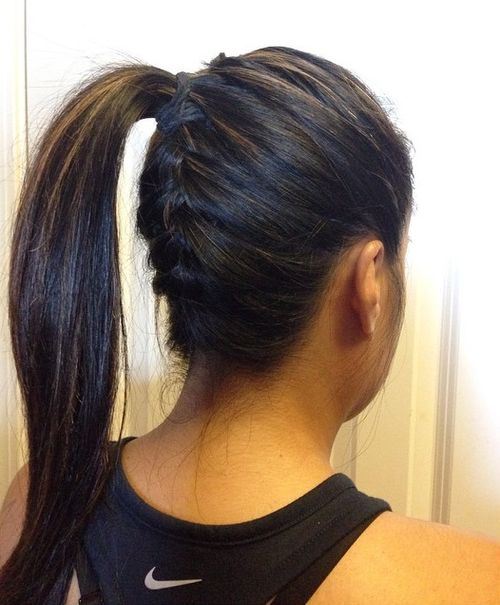 Girls Ponytial Ideas: Twin Braids
If you can't quite decide which way to wear your French braid, why not try both the left and right sides? This twin braided style goes perfectly into a bouncy ponytail.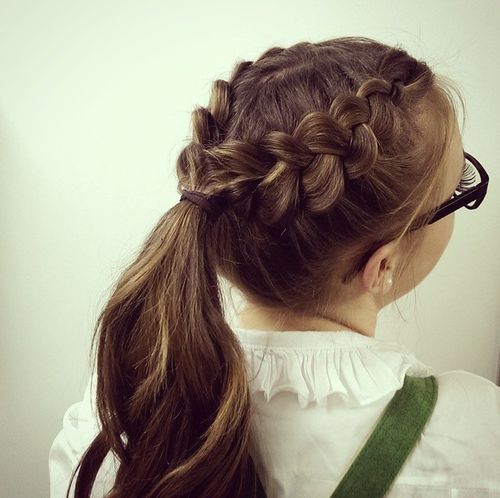 Super Glam Up-Do
There is so much going on in this beautiful hairstyle that we just don't know where to begin. One French braid which goes in both horizontal and vertical directions, alongside big twists at the roots of the ponytail and perfect princess curls all come together to make this blonde hair look positively regal.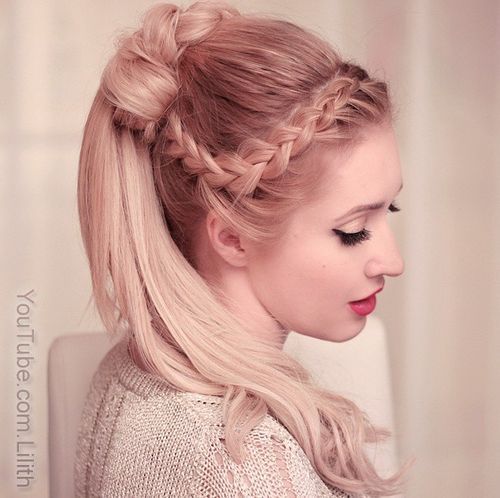 Ponytial Ideas: Never Ending Braid
The way this braid twists and turns from the very top of the hair and spirals all the way down the ponytail is eye-catching and beautiful. Try this out for yourself if you feel like looking like a character straight out of a fairytale.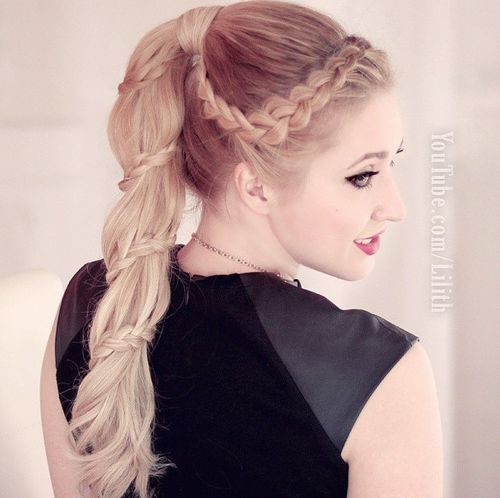 Two Tone Long Braid for Teenagers
Multi-tonal hair always looks incredible when teamed together with an intricate hairstyle like this long braid. This girl's caramel and brown colors blend together perfectly and the French braid adds an extra dimension to the hair.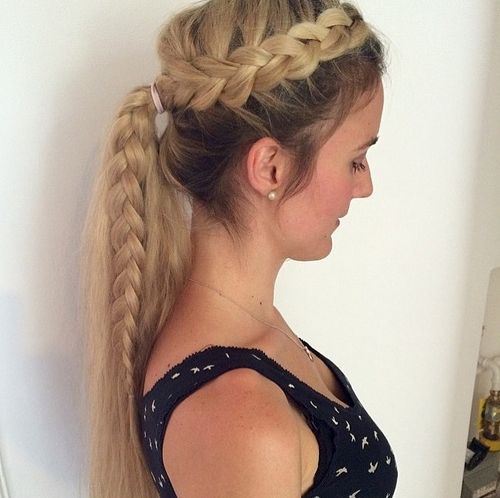 Sculpted Braids
The perfectly sculpted French braids in this ponytail look almost like works of art. The thick braid snaking across the top of the hair and the reverse braid on the underside go perfectly together. The bright platinum blonde finishes the look off perfectly and has left us incredibly envious.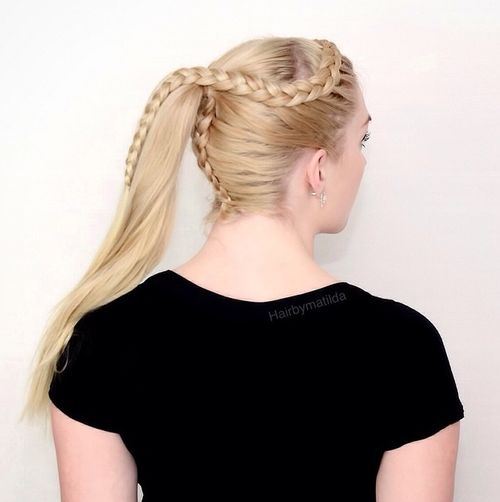 Thick Side French Braid Ponytail
There is something very seventies about this hippy chick hairstyle. Long flowing side ponytails always look beautifully bohemian, but the addition of a super thick French braid tied in a loose, slightly scruffy style makes it look even better.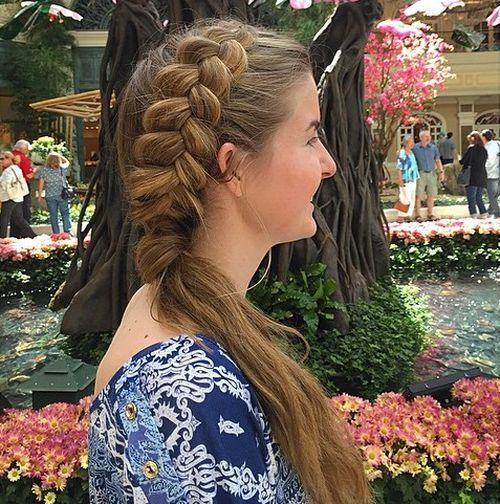 Side Up-Do Ponytail for Women Over 40
Hair swept to one side is a flattering way to show off your perfectly curled locks while still opening up your gorgeous features. This elaborate side braid and perfectly curled ponytail is ideal for a glamorous night out.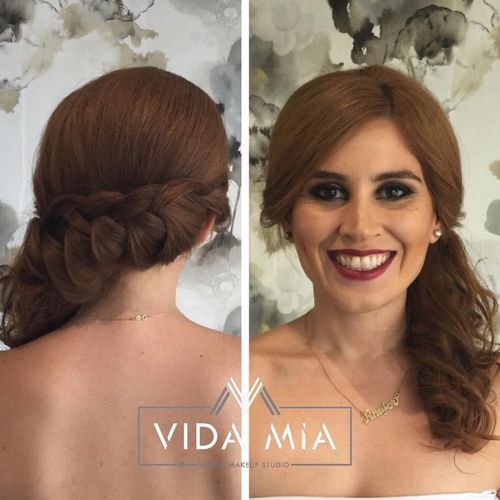 Tight Braided Ponytail for Sport
A fierce high ponytail, complete with a quiff and cornrows, is only for girls who really feel like making a statement. Be warned, that this is not a laid back look, instead, you will need a skilled hairdresser and some spare time, but it is well worth it and you won't be disappointed by the final outcome.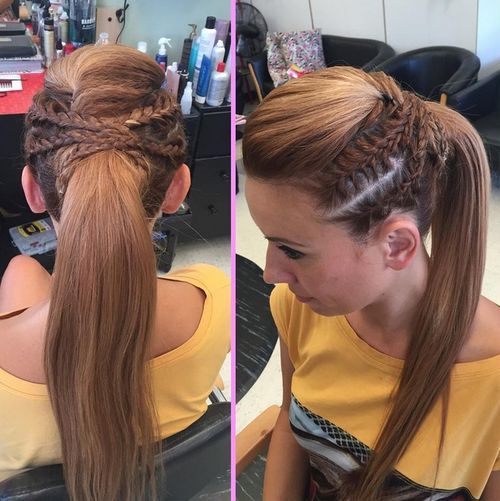 Curly Braid – Braid into Ponytail
Curly haired girls can rock a braided pony like no-one else. The balayage blonde and brown curls and the bohemian braid both add texture and character to this stunning style.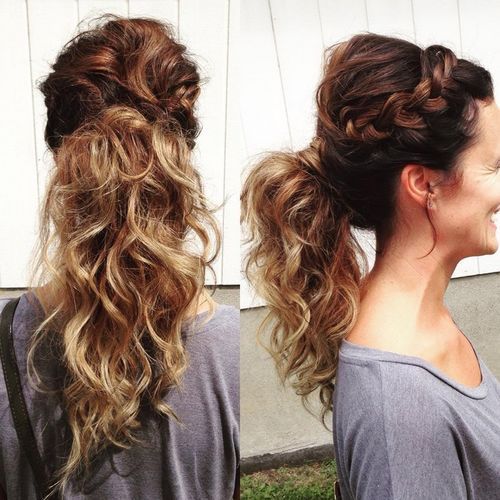 French Braid Ponytail Hairstyles – Grecian Goddess
These classical golden locks braided into a sleek, neat plait almost look like the sort of hairstyle that Aphrodite herself would wear. If you want to add an extra bit of intricacy to a bouncy ponytail, this is the look for you.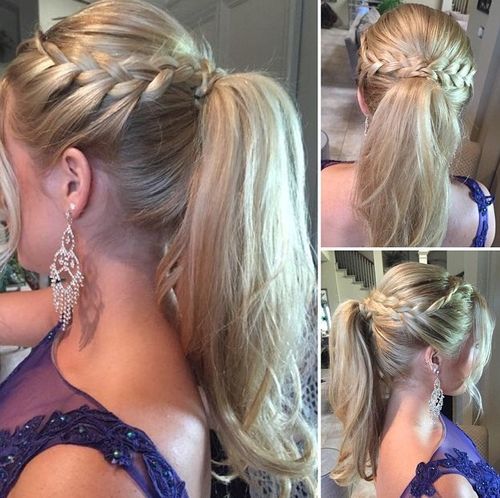 Double Braids
It doesn't get much prettier than this detailed hairstyle. Two French braids side by side add a crown-like effect that really makes this wavy ponytail pop.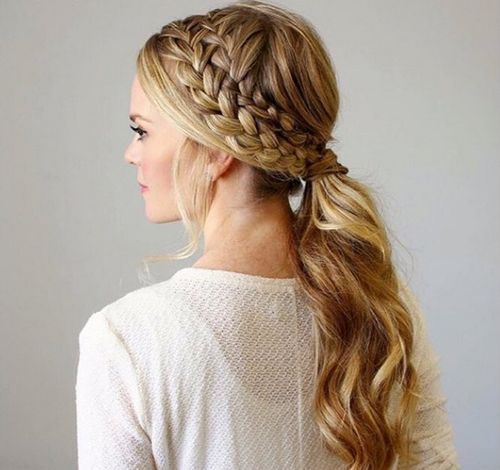 Triple Braids
They say that good things come in threes, and that is definitely true for the super tight, cornrow style braids in this sleek ponytail. You'll need a little bit of extra time to get three sections of hair into small, individual braids like these. But we're sure you'll agree that the results are well worth the effort.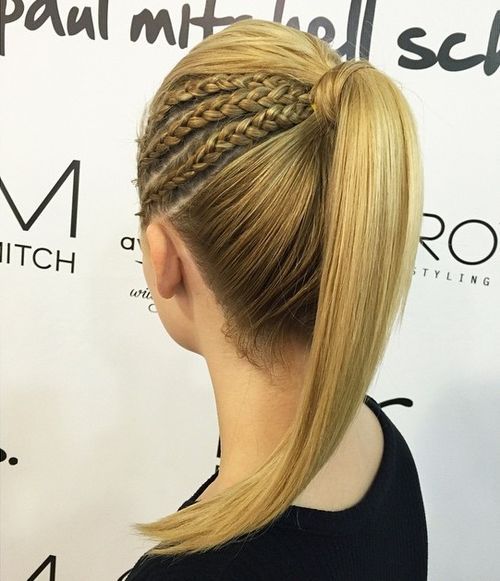 Strawberry Ombre
It's hard to say what we love most about this amazing look. The huge French braid at the crown which gradually fades into a curly ponytail and the subtle touches of rose pink ombre look almost too good to be true. You can find more ombre hair styles here.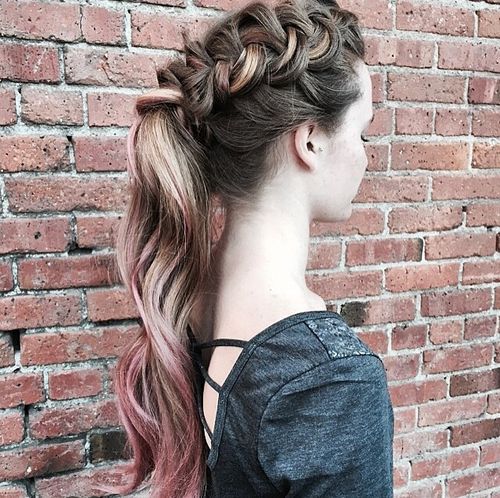 French Braided Bob
Don't be fooled into thinking that only girls with long flowing locks can pull off the perfectly braided ponytail. A short, chic bob like this one can look just as beautiful when worn with feminine, twisted plaits.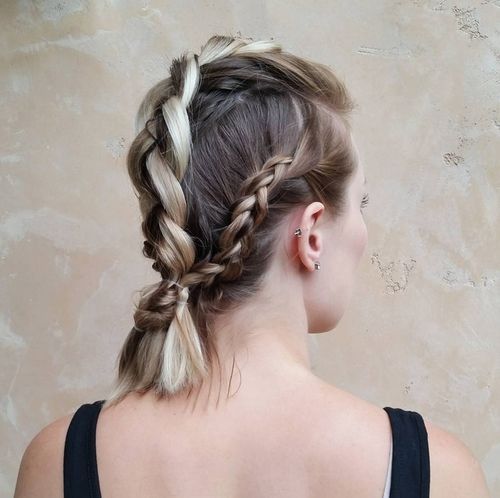 Alice in Wonderland Bow
A braided ponytail is about as feminine and pretty as it gets. You might think that it is impossible for such a style to get even more girly or gorgeous, but the addition of a beautiful ribbon tied into a bow like this takes it to a whole new level.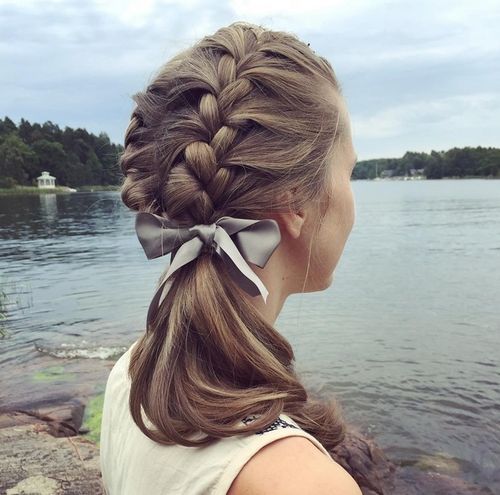 Multiple Braids
This beautiful style requires quite a lot of time and effort. It's seems impossible to keep track of the many different braids which are going on at once. Find a talented hairstylist who can manage to give you this look and you'll be turning heads wherever you go.
And here are some great braided ponytail tutorials for you, check it out here.
Do you love these braided ponytails? Find more on prettydesigns.com