60 Trendy Short Hairstyles for Women 2024
When it comes to creating the perfect style statement, few things are as powerful or transformative as a fresh haircut. The age of dynamic change, there's a palpable sense of excitement around short hairstyles. From chic pixies to sassy bobs, these shorter styles aren't just easy to maintain, but they're also all about embracing bold individuality. If you've been toying with the idea of refreshing your look or simply want to stay ahead of the fashion curve, you're in the right place.
Here, we'll unveil the trendiest short hairstyles that have been stealing the spotlight on runways and city streets alike. We've done the heavy lifting for you, consulting top stylists and scrutinizing the latest fashion weeks to curate a list of cuts that are set to rule this year.
What follows is a deep-dive into a diverse array of short haircuts, each unique, inspiring, and waiting to be tailored to your personal style. Whether you prefer the edgy allure of a pixie, the classic elegance of a bob, or the bohemian charm of a shaggy cut, we've got you covered. We'll walk you through each style, offering tips and insights to help you find the perfect haircut for your face shape, hair texture, and lifestyle.
So, prepare to embrace the liberating feeling of the scissors snipping away your locks, paving the way for a new and exciting you. After all, life is too short for boring hair. Let's journey together through this year's hottest short hair trends.
Bob Hairstyles: The Power of Transformation
One of the most compelling reasons to choose a short bob hairstyle lies in its uncanny ability to transform one's image. The short bob, as versatile as it is chic, gives you the power to revamp your look completely without compromising on style or substance. It's a cut that harmoniously merges elegance with ease, sophistication with simplicity, and above all, character with comfort.
Imagine waking up to a hair routine that doesn't involve tangles, knots, or time-consuming styling. Envision having a style that allows your personality to shine through while also accentuating your facial features. The short bob offers this and so much more. It's adaptable to various hair textures, whether you have pin-straight locks, lively waves, or bold curls, ensuring that every woman can find a version of the bob that best suits her hair.
Moreover, the bob is a timeless classic that always stays on trend. Each year, we see this cut evolving, adapting, and continuously redefining what it means to be fashionable. 2024 is no different. This year, the bob is taking center stage, donned by celebrities, fashionistas, and style icons around the globe. From the textured bobs that add volume to thin hair to the sleek, smooth bobs that speak of unfettered elegance, the short bob is the style chameleon every modern woman needs in her life.
So why choose a short bob? Because it's more than just a haircut. It's a lifestyle, a state of mind, and a fashion statement that never grows old. It's about having the confidence to be versatile, vibrant, and above all, yourself. With a short bob, you're not just following a trend; you're embracing a style that can evolve with you, highlighting your unique charm and character at every turn.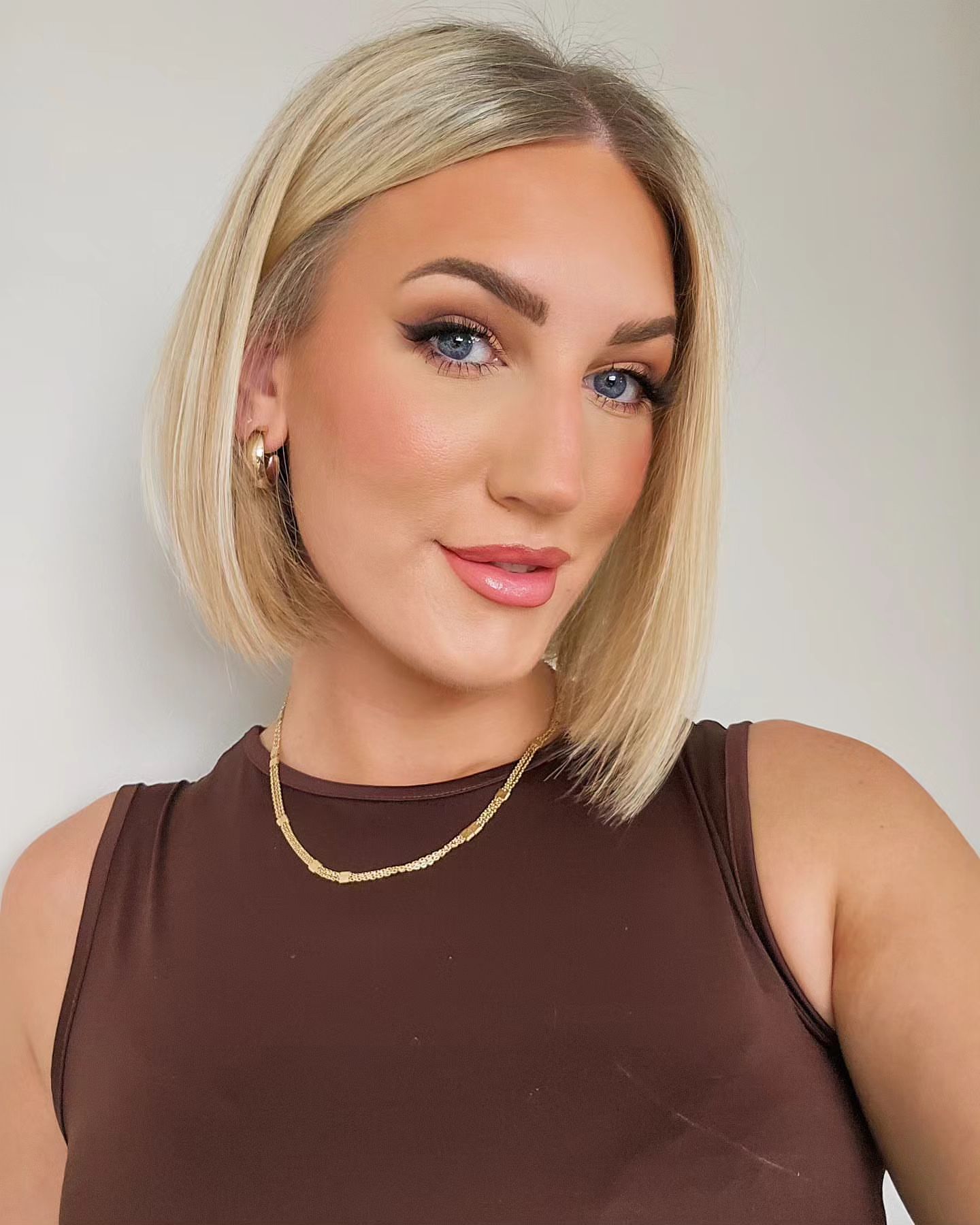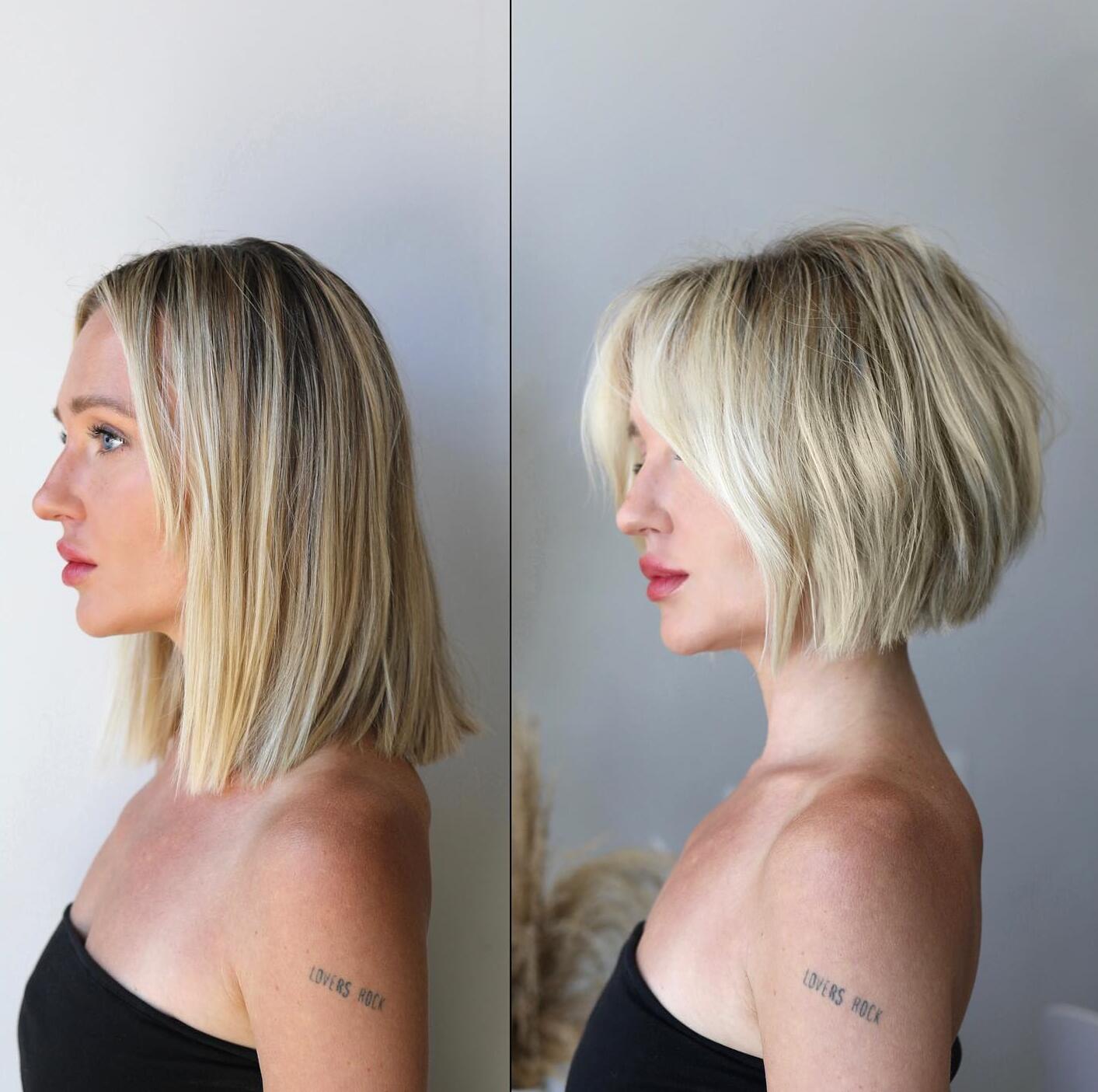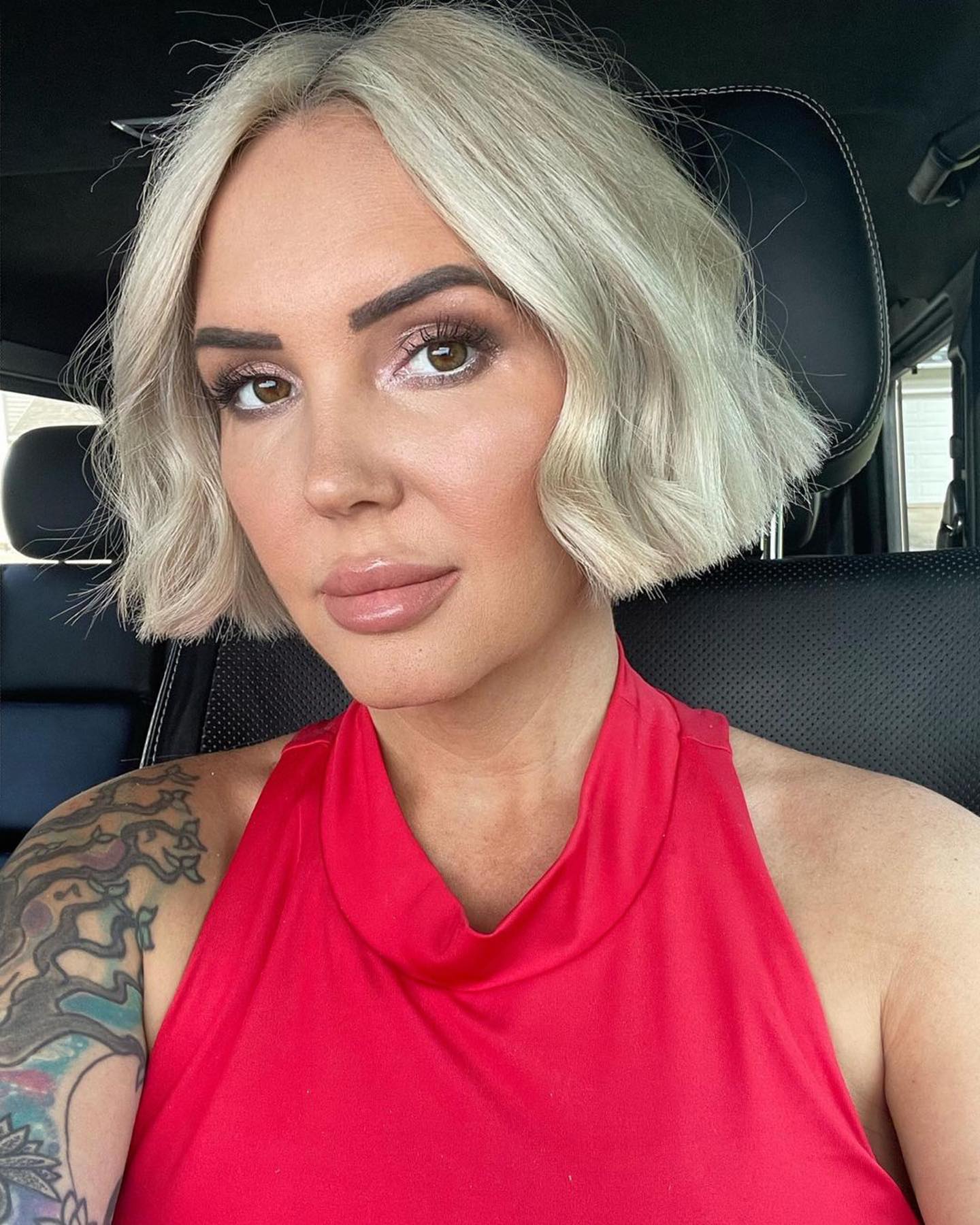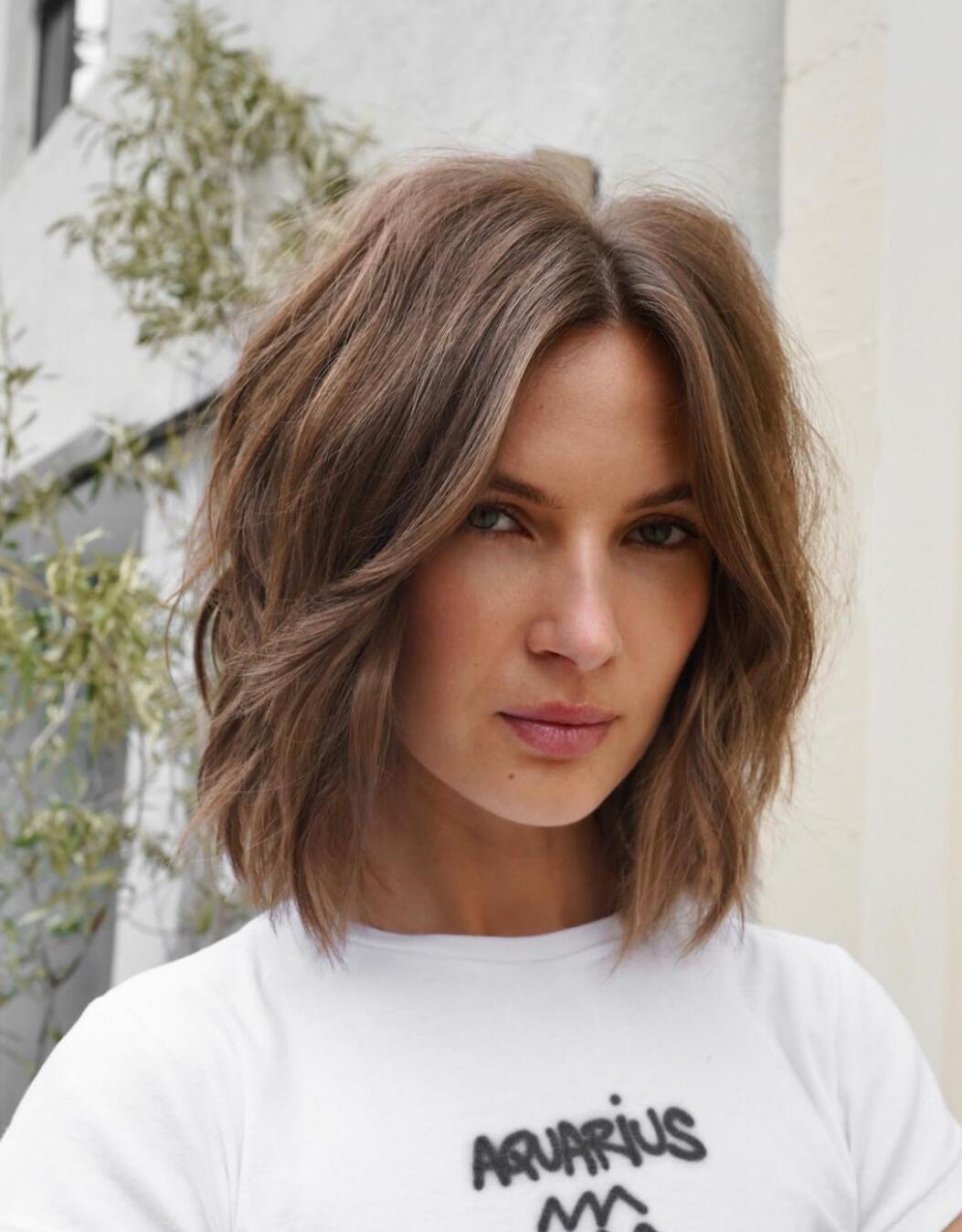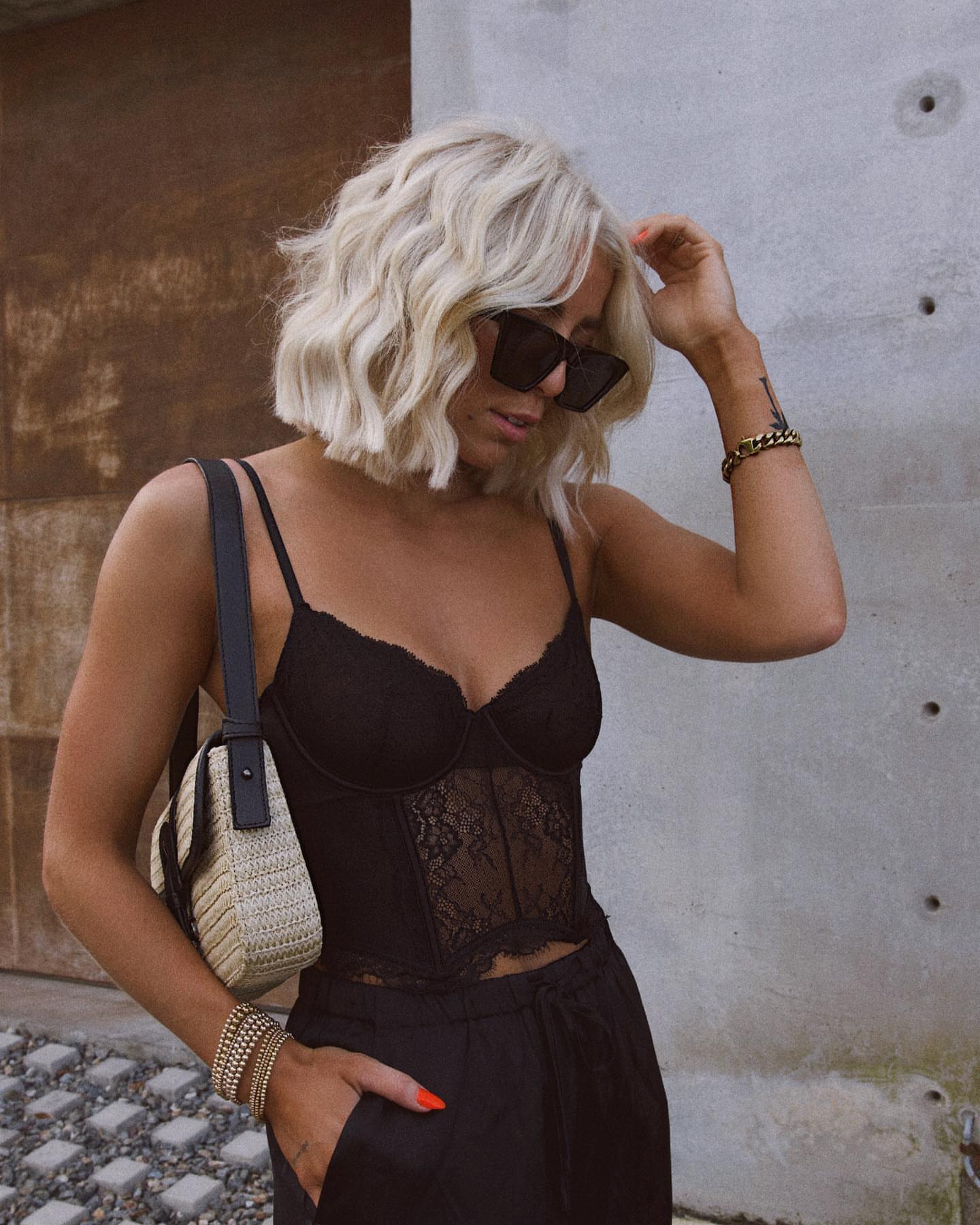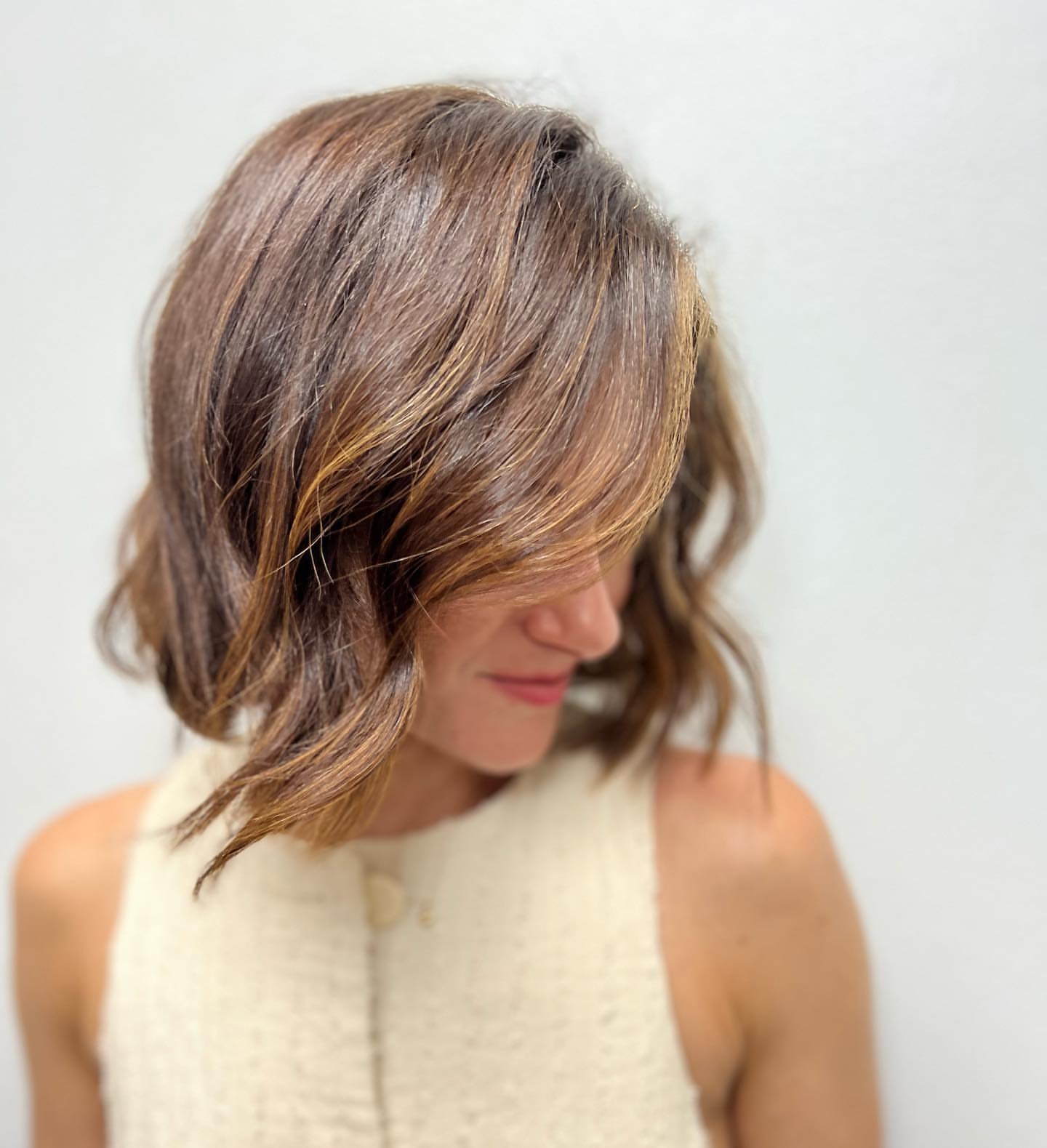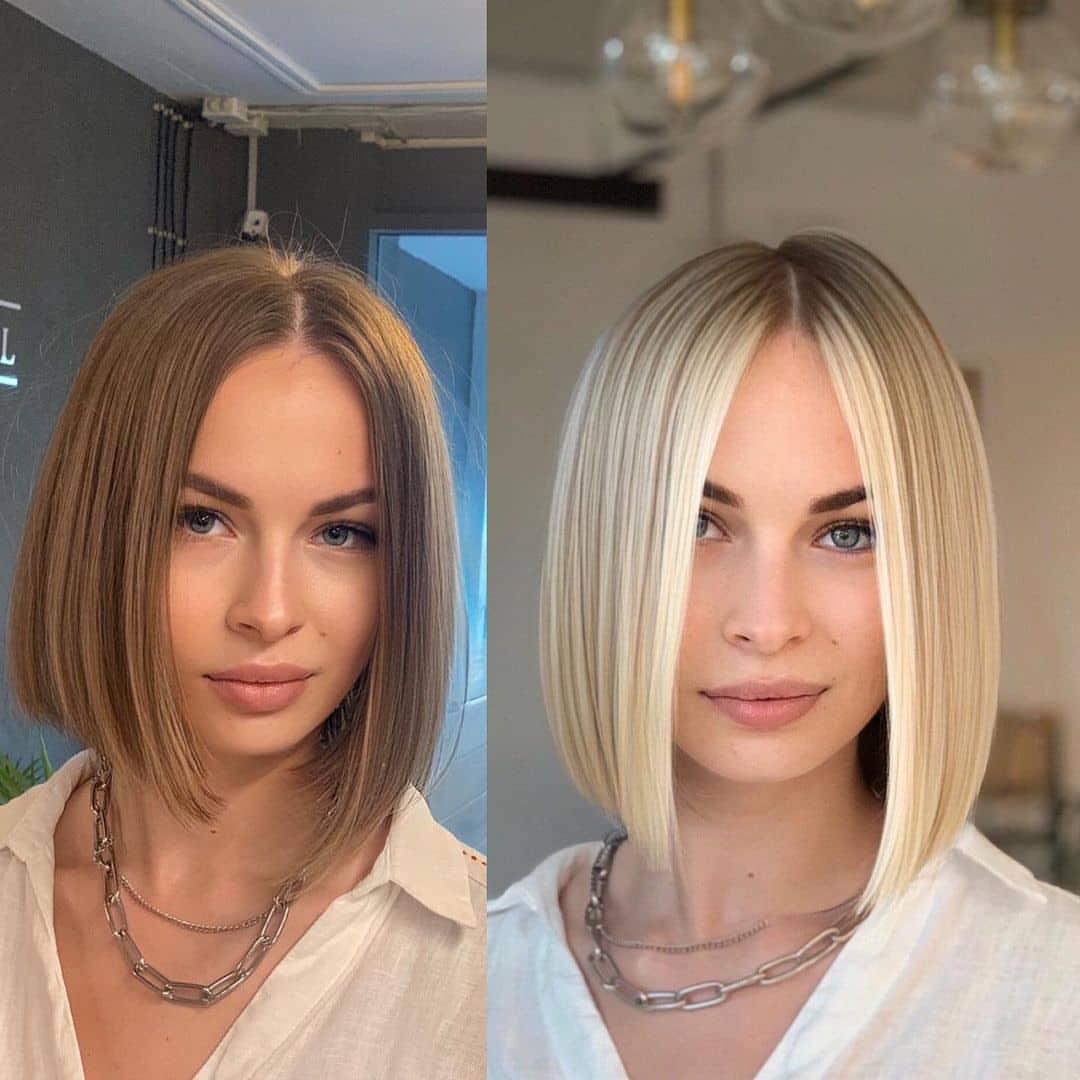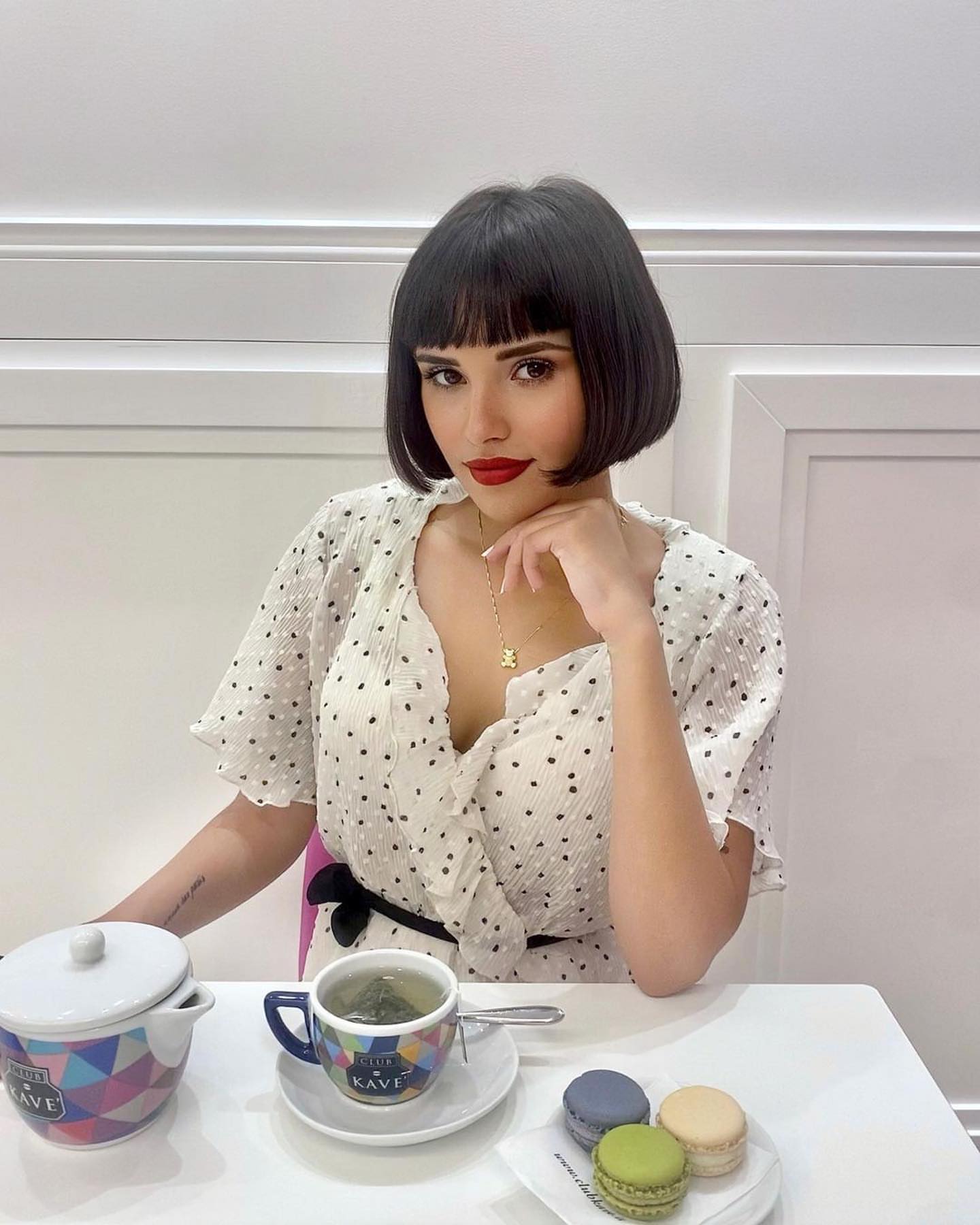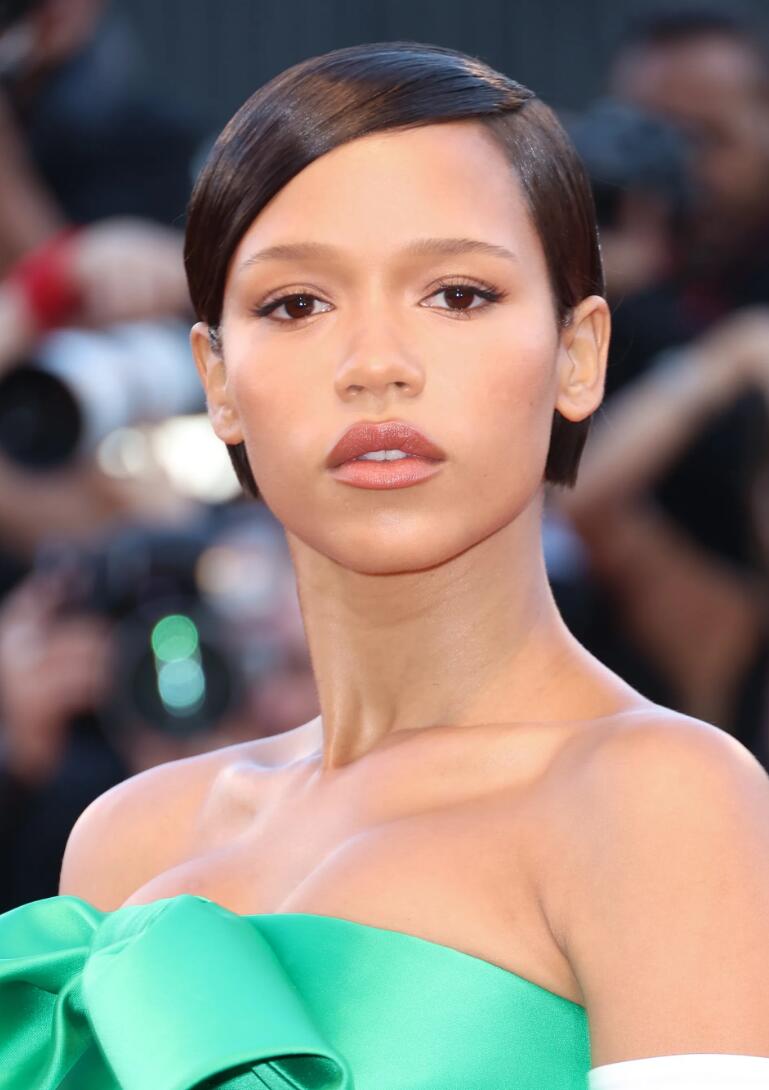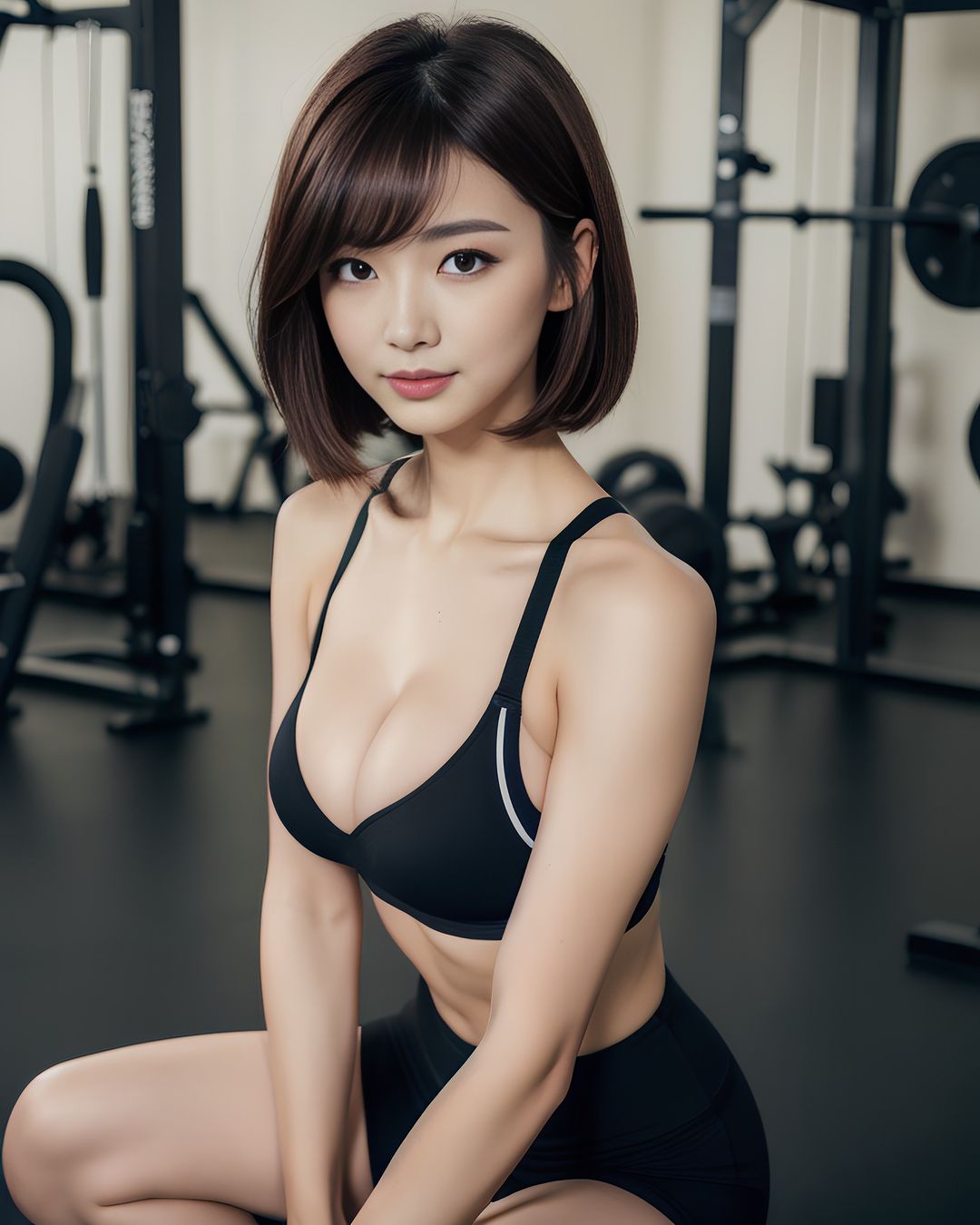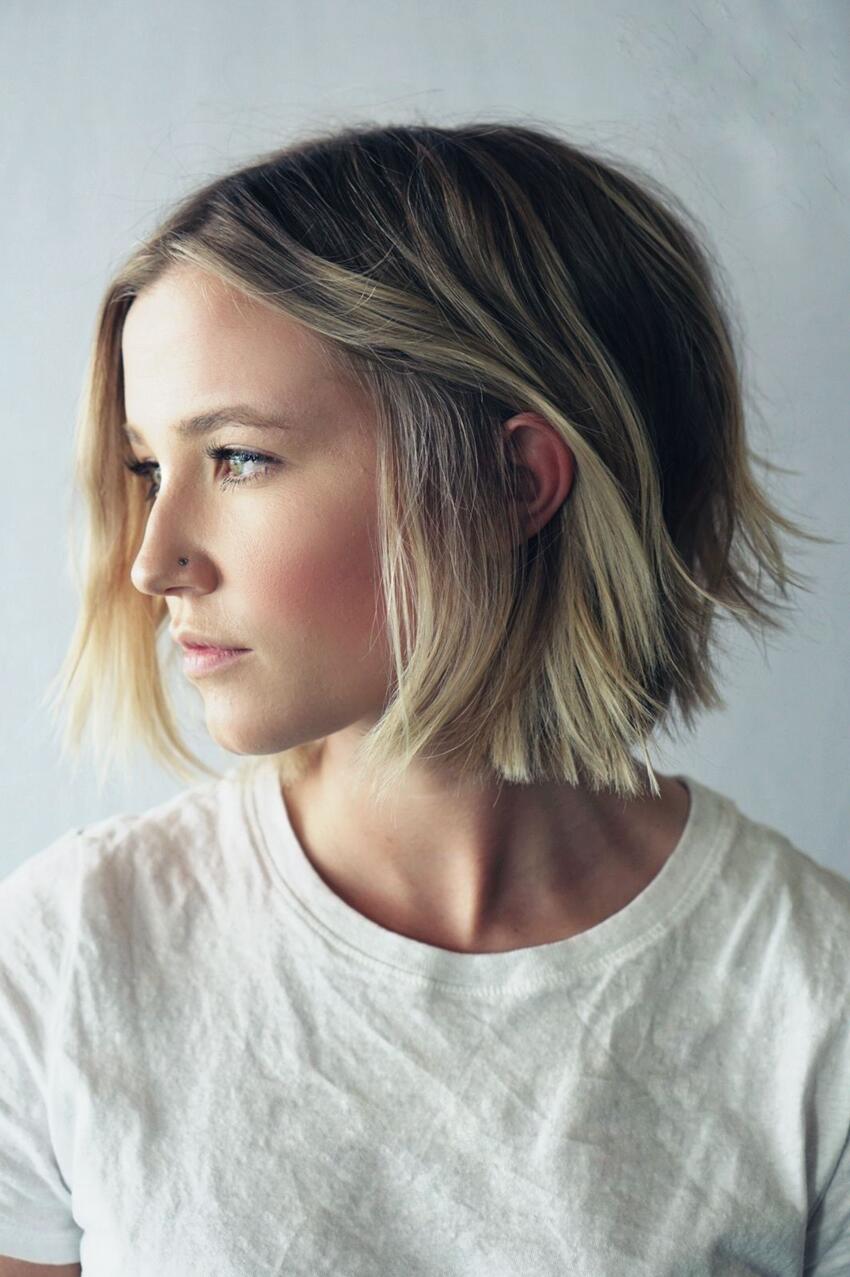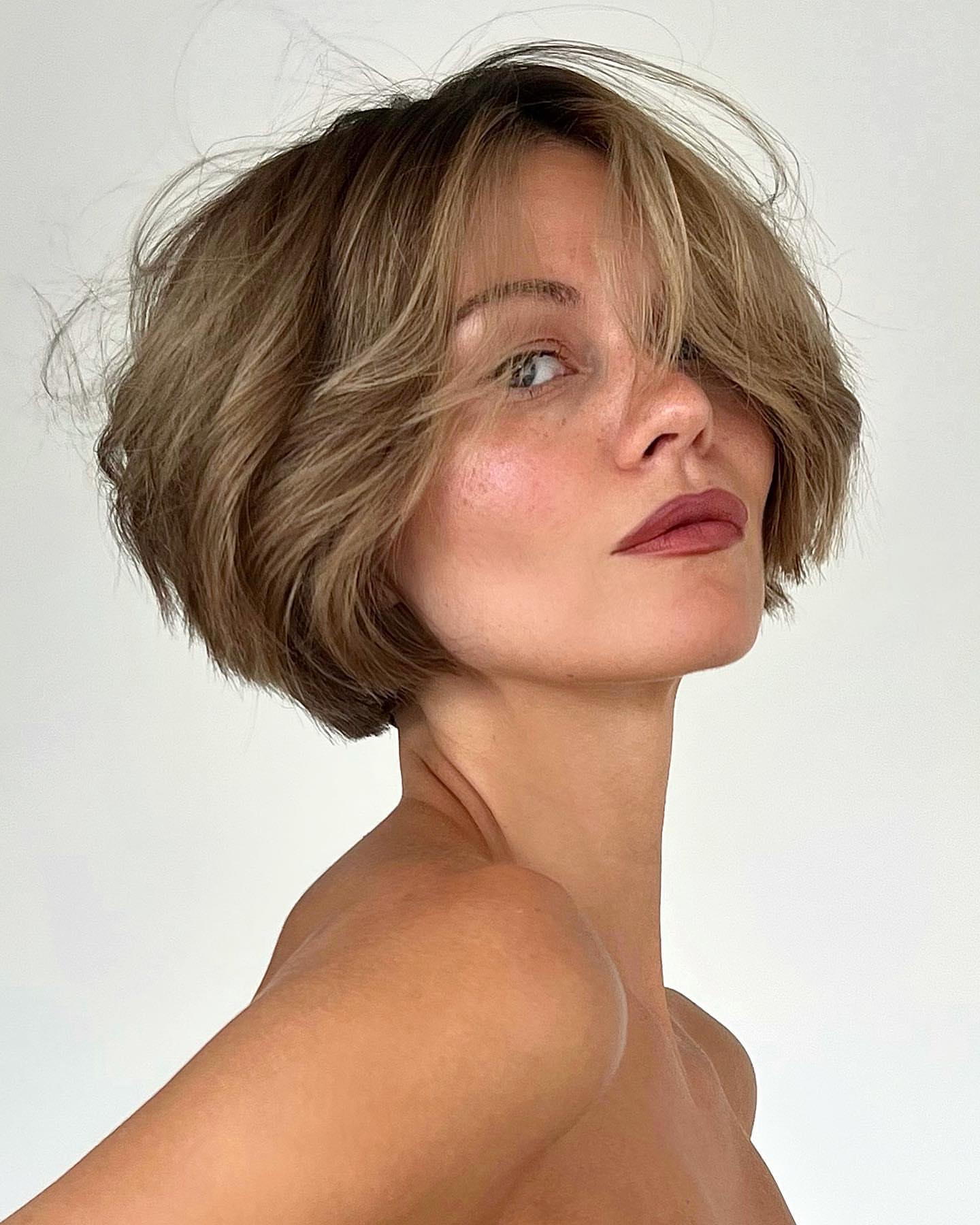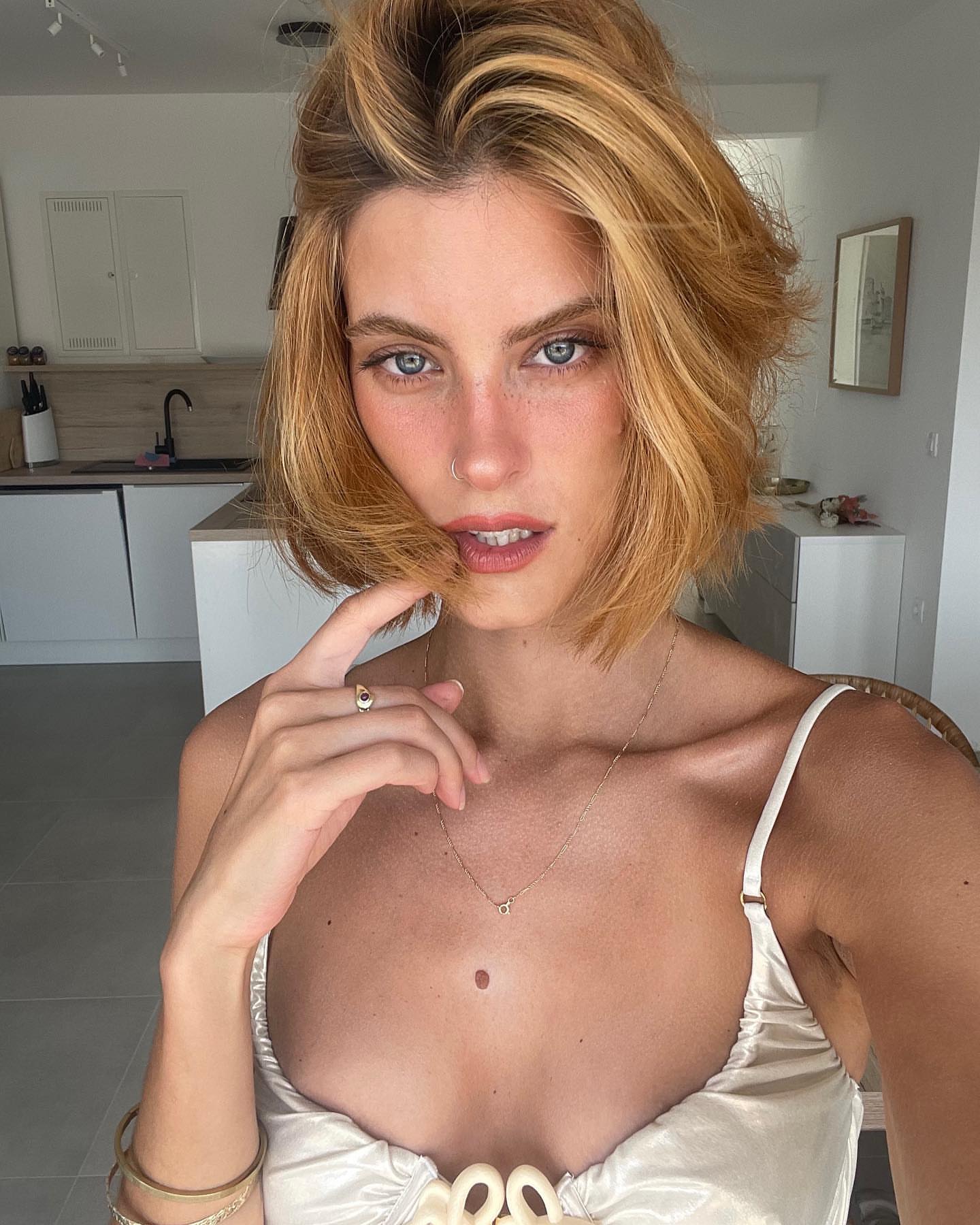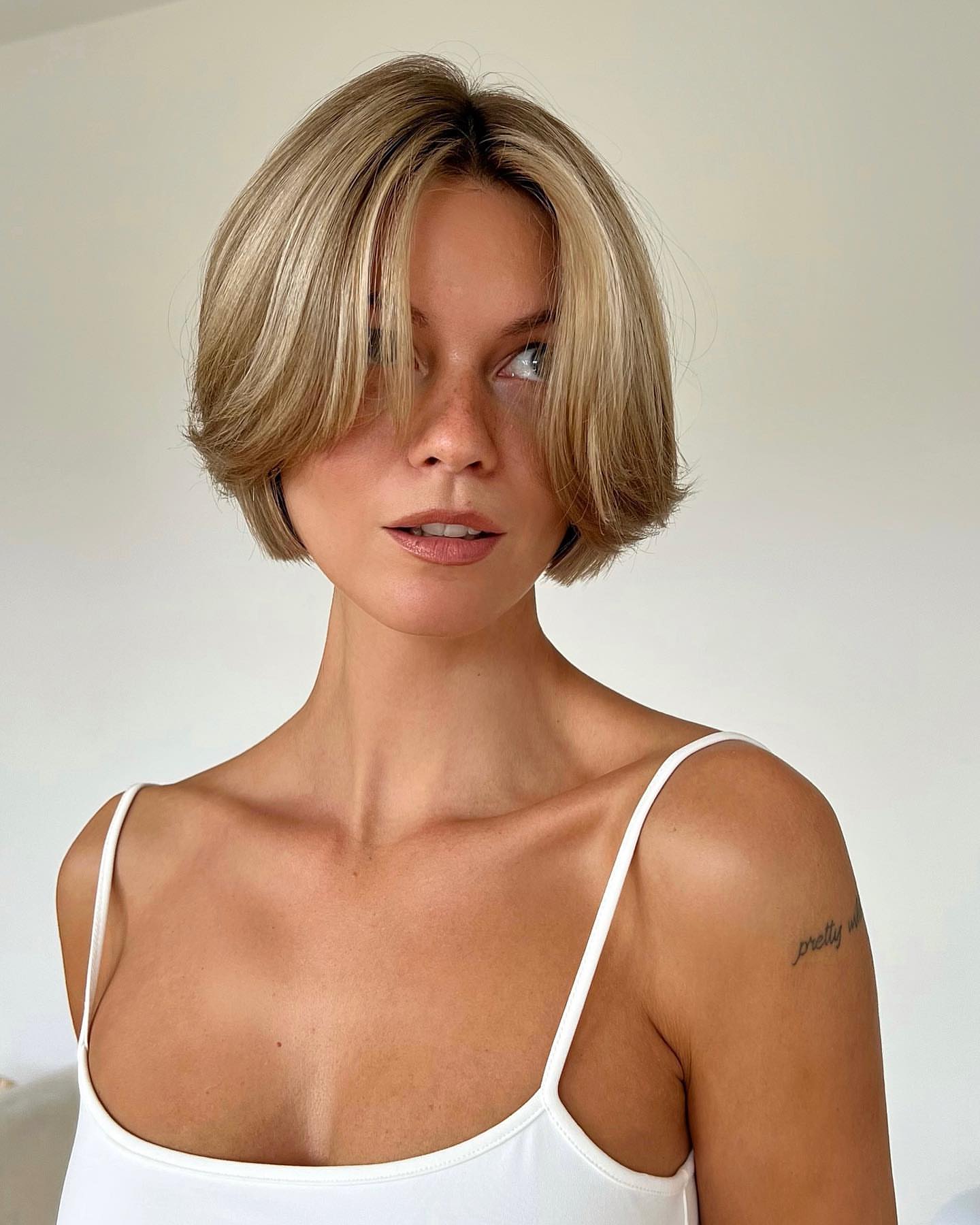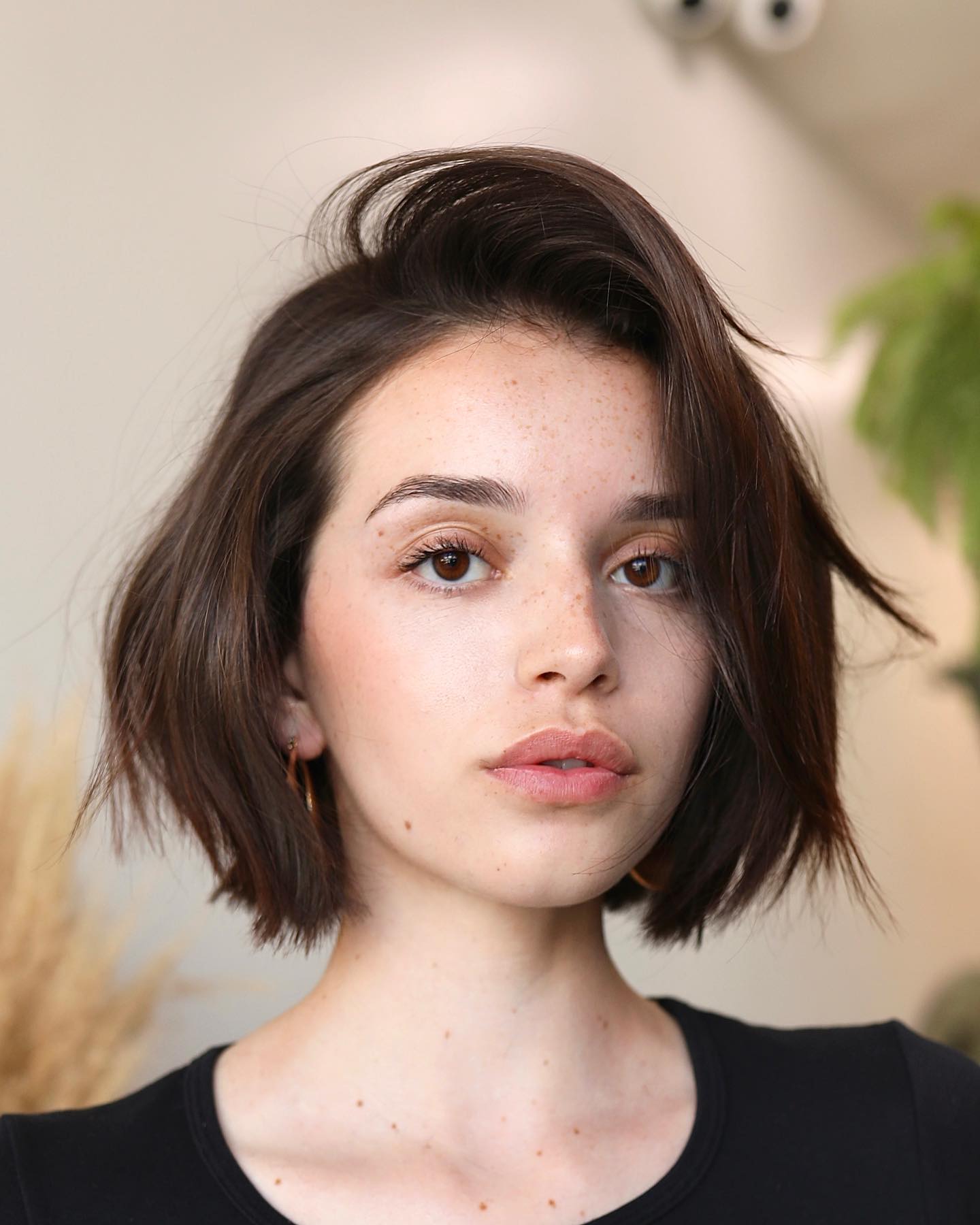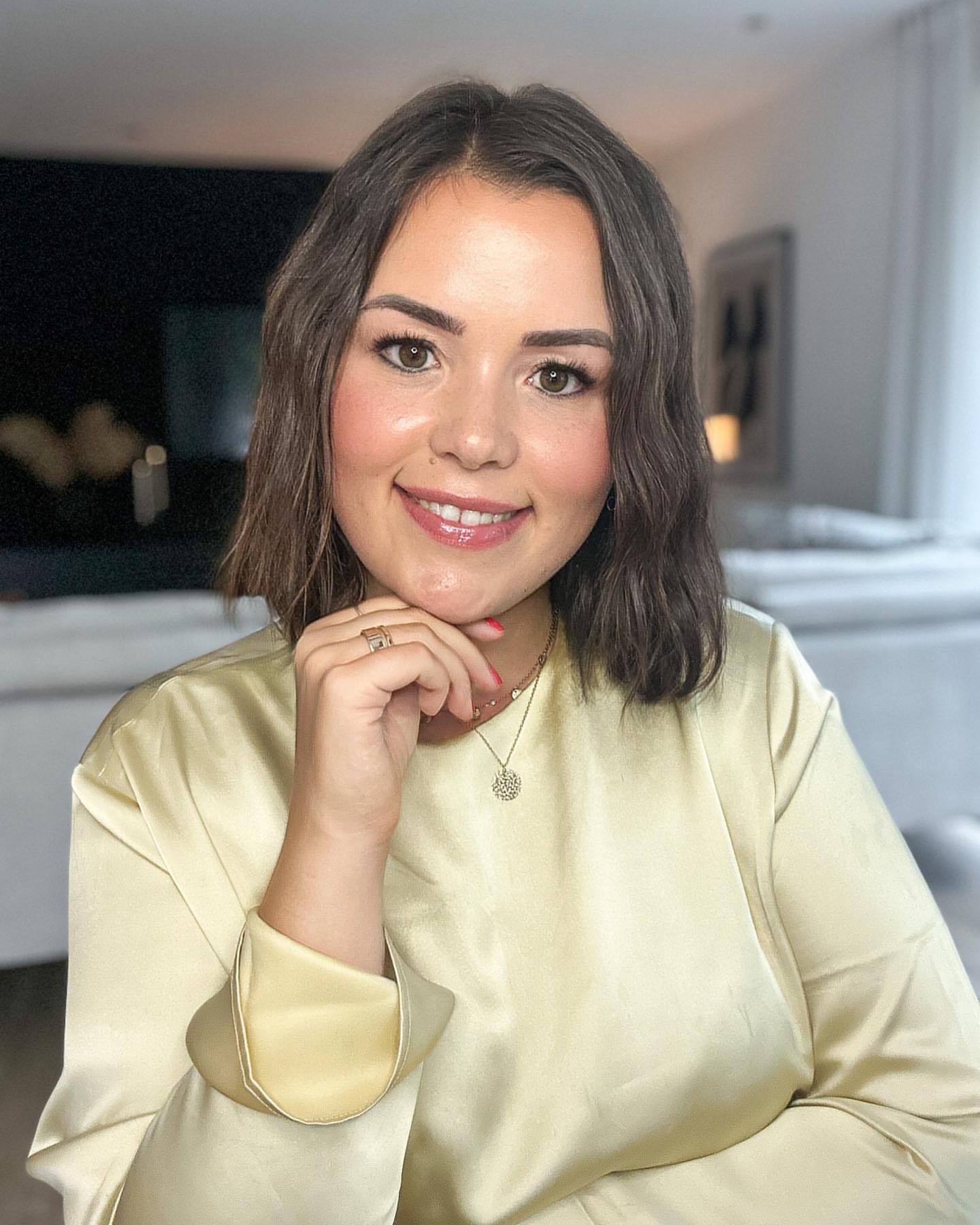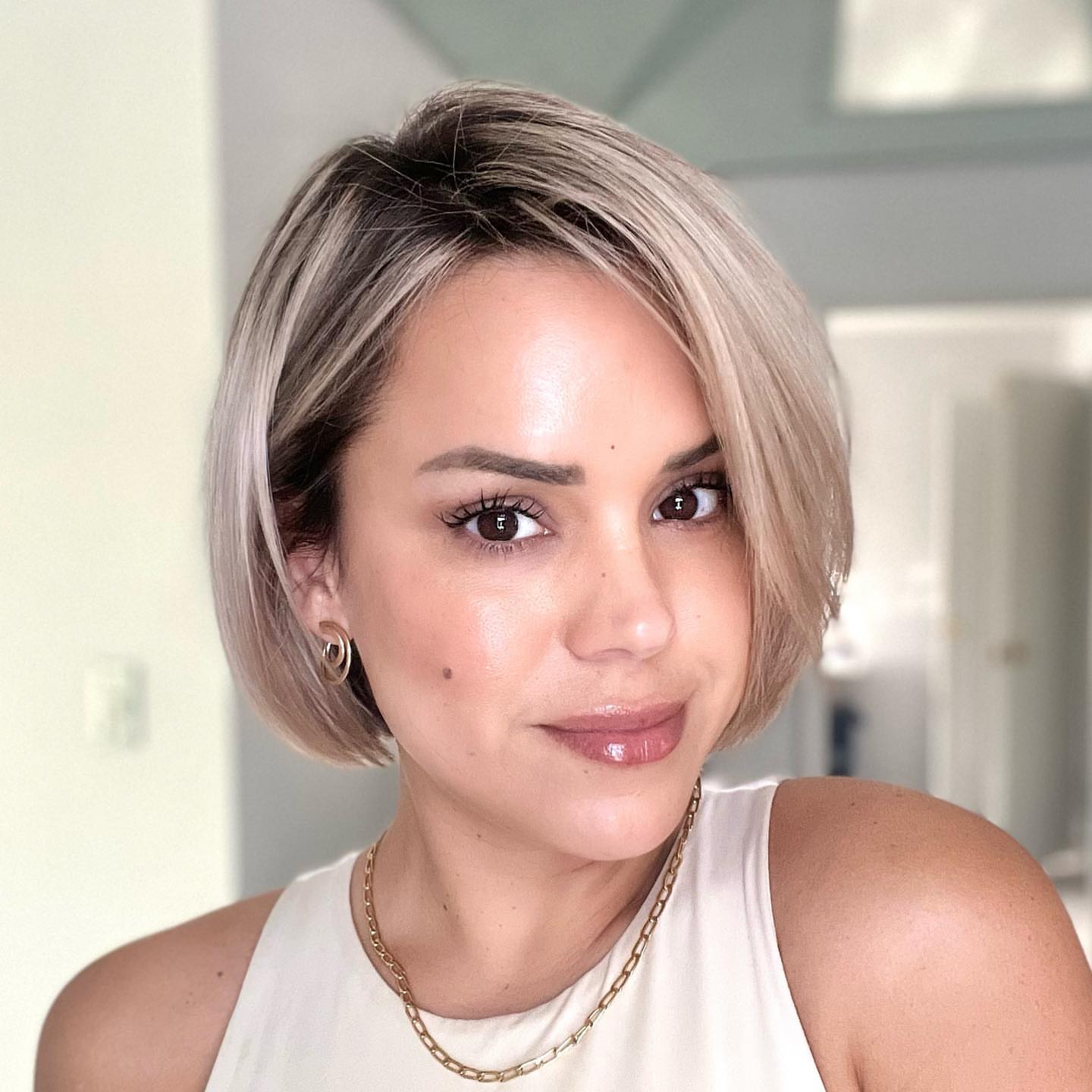 Short Pixie Cuts: Boldness, Brilliance, and Beyond
The lure of the pixie cut is undeniable. It's a hairstyle that exudes a sense of daring, a touch of rebelliousness, and a whole lot of personality. The choice to sport a short pixie cut is a choice to embrace a new level of freedom – freedom from time-consuming hair management, freedom from style stagnation, and freedom to express oneself unabashedly. When you choose a pixie cut, you're choosing to make a bold statement about who you are and what you represent.
One reason why many are drawn to short pixie cuts is their ability to spotlight your individual features like no other style can. The shorter the cut, the more the focus shifts onto your face – your eyes, your smile, your cheekbones. The pixie cut can highlight the nuances of your unique facial structure, creating a captivating silhouette that truly stands out. Whether you have a heart-shaped face, a square jaw, or an oval profile, there's a pixie style tailored to frame and flatter your specific features.
There's also an undeniable allure in the low-maintenance appeal of a pixie cut. No more worrying about tangles, frizz, or extensive styling regimes. With a pixie cut, you're looking at a hairstyle that's as easygoing as it is stylish. Your morning routine becomes streamlined, saving precious time without sacrificing your chic appearance. It's a lifestyle shift that many busy, modern women find incredibly liberating.
Yet, perhaps the most compelling reason to go for a short pixie cut is its versatility and adaptability. Yes, the cut is short, but don't be fooled into thinking that it's limited in styling options. From tousled and textured to sleek and slicked back, the pixie cut can be transformed to fit any mood, occasion, or outfit. You can play with color, experiment with accessories, or even change the direction of your part to switch up your look. The pixie cut is a canvas that welcomes creativity, encouraging you to express your personality and style in novel, exciting ways.
So why choose a short pixie cut? It's a celebration of boldness, confidence, and self-expression. It's a declaration of independence, a break from the norm, and a step into a world where your style is distinctly, uniquely you. When you choose a pixie cut, you're choosing a look that's as adaptable as you are, ready to take on new styles, new trends, and new adventures. With a pixie cut, you're not just making a fashion statement; you're embodying a spirit of audacious individuality and timeless chic.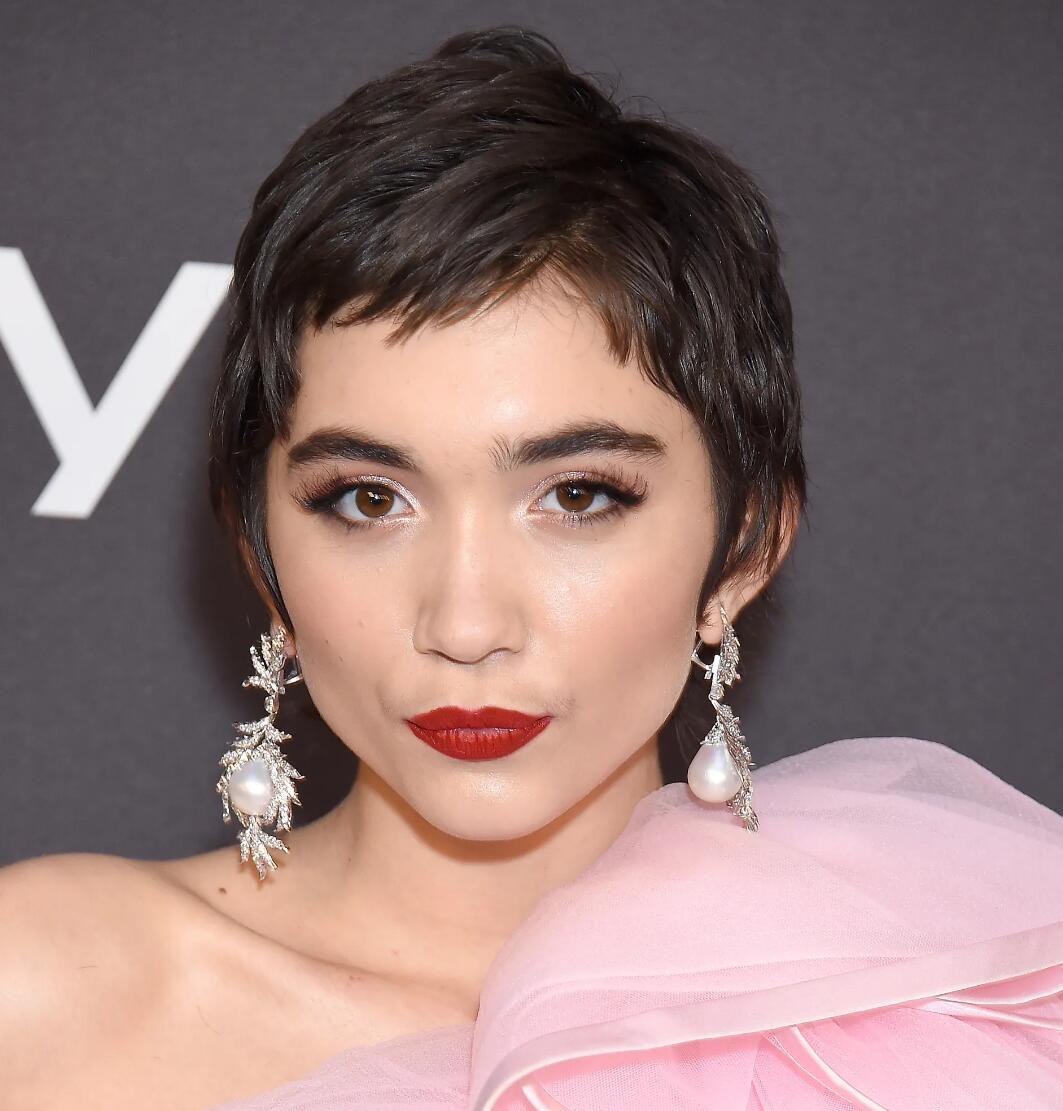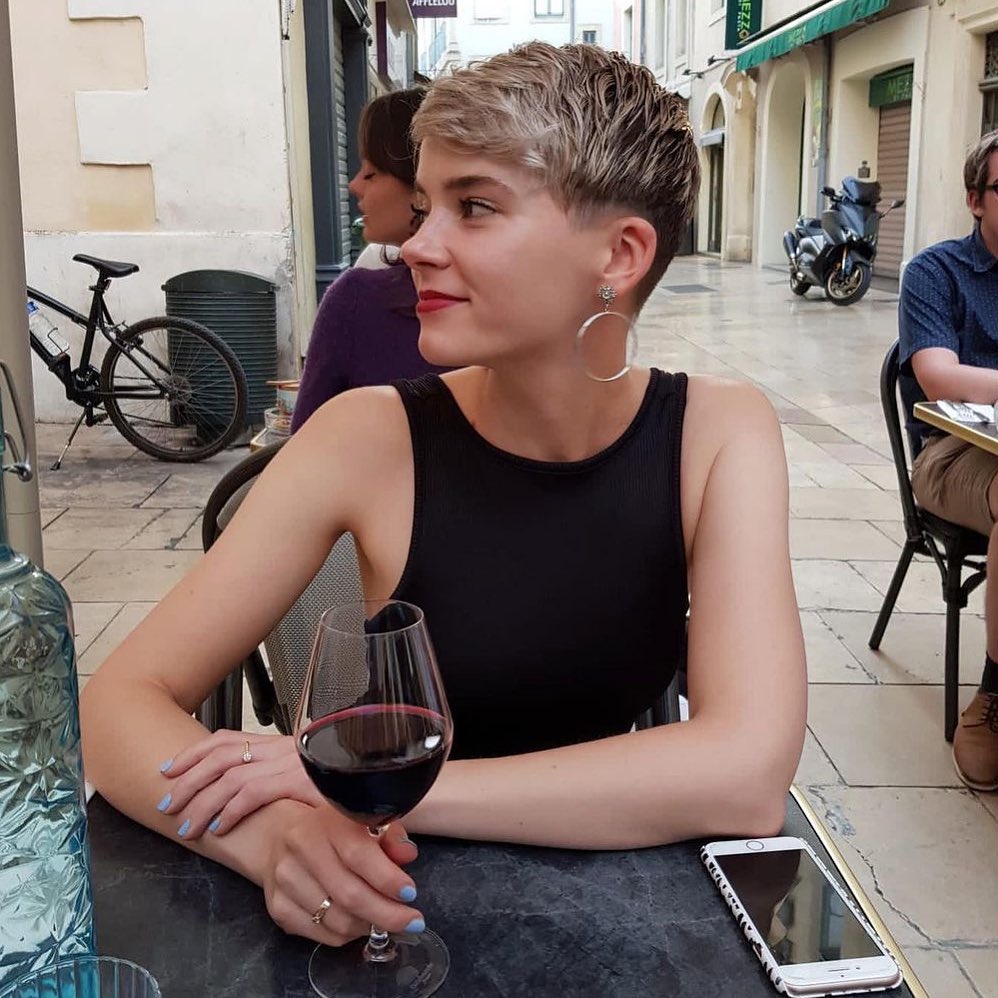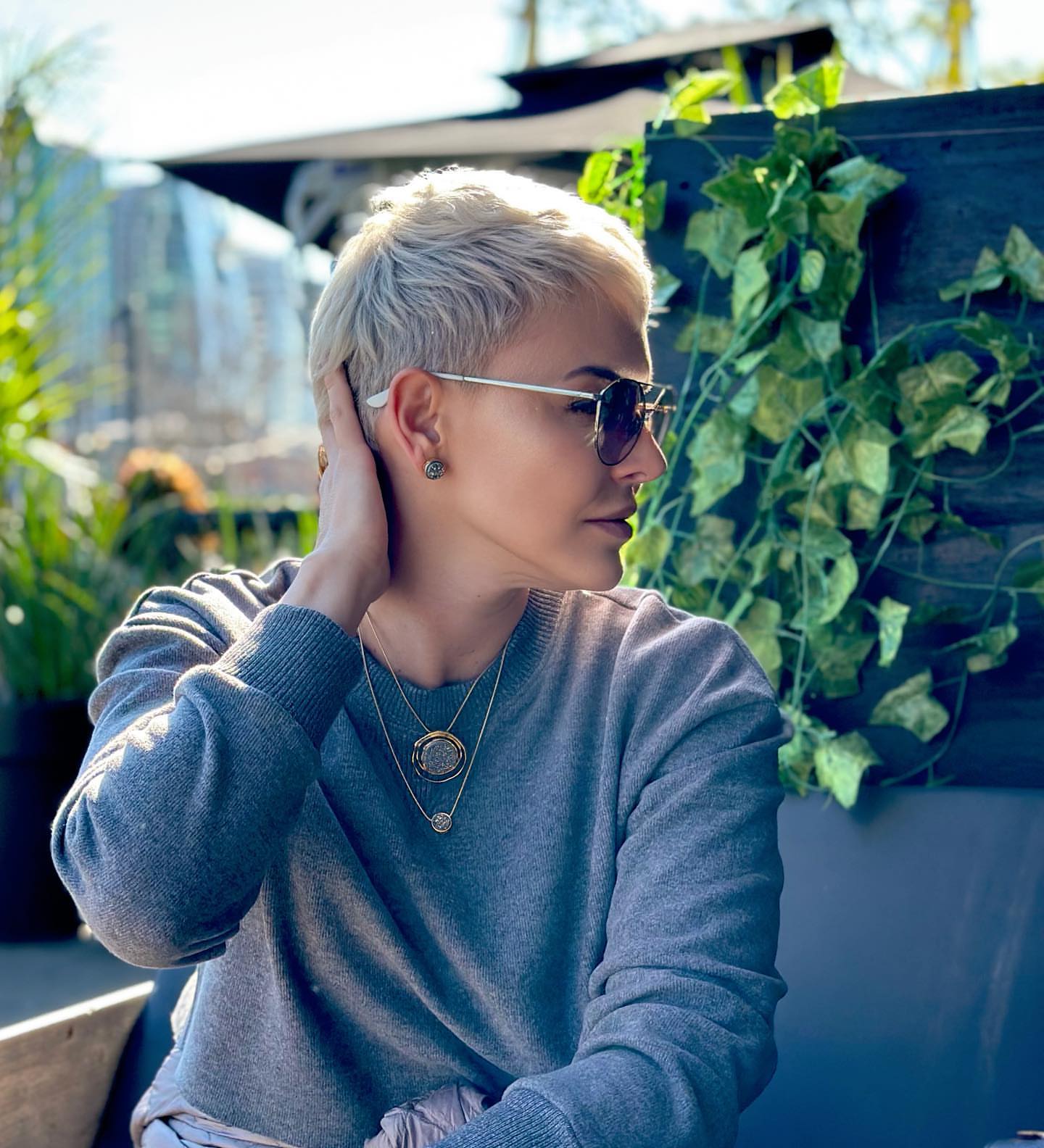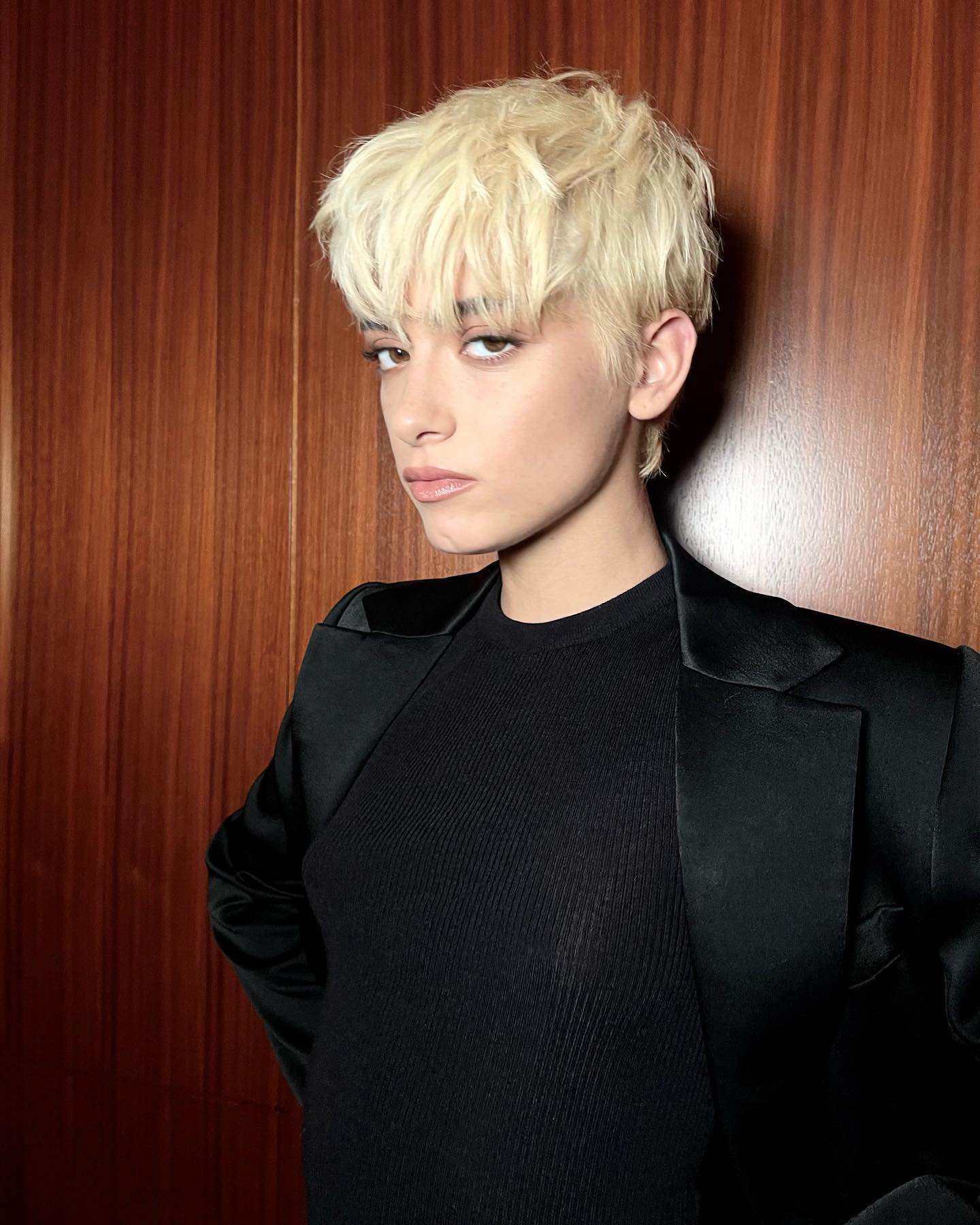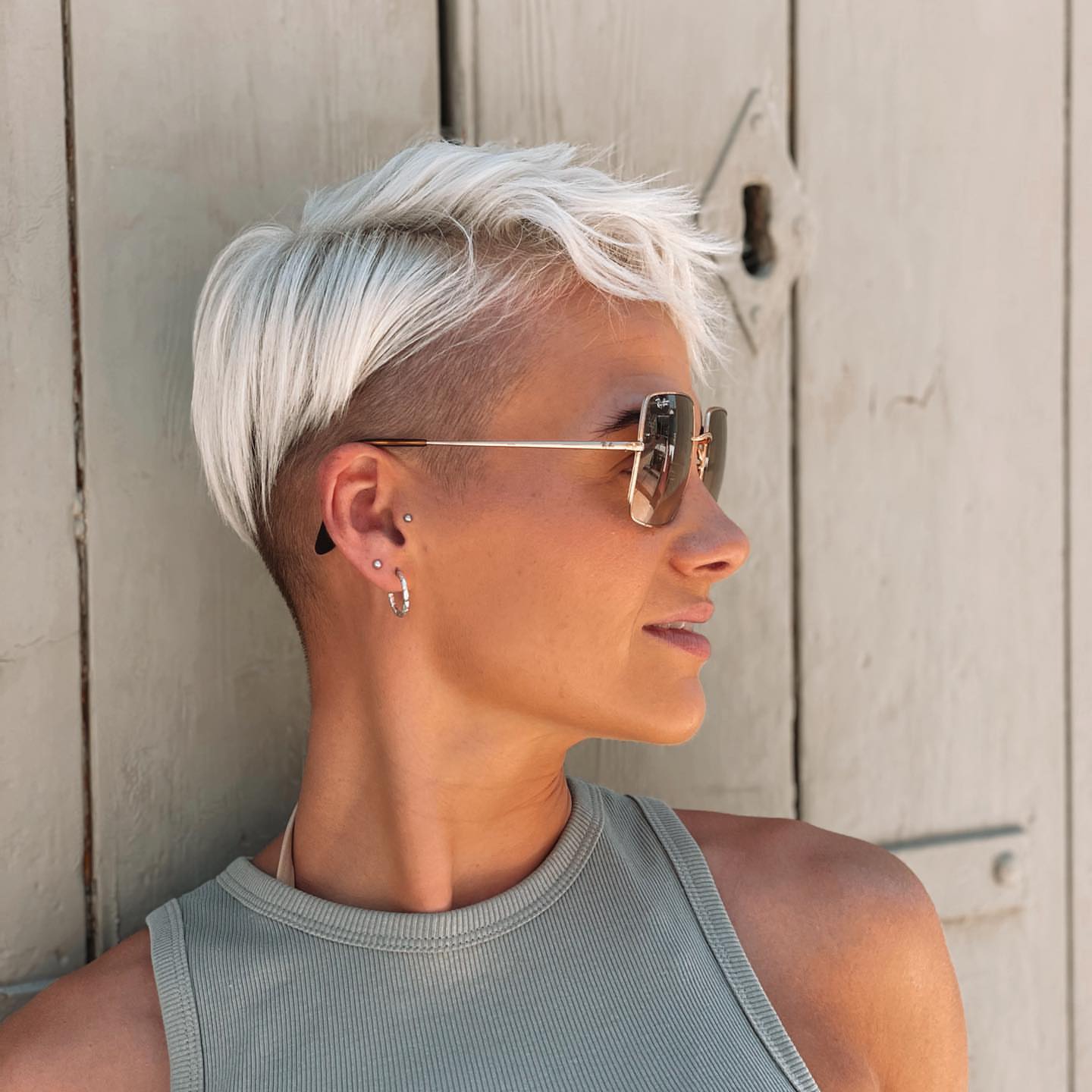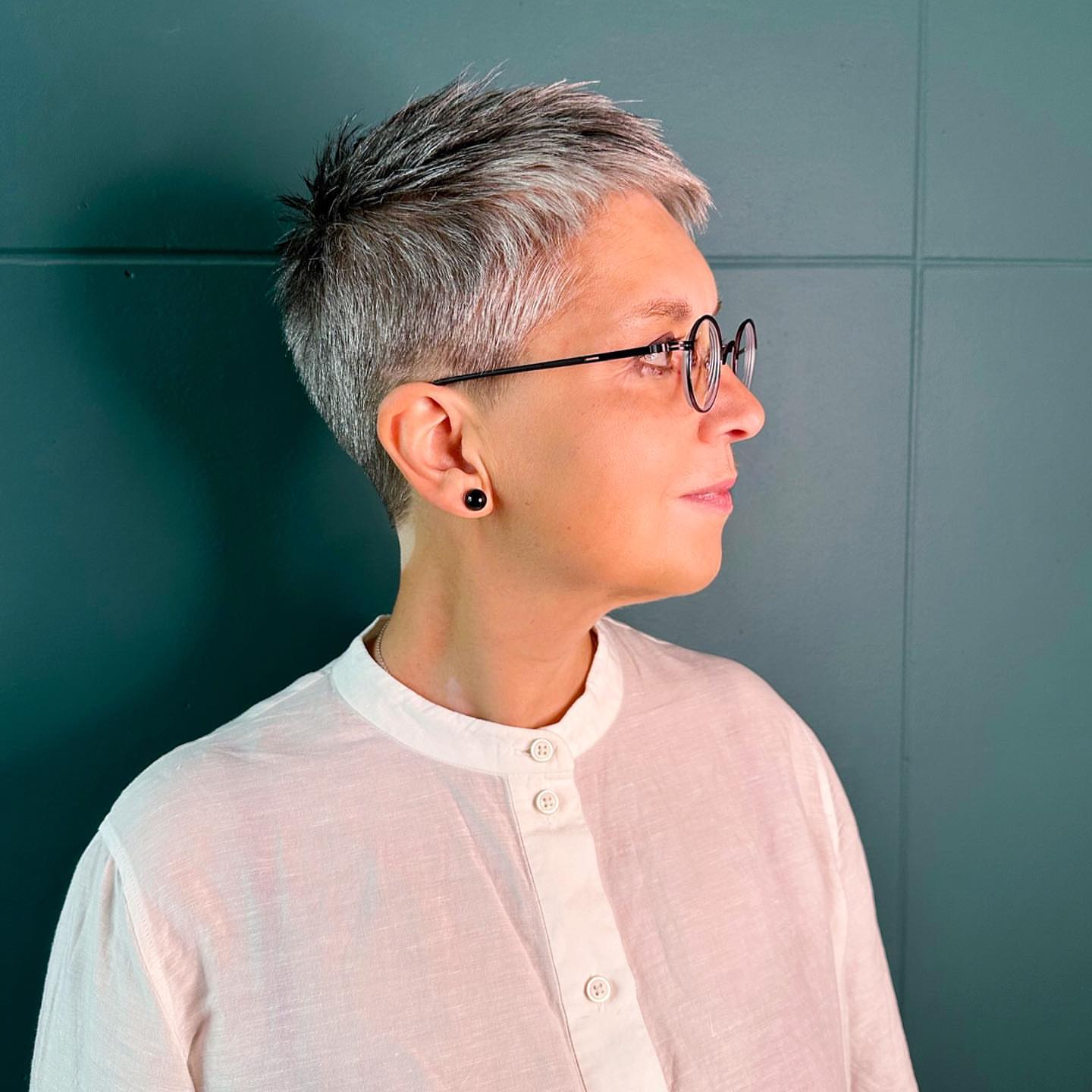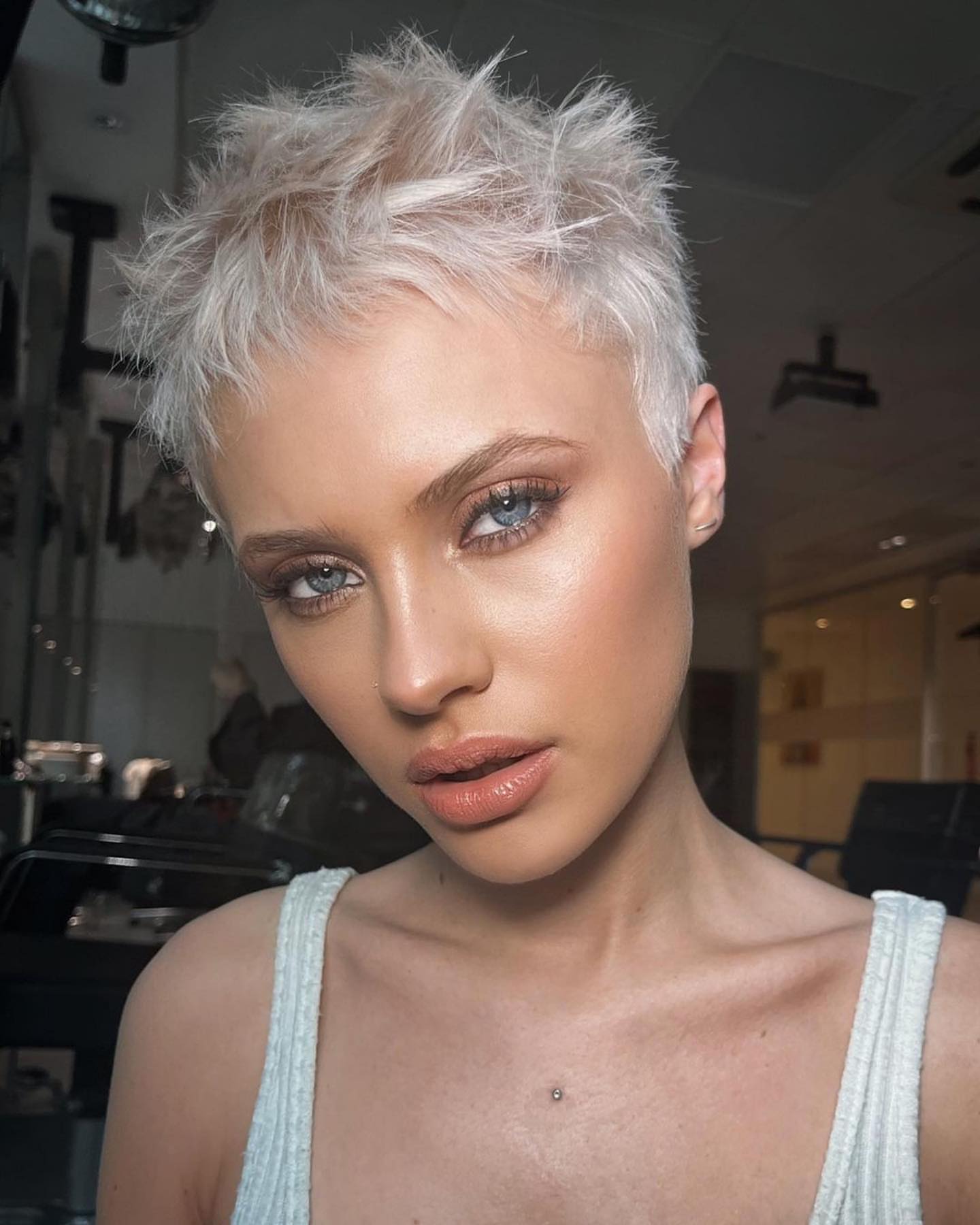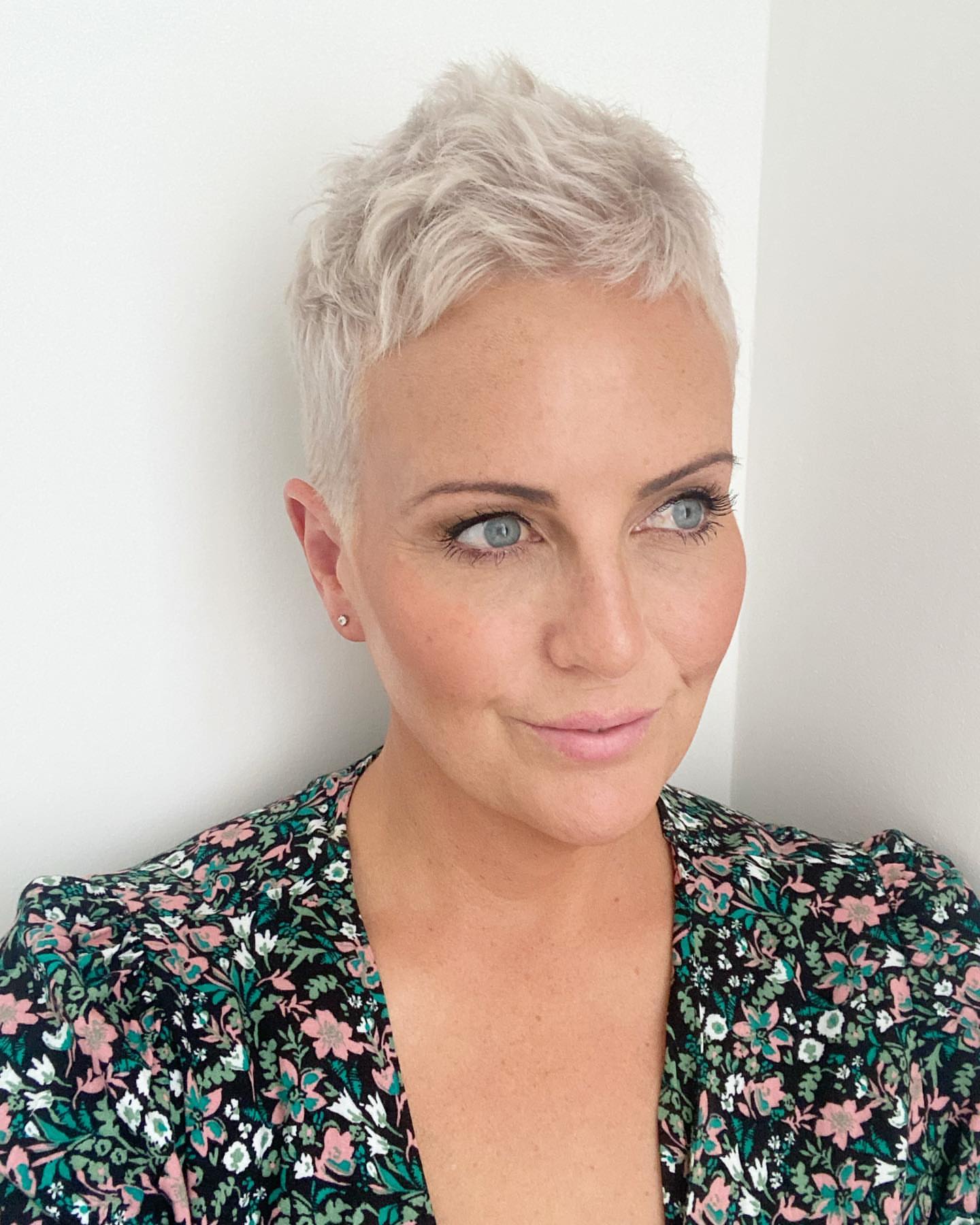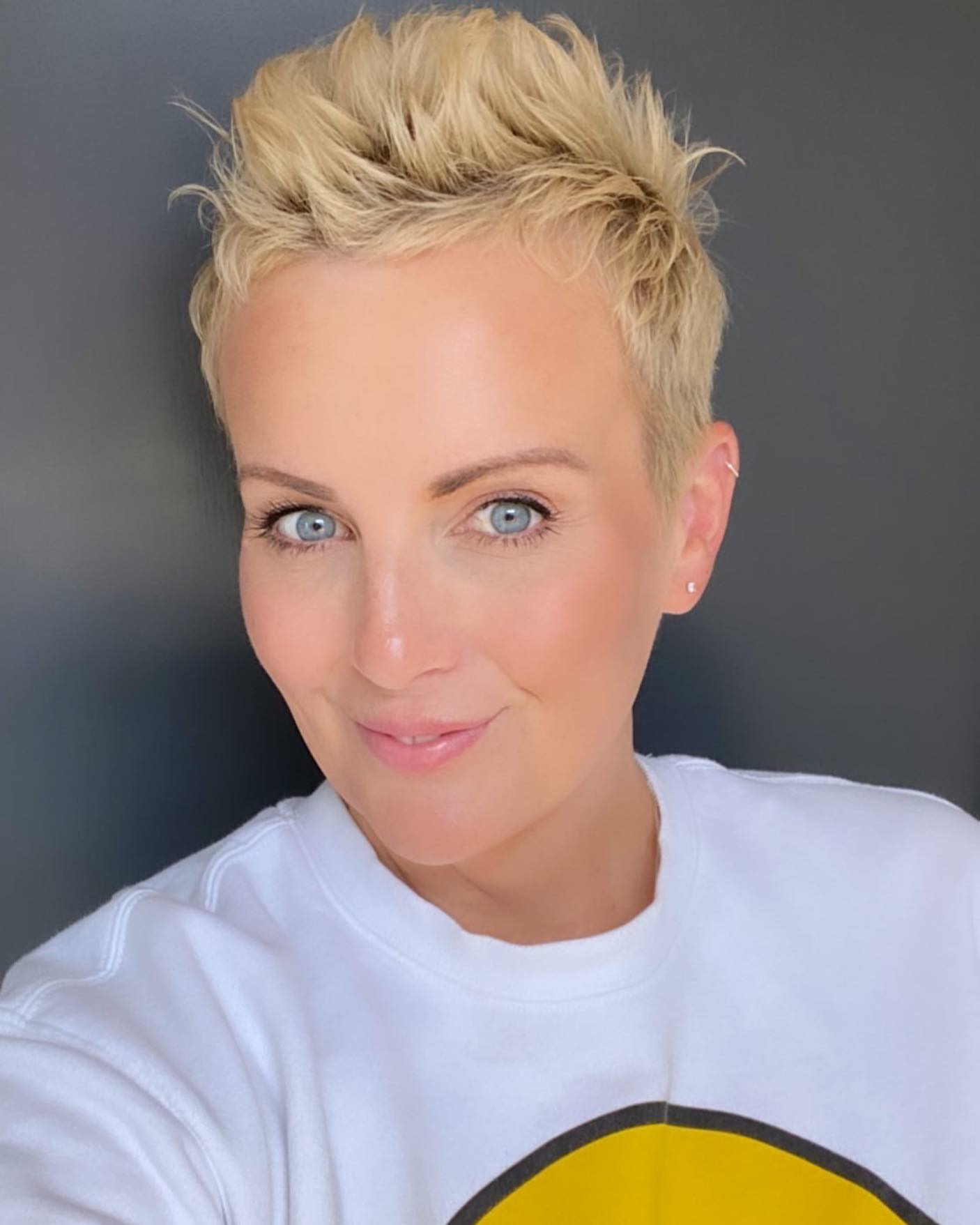 Short Hairstyles with Curls: Embrace the Spirals
If there's one word to encapsulate the beauty of curls, it's 'freedom.' Freedom to express, to break the norm, to defy gravity, and most importantly, to be yourself. Choosing a short hairstyle with curls is like letting your personality burst forth, unrestrained and unabashed, just like the spirals in your hair.
Celebrities like Halle Berry and Viola Davis have been known to rock short curly hairstyles, a testament to their strength, versatility, and timeless appeal. These styles have brought a new level of authenticity and grace to Hollywood's red carpets and are often credited to the hairstylists behind the scenes. As Larry Sims, the stylist behind Gabrielle Union's stunning curls, puts it, "Embracing your curls is like embracing your true self; it's about authenticity."
The beauty of a short curly hairstyle lies in its incredible adaptability. It's a style that can be tailored to each individual's unique curl pattern and texture. Whether you have loose waves, tight ringlets, or something in between, there's a short curly style that can enhance your natural beauty. As Kim Kimble, hairstylist to stars like Beyonce and Shakira, explains, "Short curly hair allows each curl to shine, each spiral to tell a story. It's about embracing and enhancing what's naturally yours."
Yet, perhaps one of the most appealing aspects of short curly hairstyles is their inherent volume and body. Even the shortest of curls can give an illusion of fuller, thicker hair. This characteristic allows curly hair to stand out in a crowd, making it an excellent choice for those wanting to make a bold, eye-catching statement. Plus, with the right products and care, as noted by stylist Vernon François, "Your curls can become your best accessory, giving you a range of styling options and versatility."
In the end, choosing a short hairstyle with curls is about celebrating your natural texture and transforming it into a unique personal statement. It's about honoring the beauty of curls, their shape, their movement, their spirit. Short curly hair is not just a style; it's an attitude, a bold declaration of personal authenticity and aesthetic individuality. So go ahead, let your curls loose and watch as they bounce with every step, just like the lively, spirited personality they represent.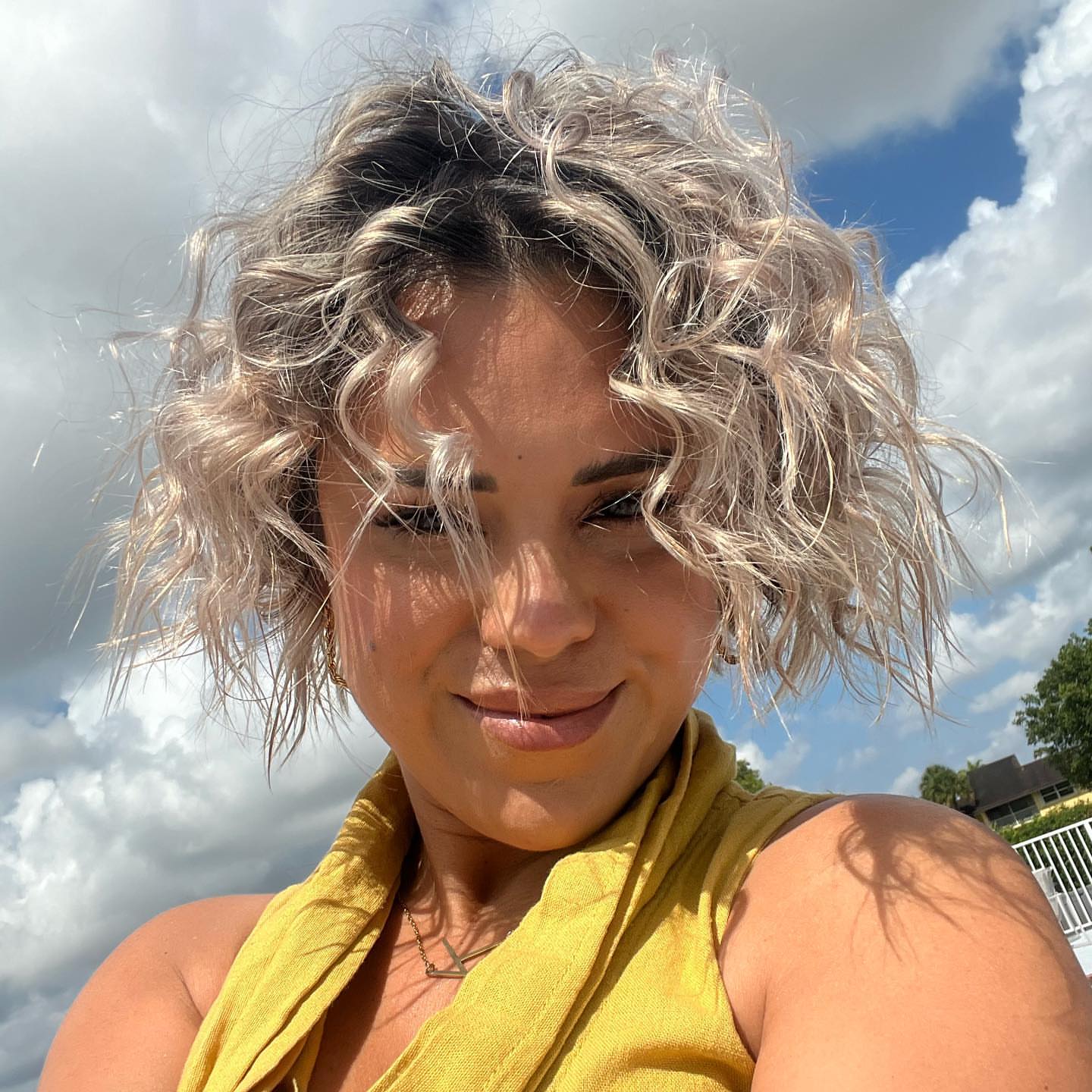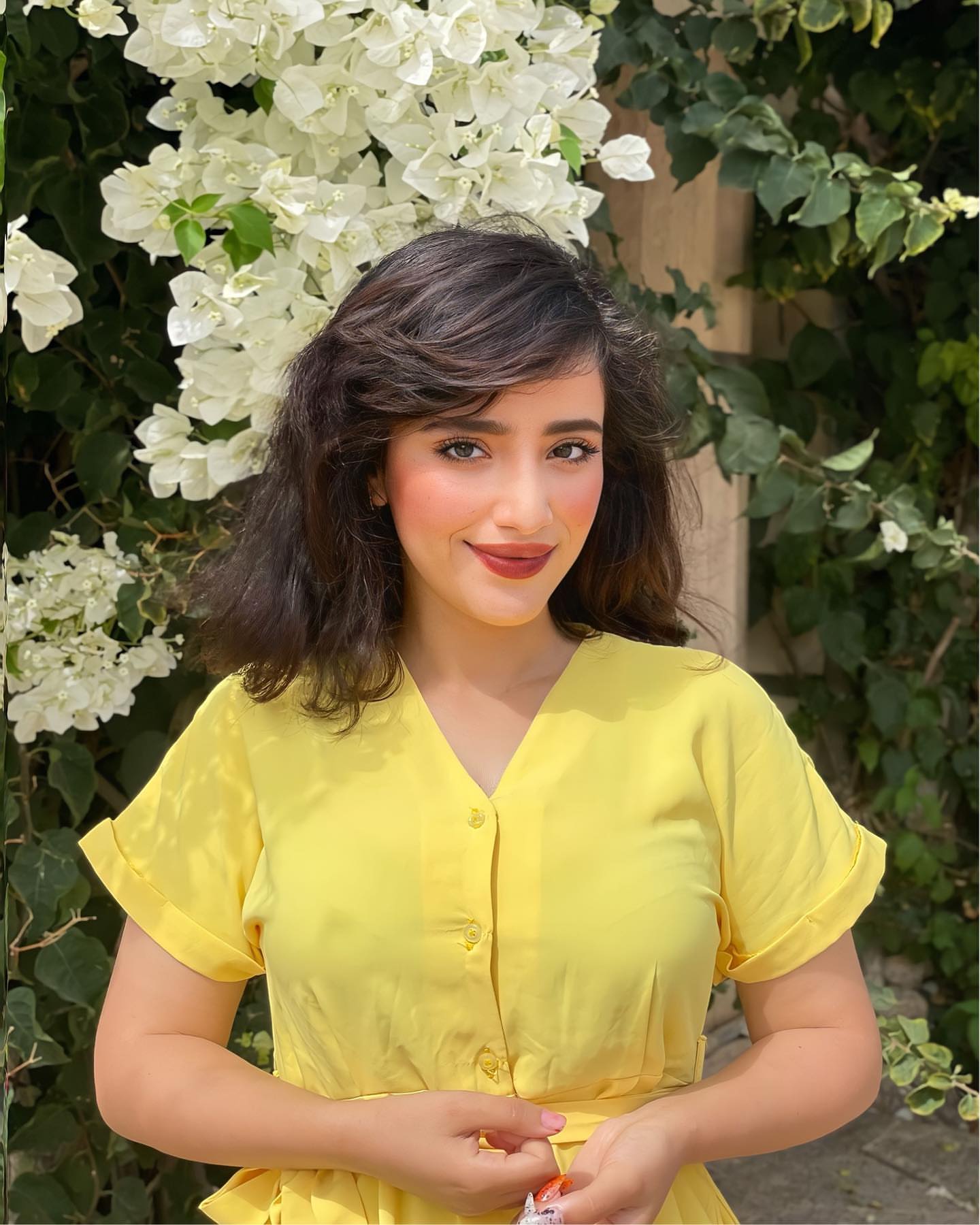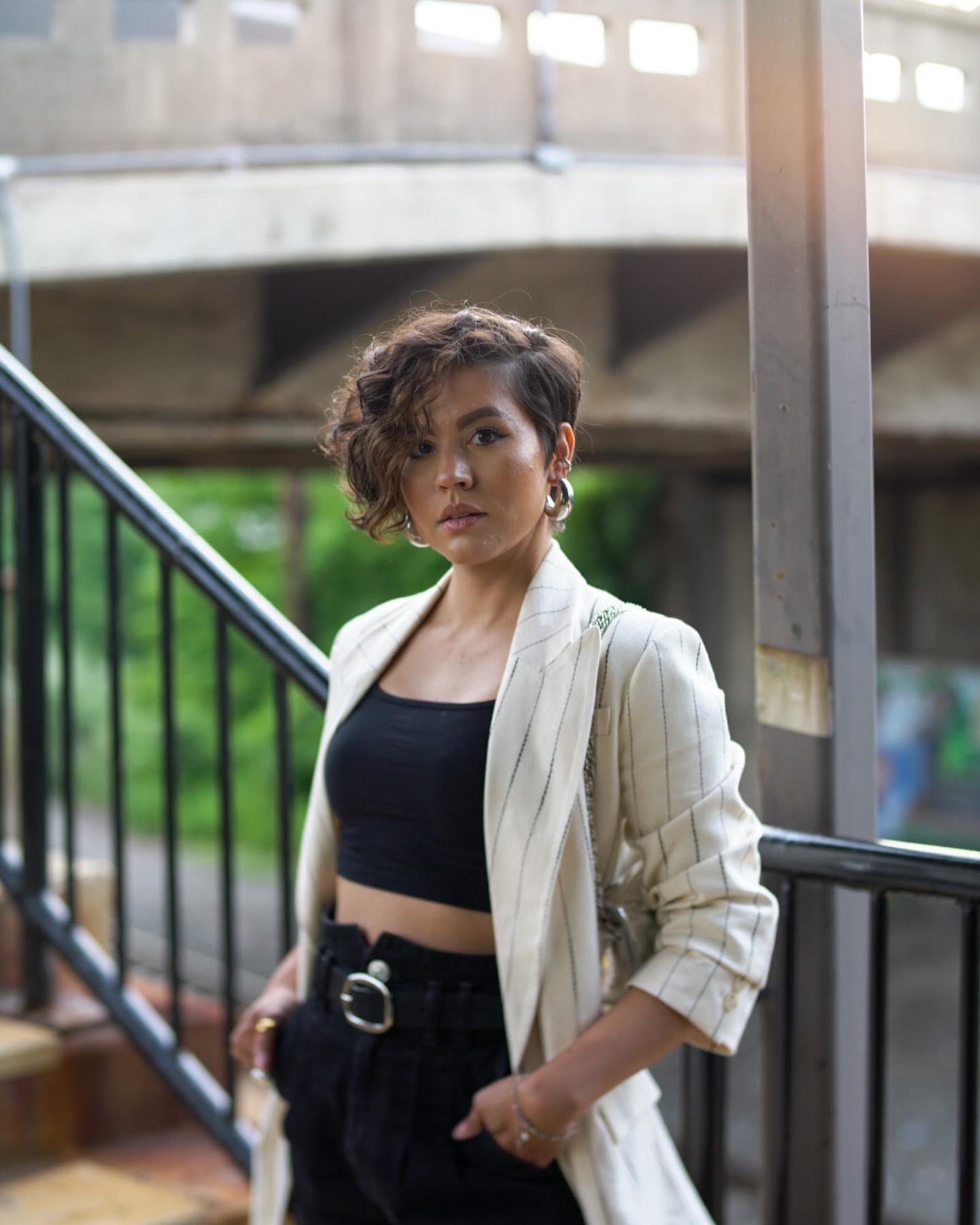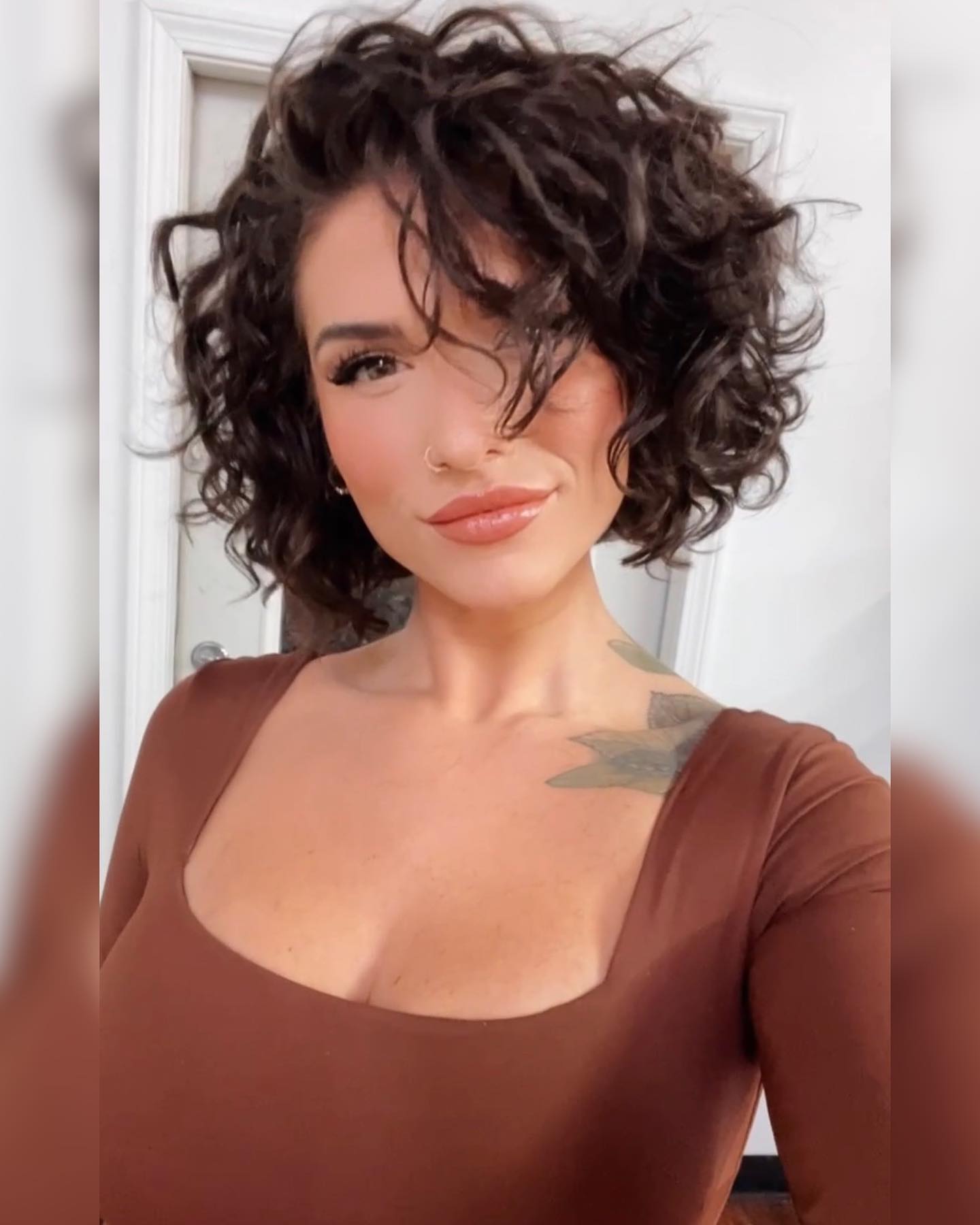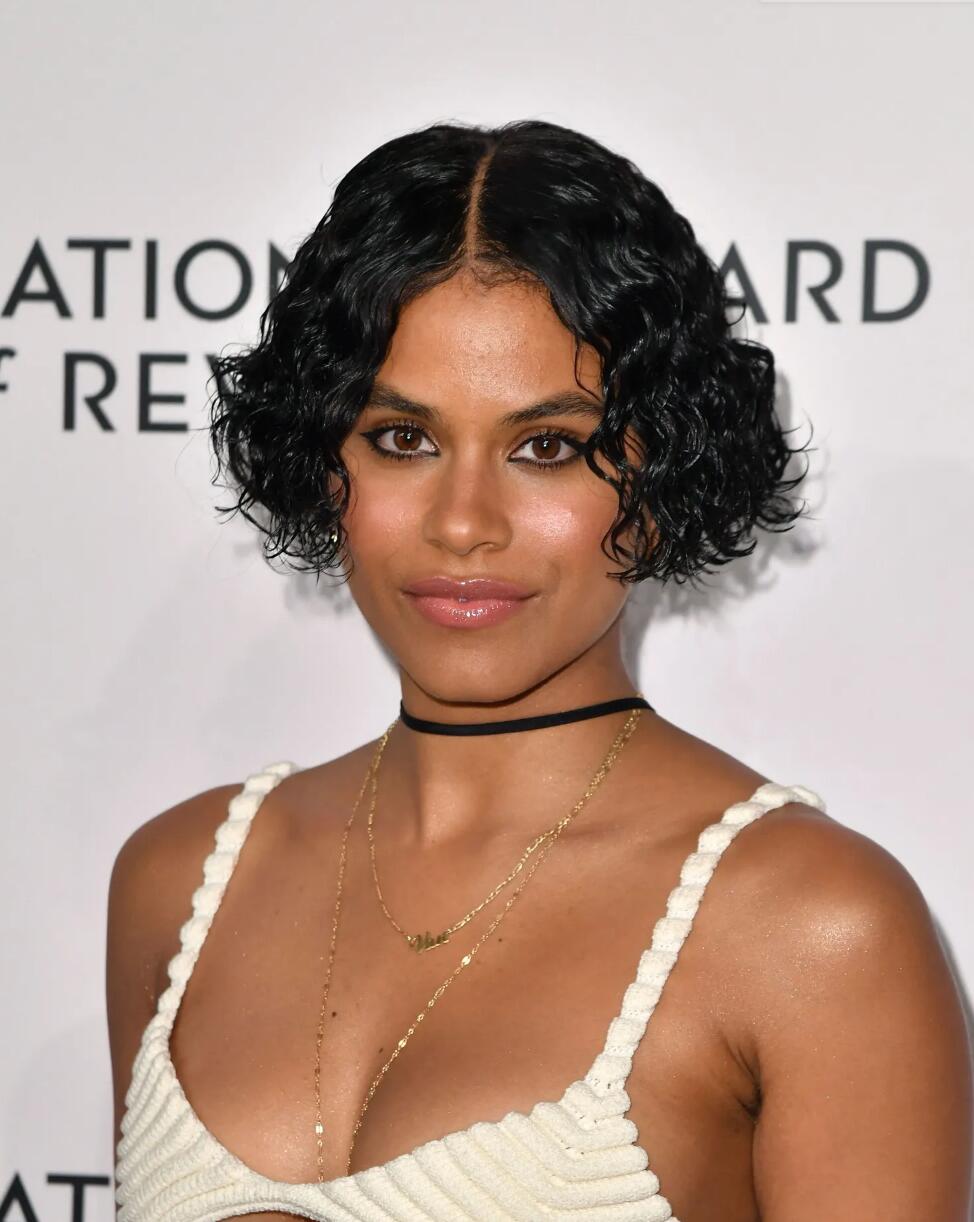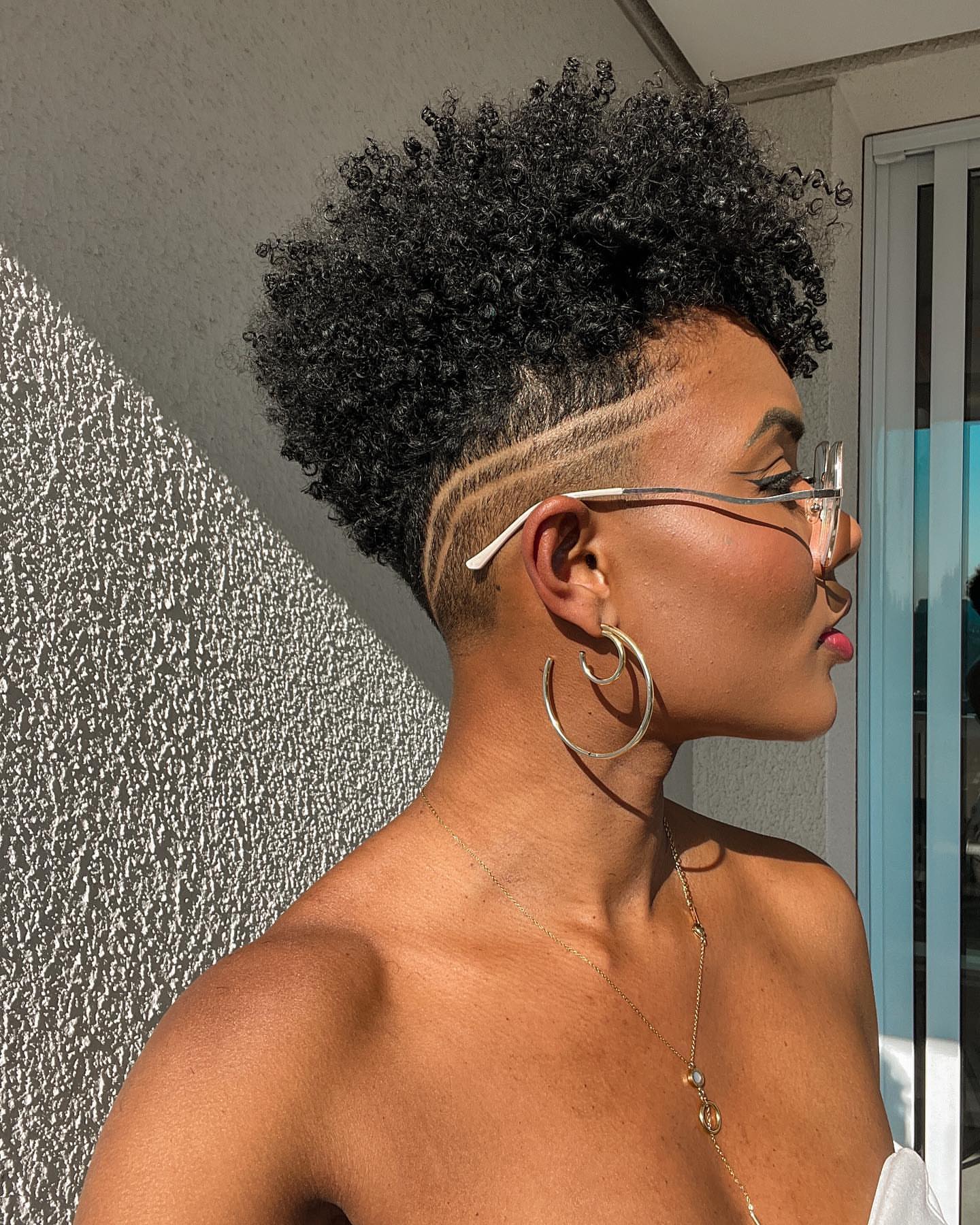 Short Hairstyles with Waves: Ride the Style Wave with Confidence
Waves – they're not just for the beach. When incorporated into a short hairstyle, they can add an element of movement, volume, and softness that's hard to resist. A wavy short hairstyle is more than just a haircut; it's a celebration of effortless chic and dynamic texture. It's about making a style statement that's as unique and multifaceted as the waves themselves.
Celebrities like Halle Berry, Sarah Hyland, and Jennifer Lawrence have all embraced the wavy short hair trend, turning heads on the red carpet with their tousled locks. Expert stylists like Mara Roszak and Kristin Ess are often the visionaries behind these iconic looks, mastering the art of crafting waves that are not just stylish, but also tailored to enhance the individual beauty of each client. "Waves can add dimension to short hair, creating a dynamic visual effect that's both playful and sophisticated," says Roszak.
One of the most attractive features of wavy short hairstyles is their versatility. From beachy waves to vintage finger waves, there's a broad range of styles to choose from. Moreover, waves can be adapted to suit different hair types and face shapes. "Waves are great for adding volume to thin hair, softening angular faces, and giving straight hair a bit of oomph," explains celebrity hairstylist, Jen Atkin.
The styling possibilities are virtually endless with wavy short hair. Waves can be worn loose for a casual, laid-back look, or dressed up with accessories for special occasions. They can also be tailored to look soft and romantic or edgy and daring, depending on your personal style. As Ess notes, "Wavy short hairstyles offer an opportunity for creativity. They're like a playground for your styling tools and products."
Choosing a short wavy hairstyle is not just about embracing a trend; it's about riding the style wave with confidence. It's about showcasing your personality through your hair, embracing the dynamic movement of waves, and embodying a style that's as spontaneous and free-spirited as you are. In essence, a wavy short hairstyle is more than a haircut; it's a way to express your creativity, celebrate your individuality, and make a style statement that's truly your own. So, why not ride the style wave and see where it takes you?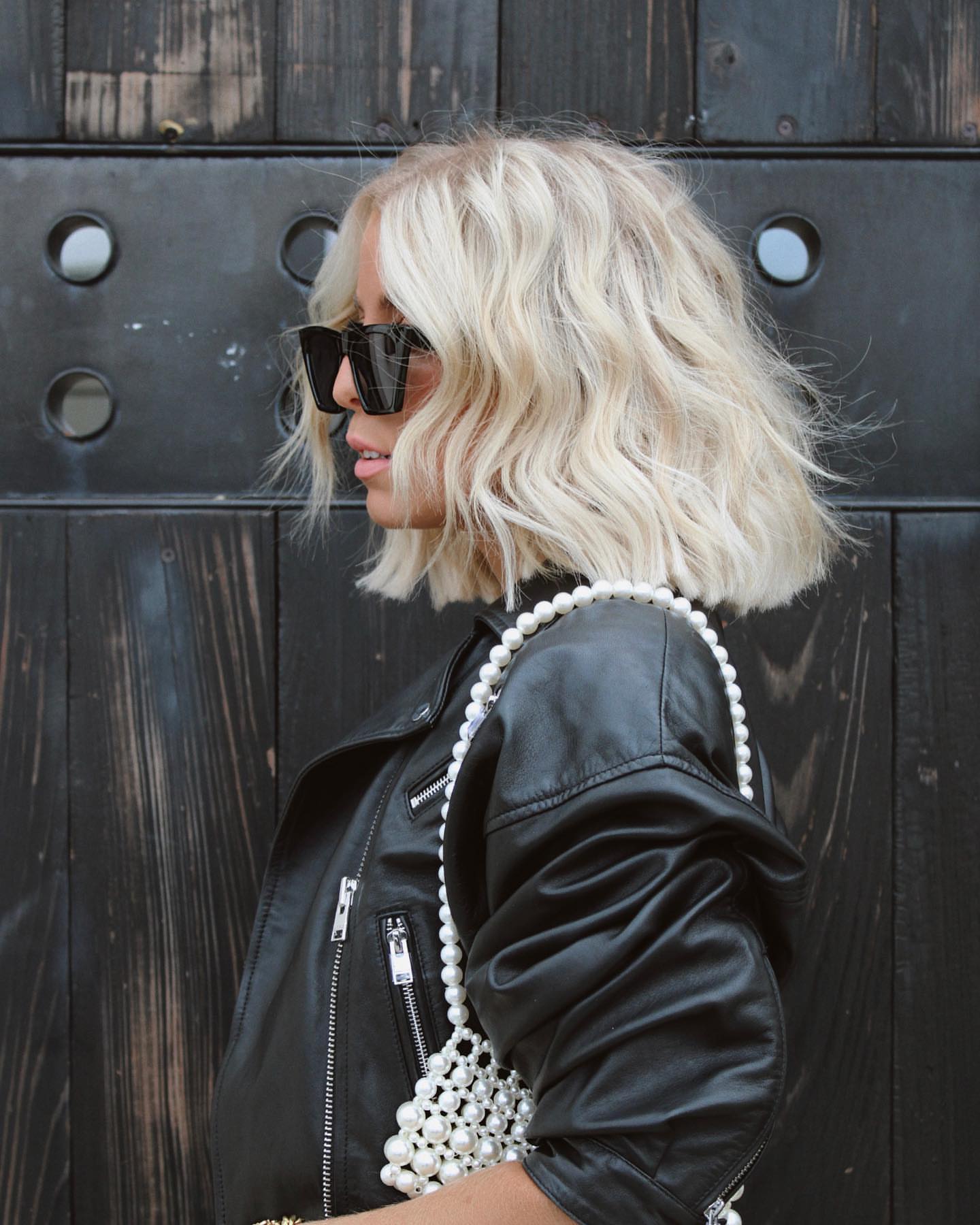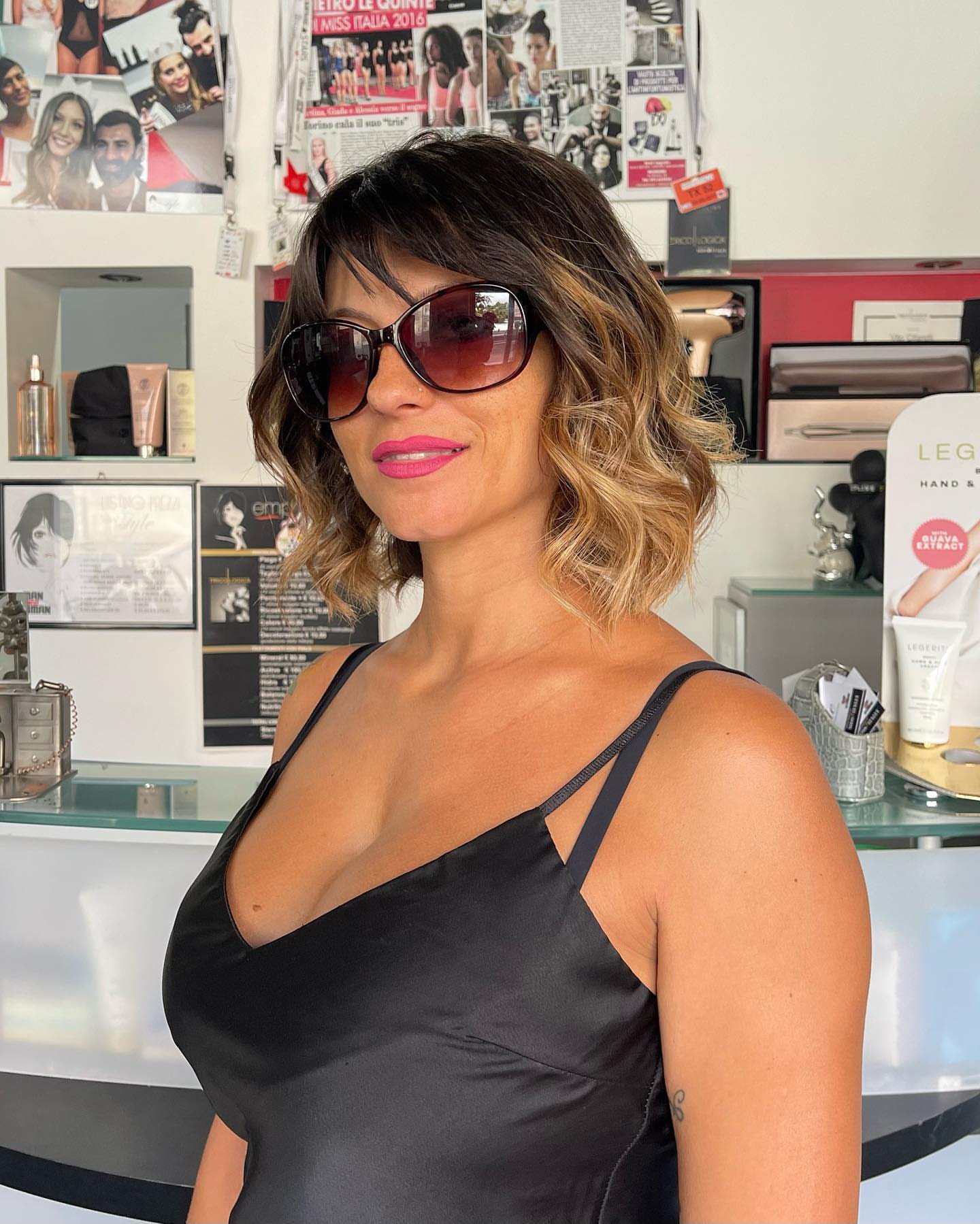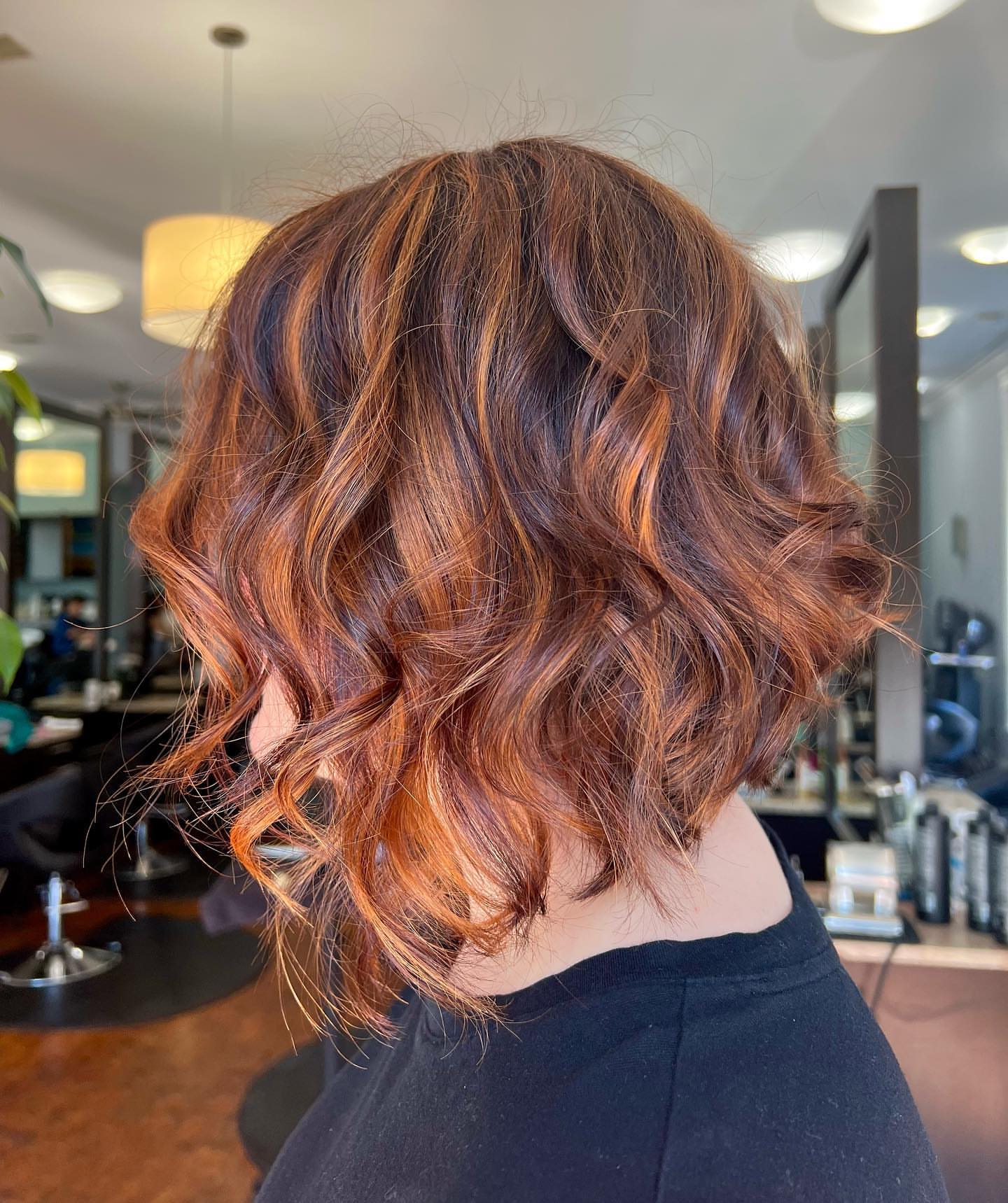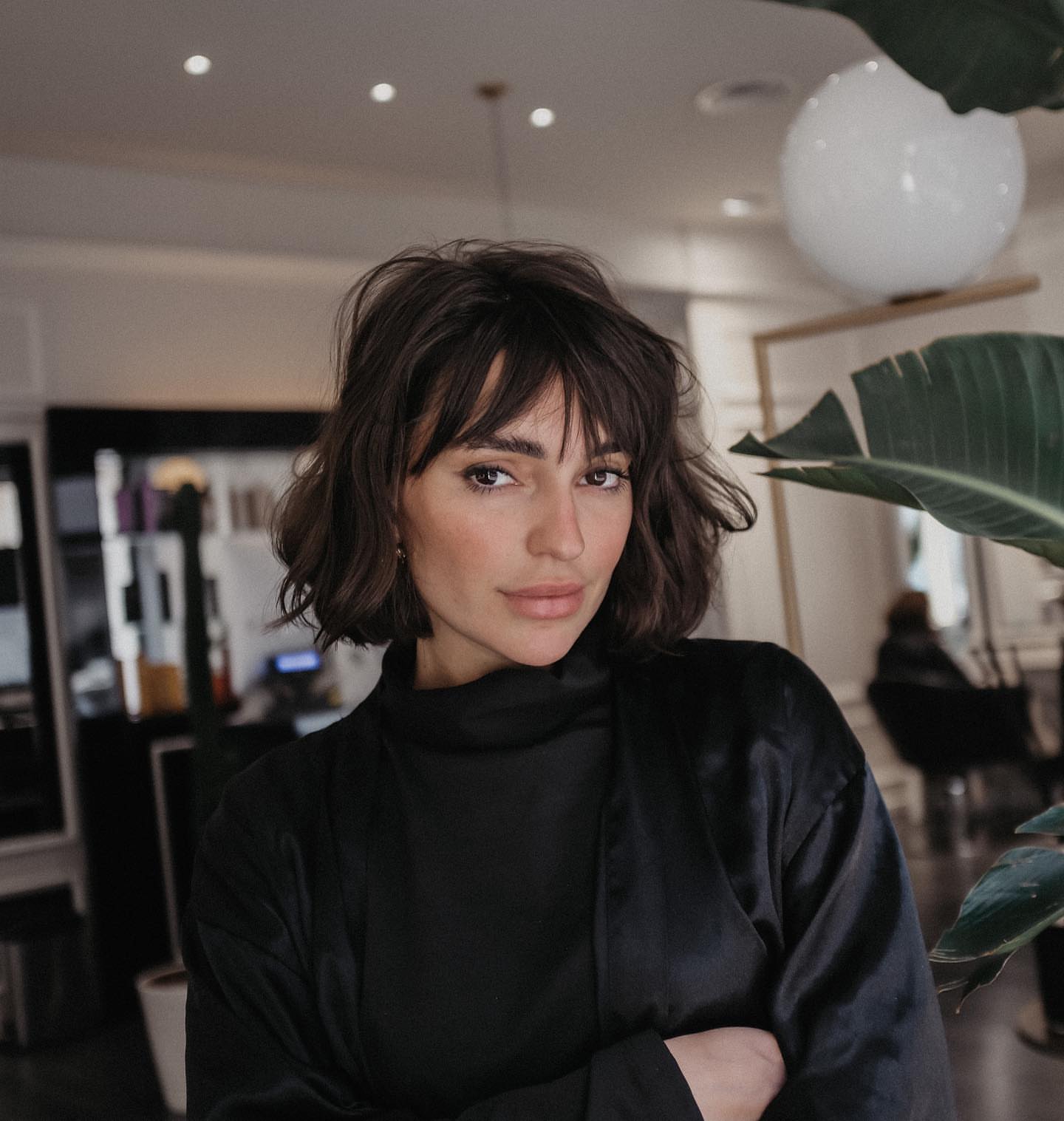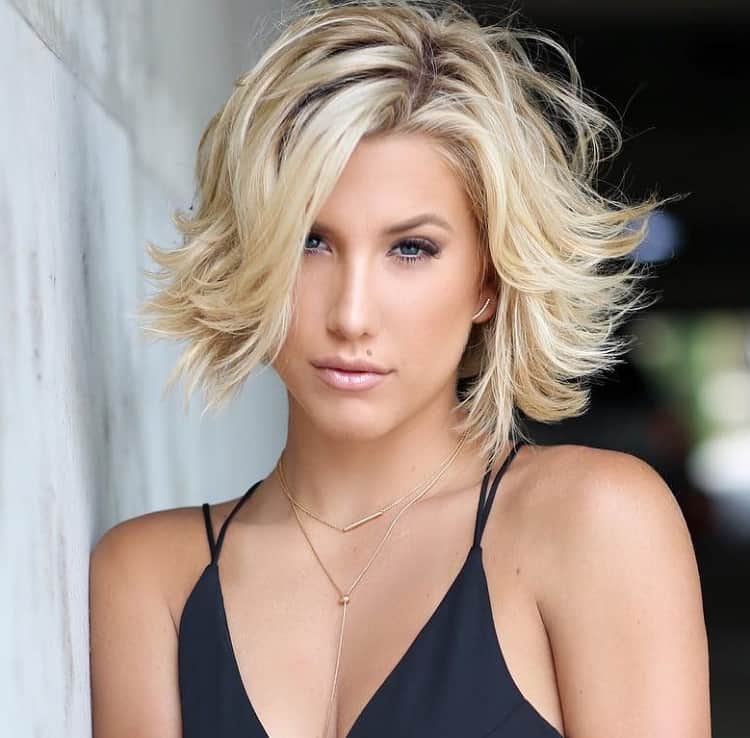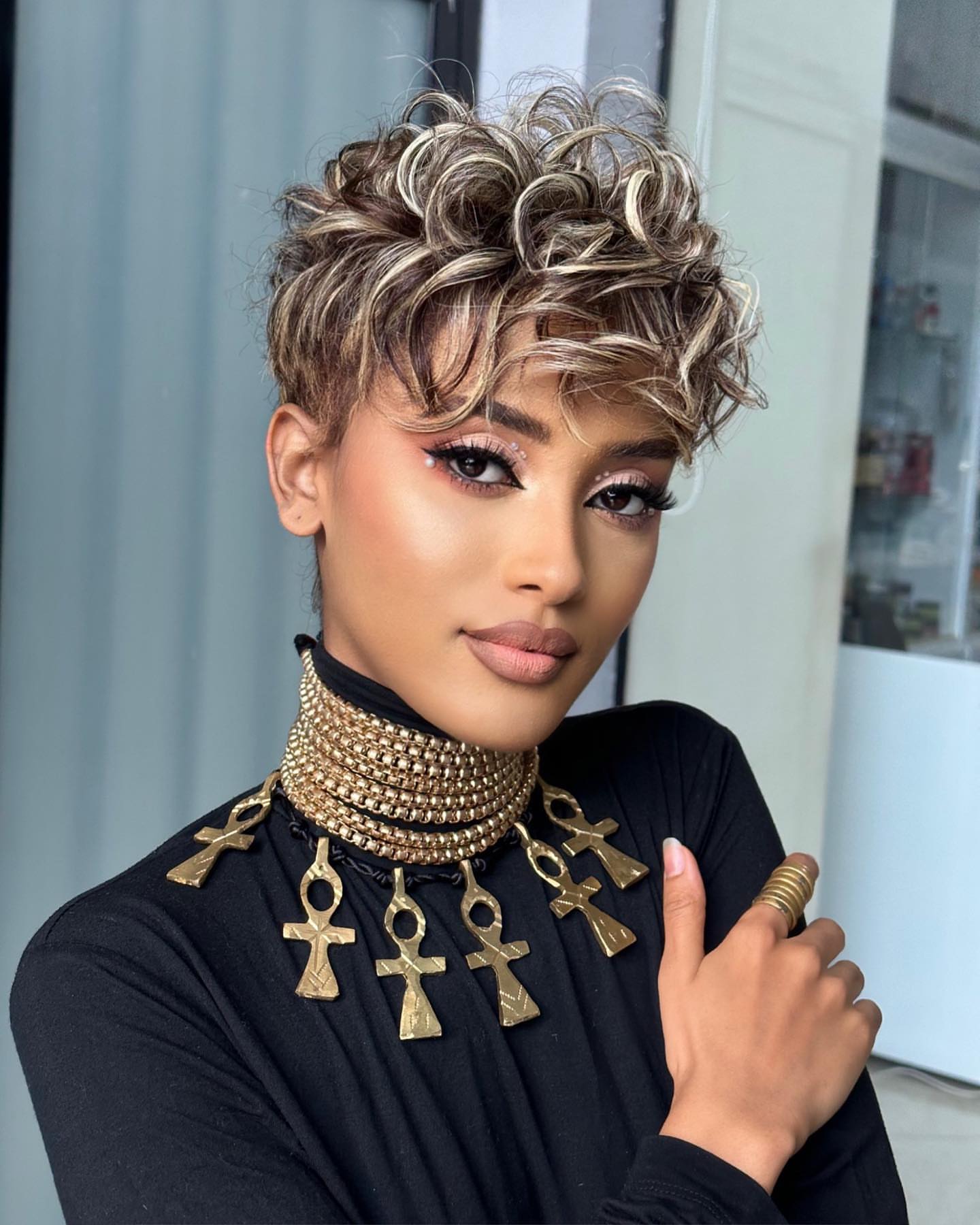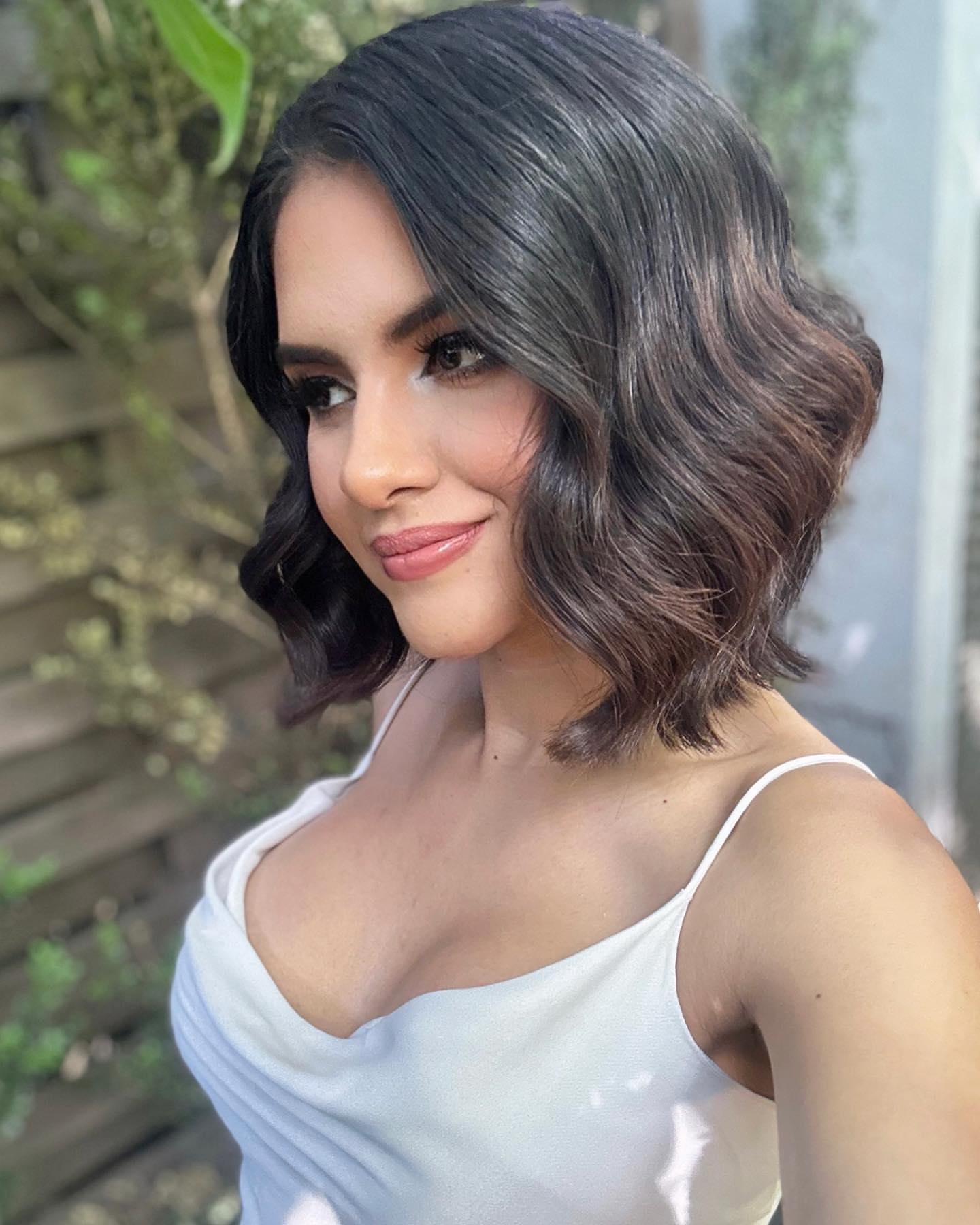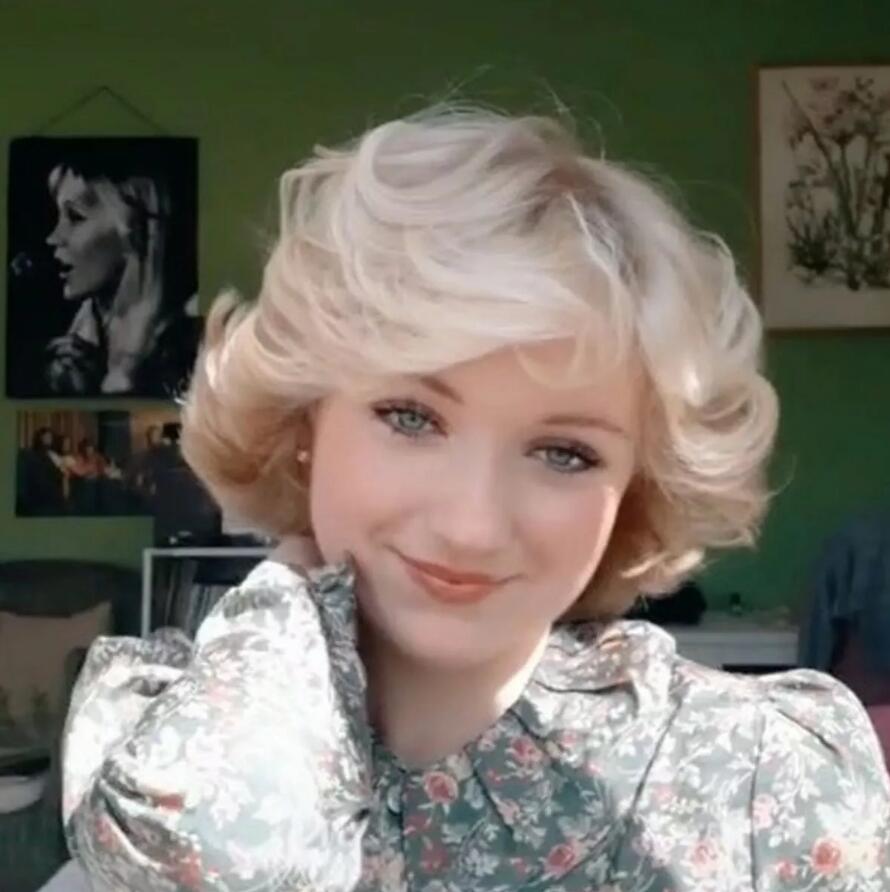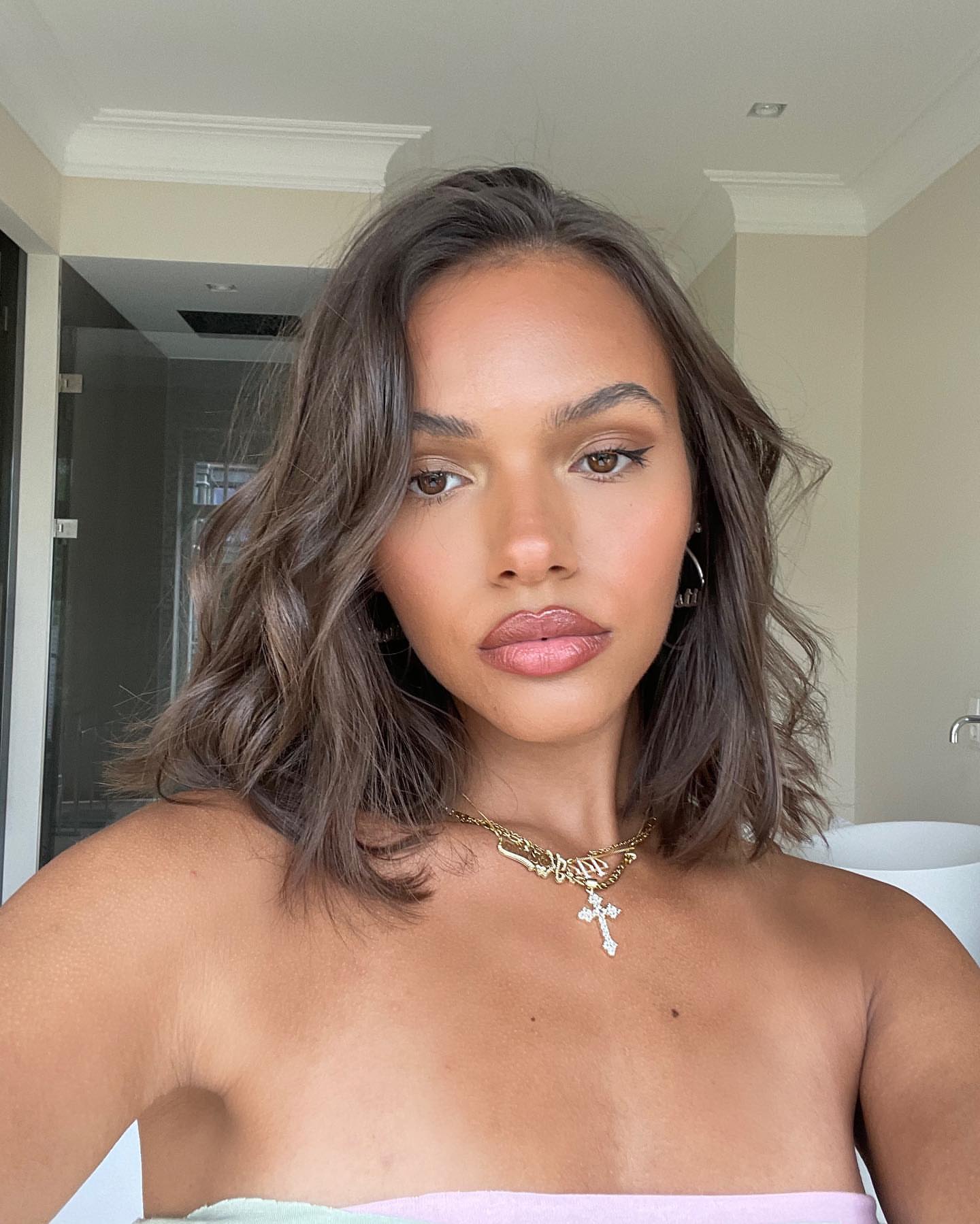 Short Hairstyles with Different Bangs: Frame Your Features with Flair
Bangs: a seemingly small adjustment that brings about an enormous transformation. Choosing a short hairstyle with bangs is not just about embracing a new style; it's about framing your face with flair, highlighting your features, and making an aesthetic statement that's uniquely you.
Famed celebrities like Charlize Theron, Taylor Swift, and Zendaya have all played with bangs in their short hair transformations. These looks, often crafted by master stylists like Adir Abergel and Chris Appleton, beautifully accentuate their facial features, setting the bar high for chic, trendsetting styles. Celebrity hairstylist Jen Atkin, known for creating some of the most iconic bangs in Hollywood, emphasizes the transformative power of bangs. "It's like contouring with hair," she says. "The right bangs can accentuate your eyes, enhance your cheekbones, or even soften the angles of your face."
Bangs come in an impressive variety, each with a unique visual impact. Whether it's the sultry allure of side-swept bangs, the retro charm of curtain bangs, or the bold statement of blunt bangs, there's a style for everyone. What makes bangs exceptionally versatile is their adaptability to different hair textures and face shapes. As Frederic Fekkai, one of the most celebrated hairstylists in the fashion industry, explains, "Bangs can be tailored to each individual, making them an excellent tool for personalization and transformation."
Another attractive feature of bangs is their styling potential. They offer an additional element to play with, from chic updos to messy, tousled looks. They can be sleek and straight, curly and bouncy, or even textured and tousled, depending on your mood and the occasion. As noted by stylist Mark Townsend, "Bangs add an element of versatility and fun to short hairstyles, giving you an extra feature to style and experiment with."
Embracing a short hairstyle with bangs is a bold move, one that reflects a sense of daring and a willingness to experiment. It's an opportunity to transform your look, to add an edge, a softness, or a bit of mystery. It's about expressing your personality, your style, and your vision. In essence, a short hairstyle with bangs is more than just a haircut; it's a form of self-expression, an extension of your identity, and a way to frame your beauty in a way that's authentically and uniquely you.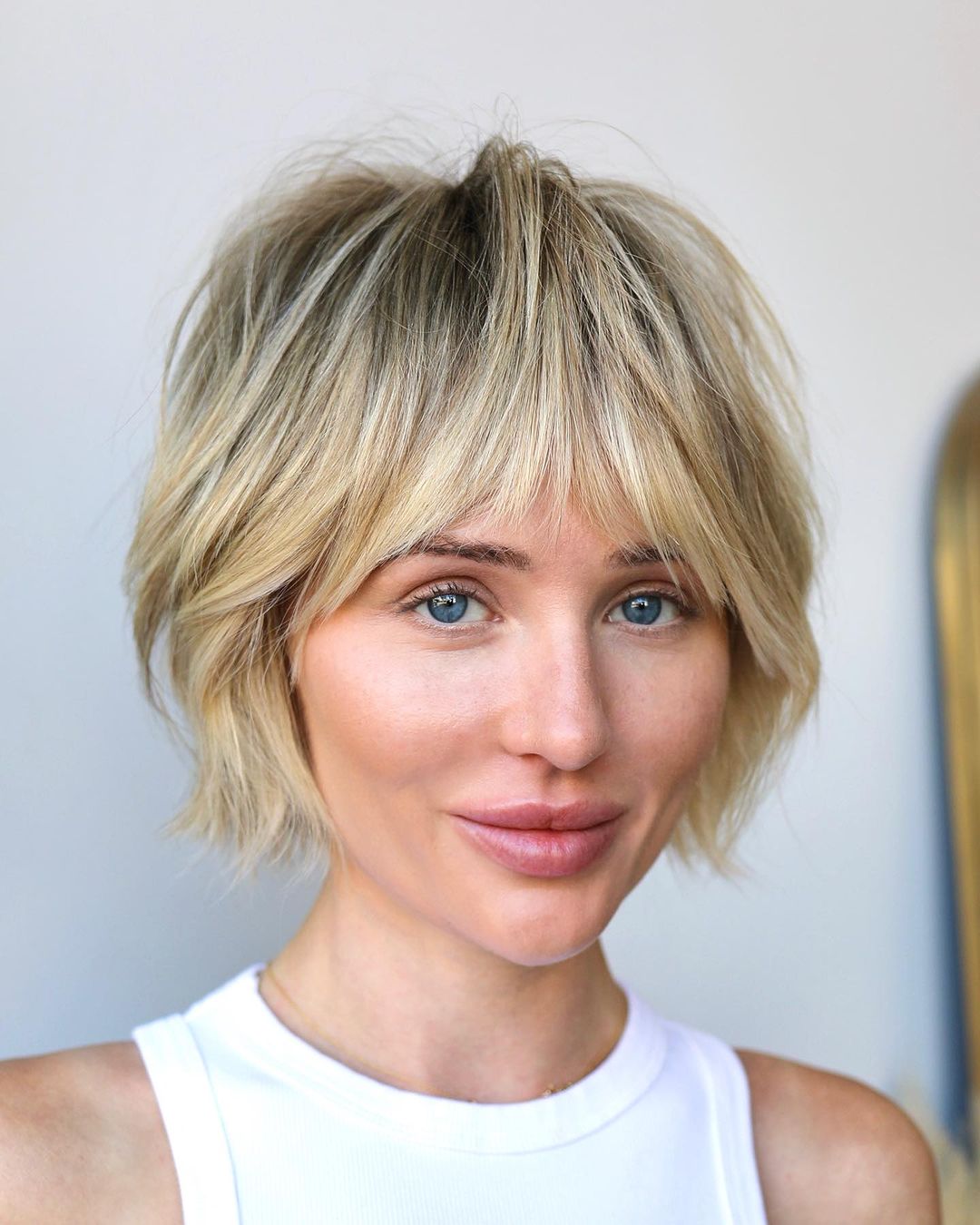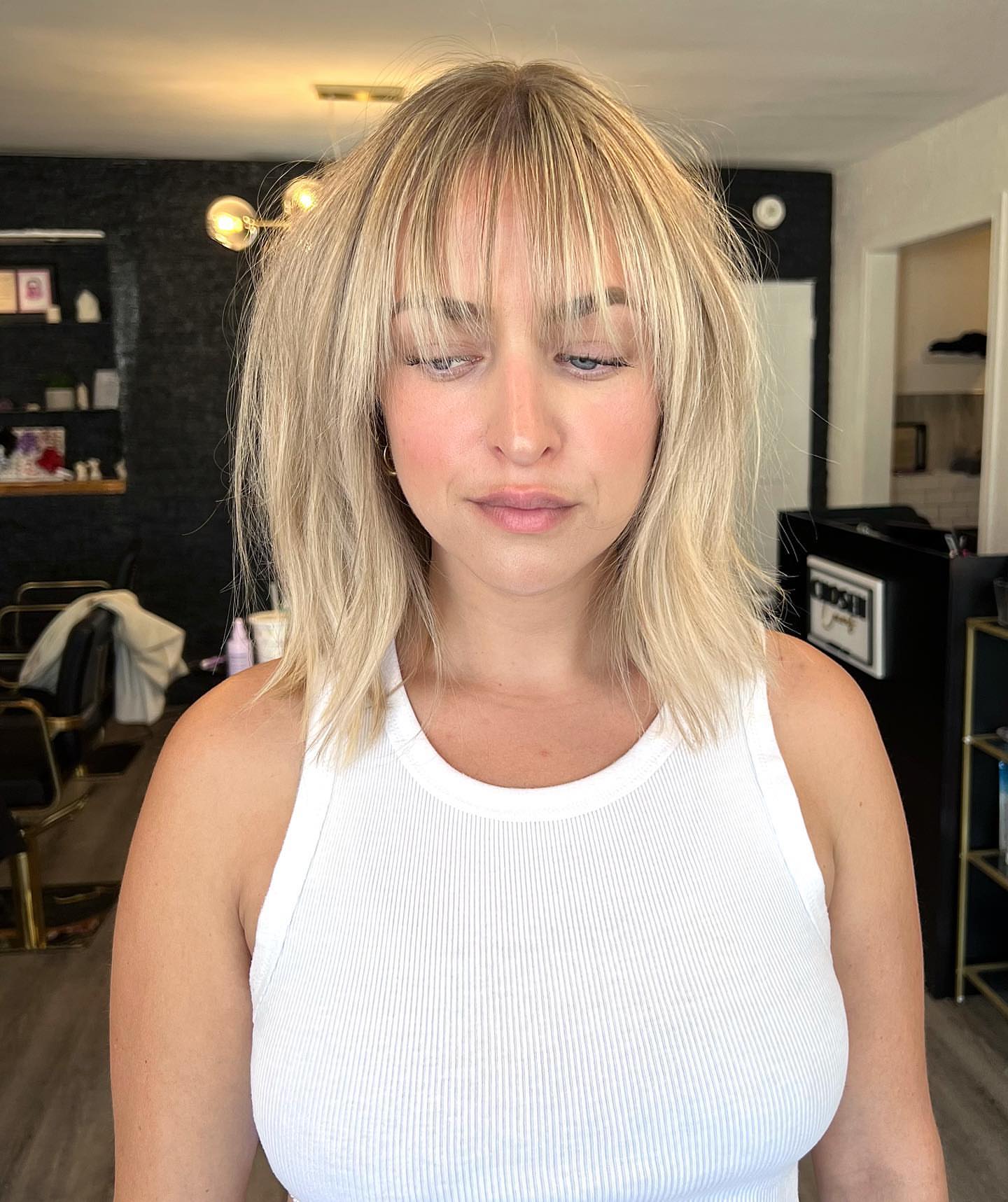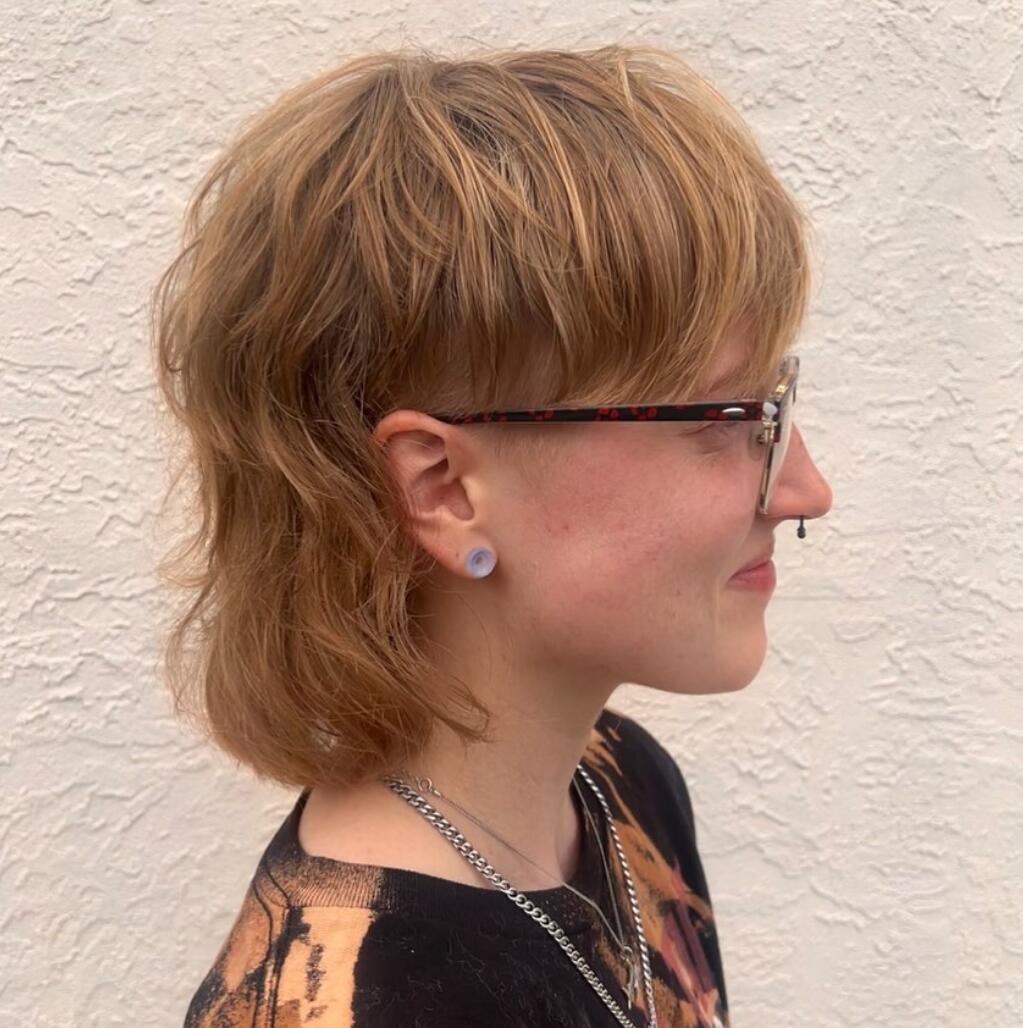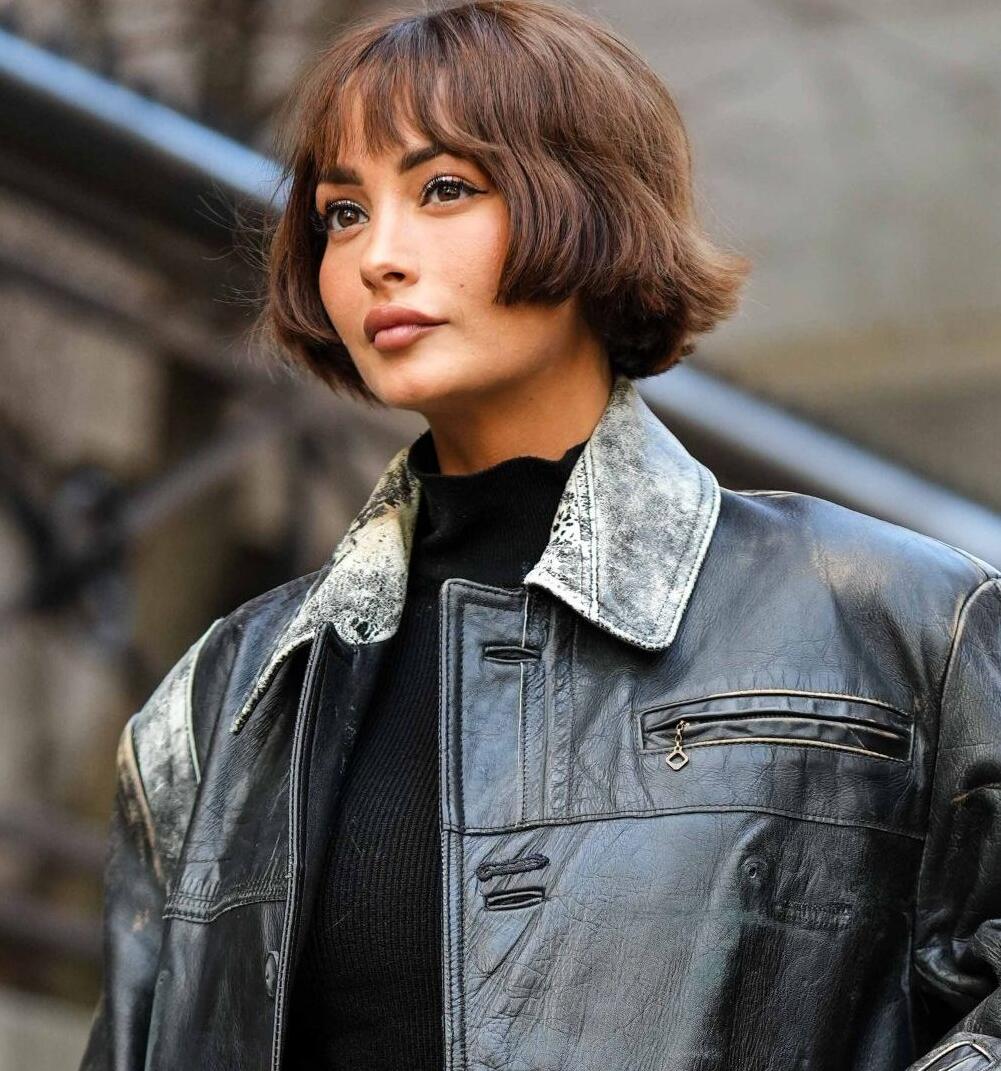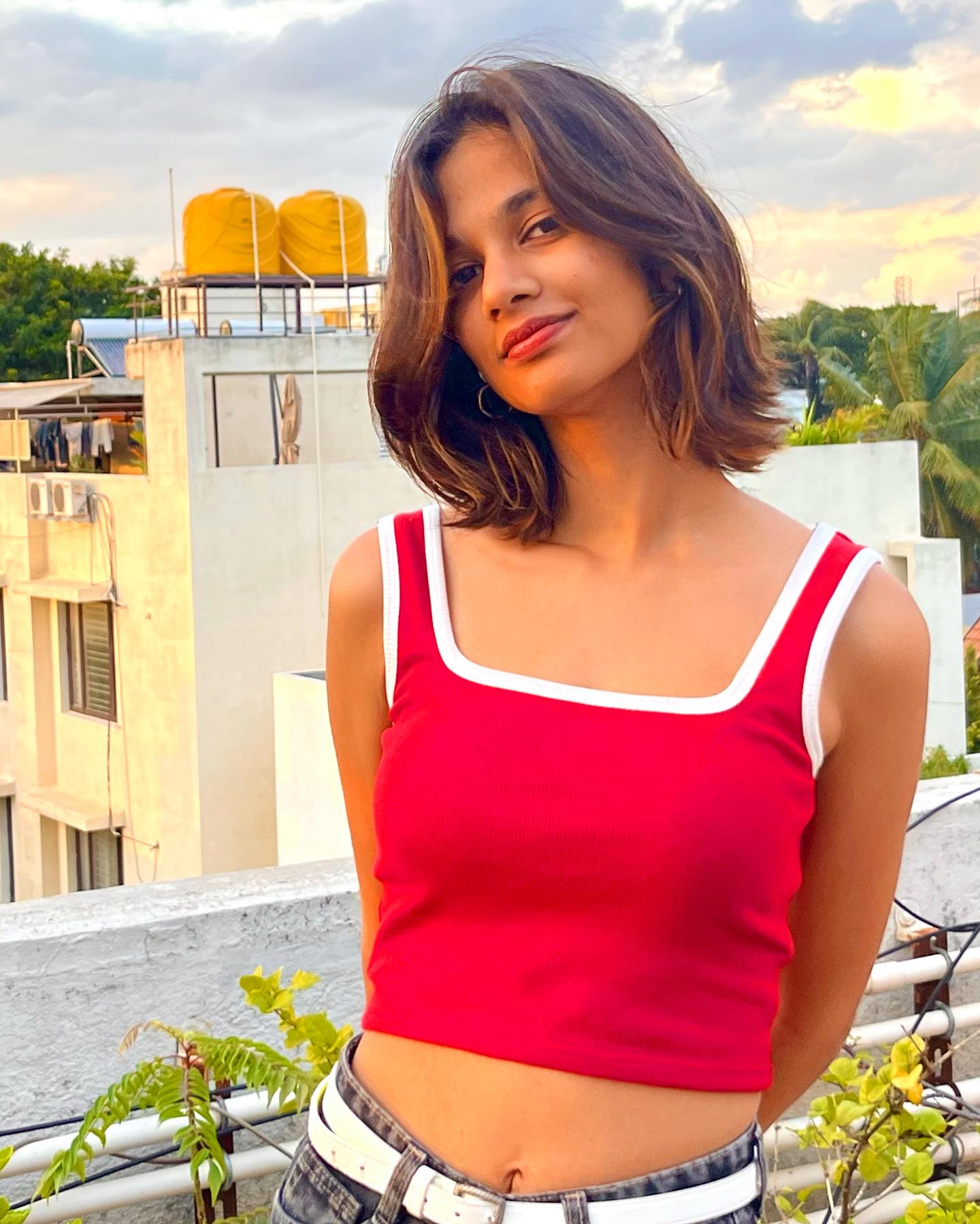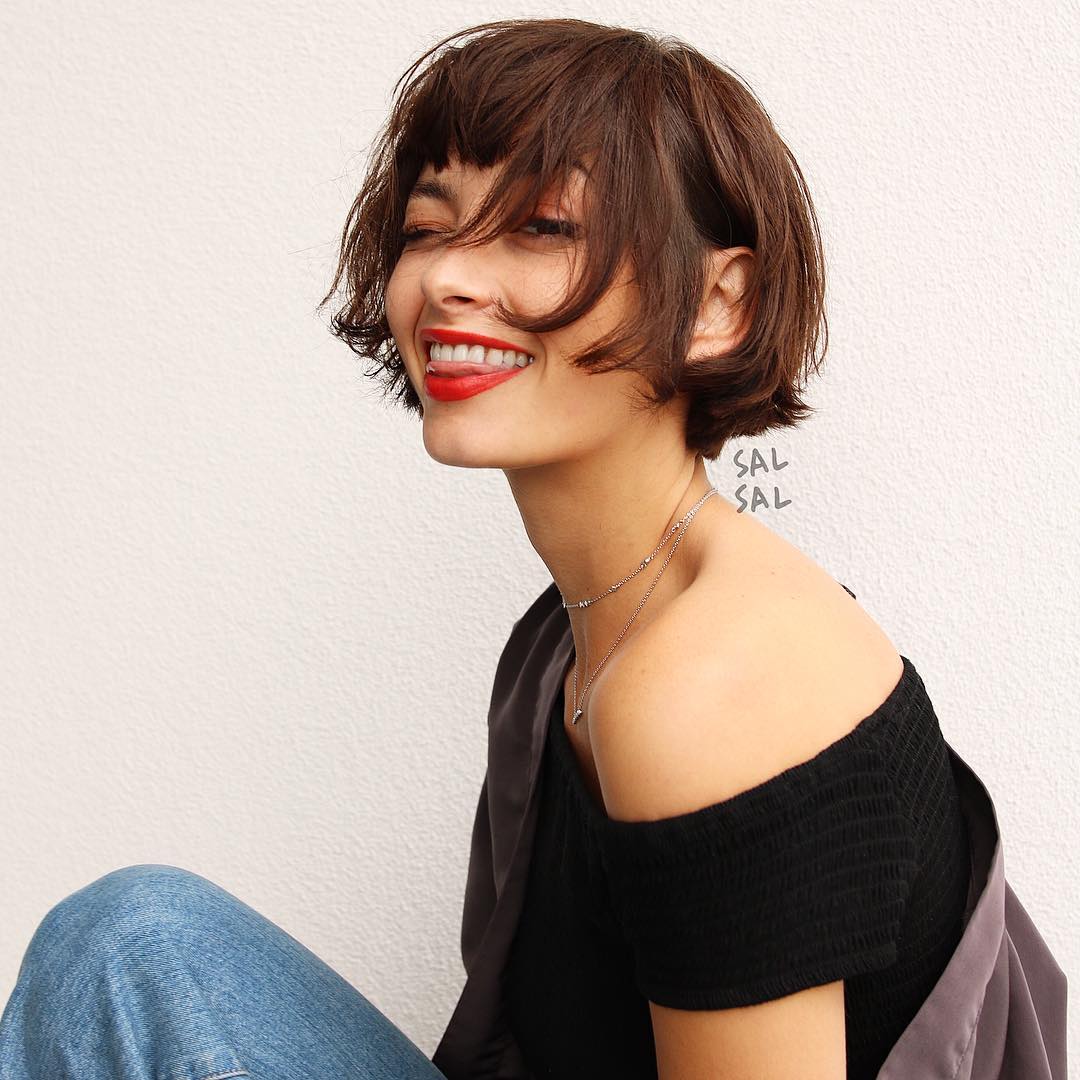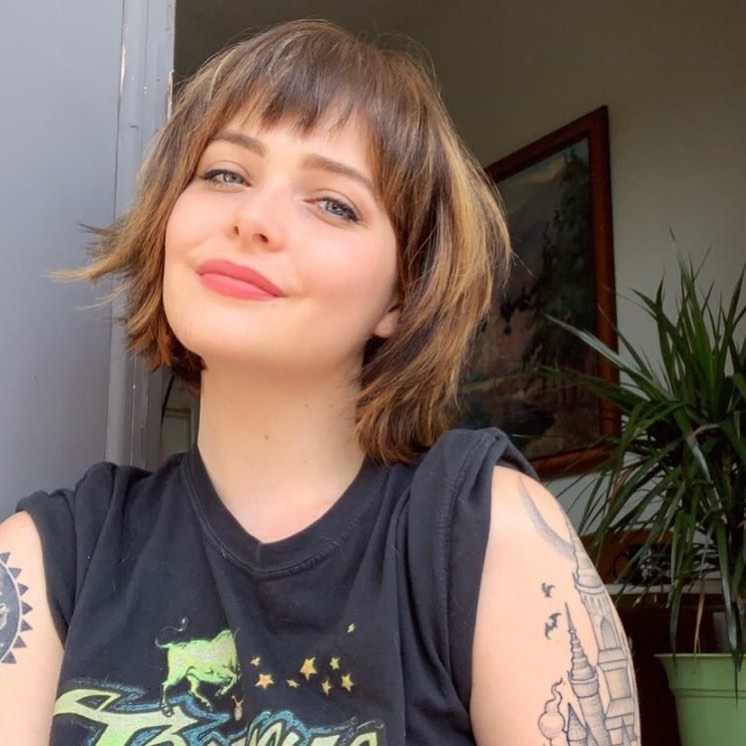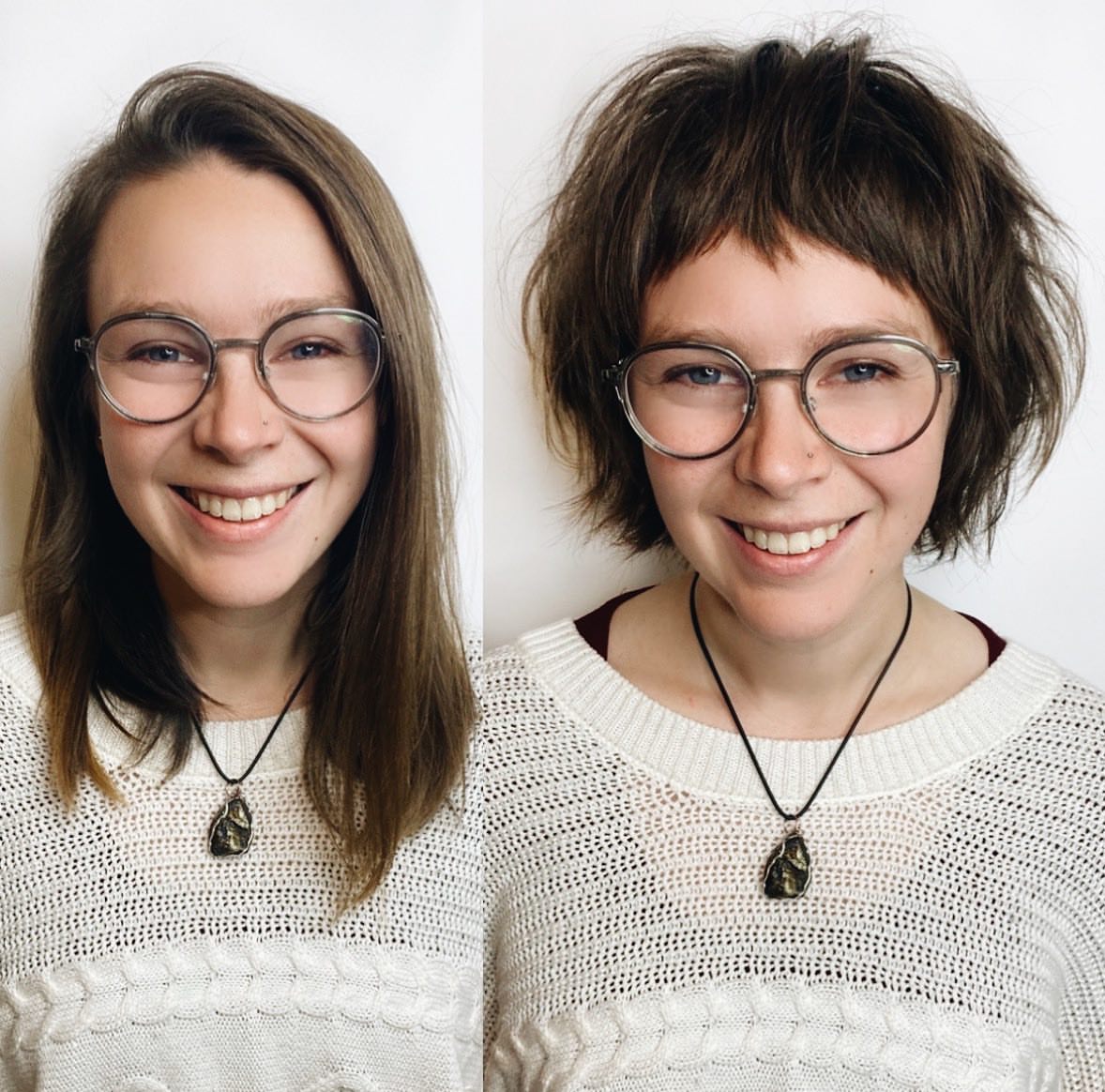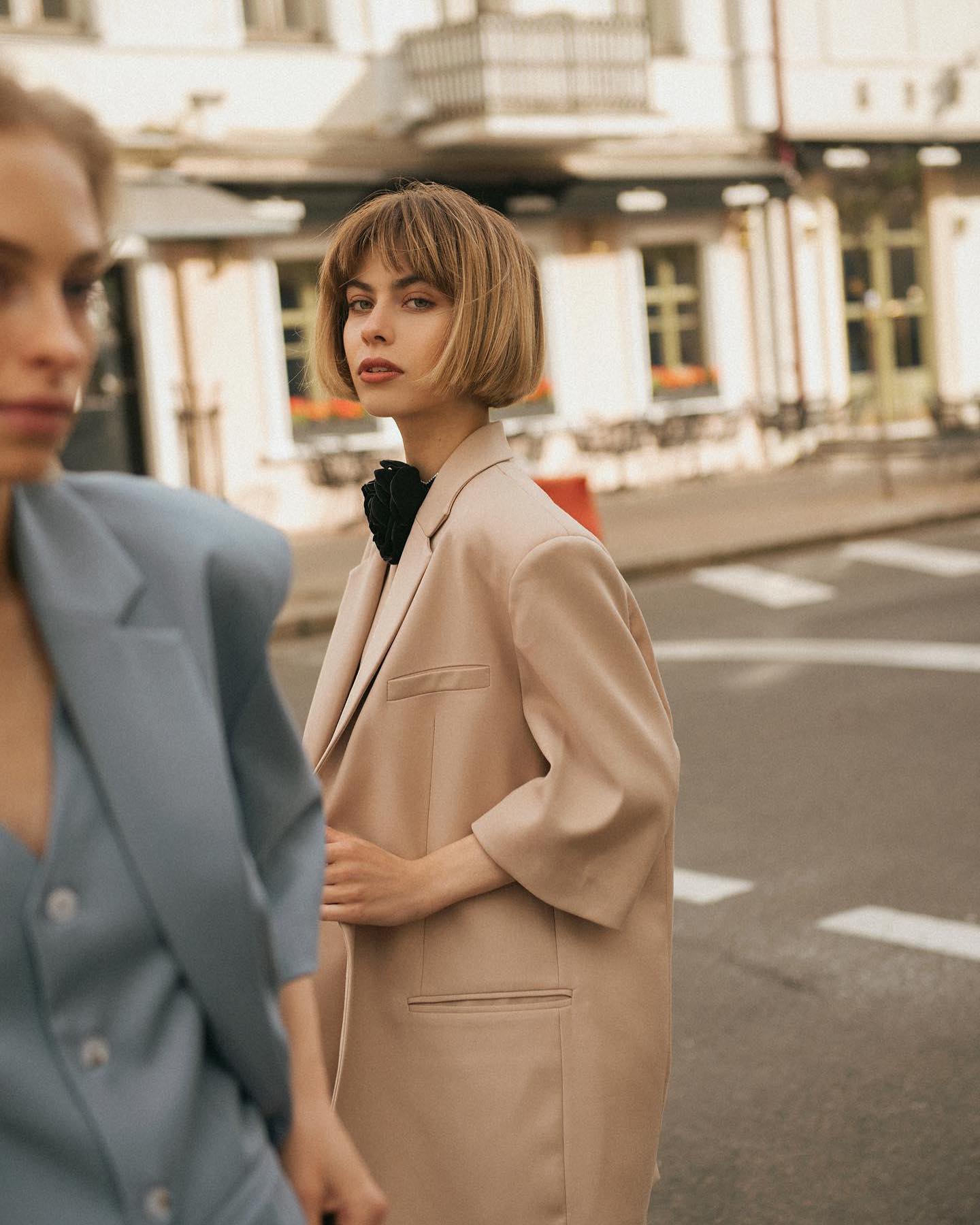 Short Straight Hairstyles: Bold Simplicity and Timeless Elegance
Sharp, sleek, and incredibly chic – short straight hairstyles offer a polished aesthetic that's both timeless and striking. These cuts, whether it's a blunt bob, a streamlined pixie, or a shoulder-grazing lob, exude a certain kind of confidence that's hard to overlook. For those who adore the simplicity of straight lines and appreciate the understated elegance of smooth textures, short straight hair could be your perfect style manifesto.
Several A-list celebrities, from Charlize Theron to Zendaya, have showcased the power of short straight hair. Their stylists, such as Larry Sims and Ursula Stephen, meticulously sculpt these sophisticated styles, emphasizing each individual's unique beauty. As Stephen has noted, "Straight short hairstyles offer an unbeatable combination of elegance and edge. The crisp lines create an elongating effect, making the wearer look taller and more statuesque."
One of the major appeals of short straight hairstyles is the wide range of styles that fall under this category. From ultra-sleek pixie cuts to blunt bobs, straight hairstyles cater to every personality and face shape. The sharp lines of a straight cut can be used to accentuate facial features or balance out a round face. Celebrity stylist Chris McMillan remarks, "Straight cuts are excellent for framing the face, whether you're highlighting your eyes with a pixie or drawing attention to your cheekbones with a bob."
A short straight hairstyle also offers great versatility when it comes to styling. Whether you prefer a minimalistic look with a sleek middle part or you're a fan of a more playful style with flipped ends, the possibilities are endless. Accessories like hair clips or headbands can add a personal touch, giving your short straight hair an extra dose of personality.
Choosing a short straight hairstyle is about embracing the beauty of simplicity. It's about making a statement with bold lines, polished finishes, and timeless elegance. It's a hairstyle that speaks to those who are confident, bold, and not afraid to express themselves through their look. As Sims says, "Short straight hairstyles are more than just a haircut; they're a statement of sophistication and individuality." So, if you're seeking a style that is as bold and as chic as you are, why not explore the world of short straight hairstyles?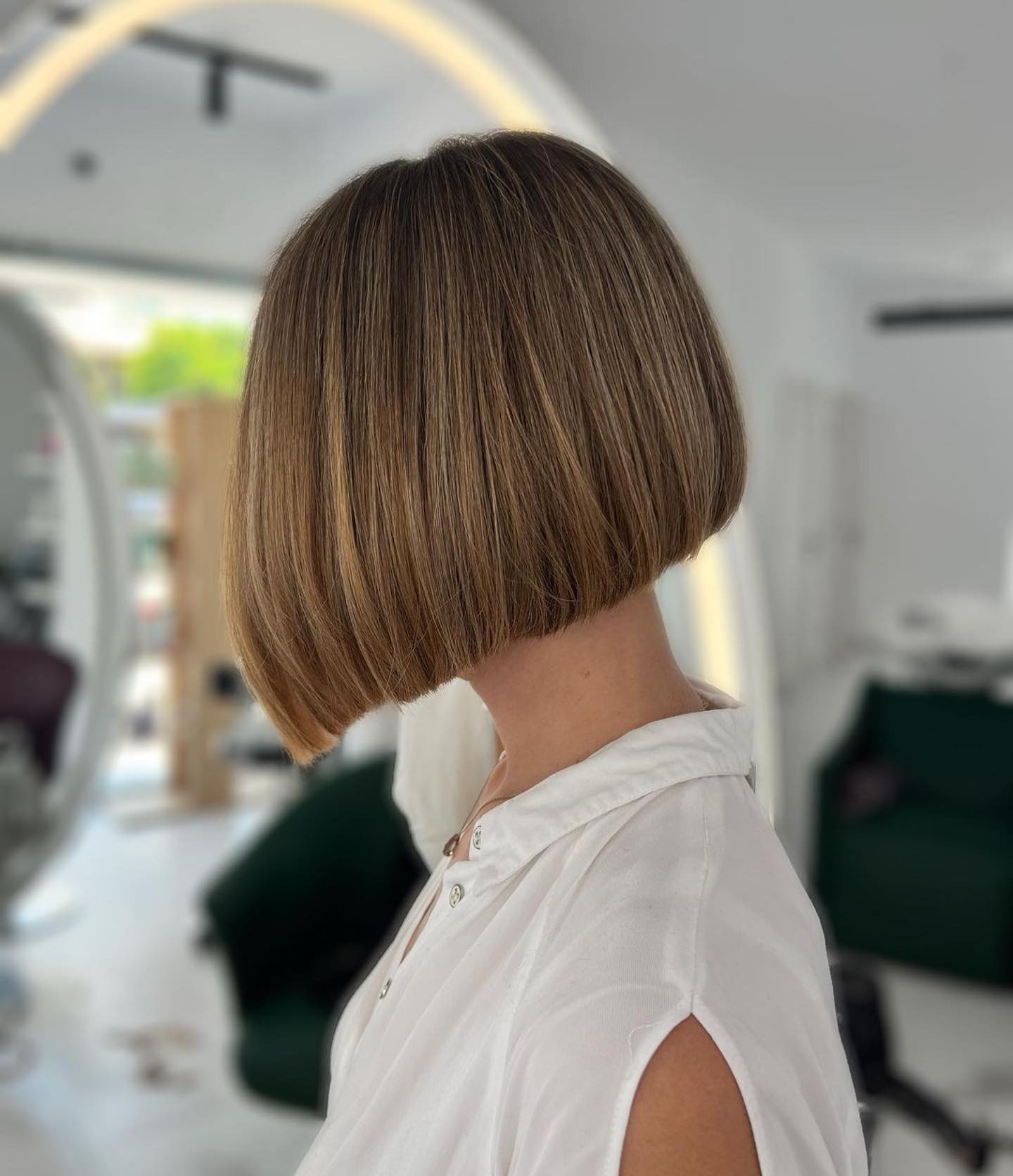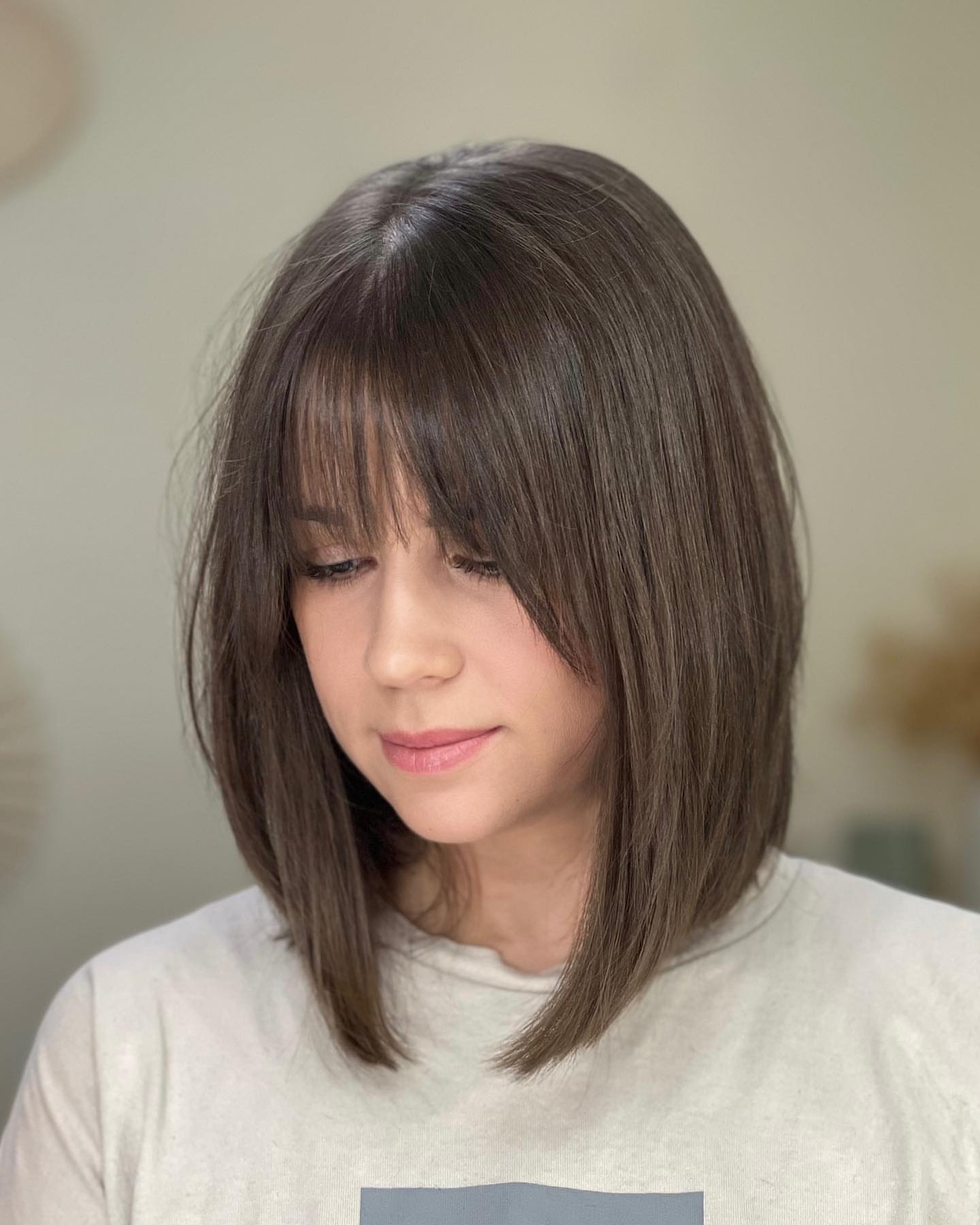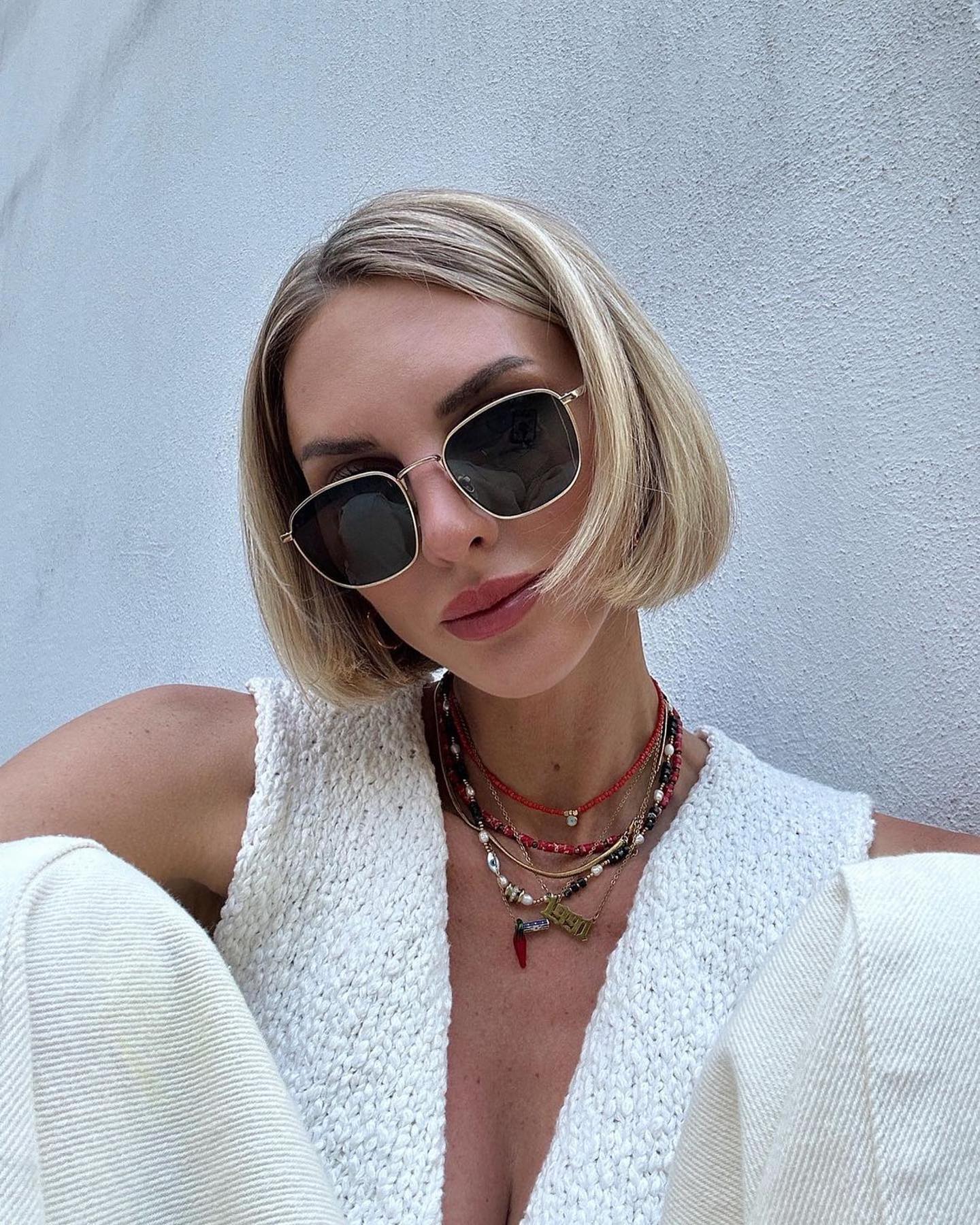 Short Hair with Bright Colors: Vibrant Hues and Endless Fun
Packing a punch with a riot of hues, short hairstyles with bright colors truly make a head-turning statement. Daring, vibrant, and oozing with personality, this trend allows you to explore your creative side and completely transform your look. The unique combination of daring cuts and bright colors gives you an edge, setting you apart from the crowd.
Whether it's Halsey's electric blue pixie, Billie Eilish's neon-green roots, or Cardi B's multicolored wigs, these celebrities are no strangers to vibrant colors. As Daniel Moon, the colorist responsible for Katy Perry's myriad of rainbow hues, notes, "Bright colors and short haircuts are a perfect match. The bold hues are accentuated by the playful length, creating a vibrant work of art."
The choice of color and how it blends with your chosen cut can dramatically transform your appearance and highlight your best features. You can opt for a single color that complements your skin tone, or you can experiment with a mixture of hues for a more dynamic look. Noted celebrity stylist Kristin Ess has said, "Incorporating color with short hair creates a playful yet bold statement. Each shade becomes a highlight or a lowlight, adding dimension and visual interest."
Short, brightly colored hairstyles are also a great way to express your individuality. You can choose a color that reflects your personality, mood, or even a particular phase in your life. As Moon points out, "With bright colors, you're not just changing your hair; you're announcing your individuality. It's the ultimate form of self-expression."
Yet, it's essential to remember that bright hair colors require care to maintain their vibrancy. Regular touch-ups, using color-safe products, and protecting your hair from sun exposure are key to keeping your color bright and your hair healthy.
Short hairstyles with bright colors are for the bold and adventurous at heart. They offer a fresh, modern take on hair color, providing a unique way to showcase your personality. So, if you're ready to step into the spotlight and make a bold fashion statement, why not dive into the world of bright colors? As Ess says, "Daring to be different is what fashion and hairstyling are all about." With short, brightly colored hair, you'll certainly stand out from the crowd.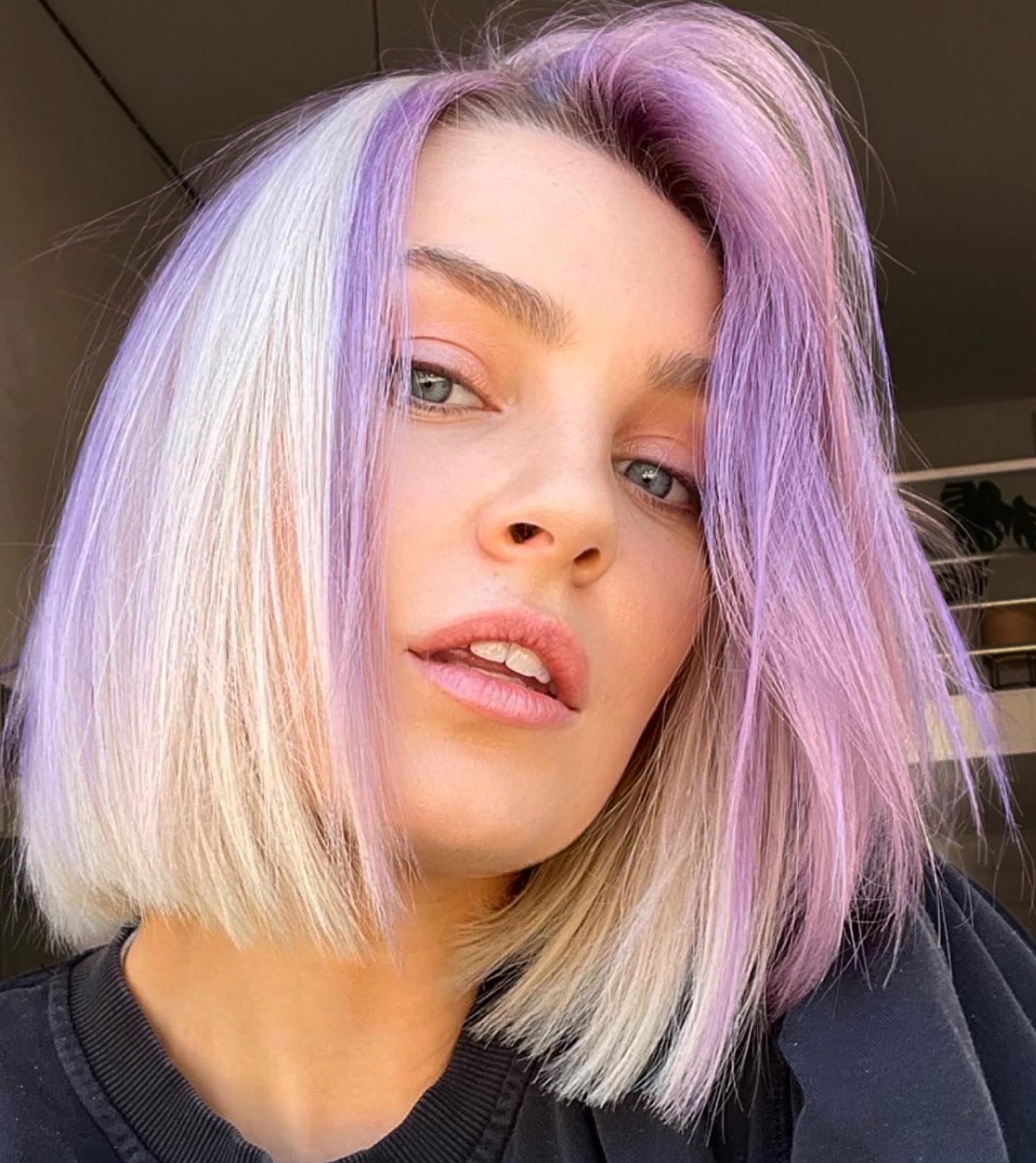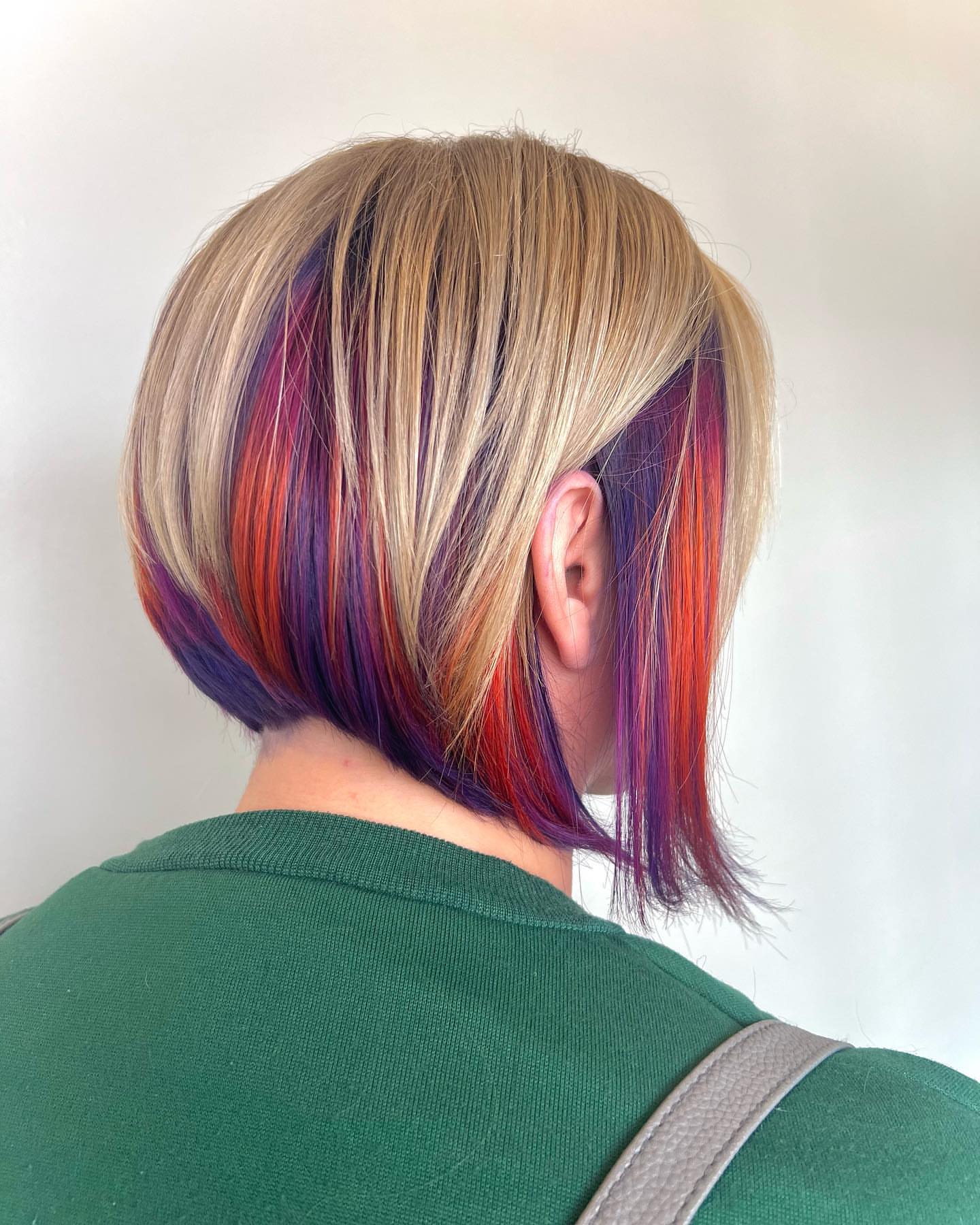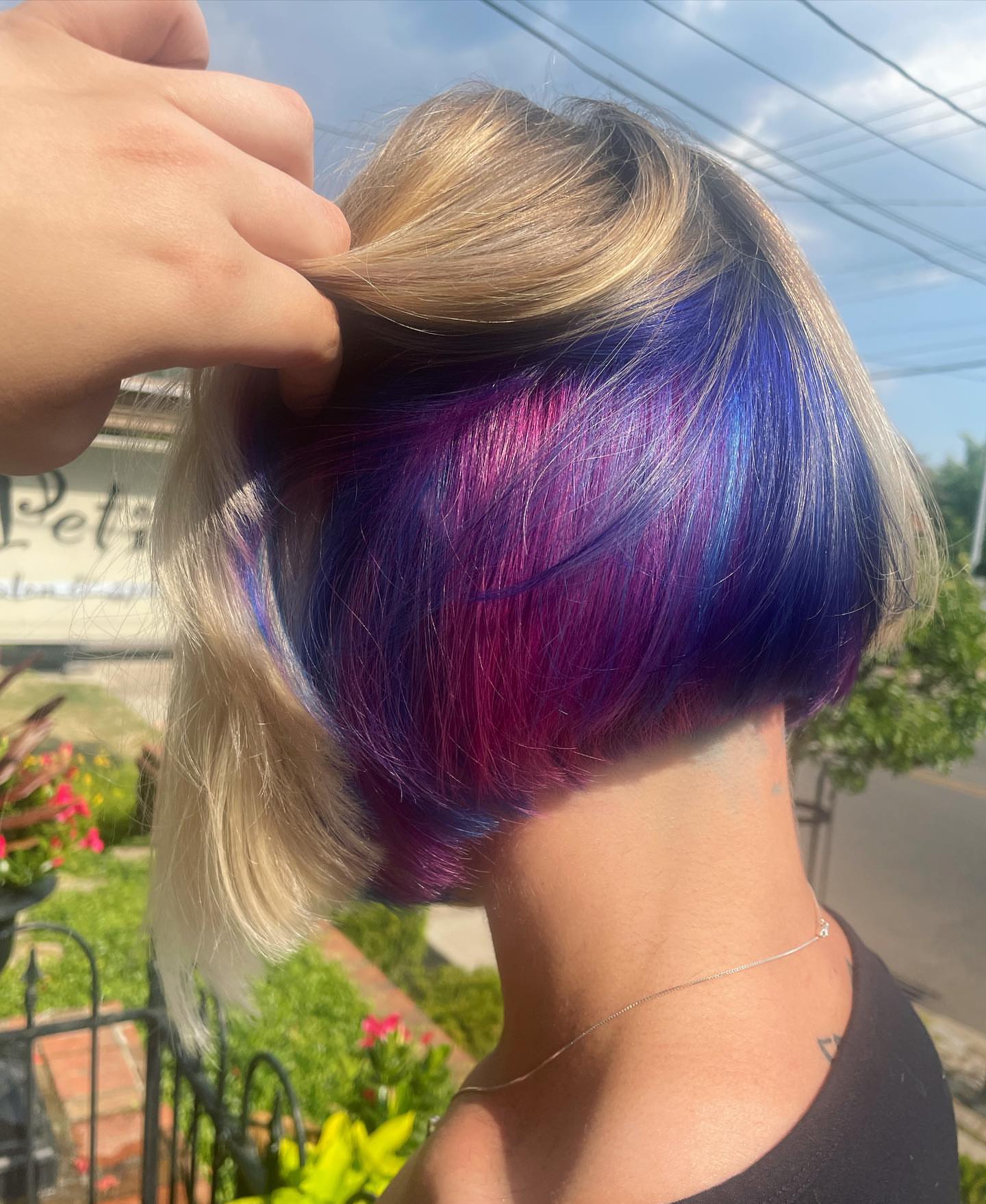 Very Short Haircuts: Minimalistic Chic and Ultimate Freedom
When it comes to minimalistic chic and ultimate freedom, very short haircuts are unrivaled. These hairstyles are the epitome of boldness and self-assurance, exuding a sense of liberation that's both empowering and contagious. When you opt for a significantly short cut, you are choosing to wear your confidence on your sleeve, showcasing your fearless spirit, and embracing your individuality.
Very short haircuts, such as the daring buzz cut famously sported by actresses like Kristen Stewart, Zoe Kravitz, and even music sensation Sinead O'Connor, go beyond being merely a hairstyle; they represent a form of self-expression that's all about breaking conventions and setting one's own rules. As celebrity stylist Chris McMillan, famously known for creating Jennifer Aniston's iconic "Rachel" cut, puts it: "A super short cut is more than a style. It's a statement. It shows the world you're not afraid to be seen, to be different."
Furthermore, very short haircuts offer unparalleled convenience. The time spent styling your hair is drastically reduced, making these cuts the perfect choice for those who value simplicity and practicality. As Ursula Stephen, the genius behind Rihanna's memorable looks, states, "Very short haircuts are a game-changer. They're modern, chic, and incredibly easy to manage. You can literally wash and go!"
While very short haircuts might seem intimidating at first, they can be incredibly flattering, accentuating your facial features in a way no other cuts can. For instance, the iconic pixie cut, sported by celebrities such as Audrey Hepburn and Halle Berry, can highlight your eyes and cheekbones, lending you an irresistible charm.
Yet, it's important to remember that while very short haircuts are low-maintenance, they are not no-maintenance. Regular trims are necessary to maintain the shape of the cut, and the right products are essential to add texture and prevent your hair from looking flat.
Very short haircuts are bold, liberating, and incredibly stylish. They are the embodiment of fearlessness and individuality, making them an ideal choice for those ready to make a powerful statement. So, if you're looking to take the plunge and drastically change your hairstyle, consider going very short. After all, as McMillan says, "A great haircut is the best accessory." And with a very short cut, you'll certainly make a memorable impression.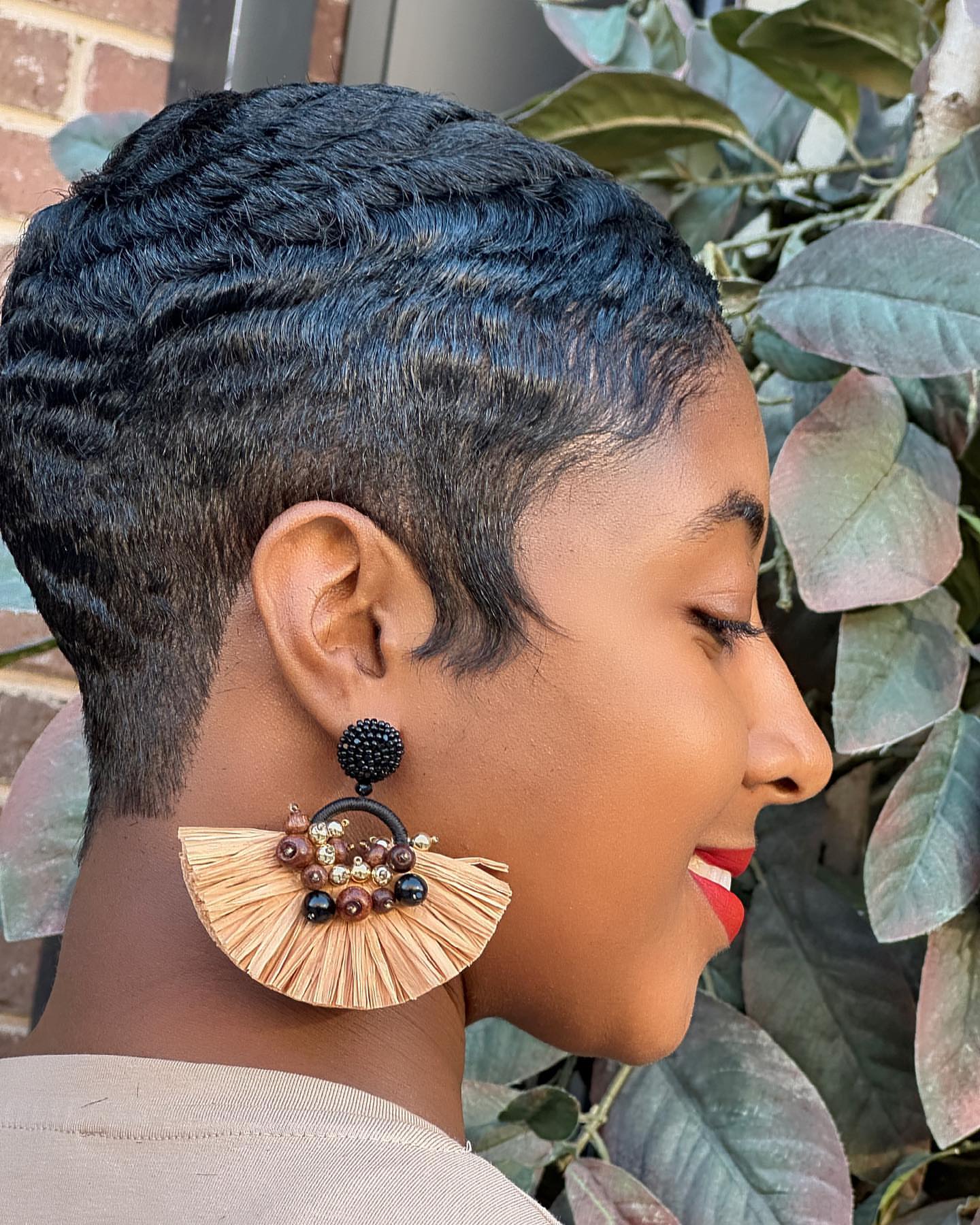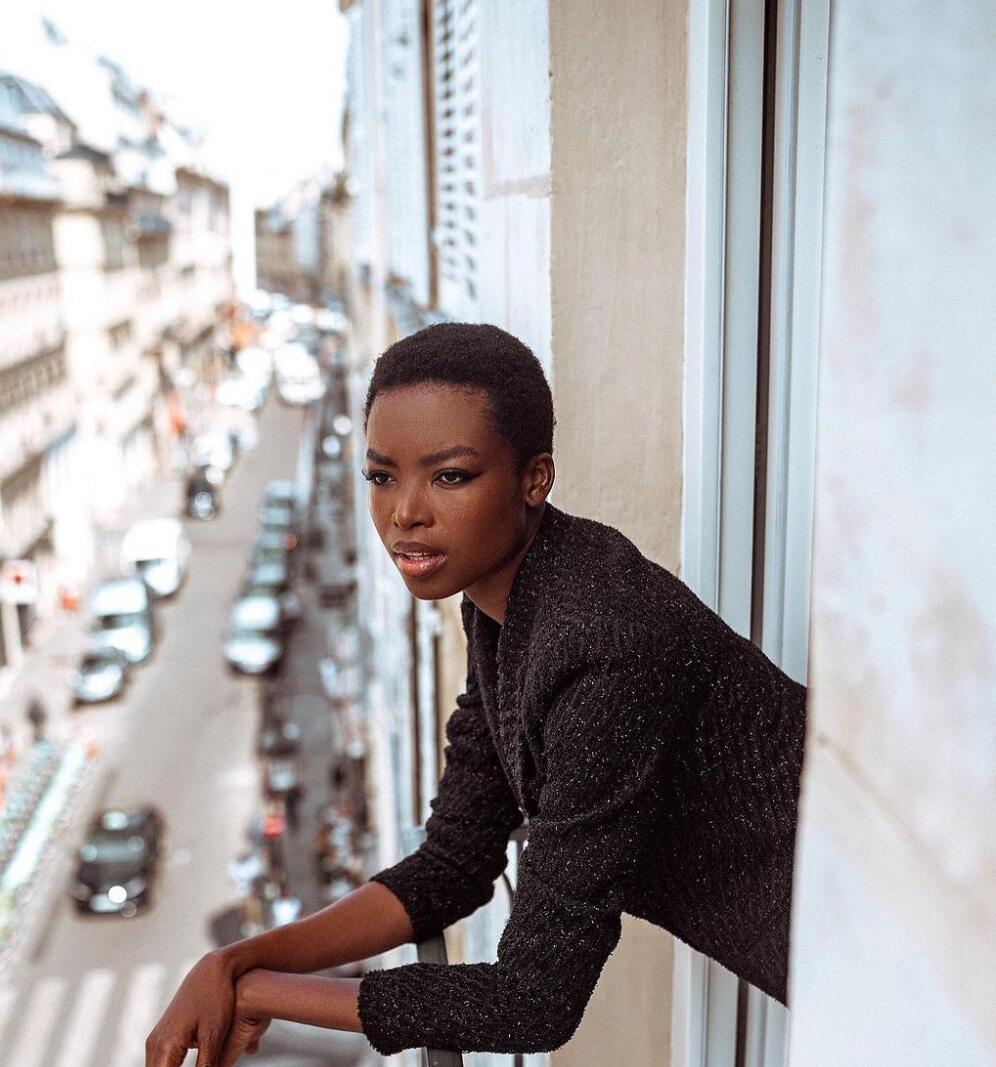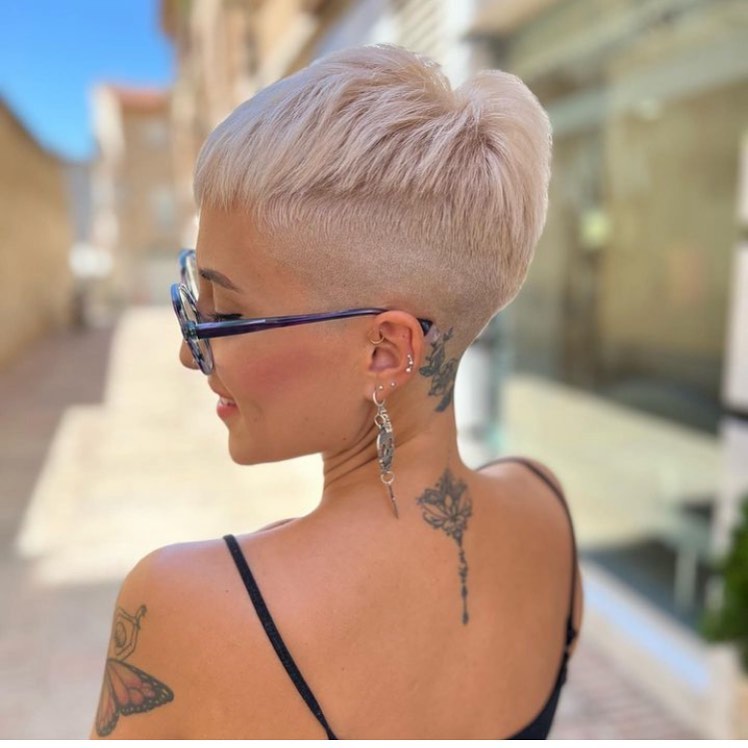 Short Hair with Braids: Versatility and Creativity Unleashed
Braids and short hair may seem like an unlikely combination, but when paired together, they bring forth a harmonious blend of versatility and creativity that takes hair styling to a whole new level. Whether you're sporting a bob, a pixie cut, or a buzz cut with enough length on top, there's a braided style out there waiting for you to give it a shot. And why not? After all, as celebrity stylist Justine Marjan, who has worked with stars like Ashley Graham and Olivia Culpo, proclaims: "Braids are a great way to add personality and versatility to any hair length."
Braids add a whole new dimension to short hair, enabling you to experiment with different styles and express your unique personality. From playful French braids to intricate cornrows, from the classic single braid to trendy boxer braids, the possibilities are endless. Just look at stars like Cara Delevingne or Kristen Stewart who have embraced braids in their short hair for red carpet events, offering proof that short hair with braids is not just doable, but also incredibly chic.
Braided styles on short hair also offer practical benefits. They can be a great solution for those busy mornings when you need a quick and easy hairstyle, or they can be a stylish way to manage those tricky growing-out phases. As renowned stylist Kim Kimble, known for her work with Beyonce and Zendaya, advises, "A good braid can be a lifesaver when you're growing out short hair. It's a stylish way to control unruly strands and a practical solution for a busy lifestyle."
Moreover, braids on short hair can add an extra oomph to your overall look. If you have a vibrant hair color, braids can show off the nuances of those hues beautifully. They can also add texture and volume to thin hair, creating an illusion of fullness.
However, it's important to keep in mind that while braids can look fantastic, they require proper care. Overly tight braids can put stress on your hair and scalp, so ensure they're comfortably secure but not pulling. Also, regular moisturizing is essential to keep your hair and scalp healthy when wearing braids.
Don't be deterred by the length of your locks. Short hair with braids is a perfect synergy of style, versatility, and practicality. It's an opportunity to get creative and try something new, so why not give it a whirl? As Marjan rightly states, "Your hair is your best accessory. Have fun with it!"