Top 10 Best Foundations For Oily Skin
Have you ever looked at yourself in the mirror and thought "wow my skin looks very oily today, especially around my T zone". If you have, than you have oily skin. Having oily skin can truly put a dent on your makeup routine. Not only does only skin breakdown foundation faster than normal to combination skin but it also can cause your skin to break out a lot faster. When your skin breaks down foundation at a rapid speed this means your foundation will only last 3-4 hours instead of the regular 6-8 hours that a foundation is suppose to last.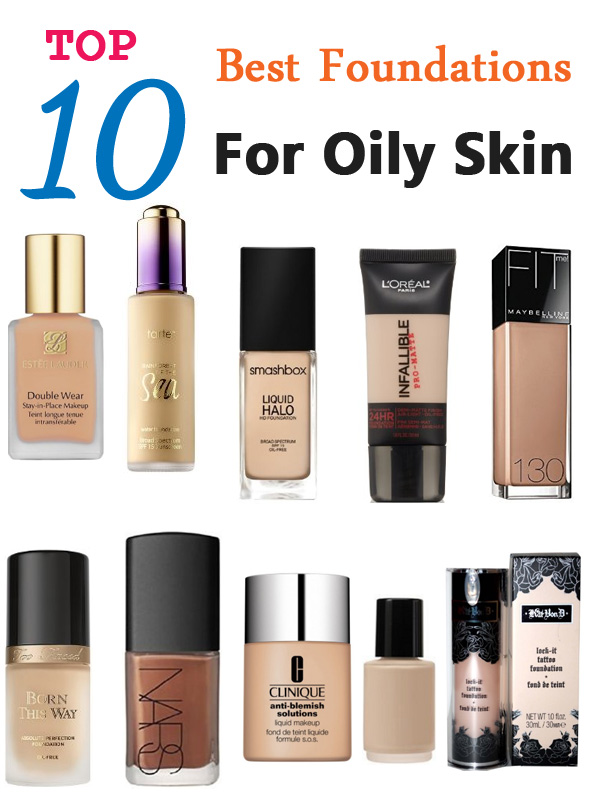 During the summer months, it can become a problem finding the right foundation for your skin that will not "melt away" with the heat. The key to having flawless looking skin when you have oily skin is using the correct foundation. The right foundation can make a world of a difference when it comes to not only making your oily skin look the best that it possibly can but also allowing your foundation to last a lot longer on your skin.

Although finding the right foundation for your skin type is the best way to always have beautiful looking skin finding the one that works for you is not as easy. We have broken it down for you and found the best 10 foundations that work the best for oily skin.
Different Types of Foundations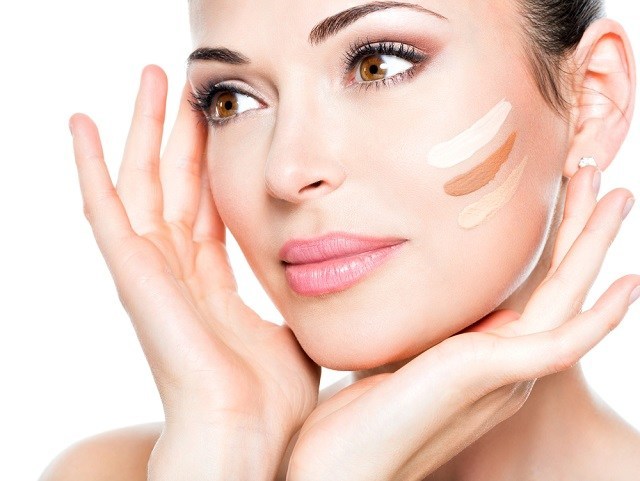 Photo credit-makeupandbeauty
Matte Foundation– A matte foundation is one of the best types of foundations when it comes to oily skin as it contains components that will maintain your skin matte for a longer period of time.
Semi Matte– A semi matte foundation is a matte foundation with less mattifying power. It will give you a hint of luminosity while still being completely matte.
Dewy– A dewy foundation is the least recommended type of foundation for oily skin as it contains illuminating components that can actually make you look even more oily than you are. It is my personal favorite as I prefer a fresh dewy face even when my skin is super oily.
Powder– Power foundations are excellent for oily skin as they absorb the oils on your skin instantly however, in my opinion they do not give as much coverage as I believe a foundation should. I prefer to apply a powder foundation on top of a liquid foundation for maximum coverage.
BB Cream & CC Cream- BB creams and CC creams are considered foundations as they give coverage. However, they give the lightest coverage of them all. They should be used lightly as moisturizers on lazy days when applying a full face of makeup is not going to happen.
Now that I have broken down the different types of foundations. Here are 10 of the best foundations for oily skin.
10- Kat Von D Lock it Tattoo Foundation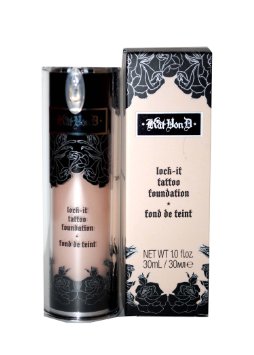 Just like the name states this foundation is not going anywhere. If you have oily skin using a foundation that has a strong staying power is the best way to go. This foundation is a semi matte foundation so it will give you a small hint of luminosity while still being very matte.
This foundation comes in 16 different color ranges so there is something for everyone and every skin tone. You will not need to powder with this foundation as it truly does not budge once it is applied and dried on the skin.

9- Estee Lauder Double Wear Foundation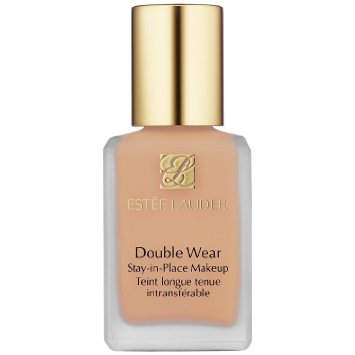 Estee Lauder is a brand that is truly underestimated. It has been around for so many years many people tend to believe it is a makeup line for the older generations. However, this cannot be further away from the truth. Estee Lauder has many makeup items that should be a staple in our makeup collection and this one is one of them.
Their double wear foundation is a matte foundation that gets the job done. It is formulated to be your concealer and foundation in one. This means you can skip your concealer and only apply this. It is a 15 hour wearing foundation.

8- Too Faced Born this Way Foundation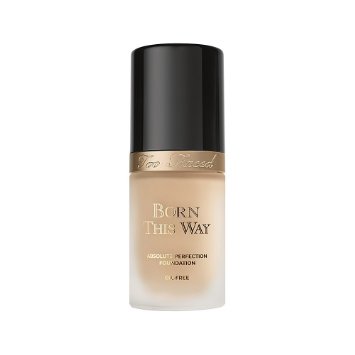 This Too Faced Born this way Foundation is the perfect foundation when you want a medium coverage foundation that will not appear "cakey" or heavy on the skin. This foundation is lightweight while giving you the perfect even, all over coverage.
It is a semi matte foundation so it will give you a hint of luminosity while being matte and long wearing. This foundation is ideal for achieving a flawless face without needing to use too many products.

7- Treat-ur-Skin Matte Foundation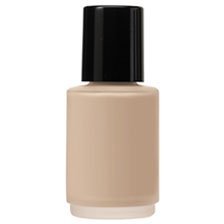 Treat-ur-Skin is a small makeup brand that is having a huge impact in the beauty world. Their matte foundation is one of the best medium coverage matte foundations on the market. It is lightweight while having buildable coverage. You can apply more than one layer of this foundation on your skin to achieve full coverage without having to worry about having your makeup appear heavy. It is also long wearing so you can be confident that it will last on your face all day without needing to touch up throughout your day.

6- Clinique Anti Blemish Foundation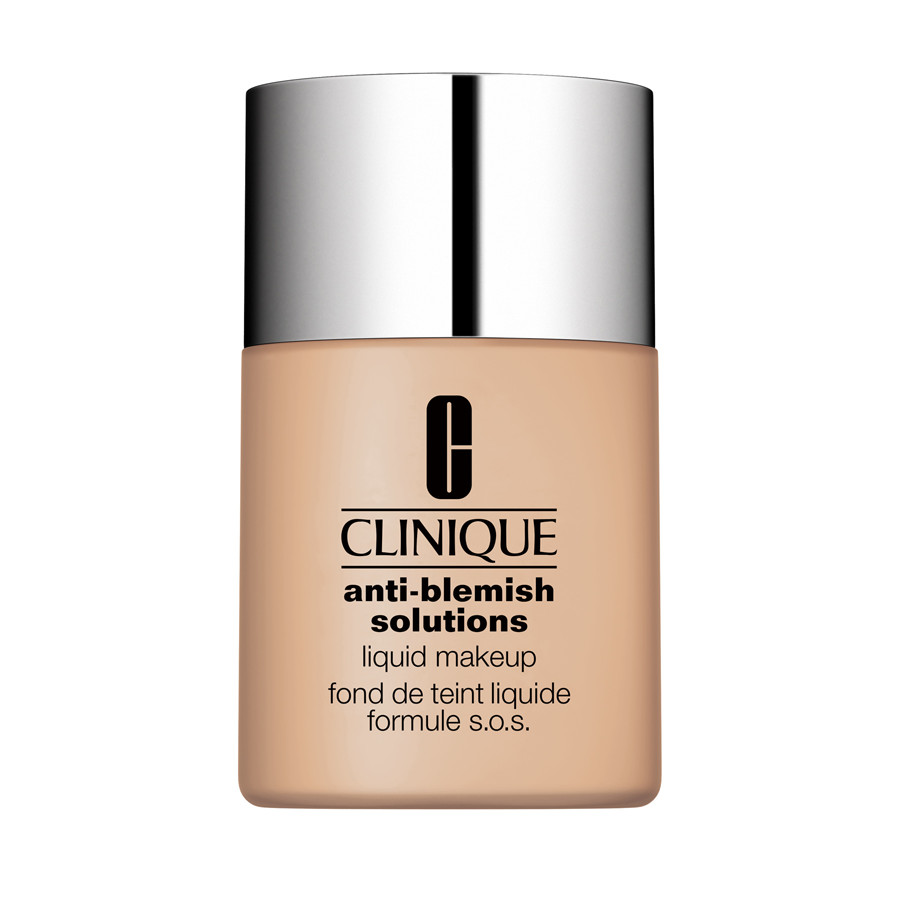 Throughout the years Clinique has launched many foundations targeted towards oily skin however, they created one of the best with this one. This foundation is not only the perfect foundation for a semi matte finish foundation it is also good for your skin. When you find a product that does two things for the price of one it is always a good product.
This foundation contains acne fighting ingredients to help not only keep you matte all day but keep your pores clear as well. It is important to maintain your pores unclogged if you want to maintain your skin acne free. This foundation will do the work for you. It fights acne while giving you flawless skin all at the same time.

5- Maybelline Fit Me Poreless Foundation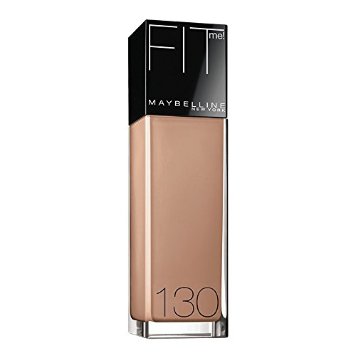 If you have oily skin and large pores this is the perfect foundation for you. This foundation is not only mattifying but it blurs the look of pores and fine lines which allows you to have the perfect flawless finish. It is a matte foundation which means you will have little to no oil coming to the surface of your face which is very beneficial if you have extremely oily skin.
This foundation is light to wear while having a full coverage effect. It will make your skin look flawless without the use of too much product. A little goes a long way when it comes to this foundation. The color range is very large which means there is a shade for every skin tone even in between shades like myself.

4- Nars Matte Foundation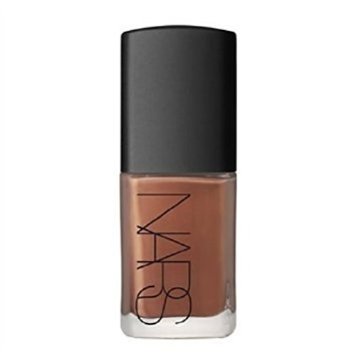 The Nars matte foundation is a velvet like foundation. It is whipped which allows it to give you an even coverage without needing much product at all. It is completely matte so you will not appear shiny or oily throughout your day.
By it being a whipped foundation it is a lot more dense than if it was in full liquid form this allows the application to be smoother. This foundation is a medium coverage foundation that is buildable you can build the coverage to your preference.

3- Tarte Rainforest of the Sea Foundation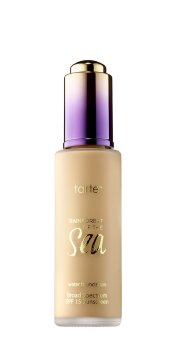 This foundation is fairly new as Tarte Cosmetics recently launched their rainforest of the sea collection however, this one is a must have. Especially if you have oily skin. It is the perfect foundation to hydrate your skin. One of the misconceptions many of us have is oily skin does not need to be hydrated. This is False. Although, your skin may be oily it needs hydration as well.
This foundation is very hydrating so it is a dewy foundation which means you will have a luminosity to your skin but a healthy one. It is the perfect summer foundation. Light and hydrating while giving your skin a natural glow to it.

2- SmashBox Liquid Halo HD Foundation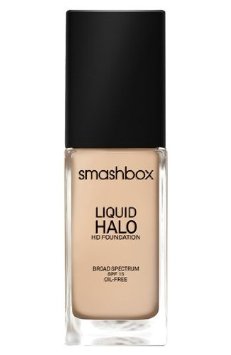 This Smashbox liquid halo foundation was nominated one of the best foundations by Allure magazine for oily skin. This foundation contains the perfect mattifying components while being oil free. This foundation does not contain any oils at all so it is perfect for acne prone skin.
Many matte foundations have a tendency to make your skin appear dry. This foundation will not do that at all. It will give you full coverage without the drying effect.

1- L'oreal Infallible Pro Matte Foundation

If you are looking for a matte foundation that lasts all day long without the need to powder or reapply this is the perfect foundation for you. It is completely matte and will leave your face completely flawless. It is also currently one of the best drugstore foundations on the market. It is full coverage with a large variation of shades that will enable you to find the perfect shade that works for you.


Finding your perfect foundation does not have to be a complicated task once you know exactly what you are looking for. Which foundation have you tried and loved? Please tell us in the comments below.