34 Times Someone Rocked A Halloween Wedding Theme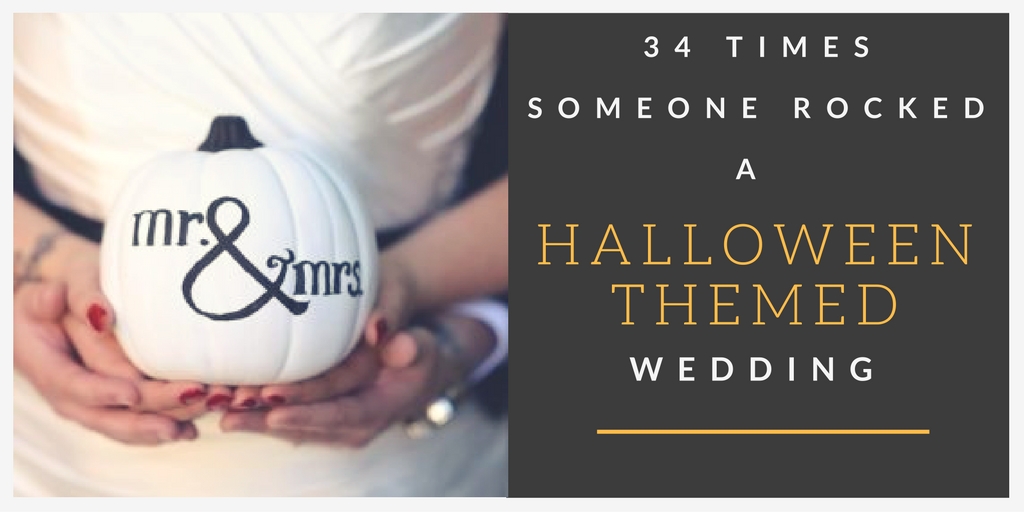 Fall is one of the most amazing times of the year. I know I have said it a million times, but I just love it! Sure it has something to do with the weather, colors, and the coffee. But it has more to do with all the holidays! Thanksgiving is a time for good food, and being thankful for the things you have, and soon after you have Christmas and New Years (I am aware that there holidays fall in winter, but they are close enough!) Of course, we CAN'T forget about Halloween!
Halloween is the best time for pigging out on candy, dressing up in amazing costumes, and having a good time with family and friends. Oh, and don't forget the amazing Halloween parties! All the spooky designs, and dark colors create a hauntingly fun atmosphere! What is even better, is when two creative people are planning a wedding who share a love for not only each other, but also for Halloween, then you get a fabulously wicked wedding theme!
Here are 30 times that someone rocked a totally terrifying Halloween themed wedding: (I have even broken it down in to wedding categories for your viewing pleasure)
The Dress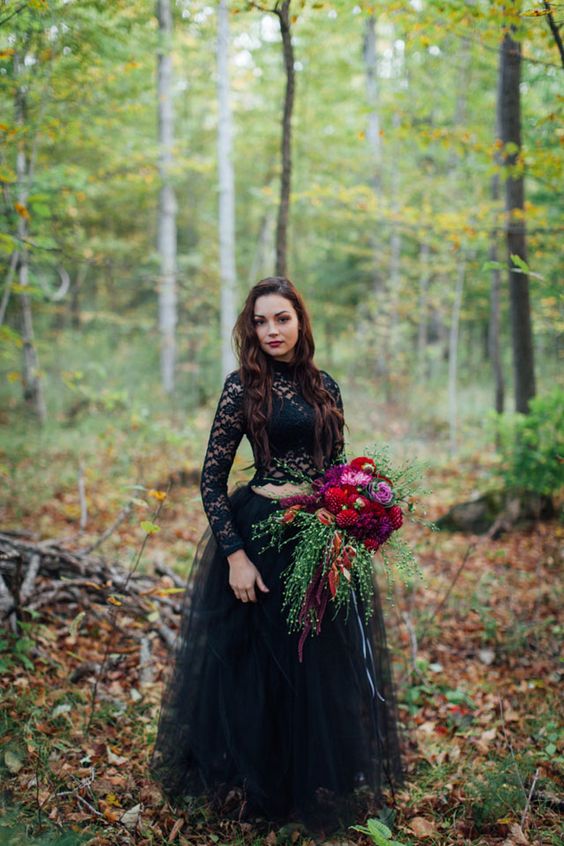 (http://www.artfullywed.com/wedding-inspiration/wedding-styles/dark-autumn-forest-wedding-inspiration/)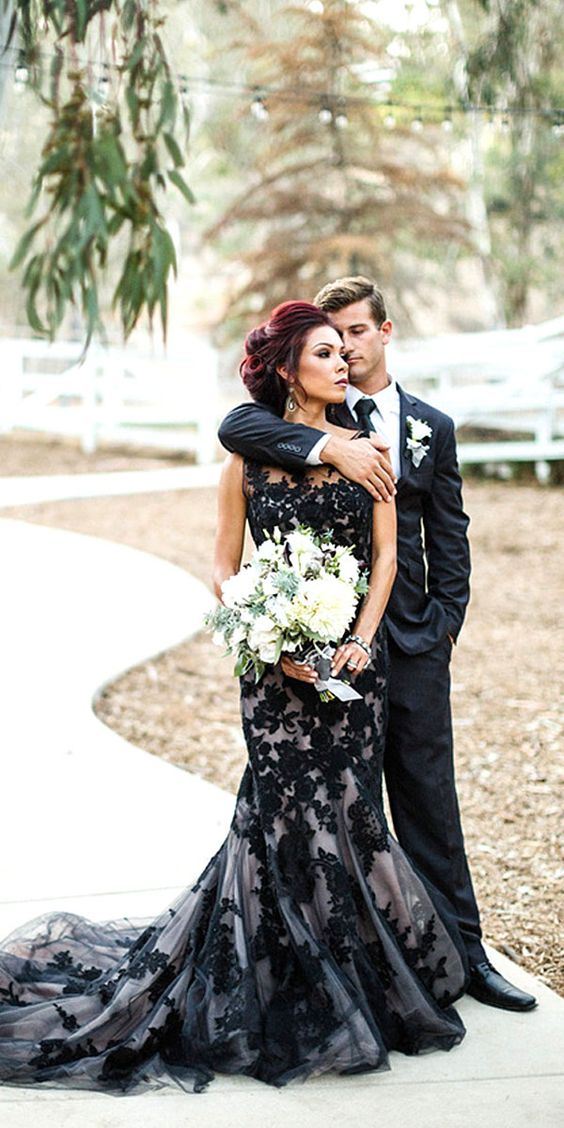 (http://www.weddingforward.com/black-wedding-dresses/?utm_source=Pinterest&utm_medium=Social&utm_campaign=PIN-BlackWeddingDressesAndGownsForTheAl&utm_content=black-wedding-dresses-ana)
Out of all of them, this one is by far the simplest, but it is also my favorite! It is still a play on the traditional white dress, but with a layer of black tulle over is, and then the black lace bodice, make it so perfect for a Halloween theme wedding!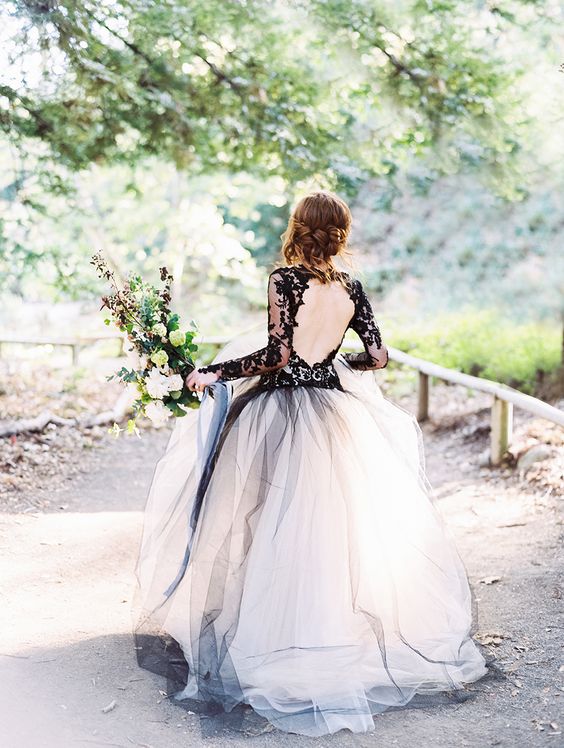 (http://www.stylemepretty.com/vault/image/3416013)
The Bouquet
The perfect colors for a spooky Halloween wedding would be: black, red, white, purple and even some orange!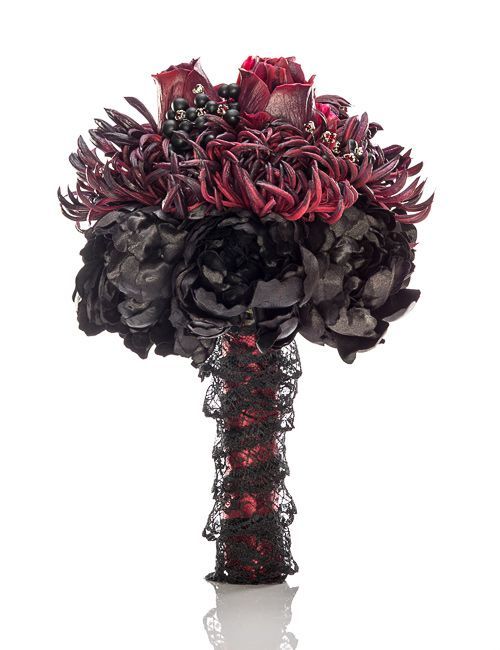 (http://www.weddingomania.com/34-halloween-wedding-bouquets-with-dark-romance-touches)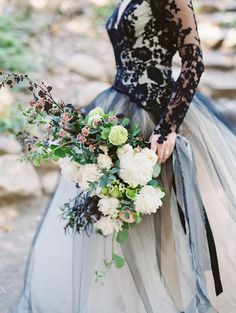 (http://www.stylemepretty.com/vault/image/3416034)
For the Bridesmaid bouquets, you could just ditch the typical bouquet, and swap them out for a wicked witches broom like this: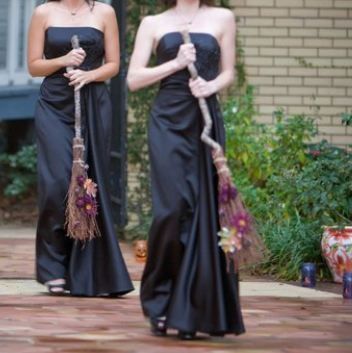 (http://lifestyle.one/closer/family-money/family/halloween-wedding-inspiration-15-gorgeous-spooky-wedding-ideas/)
The Bridesmaids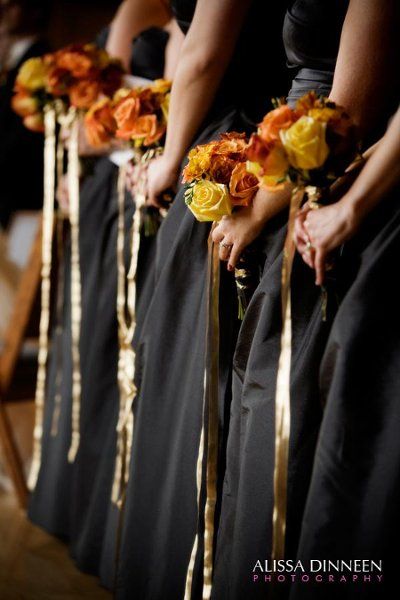 (https://www.weddingwire.com/wedding-photos)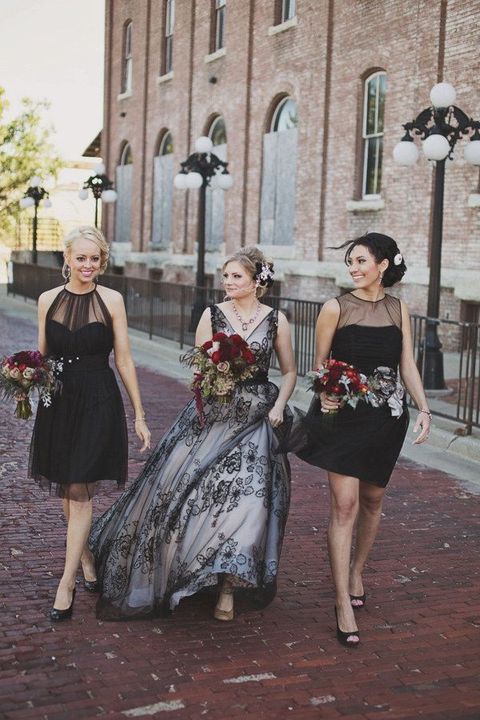 (http://bodas.mujeryestilo.com/31-increibles-ideas-de-decoracion-de-bodas-en-halloween/)
If you are thinking "I don't really like the black dress look for the bridesmaids" then here is a take on the theme that I loved, giving the girls purple and orange flowers, and having them where a purple skirt with white top combo! So cute, and a subtle way to still rock the Halloween theme!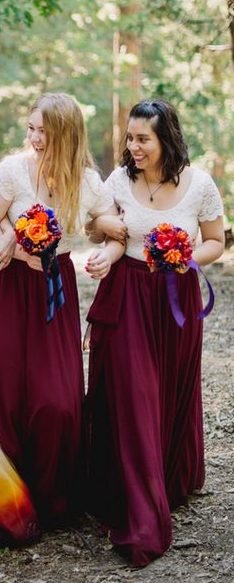 (https://www.bloglovin.com/blogs/wedding-colors-6169261/a-woodsy-summer-wedding-inspired-by-colors-4991845111)
The Aisle Decoration
There are so many possibilities for the aisle! But for the Halloween theme, you can never go wrong with black tulle, lace, and lots of pumpkins!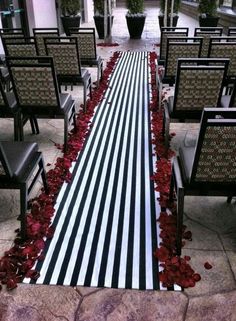 (https://www.etsy.com/listing/84528047/wedding-black-and-white-stripe-aisle)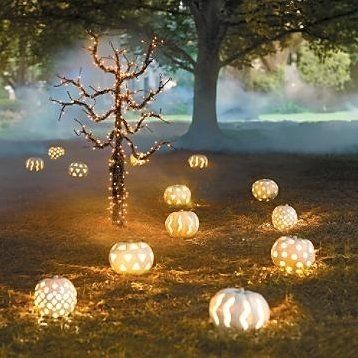 (http://blog.beau-coup.com/halloween-wedding-theme-inspirations)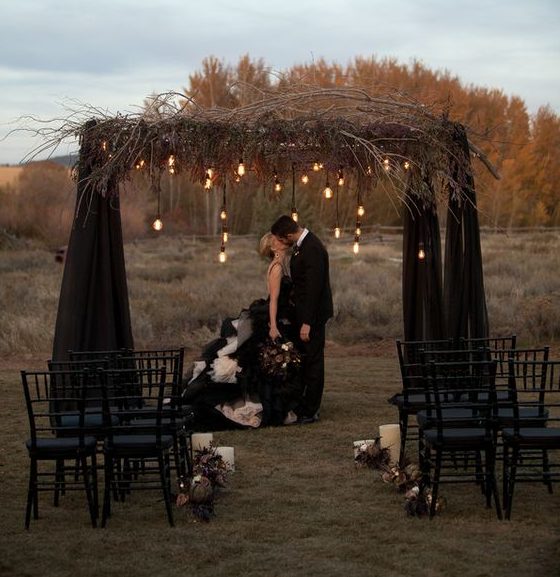 (http://www.trendybride.net/spring-shores-lodge-utah-styled-wedding-shoot/)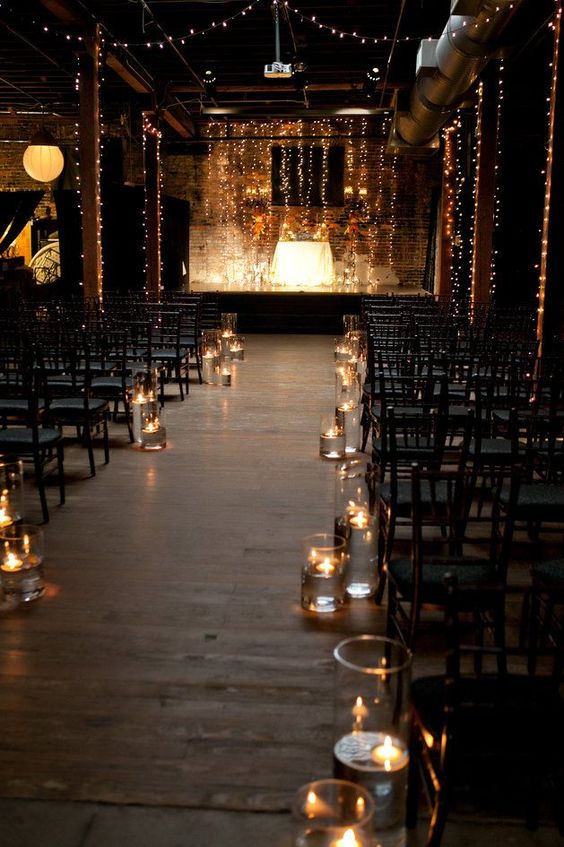 (https://www.elegantweddinginvites.com/20-awesome-indoor-wedding-ceremony-decor-ideas-s/)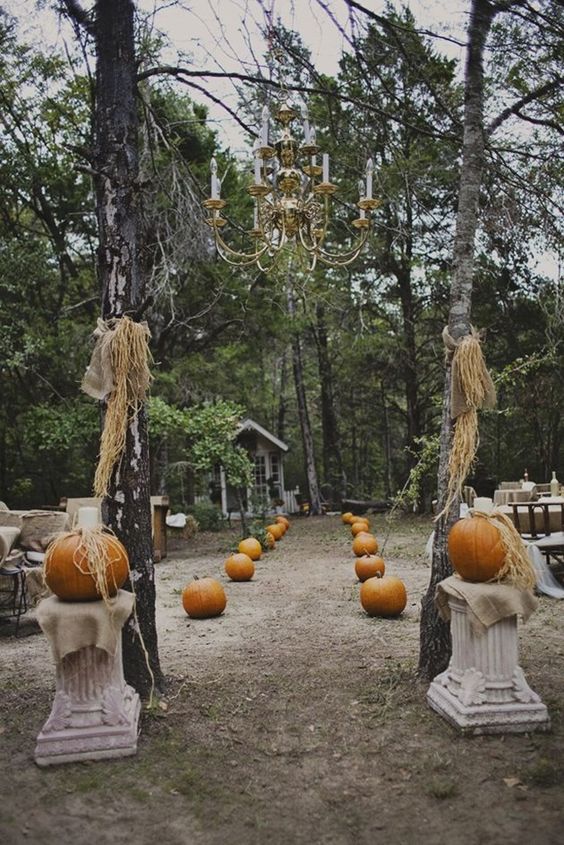 Other Decorations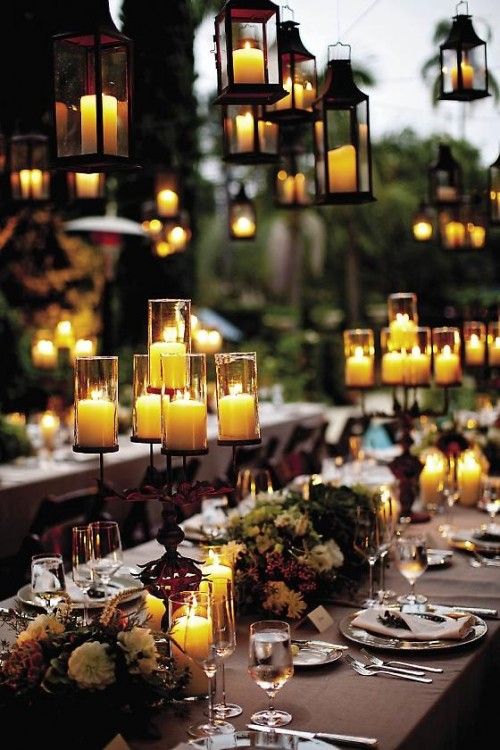 (http://www.architectureartdesigns.com/30-magnificent-diy-halloween-table-decorations/)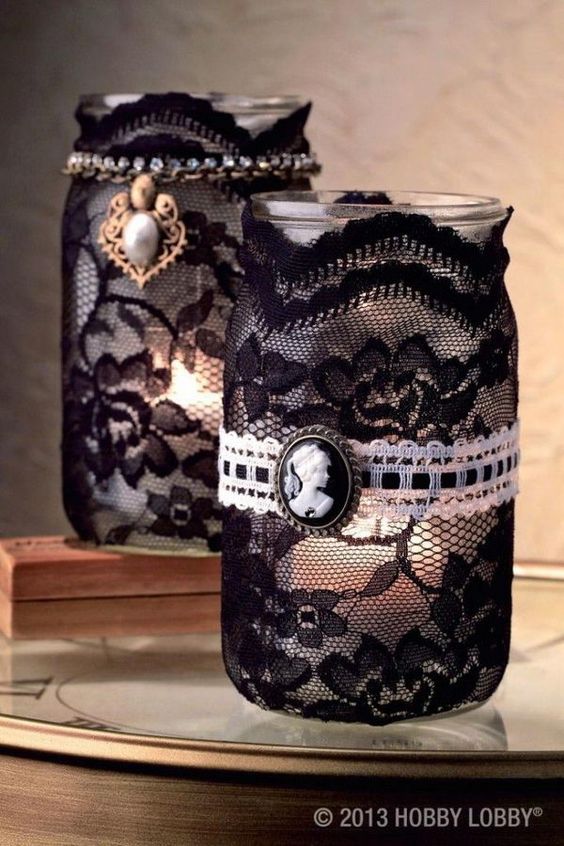 (http://ideastand.com/diy-halloween-decoration-ideas/)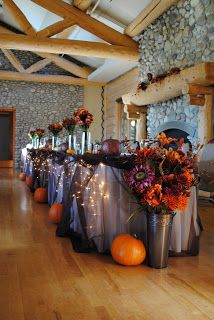 ( http://www.wishahmonblog.com/2010/10/pumpkin-themed-wedding.html)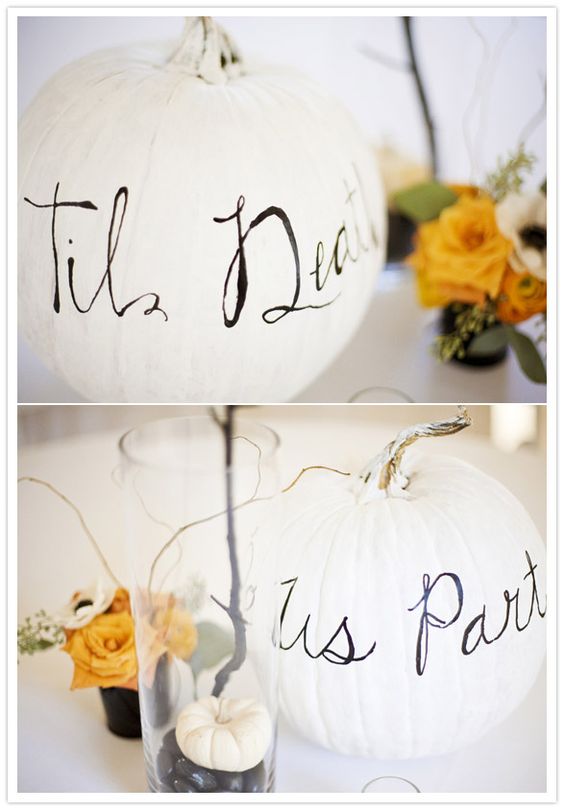 (http://blog.linentablecloth.com/13-enchanting-halloween-wedding-ideas)
These next two would make perfect centerpiece decorations on the tables at the reception!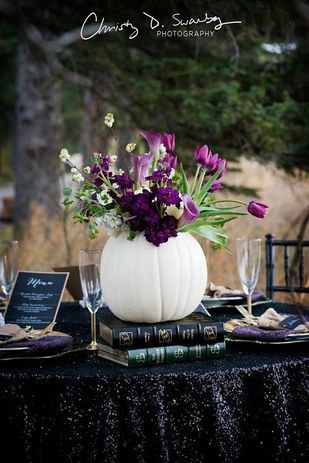 (https://www.buzzfeed.com/rachelwmiller/enchanting-halloween-wedding-ideas?utm_term=.xe798r0bM&sub=4060838_7201409#.wqLekX0M4)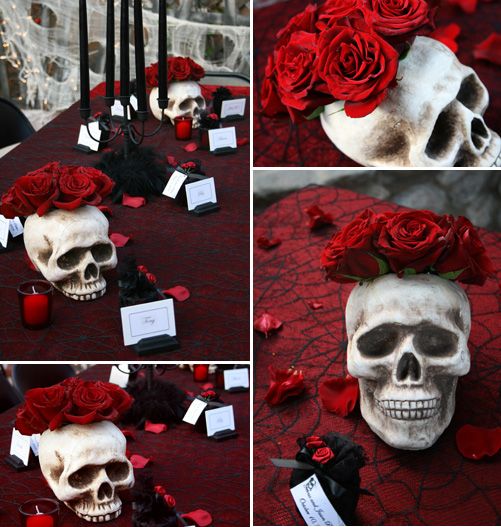 (https://www.tumblr.com/search/halloween+wedding)
The Guest Book
You can't go wrong with having guests sign a creepy, tattered spell-book esque guest book. And with an old fashioned quill! Terrifying (and awesome)!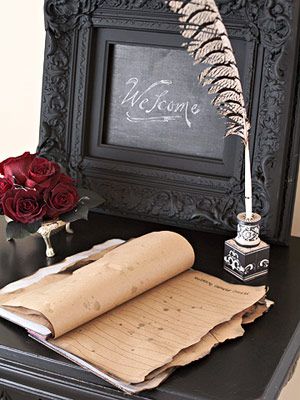 (http://diycraft.org/till-death-do-us-part-halloween-wedding-day-project-top-easy-unique-design/)
Another route would be signing the pumpkin! This would also make perfect decoration after the wedding for the house during the fall!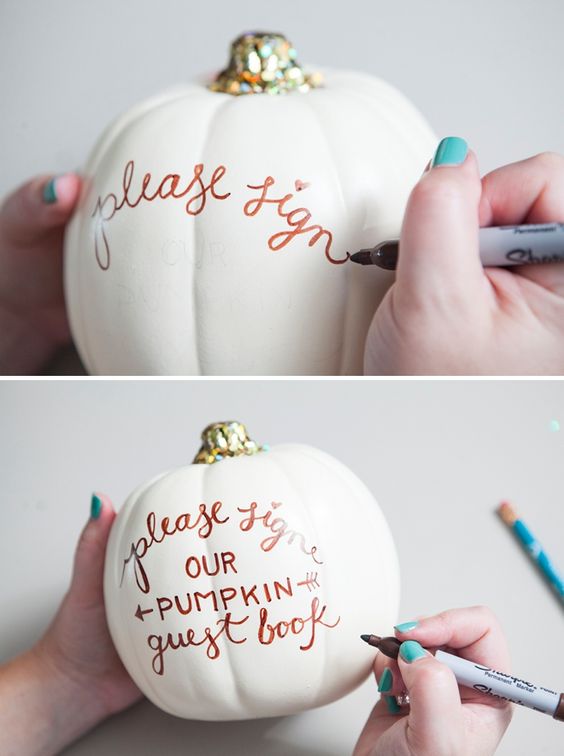 (http://somethingturquoise.com/2014/10/31/diy-faux-pumpkin-guest-book/)
The Menu
An awesome twist on a tasty treat!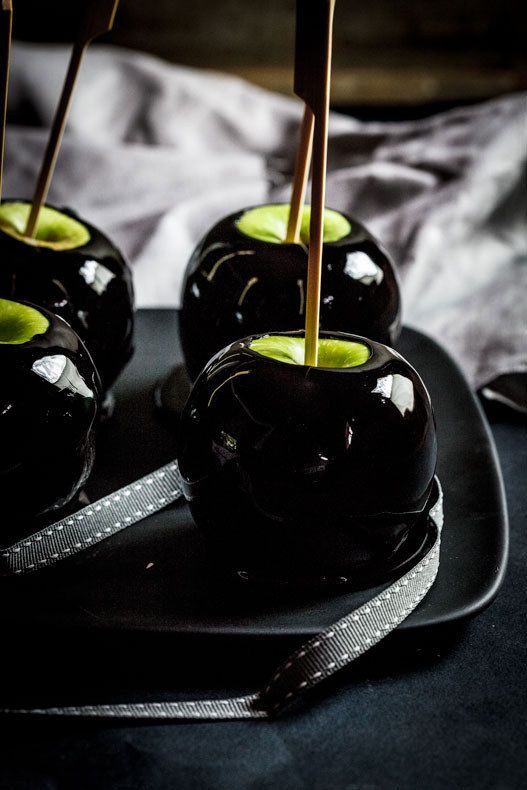 (https://www.buzzfeed.com/rachelwmiller/enchanting-halloween-wedding-ideas?utm_term=.ilMq4zZYV#.eoBZRL638)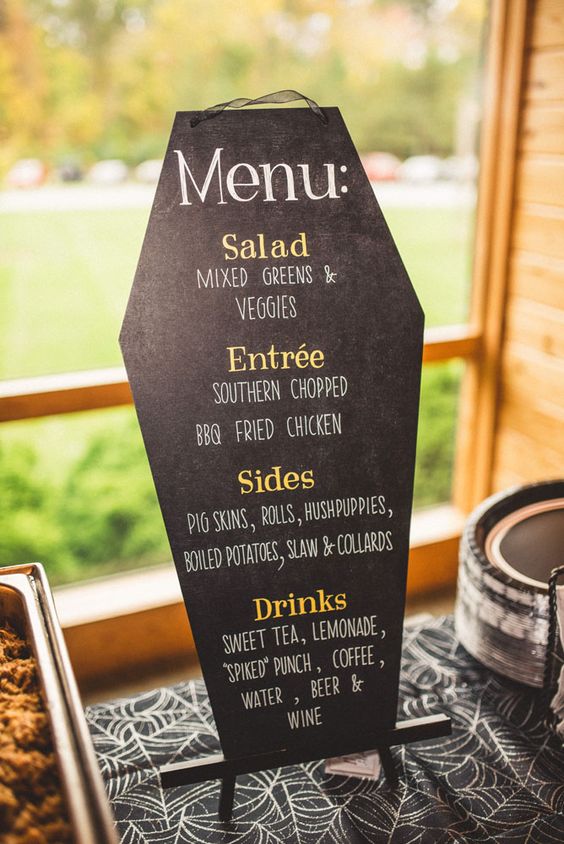 (https://www.rocknrollbride.com/2016/05/dracula-harry-potter-the-princess-bride-star-wars-halloween-wedding/)
The Cake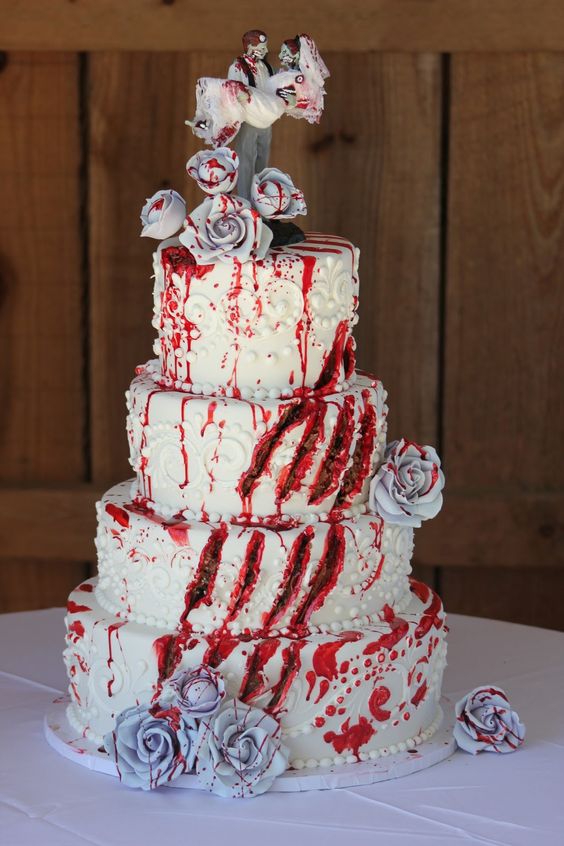 (http://thefashioncaker.blogspot.com/2013_05_01_archive.html)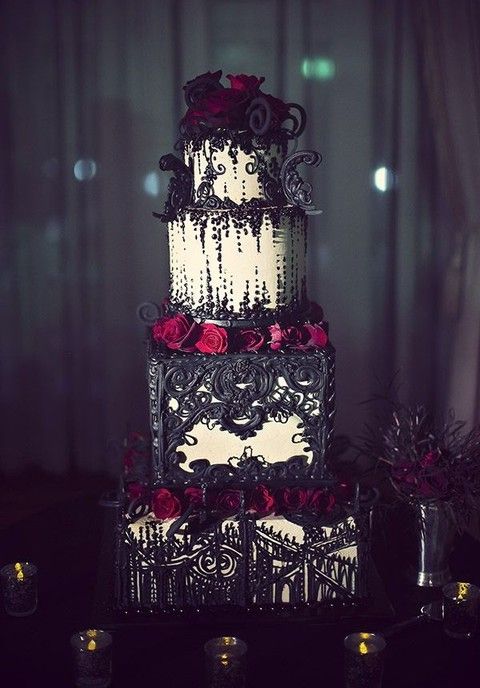 (http://happywedd.com/food/cakes/70-unique-halloween-wedding-cakes.html)
Favors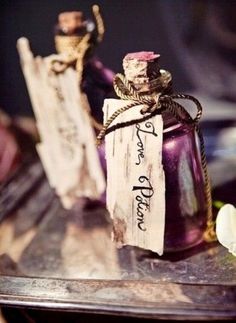 (http://www.weddingomania.com/31-awesome-halloween-wedding-favors/)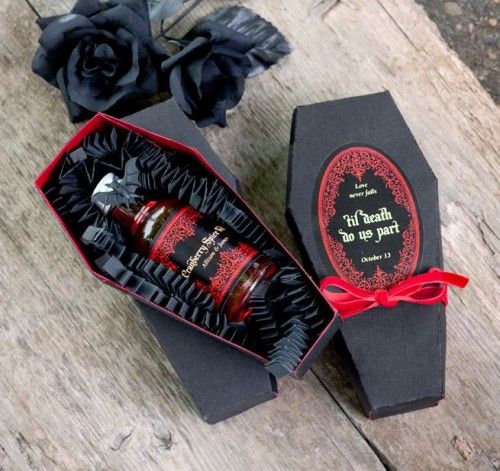 (http://www.weddingomania.com/31-awesome-halloween-wedding-favors/)
Help guests find their seats with these creepy vampire teeth, that they can also keep as their party favor!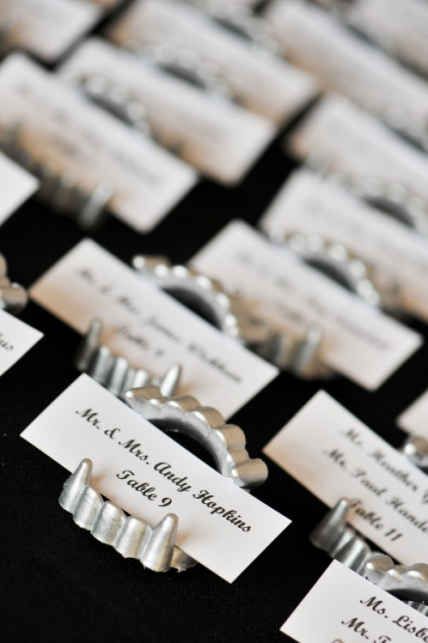 (https://www.buzzfeed.com/juliapugachevsky/reasons-you-should-have-a-halloween-wedding?sub=2648319_1747817&utm_term=.qsOAqEXVd#.uyRrXDEd7)
Invitations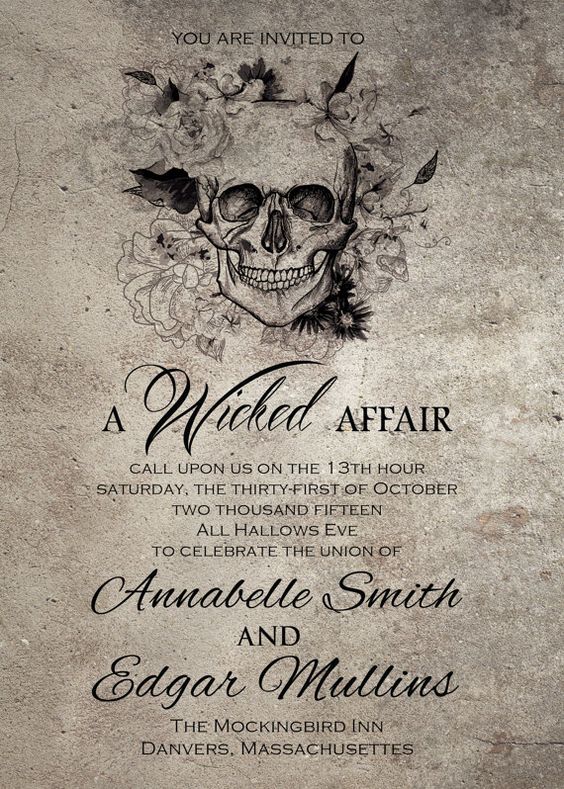 (http://glitternspice.com/halloween-wedding-invitations/)
This one will not only spook the guests, but it is also a play on the words of the vows "Till Death do us Part"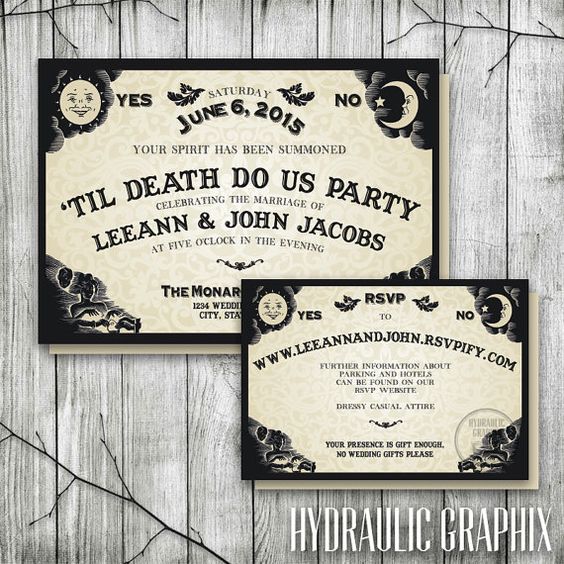 (http://glitternspice.com/halloween-wedding-invitations/)
The Groom
Of course we can not forget about one of the most important players at hte wedding – the groom! For the Halloween theme, most grooms stick with the solid black suit look, like this: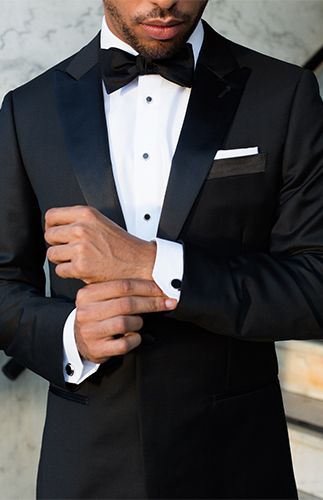 (http://www.inspiredbythis.com/wed/the-black-tux-tuxedo-rentals/)
Some spice it up with one of the Halloween colors being used at the wedding, like this one here: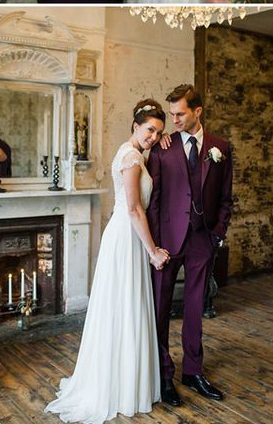 (https://www.praisewedding.com/archives/7455)
And this boutonniere with the skull pin is perfect for the Halloween theme: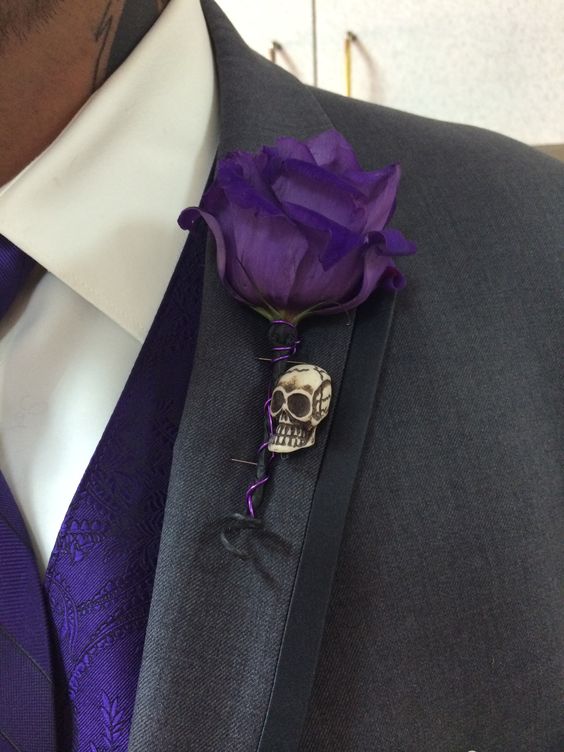 (http://www.everybodylovesflowers.com/)
I hope you enjoyed this post!
And that it totally gave you the creeps! For real though, all of these images are gorgeous! It just goes to show that it does not have to be the traditional bride in white dress, and bright colored flowers in order to make it a beautiful wedding! And if you were thinking about having a Halloween themed wedding, but weren't sure how it would look, then I hope this post gave you some insight! For more ideas for a Halloween Themed wedding, check out my pinterest board!
If you are just starting out in your planning process, then check out my posts about Where to Begin!