Allison Green's Tattoos & Meanings
Currently, Allison Green's tattoos add up to 10 fabulous images, including a gorgeous full-sleeve tattoo on her left arm. California girl, Allison Green's tattoos are a mix of styles and with a Japanese mother, Allison's dual-heritage has influenced her choice of tattoo designs.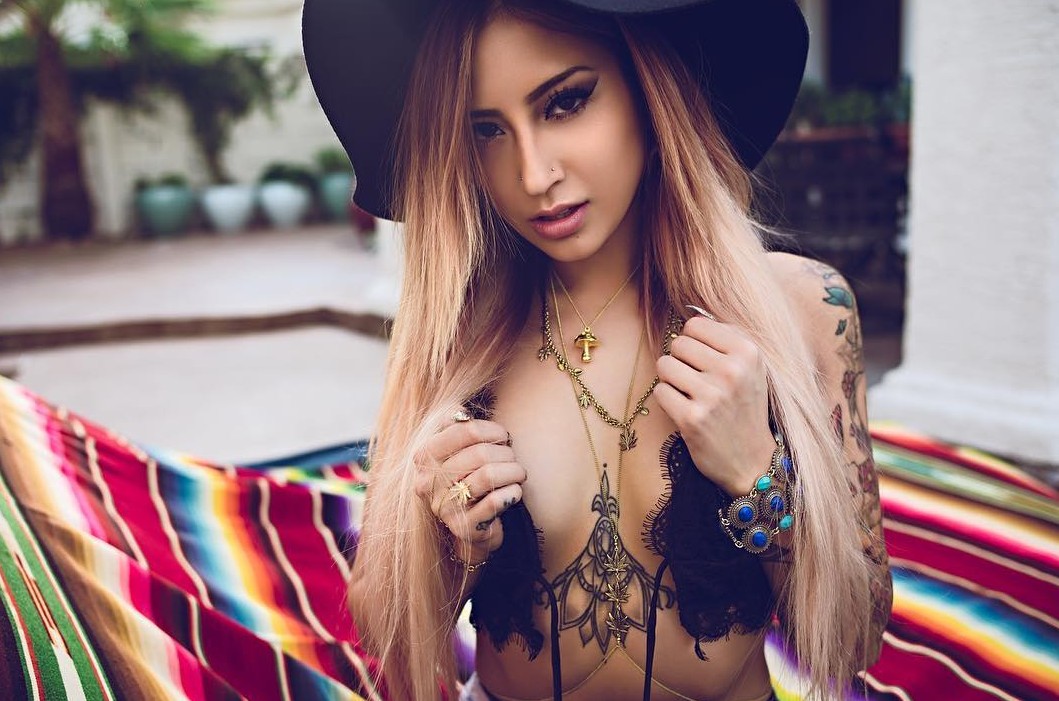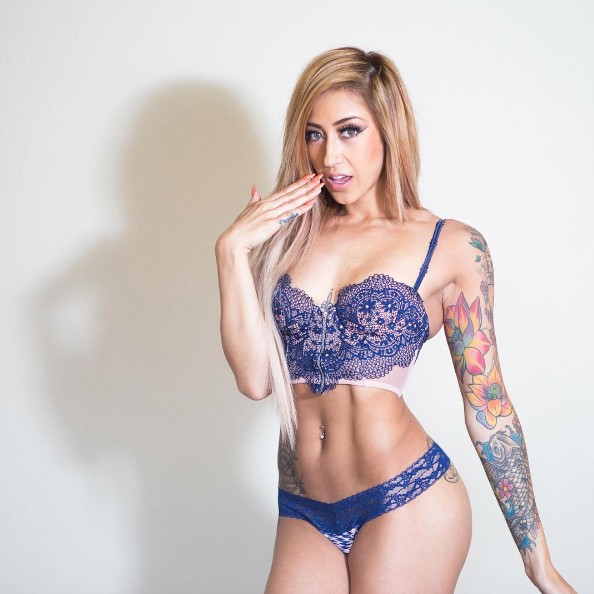 Millionaires' band fellow member and sister, Melissa Green, does some of Allison's tattoos, and she also uses the incredible creative talents of Jared (Tattoo-face) Wright and Tony Linville.
Allison Green's lip tattoo – lip and face tattoos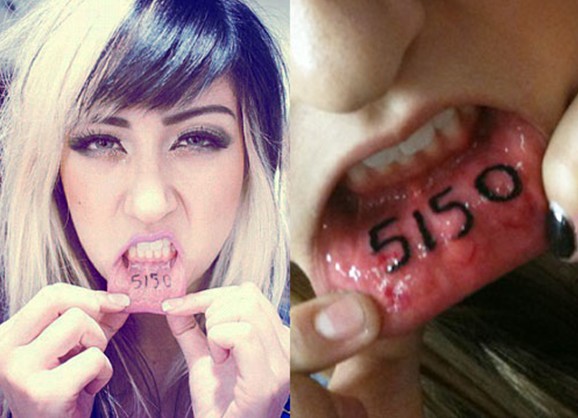 The famous 5150 tattoo, done in January 2011, is one of Allison Green tattoos that's the most subversive.  It's the code number for being committed to a mental-health hospital, against your will, in California state law!  So it symbolises a person who's 'legally insane'.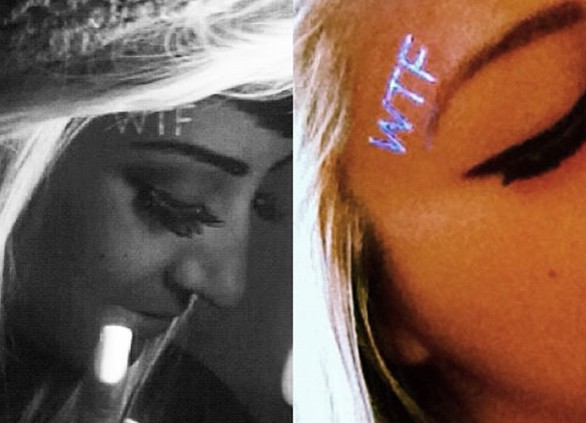 Shortly after, Allison created another publicity-grabbing tattoo – WTF (standing for 'What the fuck?') – done on her temple by Melissa in special black-light tat ink.  So in normal light, this tattoo is invisible and only shows up under artificial ultraviolet lighting.
Allison Green tattoos – left arm sleeve tattoo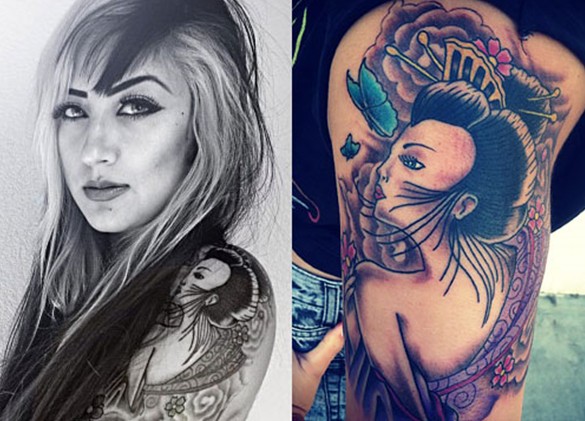 These artistic Allison Green tattoos in a Japanese style were started in the summer of 2013, with a stylised image of a geisha with flowers and butterflies, done by Jared Tattoo-face Wright on the upper-arm.
The main colour is purple – creatively complemented by hot-pink flowers and contrasted by the fabulous turquoise butterflies.
Lotus flower tattoos on Allison Green's arm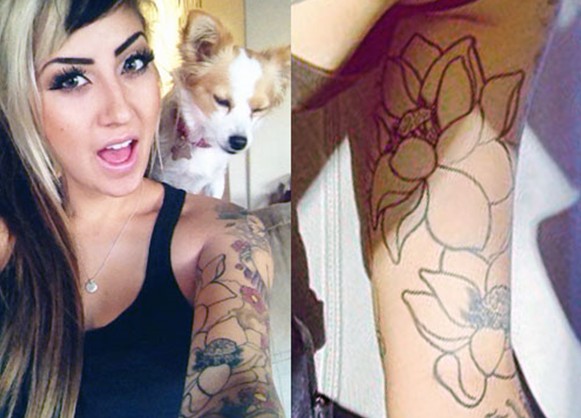 The rest of Allison Green tattoos were soon joined by a couple of black-ink outlines of lotus flowers.
In Buddhist culture, lotus flowers symbolize reaching spiritual enlightenment, as they grow in mud but have long stalks that rise above the murky water to produce beautiful flowers that shrug off heavy rainfall.
So, if you're looking for a tattoo that says despite a rocky start in life, you're aiming high and planning to be a great success – these Allison Green tattoos of lotus flowers are a great choice!
Allison Green koifish tattoos show her will to win!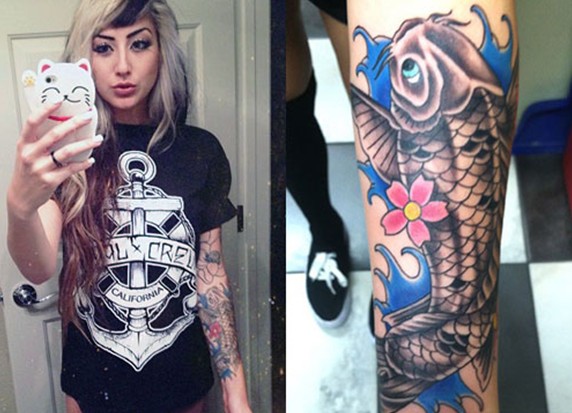 Another of Allison Green's inspiring tattoos, the gorgeous Koi carp with blue waves, symbolizes perseverance. Legend says koi fish can swim upstream, climbing the steep waterfalls of the Yellow River before becoming powerful dragons!
This gorgeous image from amongst Allison Green tattoos, means she's not afraid of hard work and no matter what, she's determined to overcome adversity and achieve her dreams!
Alison Green's foot tattoos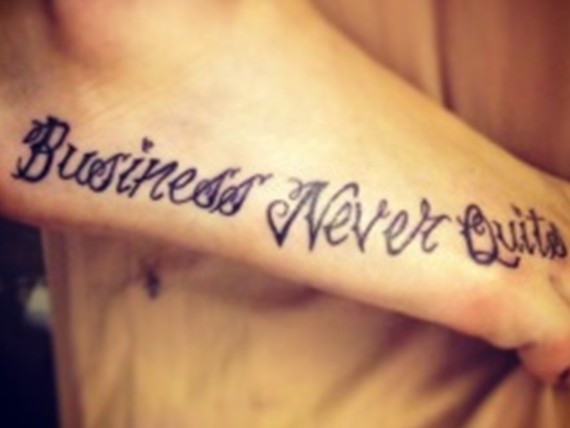 This ties in with the 'Business Never Quits' tattoo, (January 2013), Allison has along the side of her right foot, showing a 24/7 commitment to her career!
Allison Green's Japanese 'Good Luck' tattoos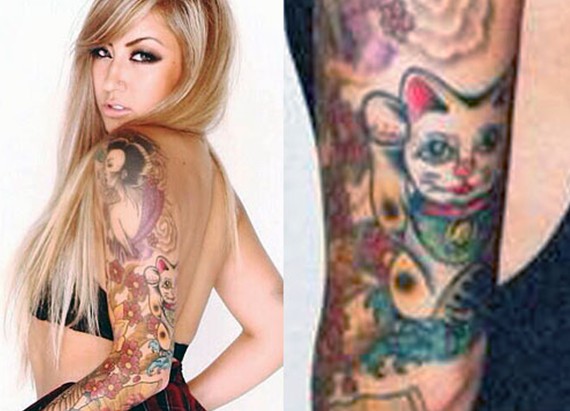 If you're a fan of good-luck symbols, there are several amongst the many Allison Green tattoos, including the Japanese 'lucky cat' symbol.  If it looks familiar, that's because this image has been borrowed by the Chinese for their gold-coloured, plastic 'good luck cat' figures!
In September 2013, Tony Linville finished Allison's gorgeous Japanese sleeve tattoos, with a gorgeous Japanese fan with blossoming cherry trees.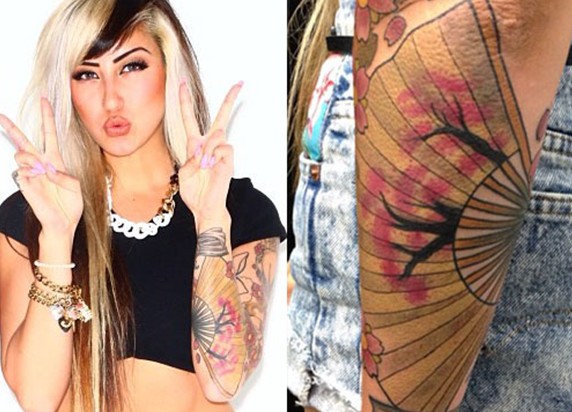 Allison Green tattoos – fingers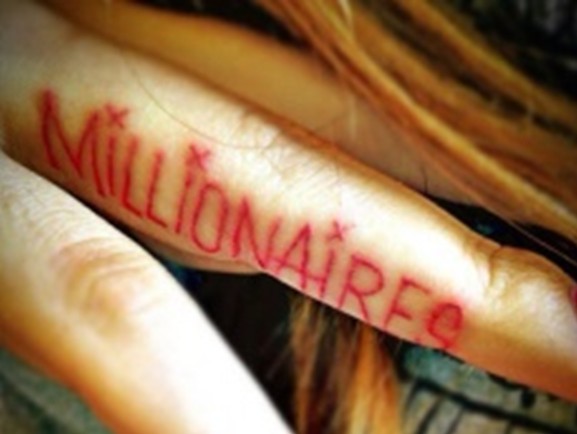 Marketing your 'brand' is vital to the success of any business and having Millionaires tattooed in pink on her right, middle finger by Melissa in 2012 makes a permanent, free advert!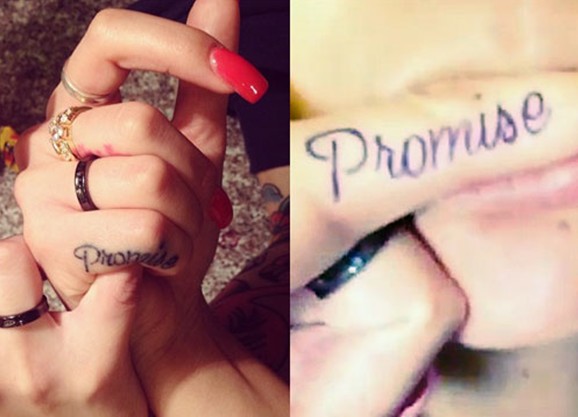 The Millionaires' sisters made a promise to each other in 2014, which they sealed with a tattoo of the word, Promise, on Allison's little finger.
Allison Green tattoos – neck numbers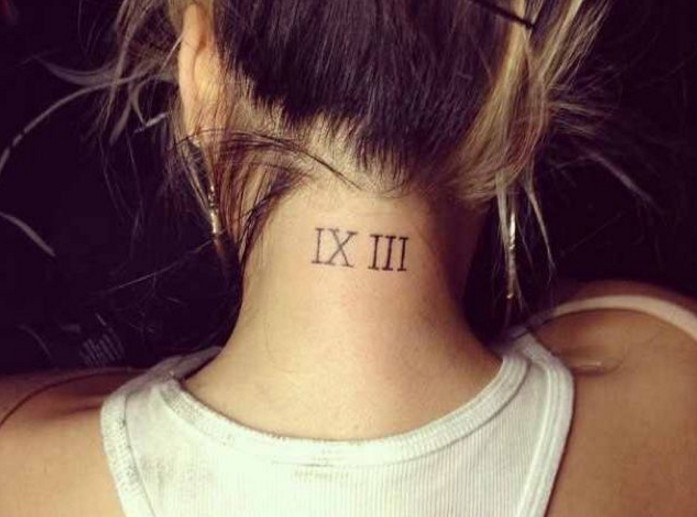 The Roman Numerals 'IX III' near the nape of Allison's neck are a touching reminder of the birthdate she shares with her mother – September 3rd.  This was added in April 2013.
Allison Green tattoos – ankles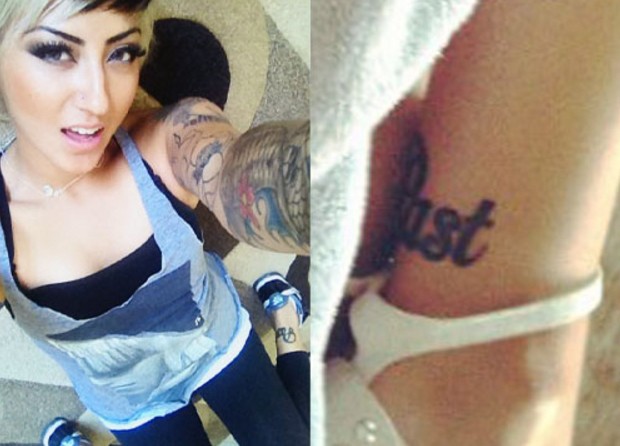 On the backs of her ankles Allison has the two words, 'Past' and 'Life', but it's not clear what these words mean to Allison.
Allison Green tattoos on ribcage, stomach, hip and thigh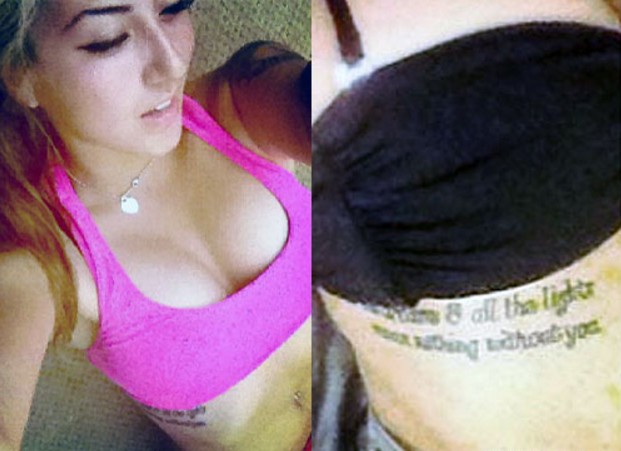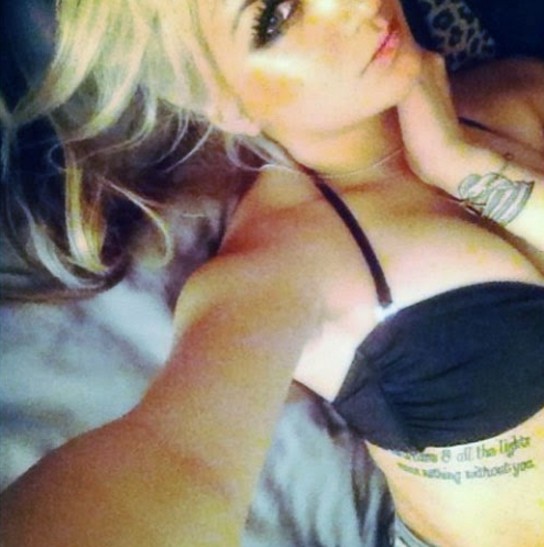 In the summer of 2013, the gallery of Allison Green tattoos increased again when she had these heart-felt lyrics from Lana Del Rey's moving song, 'Without You', written in black ink on her rib-cage below the right breast:
                   'All my dreams & all the lights mean nothing without you.'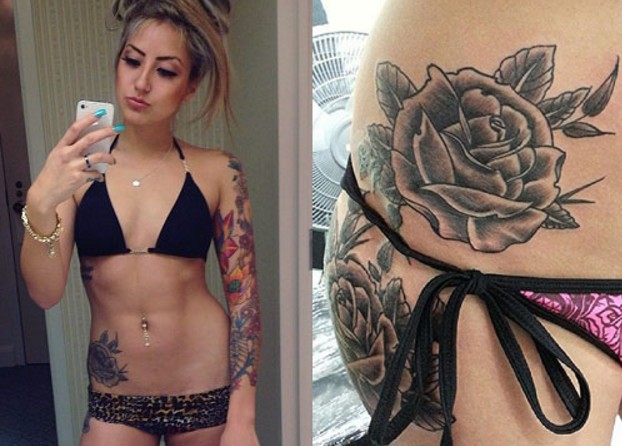 In February 2014, Allison got a couple of cool, black roses tattooed on her right hip and thigh by Jared Wright.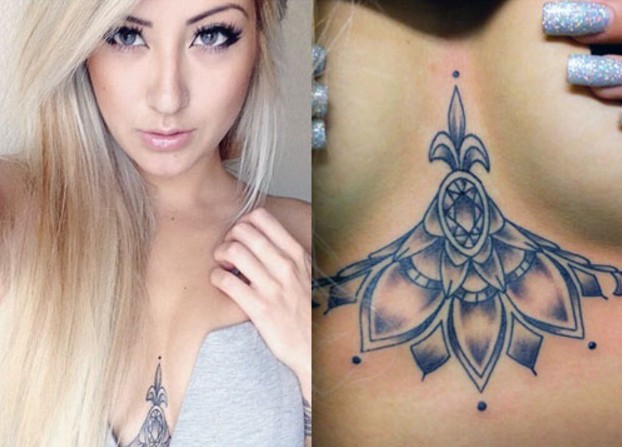 And in September 2014, Jared created this amazing, classic blue fan-design tattoo between Allison's breasts!