22 Chic Bob Hairstyles with Bangs
Bangs make a woman look fabulous and classy. They are, to some, iconic beauty standards, and some of the most popular Hollywood actresses (such as Penelope Cruz and Sandra Bullock) have also sported the look. If you want to add a dash of 'fab' to your beauty, you may want to take a look at these popular bob hairstyles with bangs.
Red-Brown Messy Curls with Bangs
Messy hairstyles are becoming some of today's interesting trends. In this brown and messy hairstyle, the additional bangs create a beautiful effect. You'll look more serious with this type of haircut, though it can be dressed down to suit a boho look too.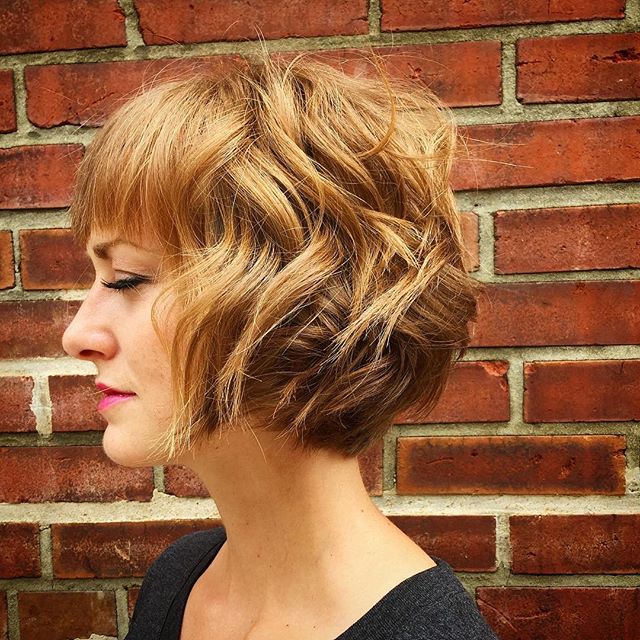 Short Bob with Full Bangs
Perhaps this is the most common cut along with other bob hairstyles with bangs. As you can notice, the trim of the bangs are symmetrical. It's a full fringe, which works great for those with broader foreheads.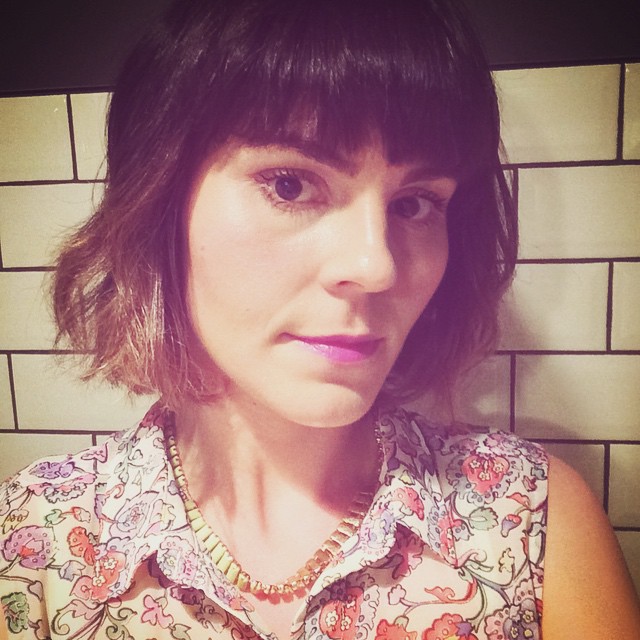 Dark Brown Bob with Short Full Bangs
Short hairstyle for round faces: The shorter bangs of this haircut will make you look intelligent and witty to a fault. Dark brown is a perfect color choice because it adds sensitivity and innocence. This look isn't so easy to pull off for some, so make sure you're committed to the look before you get it all chopped off.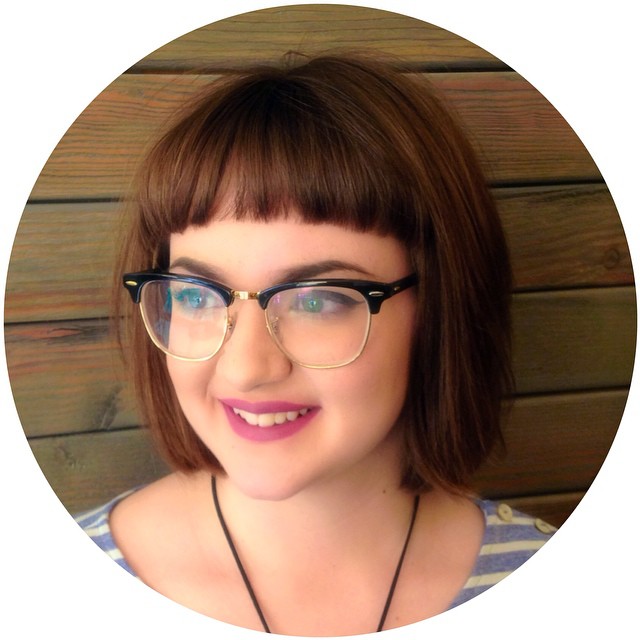 Brown Ombre Bob with Bangs
Classic short bob hairstyle for women over 40: Light brown is a good color choice if you want an outdoor-type look – accent it further with an ombre. Since the sides of the hair are just few centimeters short of your chin, it fully highlights your face. The shape of the bangs also frames your face.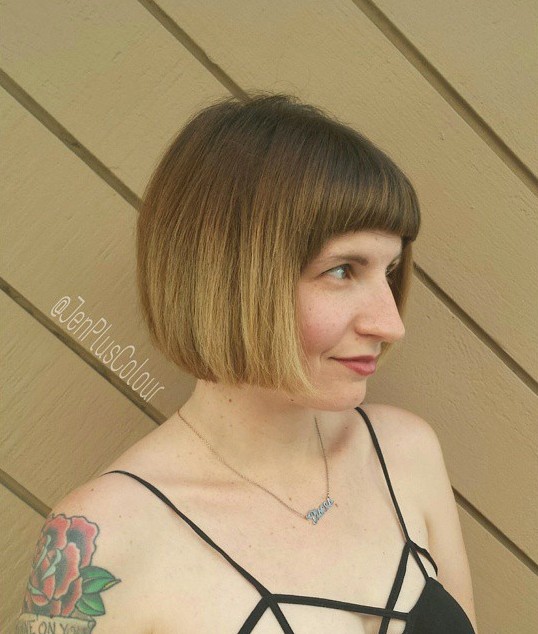 Wavy Blonde with Bangs
The waviness of this haircut is a good combination with the bangs. If you're looking for a haircut that will make you feel confident and sassy, this style will fit your choice.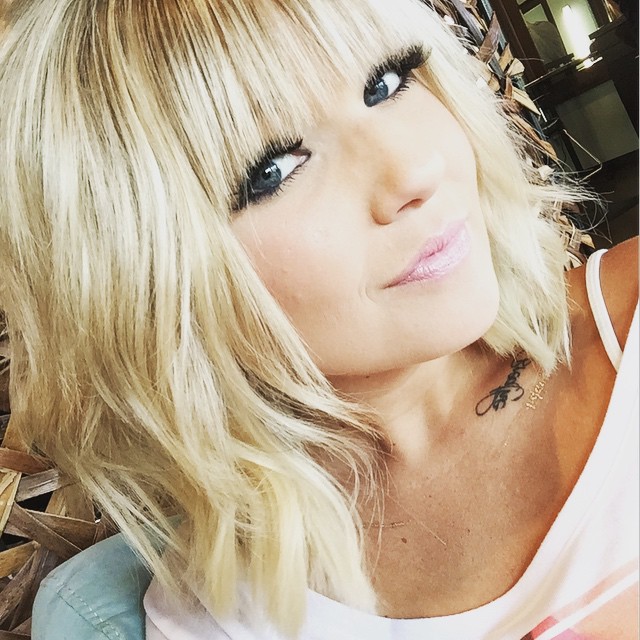 Jet Black and Straight
Blunt lob hairstyle with blunt bangs: Jet black has always been a fine choice for most hairstyles. With this haircut, you'll definitely look more mature and confident—as if you can carry yourself in any possible situation. If you go for this style, you need to use a flat iron to get your hair straight.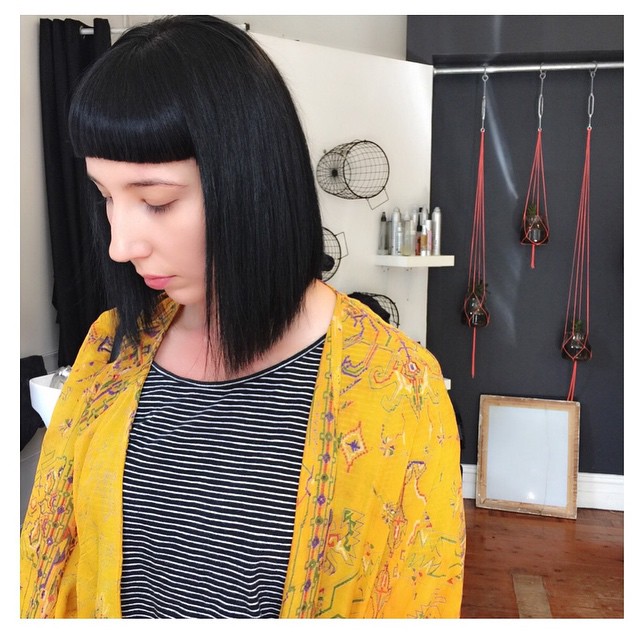 Chocolate Brown A-Line Bob with Bangs
Classic short bob hairstyles for women over 50: Another classy haircut choice, this style can raise your glamour level almost instantly. You can dazzle your friends with this haircut. Alternatively, if you hold a leadership position, this hairstyle will heighten your personal influence.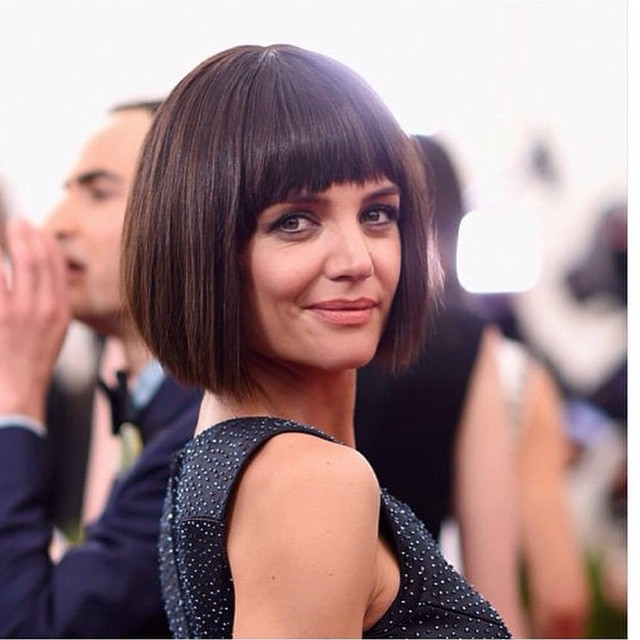 Stylishly Wavy Bangs
Bob hairstyles for 2016: If you make a list of interesting bob hairstyles with bangs, don't forget to include this style! Everything in this haircut is stylish—the bangs, sides, and also the color combination. Frequent hair curling is needed so make sure you have heat protectant cream or spray.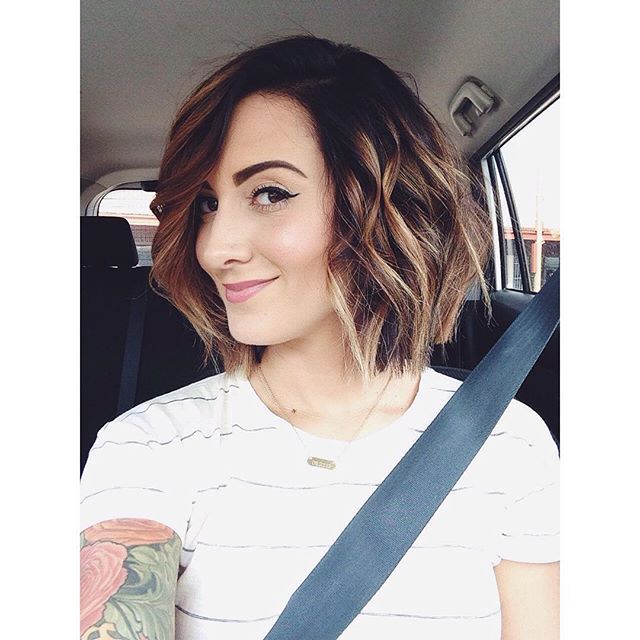 Side-Swept Bangs with Volume
Side-Swept bangs are also climbing in popularity because of their versatility. In this haircut, the additional curving ends give additional pizzazz to your appearance. The volume at the top elongates a round face and balances it out.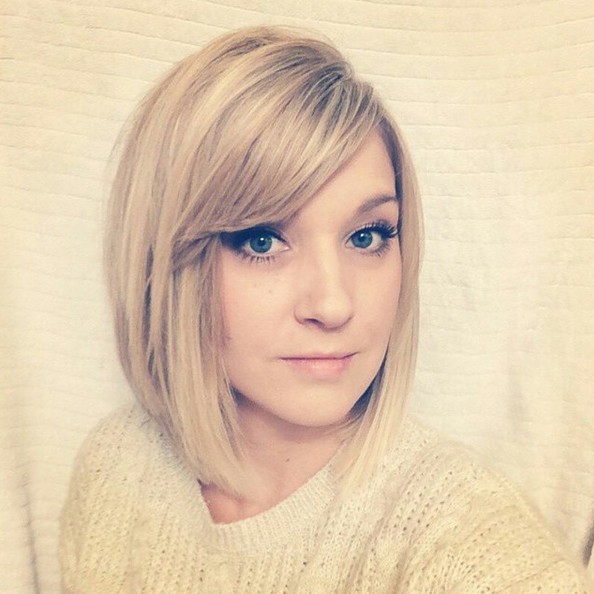 Purple Bob with Subtle Face Framing Bangs
Trendy bob hairstyle with bright color: Having purple as a color choice will emphasize rebelliousness, quirkiness, and esoteric flair. Observe the flowing effect of the bangs–it adds a sultry and mysterious feel! Taking care of this purple bob can take considerable amount of time.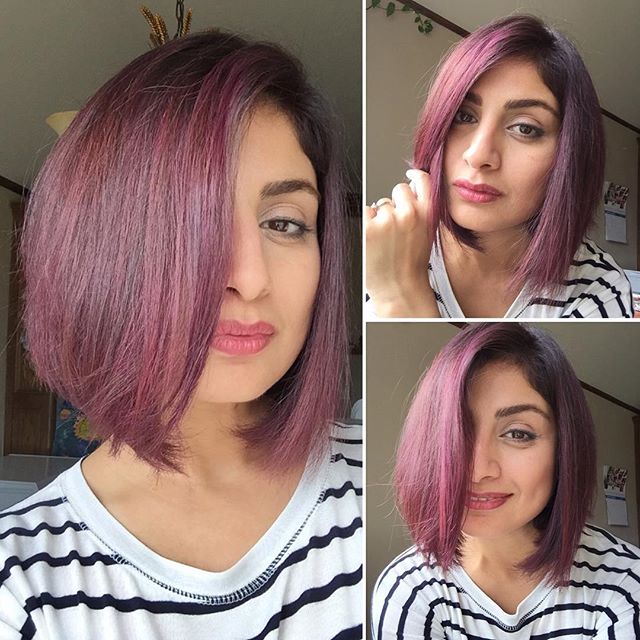 Sleek Bowl Bob with Full Blunt Bangs
This is a tricky hairstyle to pull. First, you need to have a long face, so the haircut won't look bulky from afar. Second, it'll make you look a bit more mature. If the latter effect is the one that you're trying to achieve, then this look is for you. It also is a power style, giving you an air of confidence.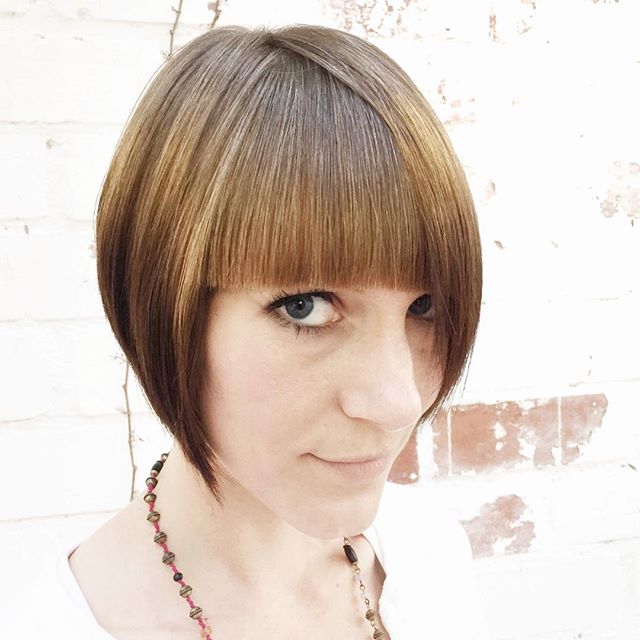 Red Violet Bob with Wispy Bangs
Red Violet is a great choice if you want an artistic hairstyle. This is a great playful style that shows off your personality. The wispy bangs are not too strong or bold, making this look easier to pull off.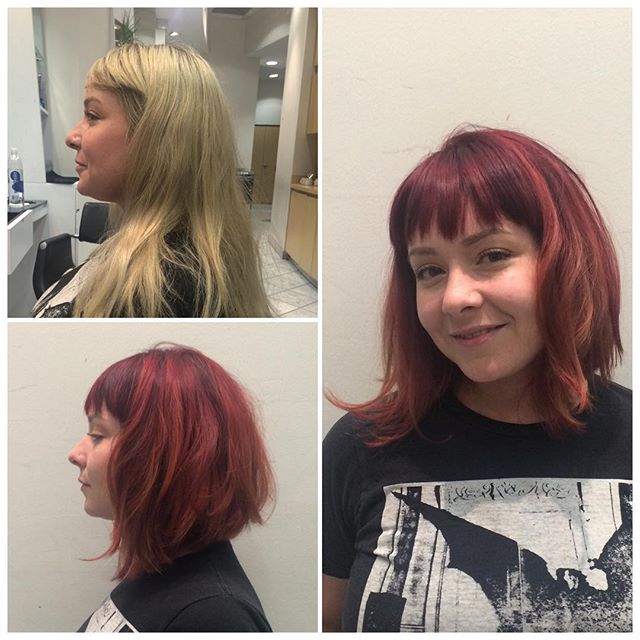 Big Messy Waves
Messy bob hairstyle with bangs for summer: Out of the many messy bob hairstyles with bangs, this haircut is perfect for you – especially if you have thin hair. The black and brown combinations also achieve a classy style that exudes elegance.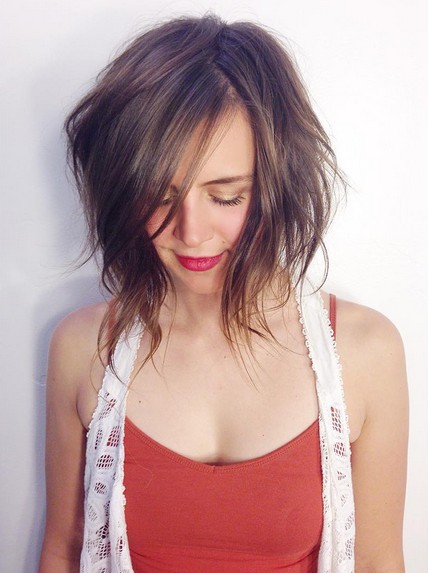 Sleek Straight Bangs with Messy Waves
With this haircut, you can look more youthful than ever. The full bangs are sleek and straight, while the sides are wavy and slightly messy. Keep your best smile ready once you choose this style – plus it's great for a party!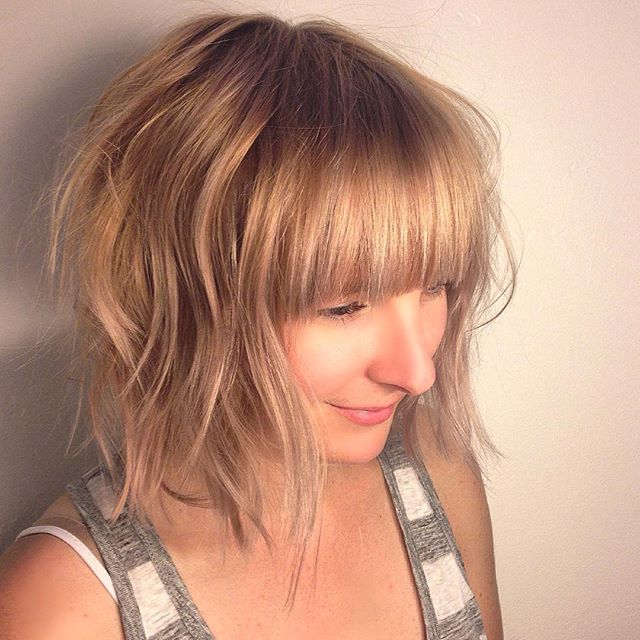 Teal Inverted Bob with Full Bangs
Teal is an interesting color that you can try. In this inverted bob, you will definitely be able to show your personality. This is perfect if you want to show your artistic side – or just want to explore some more options with your hair.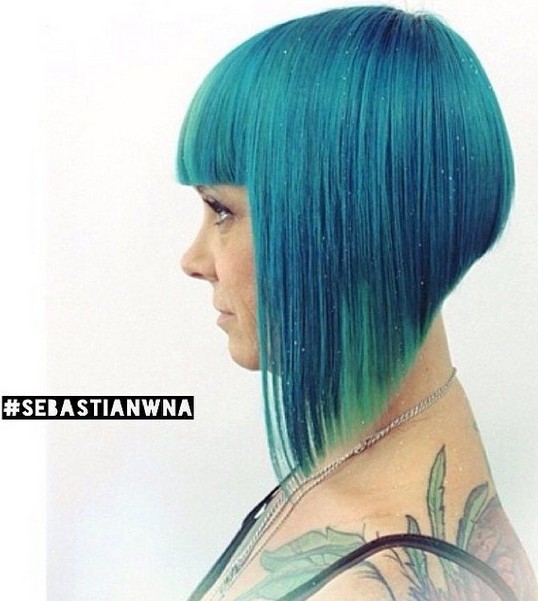 Layered Volumized Bob With Side Bangs
The strongest point of this haircut is the feathery effect, and the volume. This look is great if you want to look more sophisticated. The side bangs can be curled or left as is, as in the photo below.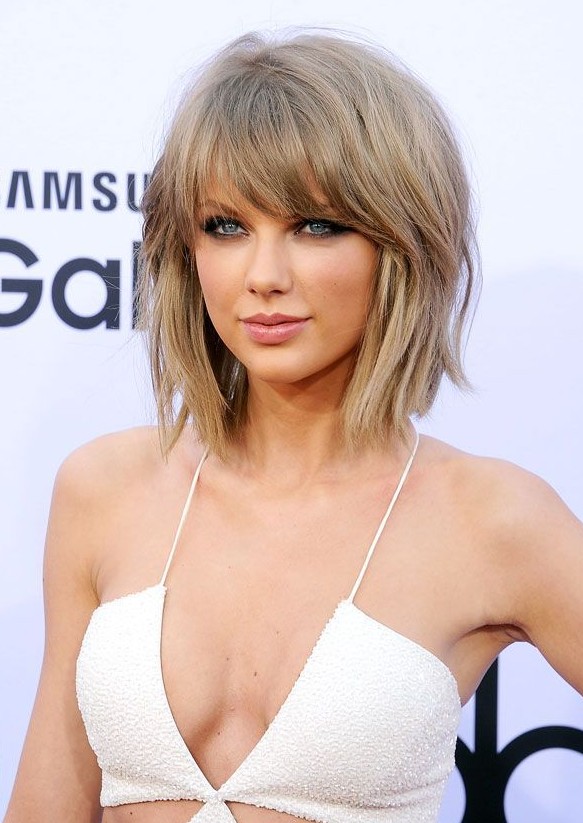 Full Bangs in Platinum Blonde
With the full side layered right, this hairstyle will give you a sexy and rebellious look. Additionally, the platinum blonde color is perfect if you want a change from dull, boring dark colors. You may need hair creams and dry shampoo to maintain this hairstyle correctly.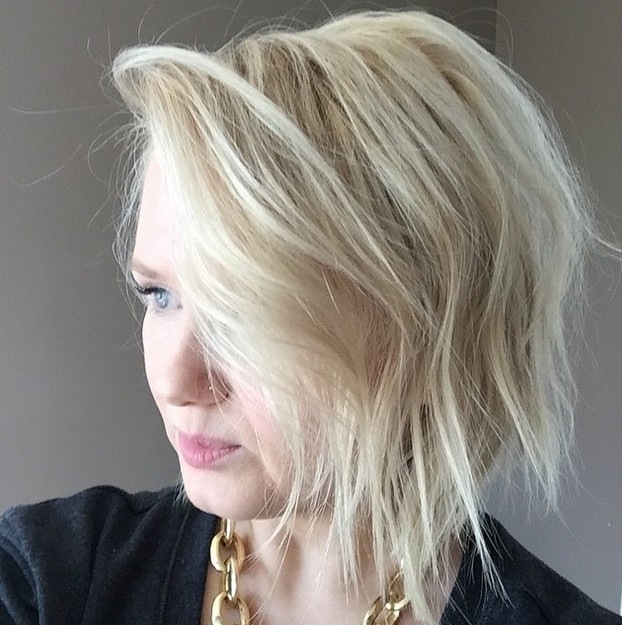 Dark Brown and Flowing with Blond Tips
The haircut is perfect for social functions and occasional parties. The bangs are also trimmed well to emphasize the shape of your face. However the bangs are not blunt, giving this a softer look.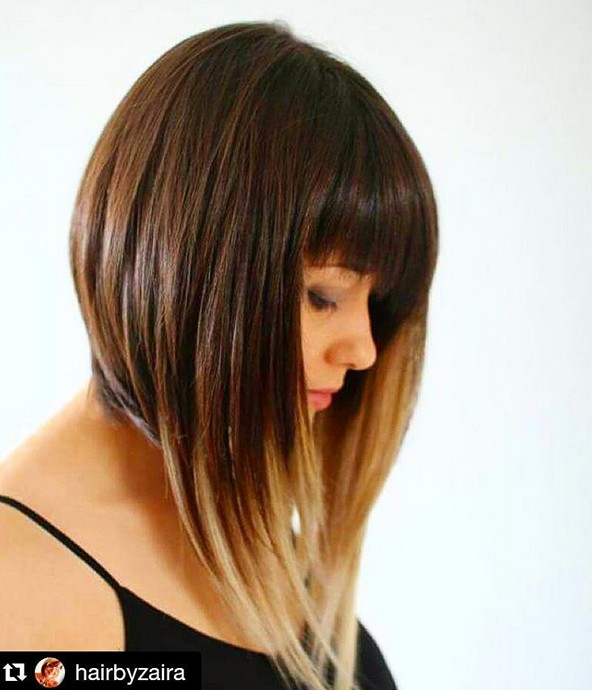 Blonde Side-Swept Bangs
Sides-swept bob hairstyles are also becoming more common today. This haircut will give you an airy and lightweight feeling—as if the world has become your playground. In maintaining this cut, you need to have a great shampoo and conditioner – since you'll likely have to iron your hair to keep it sleek and straight.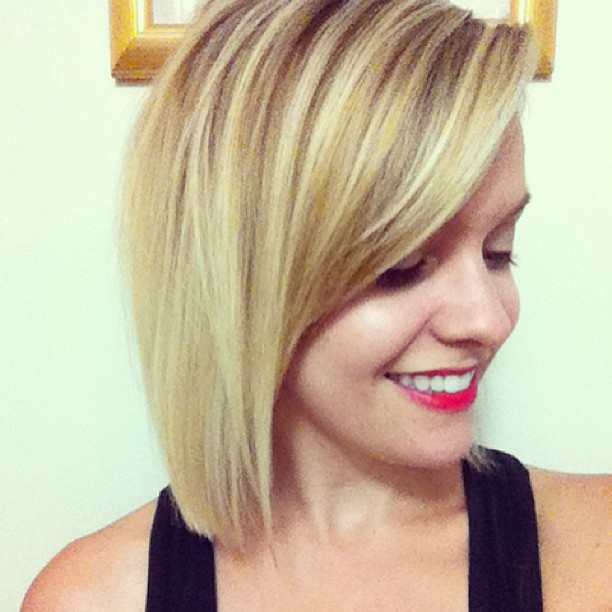 Deep Side Part with Sleek Bangs
The smooth flow of this hair can enhance your sense of style. Strategically covering the left eye, you can rely on this style to give you a mysterious aura. It's quite a sultry look that goes from day to night.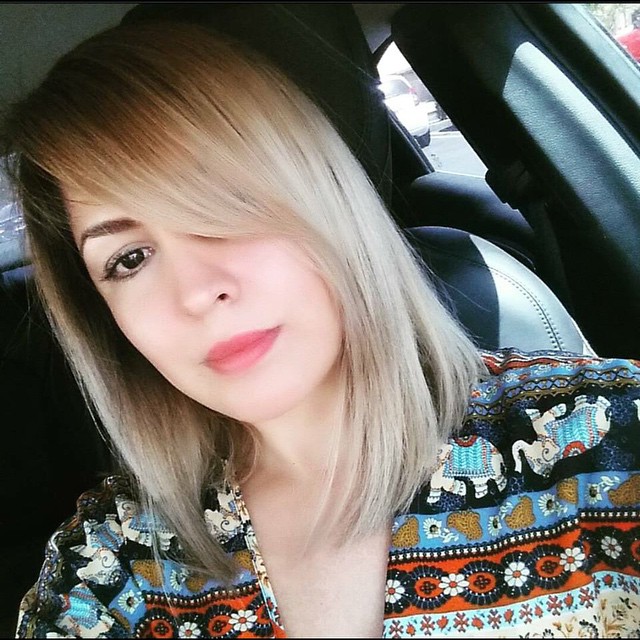 Explosive Red Shaggy Bob
For chic and modern girls, this shaggy bob cut is a best choice. Red is a great color to show off your fun personality. However you may need to take care of your hair by using good shampoos and conditioners as red fades quickly.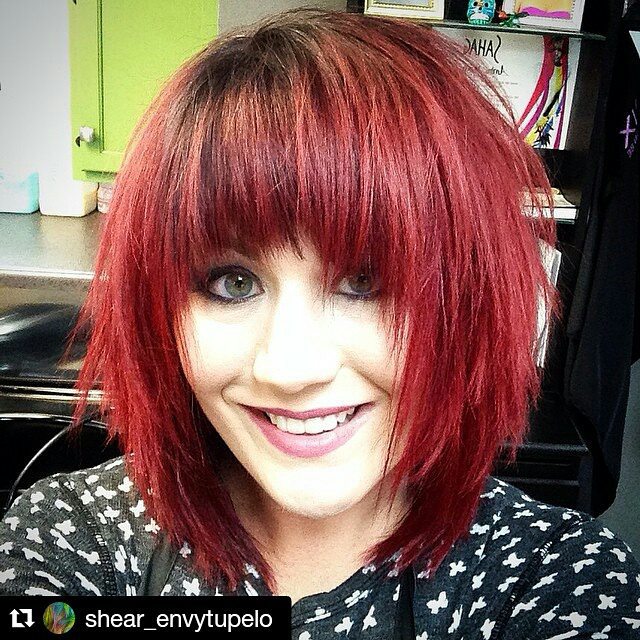 Classy Chestnut Brown
Do you want to have a new and blooming look? Then you can try out this classy chestnut brown hairstyle. The bangs mix well with the semi-wavy sides, making you look fresh and 'in love.'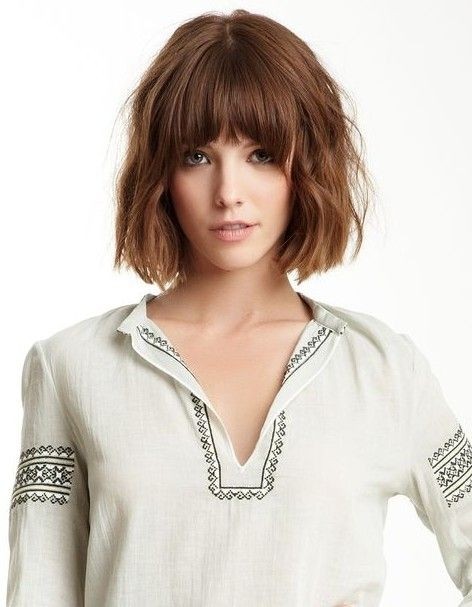 Bob hairstyles with bangs are definitely here to stay. Be in the style today and stand out from the crowd! Don't be afraid to try out one of the styles in this post – there are 22 to choose from!