21 Gorgeous Pastel Purple Hairstyles
Dyeing your hair a 'crazy' is no longer something that people are afraid of these days. In fact, more and more people are starting to experiment with their hair color. It's common to see people with colored highlights, multi-colored hairstyles, and ombre hairstyles. If you want to dip your toes into the coloured hair pool, you may want to try out these gorgeous pastel purple hairstyles.
Mermaid Pastel Purple Hair with Ash Highlights
Long hair color ideas: This vibrant style evokes thoughts and fantasies of the sea. The ash colored highlights grounds the look and lends it a little more substance through contrast and definitely allows it to become even more of an eye catcher.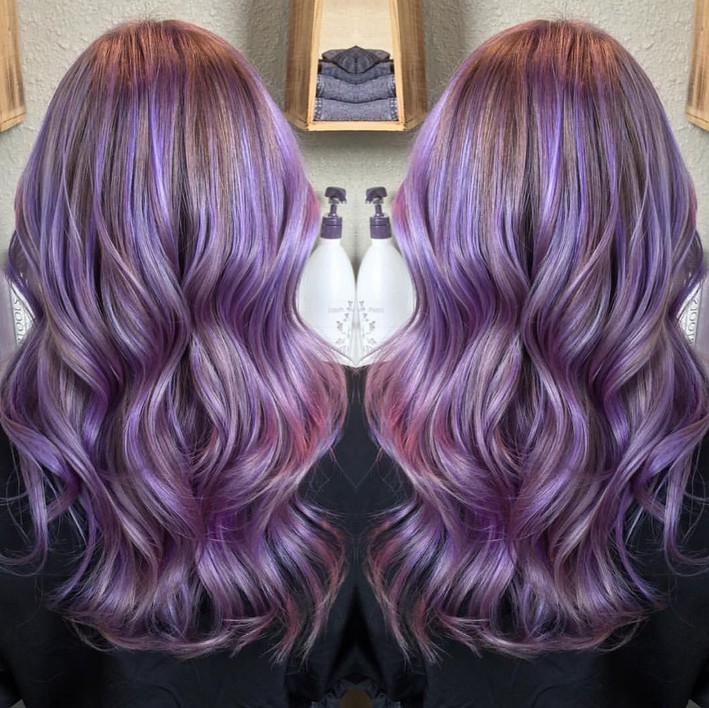 Bright Pastel Purple Pixie Cut
Short hair color ideas for summer: It takes a brave gal to rock not just pastel purple hair, but also a pixie cut. If you're brave enough and you want to stand out from the crowd and express your personality, try this combo!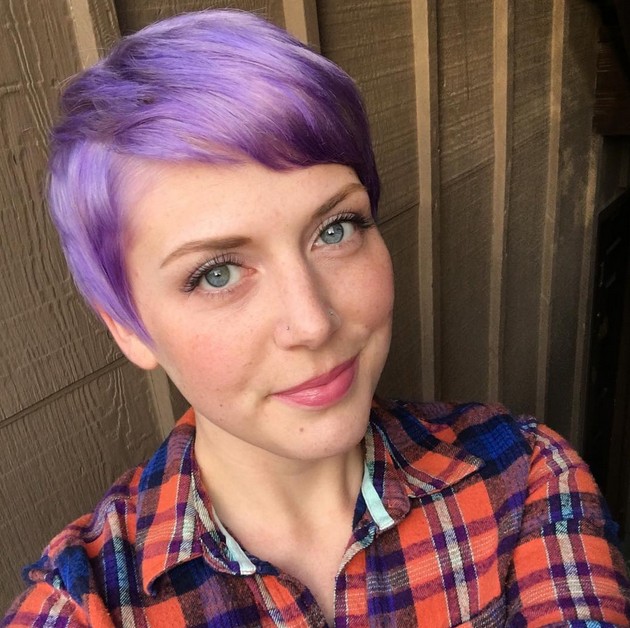 Faded Pastel Purple Lob
Shoulder length hair color ideas for summer: This long lob is another favorite of the gorgeous pastel purple hairstyles on this list. The subtle fade and the addition of light pink high lights on top of the cream highlights and ends really adds depth and dimension to the look.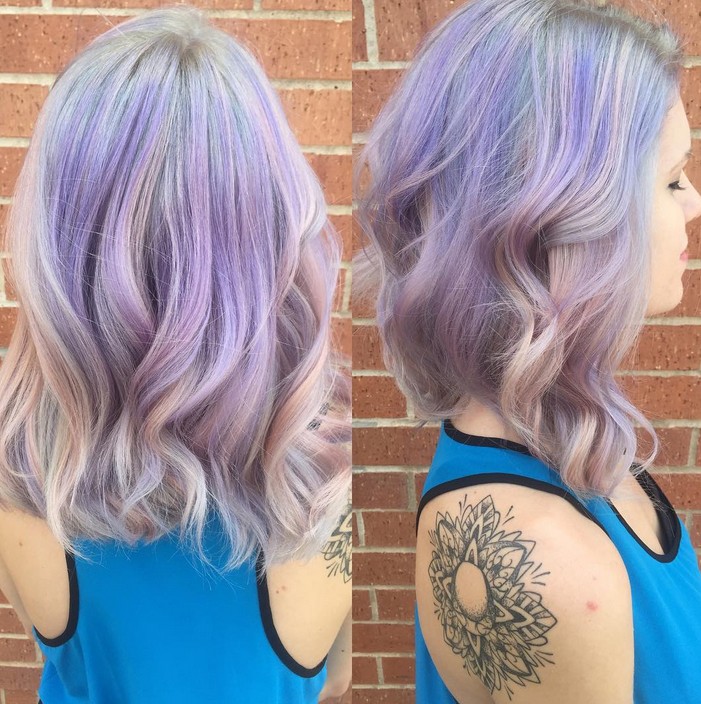 Braided Short Bob in Pastel Blue-Purple
Braided short haircut: Short hair doesn't have to be unstyle-able. In fact there are still a lot of styles you can create with short hair, such as this gorgeous purple braided number. Add a little boho chic to your blunt bob.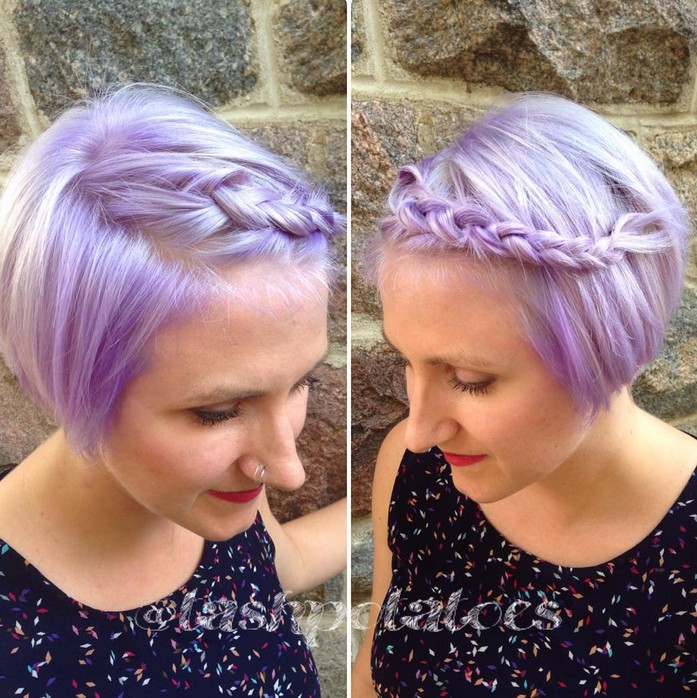 Pastel Purple with Dark Roots
Want an edgy appeal to your appearance? Pair some lavender locks with dark roots, throw on some dark lipstick and bask in the glory of how awesome you look. This color looks great with either straight or curled hair.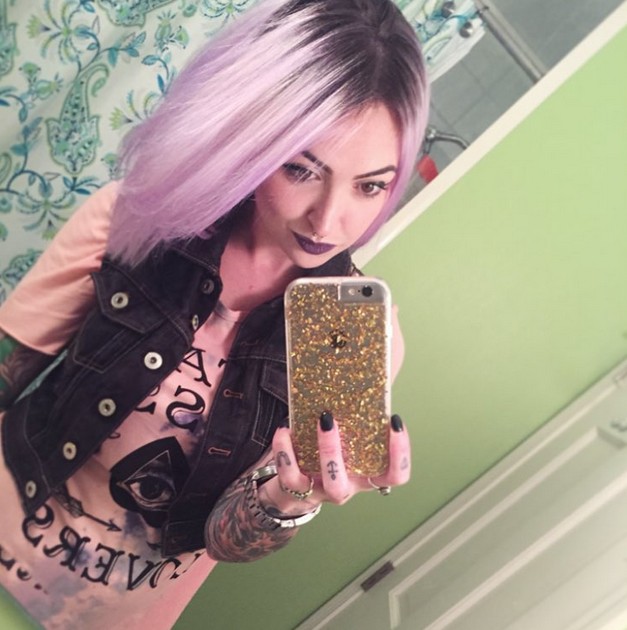 Pastel Purple Angled Bob with Full Blunt Bangs
Short bob haircut with blunt bangs: If you want another option for an edgy look, try an angled bob with full blunt bangs. It lends you a bit of exotic flair. Dye it purple and you've definitely got an attention-grabber on your hands.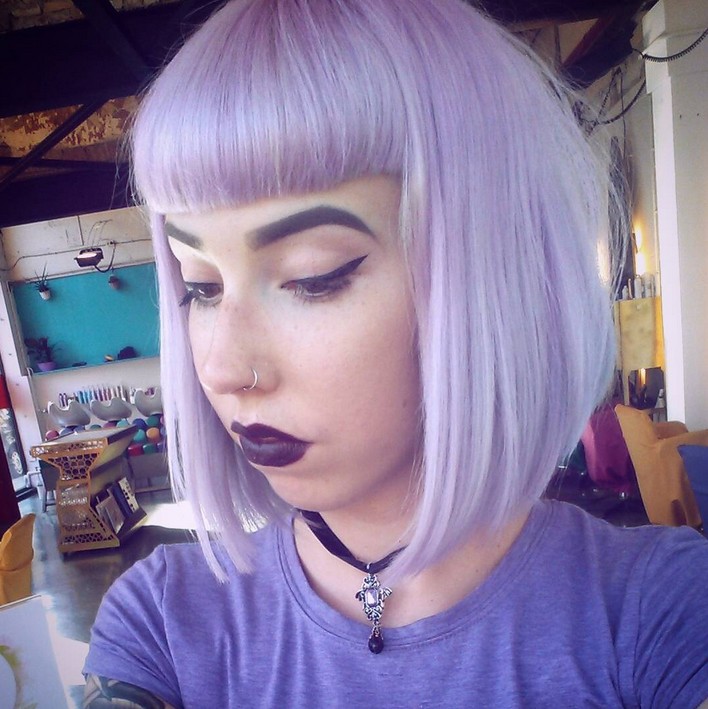 Pastel Purple Hair with Blue Tips
This style and color is just in another dimension all its own. The pastel blue tips is a great touch that elevates this pastel purple 'do – and you can never go wrong with curls, too.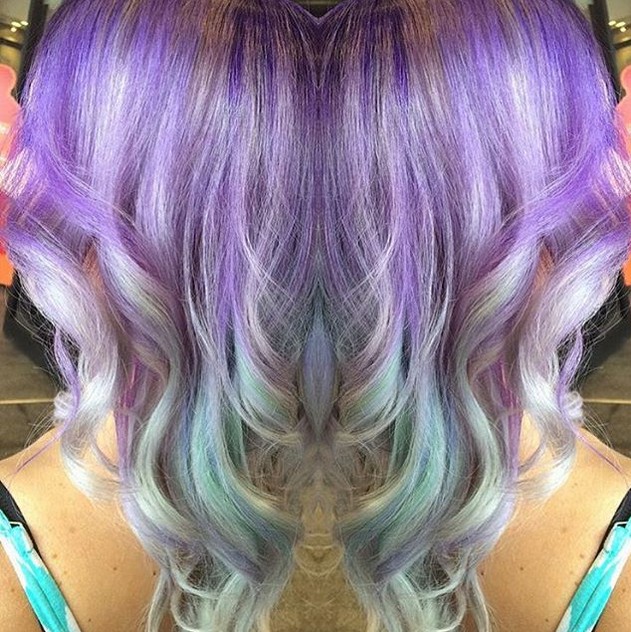 Purple and Blonde Bob
Another bob, this little number looks well balanced and is actually somewhat easier to pull off. This look is not full on purple and still shows a bit of blonde, which makes it a little less scary for the less daring.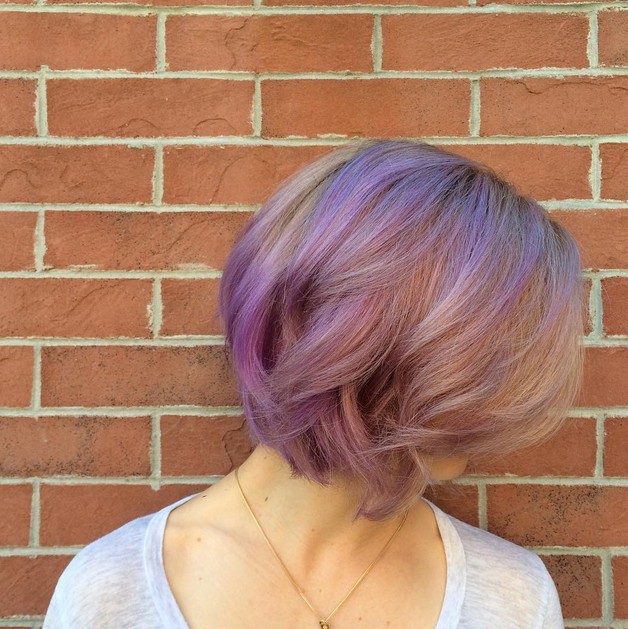 Straight and Purple
Colored long hairstyle for girls: Never underestimate the beauty of a straight hairstyle. Although more and more people these days tend to gravitate towards curls, straight hair is and always will be beautiful. When dyed, it definitely becomes one of the many gorgeous pastel purple hairstyles to die for.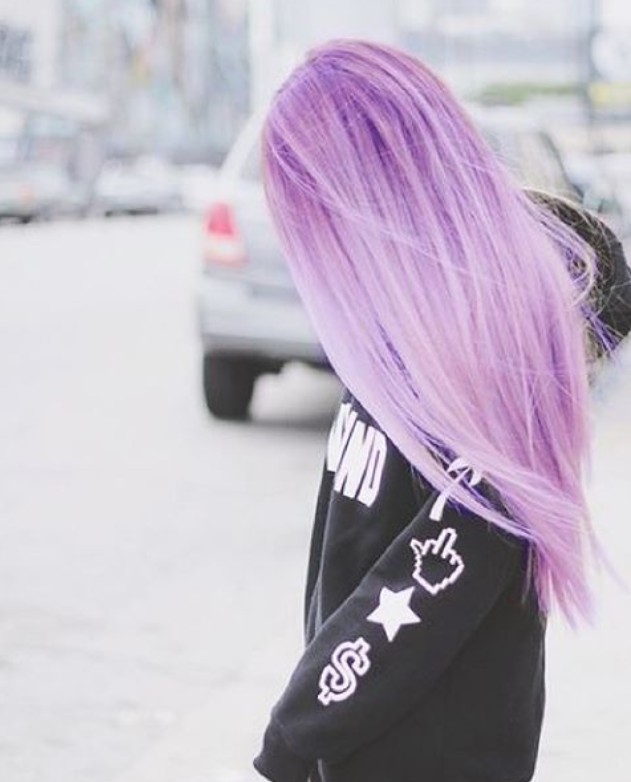 Pastel Blue and Purple Edge
Another one for the edgier folk, this middle parted straight style is darker at the roots and a mix of pastel blue and pastel purple. Not one to miss at all.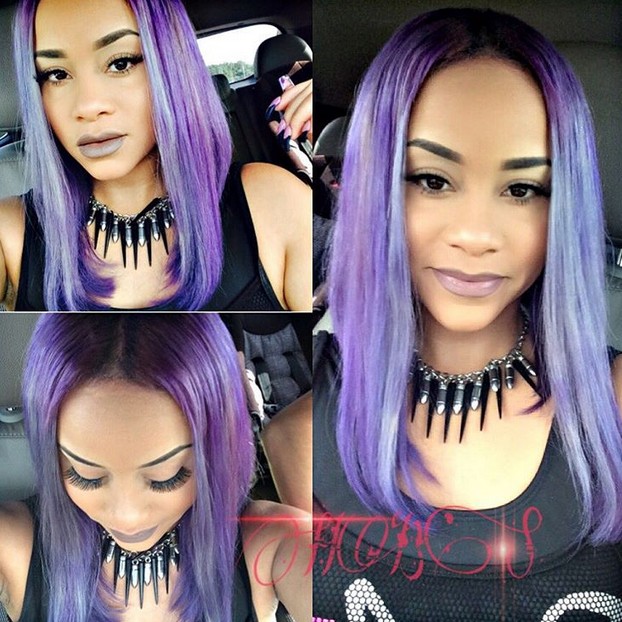 Pastel Blue and Purple Angled Bob
Latest short haircut for fine hair: Out of all the gorgeous pastel purple hairstyles on this list, this is one of the best – the hint of pastel blue makes this look more interesting and gives it a little flair. The angled bob is a great style that makes you look fresh and radiant, too.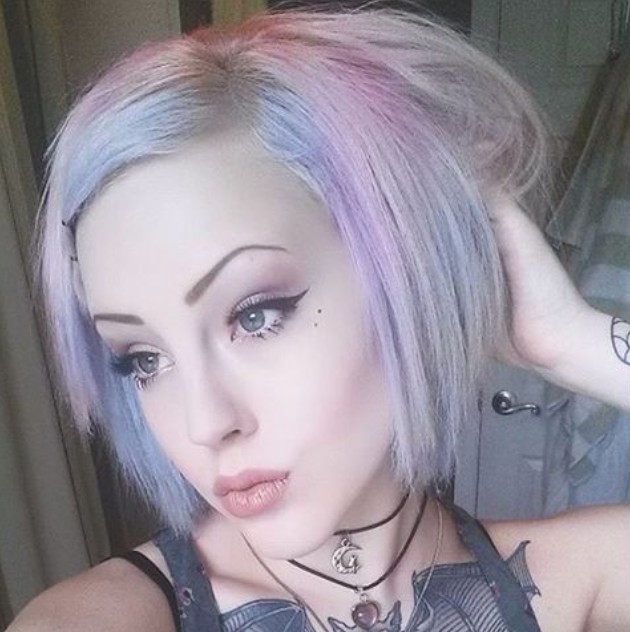 Black to Pastel Purple Ombre with Big Waves
Beach waves are no longer confined to the Victoria's Secret runway – anyone can wear them now for some vavavavoom volume. Make the style even more striking and more gorgeous with a pastel purple ombre.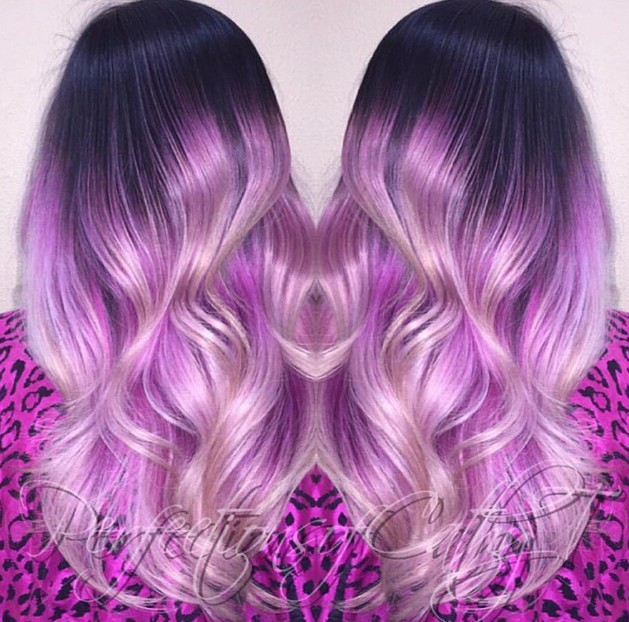 Dark to Light Purple Ombre
The graduation from darker purple to pastel purple is not so obvious in this one, but it does add interest. Add the hint of pink at the ends and you've got a winning combination – definitely one of the better gorgeous pastel purple hairstyles on this list.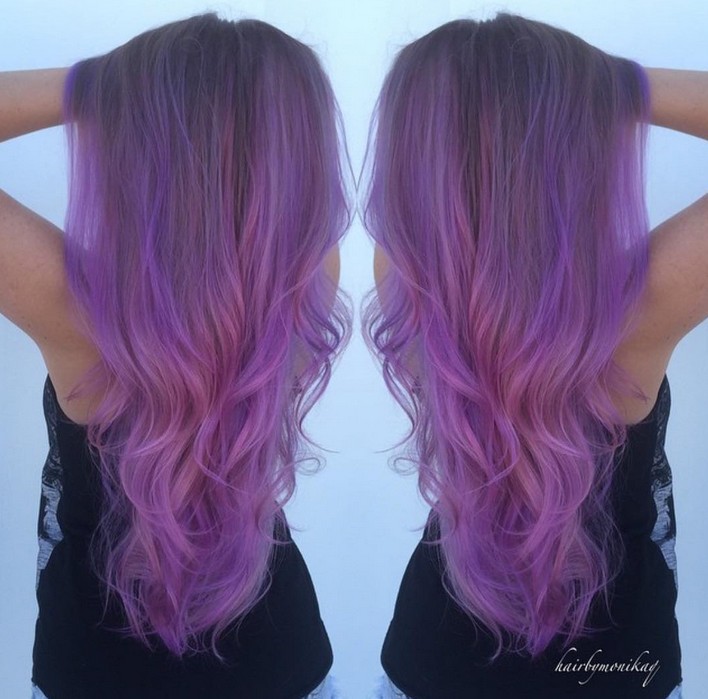 Straight Pastel Purple with Volume and Darker Ends
The main attraction in this style, apart from the volume, is the darker ends. It adds some class and depth to the style, and with the added volume it can really frame a face just right.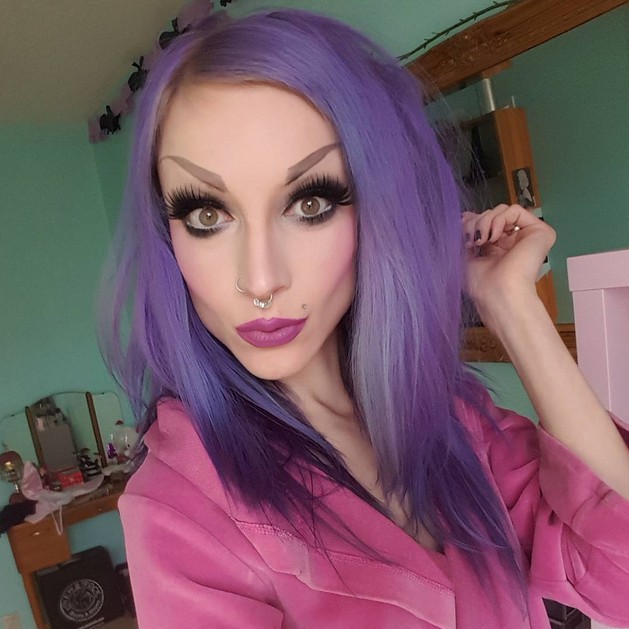 Gorgeous Pastel Purple Hairstyles with a Hint of Silver
We all know that pastel purple hair is gorgeous on its own, and that silver is now a hair color that is actually socially acceptable. Put the two colors together and combine them with this beautiful curly bob and you've definitely got a head turner of a style!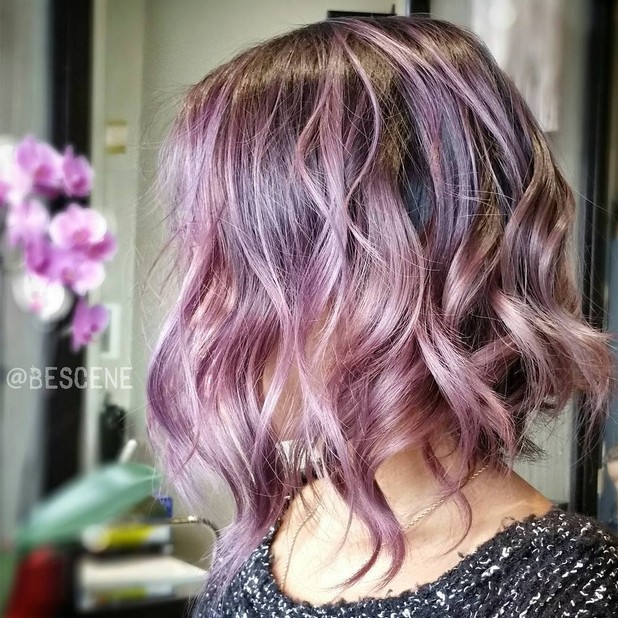 Very Light Pastel Purple Pixie Cut
The longest part of this style is the face framing section of locks at the front. This pixie cut is gorgeous with  a little added volume at the back, but when dyed a light pastel purple it truly begins to stand out.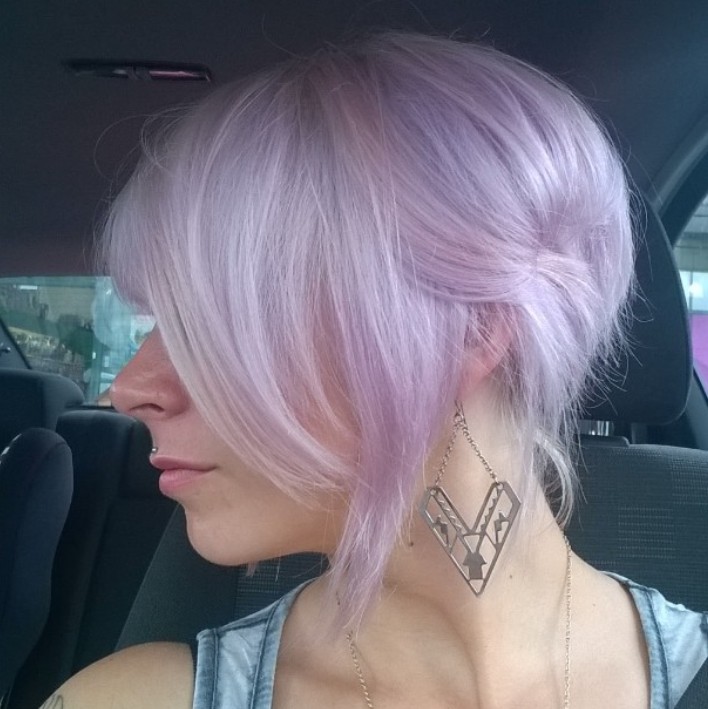 Pastel Purple Ombre Fade
This deep side parted mob or medium bob is made even more beautiful by the dark to light gradation of the pastel purple color. Shorter hair is easier to maintain and this style is no exception – you just have to take care of the color so it doesn't fade too fast.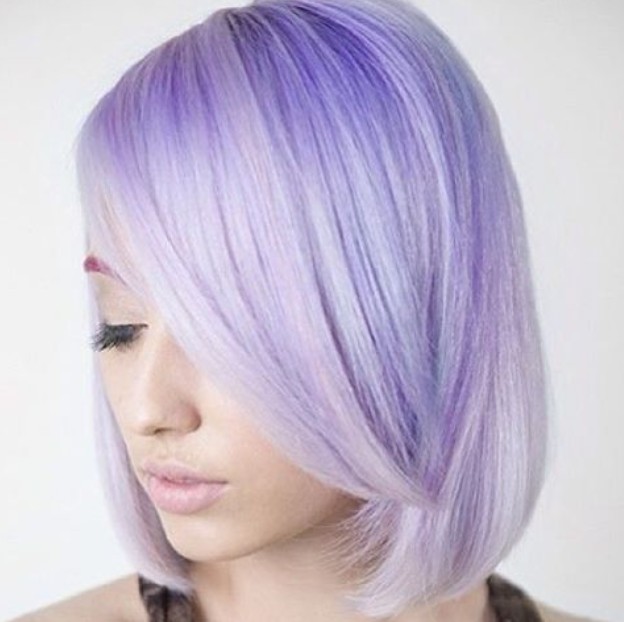 Wispy Full Bangs and Straight Shoulder Length Hair
This style may be simple, but it packs a lot of punch. Dyed completely in pastel purple, it certainly is a head turner. Blowdry for volume and this cute st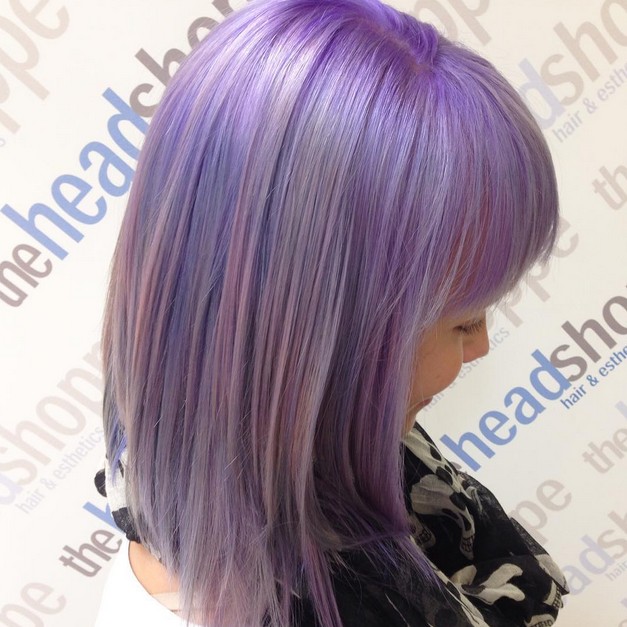 Dark Pastel Purple Asymmetrical Bob
This bob hairstyle is unique on its own. It becomes even more beautiful when dyed a darker shade of pastel purple such as in the picture below. It just adds depth over all. The darker shade also makes it easier to pull off.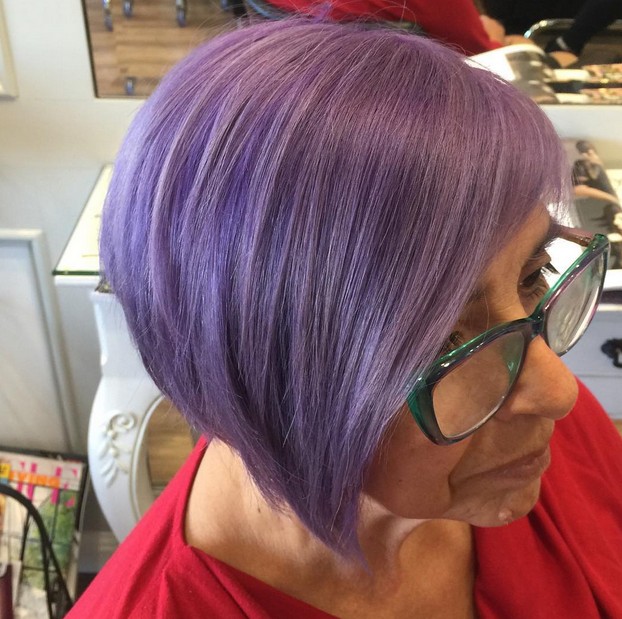 Pastel Purple with Darker Roots in a Messy Bun
Make the simple messy bun even more fun by dyeing your hair pastel purple and leaving the roots alone to be darker – it looks cool, for sure, and makes the look even edgier.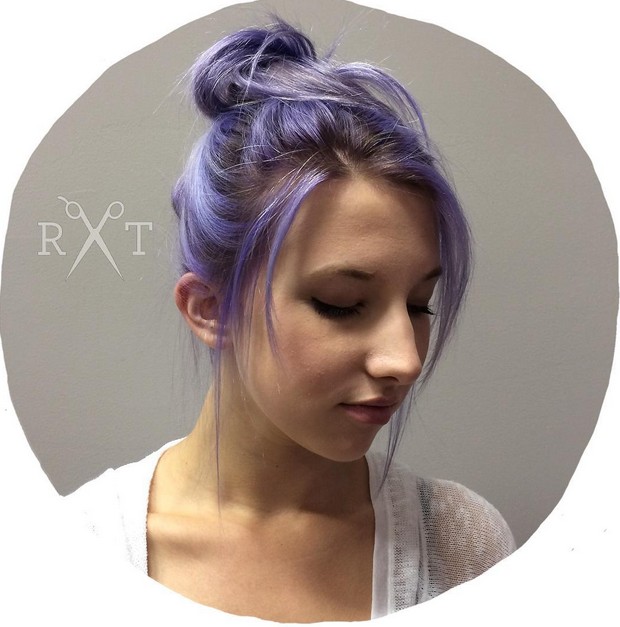 Bright Blue to Pastel Purple Ombre
If you want a touch of 'wow!' to go with your tamer purple dye job, do an ombre fade from bright blue to pastel purple. This is definitely a bit of a shocker style,  but isn't it gorgeous?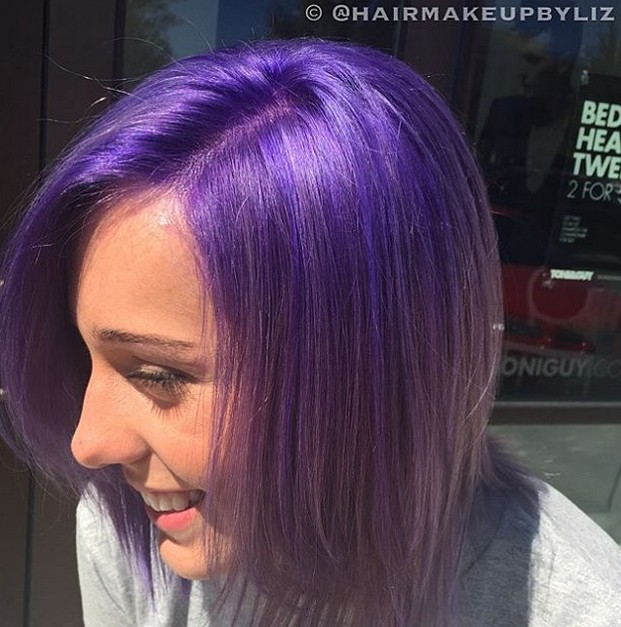 There are many ways in which you can wear purple hair – all it takes is a little bit of guts and a great hair dresser. Don't attempt to dye your own hair unless you know what you're doing – you don't want to fry it after all!