14 High-Waisted Bikinis To Rock This Summer
Summer is finally here, ladies and you know what that means? It's time to get a new bathing suit and what could be better than a high-waisted bikini? The retro look has become one of the most popular trends for summer and one that hopefully never goes out of style. If you're still on the hunt for a new bikini and want something different or if you really love the high-waisted look, then this list is for you. Here are the latest most poplar and best selling High-Waisted Bikinis You Can Rock This Summer!
1. 
MUXILOVE Women 50s Pinup Girl Rockabilly High Waist Retro Bikini Swimsuit Set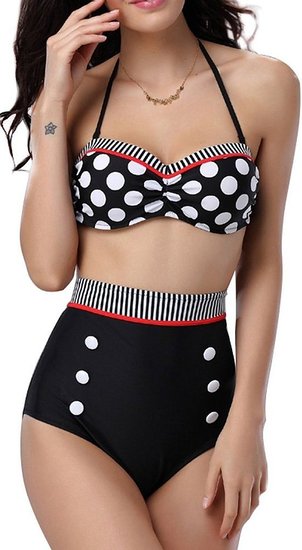 This first look is classic. The black top with white polka-dots and the black bottoms with the white dots and stripes are obviously a throwback to the old pin-up style. One warning about this bikini is that according to reviews, it runs slightly small so be aware of that before purchasing! (I love her small tattoo 😉 )
2. High-Waisted Bikinis To Rock This Summer – Womens Strappy Bow Bandeau High Waisted Bikini Set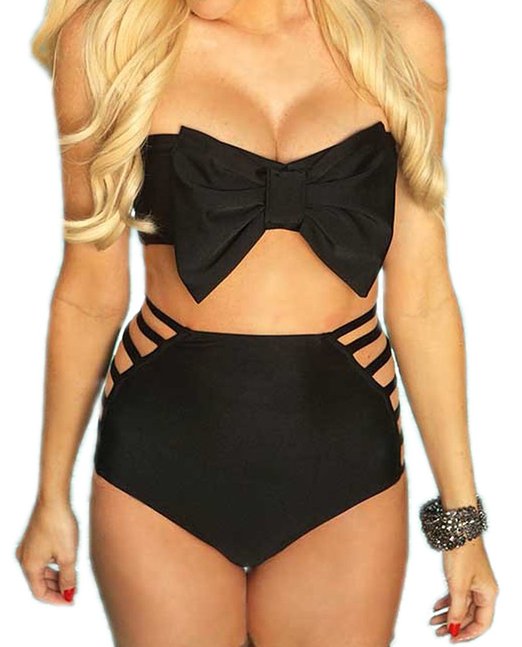 This high-waisted bikini is a little more on the sexy side. If you're feeling daring, this is a must for summer! The black bow on the top gives it a cute look while the cutouts on the bottoms give it that slightly sexier feel.
3. 
Plus Size Retro High Waist Braided Fringe Top Bikini Swimwear for Women – high waisted bikinis plus size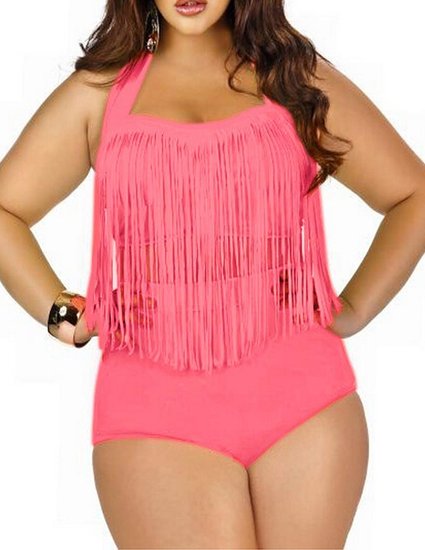 This bikini is for the plus-sized ladies. This could be a good option for someone who wants to wear a high-waisted bikini but isn't ready to show that much skin. While the fringe is used as a cover-up, it adds something extra to the bikini as well.
4. Cheap high waisted bikinis – 
ZKESS Womens Beach 2 PCS Mermaid Fish Wave High Waist Bikini Swimsuit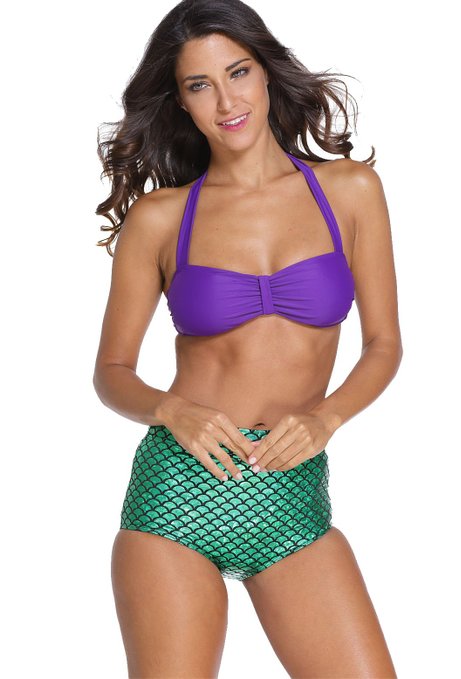 This mermaid bikini is one-of-a-kind. With the obvious inspiration from the Little Mermaid, it's a must-have for any fan. The purple top contrasts so nicely with the shiny bottoms and will make you stand out at the beach this summer.
5. 
GSHappyGo Retro Vintage Print Halter High Waist Bikini Set Swimsuit Swimwear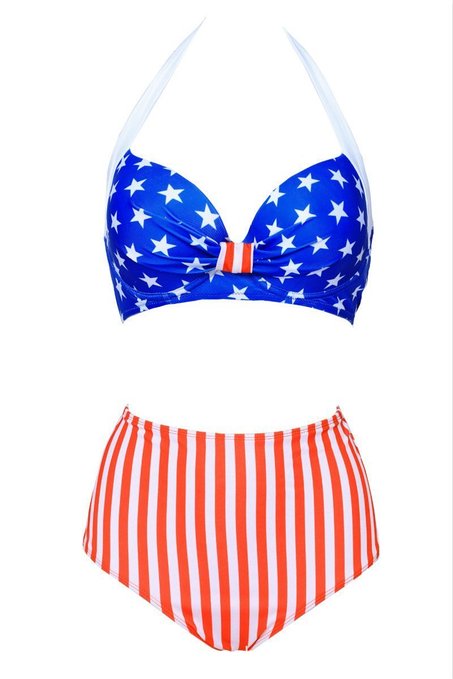 This bikini would be perfect for the Fourth of July! The red and white stripes on the bottom highlight the bright blue top with the white stars and show your patriotism. If you're looking for a bikini to show how much you love America, look no farther.  (26 Patriotic Nail Art Designs To Try At Your Fourth Of July Party)
6. 
Sovoyant® Women's Criss Cross Bandage High Waist Bikini Set Swimsuit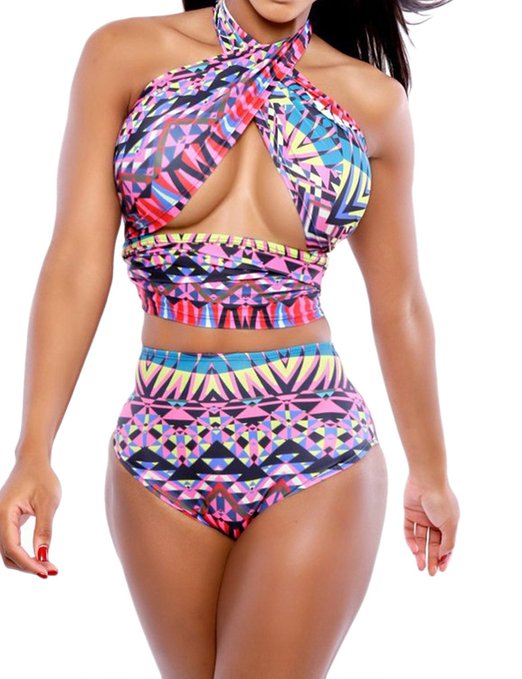 This bikini is another one of the sexier options and one that flips the ideas of a high-waisted bikini. The pattern on it is unique and the top is just completely different than any other. It's sort of like a crop top but almost completely open in the chest and the bottoms go up just high enough to show enough skin without showing too much.
7. 
Staringirl Women 50s Elegant Vintage High Waisted Bikini Swimsuits Swimwear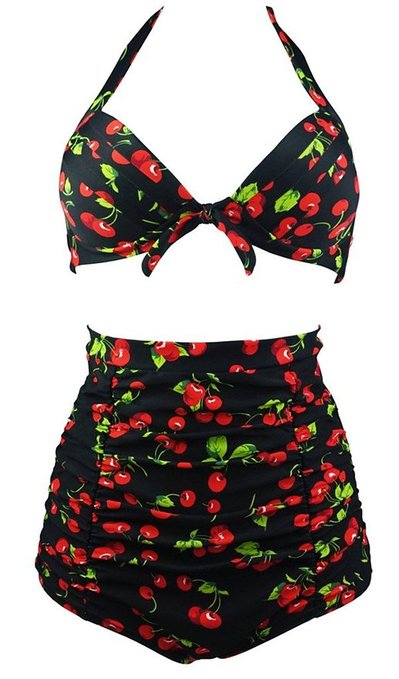 This is a perfect option for the bikini lover who wants something classic. The cherry pattern is a throwback and the bottoms come up a little bit higher for more coverage. This bikini is definitely retro in every sense of the world and would flatter a multitude of different body types.
8. 
Halife Women Halter Geometric High Waisted Beach Hollow Printed Bikini Swimwear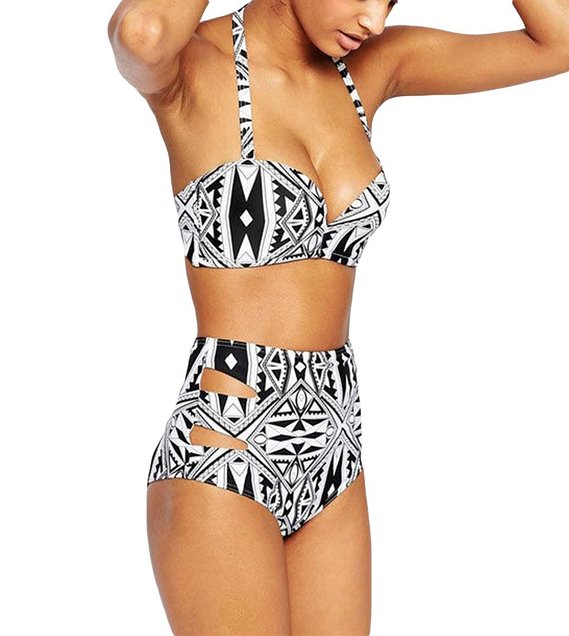 If the last bikini was classic, this one is modern. The top is a little bit more low-cut than the others and the bottoms of this bikini have cutouts that show the tiniest amount of skin but the perfect tease. The tribal pattern on this is another trend that won't be going anywhere anytime soon either.
9. 
Esfeel Sexy Polka Vintage High Waisted Bikini Swimsuit Swimwear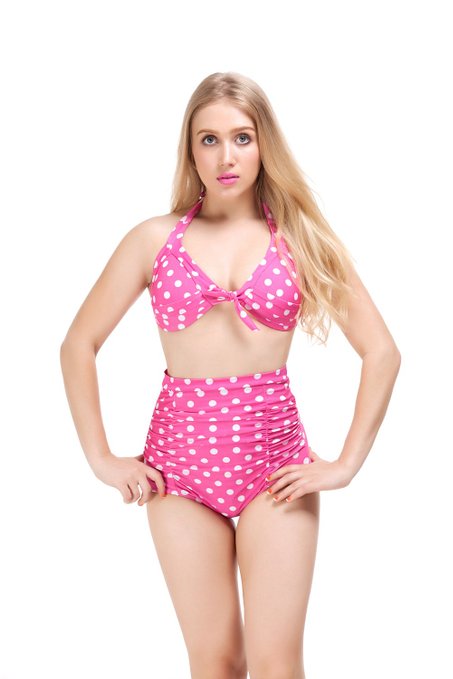 This bikini is my absolute favorite on the entire list because I actually own this one. The pattern on it is another throwback and one that is timeless. The top is classic and has a tie in the back and at the neck while the bottoms will help flatter your curves. The only complaint that I have with this one is if you have a larger chest, it's a little small on the top. If you don't like the two pieces bikinis, why not try womens one piece swimsuits this summer?
10. 
Kakalot Women's Conservative Vintage High Waisted Bikini Swimwear Swimsuits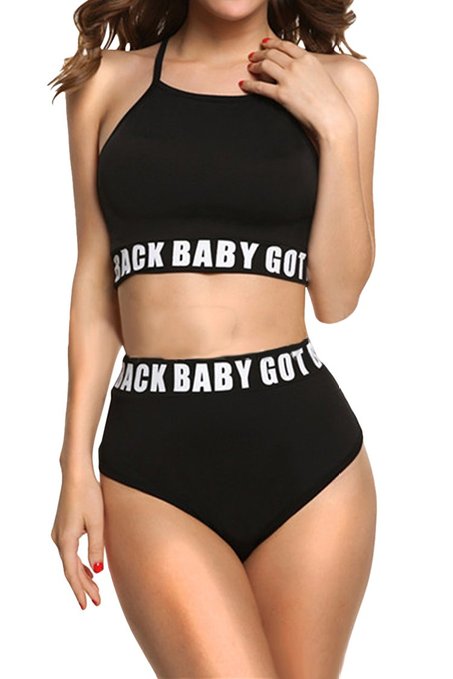 This bikini seems like such Kylie Jenner would love to wear. The top and bottoms are basic black, but the "Baby Got Back" on the edges of each are what make it so trendy. The high-neck of the top is a huge trend in fashion right now and the bottoms show off a little bit more midriff than the others. If you're looking for a Kylie Jenner type suit, then you're in luck.
11. 
Baomabao Women's Coconut Tree Print High Waist Bikini Set Bathing Suit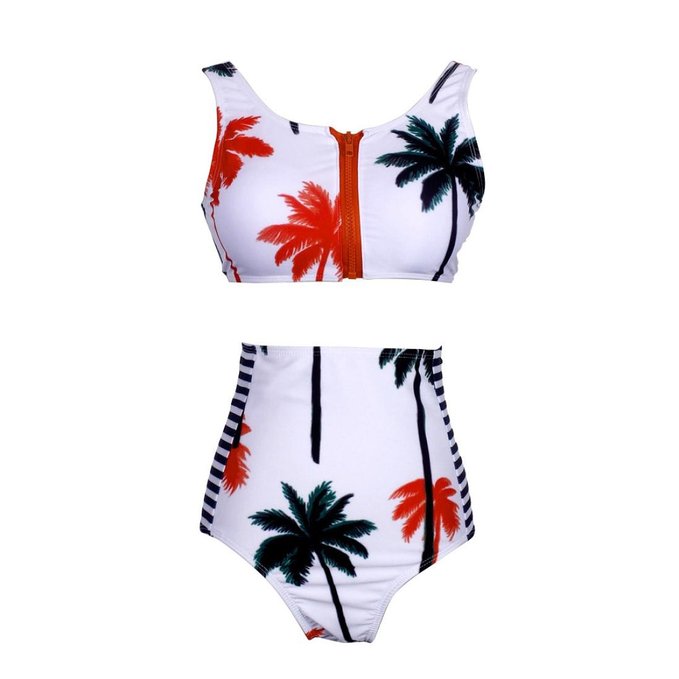 This is another Kardashian type high-waisted bikini and another modern one. The pattern of bamboo trees is hot right now and the addition of the zipper on the top is such a cool detail. This bikini could also offer more support if you have a larger chest because it has thicker straps.
12. Booty Gal Women's Polka Dot High Waisted Bikini Bathing Suits Swimwear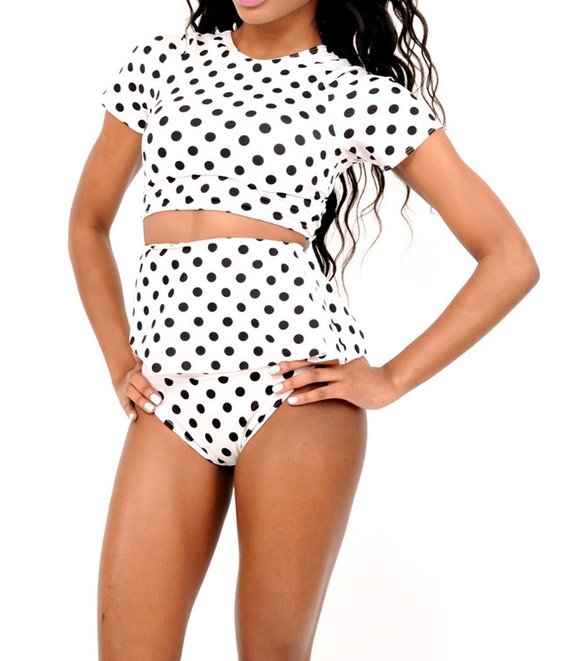 This bikini is a twist on the high-waisted bikini. Instead of having a traditional bikini top, the top is made like a crop top and the bottoms have a peplum on them. The pattern is polka-dots, one of the most popular for high-waisted bikinis but it's just so different. If you rock this bikini this summer, you'll certainly stand out.
13. QianYan Women's Rose Pattern Polka Dot High-waisted Peplum Bikinis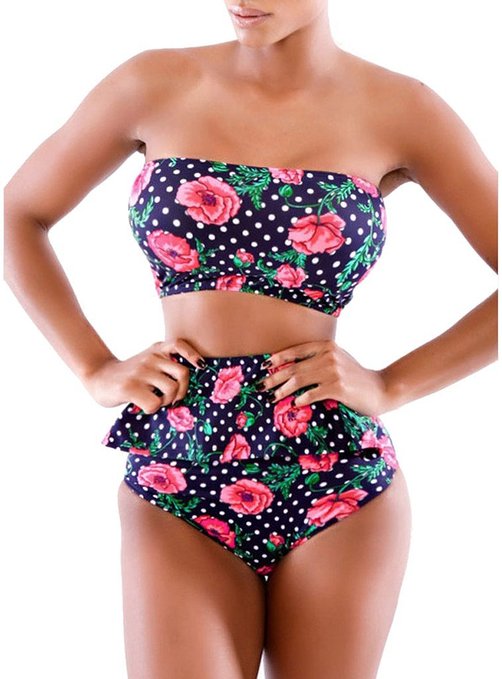 If you're not into the Kardashians, this bikini gives more Amber Rose vibes. The classic pattern is set off by the bandeau style top and the bottoms have a peplum on them. This bikini would look extremely flattered on someone who has a curvy figure or a little bit thicker on the bottom.
14. Vintage high waisted bikinis – RELTANGL Women's Vintage Pinup White Dot High Waisted Swimwear Bikini Set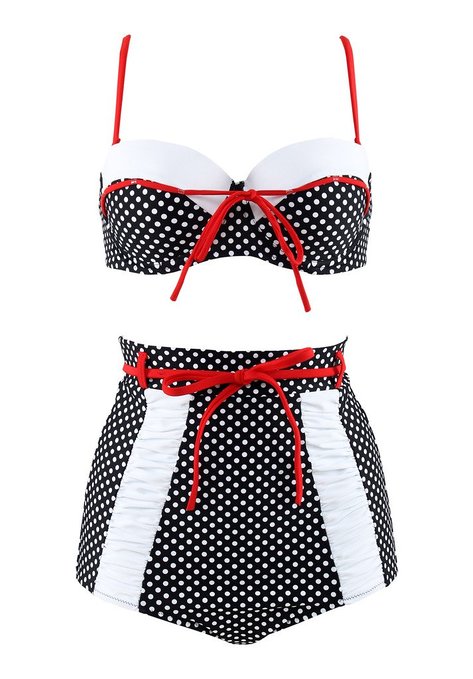 This last bikini is arguably one of the most classic options. This bikini looks like it came straight out of an old pin-up magazine. The black and white are set off by the red strings, adding a pop of color. This is also one of the few bikinis that doesn't tie at the top and instead has straps. This bikini would work well with any body, no matter what type and would help accentuate your curves.