26 Patriotic Nail Art Designs To Try At Your Fourth Of July Party
The Fourth of July is upon us and it will feel like it is here before we know it. Outfits are usually simple because it's the same group of colors and everyone usually wears something with a flag on it plus there's only so much you can do with an American flag pattern.
That's where your nails come in and they can give you an extra patriotic vibe. Here are some different options of Patriotic Nail Art To Try For Your Fourth of July Party.
Patriotic Nail Art Idea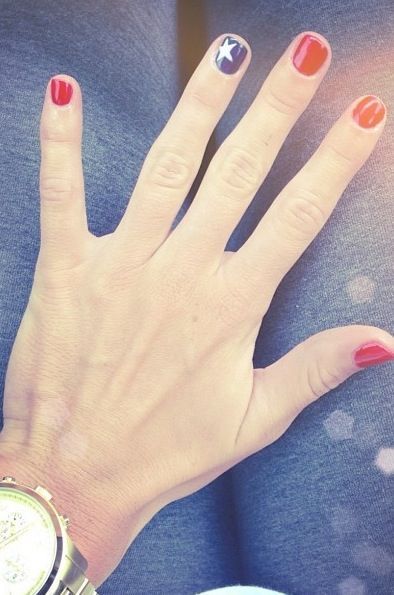 This is one of the simplest designs and one that you could recreate at home. All you would have to do is paint all of your nails red except for your ring finger. On your ring finger, I would suggest adding two coats of blue and then using a toothpick or a nail art brush to outline the start before filling it in. It might take you a few times to get the star right and if you mess up, at least you don't have to start over completely.
Patriotic Nail Art Design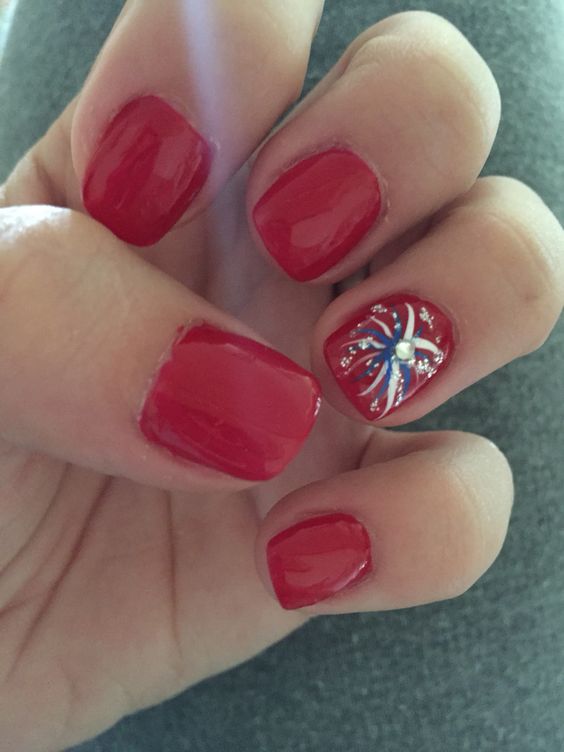 Nail Designs: These nails have the same basic concept as the first one, but with a little twist. You paint all of your nails red and this time, you're working on your ring finger again. That nail is really up to you because you could duplicate the picture and use blue and white, making lines that look like fireworks exploding. A really cute touch is the glitter that she added to show the effect of the fireworks and the addition of the simple rhinestone in the middle is gorgeous.
Patriotic nail art designs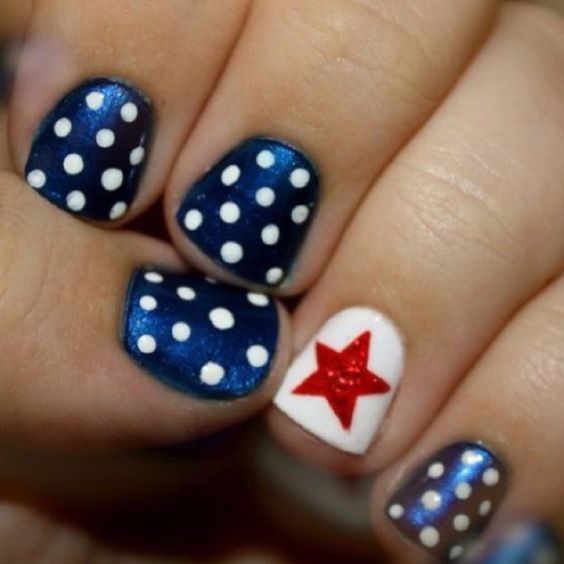 This nail design is a little different than the previous two. Instead of painting your nails red, you'll be painting all but you ring finger blue. After you're done painting them blue, paint your ring finger white. Then use a nail art brush or toothpick to add the white dots on the blue and after you're done with that, use your red to make an outline of the star. You can either use the same red for the inside of the star or use a glittery choice like the picture.
Patriotic Nail Art – red white and blue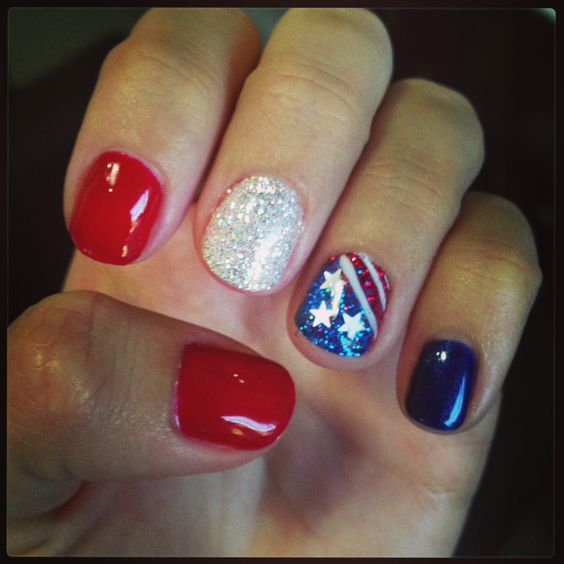 This nail art idea encompasses all of the colors of the American flag and even adds some glitter. You paint your thumb and pointer finger red. Then move onto your pinkie, painting it blue. Your middle and ring finger are ones that will take a little bit longer to do. Using glitter is sometimes a pain because it takes a few coats before you finally get the result. Moving onto your middle finger, add a few coats of silver glitter nail polish and make sure to add a clear coat to that one especially to keep it looking nice and shiny.
For the ring finger, make sure to add a few layers of blue glitter nail polish and then make white stripes using a toothpick/nail art brush. This is optional but you can add the glitter nail polish like the picture. Finish your ring finger by adding a few star nail stickers. Make sure to not to forget to add the clear coat especially with such detailed nails.
Patriotic Nail Art Idea for Party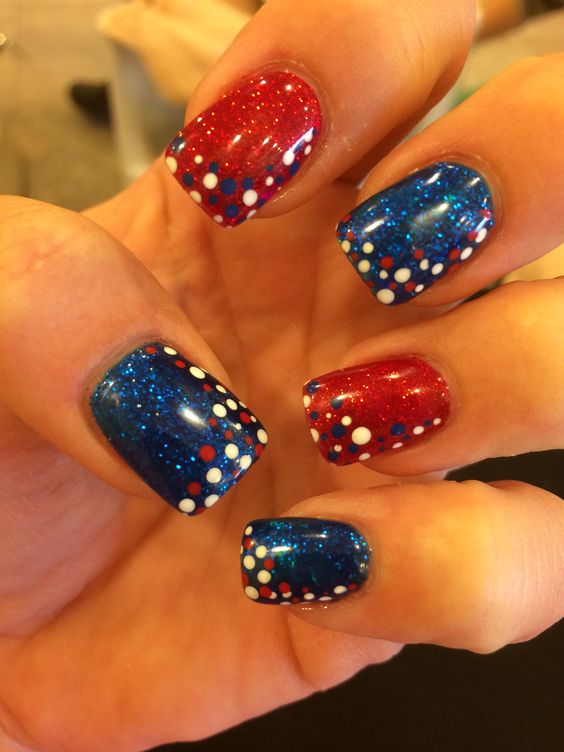 This is a little different from the average patriotic nail art but still a cool choice. You paint your thumb, middle finger and pinkie all with blue glitter nail polish. Then you paint your pointer and ring finger with red glitter nail polish and then it's really up to you. You can do dots with white, blue and red like she did in the picture. Another option would be to add dots to the blue and add stripes to the red, obviously to mimic the American flag. This one is honestly such an interesting one so it could go in a lot of different directions.
Cute Patriotic Nail Art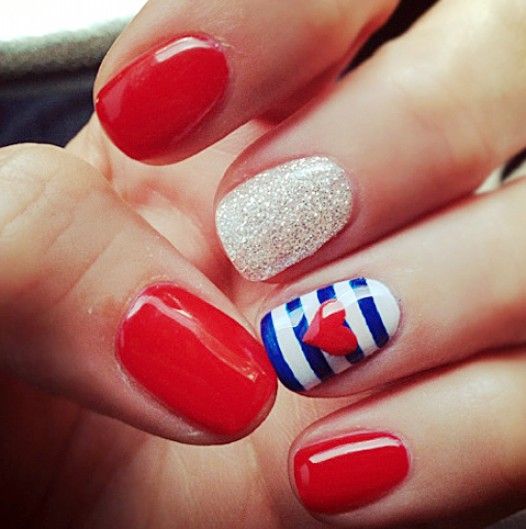 This one is another unique take on the normal American flag nails. You paint your thumb, pointer and pinkie fingers all red. Then paint your middle finger with a silver glitter polish, making sure not to forget to add extra coats and a clear coat. For your ring finger, you should paint it all blue before letting it dry. Then for the lines, there are few options. You could use a toothpick, a nail art brush or if you have some, you could use some nail tape to help you get even lines. Once it's all dried, either add a red heart nail sticker on top or use your polish to do it yourself.
Patriotic Nail Art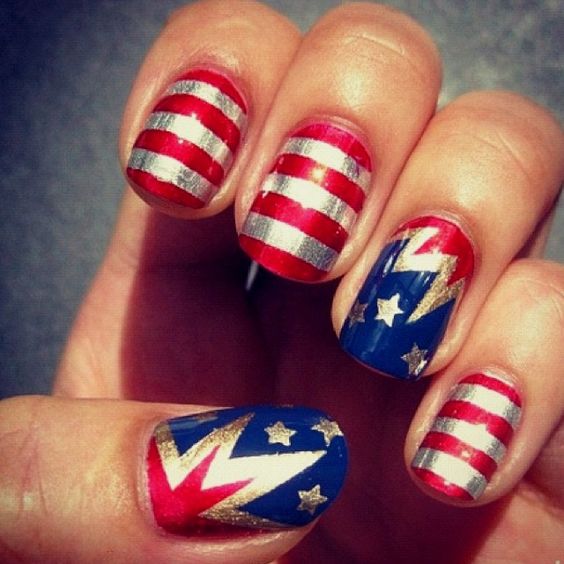 This last one is a little bit tricky, so it should probably be left to the professionals. If you're willing to take this challenge on, the best of luck to you. If you do have a professional do it, it probably would last a little longer and look better than if you attempt it at home. However if you do decide to attempt it, make sure to let me know how it turns out in the comments!
And here are more 4th of july nail art ideas for you to choose from, enjoy.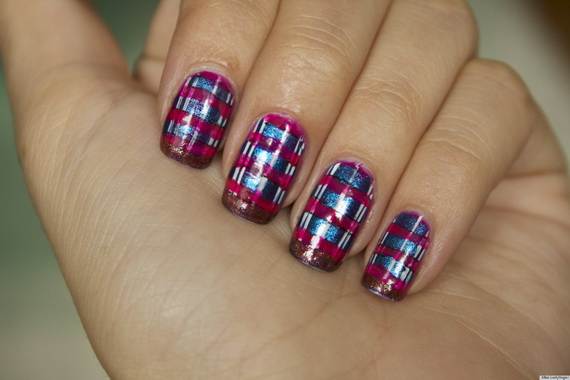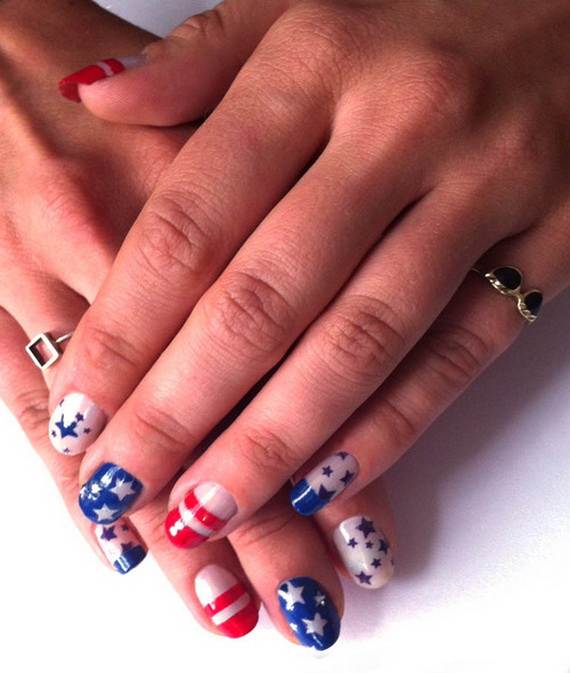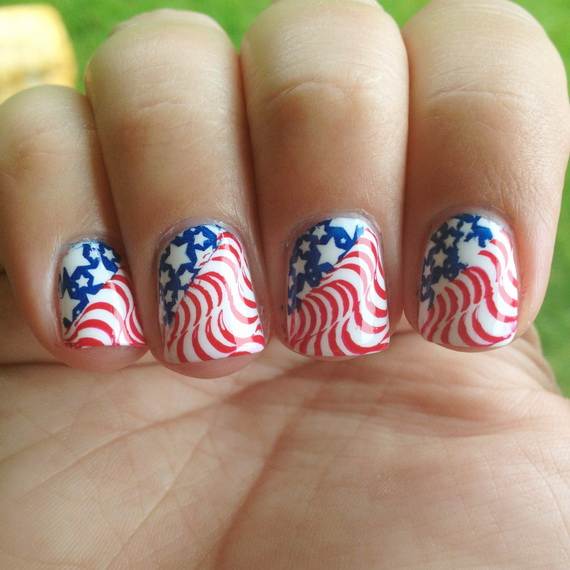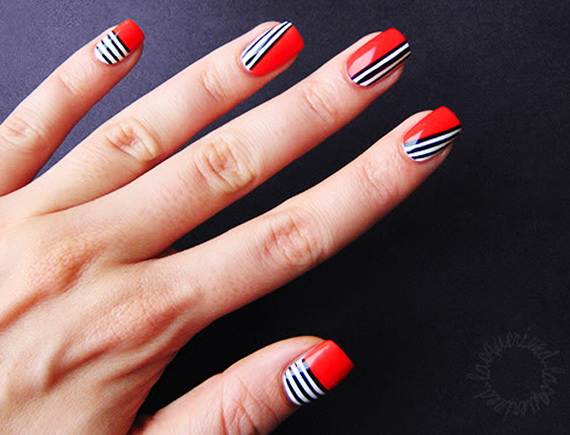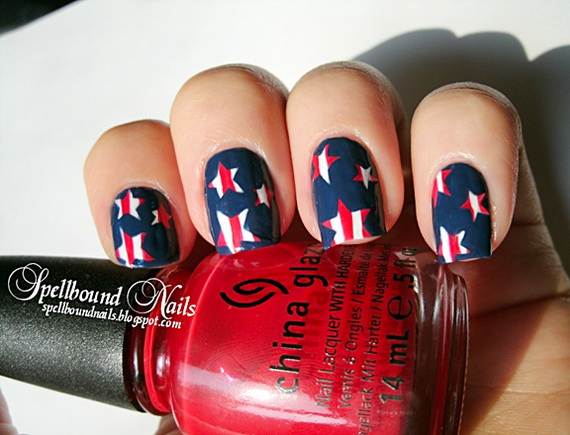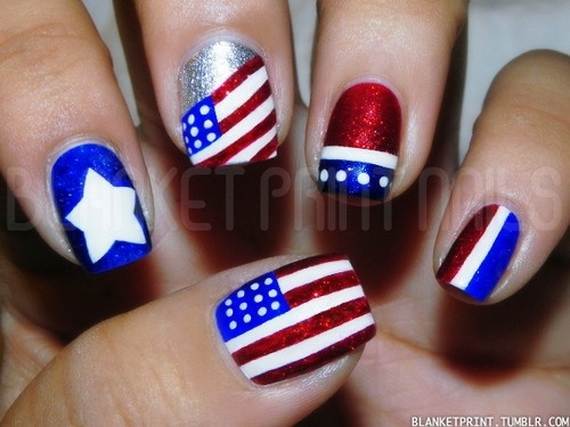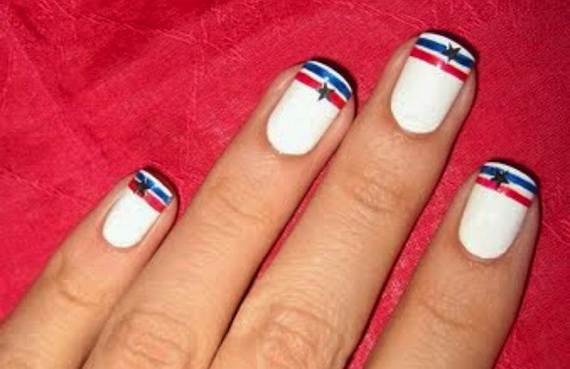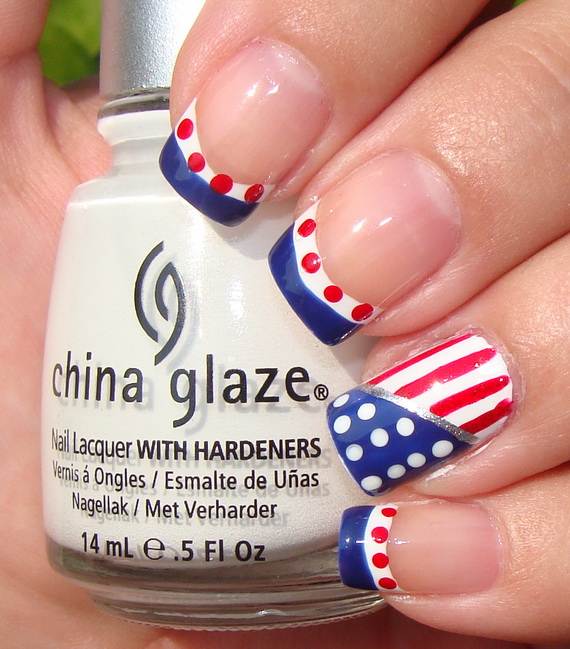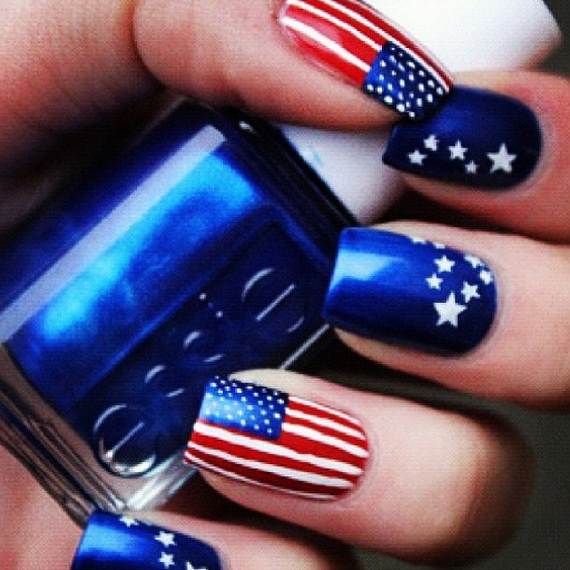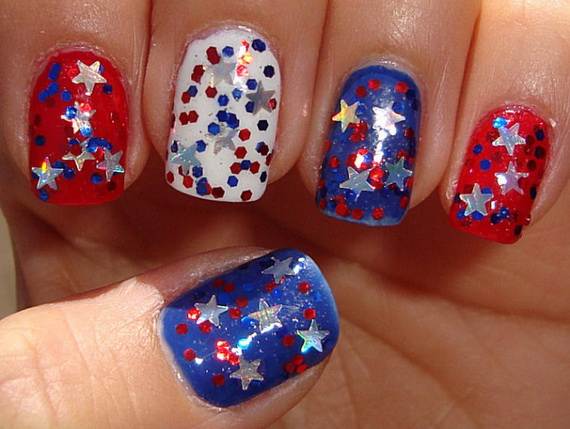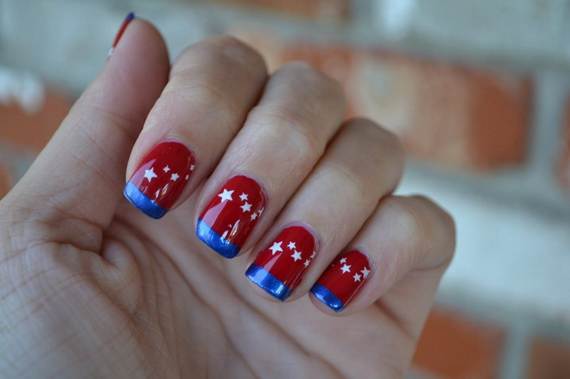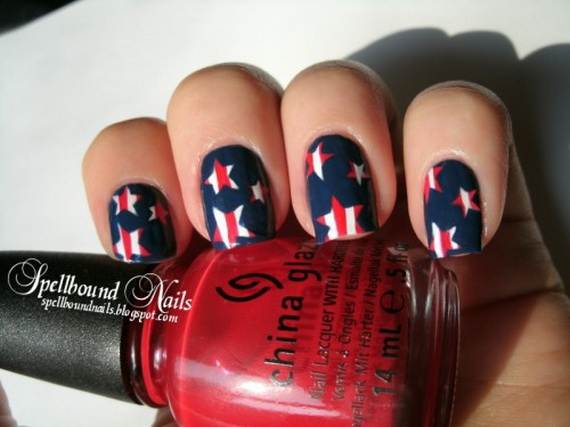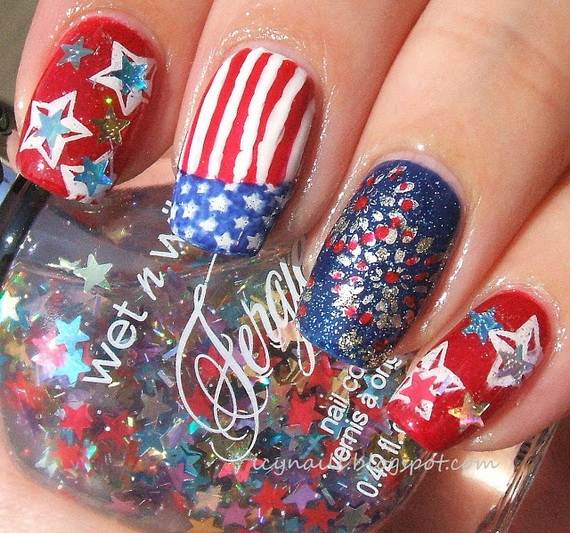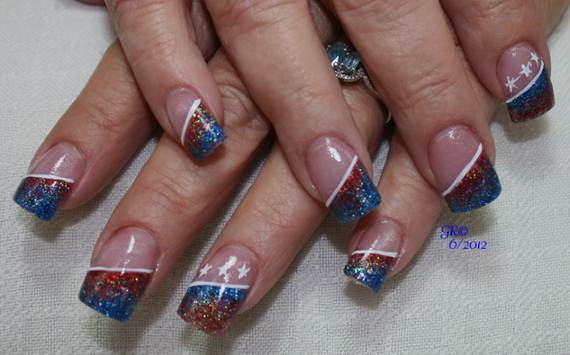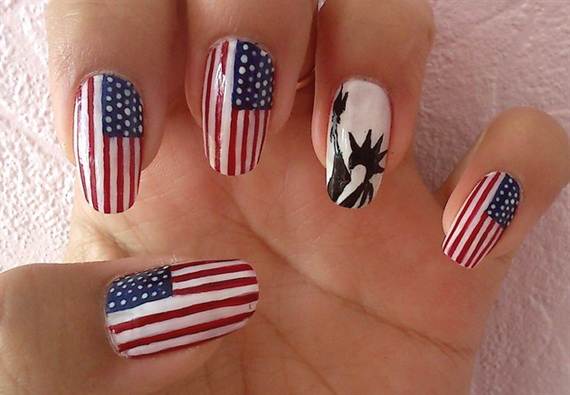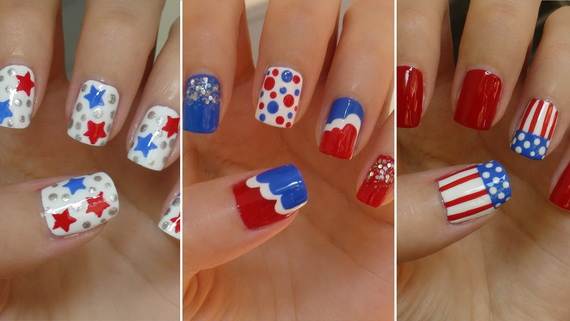 Do you love these nail ideas? Find more on prettydesigns.com