13 Perfect Casual Work Outfit Ideas
Work isn't very fun but being able to get dressed for work is. Depending on where you work, you might not have a lot of rules on what you can wear. If you do, then these outfits might not work for you but could give you some inspiration. Dressing casual for work can be simple especially during the summer time since you have a lot more casual options. Pretty Designs is here to help you decide exactly what to wear to work on those casual days. Check out these Perfect Casual Work Outfit Ideas below.
1. The Original Business Casual Look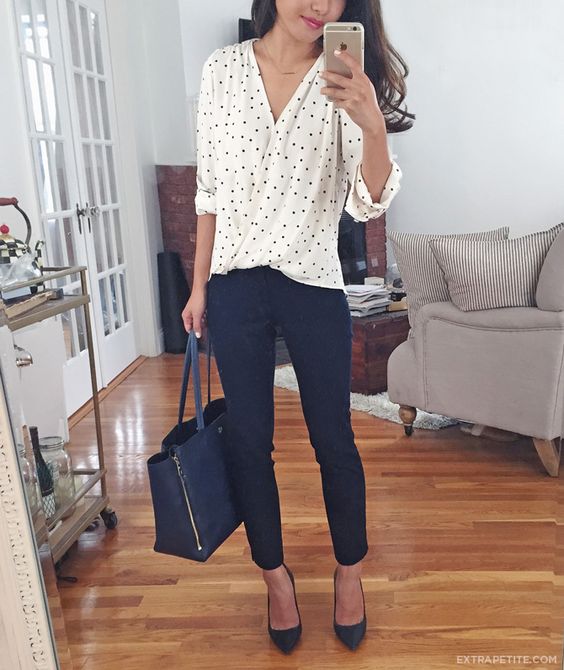 Wearing jeans with a dressy top is the definition of business casual. This outfit is great to wear on Friday, because if you plan on doing something after work, you probably won't have to change. This is only slightly professional but can be transformed into a night-time outfit as well.
2. Extremely Simple and Casual Work Look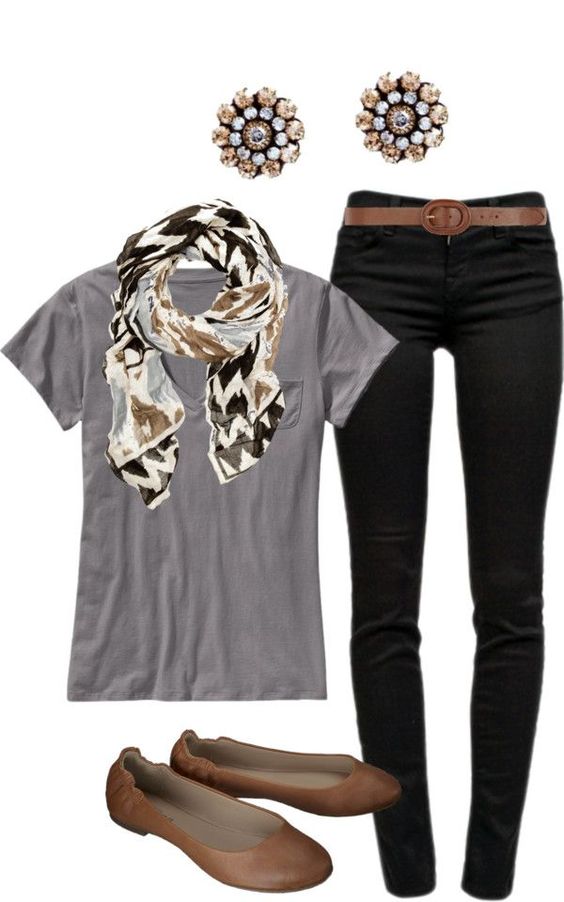 This casual outfit is simple for work especially if you have a job where you don't have many rules. A nice pair of dark jeans always look good and the addition of the plain top with the scarf gives it a more put together feel. Finishing it off with flats instead of heels is a great way to keep it low key.
3. Classic Fall Business Casual Look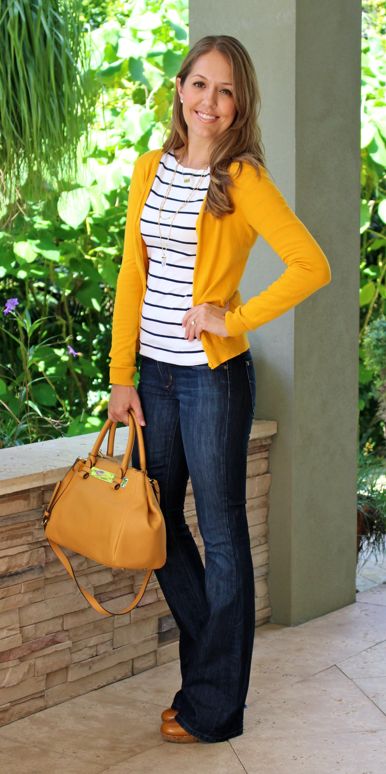 This is a great idea for a casual fall work outfit. Bootcut jeans paired with a striped top and cardigan are great to take the chill off. Boots would be a great option for keeping warm and a bright bag will help you stand out.
4. Skip the Jeans and Go For A Skirt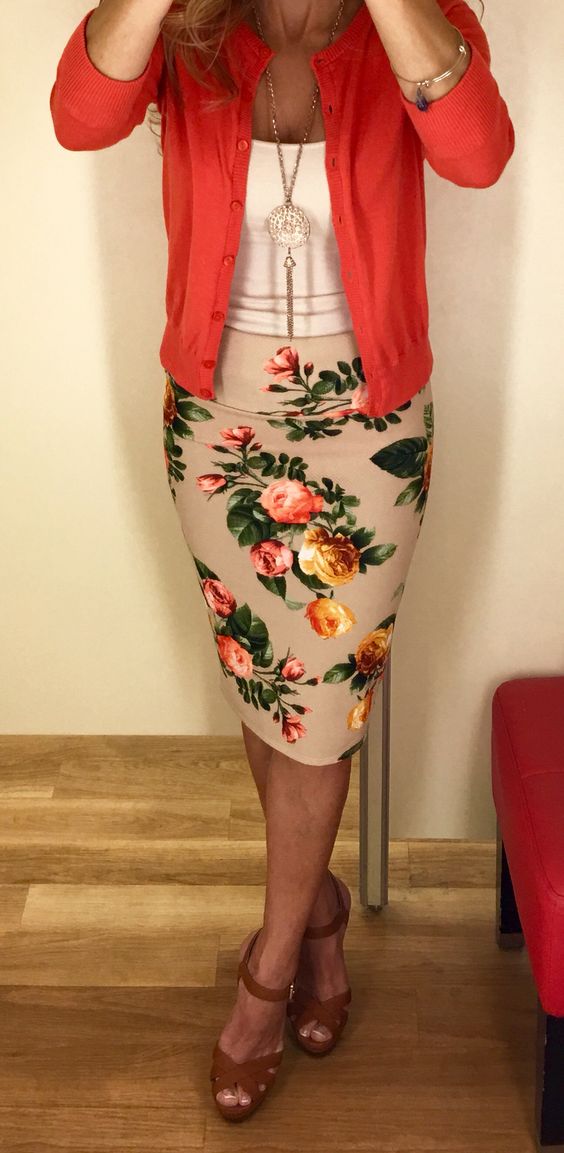 Casual work outfits don't just have to mean jeans. Sometimes, you can mix it up especially if you're a teacher. The simple white top is very basic but is complimented perfectly by the floral skirt and red cardigan. Honestly, this outfit can be adapted in so many ways and can be worn almost all year round.
5. Professional Yet Chic Work Outfit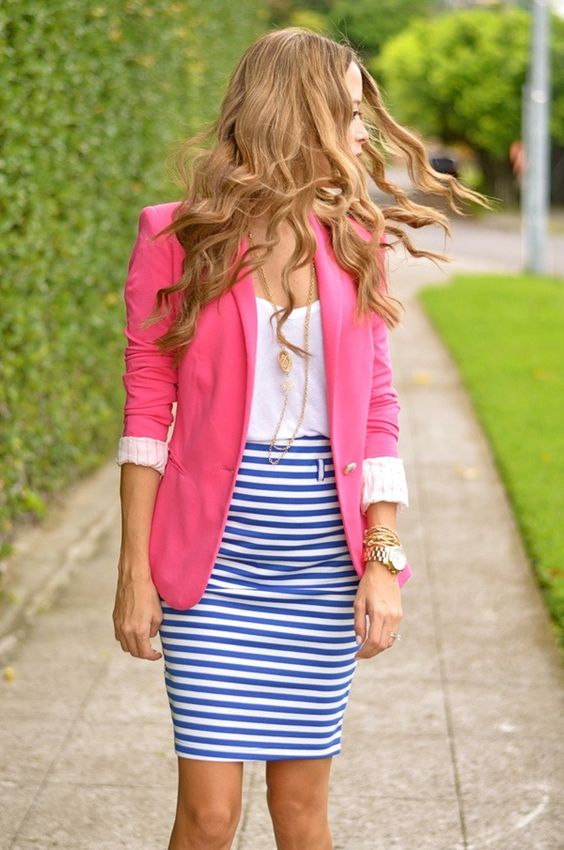 If you're looking for some more color in your wardrobe, look no further. Pink blazers are great for adding a splash of color and making you look put together. Once again, start with a simple top and pair it up with a casual skirt before adding the blazer. The blazer really brings the outfit altogether and gives it a more professional look.
6. Summer Skirt Casual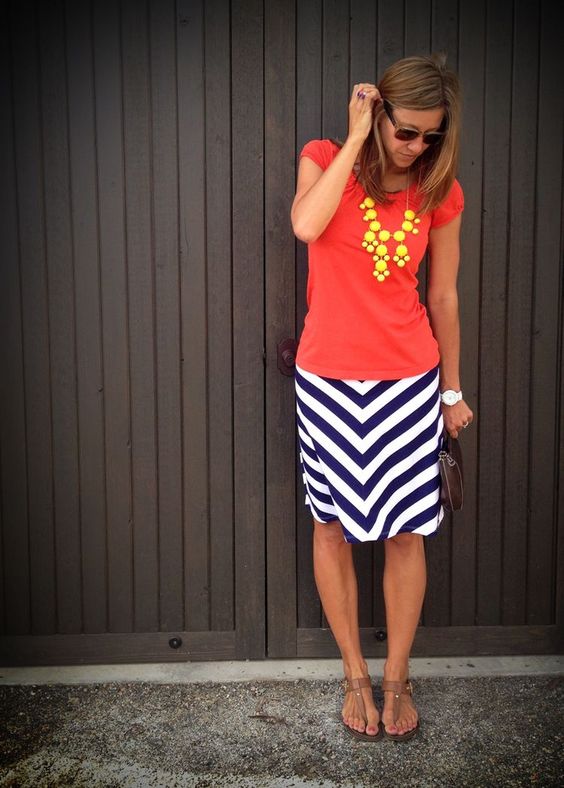 Stripes normally aren't worn in the office, but this is a perfect way to incorporate stripes. Using a bright-colored top with a statement necklace will make you look a little bit more dressy on top. Then the striped skirt will help to make you look casual.
7. Brightly Colored Skirt Outfit 1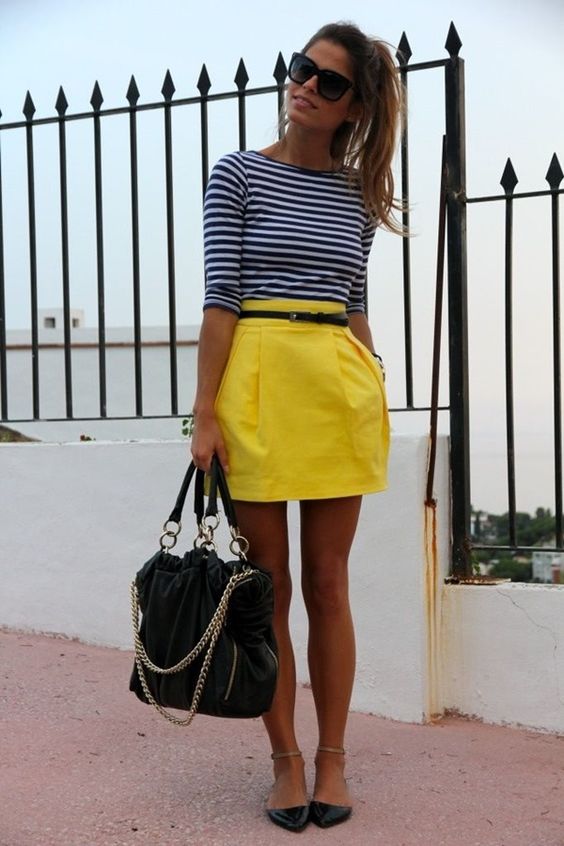 This is another great option for stripes at work. Instead of wearing stripes on the bottom, try wearing them on top and pairing it with a statement piece. Adding a brightly colored skirt will give you a more casual vibe and a summery look without showing too much or looking sloppy.
8. Brightly Colored Skirt Outfit 2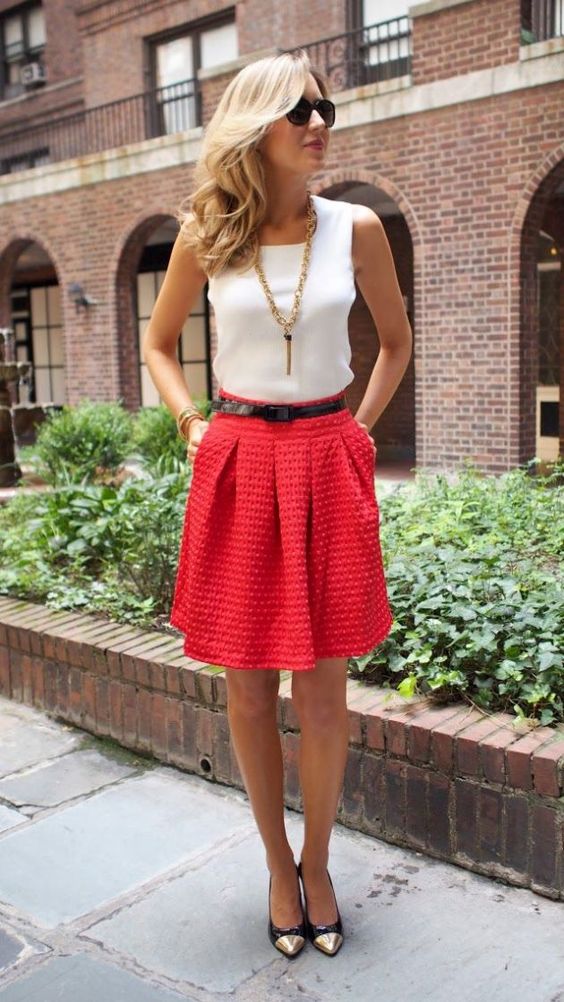 If you're into brightly-colored skirts, give this look a try. Your skirt becomes the center of attention and you can really keep your t-shirt as casual as your work allows. Adding a pair of cute flats will make your outfit look even more dressy.
9. Short Yet Sassy Casual Outfit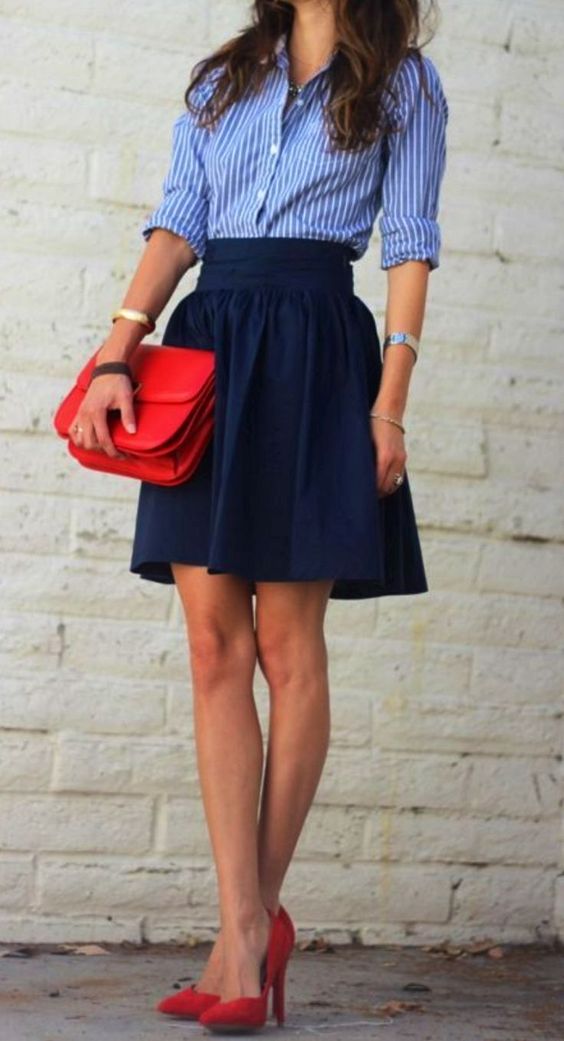 If you're looking to be professional but cute, this is a great option. Wearing a regular button-down shirt with a short skirt will give you a slightly sexier look which can be good for work. Plus using relatively the same color will help the outfit to look even more polished. Picking your shoes will allow you to have a pop of color and some variety.
10. Dressy Polka Dot Outfit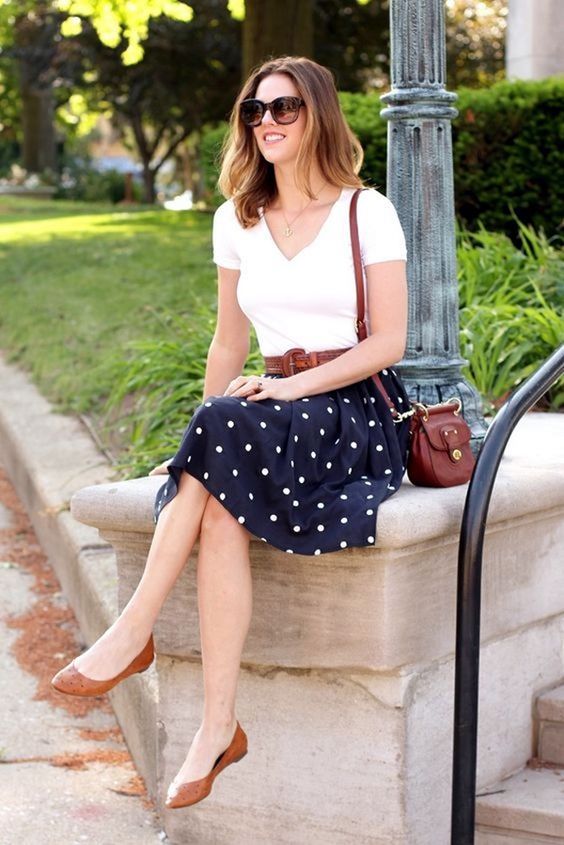 This is another casual yet dressy outfit. Wearing a relatively plain top allows you to really wear whatever kind of skirt you want. Adding the polka dots give it a fun touch especially for work. The tan belt and shoes work great together and match without the whole outfit clashing. This is a great spring or summer work outfit.
11. Casual Friday Dress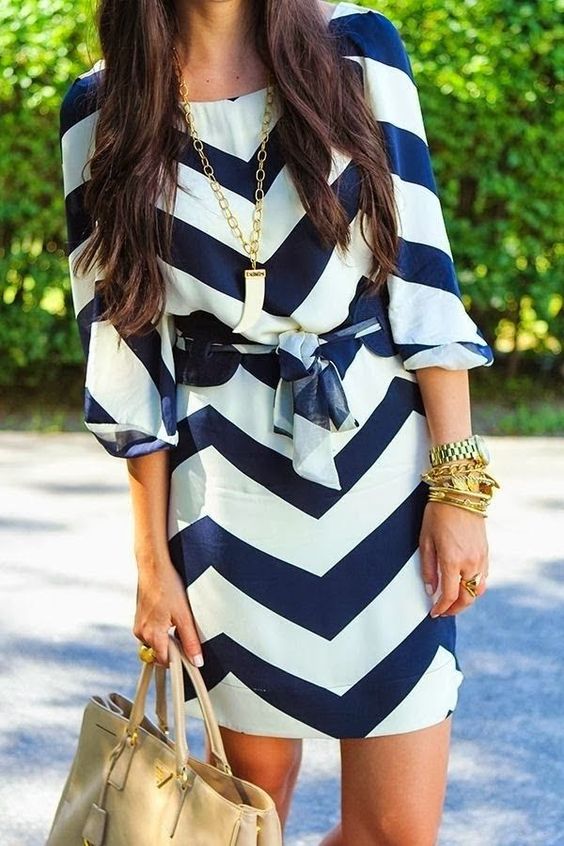 This is a great outfit for a Friday. The pattern is colorful and the cut of the dress is still professional for work. The belt around the waist is a wonderful accent and the long sleeves don't show off too much. This outfit is relatively plain so try adding some jewelry or other accessories.
12. Simple Patterned Pants Look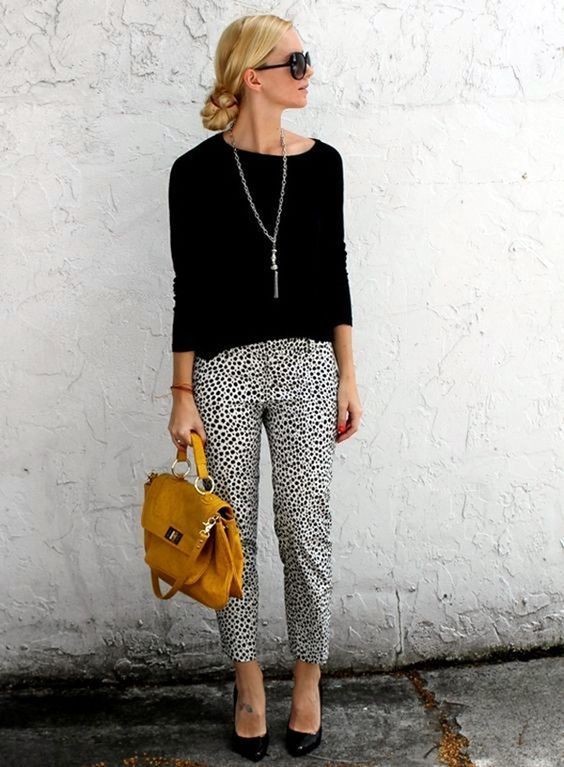 This is a great example of working with patterns to keep it casual. Basic color tops work great because they are generally not that low-cut and can be matched with almost anything. Patterned ankle pants are a great substitute for jeans or dress pants, but still, give you a more polished look.
13. Patterned Dress Outfit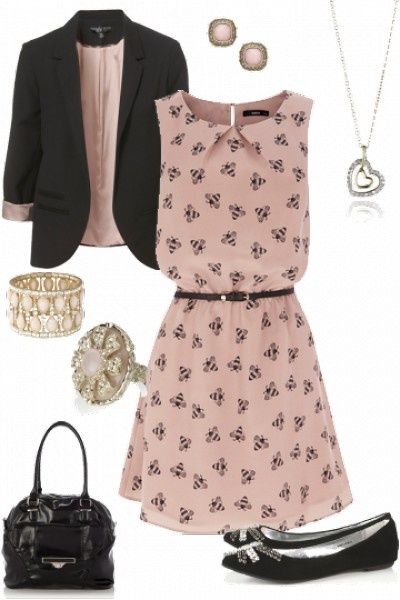 Polyvore outfit ideas for work: Dresses are a great way to look dressy yet casual. Instead of trying to find a professional dress, try using a more casual dress and literally dress it up. The blazer will give it a more polished look along with flats and some simple accessories.