Tips on How to Wear Rainbow Makeup – Rainbow Makeup Ideas
Rainbow makeup that includes multiple bright colors can seem like an intimidating and overwhelming choice. However, it can also be a lot of fun to apply and wear throughout the day. Whether you're going to a party, a music festival, or just want to add a little bit of fun and whimsy into your life, wearing colorful makeup in the right way can help boost your confidence and is sure to attract compliments and other positive attention from everyone you interact with throughout the day. Before you start going crazy with the colors, however, it's important to have some sense of what you're doing in order to ensure that you don't end up looking more like a clown than a rainbow.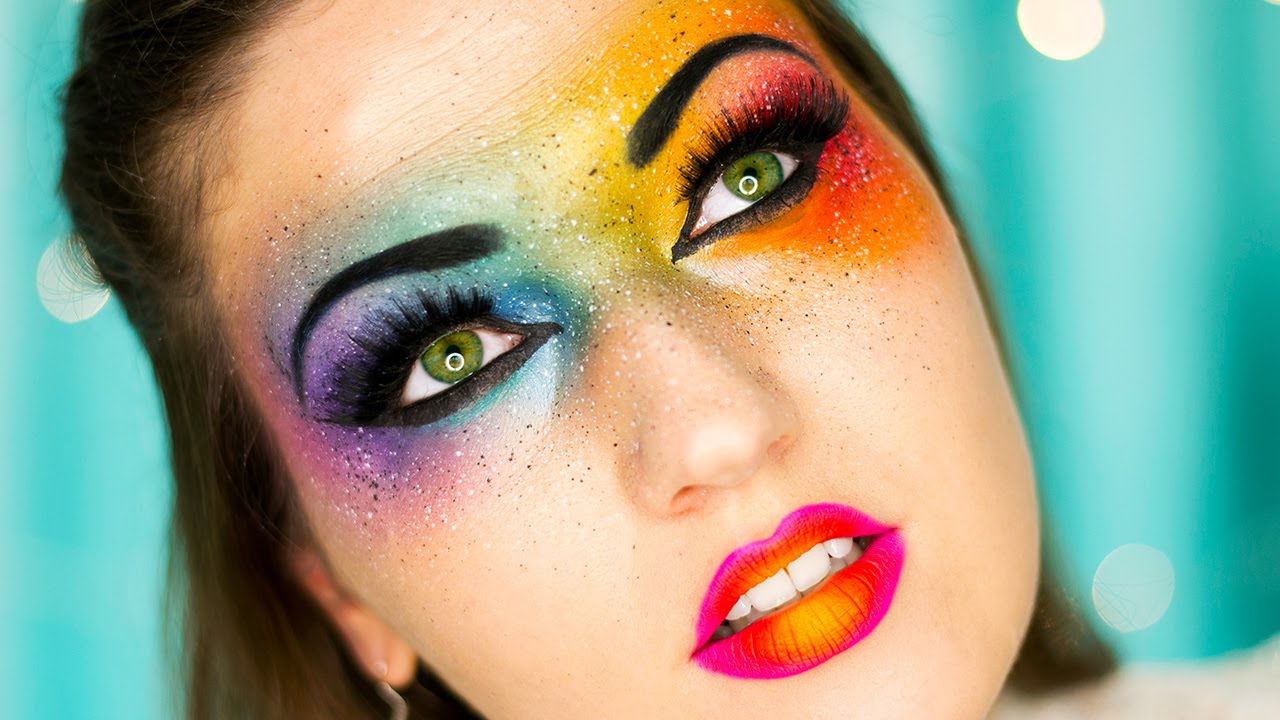 via
Read on to discover five top tips for applying and wearing rainbow makeup that looks fun, flawless, and not too crazy.
1. Pair Complementary Colors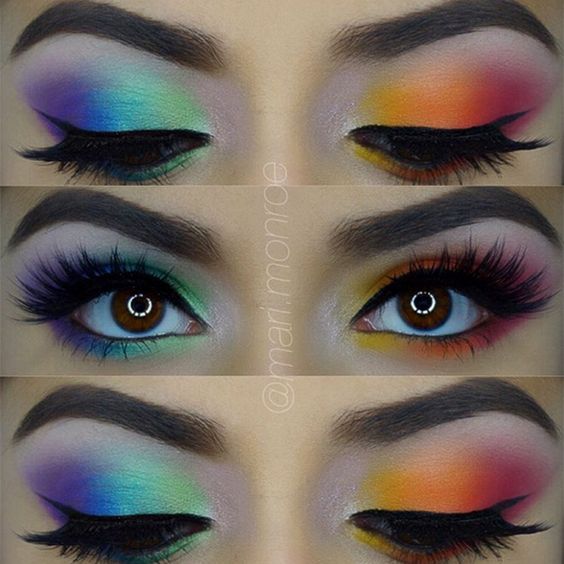 A good rule of thumb for makeup application is that, if you wear bright colors or a dramatic look on one part of your face, such as your eyes, you should keep the rest of your makeup toned-down and simple. However, this doesn't have to be the case for rainbow makeup. For this look, if you do it right, you can easily pull off bright colors on your eyes, cheeks, and lips. However, if you do plan to wear colorful makeup on more than one area of your face, it is important that you choose your colors carefully in order to ensure that they complement each other and your skin tone.
One thing to watch out for is matching too much. If your rainbow eye look includes bright pink eyeshadow, don't choose a similar shade of bright pink blush for your cheeks. Matching different parts of your makeup when using bright or dark colors can create an unnatural alien-esque look that is generally quite undesirable. It is best to pair complementary colors instead of matching them. If you pick a lipstick in a shade of purple, try to incorporate green or gold eyeshadows into your eye makeup look. If you choose a shimmery blue eyeshadow, use a pearl highlighter with a hint of pale pink on your cheeks. Figuring out what works for you is a process; experiment with colors to see what blushes, eye products, and lipsticks look complementary together with your skin tone without being too matchy-matchy.
It is also important to take your skin tone into account when choosing colors. If the colors you pick for your makeup match the undertones in your skin, you can end up looking washed out rather than achieving the bright look rainbow makeup should cause. If you have pale skin with blue undertones, avoid blue eyeshadow. For those with pinky undertones, choose your blush colors carefully to ensure they are a darker or lighter shade than your natural skin undertones. If you have darker skin that has orange undertones, try warm colors such as yellow or gold rather than orange or red.
2. Try Sparkle Formulas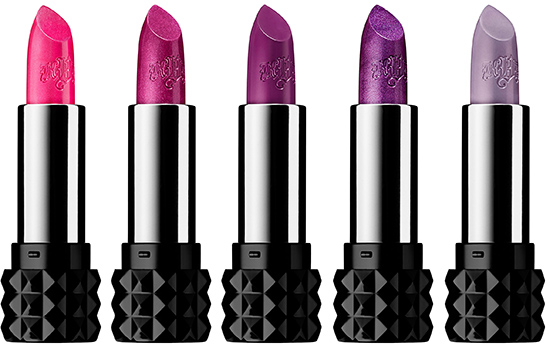 One of the best things about sparkle makeup, other than that it makes you sparkle like a fairy princess, is that it is one of the most forgiving makeup products. If you wear rainbow makeup in sparkle formulas, it will be a lot less obvious if your colors aren't perfectly complementary or if you didn't blend your eyeshadow enough. Makeup in a sparkle formula attracts and reflects light, causing imperfections to be much less noticeable than they are with makeup in matte formulas.
It's important not to overdo it with the sparkles, however, in order to avoid looking like a disco ball–and not in a good way. If you use sparkly eyeshadow, use lipstick with a more matte finish. If your highlighter is extremely sparkly, tone down the glitter in your eyeshadow and opt for a more subtle shimmer or metallic finish instead.
Unfortunately, glittery lipstick formulas can be incredibly drying. If you're in the market for a lipstick with a sparkly formula that is also moisturizing and doesn't look rough throughout the day, try the Kat Von D Studded Kiss Lipstick . This high-quality, smooth lipstick comes in several shades in both a shimmer and metallic finish that offer a subtle sheen of sparkle without any negative side effects.
Although sparkly formulas look great on lips, cheeks, and eyes, make sure to keep your foundation and base skin makeup matte in order to avoid looking so dewy that you take on an unattractive oily appearance.
3. Step Out of the Box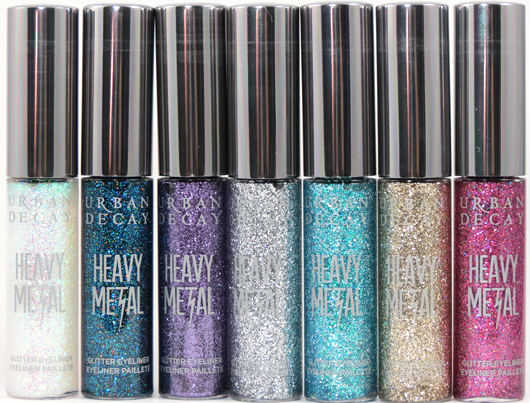 When you decide to experiment with rainbow makeup, there's no reason to hold back. Feel free to step out of the box of colors you've always used and try new things. If you're in the market for some out-of-the-box products to enhance your rainbow makeup, there are several excellent options out there.
The Urban Decay Heavy Metal Glitter Eyeliner is a super-glittery liquid eyeliner formula that applies intensely and stays on your eyelids all day long. It is available in seven different colors, including blue, gold, pink, and silver and can create a flawless, attention-grabbing finish to your rainbow makeup look.
Another excellent and slightly wild product to incorporate into your rainbow makeup is the Jeffree Star Skin Frost . This high-quality highlighting powder builds an incredibly intense, smooth glow. Plus, it's available in Mint Condition, a fun and unique shade of mint green that adds a pop of unexpected, whimsical color to your cheeks.
4. Be Sure to Blend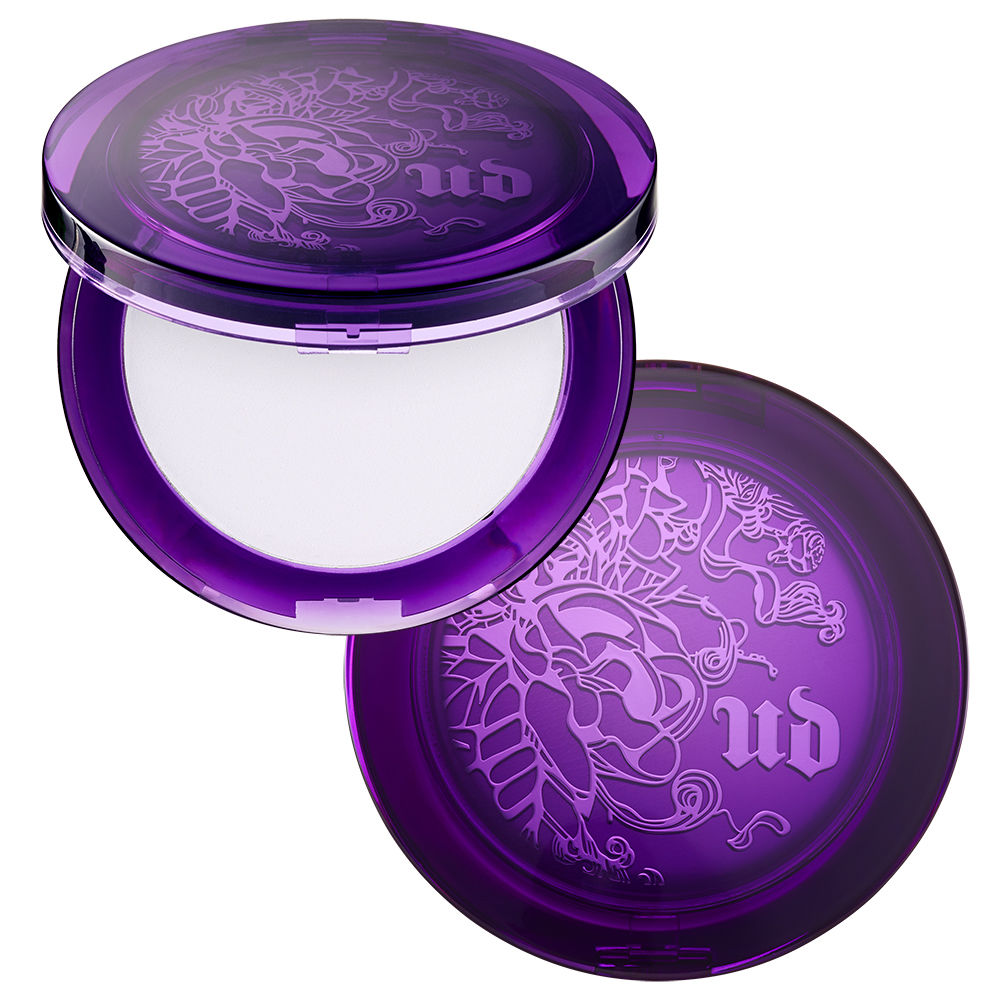 Blending is extremely important when it comes to rainbow makeup. When you're applying several different bright colors of eyeshadow on your eyelids and bright, intensely pigmented blush and highlighter to your cheeks, sufficient blending is a must.
When you finish applying multiple brightly-colored eyeshadows, use a large blending brush to sweep the colors together across your eyelid and blend them upward and out toward your brow bone. Make sure to use a light touch in order to prevent muddling the separate colors.
Use a kabuki brush to blend your blush and highlighter up toward the top of your ear and down toward your jawline to create a smooth transition into your skin. If your blush and highlighting makeup look too intense even after blending, you can soften and blur them for a more subtle finish with a finishing powder. An excellent finishing powder choice is the Urban Decay De-Slick Mattifying Powder . It applies invisibly and keeps you matte all day long.
5. Have Fun!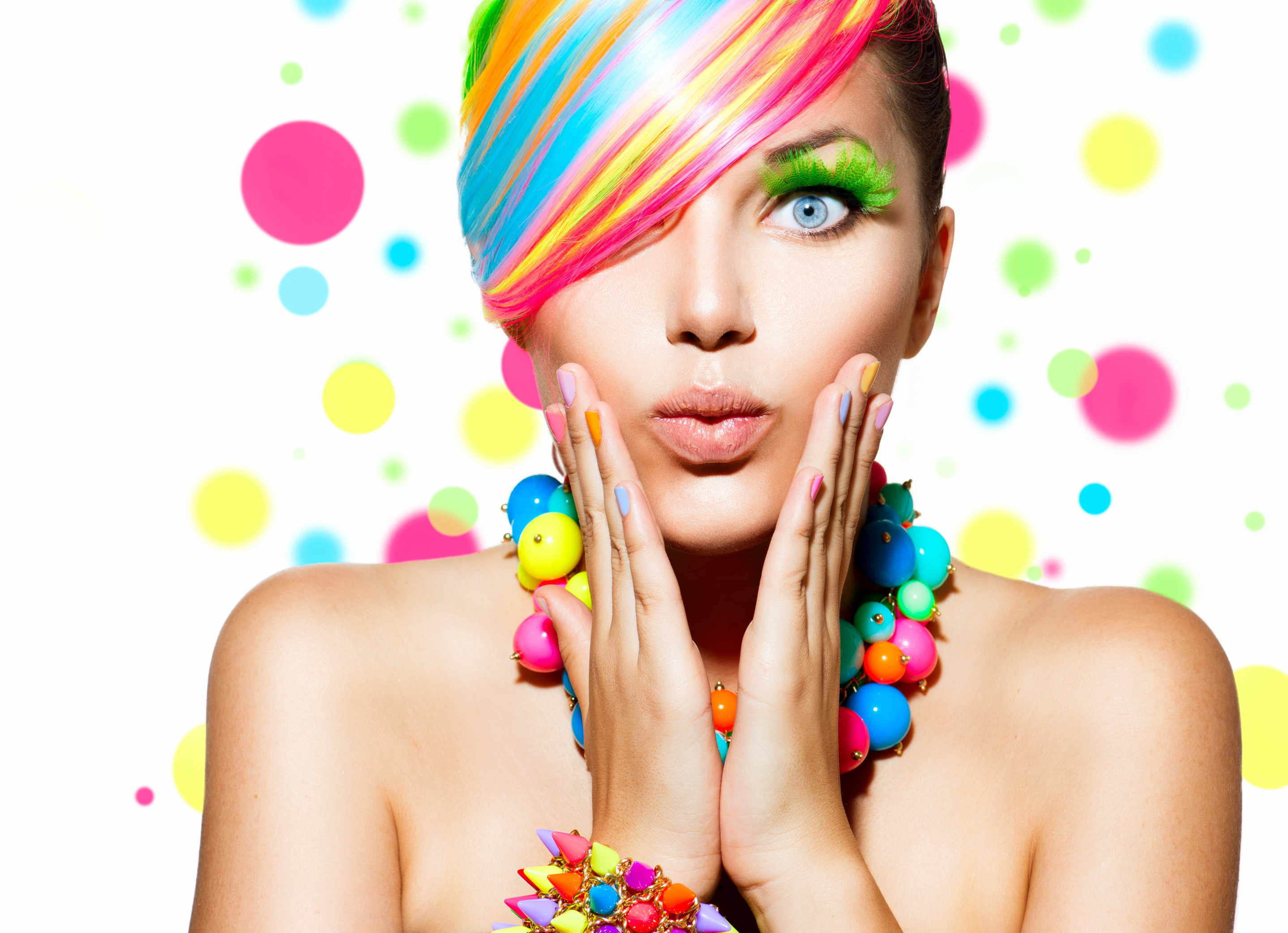 One of the most important parts of applying and wearing rainbow makeup is that you have fun with it rather than approach it with fear and apprehension. Rainbow makeup makes a wild statement. If you're going to wear it, you need to be confident about it.
Wearing rainbow makeup is an excellent opportunity to let your unique beauty shine. Choose colors you absolutely adore, apply them with love and, when you go out on the streets, don't forget to smile.
Rainbow makeup is a fun and whimsical look that every beauty lover should experiment with at least once. It can brighten your face and bring out warmth and color in it that you might not even know exists. By using the tips in this post, you can achieve beautiful rainbow makeup that looks fun and sophisticated for almost any occasion.
Find more beauty tips on prettydesigns.com, and here are more rainbow makeup ideas, enjoy.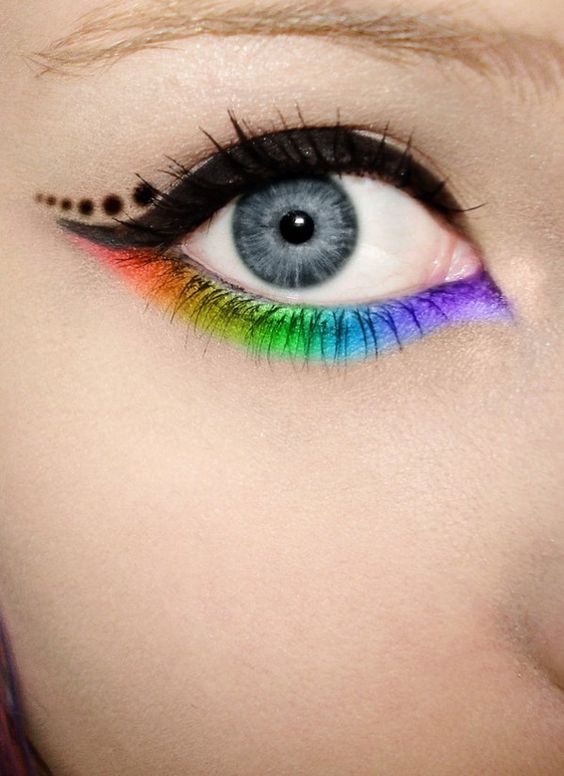 rainbow eye makeup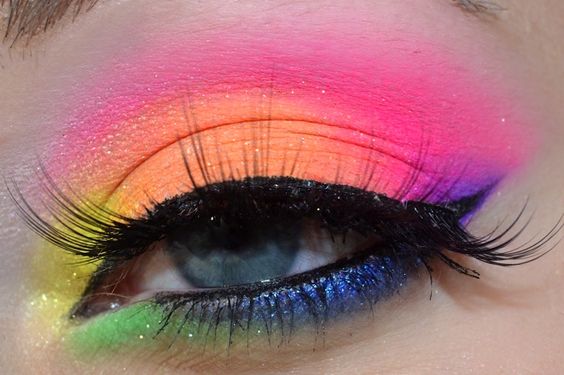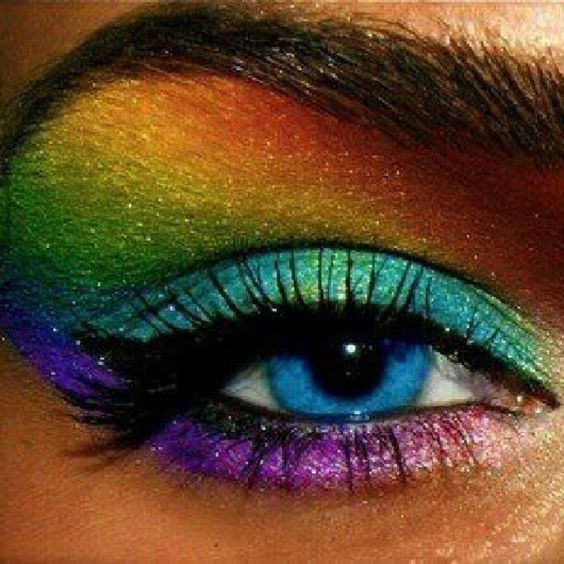 And the colorful rainbow hairstyle is also hot this year!