Nailing The Perfect Holiday Makeup
The holiday season is upon us, and we all know what that means: festive holiday parties and fun family gatherings. But preparedness doesn't just stop at finding a fab outfit and perfect holiday hair– you need the perfect holiday makeup to complete your look and rock this year's round of holiday shindigs. These tips for your festive makeup routine will help you look your best, and feel festive and fun this holiday.
Eyes
For perfect holiday eyes, try one of two approaches: the simple lined top lid, or the soft green smokey eye.
For the simple lined lid, use a thin pencil or a gel eyeliner (black if you're dark-toned, brown if you're fairer skinned), and draw a solid line of eyeliner across your upper lid, as close to your lashes as possible.
Apply a good amount of mascara to your top lashes, and a light tan color under your lower lashes to make eyes pop.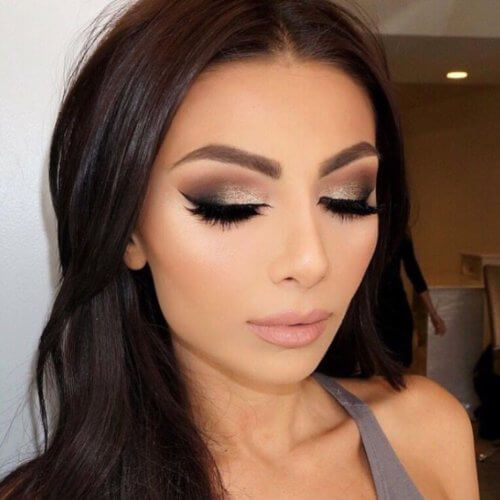 The amazing thing about this makeup style is that the look has the versatility to go smoothly with any lip color – nude, pink or a fun and festive bright red!
For the sassier smokey green eye, the most important thing to remember is not to pick a shade of green that is too light for your skin tone or too bright, which can wash out your complexion and throw you back to the 80s. Instead, choose a darker, softer green.
Line inner rims and outer lids closest to the eyelashes with a medium to dark green eyeliner, and dust a slightly lighter shade of green eye shadow on top. We love Sorme's Smearproof Eyeliner in Black Jade and theBalm's Balmsai Eyeshadow and Brow Palette.
Top this look off with mascara (for extra oomph try a green-tinted mascara!). Be warned though, this eye color is so fun and unique that pairing it with any lip color except nude would be a disaster- leave the traditional holiday colors in the decor. The classiest and most successful option for this look is a natural nude lip.
Lips
If you want to rock a sexy, fun red, such as Sorme's Perfect Performance Lip Color in Glamour Red, the holidays are a great time to do it. Just be careful what look you incorporate with this bold look – dark, heavy or very dramatic eye makeup will make your look too intense. Try instead a lighter, nude colored eyeshadow or browns and bronzes. Remember to focus on one feature when doing dramatic looks.
Face
Because the holidays are a great time to rock dramatic eyes and lips, make sure the rest of your skin is on point. Don't get too heavy-handed with blush or bronzer, but feel free to add a hint of highlighter or shimmer in your look. We love Sorme's Shimmer Glow – Bronzed and Cindy-Lou Manizer Highlighter, Shadow & Shimmer by theBalm.
Now that you've got your holiday makeup style down, it's time to discover your perfect holiday hair to pair with your holiday style.