Basic Make Up Steps for Beginners using Missha
Learning basic makeup techniques is a useful skill modern women can apply today. The correct makeup application enhances a woman's natural beauty and makes her more presentable, especially when she has to go to work or face a public audience.
You may want to start putting on Missha cosmetic products for your daily routine. There are many makeup tutorials online that are rather elaborate and can overwhelm beginners.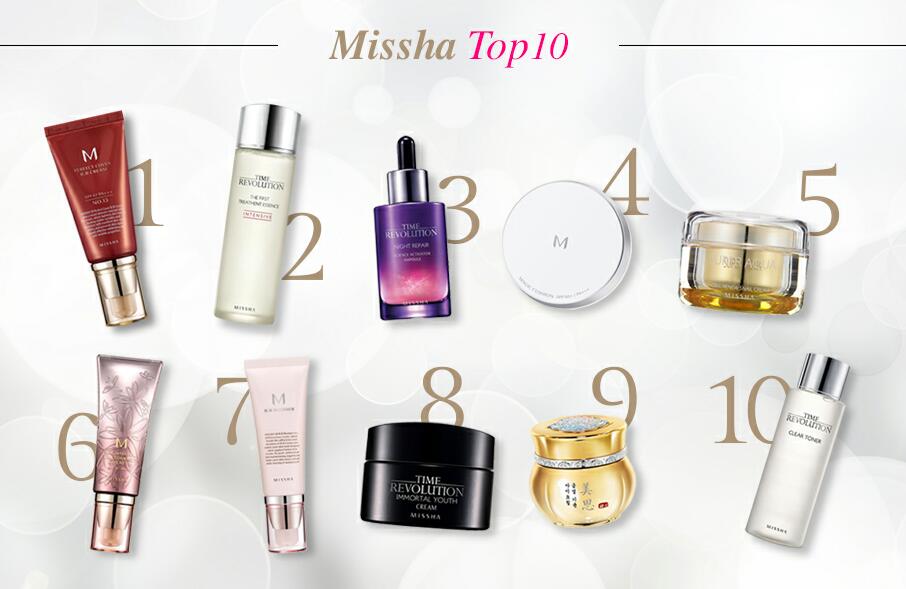 Here's a handy guide in applying makeup for beginners using Korean beauty products:
Step 1: Moisturize
Your makeup will last longer with a moisturizer. To prevent makeup caking, you should only apply makeup to a sufficiently-moisturized face. Begin your makeup process right using Time Revolution Artemisia Calming Moisture Cream, formulated with 89% moisture concentration without stickiness. It is a moisturizing cream that contains double fermented Artemisia Annua Extract from Gangwha Island to give relief to dry skin and help calm and soothe sensitive, flaky skin.
Step 2: Foundation
You should choose the right foundation to achieve a proper and professional-quality makeup application. Picking the right shade for your skin tone is an essential factor in determining a foundation. Select a foundation shade that is closest to your skin tone. Foundations often come in liquid or powder form.
Radiance VELVET Foundation is a long-wearing liquid foundation that provides excellent coverage. It comes in four shades to match Asian skin tones. It is formulated with Green Tea Seed Oil to control excess sebum, thus keeping your face looking refreshed. It also comes with micro cover powder that acts as a powder foundation to blur the appearance of large pores, fine lines, and wrinkles. Thus, this is an excellent foundation that serves both as a liquid and powder foundation.
Step 3: Concealer
Concealers are used to cover up dark spots, pimples, and other facial blemishes. It is often applied around the eye area to balance out the overall skin color and better blend colors with foundation. Dark eye circles and skin blemishes are often difficult to cover with foundation, and concealer does the cumbersome job of diminishing skin darkness and blemishes.
Glow Ampoule Concealer provides coverage with the added skin benefits of an ampoule. This creamy, easy to apply concealer effectively covers blemishes, dark spots, and dark eye circles. It is also formulated with ten kinds of fermented probiotic components that deliver rich nourishment and skin moisture. The concealer contains SPF20 PA+++ to help protect your skin against sun damage. Carefully apply a thin layer over problem areas and blend accordingly.
Step 4: Eyeshadow
Eyeshadow adds glamour to your makeup look. Choose an eyeshadow color to suit the occasion: ideally, choose neutral colors for daytime, professional makeup look, and pick more dramatic, vibrant colors for night time events and special occasions. You can either select just one eyeshadow color for a simple, quick application or choose to blend several colors for a more sophisticated look.
Triple Shadow is a compact eyeshadow that each comes in three complementary shades to achieve a variety of makeup looks. Its tricolor shadow palette makes it easy for beginners to blend colors and achieve a gradient look quickly. It also contains Argan Oil for a soft, smooth touch.
Step 5: Blush
Blush adds vibrancy and glow to your complexion. Like most women, you may not always have naturally rosy cheeks; to remedy that, you should use blush products to enhance your beauty. There are different blush items available in the market, so it's essential to choose the ones compatible with your skin type.
Cotton Blusher is a powder type blush that comes in various vivid, natural colors to enhance a radiant look. Its buildable velvet texture applies smoothly with sebum control properties that last for hours.
Step 6: Lip
Lip color completes your makeup look. Choose a lip color that complements your eyes and your clothes. Lip gloss or lipsticks are often chosen as a lip color. Also, don't forget to moisturize your lips first, because dry, cracked lips can negatively affect lip color application.
Dare Rouge Velvet lip colors are highly moisturizing lipsticks that offer vivid pigments, and the Porcelain Velvet Gel Technology offers sleek application at all angles.
Final Thoughts
Missha cosmetic products are handy and suitable for on-the-go working women. If you're looking for beginner-friendly items, then you can choose from their wide selection available online. These makeup products can help you start your day right.