Engagement Party 101: Fall Themed Party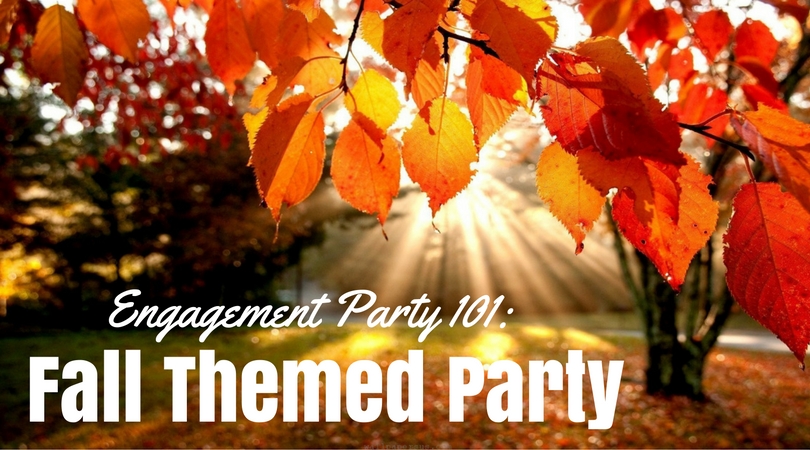 If you follow me on Instagram, then you know that I really love fall!
I love the colors, I love the coffee, I love the weather and the leaves! It is all so amazing, so I thought: why couldn't there be a fall themed and engagement party?
And guess what! There can be!
So keep reading if you love fall just as much as I do, and would like to see how to create a fall themed engagement party.
The Theme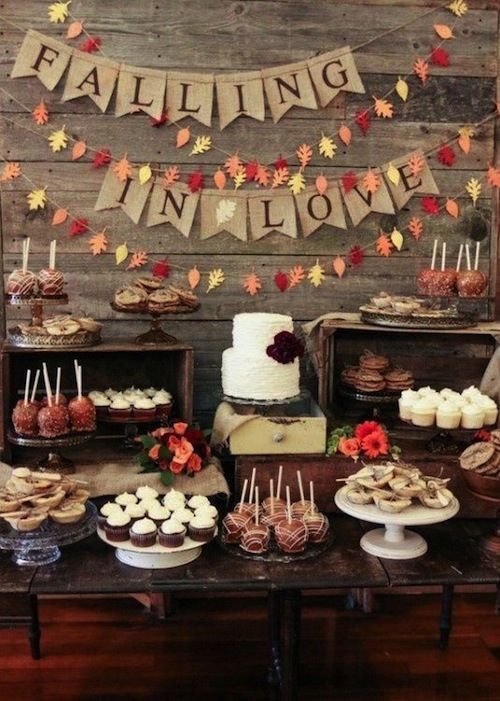 (http://www.modwedding.com/2014/10/beautiful-fun-fall-wedding-inspiration/)
Fall! With this theme, we are trying to embody everything that is fall.
Now this can mean many different things to many people! And there are also no wrong answers here, so be creative!
The Colors
Deep red, oranges, Marigold the yellow, olives, Browns. Basically, you want to imagine those gorgeous color changing leaves that happen in Autumn!
I've also seen some people incorporate flannel patterns into this theme, which I think is so perfect!
The Invitations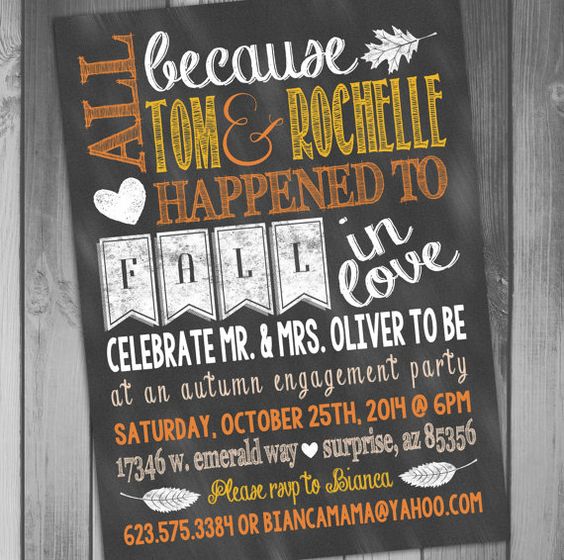 (https://www.etsy.com/listing/194414292/engagement-party-invitation-rustic?utm_campaign=Share&utm_medium=PageTools&utm_source=Pinterest)
How adorable are these "Fall in Love" engagement party invites?? It dips into this "we've FALLen in love thing going on between the happy couple" , and it's a play on words to the fall theme!
The Menu
The menu can depend on when you were having your party.
If you're trying to re-create a fall theme in the middle of summer then I wouldn't necessarily recommend serving these hot dishes! However, if you're planning your party in the cold months – towards the middle/end of autumn, then these hot meals are going to be perfect for your theme!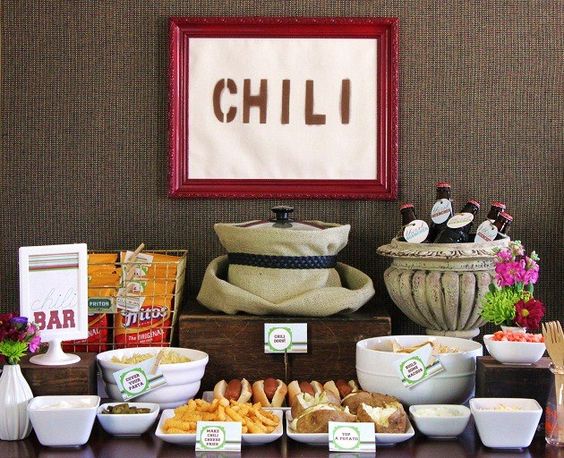 Pull out those slow cookers, and call up your friends who may also have some (because you might need a couple) and make some chili! Also set up some Frito bags for people to put in the chili, some cheese, maybe even some bacon if you feel like it!
Making some really good toast or bread would also be a great idea for this chili bar!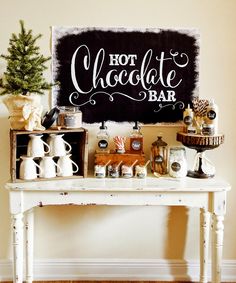 (http://www.pnpflowersinc.com/2014/12/DIY-Hot-Chocolate-Bar.html)
This is a marvelous idea for the fall! Especially if you're trying to have an evening party, it's probably going to be a little chilly outside! So what better way to warm up your guests with a delicious hot chocolate station?
It would be really cute if you have some larger jars that you could  dump all the hot chocolate powder mix you have into!
Then, have another jar, and fill it to the brim with Gooey marshmallows!
You may also want to include some whipped cream for those who would rather use that then the marshmallows.
The last thing to do is to just be creative! If you think your guests would like to drop a Hershey kiss into their hot chocolate, then have a bowl of Hershey kisses! Sprinkles are also be a great idea! Or even some cinnamon! The possibilities are really endless.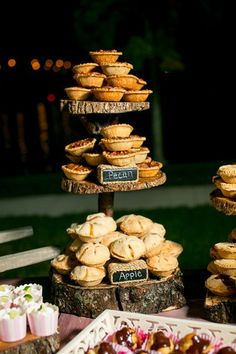 (https://visuelleproductions.wordpress.com/2014/09/19/fall-in-love-with-the-treats-of-fall/)
Let's ditch the typical cake or cupcake thing, and set up some pie! Who doesn't like a warm pumpkin, Apple or pecan pie during the fall time?
Plus, buying a couple of each from your grocery stores bakery Isn't really that expensive. So just grab as many as you think you need for your guest, warm them up when the time comes and set them out!
You may also want to pick up a tub of vanilla ice cream, because warm pie with a scoop of ice cream is heavenly!
The Decorations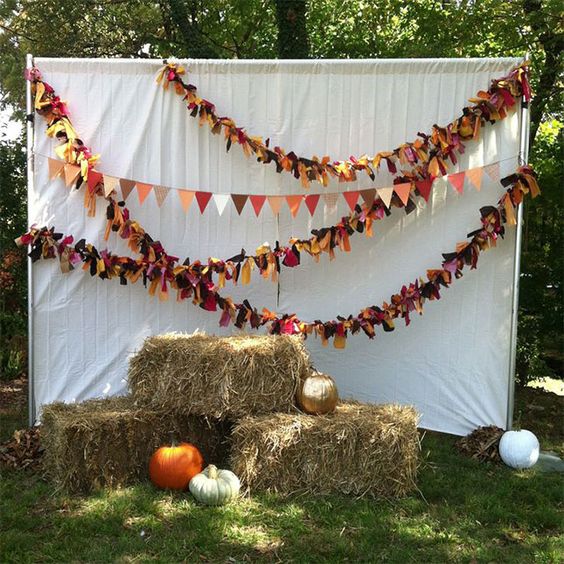 (http://www.brit.co/halloween-photo-booth/)
Not only is this an amazing photo booth to set up for your fall themed party, but this picture also embodies all the best decorations to use for your party in general.
With the bales of hay, pumpkins, colors and leaves, you cannot go wrong with using any of these things as decorative elements at your party.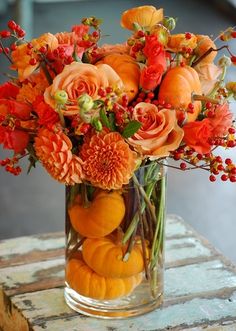 (http://indeeddecor.com/rustic-luxe-fall-entertaining-tips-products/)
This centerpiece would be a hit anywhere at your fall party! Use it at the food/dessert table, the welcome table, or at the dinner table!
The best part is that it can be kept and reused during the fall season!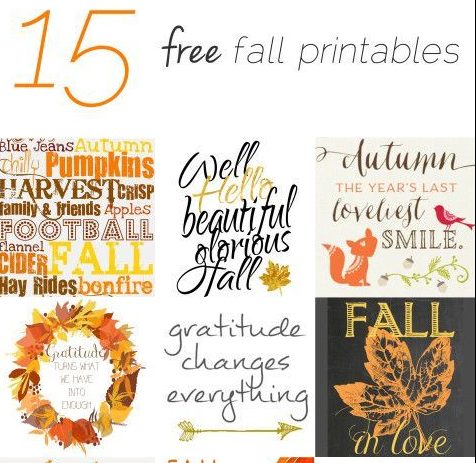 (http://justbusywithlife.com/15-free-fall-printables/)
This is an amazing resource to have if you are throwing a fall themed engagement. There are over 15 FREE printables here that you can use! Use all, or just use some, it is all up to you.
It would be really cute if you printed these out and framed them in gold or wooden picture frames! But any frames you have would work.
DIY Project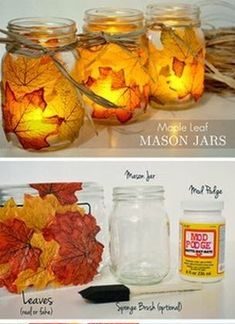 (http://www.deerpearlflowers.com/diy-fall-wedding-decoration-ideas/)
This is another thing that could be used as a centerpeice item! But you could also make a lot of these, and set them up on your mantle!
Another idea could be: if you have front porch steps, you could put one jar on each step. This would be cute, and would light up the steps as it gets dark as well!
For step by step instructions on how to create these fall leaf jars, click here
Did This Help?
I hope you enjoyed this post, and that it helps you in your Fall Engagement Party planning!
For all of these ideas and SO much more, follow my pinterest boards!
If you don't like this theme, check out the other three themes I have: Disney Theme, Luau Theme, & Fiesta Theme
If you have any more questions, or have anything that I did not cover that you would like for me too, please feel free to tweet them to me @kaleigh_blogs or follow me on Instagram @kaleigh_d_a
Also, if you are just starting in your journey to  party planning, and still have questions like "What is the point of an engagement party"? Then check out my post title Everything You Need To Know About Engagement Parties