Engagement Party 101: The Mexican Fiesta Party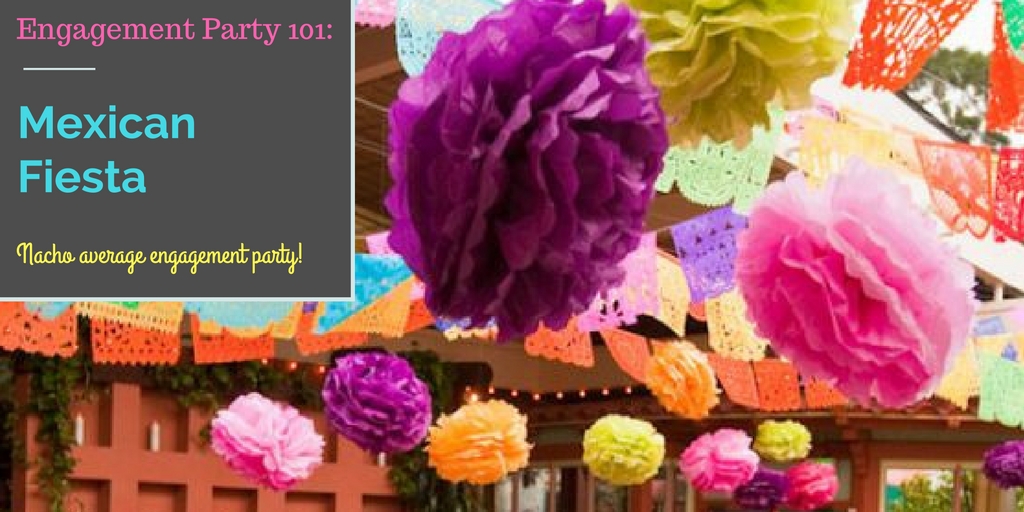 When it comes to planning your Engagement party, the most fun part is going to be picking out the theme, and setting the vibe for the night!
When planning my engagement party, I chose a simple Gold and Silver "All about the Bling" theme. All the plates were gold or silver, we had gold, white, and silver balloons. I ordered gold  "L O V E" balloons online from amazon, and also a big gold and silver ring balloon! The theme really came together nicely, and it was simple yest elegant, and went along nicely with the laid back feel of the night!
However, if I had stumbled across this amazing Fiesta theme before we had planned our party, well things might have been different! This theme looks like so much fun, we are even considering giving our rehearsal dinner this fiesta theme because of how awesome it looks! Below I have listed the theme, colors, menu, some decor ideas, invitations, the playlist, DIY's, as well as linked a couple free printables for you to incorporate in to your Fiesta!
This is your one stop shop for all you will need to throw "la fiesta perfecta"!
If you are just starting your party planning, and still have questions like "What is the point of an engagement party"? Then check out my post title Everything You Need To Know About Engagement Parties
The Theme
In case you could not tell by the introduction, or the title of this post. The theme for this party is a "Fiesta"!
The fiesta theme is so bright and colorful, and just all a round fun!
If you love tacos, margaritas, sombreros and just creating an all around upbeat vibe for your party, then the Mexican Fiesta theme is the right one for you!
The Colors
The most amazing part about this theme are all the bright colors you get to incorporate! Seriously, the possibilities are endless. You can choose whichever colors you want, and as many as you want, so long as they are bright and fun!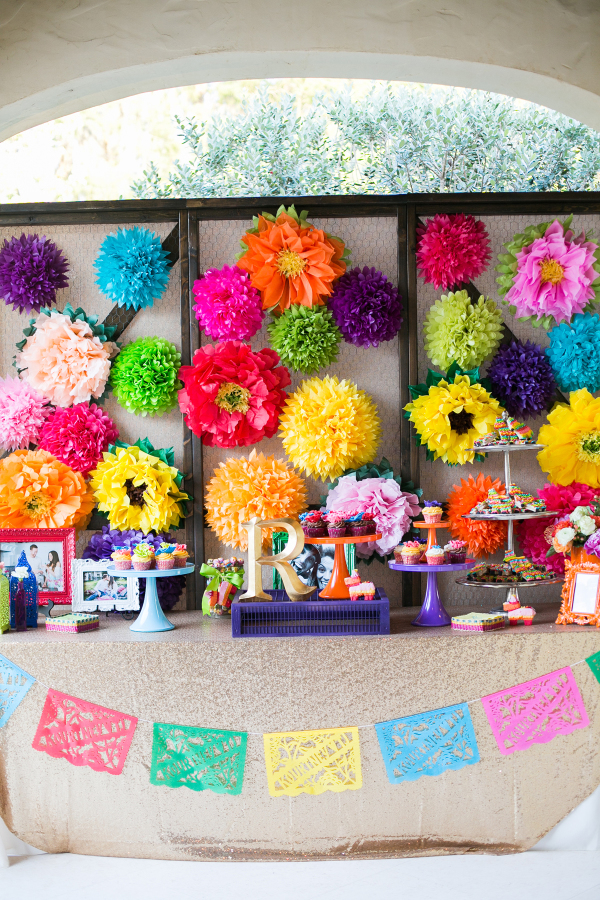 (http://www.stylemepretty.com/vault/image/3927901)
This image here just sums up all the colors that I would choose for this theme! The yellows, oranges, pinks, blues, greens, reds and all the different shades. It works together so nicely with this theme!
The Menu
(http://theloveleighlifeblog.blogspot.com/2014/12/every-kiss-begins-with-queso-robynnes.html)
Argueably the most important part of this theme, as it would make no sense to have a Fiesta theme, but then serve pizza or hamburgers!
A Taco Bar would be a MUST have for the fiesta theme! It would also be the most fun too! Set up your Taco Bar with rows of Taco Shells (Hard and Soft), tomatoes, shredded lettuce, cheese, jalepenos, sour cream, Queso, salsa, guacamole; the list never ends! It is really up to you and what you like with your tacos!
When it comes to the Taco Bar, crockpots are going to be your best friend when it comes to cooking, and keeping all your warm ingredients warm. You can cook your beef or chicken, and then place it in the crock pot on "keep warm" so that when guests go back for seconds, the meat is still warm! This will also make sure that your host does not have to continuously go back and forth between the microwave and party to keep your queso warm!
You can also dress your crockpot up really cute (and cheap) by wrapping the different colored streamers around it!
Just for you, I rounded up the best queso dip I could find that you can use and cook right in your crockpot: 5 Ingredient Queso Dip For The Crock Pot
Here is a picture guide you can use to collect all the ingredients you will need to build the perfect Taco Bar: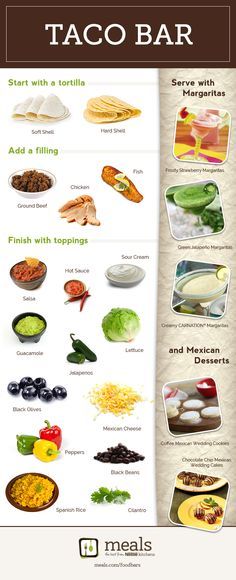 (http://www.meals.com/cooking/taco-bar-ideas-recipes-and-more)
For Dessert: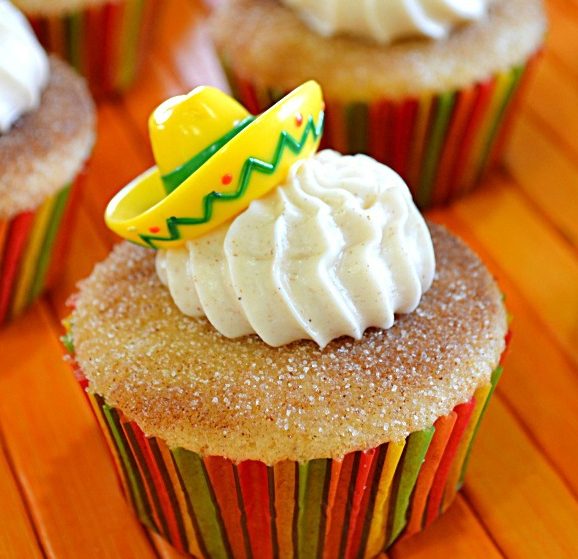 (www.ladybehindthecurtain.com/churro-cupcakes/)
Skip the traditional cake and cupcakes, and go for this mouthwatering cinamonny-goodness of a Churro Cupcake! This beautiful cupcake topped with the adorable little sombrero are sure to be a hit! (For an easy, and still cute option for the toppers. Just print out little sombreros on to card stock, and tape to toothpicks. Stick them in and it will be just as cute!)
For the recipe and instructions on how to make these delicious Churro Cupcakes, Click Here!
The Invitations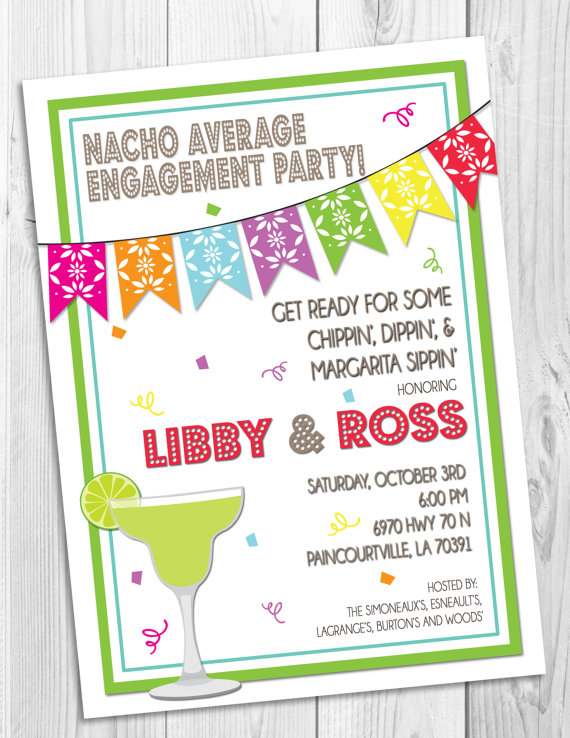 (https://www.etsy.com/listing/248543610/mexican-fiesta-engagement-party)
There are so many great options that I have seen for invitations, but this one with the multi-colored papel picado is so so cute! The best part is that with this simple design, this invitation would not be hard to recreate! If I have enough interest, I would be happy to create an editable PDF download version! So if you are interested, leave a comment down below in the comments section!
I love the fiesta pun at the top of the card; "Nacho average engagement party" so cute, clever and funny!
The Music
In order to create the perfect Fiesta atmosphere, you have to get some music going!
If you want to do it the free and easy way, just create a Pandora account and search for a "Fiesta" playlist, and I am sure you will have plenty of luck with that!
However, if you happen to have Spotify Premium, or another app for building playlists, then below you will find a list of must add songs to create the perfect fiesta vibe!
(I know it says "Cinco De Mayo" but really, that means it is holiday approved music, so you know it will be perfect for your party!)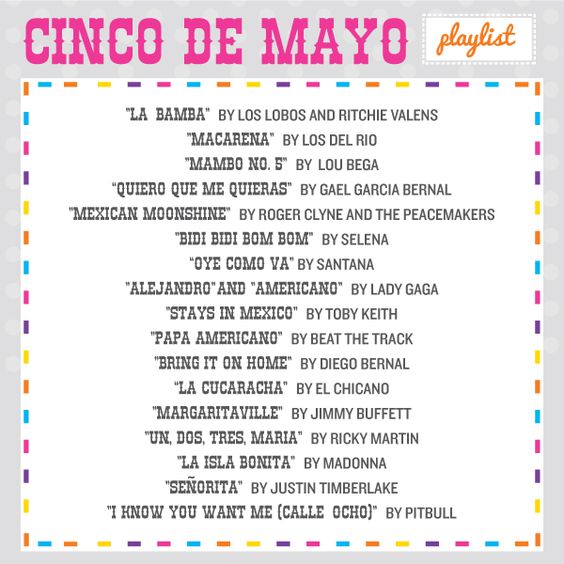 (http://www.sheknows.com/entertainment/articles/989187/cinco-de-mayo-playlist)
Decorations
This is where you can really step your game up, and have some awesome decorative elements to go along with your theme! The decorations are what will make your fiesta engagement party!
Of course you need some sort of welcome sign, mainly to let everyone know that they came to the right fiesta! Why not this one that goes perfectly with the theme: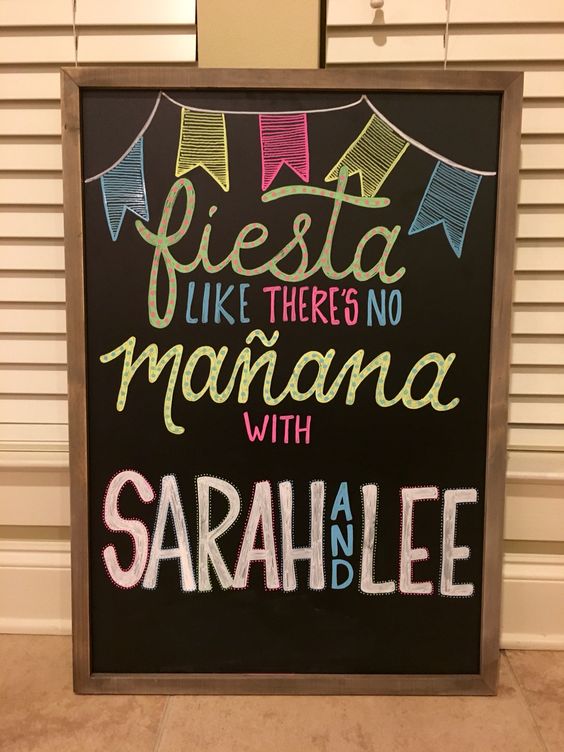 (https://www.pinterest.com/pin/AXZLrKouX7jDHDSn79p_Vtz57RdBilUMd7w10Ftn-F0P3N_m2AE1ik0/)
Once again it is puns for the win! With these balloons, it will not only remind people that they are at a fiesta party, but it will also just give them something to smile about!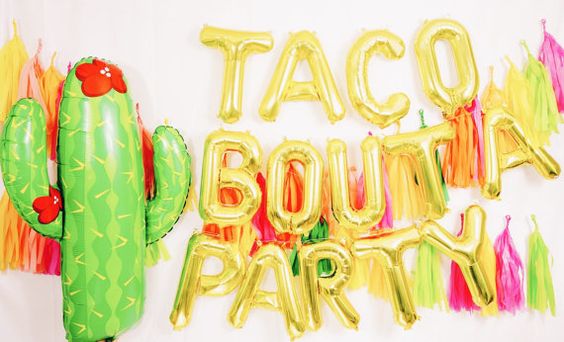 (https://www.pinterest.com/pin/805862927042186262/)
Next, you can never go wrong with bright colored streamers and big, colorful paper flowers! There are tons of tutorials out there for making tissue paper balls, flowers anything you can think of!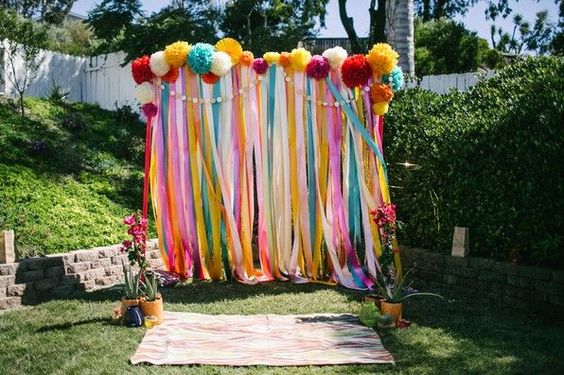 (https://www.pinterest.com/pin/805862927042186246/)
And finally, the photobooth! This is a party being held in the 21st century people, so it would not be complete without a photobooth filled with all sorts of props to create the most insta-worthy selfies there ever were! Fill your booth with sombreros, maracas, ponchos, flowers, and of course, large mustaches!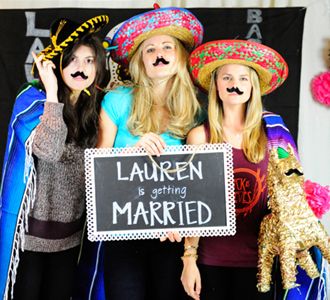 (https://laurenconrad.com/blog/2014/03/party-planning-how-to-host-a-bachelorette-fiesta-weekend/)
And here is a free fiesta themed photobooth sign that you could print out, and set up right by your photobooth. This sign remind your guests to "say Queso"!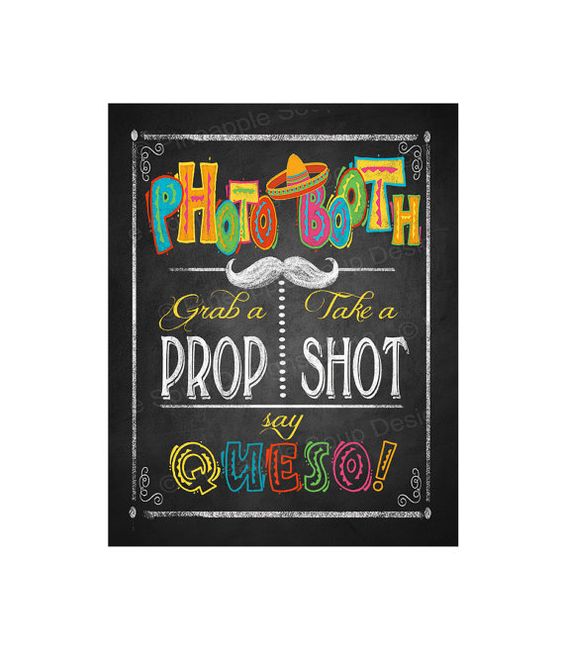 (https://www.etsy.com/listing/193339928/fiesta-party-photo-booth-sign-in)
DIY's
I LOVE Diys! I think they are just so much fun!
This first one would be perfect as a focal point on your Taco Bar Table or really anywhere that needs a cute decorative piece!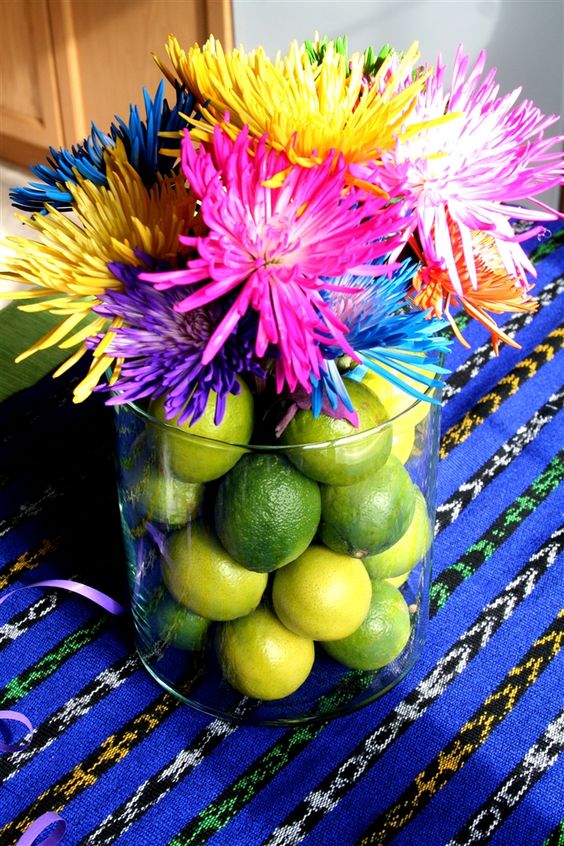 (http://ww12.dennasideas.com/)
Supplies needed:
Glass Vase (large ones can be found at Goodwill for around $1.25!)
Limes galore!
Pretty multi colored flowers (the dollar store has some that look just like this!)
Instructions:
fill glass vase with limes
insert as many multicolored flowers into the vase as you see fit!
Wasn't that super simple, amazingly cheap, and perfect for the fiesta theme!?
Next we have a Diy on the beautiful Papel Picado Banners!

(http://frogprincepaperie.com/papel-picado-banners-for-the-cinco-de-mayo-party-hop-day-2/#_a5y_p=4221467)
You could make as many of these banners as you need, and it will just look so adorable! Perfecto! For step by step instructions: click here
As always, I hope this post helped you in some way! If not this theme, maybe you can see the steps I take when planning out a party. You could repeat this process with any theme you want to really!
If you choose to use any of these things, then I would love to see it! Tweet them to me @kaleigh_blogs or you can send them to me via instagram @kaleigh_d_a
Also, you can find all of these ideas AND MORE on my pinterest page! Just click here and follow me on pinterest to find guides on more DIYs, and all around Fiesta Party inspiration!
If you don't like this theme, check out the other three themes I have: Fall Theme, Disney Theme, & Luau Theme
I hope you enjoyed this post, and good luck in your party planning!