Engagement Party 101: Magical Disney Theme Party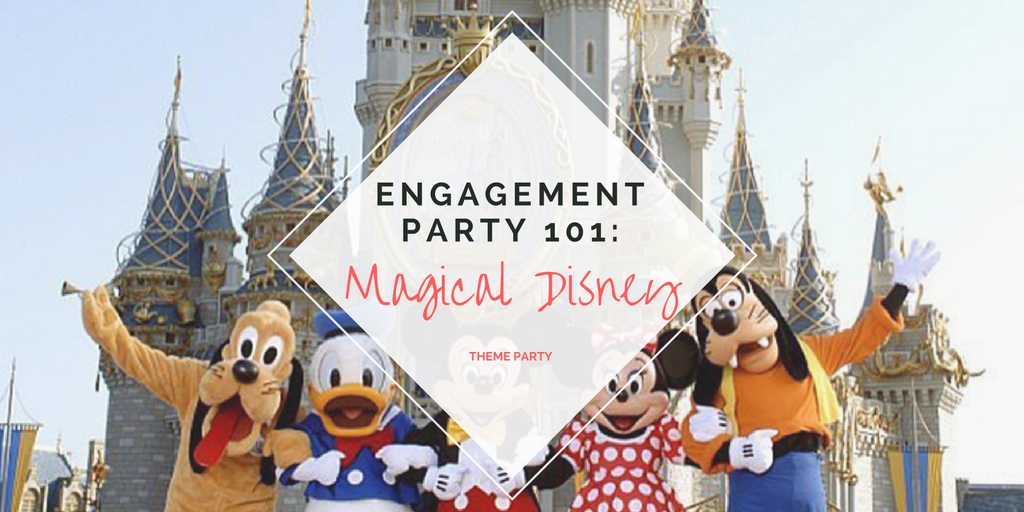 (Background Image From: http://www.popsugar.com/entertainment/New-Disney-World-Rides-Video-40447285)
You know I had to include a Disney themed Engagement party! With this theme, you can take your guests back to when you were all kids and just have a blast!
Now, Disney has and always will hold a special place in my heart! I have loved Disney since I was a little girl, when the Aristocats was the only thing (not even movie, the only thing) I would let anyone in my family watch! My fiancé and I bonded over a love of Disney, as his favorite movie is Lion King (What's funny is that neither of us are cat people, and yet both of our favorite movies are feline related)!
This bond must have been why my fiancé planned the most special proposal in Disney World! We got engaged in Magic Kingdom, right in front of Cinderella's castle, on March 9 of this year!
If you are just starting your party planning, and still have questions like "What is the point of an engagement party"? Then check out my post title Everything You Need To Know About Engagement Parties
I hope you enjoy this engagement party theme, as I think that it is truly magical!
The Theme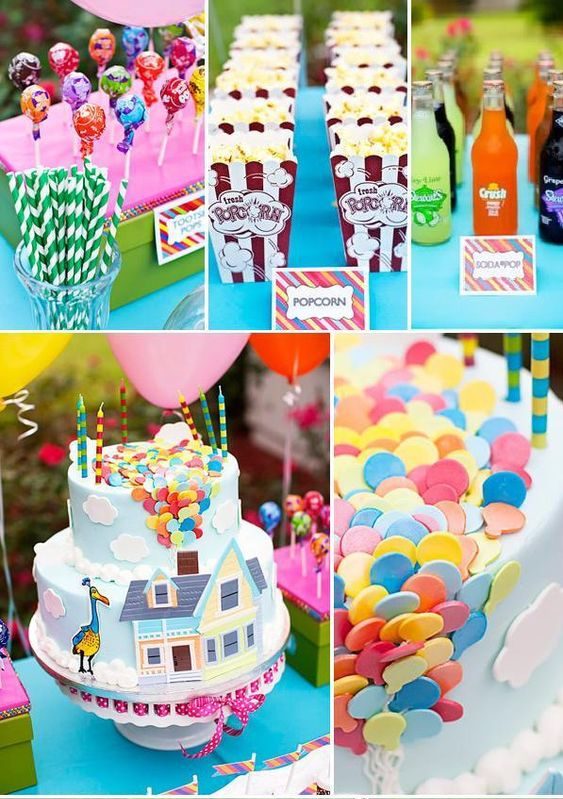 (http://blog.hwtm.com/2010/11/real-parties-up-themed-birthday-party/)
Obviously, the theme is Disney, and all things related to Disney! Which has so many endless possibilities! It is really easy to go over board with this theme, but then again, there really is no such thing as "overboard" when it comes to Disney!
You could go about planning a Disney theme party two ways: 1. choose one specific Disney movie that you love and go all out OR 2. incorporate different movies in where you see fit. I am going with option number two today in this post, because I could not pick just one!
(although, if you would rather pick just one Disney movie to build your theme around, Beauty and the Beast is an excellent option for an engagement party)!
The Colors
As far as colors go, with this theme, there really are no set colors! Just pull from all the different Disney movies to make your palette!
The Invitations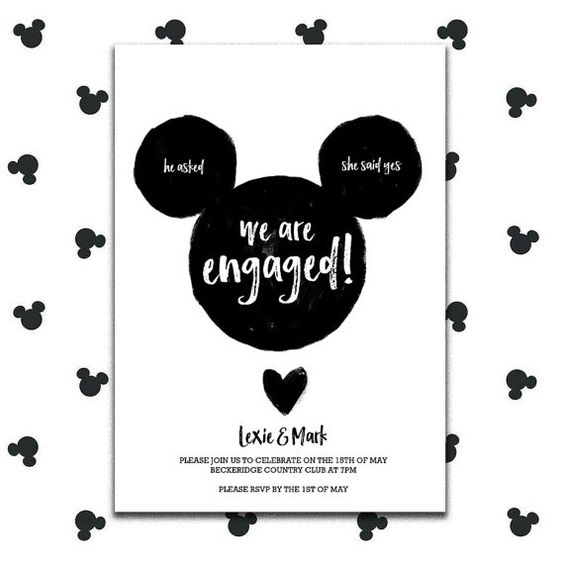 (https://www.etsy.com/listing/263965239/mickey-mouse-disney-engagement?utm_campaign=Share&utm_medium=PageTools&utm_source=Pinterest)
These invites are so simple, but I think that that is exactly what I love most about them! The sleek, yet simple design would also be super easy to recreate as well!
Just open up microsoft word, click their blank card template, and get to designing! The best part about creating your own is that you can add as many different colors, any disney character you would want, or even get creative with the fonts! The sky is the limit when it comes to your imagination!
The Decorations
This is where your theme is really going to shine! Don't hold back with this theme, because the more awesome decorations that you have, the better this theme is going to work! I have pulled from different movies for different elements of the decorations, and then I will pull it together with all of the movies being represented in the music, games and menu!
*Disclaimer: while I will still have the usual DIY section for more creative DIY projects, most of these décor items are all also DIY.
Let's start with the welcome table: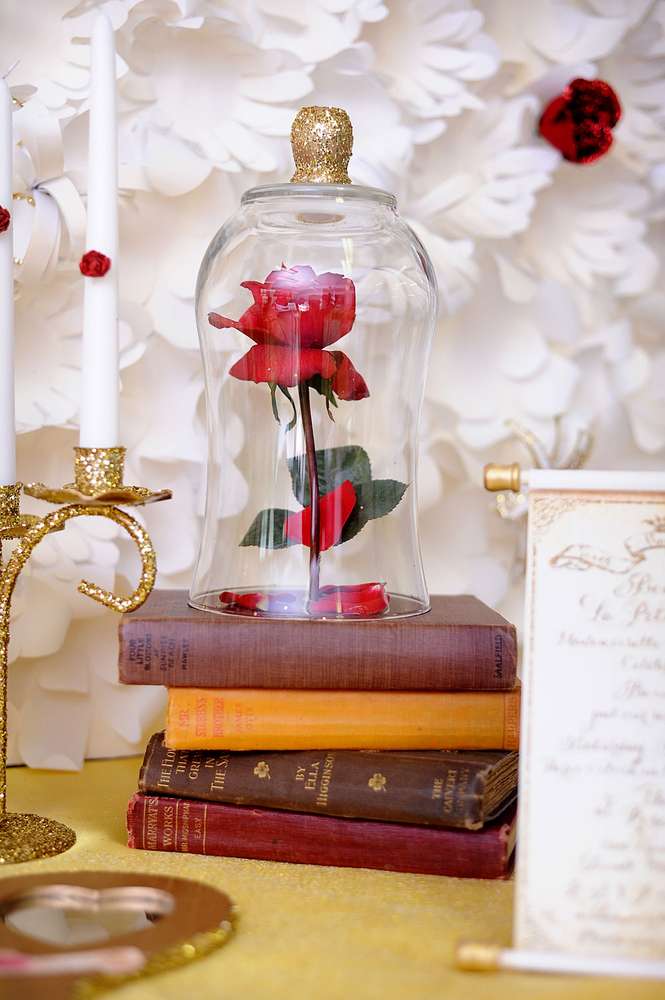 (http://catchmyparty.com/photos/1762923#_a5y_p=1535715)
We are going Beauty and the Beast here! Set aside a cute little table to be displayed right when guests walk in! Stack the famous "Beast's Rose" on top of some old books and there you go! And of course we can't forget the "Be Our Guest" sign!

(https://www.etsy.com/listing/270658096/be-our-guest-rustic-wood-sign-guest-room?utm_campaign=Share&utm_medium=PageTools&utm_source=OpenGraph)
Vintage books can be found for fairly cheap at an antique store! Just search for the more unknown books, and you shouldn't pay more than a couple buck! Also, for a DIY on how to create the Beast's rose, look below!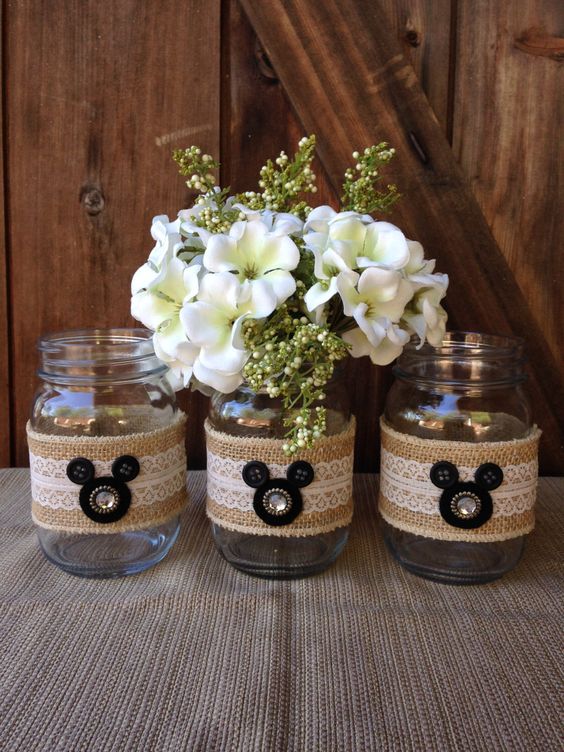 (https://www.etsy.com/listing/248118931/)
For centerpieces, we are going traditional Mickey mouse! Just grab some mason jars (go to goodwill, and check out their jar section! Sometimes you can find jars grouped together – 4 for $1.25!!), some burlap and some lace. Hot glue both the ribbons to the jar.
The mickey's in the picture were created by using button, with is cute! But, to make it easier on yourself, just print the mickeys on cardstock, and hotglue them on! Still cute, but a lot quicker!
Another thing I would do is hit up the dollar stores, and pick up a lot of different colored flowers! So make one jar's flowers red for mickey and Minnie, one a blue for Jasmine, Yellow for Belle, Pink for Sleeping beauty, orange for Lion King…you get the idea!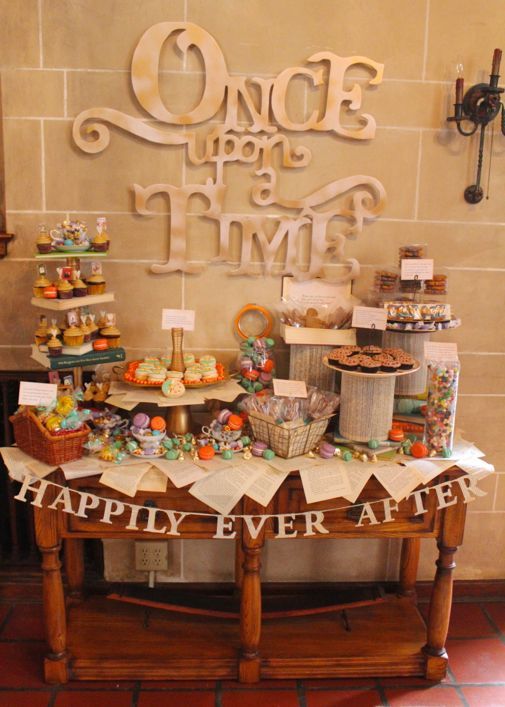 (http://www.projectdenneler.com/2012/09/vintage-book-dessert-table.html)
This dessert table is ADORABLE, with its "Once upon a Time" sign and everything! If you don't have the time or money to make the individual letters (which could just be done using cardboard), you could also just print it out and do something like this: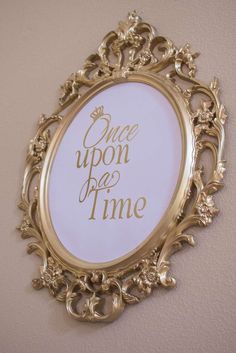 (http://catchmyparty.com/photos/2058491)
Use your imagination with all different colored streamers and tissue paper balls to incorporate more colors in to your décor!
Also, check out this list of FREE printables! You could print the ones you love out, put them in some cute picture frames, and display them wherever you like!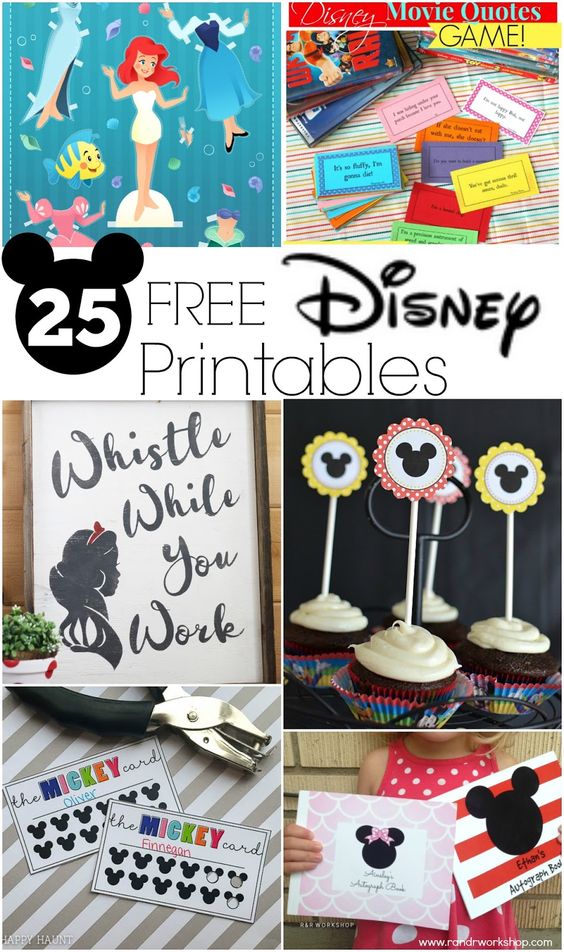 (http://www.randrworkshop.com/2016/03/25-free-disney-printables.html?m=0)
The Food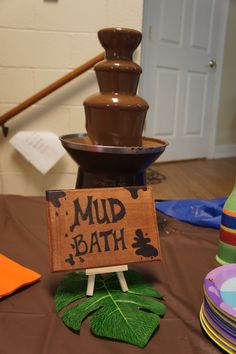 If you happen to have a chocolate fountain, then that is fantastic!
However, if not, just put some chocolate in a crockpot to melt it and its still a mudbath! Set up some strawberries and banana pieces for people to enjoy!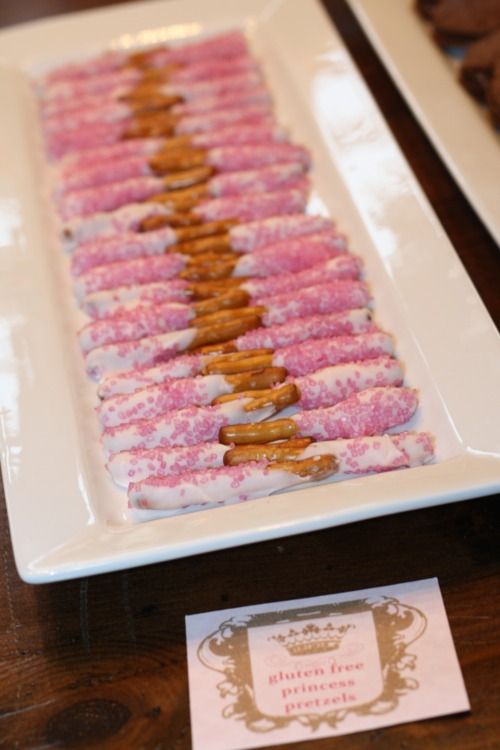 (https://www.pinterest.com/pin/805862927042188587/)
Marie's white chocolate pretzels-
I LOVE Marie and the Aristocats! Like, when I met Marie in Disney, I had dressed up as her and was totally starstruck! So I had to include this!
Just get the large pretzel sticks, dip in warm white chocolate, and cover with pink sprinkles! So cute!
One suggestion, I would host your party at around 2 p.m, that way you only have to provide light finger foods, like this cheese and cracker tray: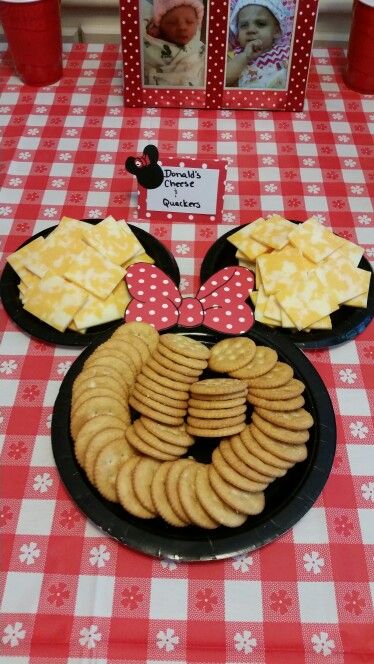 (https://www.pinterest.com/pin/805862927042188089/)
However, if you really want to have an evening party, make it a pizza party, catered by "The Pizza Planet" (obviously not the legit pizza planet, just create the sign, and order from your favorite pizza place!)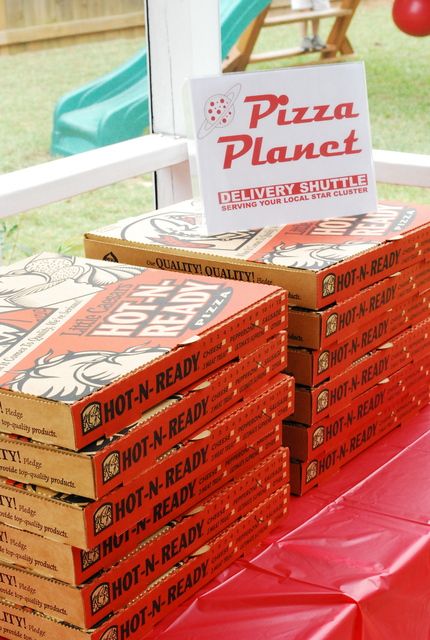 (http://catchmyparty.com/photos/1392342)
And for the one's with the sweet tooth…
There are so many great disney related desserts to choose from, but these cupcakes are a great idea if you are having a general disney party: (and it is also the perfect way to incorporate the O.G couple: Mickey and Minnie)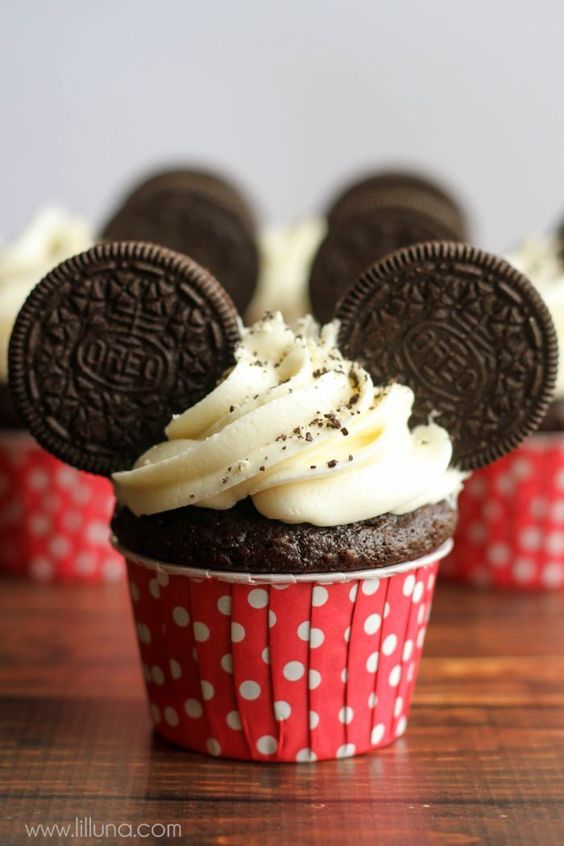 (http://lilluna.com/mickey-mouse-cupcakes/)
These are also the easiest ones to make on your own to save money! You could make some vanilla or chocolate cupcakes, topped with white frosting, and decorated with oreo cookies for the ears! Don't forget to use some red frosting to create Minnie's bow!
The Games
This is another time where you will tie in all of the Disney movies and couples!
Both of these are match games, so you could have some prizes ready for the ones who get the most answers correct!
This one is matching the Disney couples together:
(https://www.etsy.com/listing/287513991/disney-couples-match-game-printable-boho?utm_campaign=Share&utm_medium=PageTools&utm_source=OpenGraph)
This one is matching the Disney love songs to the movies they are from (which will probably be a little harder than the Disney couples match!)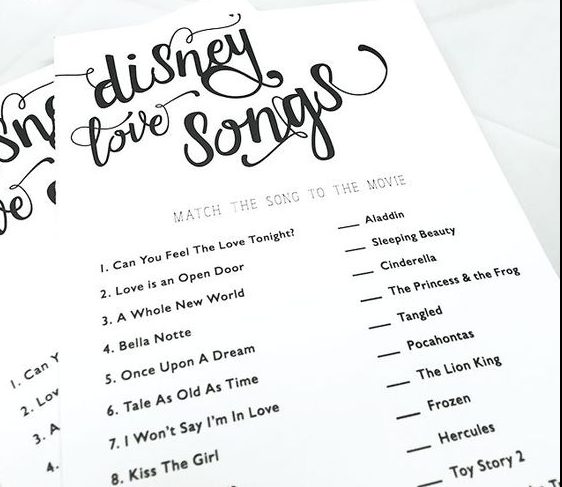 (http://www.designsbymissmandee.com/2015/08/bridal-shower-game-disney-love-songs/)
The Music
Honestly, the Disney movie Pandora station is FANTASTIC! (we listened to it the entire 5 and a half hour drive to Disney World)!
However, on the station you are going to get a mix of ALL the songs. So if you would rather play just the Disney love songs, here is a list of the Disney Love songs playlist:

(http://www.popsugar.com/love/Disney-Love-Songs-34752493)
The DIY's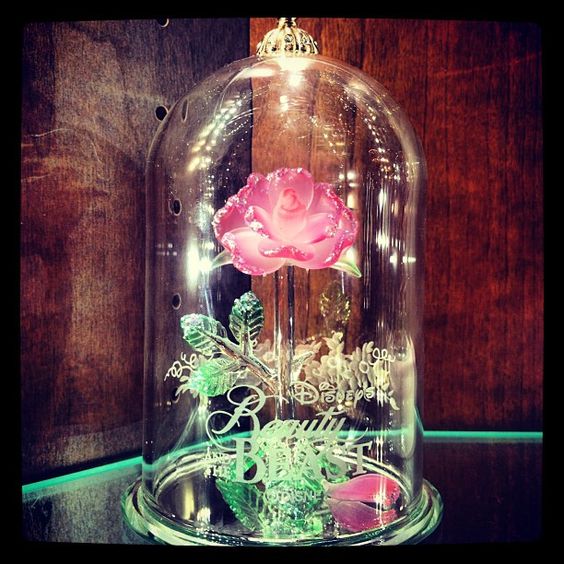 (https://www.pinterest.com/pin/362258363746654984/)
Once again, we are visiting the goodwill for some vases! (just go ahead and buy all of them, cause you never know when you will need a vase…just kidding!)
Make sure it is a larger vase! Obviously beasts's rose cover was just a round cover, but if your vase has a little shape, that is ok too! While you are there, pick out a smaller vase that would easily fit under the larger one!
Next, head over to the craft store for some gold glitter, mod podge, and one of those wooden knobs!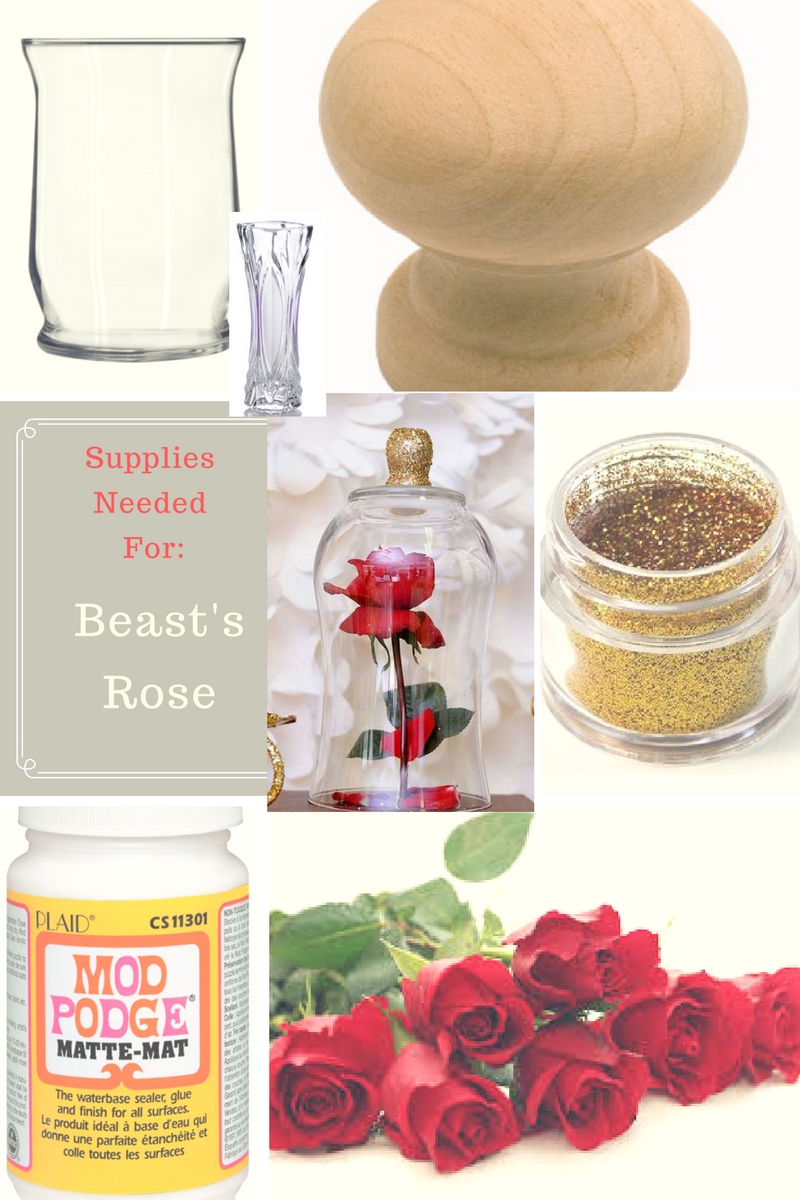 Cover the knob in mod podge, then glitter and repeat this process until completely covered!
Hot glue the knob to the bottom of the large vase.
Finally, head to the dollar store and pick up some red roses!
Cut off one red rose, and place it in the small vase, then cover the little vase with the large vase to act as the cover!
*Don't throw the other roses away, as they can be re-used as one of you're your centerpieces in the mickey jars!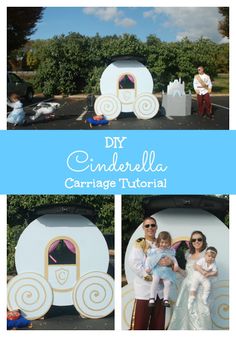 (http://www.wearmyheartblog.com/2016/05/diy-cinderella-carriage-tutorial.html)
I did not come up with this DIy, although I wish I had! It is so amazing! This would be so cute to use as just a focal point for your décor, or set it up to use as the backdrop for your photobooth! Either way, this is sure to be a hit at your Disney theme party!
For step by step instructions on how to create this amazing carriage, Click Here!
Did You Like This Theme?
I think this one is one of my favorite themes, only because it is the one that can be the most fun to create!
All the DIY projects center around such fun and childish things sounds like the perfect way to celebrate your engagement!
For all of these ideas and SO much more, follow my pinterest boards!
If you don't like this theme, check out the other three themes I have: Fall Theme, Luau Theme, & Fiesta Theme
Also, if you have any more questions, or have anything that I did not cover that you would like for me too, please feel free to tweet them to me @kaleigh_blogs or follow me on Instagram @kaleigh_d_a