Everything You Need To Know About Engagement Parties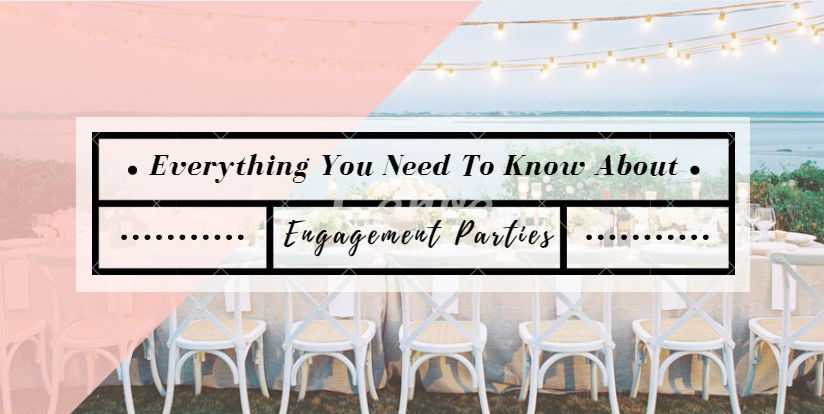 I had an absolute blast at my Engagement Party!
We had great food, surrounded by our closest friends and family! We played volleyball and badminton, and had an ice cream social that everybody enjoyed!
Now, not everyone has an engagement party, and no where does it say that it is mandatory. But I personally love planning parties! I know it is hectic, but I have a blast putting everything together, picking a theme, creating all the DIYs, and creating an environment where everyone is having fun!
You can either host the party yourself, or you can have a friend do it! Either way, it is up to you! We hosted our own party, but we used my fiance's parents house as the party location!
So here are a few things you need to know/consider when deciding on your engagement party:
What Is An Engagement Party?
The purpose of an engagement party is to celebrate the couple that just got engaged! It is a sort of "coming out" party where you announce to the world that you are engaged, and then you celebrate!
For many people, including us, this is also the perfect time for the two families to meet! Now, both of our parents had met before, and even some of his siblings had met my mom before. But as for everyone else, siblings, aunts, uncles, grandparents, this was the first time they had all gotten together and met face-to-face.  It was great to see our families mingling with each other, sharing stories of Tuananh and I, and getting to know one another!
In short, this is a time for you to kick back, relax and have a BLAST with the people that mean the most to you! You can also think of it as the last hoorah before you officially kick start your wedding planning! So enjoy it!
Who Should You Invite?
The best part about this being YOUR engagement party is that you can invite whomever you want! If you want this to be a massive party where you invite everyone you have ever known, then that is awesome, and sure to be a great time! However, traditionally the engagement party is kept pretty small, and reserved for your closest friends and family members,
My fiance and I stuck to a fairly limited guest list; we invited maybe 45-50 people. We invited our immediate and extended families, and our closest friends/the bridal party. As I said before, this might be the first and most perfect opportunity for your families to meet, so keeping the guest list small will allow for a more intimate setting.
You can also think of this party as a time to invite people that you know will not be attending the wedding. Whether this be because they already know they will be out of town, or you know they don't make the guest list, invite them to celebrate your engagement at this party! This will be a great time for them to see you as a couple and congratulate you on your future marriage!
Should I Book A Venue?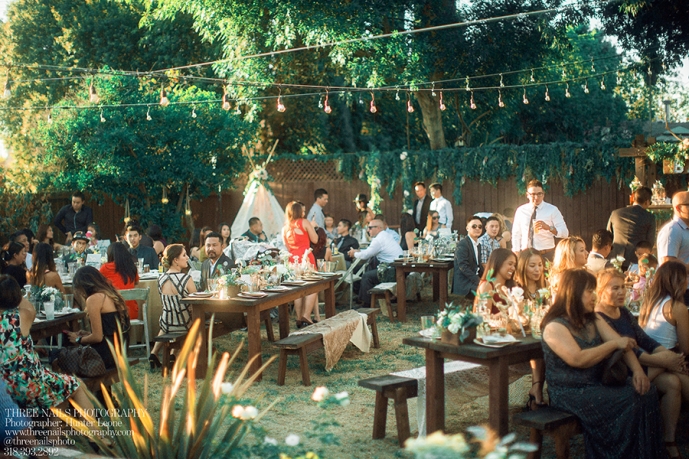 (http://hunterleone.com/wp-content/uploads/2016/01/1.1(pp_w689_h459).jpg)
Obviously, you will need some sort of location to throw your party at, however it is not completely necessary to go out and book an expensive event venue!
We held our engagement party at the house of my future in-laws. They have a massive back deck that stretched the whole length of their house, which made it the perfect focal point for our backyard engagement party. It also gave guests the perfect vantage point of the badminton/volleyball court below so they could watch the games!
Backyards and homes are perfect places to host your engagement party, because it is such a personal location! It is likely a location where the couple spent lots of time together, so it will make the party feel more welcoming and homey.
A restaurant would be another great, and cheaper, location to choose from! You could rent a party room at a restaurant and either pay for a basic menu to be served, or even tell guests to come prepared to order their own food if they want to eat.
Another good place to consider is a pavilion at your local park! They are typically pretty cheap (most of the pavilions near me are about $45 for two hours!), and would be the perfect location if kids are coming along, as they can play on the playground while the adults catch up!
Should Guests Bring Gifts?
At most engagement parties, guests are told that gifts are not necessary! This is because it is likely that the guests attending your engagement party will also be invited to the showers and wedding itself, and therefore would bring a gift then if they choose. However, if you know that you will not be throwing a shower, then maybe encourage guests that gifts are welcome if they choose to give!
If you would prefer guests not bring any gifts, then make sure the invitation says something like "gifts not necessary, we would much rather you bring yourself and have a blast!"
Just know that no matter what you say, guests will bring gifts. Not because they want to be defiant, but are just happy for you and want to give you something right away! We received so many amazing and personal gifts at our engagement party, and they will all be cherished forever! If guests do bring gifts, have a location off to the side to place them. Make sure it is out of the way, as you don't want to make any guests who didn't bring gifts uncomfortable!
(if you do receive gifts, don't forget to send out thank-you cards within a week after the party is over)
The Menu
The menu is going to depend completely on the time you choose to throw your party.
If you have a party that begins around 5-7, then usually a dinner menu is expected to be served. Now, that does not mean that you have to go all out and serve a three-course meal of lobster and crab cakes or anything like that. Hamburgers and Hot dogs would be perfectly acceptable, and create a more social, cookout type feel! (also much cheaper than lobster)
If you plan to have your party start around 2-3 in the afternoon, then finger foods and appetizers are just what you need to serve! Little sandwiches, chips, veggie and fruit trays, cheese and crackers; things like that!
The Theme
This is my most favorite part of party planning in general! Getting to pick out the theme and decorations for your party!
I typically start with an overall theme. I then move on to which colors work best with that theme. Then I think of any decorations I have already that might work, and then which ones I would need to either borrow, buy, or make!
As far as decorations go, you can be as creative as you want to be! Something you might want to throw in however, is to display pictures of your engagement as well as the time you have spent together leading up to it! Because we got engaged in Disney World, Tuananh and I had so many pictures to show off, including the video of the proposal itself, So I actually created a video (using power point) that shows our pictures from each of the parks, and included the proposal video at the end! It was a huge hit, as everyone loved being able to see our pictures from the trip and get to watch the proposal as well!
If you need any help with theme planning for your engagement party, check out my four posts on different themes and how to do them: Magical Disney Theme, Fall Theme, Luau Theme, and Mexican Fiesta Theme.
Follow me on twitter @kaleigh_blogs as well as instagram @kaleigh_d_a to get the latest updates for when I post these themes you wont want to miss!! These posts will include the overall theme, colors, a playlist, food ideas, DIY projects and more! So don't miss out!
Other Fun Stuff
You always want to make sure that your guests are enjoying themselves! So creating an upbeat and fun atmosphere is going to be the best way to ensure this!
Party games or backyard games are going to be the best thing to do to keep everyone entertained! You can set up volley ball or badminton, or even corn hole is always a hit! We also had horseshoe set up as well. If you prefer to go the party game route, "How well do you know the couple" or even "Bingo" for prizes are always popular choices!
I hope this post helped you get a little insight in to the world of engagement party planning! If you have any questions, don't hesitate to post them down below in the comments section, or tweet me!
If you just recently got engaged, and are still not sure about the next steps to take, you can read my post Steps to Take After You Get Engaged
If you have anything wedding/engagement related that you would like for me to cover, I am always open to suggestions as well!