19 Cute Wavy & Curly Pixie Cuts for Short Hair
Shorter hair on women is becoming more and more popular, but what if you're someone who has been wanting to try short hair and is too scared of it looking bad on you? Or what if you've just gotten it cut, but aren't sure what to do with it? Don't fret! We're here to help you out. Here are some great pixie haircuts for short hair to help ease your mind!
1. Fiery Tight Curls Pixie Cut
African American short curly haircut – the curly pixie! Yes, despite what you think, you can make tight curls happen with short hair. Make it even edgier by dyeing the top red (or any colour you prefer, really). Help keep the curls intact with some hairspray!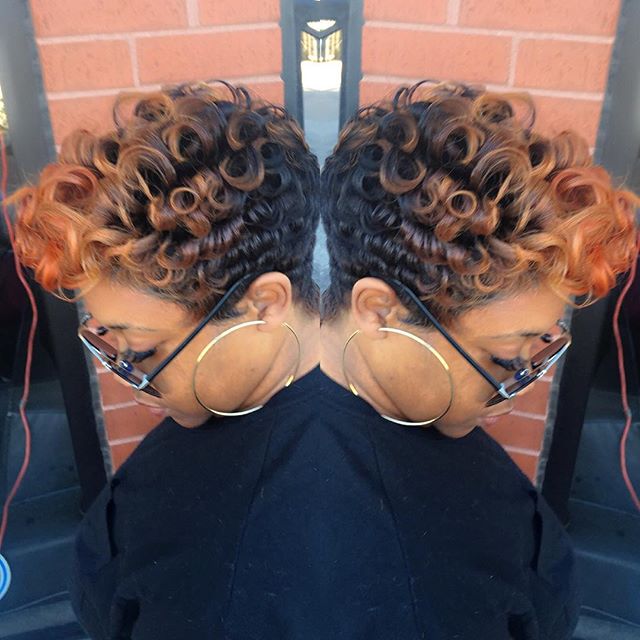 2. Teased Top Pixie Cut
Curly haircut for black women: If you can't get your curls as tight as the previous style or if you're wanting something less curly, try some waves on the sides instead and leave the curls on top! Keep the sides slick and intact with some hair gel or wax. Channel your inner Halle Berry with this look.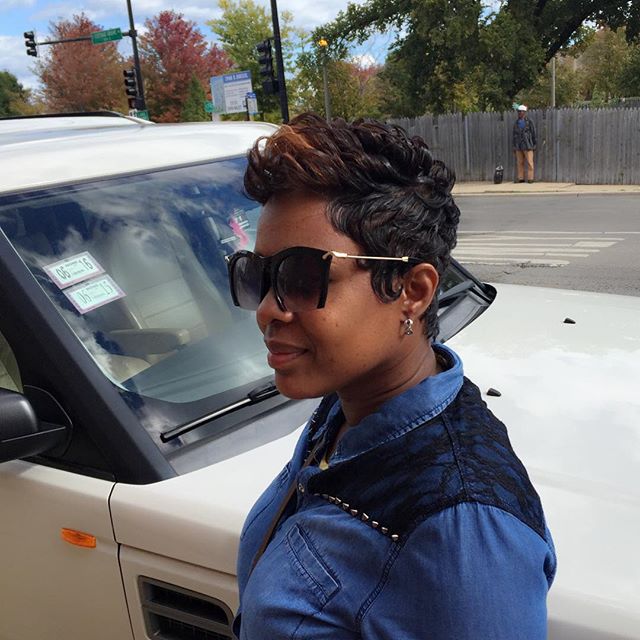 3. Side Swept Pixie Cut
If you have straight hair, you can try a regular short pixie cut with a bit of a twist: side swept hair with a bit of a poof. The extra layers give a little more volume and lift. Make sure you use hairspray to keep the style intact!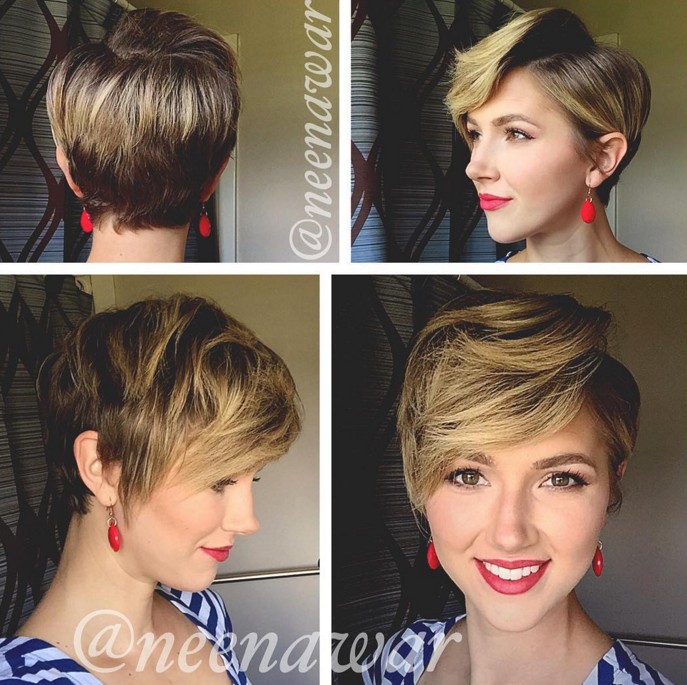 4. Faux Hawk Pixie Cut
Be extra daring with your look by adding a faux hawk to go with your pixie cut! Curl the hair instead of leaving it straight for a more interesting look. Otherwise, apply some texturizing wax by simply running your fingers through your hair for lift and volume.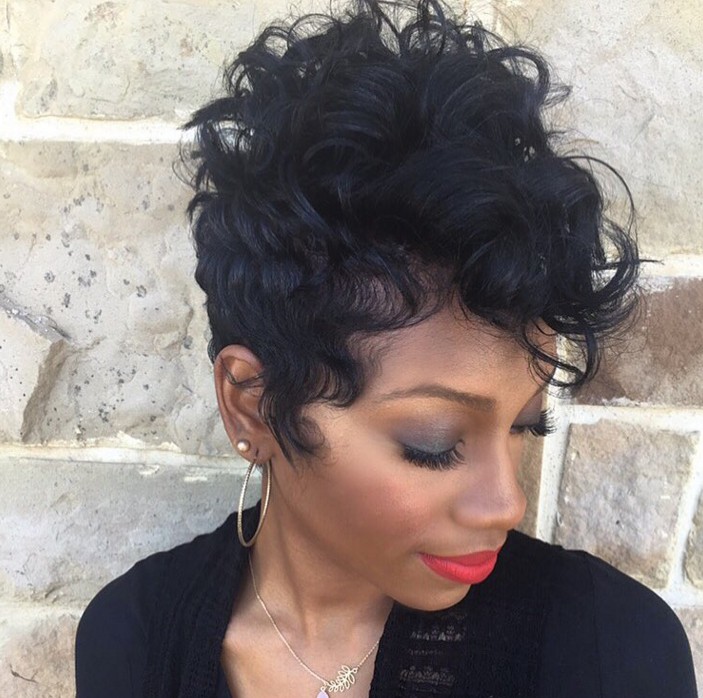 5. Caramel Colored Short Wavy Pixie Cut
This pixie cut is actually very similar to the style in the second picture, but with a few differences. The color is different, so if you're not feeling a sharp colour like black, opt for a softer, more romantic color like this caramel brown. This is more of a mini faux hawk compared to the previous hairstyle which works perfectly when your hair is still in that awkward phase where you're trying to grow it out.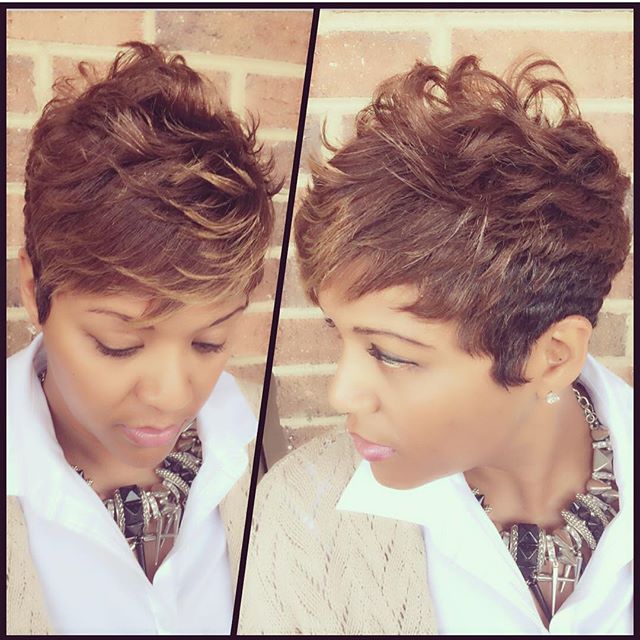 6. Flirty Feminine Curly Pixie Cut
If you want a combination of straight and curly hair, this is a perfect way to do it! Leave one side straight and wispy while curling the rest of your hair on top and on the other side. This is perfect for a date! Make sure to give the curls some texture with some curling cream.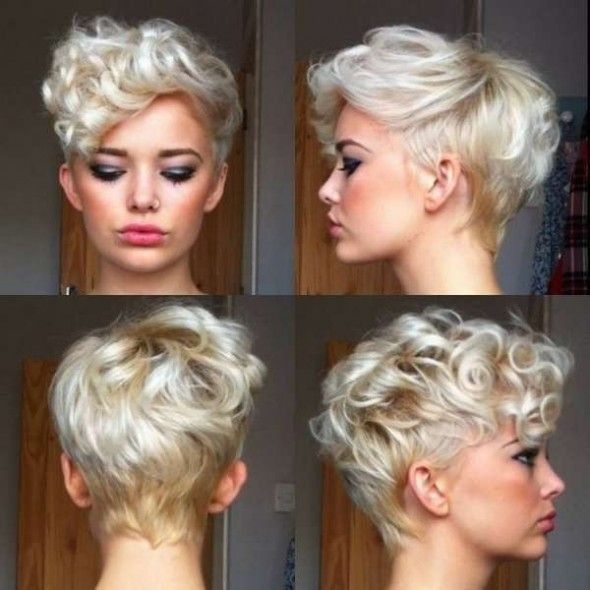 7. This Girl is on Fire Curly Pixie Cut
Instead of curling your entire head, switch things up a little bit–grow your fringe out and curl it! Let the back be natural and effortless without adding a lot of work to it. Let all the attention be on those luscious curls that frame your face ever so perfectly.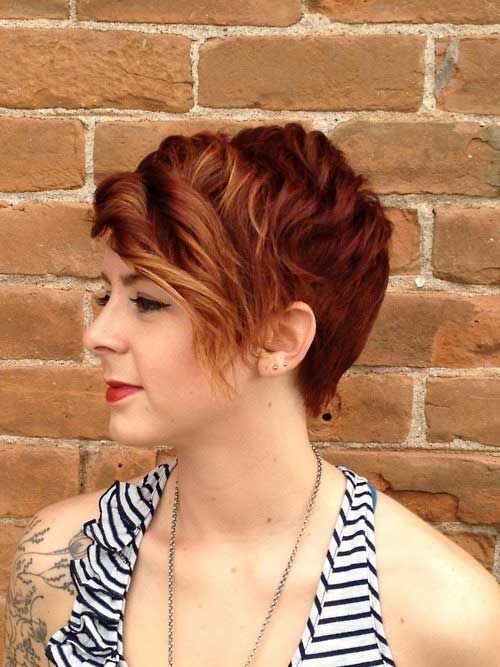 8. Thin, Wispy Layers
This is a beautiful look that takes very little work to do. It's perfect "I just got out of bed and hardly did anything to my hair" hair. You know, the fresh-out-of-bed look so many sexy vixens rock. Just put in a little texturizing cream to give your layers a bit of definition and you're good to go.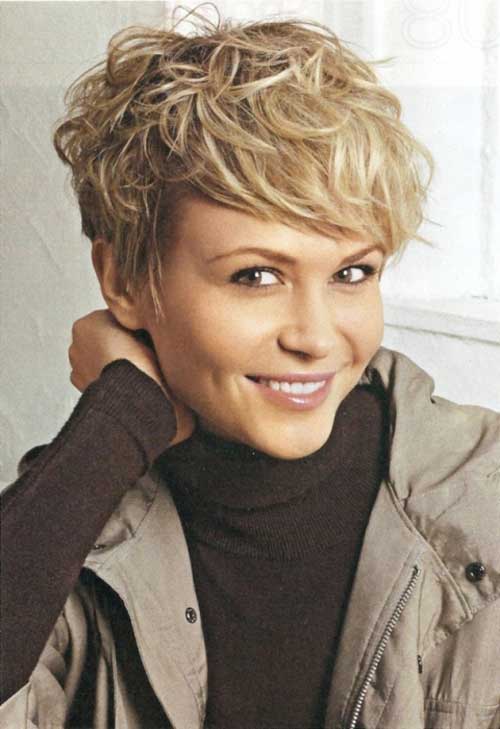 9. All Curls Pixie Cut
This is for those of you with short hair that don't have the sides shaved or anything fancy. You don't need to perfectly straight hair to have a pixie cut! If you have naturally bold curls like these, just give them a little bit of curl cream for definition and bounce and head out of the door. You don't need to spend so much time in the morning fussing over your hair!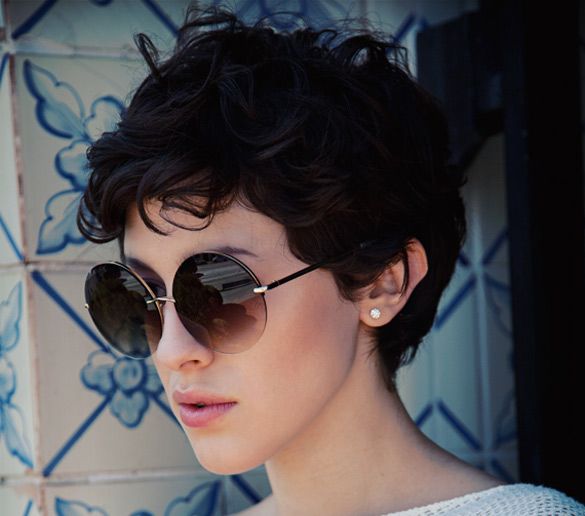 10. Mid-Growth Pixie Cut
This is for you curly headed gals currently working on growing out a pixie cut. The flicked ends are cute and fun and gives off a youthful and refreshing look – all you have to do is run some gel or wax through your hair!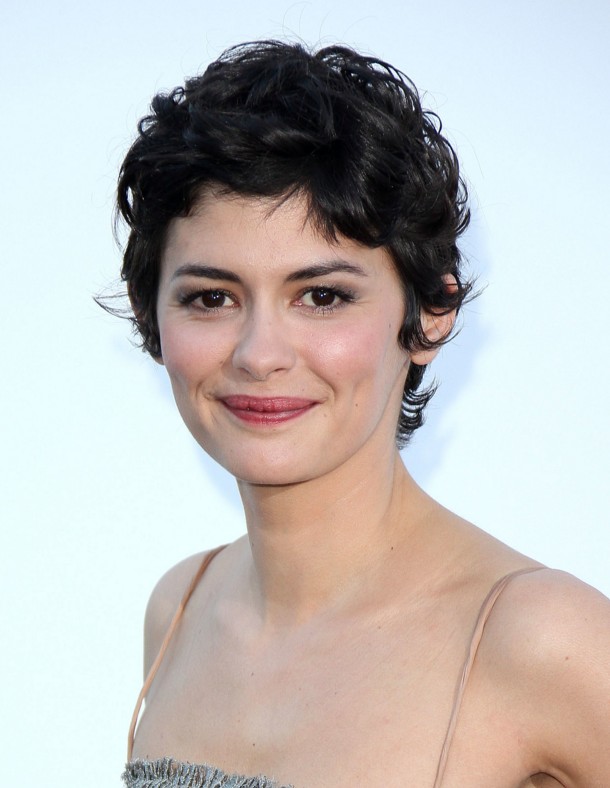 11. Loose Curls Pixie Cut
Short haircut for 2016: This look is very similar to number six, but instead of having tighter curls, these are very loose curls, more like waves. This gives a messier and more carefree look over the very put together look that the tighter curls give. You could go from the previous look to this just by running your fingers through your hair!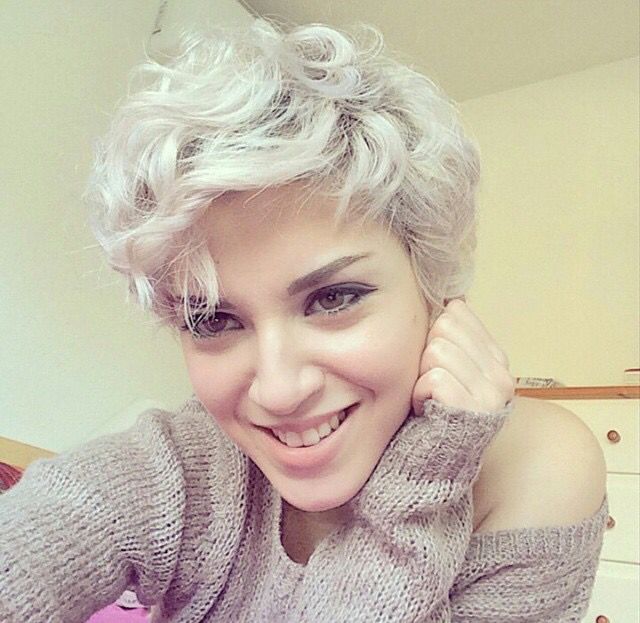 12. Dark Auburn Curly Pixie Cut
If you're living in the area where it's the colder seasons, change your pixie cut up with a new color! In colder seasons, darker hair colors are usually in. If you're usually blonde or a light brunette, try going with a red or dark brown instead.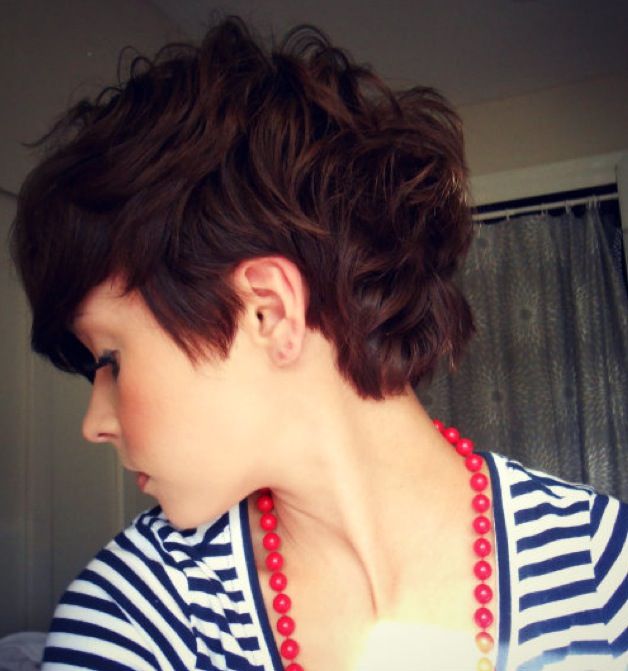 13. Messy Curls Pixie Cut
This hair style is incredibly low maintenance–roll out of bed, shower, run some products through your locks and head out the door. Put in a little mousse to keep the frizz at bay and grab a cup of coffee on your way to the office!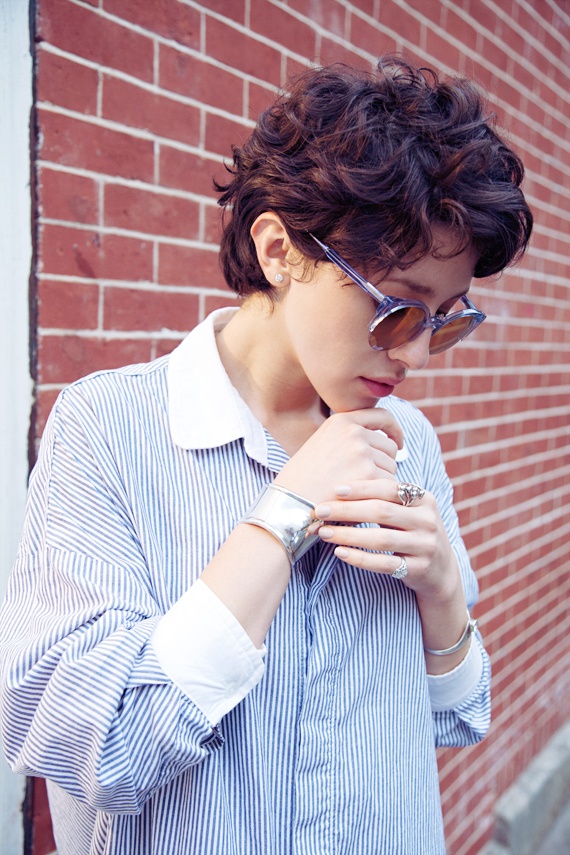 14. Mini Bob or Pixie Cut
Is it a mini mini bob or a pixie cut? Whichever it is, this is a romantic twist on a pixie cut with luscious curls and waves all over your face. The dark brown colour is perfect to suit the colder months. Find the right medium where you have enough volume to give your hair body without looking like you've got on an afro!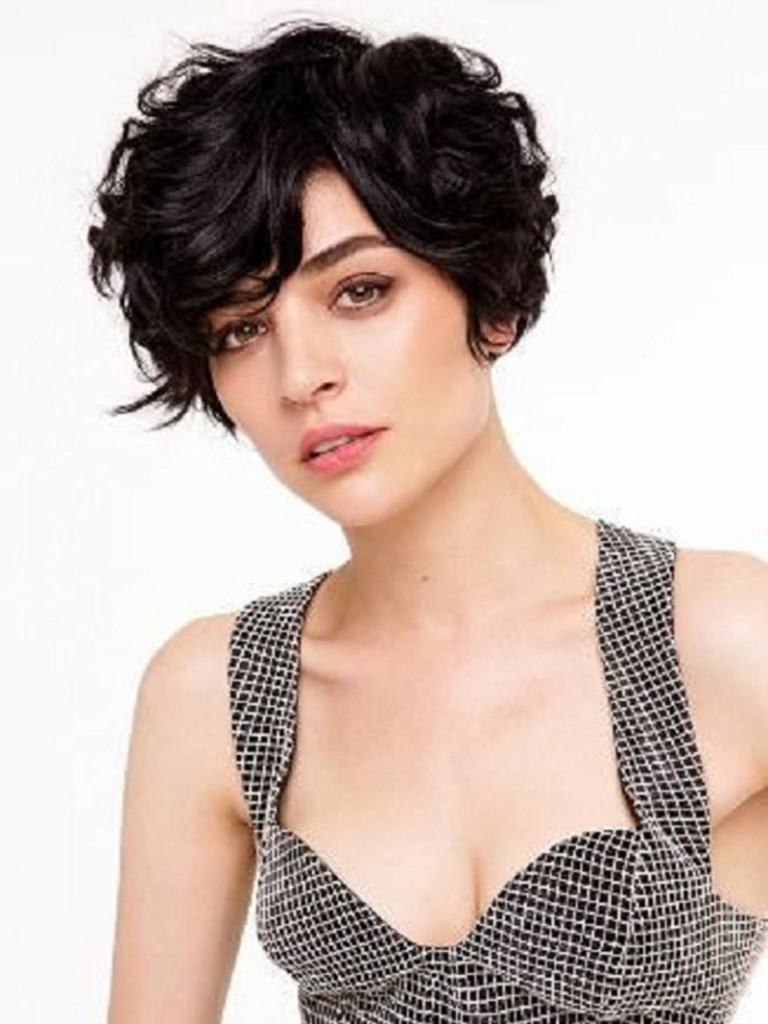 15. Fiery Ombre Faux Hawk
If you liked the look of the first style on this post, you'll probably like this one! They're nearly the same except this one has more colour on top. If you're not afraid of a little colour, consider going with this one. Bring out the fierce in you with a nice, flame ombre.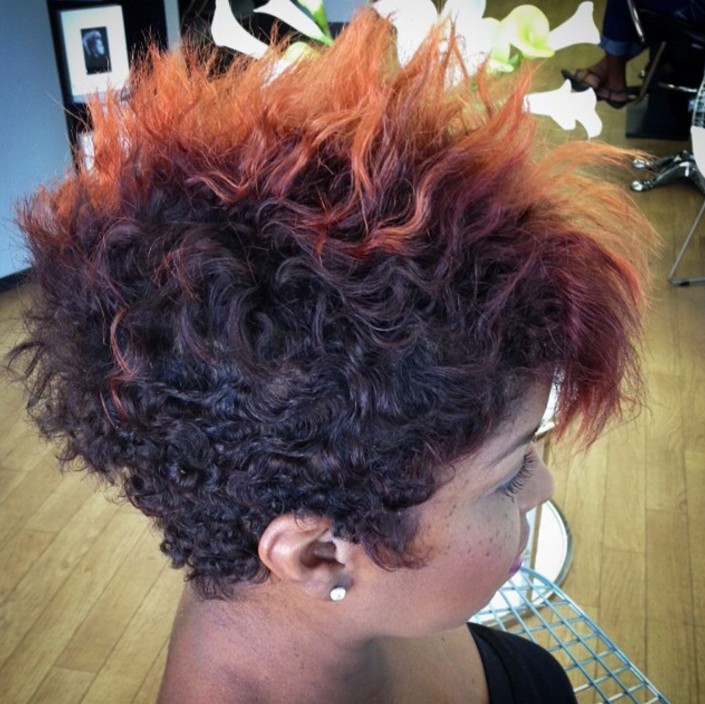 16. Pixie Cut with Shaved Sides
This is a style for the extra daring! The others were short, but this one is for those of you that want to take the extra step and shave the sides and a little bit off the top. This will bring all the attention to the curls and your faux hawk. Want a bit more fun? Dye your tips a fun colour!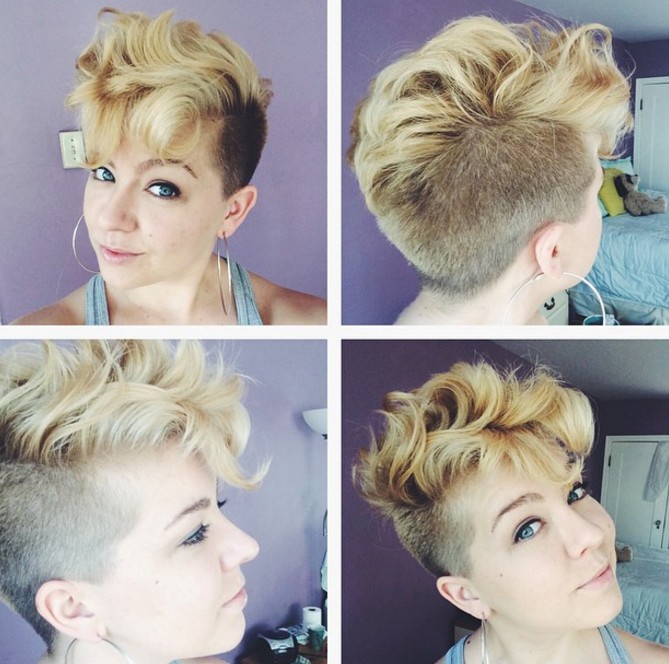 17. Woodlands Tinkerbell Pixie Cut
Doesn't this one remind you of Tinkerbell just a little bit? This is a very simple and cute pixie haircut for short hair. It would require minimal effort in the morning. And if you're still not feeling it, just slip on a cute headband. Any headband makes a hairstyle look more put together without really trying!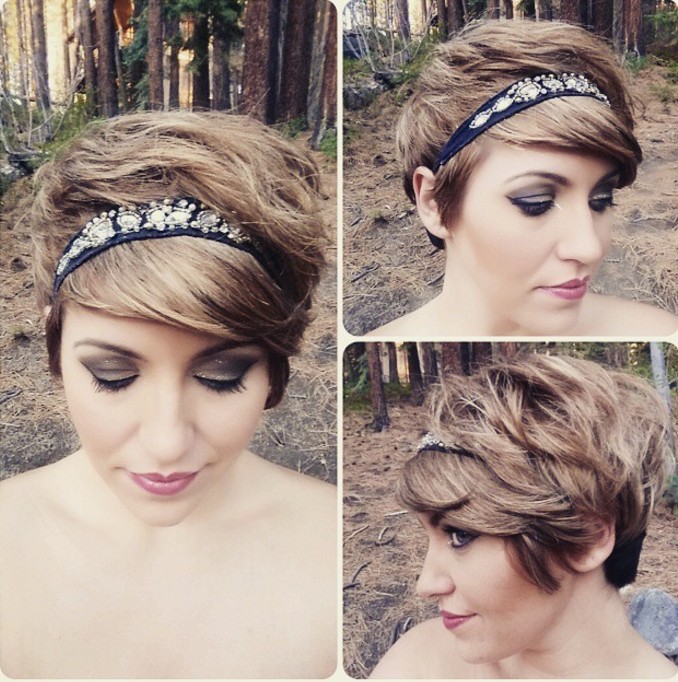 18. Dark Purple Pixie Cut
You've gone through all the natural hair colours: blonde, brown, black. Now what are you going to do? Go with something bolder! If you're too uncomfortable with pink, blue, green, etc., consider going with a purple. It's a bolder colour, but is easily toned down and super gorgeous. Still nervous? Go with a really dark shade.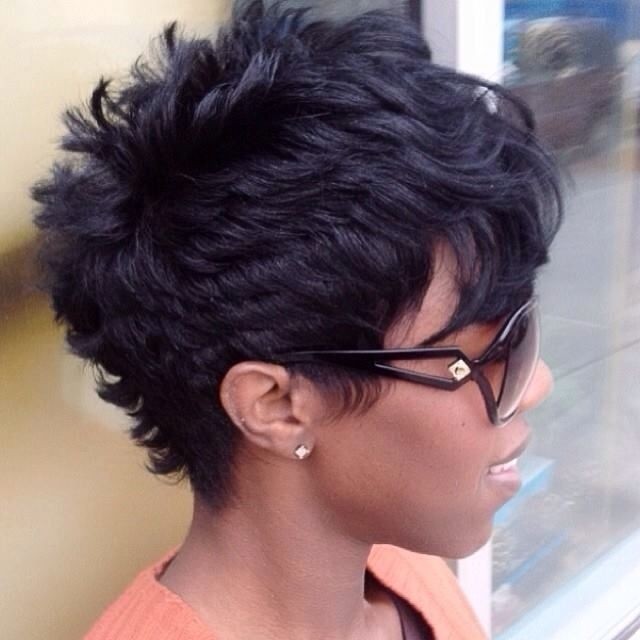 19. Simple Curls and Waves
For women of colour planning on a fancy dinner with your partner this weekend, try this elegant looking hairstyle. Minimum frizz, very slick, chic and will go perfectly with that gorgeous dress you bought just for this weekend.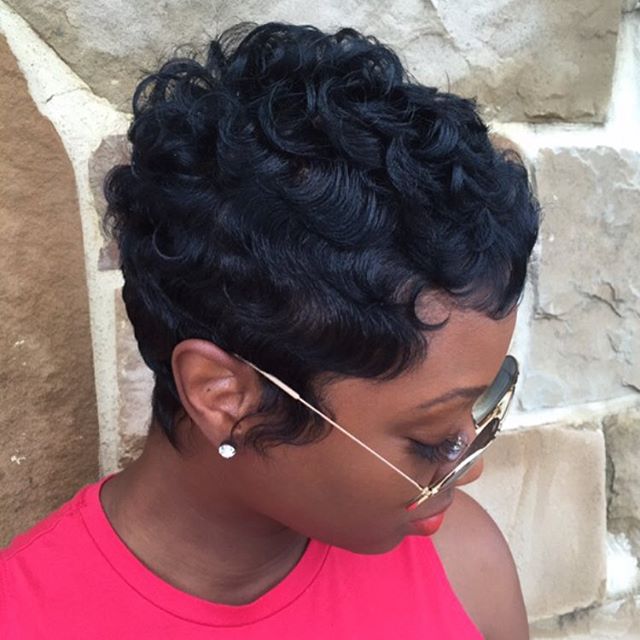 These are your nineteen ideas for pixie cuts for short hair. As you can see, you don't have to be afraid of chopping off your locks! There are many, many ways to find a cut that suits your style, face, and lifestyle. If you only have five minutes in the morning or a couple of hours to do your hair, there is a pixie cut for your short hair for every time frame.